RASKIN'S RANTS: Heavy Thoughts On The Light Heavy Title
When I worked full-time at The Ring magazine's editorial office from September of 1997 through February of 2005, we received a phone call at least once every couple months from someone asking to speak with Bert Sugar. This despite the fact that Bert hadn't worked for The Ring since 1983. Bert only edited the magazine for about five years, but as a talented writer, a renowned historian, a great self-promoter, and a magnetic personality, Sugar made his name is almost as synonymous with The Ring as Nat Fleischer's.
I'm quite well aware that my name does not carry the same enduring weight as Bert's. But somewhat similarly to Sugar, many people have assumed for the last six-plus years that I still worked full-time for The Ring. And over the past six weeks, since my working relationship with the magazine was terminated completely, I've received plenty of tweets and emails from people who are under the mistaken impression that I'm still connected with the magazine. (Perhaps this has a little something to do with the fact that Golden Boy Promotions still hasn't issued a single public statement of any kind about their firing of Nigel Collins and their decision to replace him with Mike Rosenthal and Doug Fischer, the web editors that Golden Boy hired in 2008. Clearly, GBP is bursting with pride and excitement over the changes they've made.)
Last week, after the new guys at The Ring elected not to award their light heavyweight championship to Chad Dawson and instead continued to recognize Bernard Hopkins as the champ pending a ruling on the Hopkins camp's appeal of Dawson's TKO win, quite a few emails and tweets came my way. Some of those who wrote to me were aware that I have no input on The Ring's rankings anymore, while others were unaware. For this week's mailbag (I can't call it a "mini-mailbag" as I usually do, and 1,500 words from now you'll see why), here's an email from the latter category, full of points worth addressing at length after I quickly set the reader straight about my current role:
Hi Eric (and by extension, the Ring Ratings Panel),
I'm not happy about The Ring choosing to withhold its championship belt from Chad Dawson. In past instances where a Ring belt has changed hands on a poor decision, controversy, or questionable call by officials, The Ring has made the case that they can't play arbiter and must uphold the decision rendered by the appointed officials. I recall Nigel Collins himself writing an editorial to this effect a few months ago, though I don't remember the exact circumstances he was referring to.
Since the ownership of the best publication in boxing changed hands, I have not noticed any kind of Golden Boy bias, and I have all the respect in the world for Bernard Hopkins (a true living legend) … but this decision is puzzling given the lengths the magazine has gone to in the past to uphold the decisions of commission officials, regardless of the opinions expressed by journalists, fans, promoters, or boxers.
I think some of the credibility of the Ring Championship policy has been chipped away by this decision.
Respectfully,
Lucas Pettenuzzo
Sault Ste. Marie, ON
Lucas,
I am no longer a contributing editor to The Ring and I am not on The Ring Ratings Panel anymore. Like you, I am just an outside observer now when it comes to ratings decisions. And as a fellow outside observer, I agree with you: This particular circumstance is troubling.
Before I go any further, let me say that it's reasonable for people to think I have an anti-Ring bias or an agenda when I levy criticism toward them. I am still pissed at the way things went down and worried that The Ring name will be dishonored, and I do have a personal relationship with Nigel and many writers who were tossed to the curb last month. But I believe I'm capable of separating personal feelings from professional opinions. And I believe that if Nigel had made this same decision that the new editors made (not that he ever would make this decision, but please just go along with the hypothetical), I would be equally opposed to it.
Here's the big problem with letting Hopkins keep the belt pending the result of the appeal: It sets a dangerous precedent. As we all know, results of boxing matches are appealed every week. Sometimes the appeals have merit (as this one does; I believe the result should be changed to a no-contest and I think it's highly like that it will be). Sometimes the appeals are a waste of everyone's time. But here's what the new guys at The Ring have done: They've forced themselves to wait out every appeal of every result of a Ring title fight before recognizing the result, or else they'll be guilty of inconsistency. And if they end up treating fighters promoted by Golden Boy differently than fighters not promoted by Golden Boy, then all of the worst fears everyone had when GBP bought The Ring will have come true. (For me, those fears came true about six weeks ago; but everyone else should be willing to wait for bias and corruption to come through on the pages of the magazine and in the rankings before concluding definitively that this venerable publication has been compromised.)
Let's say Amir Khan vs. Zab Judah had been a Ring championship fight. Khan won by knockout, and very few people considered it controversial. But Judah filed a protest. By the precedent set last week, The Ring wouldn't have been able to recognize Golden Boy's own fighter, Khan, as the champion until the protest had been officially denied.
Uncomfortable as it sometimes was, Nigel followed the obvious rule when it came to Ring title fights to always recognize the official decision. When Joel Casamayor won a horrid decision over Jose Armando Santa Cruz in defense of the lightweight title, The Ring had no decision to make; it recognized Casamayor as champ because, officially, he won the fight. Anything else would have turned The Ring championship into a laughingstock.
Rankings decisions are different when there's no Ring title at stake. It's still a bit of a slippery slope to unofficially "overrule" the referee's or judges' decision and rank the "losing" fighter above the "winning" fighter, but such a move is permissable when it comes to all the gray area in ranking fighters. With championship bouts, there is no gray area. It's black and white. The winner gets the title. The loser does not.
In the case of Hopkins vs. Dawson, The Ring's actions should have been simple. Dawson was named the winner by TKO. Dawson is the champion. If and when the result is changed to a no-contest by the California commission, you reverse course and recognize Hopkins as the champion, wiping Dawson's reign from the books. This is so obvious, I can hardly believe I have to spell it out. Then again, I could hardly believe it when I heard about what The Ring editors had done last week.
I shudder to say it, but The Ring is behaving much like an alphabet gang does. Incidentally, the WBC made its own rash decision last week and ignored the fight's official result, declaring the bout a technical draw and returning the title to Hopkins. Congrats to The Ring editors on landing in such esteemed company as Jose Sulaiman. I'm not saying The Ring championship policy as drawn up by Nigel Collins is perfect—I never claimed it to be—but it was near impossible to corrupt and was built on the belief that patience is preferable to kneejerk reactions.
Best-case scenario, The Ring's decision to ignore the official result of the Dawson-Hopkins fight came as a result of a lack of patience. Or maybe it's a mix of that and the new editors' egos leading them to want to exert control and put their own stamp on things quickly, trying to distance themselves from whatever was established before they came along. As Tim Starks wrote on the Queensberry Rules blog last week, "I hope this is just a bad call from new leadership still finding its legs."
Worst-case scenario, they're letting themselves be influenced inappropriately. I hope that's not the reality of the situation. I hope nobody at GBP is telling them what to do. But many fans came away last week asking that question. When you make up rules on the fly, and they happen to favor Golden Boy fighters, you'd better be prepared for suspicion from the public.
Since The Ring championship policy began, and particularly since Golden Boy bought the company, I've tried to fend off critics who made the compelling argument, "Sure, I respect Nigel, but why should I go all in recognizing these titles when I know Nigel won't be around forever and we can't predict what will happen when he's gone?" For years, I thought they were wrong and I was right, that The Ring championships were above reproach and would remain so. It turns out they were right and I was wrong, and I'm man enough to admit that. I always assumed Nigel's successor would be someone who would be prepared by Nigel to be the steward of the magazine's editorial department. I never really considered the possibility that there would be a hostile takeover. As a result, I feel like a fool. And to everyone I thought was wrong about the long-term issues with endorsing The Ring championship, I apologize, because it seems you're being proven correct. (Which isn't to say everyone couldn't have endorsed Ring titles short-term, with an option to reevaluate later, but I digress.)
To be clear, this decision by The Ring's new regime to recognize Hopkins as the champ for now in no ways proves there's corruption afoot. All it proves is that the new editors are prone to making short-sighted decisions that fly in the face of how the championship policy is supposed to work. Not that any of this comes as a massive surprise; after decades of Nigel fighting against the alphabet bodies, The Ring's website increasingly seems to serve as a public relations firm for the WBC.
In the end, California will probably overturn the result and the final outcome will be as The Ring believes it to be now: Hopkins is light heavyweight champion. But the difference between right and wrong does not come down only to the end result. It's also about the process. And I believe all of the fans who are questioning that process have reason to be concerned.
Sorry if I was a bit long-winded on that, but it's not a subject that can be properly addressed in just a sentence or two. Now let's transition to subjects that can and will be addressed concisely, with the weekly Rants:
–If indeed a doubleheader featuring Marcos Maidana-Erik Morales II and Antonio DeMarco-Jorge Linares II comes off, those are two hours I will spend not caring one bit about the fact that we're not getting a Manny Pacquiao-Floyd Mayweather fight. You just can't put together a better show than those two rematches for creating new fight fans and reminding old ones why they love this sport.
–I'm not sure what's sadder: that Roy Jones has plans to fight again, or that he takes advice from a guy whose first name is "McGee."
–Speaking of Jones, I enjoyed his line during Saturday night's HBO broadcast, in reference to the opponents he fought in his prime and the opponents Nonito Donaire is fighting now: "We don't rank 'em, we spank 'em."
–I think we can all agree that Omar Narvaez failed to establish himself as the most fearsome Omar in HBO broadcasting history.
–I find the discussion over whether Donaire should move up to 122 pounds or remain at 118 fairly pointless. I honestly don't see anyone in either division who's going to give "The Filipino Flash" a test right now. It's when he climbs to featherweight that I expect things to get interesting.
–In an interview I conducted with Chuck Wepner last week, Wepner noted that the fight that earned him a shot at Muhammad Ali was a knockout over "Terrible" Terry Hinke. This begs the question: Has there ever been a boxer named Terry who didn't have the nickname "Terrible"?
–As you may have noticed on ShoBox on Friday night, ring announcer David Diamante is using the catch phrase "The fight starts now!" If "the fight" in question is the one to convince Diamante to stop trying to force a catch phrase, then I agree, it starts now.
–I don't think Edwin Rodriguez will ever be in the running for any Fighter of the Year awards, but I could see him being in some Fight of the Year candidates. And there's nothing at all wrong with that.
–In case you missed it, last week's episode of Ring Theory (http://ringtheory.podbean.com) was loaded with analysis of Hopkins-Dawson, DeMarco-Linares, and Ken Hershman's move to HBO. And of course, there was the surprise guest appearance of Richard Schaefer, which can be heard in this free preview clip: http://tinyurl.com/3mc8p63. Thanks again for taking the time, Richard.
Eric Raskin can be contacted at RaskinBoxing@yahoo.com. You can follow him on Twitter @EricRaskin and listen to new episodes of his podcast, Ring Theory, at http://ringtheory.podbean.com.
He Said, He Said: Who is at Fault for the Collapse of the Fury-Usyk Fight?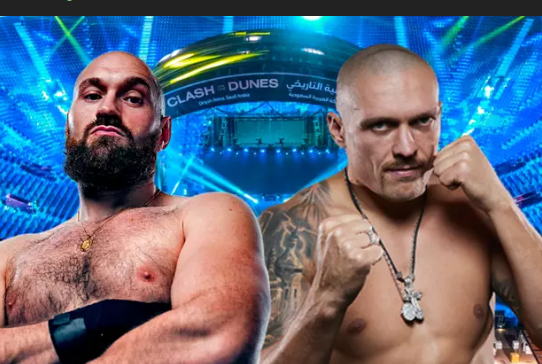 The last undisputed heavyweight champion was Lennox Lewis who held the WBA, WBC, and IBF belts after outpointing Evander Holyfield in their rematch at Las Vegas in November of 1999. (The WBO was around in those days, but didn't have their finger in the pot. The upstart organization, whose first "world heavyweight champion" was Francesco Damiani, had zero credibility among serious fight fans, many of whom still balked at ingesting the IBF.)
Lewis's reign as the undisputed champion lasted only five months. He was stripped of his WBA diadem after bypassing John Ruiz in favor of Michael Grant for his next fight. Ergo, twenty-three years have elapsed since boxing had an undisputed heavyweight champion and a Fury-Usyk fight would have produced the first fully unified heavyweight title-holder in the four-belt era.
There was talk that Tyson Fury and Oleksandr Usyk would meet on Dec. 17 of last year in Saudi Arabia on the day preceding the final game of the World Cup in neighboring Qatar. More recently, there was talk that they would meet at Wembley Stadium in London on April 29.
A week ago, representatives of Tyson Fury and Oleksandr Usyk appeared close to finalizing a deal, but negotiations hit a snag and, for the moment, the fight is dead.
Yesterday (March 27), Yahoo combat sports columnist Kevin Iole posted a story that was harshly critical of the Gypsy King. "The blame for this goes squarely on the broad shoulders of Fury," he wrote.
Iole noted that Team Usyk acquiesced to Fury's demand for 70 percent of the purse, notwithstanding the fact that the Ukrainian held three-fourths of the meaningful belts. Referencing Ali-Frazier I, the "Fight of the Century," Iole noted that this iconic event would have never happened if the larger-than-life Muhammad Ali had attempted to leverage his popularity with "grotesque financial demands." (The purse split was reportedly 50/50.)
Gareth Davies, the most well-known boxing scribe in the UK and something of a celebrity himself, had a somewhat different take. In a widely-circulated television interview, Davies noted that it was actually Team Usyk that pulled the plug. The sticking point, by all accounts, was the percentage splits to be built into a rematch clause.
Davies did not reproach Usyk for walking away from the negotiation table. His remarks were seemingly meant to shelter Fury, his British countryman, from the scathing rhetoric directed at him.
Assuming that the window for rekindling negotiations is shut tight, Oleksandr Usyk is expected to fight England's Daniel Dubois next. Dubois is first in line among Usyk's mandatory opponents. It has also been reported that deep-pocketed investors in the Middle East are interested in pitting Usyk against Deontay Wilder; a most delicious match-up indeed.
Former U.S. college cheerleader Joe Joyce is expected to be Tyson Fury's next opponent assuming that he gets by Zhilei Zhang on April 15. Joyce is a heavy favorite in the match at London's Copper Box arena. However, Matchroom promoter Eddie Hearn still holds out hope of luring Fury into a match with Anthony Joshua. By Hearn's reckoning, this is the biggest fight out there for the Gypsy King; bigger even than Fury-Usyk.
Anthony Joshua returns to the ring this Saturday at the O2 in London with U.S. import Jermaine Franklin in the opposite corner. It will be Joshua's first fight under the tutelage of new head trainer Derrick James.
In the meantime, boxing continues to shoot itself in the foot by failing to produce the fights that fans are most desirous of seeing.
To comment on this story in the Fight Forum CLICK HERE
Weekend Boxing Recap: Okolie in Manchester, Ramirez in Fresno and More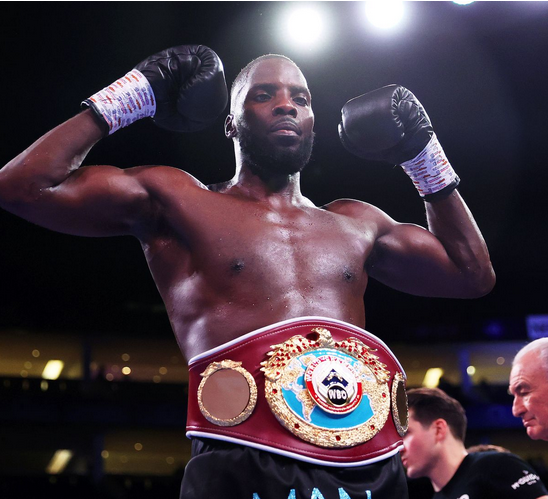 The media room at the MGM Grand in Las Vegas was as underpopulated as North Dakota this weekend. Only a handful of America's A-list boxing writers attended the Benavidez-Plant card. Prominent wordsmiths like Kevin Iole, Mike Coppinger, and Dan Rafael were nowhere to be found.
Inside the boxing arena, however, the joint was full. One guesses that the Grand Garden was configured to hold 13,865 as that was the announced attendance and there didn't appear to be an empty seat in the house. And the attendees arrived earlier than was the norm for a major Las Vegas fight card. The high rollers that arrive fashionably late (if there were any) were vastly out-numbered by true boxing fans, primarily Mexican-American on this particular occasion, who left the show in good spirits after Arizona-born David Benavidez, the self-styled Mexican Monster, manhandled brave but out-gunned Caleb Plant.
There were notable fights elsewhere on Saturday. Across the pond in Manchester, England, Lawrence Okolie, widely regarded as the sport's best cruiserweight, won a lopsided decision over Australia's David Light, advancing his record to 19-0 while successfully defending his WBO world title belt.
Okolie (pictured) was making his first start in 13 months. In the interim, he ditched his promoter Eddie Hearn in favor of Ben Shalom and ditched his trainer Shane McGuigan in favor of SugarHill Steward.
He and McGuigan appeared to be a great fit. With McGuigan in his corner, he was 7-0 with six wins inside the distance. His initial foray under Steward was a dull fight reminiscent of some of Okolie's early efforts. He had a point deducted for excessive clinching but it was a moot point as Okolie breezed, winning by scores of 119-108, 117-110, and 116-112. Light was 20-0 heading in, but was sorely outclassed.
By all accounts, the Okolie-McGuigan divorce was an amicable split. Okolie trained for this bout in Miami and McGuigan had too much on his plate to accompany Okolie to the Sunshine State.
Okolie appears headed toward a domestic showdown with fellow Londoner Richard Riakporhe who is also unbeaten (16-0, 12 KOs). Physically, these two late-bloomers, both of whom stand six-foot-five, are virtual clones. A bigger fight for him would be a match with IBF belt-holder Jai Opetaia, the lineal cruiserweight champion, who is still recovering from the two broken jaws he suffered while de-throning long-reigning 200-pound champion Maris Briedis in a fight that will live long in Australian boxing lore.
The Okolie-Light undercard was cheesy including a BBBofC super featherweight title fight between Michael Gomez Jr and Levi Giles, two fighters who built their records on the backs of professional losers. Gomez won a split decision. Also, 31-year-old heavyweight Frazer Clarke, a bronze medalist in the Tokyo Olympics, improved to 6-0 (5) at the expense of Romania's Bogdan Dinu, a late sub who performed about as expected, retiring on his stool after two rounds.
Fresno
The Benavidez-Plant card went head-to-head with a Top Rank show in Fresno featuring local fan favorite Jose Carlos Ramirez. It was the second fight back for Ramirez after losing a close decision to Josh Taylor with all four 140-pound belts on the line and his first fight in 13 months. In the opposite corner was former world lightweight titlist Richard Commey, a 36-year-old Ghanaian.
Ramirez came out like gangbusters and hurt Commey in the opening minute. But Commey survived the onslaught and came back to win some of the middle rounds. In round 11, Ramirez closed the show. After decking Commey with a right hand that didn't appear to be particularly hurtful, he delivered a vicious left hook to the liver and Commey was counted out while taking a knee.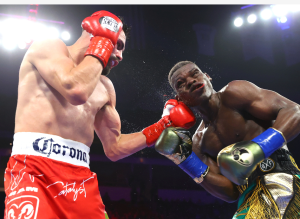 Ramirez improved to 28-1 with his 18th knockout. His promoter Bob Arum is expected to rekindle negotiations with Regis Prograis who won the vacant WBC 140-pound diadem in November with an 11th round stoppage of Jose Zepeda. Commey (30-5-1) has lost three of his last five.
In the co-feature, East LA's Seniesa Estrada picked up a second world title belt at 105 pounds with a lopsided decision over Germany's previously undefeated Tina Rupprecht.  Estrada (24-0, 9 KOs) won all 10 rounds on all three cards which was misleading as many of the rounds were close.
(The victory opens the door to a true unification fight with Costa Rica's Yokasta Valle who has won 15 straight since losing a decision to Rupprecht in Munich in 2018. Valle was also in action on Saturday night. At a beach resort hotel in Guanacaste, Valle successfully defended her titles with a wide decision over Mexican invader Jessica Basulto.)
In another bout of note on the Fresno card, SoCal lightweight Raymond Muratalla (17-0, 14 KOs) overcame adversity to score a ninth-round stoppage over Tijuana's Humberto Galindo (14-3-1).
Galindo caught Muratalla against the ropes in the opening round and put him down with a left-right combination. Muratalla returned the favor three rounds later and ended the contest in round nine with a series of punches which deposited Galindo on the deck where he stayed for the 10-count.
According to Jake Donovan, Top Rank plans to pit Muratalla against Namibia's Jeremiah Nakathila on the Lomachenko-Haney card tentatively scheduled for May 20 in Las Vegas. Nakathila upset Miguel Berchelt in his last outing, dominating the former super featherweight title-holder en route to a sixth-round stoppage.
Also
Two 10-round preliminaries preceded Saturday's SHOWTIME pay-per-view at the MGM Grand. Both contests played out in a similar fashion.
In a super bantamweight contest, Culiacan, Mexico's Kevin Gonzalez stayed unbeaten with a clear-cut unanimous decision over Colombia's Jose Sanmartin. The judges had it 99-91, 98-92, and 97-93.
Gonzalez, who advanced to 26-0-1, fought mostly in flurries but worked the body well and landed the cleaner punches. It was the U.S. debut for Sanmartin (34-7-1) who had been in with the likes of Emanuel Navarrete and Mauricio Lara.
In the lid-lifter, Orestes Valasquez, a 29-year-old Cuban defector who has been training in Las Vegas under Ismael Salas, stepped up in class and won a 10-round unanimous decision over Argentina's Marcelino Lopez. The judges had it 97-93 and 99-91 twice.
A 16-year pro, Lopez brought a 37-2-1 record. His signature win was a second-round blowout of former world title-holder Pablo Cesar Cano. Valasquez was extended the distance for the first time after opening his pro career with six wins by stoppage.
Ramirez-Commey photo credit: Mikey Williams / Top Rank via Getty Images
To comment on this story in the Fight Forum CLICK HERE
David Benavidez Starts Slow but Finishes Strong, Overcomes Caleb Plant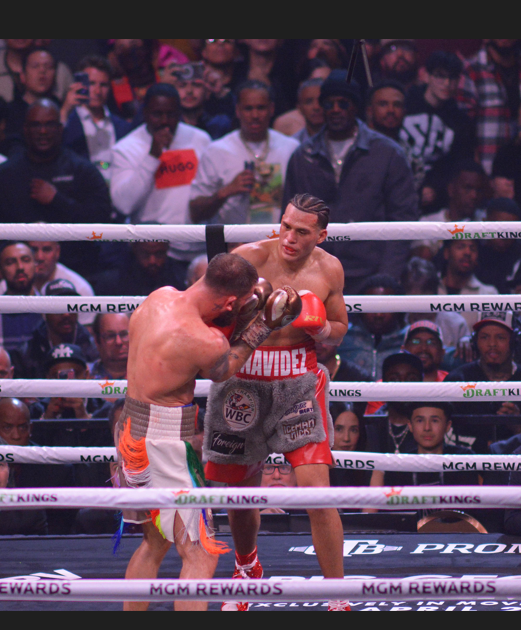 LAS VEGAS-David "The Mexican Monster" Benavidez proved too strong and simply overpowered Caleb Plant after a tight early half of the fight to win going away by unanimous decision in the super middleweight elimination fight on Saturday.
Plant would not quit.
"Caleb Plant is a tough fighter. He gave me everything in the first few rounds," said Benavidez who had predicted he would not go the distance.
Arizona's feared Benavidez (27-0, 23 KOs) was unable to stop Plant (22-2, 13 KOs) but battered his way to victory before a sold-out crowd at the MGM Garden Arena. Despite no knockdowns it was clear who was stronger.
Plant used his speed and footwork to maneuver in and out of danger in the match and gained control for the first four rounds. His hand speed and ability to clinch in tight quarters with the aid of referee Kenny Bayless gave the Las Vegas-based fighter an early advantage.
Things turned around when Plant clinched then smacked Benavidez who thought it would be a clean break. That seemed to spark Benavidez into berserker mode.
From the seventh round on Benavidez punched through clinches and would not allow Plant to take advantage. In the eighth round Benavidez powered through and Plant seemed staggered and hurt by the Arizona fighter's power. But he kept upright.
Benavidez took advantage of Plant's inability to maneuver as he did before and hammered the former champion who lost to Canelo Alvarez with triple left hooks and overhand rights. Plant would not go down and held on and absorbed the punishment.
The 10th round saw Benavidez dominate every second of the round. Plant tried fighting back but his punches lacked any power and Benavidez battered him from post to post, It was a round that could have been stopped or scored 10-8.
"I think I was catching him with a lot of power shots and that's why I'm called the Mexican Monster because I keep coming like a monster," said Benavidez.
Plant proved unwilling to quit despite cuts on his face and withstanding some hellish blows. The slender super middleweight refused to go down and somehow withstood the punishment.
It was remarkable bravery on his part.
When the final bell rang Plant tried valiantly to fight it out with Benavidez but just did not have the power to hurt the most feared man in the super middleweight division. Despite all the heated words during the promotion of the fight, the two warriors hugged and shook hands warmly. The animosity was gone.
"I know there was a lot said between us but in the end we settled this like men. He's a helluva fighter. I'm happy we gave the fans the best rivalry of the year or the last five years. I'm just very happy," said Benavidez.
Plant was equally benevolent.
"David's a hell of a fighter. We settled it like men in the ring," said Plant. "You roll the dice someone is going to get their hand raised. No excuse, David was the better man, he is a hell of a fighter."
Benavidez now is the number one ranked WBC super middleweight and a mandatory for Saul "Canelo" Alvarez who is undisputed world champion.
Other Bouts
Arizona's Jesus Ramos (20-0, 16 KOs) proved too strong for Michigan's strongman Joey Spencer (16-1, 10 KOs) and ended the fight by stoppage at the end of the seventh round in the super welterweight contest.
Ramos scored early with a left-hand knockdown in the first round and powered his way past Spencer in almost every round. Spencer was valiant throughout the match but just couldn't match Ramos speed or strength. Most of the fight took place in close.
"After the first round knockdown I kinda knew my power was too much," said Ramos.
Despite an early first round knockdown Chris Colbert (17-1, 6 KOs) won by unanimous decision in a lightweight fight over the more aggressive and busier Jose Valenzuela (12-2, 8 KOs) in a decision that left the fans very displeased.
"He lost for a reason," said Colbert as fans booed lustily.
A counter left cross floored Colbert in the first round and Valenzuela took control early with more punching to the body and head as Colbert covered up. It was a tactic he used often and was rewarded by the judges.
Valenzuela was not pleased at all.'
"I dominated," said Valenzuela.
All three judges scored it 95-94 for Colbert.
Welterweights
Canada's Cody Crowley (22-0, 9 KOs) imposed his will early against Arizona's Abel Ramos (27-6-2, 21 KOs) and held on for the victory by majority decision down the stretch in a brutal war for the right to fight for the WBC welterweight title.
A knockdown scored in the 11th round by Ramos by a counter right cross was reversed by the Nevada Commission after a replay of the blow revealed his glove did not touch the ground. That proved beneficial to Crowley in the scoring.
Crowley pressured Ramos throughout the first eight rounds then the fight changed and was fought at a distance as Ramos used pot shots to score heavily from that moment on.
Ramos rallied by staying in the middle of the ring and using the space to crack the always pressuring Crowley with long range shots. From the ninth round on the scoring got tighter with Crowley scoring rapid combinations and Ramos scoring with heavy shots.
After 12 rounds one judge saw it even 114-114, two others saw Crowley the winner 115-113, 116-112. Crowley now gets the shot at the WBC title held by Errol Spence Jr.
"This fight was something else," said a tearful Crowley whose father recently died. "If not for my dad I wouldn't be here today."
Photo credit: Al Applerose
To comment on this story in the Fight Forum CLICK HERE