The Smoke Faded, But Memory Of Frazier Never Will…BORGES
The Smoke faded away Monday night but Joe Frazier never will.
For as long as there are fighters and people who respect them there will be the memory of Smokin' Joe, adorned in baggy green shorts, launching a left hook thrown with as many bad intentions as any man ever had.
On the receiving end of it was Muhammad Ali, knocked on his back when that hook landed and taking much of the dreams of America's youthful revolutionaries with him back in 1971. Ali was, as he remains today, a myth as well as a legend but he would have been less of both had there never been Smokin' Joe to battle with.
Frazier went to his grave resenting Ali, who he befriended when Ali was in exile only to see him make a fool of him with insults, crude denigrations of who he was as a man and an accusation most foul that he was an Uncle Tom. Nothing could have been farther from the truth and Ali knew it but he was a salesman first, sometimes a cruel one. That was something Frazier never understood.
Frazier passed away Monday night at 67, losing the final fight of his life as we all do. The final years were not kind, Frazier battling financial ruin, loss and family feuds as well as the long shadow of Ali. What he never seemed to grasp was that while he was never Ali that didn't really matter because he was his own legend.
If you went to north Philadelphia to visit Joe Frazier late in his life above the gym he owned one thing struck you immediately. Looming everywhere in his living quarters was a massive blown up photograph of Ali going down, his eyes glassy and his face looking befuddled as he crashed to the canvas at Madison Square Garden that cold March night.
It loomed not only over that room but also over Joe Frazier all his life. It was sad that it did but it was also his moment: 15th round, Ali falling, Frazier's hand being raised.
It was the only night Frazier beat Ali, something he could not do in their next two meetings. What he could do though was give Ali hell every time, especially in that vicious third confrontation in Manila when both of them took away from the other pieces of them that would never be replaced.
"Closest thing to dying that I know of,'' Ali would later say of that night and who would argue with him? Not even Frazier.
When that night ended Ali was barely able to move as he lay on a rubbing table, blood in his urine for weeks after from the force of that Frazier hook to the body striking him time and again. Nearly by lay Frazier, nearly blind, his eyes punched shut by Ali's jab.
Eddie Futch had stopped the fight after 14 rounds despite Frazier's protests saying, "Son, they'll never forget what you did here tonight.'' Eddie Futch was a wise man because they have not.
Long after the smoke has faded Smokin' Joe's memory will remain. Frazier had always been an undersized heavyweight with a concussive left hook and an iron resolve. He was a fighter who knew only one direction – forward – wading through hell and high water to get to you. When he arrived you remembered it.
Born in Beaufort, S.C. into a sharecropper's family, Frazier was the furthest thing on earth from an Uncle Tom. He lived what would later be called "the Black Experience'' from the cellar up, a victim of racism in the South and then poverty in the north.
The way he got out of all that was the way he lived his life. He fought his way out, winning a gold medal at the 1964 Olympics and six years later knocking out Jimmy Ellis to become heavyweight champion.
No one, not even Ali, could take any of those things away from him. He was a hard man who didn't know what it meant to take a backward step and so when it went bad with Ali he refused to forget.
Although from time to time he would seem to soften publicly there would always come a moment when the bile returned to the surface, as it did memorably at the 1996 Olympics in Atlanta. Ali, stricken with Parkinson's Syndrome and a shaky shadow of all he once had been, stood with trembling hand as he tried to light the Olympic torch.
Later Frazier would say, "They should have thrown him in,'' meaning the glowing cauldron of fire beneath the flame. He never took it back.
He took no pleasure in Ali's illness, which has reduced him to silence in recent years, but he also felt no shame in saying, as he once did at an Olympic autograph session, "I'm the reason he is the way he is today.''
That is part of the compact men sign when they agree to become a prize fighter. They accept pain and inflict pain. It is their job. They are practitioners of the hurt business and no one ever delivered the hurt more enthusiastically than Smokin' Joe Frazier.
He's gone now, a cruel irony because who would have thought 10 or 15 years ago when the effects of Ali's Parkinson's first became evident that Smokin' Joe would disappear before Ali?
It doesn't matter though, because Muhammad Ali will never forget Joe Frazier and neither will anyone who ever saw him walking forward with those menacing eyes, a left hook cocked and waiting to let some smoke get in your eyes.
Tyson Fury TKOs Derek Chisora in Round 10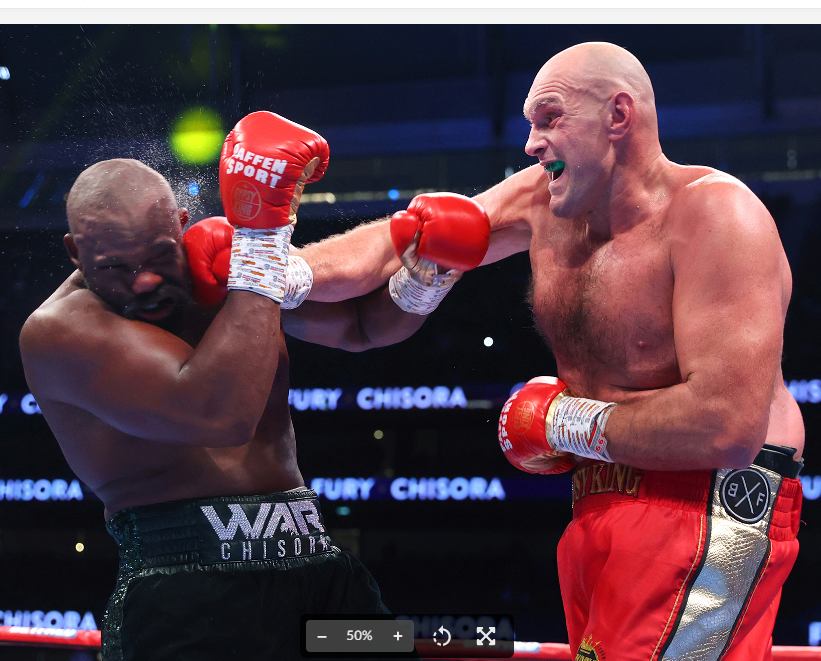 It was a chilly night in London but that didn't deter a near-capacity crowd from turning out at Tottenham Hotspur Stadium to witness the third rumble between Tyson Fury and Derek Chisora. The Gypsy King was heavily favored to retain his WBC and lineal heavyweight title and performed as expected. Indeed, this fight closely resembled their second encounter back in 2014.
In that bout, Chisora absorbed a terrific amount of punishment before his corner pulled him out at the conclusion of the 10th round. Tonight's fight ended nine seconds earlier at the 2:51 mark of round 10 and it was the referee who terminated the match.
When is a heavyweight not a heavyweight? When the man in the opposite corner is substantially bigger. With an 8-inch height advantage and a 15-inch reach advantage, the six-foot-nine Fury was simply too big a mountain to climb for the brave Derek Chisora, a fighter who changed his nickname in mid-career, transitioning from "Dell Boy" to "War."
Fury dominated round two, especially the last minute, a round in which he was credited with landing 18 power punches. The writing was on the wall for Chisora who ate a lot of thudding uppercuts in the ensuing rounds and ended the contest with a badly swollen right eye and a bloody mouth. With the victory, Fury improved his ledger to 32-0-1 with his 24th win inside the distance. The Zimbabwe-born Chisora falls to 33-13.
Oleksandr Usyk and Joe Joyce were in attendance and the Gypsy King addressed both before he left the ring. Calling Usyk "The Rabbit," he indicated that he would fight Usyk next in a true unification fight, but said if there were a snag in negotiations he wouldn't mind trading blows with the Juggernaut, Joe Joyce, who wore down and stopped former heavyweight title-holder Joseph Parker, a former Fury sparring partner, in his most recent engagement. However, Fury also revealed that he had an issue with his right elbow that may require surgery.
Co-Feature
In a heavyweight match that lasted only three rounds but was chock-full of action, Daniel Dubois overcame three knockdowns to retain his secondary WBA heavyweight title he won at the expense Trevor Bryan with a third-round stoppage of upset-minded Kevin Lerena.
In the opening stanza, Johannesburg's Lerena, landed an overhand left on the top of Dubois's head that put the Englishman on the canvas and left him all at sea. He went down twice more before the round was over, the first time of his own volition when he took a knee (reminiscent of his match with Joe Joyce) and the second from a glancing blow.
Dubois, whose legs are spindly for a man of his poundage, had trouble regaining his equilibrium in round two, but Lerena didn't press his advantage. In the next frame, a short right from Dubois penetrated Lerena's guard and down went the South African. Smelling blood, Dubois knocked him down again and was pummeling him against the ropes when the referee interceded just as it appeared that Lerena would be saved by the bell.
It was the fourth straight win for Dubois (19-1, 18 KOs) since his mishap versus Joyce. Lerena, who entered the bout on a 17-fight winning streak, lost for the second time in 30 fights.
Also
In a ho-hum affair, Denis Berinchyk, a 24-year-old Ukrainian, captured the European lightweight title and remained undefeated with a unanimous decision over French-Senagalese warhorse Ivan Mendy. Berinchyk (17-0, 9 KOs) was making his first appearance in London since winning a silver medal at the 2012 Olympics where he was a teammate of Oleksandr Usyk and Vasiliy Lomachenko.
The judges had it 117-112 and 116-112 twice for the Ukrainian. The 37-year-old Mendy, who has answered the bell for 380 rounds, falls to 47-6-1.
Photo credit: Mikey Williams / Top Rank via Getty Images
To comment on this story in the Fight Forum CLICK HERE
Light Nips Glanton in Florida; across the pond, Kelly UD 12 Williamson in Newcastle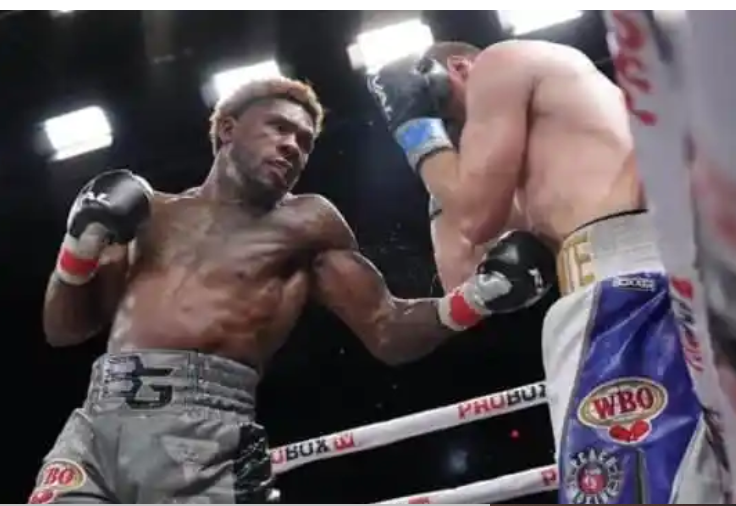 ProBox TV, a fledgling promotional group co-founded by former world champions Roy Jones Jr, Juan Manuel Marquez, and Paulie Malignaggi, has found a home for their bi-monthly shows at an events center in Plant City, Florida, near Tampa. The main event of last night's show (Friday, Dec. 2) was a well-matched 10-rounder between world ranked cruiserweights Brandon Glanton (pictured on the left) and David Light, both undefeated.
Light, a 31-year-old New Zealander who was 19-0 (12 KOs) heading in, had a strong amateur background that included a silver medal at the 2014 Commonwealth Games, but was virtually unknown outside the Antipodes, having fought almost exclusively on small shows in Auckland. Glanton, a 30-year-old Atlanta native who had trimmed down considerably since his days as a defensive lineman at HBCU Albany State, had caught the eye of hardcore fight fans with a thrilling split decision over previously unbeaten Efetobor Apochi on a TBS show in Minneapolis.
The oddsmakers made Glanton (17-0, 14 KOs heading in) a small favorite and after 10 hard rounds there were many who thought he deserved the nod. He turned the fight into a "phone booth" affair, pressing the action while working the body effectively, and scored the bout's lone knockdown, knocking Light off his pins (he wasn't badly hurt) in the final frame with what appeared to be a glancing blow. But two of the judges were more impressed by Light's counter-punching, scoring the bout 97-92 and 95-94 for the kiwi, overruling the dissenter who had it 95-94 for Blanton.
It was the sort of fight that cries out for a rematch, but David Light will undoubtedly go in a different direction. Both he and Glanton were pointing toward a match with WBO title-holder Lawrence Okolie.
Newcastle
Earlier on Friday, across the pond in Newcastle, England, former Olympian Josh Kelly got the signature win that had eluded him with a lopsided 12-round decision over defending British 154-pound title-holder and former amateur teammate Troy Williamson.
This was Kelly's third fight since David Avanesyan burst his bubble in a welterweight affair, stopping Kelly in the sixth stanza. The local fighter, who boosted his record to 13-1-1 (7) blamed his poor performance on his struggle to make weight.
The previously undefeated Williamson, 19-0-1 heading in, was making the second defense of the title he won in a barnburner with Ted Cheeseman. He went to post a small favorite, but was outclassed by Kelly who won by scores of 119-109, 119-111, and 118-110.
In the co-feature, Manchester's Lyndon Arthur (21-1, 15 KOs) stayed relevant in the light heavyweight division with a second-round stoppage of overmatched Joel McIntyre (20-5). In his lone defeat, Arthur was TKOed by revenge-minded Anthony Yarde.
To comment on this story in the Fight Forum CLICK HERE
Devin Haney Challenges Teófimo López as López Prepares to Fight Sandor Martín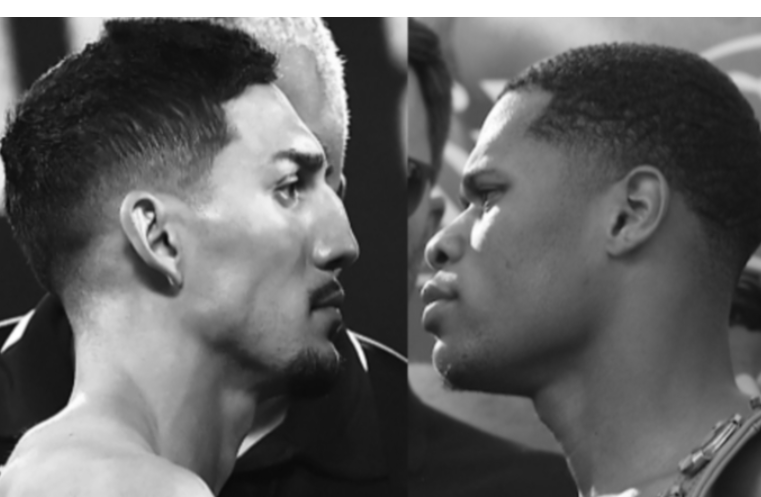 It appeared that everything was going smoothly for the upcoming fight between American Teófimo López and Puerto Rican José Pedraza, but then Pedraza took ill and was forced to pull out. In steps the Spaniard Sandor Martín in a fight scheduled for December 10 in the Hulu Theater inside the legendary Madison Square Garden in New York. It's a WBC 140-pound eliminator with the added incentive of a minor WBO belt.
The former world champion at 135 pounds, López (17-1, 13 KOs) ranks fourth on the WBC list, while the southpaw Martín (40-2, 13 KOs) is ranked fifth.
The WBC title was vacant, but on November 26, fellow American Regis "Rougarou" Prograis (28-1, 24 KOs) anesthetized his countryman José Zepeda in the eleventh round in Carson, California, and is now the WBC champion of that division.
In its recent Annual Convention, the WBC determined that Prograis must immediately face his compatriot José Carlos "El Jaguar" Ramírez (27-1, 17 KOs), who, because of a conflict with his wedding date in October, subsequently gave up his opportunity to fight Zepeda for the vacant title, allowing Prograis to step in.
Currently ranked in second place by the WBC, the thirty-year-old Ramírez had defeated Zepeda by majority decision in February 2019 in Fresno, California, where the victor defended his 140-pound belt for the second time.
By provision of the WBC, the winner of the match between Prograis and Ramírez has the obligation to fight the winner of López vs Martín.
López, 25, will be making his second presentation at 140 pounds after anesthetizing Mexican Pedro Campa (34-2-1, 23 KOs) in the seventh round last August in Las Vegas.
Nine months earlier, López suffered his only defeat as a professional fighter in his surprising loss by split decision to Australian George Kambosos Jr. in Madison Square Garden. Kambosos Jr took home the WBA, IBF and WBO 135-pound belts.
Martín, the twenty-nine-year-old southpaw, will be making his second foray before boxing fans in the United States. He has linked together a streak of 11 consecutive wins since September 2017 when he lost by unanimous decision to Swede Anthony Yigit who won the European title at 140 pounds.
In October of last year, Martín prevailed by majority decision in Fresno against multiple world champion Mikey García (40-2, 30 KOs), who last June announced on social media that he was retiring at the age of 34 years. "Retired World Champion 126, 130, 135 and 140 lbs," Garcia wrote on his Instagram profile.
For his part, Martín, on April 1st in Barcelona, won a 10-round unanimous decision against veteran José Félix, ​​where the vacant WBA International belt was at stake.
DEVIN HANEY CHALLENGES TEÓFIMO LÓPEZ
Motivated by his difficulties in reaching 135 pounds, the undefeated American Devin Haney (29-0, 15 KOs), the current undisputed champion of that division, seems to have begun paving the way to move up to junior welterweight.
Although there are reports that Haney's camp is in talks with representatives for Ukrainian Vasily Lomachenko (17-2, 11 KOs), who leads the WBC and WBO rankings, Haney himself and his father have expressed interest in fighting Teófimo López at 140 pounds.
Just two days ago, Haney and Lopez exchanged tweets. Haney, the current champion, expressed: "Remember u chose kambosos to whip ur ass instead of me! Went a different direction & it almost cost you your life…gotta make smart choices"
Almost immediately López responded: "Awww!!! Come on baby girl. It's okay' when God brings Haney to my plate, I can't wait to get you all truly BIG MAD! Stay blessed" Haney then shot back minutes later: "Ain't no match yet (referring to the Lomachenko fight)… might just come to 140 & (f*&!) u up!"
López's new response was not long in coming: "& as for @Realdevinhaney focus on your upcoming match with @VasylLomachenko, Young blood! I got work to do here at the 140 division. I pray you enjoyed your 5 mins of fame! #BestOfLuck"
Article submitted by Jorge Juan Alvarez in Spanish.
Please note any adjustments made were for clarification purposes and any errors in translation were unintentional.
To comment on this story in the Fight Forum CLICK HERE