RIP Champion. [Artist Richard T. Slone, courtesy sloneart.com]
The strong men . . . coming on
The strong' men gittin' stronger.
Strong men. . . .
Stronger. . . .
~Sterling Brown (1900-1992)
I saw Smokin' Joe Frazier in the ring Saturday night. He was in the throes of battle, loving every moment as his whistling hooks broke another man. He went down; he got up, and absorbed a terrible beating that declared the force of his will…
James Kirkland sees no difference between boxing matches and turf wars. When that bell rings, he isn't thinking about points, whether they be the finer points of technique or the ones those stiff suits on stools keep track of. He isn't even thinking like a man; at times his matches resemble primal clashes over hunting grounds and mating rights, not sports contests. He's thinking about punching holes through his rival so that he can pull his heart out and show it to him with a bloody grin that says "I told you so."
Kirkland fights like someone who has suffered. The fact that much of his suffering was the direct result of his own bad decisions is beside the point.

The purest of modern brawlers was born in 1944, the youngest of twelve children raised on a sharecropper's farm in Beaufort, South Carolina during the bad old days of Jim Crow. Most of his kinfolk never left the region. They worked from sun-up to sun-down and at year's end had nothing more to show for it than the slaves they were descended from.
When he was 12, "Billy Boy," as he was called, would go out to the mule shack and punch a burlap sack filled with sand and rags. It might as well been filled with stardust because a chubby arm, his left one, began to crook and smash into the side of that sack with startling force. 
When he was 15, someone went and talked about his mother. Both chubby arms lashed out and got him suspended from school. He never went back. He got a job driving a tractor and hauling water, but had a run-in with the boss man and had to flee the region like so many other black men too strong to hold their hats in hand and too wise to stick around. He went north in 1959, just another nameless face among the millions in what historians call The Great Migration. He was a part-time car thief in New York City, sleeping on a chair for two years in a crowded apartment.
Then Philadelphia beckoned.
Philadelphia –where fighters still rise out of the cracked concrete like black Spartans with rap sheets. He took a job in a slaughterhouse and punched hanging carcasses during breaks, and at 17 he walked into a gym on the north side of the city with his dreams. That was fifty years ago.
The man who would become Smokin' Joe Frazier never really left.

Men who have suffered sometimes get sentimental about it. They seek it out. Some pronounce the cynical maxim "life is hell" too many times and start embracing it: "Hell is life." Kirkland, like many pure brawlers, never feels as alive as when he is exchanging blows. He uses boxing to turn his frown upside down.
On Saturday night Kirkland was in the ring against Alfredo Angulo, a brawler as pure as himself. He went right to him at the opening bell and slammed both hands around his flanks and up the middle. Thirty seconds later, he bulled him into a corner and threw a straight left, then slipped to his right to avoid the counter. Angulo timed his slip and threw his own right, and Kirkland went down. His dysfunction was looking up. Even there on the canvas Kirkland was still looking at Angulo, though not with anger. It seemed more like the silent glance exchanged between two friends suffering –-or partying-– together that says "I'm glad you're here."
Angulo's expression told us nothing. He's a stoic whose mug wouldn't change by a twitch whether he was in a state of ecstasy or having his toenails torn off with pliers. His actions, however, told us that he's a gambler. The moment Kirkland got up and the referee waved the two fighters to resume battle, Angulo emptied his vault in a winner-take-all effort. He threw over 70 punches before the end of the round and landed over half of them.
How did Kirkland absorb that punishment?
-–Whatever put that stardust into a fat boy's burlap sack in South Carolina happened to sprinkle some on an ex-convict from Texas Saturday night. And that's as good an explanation as you'll find anywhere.
Angulo's exertions were for nothing. He punched himself out just as Kirkland began coming on again. It was a left hook that sent Angulo spiraling down Queer Street. When he collapsed at the end of that unforgettable first round, Angulo's seconds frantically gestured for him to stay down for eight seconds, but he would have none of that. He got up immediately and hoped no one noticed that he ever went down in the first place. For the next five rounds Angulo was vulnerable and only semi-conscious. He fought on. His expression, soon distorted by punishment, still hadn't changed.
Kirkland seemed to be enjoying it all.

In 1969, The New York Times carried an article about Joe Frazier entitled "The Killer" and the Los Angeles Times ran a three-part series called "Man or Machine?" Tapping typewriters described the fighter's strange enthusiasm in the ring as "savage glee" and "blood joy." They saw Frazier grinning a bloody grin and eagerly nodding his head after landing a left hook hard enough to crack the ribs of dead cows in a Philly slaughterhouse. When moved off balance or knocked backwards, he'd clap his hands and then trot right back into close quarters like it was home sweet home.

At 1:59 of round six, Kirkland was feeling very much alive. His punches were landing with startling force one after another. The strong man was getting stronger, even as the story shifted to Alfredo Angulo. After being battered for five rounds Angulo's offense had become feeble and his defense stultified. Now his body was shuddering under the weight of violence and sagging for the first time in his professional career. All that was left was his will. The crowd at the Centro de Cancun gasped when they saw that Angulo would accept his terrible fate standing up.
The referee jumped in, stopped the fight, and probably saved his life.
October 1st 1975. At the end of the twelfth round in the third epic struggle between Joe Frazier and Muhammad Ali, Frazier's face had become a bulging mess. He told trainer Eddie Futch that he couldn't see out of the crouch position and Futch instructed him to "pull back a step and stand up" so that he could see better. But Ali picked up on the change and adjusted accordingly. He knocked Frazier's mouthpiece out of his mouth, over the ropes, and six rows back. Frazier was vulnerable and almost blind.
"I fought on," Frazier said afterward, "There was nothing else to do."
"And these are the kind of fighters who get hurt seriously," Eddie Futch recalled, "–those who won't go down, who will stay there and absorb the punishment when their body is just not capable of handling it anymore. And their mind tells them to stay up and their body just can't handle it."
In the corner before the beginning of the fifteenth round, the trainer looked at his fighter and said "Joe, I'm going to stop it." Frazier pleaded, "No, no, no!" Futch put his hand on the strong man's shoulder and said "sit down son.
…no one will ever forget what you did here today."

We never did. We never will.
Joe Frazier died last night in Philadelphia. He was diagnosed with liver cancer in late September and spent his last days at home surrounded by family. No merciful referee or wise trainer interfered while he battled on his own terms, and something tells me that he wouldn't have it any other way.
Joe Frazier's spirit will never die. We saw it in the ring Saturday night. We'll see it again. 

——————————————-
The graphic appears with permission.
Background information about Frazier in Jack Griffin's "Frazier Still Dreaming As Ali Started His Climb," Pittsburgh Press 3/3/71 and "Catching Up With 'Smokin Joe Frazier'," by Sabina Clark in Irish Edition, 6/12/09. Descriptions of Frazier's "joy" in battle found in New York Times 7/20/67 and 6/26/69. Eddie Futch's recollections found in Ronald K. Fried's Corner Men (pp. 312-313) and Dave Anderson's In The Corner (pp.246-247).
Springs Toledo can be contacted at scalinatella@hotmail.com">scalinatella@hotmail.com.
Khalid Yafai and Roman Gonzalez Meet at the Crossroads in Texas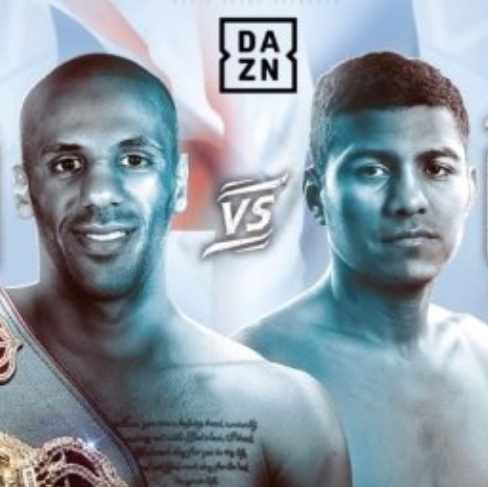 While the big sell from this weekend's Texas card is unquestionably the Mikey Garcia-Jessie Vargas fight, it is the chief support from the undercard that most intrigues. The veteran and former pound-for-pound king Roman "Chocolatito" Gonzalez, unquestionably sliding down from a very high peak, meets Kal Yafai, a belt-holder but one who treads the foothills. It is as clearly defined as a crossroads fight can be.
Yafai, a good-looking and clear-spoken British fighter of Yemeni extraction, came to prominence in a genuinely exceptional performance against another veteran in Luis Concepcion, a storied and seasoned fighter who he completely outclassed over twelve in late 2016. Since, he has taken the traditional path of an inexperienced fighter who has come by an alphabet trinket, meeting a series of fringe and borderline contenders in mandatory contests against opponents of moderate status. And to be fair to him, for the most part he has looked the part.
For the most part.
Fleet-footed and armed with a very fine jab, Yafai has added, at contendership level, a whistling lead right that complements a rather lovely left hook to the body. On Saturday he is to be presented with something a little different.
Roman Gonzalez has made a living out of forcing tactical errors and overwhelming ignoring tactical acumen both, punishing opposition planning, whether good or bad. There has been perhaps nobody in my lifetime in boxing so adept at turning a fighter's own style against him. When fighters ran from him, he bulldozed them with momentum. When fighters stood with him, he out-hit them with some of the most succinct and brutal combination punching in the sport; he kept company, at his absolute apex, with Manny Pacquiao. When fighters box-punched or mixed styles it was he who suddenly seemed fluid rather than wrought.
Roman, for a spell, was the best fighter in the world, one of the finest sportsmen on his continent and a national hero to his Nicaraguan people. Then, and very nearly all at once, it all came clattering down.
I'm aware it's irritating when boxing writers congratulate themselves on their own predictions, but this one is worth it I think: years before Roman was thought of by what we'll call the mainstream boxing press, I predicted that he would be a future pound-for-pound number one, but I also predicted that his eventual downfall would be at the hands of an aggressive southpaw, perhaps up at 115lbs. A decade later, Roman's fantastic multi-divisional reign was brought to a juddering halt by aggressive southpaw superfly Wisaksil Wangek (aka Srisaket Sor Rungvisai).
Another thing I predicted at that time: for Roman Gonzalez, there would be no meaningful second act.
All these years later that sense has deepened as Roman began to find himself rendered upon the wrong side of history. Nicaraguan politics has and will remain beyond the auspices of The Sweet Science – for all that I credit our readership with an attention span above and beyond the 2020 median, there is a limit. Suffice to say that his personal problems have rather dwarfed his professional ones.
He did come back though, a whole year after his loss to Wangek and looked competent if a little puffy at what is a heavy weight division for him, ten pounds north of the 105lbs he cut his teeth in.  The victim was Moises Fuentes and I wrote of that fight that while Roman was "perhaps not quite back, [he was] certainly warming up…and if the division isn't trembling, it can at least be said to have thrown a quick look over its shoulder."
If the division did look, and then looked again, it eventually just went about its business as Roman's fight camp was once again enveloped in silence. A year passed and after a brief tune-up in a glorified exhibition it was announced that he would duel old foe and world champion Juan Francisco Estrada who gave Roman perhaps his toughest fight of his prime years. It was a thrilling proposition, so when Estrada withdrew with an injury, I was miserable. Then Kal Yafai stepped in.
Yafai, ranked the #4 superfly (behind a devastating line up of kingpin Estrada, Wangek, Kazuto Ioka and Jerwin Ancajas), has always been the fight I most wanted Roman, who is ranked #5, to take. It's a winnable contest for both with a fascinating undertone of the generational clash despite the fact that Yafai, at thirty, is actually only two years younger than Roman. Their respective records of 26-0 and 48-2 tell the true story.
History says we favor the fresher man in this situation, but there are other factors at play here. As stated, Yafai, who himself names this the fight he most desires, has mostly looked the part against ostensibly weaker opposition, and he has. But in late 2018 he had a scare, against Israel Gonzalez out in Monte Carlo. Israel was underrated by the WBA who named him the #14 contender to Yafai's title making him both a valid defense and a supposed soft touch, an interesting insight into both the failings of an alphabet ranking organization and the complacency such failings can bring. Yafai, perhaps, did not pay Israel the respect he deserved.
What most struck about Yafai's performance in the first half of that fight, in an underwhelming venue before a small, underwhelmed audience, is how it drifted. He "did boxing". He moved; he threw his hands; but he appeared to have no underpinning strategy with which to carve out his victory.
He looked more purposeful in the middle to late rounds but continued to absorb punches to the body at a surprising rate though at least in support of a concrete plan, using his jab to bring him inside. Watching this fight of two halves, I felt sure Roman would have his number if ever the two should meet.
Boxing without a concrete plan against Roman Gonzalez is like sitting on your front lawn in a deckchair during clement weather and waiting for lightning to strike: both stupid and pointless.  Even men who have arrived in his ring with detailed accountancy for what they want to do in every minute of the round, world class fighters like Akira Yaegashi and Francisco Rodriguez, have struggled. Men who approach the fight seeking to riff adaptions have been mercilessly butchered.
There is no question of Yafai approaching Roman Gonzalez as casually as he approached Israel Gonzalez but watching him follow Israel around the ring I was struck by his lack of a defining identity, something denied him, perhaps, by a defining fight. This clash is a defining fight but is it possible it comes too soon for Yafai?
This is arguable, though in honesty it is only arguable due to the stage of his career at which Roman finds himself. He's older now and has suffered at the hands both of savage southpaws, and life. He wears both markers on his face. He is a hangdog version of the youthful warrior that crashed through four divisions in the past fifteen years; still dangerous, still strong, but notably smaller than his natural superfly opponent and notably slower than his 2010 self.  Yafai, meanwhile, is faster of jab (if not of combination) than Gonzalez ever was and has the feet to at least survive the juggernaut that was "Chocolatitito" best-for-best.
A Yafai victory would be best for boxing. That is undeniable. Even if Gonzalez winds it back, he can't go on much longer.
And I don't think he will wind it back; but I will predict he will win, not in a stretching of the years but in a straight-up mugging of a marginally superior opponent. Worn-down fighters have been worn by punches. Those punches teach hard lessons. I don't think Roman has the power at the poundage to deliver a knockout, but I think he has the experience to steal enough rounds on the scorecards to poach a decision.
A late fade might exclude him, but a victory for the older, smaller, slower man is this slower, older writer's prediction.
Check out more boxing news on video at The Boxing Channel 
To comment on this story in The Fight Forum CLICK HERE
Avila Perspective, Chap. 87: Vergil Ortiz and Company and More Fight Notes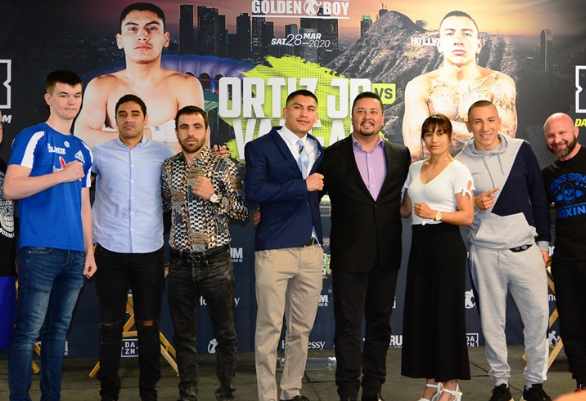 LOS ANGELES-Not long ago Vergil Ortiz Jr. and female prizefighter Seniesa Estrada were busting heads in a downtown theater that barely fit 400 people if the fire inspector looked the other way.
Next month, Ortiz and Estrada will be co-headlining a Golden Boy Promotions boxing card at the Inglewood Forum that seats more than 18,000.
A lot has changed for the two highly-ranked contenders.
Ortiz (15-0, 15 KOs) defends the WBA Gold welterweight title against Samuel Vargas (31-5-2, 14 KOs) in the main event on March 28 at the spacious arena built in the 1960s. In the female co-main East L.A.'s Estrada (18-0, 7 KOs) fights Mexico's Jackie Calvo (12-5-2) in defense of a regional title.
From prelims to world title chasers in a matter of two years, the ascent of the two highly-ranked contenders was mercurial.
It was less than two years ago the Dallas area product battered former world champion Juan Carlos Salgado at Belasco Theater. At the time few were certain that the slender built Ortiz was ready for the big tent. He was more than ready and blew out Salgado like Dollar Store candles.
Now it's merely a matter of time before he gets a crack at one of the welterweight world champions. It's a talent rich division with the likes of Terence Crawford, Danny Garcia, Shawn Porter and Errol Spence Jr.
"I don't think I'm the most talented fighter in the room, but I do know that I work the hardest in the game right now," said Ortiz, 21, who has never won by decision in his professional career. It's been pure knockouts.
Vargas, a veteran of 38 pro bouts, has faced many of the top welterweights in the world today including Errol Spence Jr. Amir Khan, and Danny Garcia.
"I've fought a lot of talented boxers and have had great experiences throughout the years," said Vargas who trains in Las Vegas with Clarence "Bones" Adams. "I'm confident and I'm ready."
It's a talent-rich boxing card featuring many prospects and contenders including super bantamweight Azat "Crazy A" Hovhannisyan (18-3, 15 KOs) who fights Colombia's Jose Sanmartin (30-5-1, 20 KOs).
"I'm as ready for any champion. I'm in the best shape and have the best trainer," said Hovhannisyan who is trained by Freddie Roach. "I can't wait to show everyone a wonderful fight on March 28."
Another prospect featured on the card, Aaron "The Silencer" McKenna (10-0, 6 KOs) of Ireland, meets Mexico's Christopher Degollado (13-6, 10 KOs) in a super welterweight clash set for eight rounds.
McKenna has adapted to the pro style after a successful amateur career and also adapted to Southern California living.
"I've been here a few years now," said McKenna who also trains with Freddie Roach. "I have an aggressive style that Mexican fans like."
Others on the card are Pablo Cano, Rashidi Ellis, Christopher Pearson, Chris Ousley and Raul Curiel. It's a pretty strong fight lineup.
"There's a lot of great boxing history at the forum. A lot of famous world champions have fought at this venue, including Oscar De La Hoya, who made his debut back in 1992," said Eric Gomez, the president of Golden Boy Promotions. "This is a great card and all these fights are going to be exciting, especially Vergil Ortiz Jr."
It's always fun to see prospects turn to contenders and then on to champions.
Showtime in Las Vegas
A hefty card in Las Vegas by Mayweather Promotions takes place on Friday Feb. 28, at Sam's Town Hotel and Gambling Hall in Las Vegas. Showtime will televise several of the main bouts.
Super lightweight prospect Keith Hunter (11-0, 7 KOs) meets Uzbekistan's Sanjarbek Rakhmanov (12-2, 6 KOs) in a rematch of a fight that ended in a split decision. Hunter won.
After the close win, Hunter then defeated always tough Cameron Krael by unanimous decision in a 10-round fight. Now he returns to face Rakhmanov again. It should be a firefight.
It's a very good boxing card that includes super middleweight Kevin Newman II, Ladarius Miller, and Lanell Bellows.
Burbank
This Saturday, Feb. 29, a boxing card called "Valley Fight Night" features a dozen bouts by Bash Boxing at the Burbank Marriott Events Center in Burbank, California.
Heading the boxing card will be popular welterweight Vlad Panin (7-0) facing Moises Fuentes (4-1). Several other undefeated prospects fill the event calendar including welterweight Aram Amirkhanyan.
Doors open at 6:30 p.m. For tickets and information go to www.Bashboxing.com
Fights to Watch
Fri. Showtime 10:45 p.m. – Keith Hunter (11-0) vs Sanjarbek Rakhmanov (12-2).
Fri. Telemundo 11:35 p.m. – Yomar Alamo (17-0-1) vs Kendo Castaneda (17-0).
Sat. DAZN  5 p.m. – Mikey Garcia (39-1) vs Jessie Vargas (29-2-2); Roman Gonzalez (48-2) vs Khalid Yafai (26-0); Julio Cesar Martinez (15-1) vs Jay Harris (17-0).
Photo credit: Al Applerose
Check out more boxing news on video at The Boxing Channel 
To comment on this story in The Fight Forum CLICK HERE
Final Takeaways from Wilder-Fury and a Doleful Dissertation on Riddick Bowe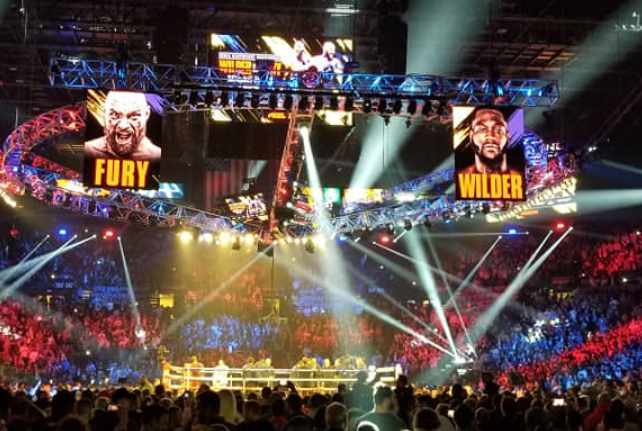 Final Takeaways from Wilder-Fury and a Doleful Dissertation on Riddick Bowe
I watched the Wilder-Fury fight from the cheap seats. Actually, I had no seat at all.
My press badge consigned me to the so-called auxiliary press section which was up in the rafters. One can't work in that environment. There's no table on which to plop one's laptop; no power strip to keep it plugged in. And so, I watched the full undercard on the big TV in the press room and then went into the arena to catch the main go and the hoopla that preceded it.
The corridors leading into the arena were jammed with people hoping to score a ticket at the last minute. They were out of luck. The fight was a sellout. It was gridlock and for a moment I feared that the main event would start without me, but I managed to push my way through in time for the ring walks.
The arena was dark and it seemed that every seat in my assigned area was taken. And so, I walked up to the very top of the stairs and stood with my back against the wall, wedged in between two other standees including a friendly guy from New Zealand who, like me, had a press badge dangling from a chain around his neck.
From a reporter's standpoint, there are certain benefits to being up in the rafters when the house is full. For one, you can get a better feel for the ambience. A boxing crowd skews younger and more boozed-up as one gets higher up in the stands and this translates into more exuberance. And that's especially true when there are a lot of Brits in the house. They chant and sing in unison. Us poor Yanks just don't know how to have so much fun.
I'm old school when it comes to ring walks. Spare me the razzmatazz. Mike Tyson didn't need it. No fancy robe for him, nor tasseled trunks, not even socks. And yet when he walked down the aisle with a simple white towel draped over his bare shoulders, he exuded charisma.
And then, on Saturday, Tyson Fury was carried into the ring on a throne, dressed like a king with a big crown on his head as the PA system played Patsy Cline's "Crazy," and, I'm forced to admit, it was magical. Talk about a tough act to follow.
I've seen boxers walk into the ring with fear unmistakably etched on their countenance as if they were walking to the gallows. Frank Bruno and Bruce Seldon could not mask that "tell" when they fought Mike Tyson. More often, a boxer's expression on his ring walk is inscrutable which I suspect is a way of compensating for his anxiety.
What struck me about Tyson Fury's ring entrance was that it betrayed no such apprehension; to the contrary, he oozed confidence as if this were nothing more than a tune-up fight. I swear, he looked like a chap who was headed off to a Halloween ball and had stopped for a few pints on the way to get a head start on the jollity. I couldn't pick a winner in this fight, tilted toward Wilder, but as I watched Tyson Fury's ring walk, I sensed that I had missed a great opportunity by failing to get down a wager on the Gypsy King.
Many years ago, when I was first credentialed for a fight (Larry Holmes vs. Tim Witherspoon was the headliner), they planted me in the third row. Since returning to boxing after a decade in which I busied myself writing college football annuals and such, it seems as if my career is in reverse gear. The next time there's a really big fight in town, I may be consigned to the corridor with all those folks effectively left out in the rain.
Oh, well, it's been a fun ride.
—-
Prior to the ring walks, three great heavyweight champions of recent vintage – Lennox Lewis, Evander Holyfield, and Mike Tyson – were honored in the ring. Conspicuous by his absence was Riddick "Big Daddy" Bowe, a 1990s-era contemporary.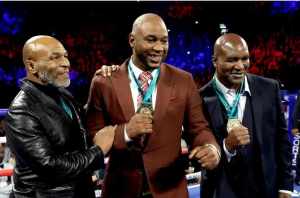 Granted, this ceremony was the handiwork of WBC president Mauricio Sulaiman who presented each of the honorees with a medal and Riddick Bowe was no friend of the WBC. In 1992, he famously dumped his WBC world title belt in the trash rather than comply with the organization's mandate that he fight top contender Lennox Lewis. But Bowe, whose lone setback in 45 pro fights came in chapter two of a storied trilogy with Holyfield, was no less formidable at his peak than the other three.
Having said that, it was better that he wasn't included. His presence would have put a damper on the proceedings.
At age 52, Riddick Bowe is younger than Tyson, Holyfield, or Lewis. But in terms of how far he has slipped since his fighting days, he's a lot older. Making his story more discouraging, he believes that he can still compete at a high level and actually has a manager out there banging the drums on his behalf.
Bowe's last meaningful fight was way back in 1996 when he fought the second of back-to-back fights with Andrew Golota. After those two unruly scrums, he was inactive for almost eight full years. During this period, he joined the U.S. Marines but was discharged after only 11 days and served 17 months in prison for interstate domestic violence and kidnapping after a bizarre attempt to repair his fractured relationship with his wife Judy and their five children.
Bowe returned to boxing after his long absence and had three more fights, the last of which transpired in December of 2008 when he won an 8-round decision over a third-rater in Germany. More recently, he tried his hand at Muay Thai. On June 14, 2013, carrying 300 pounds on his flabby frame, he was stopped in the second round on a show in Thailand in which he failed to land a single blow, whether a punch or a kick. ESPN's Dan Rafael, who watched the fight on YouTube, wrote that anyone who watched it "saw an old man with no remaining discernible skills."
Bowe never transcended the sport like Tyson or Holyfield in large part because of his limited vocabulary. Of course, he never had a chance to develop that vocabulary because his loquacious manager Rock Newman insisted on doing all the talking. And now it appears that history has repeated. By all accounts, Bowe's new manager is cut from the same mold. Meet Eli Karabell.
On his web site, Eli Karabell, a fellow in his early 20's, informs us that he is a "Businessman, Investor, Public Servant, Innovator, Community Leader, Entrepreneur, Politician, Social Activist and President and CEO of the American Boxing Association, a post to which he was appointed (presumably by himself). In his hometown of St. Louis, he is quite the gadfly. According to an article in the Jan. 20, 2018 issue of the St. Louis Post-Dispatch, Karabell antagonized former Missouri Governor Eric Greitens to such an extent that Greitens' press secretary had to block his calls.
Since Nov. 23, a certain web site that we won't name has run five 'EXCLUSIVE' stories quoting Karabell about Riddick Bowe's comeback. In an early story, Karabell said, "I believe Mr. Bowe is the best fighter in the heavyweight division right now, bare none." As for Bowe beginning his comeback with exhibitions, Karabell said that what he had in mind for him was proceeding directly into a series of 12-round fights.
More recently, Karabell expressed his frustration about failing to induce a top promoter into helping him facilitate Bowe's comeback. Regarding Eddie Hearn, he said, "He has not read the contract (we sent him), will not respond to our offer and we believe he is trying to obstruct the process."
Why wouldn't he? In the immediate aftermath of his second fight with Andrew Golota, Bowe was slurring his words. During the trial that sent him to prison, Bowe's attorneys argued that his conduct resulted from brain damage. A forensic psychiatrist, Dr. Neil Blumberg, testified that Bowe had suffered irreversible damage to the frontal lobe in his brain. More recently, a New York Times story by Alex Vadukul, published in 2015 – the year that Riddick Bowe was inducted into the International Boxing Hall of Fame – noted that his voice "had warped into a slur."
The nicest thing we can say about Eli Karabell is that he is pixilated. We have nothing nice to say about anyone in the boxing media who would give him a soapbox.
MGM Grand Garden photo compliments of Joe Santoliquito
Check out more boxing news on video at The Boxing Channel 
To comment on this story in The Fight Forum CLICK HERE