DiBella Fumes At Arum-Martinez-Chavez Jr.-Rubio-WBC Situation
DiBella Fumes At Arum-Martinez-Chavez Jr.-Rubio-WBC Situation – There will be a boxing card promoted by Lou DiBella unfolding at the theater at Madison Square Garden on Saturday, March 17, for St. Patrick's Day. Irishman Matthew Macklin will be fighting on the show, this we know. What we do not know is who he will be fighting.
Chances are better than good his foe will be Sergio Martinez, who was in NYC Tuesday to do some charitable outreach and attend a press gathering put together by DiBella to talk about that march 17 date.
But Martinez is involved in some sanctioning body silliness, so things are up in the air as of today. Lest I risk your eyes glazing over, let me boil this down semi-quickly. Martinez became the WBC middleweight champion when he beat champ Kelly Pavlik in April 2010, but when he chose last March not to fight the man the WBC said was his mandatory challenger, interim WBC champ Sebastian Zbik, he gave up the belt. The WBC named him champion emeritus, which is has a nice ring to it, but comes with no real clear definition. (Not to mention, emeritus typically refers to someone who is retired, but is still honored with the title they held while active…Martinez has never retired.)
Then, Zbik fought Julio Cesar Chavez Jr., and the winner of that bout was to be named WBC middleweight champion. Chavez beat Zbik in June, and now wears the WBC belt. Martinez would very much like to take that belt back, and one might think, as the champion emeritus, he would be in the position to have some say in when he'd like the opportunity to try and do that. Martinez has an open date, on March 17, and he and DiBella invited Chavez to put up the belt on that date. The WBC put their stamp of approval on that plan, as at their convention in Vegas last week, they said that Chavez Jr. must put that belt on the line in his next fight, against Martinez, by March 2012. If he didn't, the WBC said, the belt would be vacated. (Why wouldn't it simply revert back to Martinez? Seems logical, right? Well, logic and sanctioning bodies are very often at odds.)
At the press gathering, DiBella said he knows for sure that Chavez Jr. has already made arrangements to fight Marco Antonio Rubio, the No. 1 ranked challenger in the WBC rankings, on Feb. 4. That fight has already been reported, but not officially announced by Top Rank, Chavez Junior's promoter. DiBella said that is because Top Rank is waiting for the New York-based promoter to announce the Martinez-Macklin bout, so they can go to the WBC, and convince them to ignore the directive made at their convention. That would give the WBC the cover, the thinking goes, to allow Chavez to hold on to the belt.
Eyes glazed over yet?
DiBella cited an article which ran Monday by Steve Kim of Maxboxing.com, in which Top Rank chief Bob Arum indicated that he'd be going ahead with the Chavez Jr.-Rubio fight, and made it clear he was confident he could and would work around the WBC directive. The promoter fumed that Arum's game of chess would cost Martinez and him money, and protested that Arum was being "dishonorable" with this move. He also took a shot at HBO, which would be televising the Chavez Jr.-Rubio bout, as well as Martinez-Macklin. "If I had Chavez, they wouldn't be protecting him," DiBella said. But, DiBella said, Arum receives special treatment because he owns leverage, in the form of his relationship with Manny Pacquaio, as Pacquiao's promoter. HBO-PPV has done all but one of Pacquiao's high profile fights.
Top Rank VP Carl Moretti weighed in, tongue planted in cheek a tad, when he emailed me, after I asked for comment on the whole matter, ""Don't you media members and fans get it….Sergio Martinez is not only the greatest middleweight of our time….he's the greatest middleweight ever!  Forget Hagler, Monzon, Robinson….he's the greatest middleweight ever.  His wins over Darren Barker & Dzinziruk prove that….don't they?"
The door was left open by DiBella for all to be smoothed over. "We want to fight Chavez next , we have a March 17 date, if we need a different date we can work it out."
If that doesn't happen, Dibella said he is counting on the WBC standing firm, and demanding Chavez Jr. fight Martinez next. He said he thinks that Martinez and Macklin if they tangle will be vying for the WBC middleweight belt. In the Kim piece, Arum sounded like a man who didn't think the WBC would hold firm, so if Lou is waiting for the WBC to be true to their public stance of last week, he may be waiting in vain.
More chips need to fall in this matter before we get clarity. We do know that there will be a St. Paddy's show at MSG, featuring Macklin, and Andy Lee.
And I do know that I would like to see everyman Macklin get a shot at a crown but would be happier to see if young gun Chavez Jr., the son of the legend, can handle the man regarded as the top second, third or fourth boxer on the planet, Martinez, in NY.
You can argue that Chavez Jr. is young, just 25, but heck, Martinez didn't look like an ace in his last fight, against Darren Barker on Oct. 1. The rumor mill says he had a severe leg injury a few weeks before the bout, which limited his mobility, but maybe that is a result of physical deterioration. If Chavez Jr. does fight Martinez and lose, well, he lost to a pound for pound standout. No real harm in that. And I think he has a 35% chance of beating Martinez, whose best days might be past him. If I have a vote, which I don't, I'd like to see Chavez and Martinez at MSG on St. Paddy's day. But I think it's more likely that Martinez fights Macklin, and the winner meets the Chavez Jr.-Rubio winner.
Readers, how do you see this playing out?
DiBella Fumes At Arum-Martinez-Chavez Jr.-Rubio-WBC Situation / Check out more boxing news on video at The Boxing Channel.
Avila Perspective, Chap. 116: Three Days of the Condor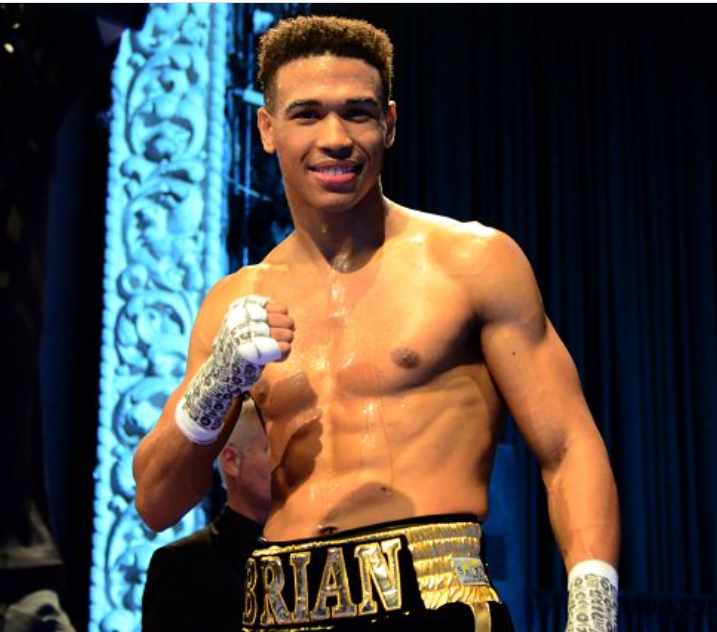 Every year it happens.
Some of the best fights are made at the end of the year.
Three consecutive days of high-level prizefighting begin in Los Angeles, move to London and return to Dallas, Texas. I tagged it Three Days of the Condor in honor of the great spy movie of the 70s starring Robert Redford.
Here's what is coming:
New York welterweight prospect Brian Ceballo (11-0, 6 KOs) meets Utah's Larry Gomez (10-1, 8 KOs) 10 rounds on Thursday Dec. 3, at the Wild Card Gym parking lot in Hollywood, California. NBC SN will televise the Ring City Fight card beginning at 6 p.m. Pacific Coast Time.
It was supposed to be Brandon Adams versus Serhii Bohachuk in a super welterweight clash that had fans salivating who are familiar with the two. But the Ukrainian fighter who trains in Southern California fell ill with the coronavirus. Now Adams fights late replacement Sanny Duversonne in an eight-round bout. Poor Bohachuk.
"It is with regret that I have to announce that I've contracted the COVID virus and have to withdraw from the fight on Dec. 3," Bohachuck said. "I want to thank Ring City and NBC Sports for the opportunity, and I look forward to fighting Adams in the future. I'm feeling fine and look forward to resuming my training as soon as I'm cleared."
Ceballo (pictured) and Gomez are now the true main event and both have not fought in over a year. That should make it even. This also makes the second boxing card for the Ring City fight group. Two weeks ago, Ring City opened with a doozy of a boxing card. This should equal their opener in terms of even matchups.
British Action
Early Friday morning a boxing card features WBO super middleweight titlist Billy Joe Saunders (29-0, 14 KOs) defending against veteran contender Martin Murray (39-5-1, 17 KOs) at London, England. DAZN will stream the Matchroom fight card beginning at 11 a.m. PT.
Saunders is a chatty sort who loves to discombobulate opponents in a variety of ways. Whether attacking their physical appearance or lack of skills, he is not shy about voicing his opinion.
But he does have respect for Murray.
"He's challenged for the world title four times. He should have been world champion in two of those fights. I've promised him a chance," said Saunders who is making his second defense of the WBO title and is a former middleweight world titlist.
The left-handed Saunders has long sought a match with Saul "Canelo" Alvarez who has held super welterweight, middleweight, super middleweight and light heavyweight world titles.
"The Canelo fight fell through in May," said Saunders. "On Friday we'll rock and roll."
Murray is anxious for what could be his final world title shot.
"He's not fought the opposition I've had," said Murray who lost to Gennady Golovkin, Sergio Martinez and Felix Sturm. "If I'd had fought the people he's fought, I'd have a world title. I've done it the hard way."
PPV Welterweight Showdown
Errol Spence Jr. returns and the world will see if the championship caliber fighter still carries all of his weaponry.
He will be tested.
Spence (26-0, 21 K0s) returns to the prize ring after one year following a horrific automobile crash. He meets former two-division world champ Danny "Swift" Garcia (36-2, 21 KOs) on Saturday Dec. 5, at AT&T Stadium in Arlington, Texas. The PBC card will be televised on FOX pay-per-view.
Back in September 2019, the speedy Spence lit up the boxing ring at Los Angeles in an electrifying battle with Shawn Porter. He barely emerged victorious and then allegedly celebrated in Texas by going more than 100 mph in a Ferrari 488 Spyder and flipping the expensive car end over end. The horrific crash was captured on video and despite the ugliness of the accident, Spence did not suffer any broken bones. But there was internal damage.
Just how severe were his injuries?
This marks the first time back in the prize ring and Garcia is a very rugged test. All Philadelphia fighters are tough, and he just might be the toughest of them all.
Garcia has only two losses in his career and both were very close decision defeats: First, against Shawn Porter and second against Keith Thurman. The counter-puncher has never been stopped or dropped and packs a wallop.
"He's not much of a volume puncher so it will be more tactical. It probably won't be like the Shawn Porter fight, an all-out brawl/fight. I think this will be more tactical, and pinpoint type of fight between me and him," Spence told Brian Custer on The Last Stand Podcast.
This will be a true test for Spence who has mentioned many times desiring a match with Manny Pacquiao and WBO titlist Terence Crawford.
One interesting bout on the same pay-per-view card pits Josesito Lopez (37-8) versus Francisco Santana (25-8-1) in a 10-round welterweight mash-up. This fight is not for the squeamish. Both these guys are bruisers and have fought the best. It's amazing that the two California fighters have not faced each other before. They have fought everyone else. Now its Lopez against Santana.
It will be brutal while it lasts.
Macho film
Showtime debuts its sports documentary on "Macho: The Hector Camacho Story" on Friday night December 4, at 9 p.m. ET/PT.
If you love boxing don't miss this important film on Camacho, one of the most scintillating boxers of the 1980s and 1990s. His presence in the boxing scene now seems to be overlooked by the great welterweights and Mike Tyson who dominated the boxing landscape.
Camacho was the lone prizefighter in the lower weight classes who could match their allure. The Puerto Rican fighter from Spanish Harlem fought and beat Roberto Duran and Sugar Ray Leonard. How many fighters can claim that?
It's a very well-made documentary that delves into the flamboyant fighter's life.
Check out more boxing news on video at the Boxing Channel 
To comment on this story in the Fight Forum CLICK HERE
Boxing Promoter Michelle "Raging Babe" Rosado Pulls No Punches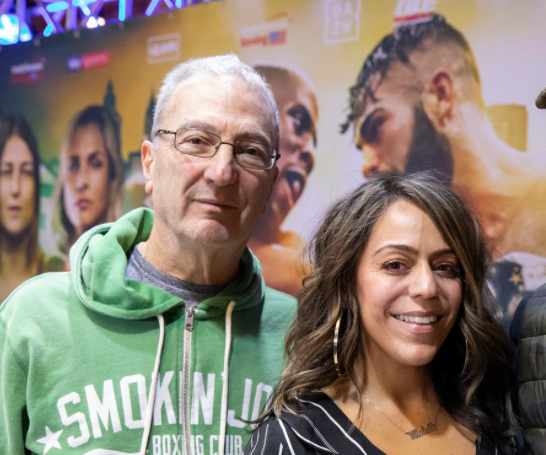 Michelle Rosado, the founder and CEO of Raging Babe Promotions, made her promotional debut on Feb. 8, 2019 with a show at South Philly's intimate 2300 Arena. The show drew an SRO crowd, a testament to Rosado's tireless work ethic, but ended on a sour note when local fan favorite Christian Carto – potentially the next big thing on the Philadelphia boxing scene – stepped up in class and was brutally knocked out by Mexican veteran Victor Ruiz. A protégé of Hall of Fame boxing promoter J Russell Peltz (pictured on the left), Rosado recently appeared on the "Last Stand Podcast with Brian Custer" to share her thoughts on some of the major issues in boxing. Here are excerpts from that interview compliments of publicist Keisha Williams.
ROSADO ON WHY CLUB SHOWS ARE IMPORTANT TO THE SPORT
"Club shows are where you are building those prospects, that's where you're developing those fighters you see the top promoters are pulling these opponents from. We're developing these guys from the ground up, we're almost like a farm system. Most of these guys you see on TV fighting for millions of dollars, and becoming world champions, a lot of them started at the club level."
ROSADO ON STATE OF WOMEN'S BOXING
"Women's boxing needs a platform, there's nowhere for these girls to fight, they deserve some fairness in our sport. I'm not trying to say they deserve to be paid the same as Canelo, but they shouldn't be paid 5 thousand dollars to defend their titles either, so in 2021
I'm going to get more involved in women's boxing and try and be a voice for them because they deserve better and a platform."
ROSADO ON HOW DIFFICULT IT IS BEING IT IS BEING A FEMALE PROMOTER IN BOXING
"I've been called every racial slur you can think of, I've had tickets thrown in my face, I've had my house vandalized, I've had a brick thrown threw my back window of my car. I've been called every kind of groupie you can imagine. She's slept with everybody in the business and every fighter. I've earned my stripes, I've worked hard, no handouts, it's just been all hard work and I've had to learn to turn the cheek. Most people know nine years in that I'm a hustler. You'll never find a fighter that says she stole from me, she didn't pay me, she lied to me, you'll never find a fighter that says that!"
RAGING BABE ON FEMALE BOXING PROMOTERS
"Yes we have a lot more women in boxing, yes it still a little more difficult for us, but we're there you hear us roaring. Behind every big promoter, he's got a woman either as his right hand man or running the operation. And I mean all of them!"
ROSADO ON HER ULTIMATE GOAL
"I want to continue to promote good fights, I want to make Philadelphia the legendary fight town that it once was, I want to develop those guys from the ground up, I want old school and new school boxing fans to come to my shows and fall in love with boxing again, and them become interested in the bigger boxing world again because we're losing that old school boxing fan. I want to uphold the reputation of real fights, real fighters, real fans that's my passion."
ROSADO'S TOP 5 POUND FOR POUND LIST
Terence Crawford
Canelo Alvarez
Errol Spence Jr.
Naoya Inoue
Teofimo Lopez
Rosado on who's boxing next big star and the best fighter out of Philly right now
"Boxing's next big star is Tank….We got a lot of really good fighters in Philly, but Jaron "Boots" Ennis is that dude!"
The full in-depth interview is now available on YouTube (Last Stand Podcast with Brian Custer) and all major podcast platforms (Apple Podcast, Google Podcast, Spotify, etc.)
Check out more boxing news on video at the Boxing Channel 
To comment on this story in the Fight Forum CLICK HERE
HITS and MISSES: Post-Thanksgiving Weekend Edition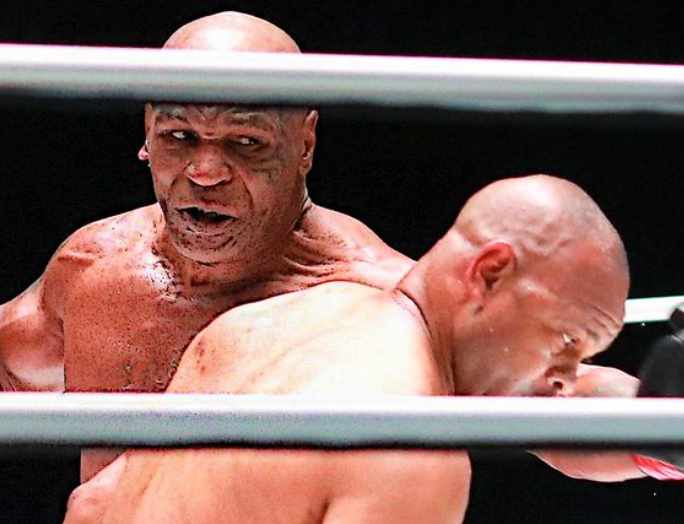 It was another massive weekend in boxing. There were big fights on pay-per-view that maybe shouldn't have been so big, and fights surrounded by lesser fanfare that will probably be looked back at as the more meaningful action by future historians.
Here are the biggest HITS and MISSES from another week on the boxing beat.
HIT: Mike Tyson, Roy Jones and the Unifying Power of Boxing
Whatever you think about the boxing exhibition bout between Mike Tyson and Roy Jones, Jr. on Saturday night, the most important aspect of the whole night (to this writer at least) was seeing how easily a big fight in boxing could still unify our culture.
No, it wasn't a legitimate prizefight, but people still wanted to see the 54-year-old Tyson go a few rounds with the 51-year-old Jones, and that's exactly what they got. It was a ride built mostly around the power of nostalgia, and it featured all sorts of present-day celebrities, too.
By the end of things, it seemed the general reaction to the event on social media was positive.
Tyson vs. Jones showed how big a reach boxing still has. Tyson retired over 15 years ago, but people from all over the planet were still willing to pay $50 to watch him climb inside the ropes for a sparring session.
Seeing that left me with two exciting questions.
What awesome power will boxing's next superstar have?
More importantly, where is he (or she) anyway?
MISS: Ring Announcer's Steve Harvey Moment 
In 2015, comedian Steve Harvey accidentally announced the wrong winner of the Miss Universe pageant. As humiliating as that event was for Harvey, just imagine how the two women felt after having their hearts filled and slashed by his error.
That same thing sort of happened on Friday night when Danny Jacobs beat Gabriel Rosado via split decision in a 168-pound stay-busy fight streamed by DAZN.
Ring announcer Jeremiah Gallegos accidentally said the winner hailed from Philadelphia (where Rosado is from) before quickly changing it back to Brooklyn (where Jacobs is from).
So momentarily, the hard-luck Rosado, who never has been the beneficiary of a close decision in any important fight, thought he had just pulled off the upset of the year.
Instead, Jacobs was corrected as the winner and that had to be an awful experience for both fighters, one that was completely avoidable.
HIT: Joe Joyce: An Actual Juggernaut?
Heavyweight prospect Joe Joyce is a popular fighter on the other side of the ocean because of his long and successful campaign as an amateur boxing star which culminated with Joyce winning the silver medal for Great Britain in the super heavyweight division at the 2016 Summer Olympics.
Still, as a professional prospect, there are lots of things not to like about Joyce. First, Joyce didn't start boxing until he was 22. Late bloomers come around now and then, but they're still a rarity in the sport. Second, Joyce is already 35, which means he's already just outside the confines of his theoretical physical prime, something that ends around 33 years old and only gets worse. Finally, Joyce is just plain slow as molasses.
Regardless, Joyce stopped fellow Brit Daniel Dubois on Saturday in London.
Unlike Joyce, Dubois, 23, possesses plenty of attributes one looks for in a future world champion. But none of those things helped Dubois win the fight.
All this to say Joyce just keeps winning fights. Sure, he might appear to be a boulder tumbling slowly down a hill when he fights, but that rock is starting to gain some real momentum.
HIT: 54-1
Thailand's Wanheng Menayothin finally lost a fight over the weekend, but it should be noted that at least the fighter finally knows his limits.
Menayothin (aka Chayaphon Moonsri) entered his fight against Petchmanee CP Freshmart (aka Panya Pradabsri) with a sterling record of 54-0. He left the contest 54-1 after judges rendered their verdict for the challenger.
Much was made of Menayothin's glossy win streak last year when he surpassed retired boxing superstar Floyd Mayweather's 50-0 mark. But a combat sports culture obsessed with suffering no blemishes on a record is only a relatively new phenomenon. Moreover, the very nature of that path through the sport never reveals the true limits of a fighter.
All this to say that Menayothin now gets a better sense of his limits, and the boxing world as a whole gets to know that same thing about him, too. That's wildly better than the alternative.
MISS: Nate Robinson Challenge
If you missed the Tyson vs. Jones pay-per-view event on Triller over the weekend, you didn't see social media star Jake Paul's viral knockout of ex-NBA star Nate Robinson.
It was clear from the start of the fight that Paul and Robinson weren't evenly matched. That kind of thing happens all the time in boxing, of course, but here was a case of a person (Robinson) who maybe had been so mismatched against Paul that it was too dangerous to have happened at all.
Regardless, Robinson did have the courage to train for the fight and step inside the ropes on fight night.
After he was knocked out, something called the "Nate Robinson Challenge" started trending on Twitter, and it was basically people from all over the world trolling the 3-time NBA dunking champ for getting knocked out in the fight.
Look, Robinson made his own bed by calling for the fight in the first place. But the Internet trolls that rag people for stepping outside their comfort zones probably would never dare to attempt that accomplishment themselves.
Robinson tried and failed. That's the real challenge.
Check out more boxing news on video at the Boxing Channel 
To comment on this story in the Fight Forum CLICK HERE