Source: Floyd Mayweather-Robert Guerrero Almost Signed, Sealed
Source: Floyd Mayweather-Robert Guerrero Almost Signed, Sealed – Welterweight champion Floyd "Money" Mayweather 42-0, 26 knockouts, is close to an agreement to fight lightweight champion Robert "The Ghost" Guerrero at the MGM Grand in Las Vegas on May 5. A source with knowledge of the negotiation told me that the two sides were very close to securing a deal that could be announced as early as this week.
A clash with Mayweather will be undoubtedly the biggest fight of Guerrero's career. For months, the Gilroy, California native has told the boxing world that he will be the one to defeat the undefeated pound for pound king.
Guerrero says he knows Mayweather like the back of his hand, and that a fight between Floyd and Guerrero, a multilingual Mexican-American, will sell on Cinco de Mayo weekend in Las Vegas.
Mayweather's advisor Leonard Ellerbe said their camp will announce Mayweather's opponent this week and the signs are pointing towards Guerrero (28-1, 18 knockouts) getting the shot he desires.
Fight fans expected May 5to be the day Mayweather and Pacquiao finally fight. But both parties have apparently failed to come to terms once again. As it stands now, Pacquiao is expected to fight in late May or early June leaving Mayweather without a dance partner for May 5.
The anticipated May 5th date was nearly derailed when a Las Vegas judge sentenced "Money May" to begin a 90 day jail term on January 6.  On Friday, the judge postponed the ruling until June 1st allowing Mayweather to go through with the bout he announced nearly two months ago.
Source: Floyd Mayweather-Robert Guerrero Almost Signed, Sealed / Check out more boxing news on video at The Boxing Channel.
Waseem Digs Deep to Upend Barrera on a Dubai Card Rife with Mismatches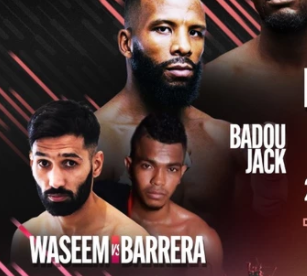 There was a boxing event today in the United Arab Emirates, a show inside a facility in Dubai that was both a luxury car showroom and an entertainment complex. Of the four major bouts, only one was competitive. This was foreseeable as it was a grungy show even before 11th-hour visa problems necessitated major alterations in the bill of fare.
The competitive match was the 12-round flyweight contest between Pakistan's Muhammad Waseem and Colombia's Rober Barrera. Waseem was the aggressor and landed more punches, but Barrera was well-conditioned and closed the gap late in the fight when Waseem's engine began to sputter. But the Pakistani, who fought from round one on with a serious cut over his left eye, got a second wind and gutted out a unanimous decision, prevailing on scores of 115-113, 115-114, and 117-111.
The 34-year-old Waseem, one of Pakistan's most prominent athletes, was the subject of a 2018 profile in these pages. This was his fourth outing since coming up short in a bid for Moruti Mthalane's IBF flyweight title and he improved his ledger to 12-1 (7). Barrera, (23-4) had previously fought exclusively in Latin America.
The biggest name on the card was Badou Jack. A former world title-holder at 168 and 175, Jack is now a full-fledged cruiserweight.
Jack, now 38 years old, has taken full control of his career and at this juncture has no interest in fighting other than pushovers until a big-money fight materializes. His opponent, 34-year-old Maryland campaigner Samuel Crossed, subbing for South African journeyman Johnny Muller, brought an 11-1-1 record but only one of his previous fights had been slated for more than six rounds and in common with Jack's last two opponents, no-hopers Blake McKernan and Dervin Colima, he had no business in the same ring with Badou Jack, a veteran of eight world title fights.
Jack had Crossed on the canvas three times in the second round until the referee waived it off.
Other Bouts
Rocky Fielding, a former British 168-pound title-holder, returned to the ring after a two-year absence and needed only two rounds to dismiss late addition Emmanuel Danso in a light heavyweight affair slated for "10."
Fielding, who now resides part-time in Dubai, brought a 28-2 (16) record, but is best remembered for both of his losses. Callum Smith knocked him out in the opening round in an all-Liverpool affair and Canelo Alvarez blasted him out in three one-sided frames at Madison Square Garden.
Fielding put Danso down with a big left hook in the second stanza. Danso barely beat the count and didn't come out for the next round. A 34-year-old Ghanian, Danso (32-7) was stopped for the fifth time.
England's Ohara Davies, a 29-year-old junior welterweight, won a lopsided 10-round decision over Kenya's milquetoast Nicholas Mwangi (10-4-1). Davies was supposed to fight Venezuela's Ismael Barroso in a 12-round match for a WBA gold title, but Mwangi was brought in when Barroso had visa problems.
Davies improved to 23-2 (16). His only defeats came at the hands of WBC/WBA/IBF/WBO belt-holder Josh Taylor and Jack Catterall who challenges Taylor in Glasgow on Feb. 26.
Check out more boxing news on video at the Boxing Channel
To comment on this story in the Fight Forum CLICK HERE
Avila Perspective, Chap. 162: Women on the Verge of a Breakout and More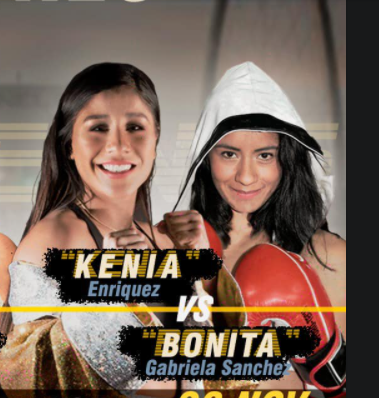 The women have arrived.
No longer do they take a backseat to men on boxing cards unless they are not deserving.
Let's be frank. Women prizefighters are savage.
Beginning on Friday, two Mexican women headline rival fight cards in Mexico. Kenia Enriquez (pictured) meets Gabriela Sanchez in Tijuana, while Erika Cruz (13-1) fights Melissa Esquivel in Puerto Vallarta. Both will be streamed by different groups.
Let's begin with Kenia Enriquez.
Her story has been one of sadness due to the WBC refusing to order current titlist Yesenia Gomez to face Kenia Enriquez who has been the number one contender in the light flyweight division for more than four years.
There's a simple reason: Enriquez, 28, is the best, but how long can a fighter keep training and preparing for that one day without losing a step? It's been almost two years since her last fight.
On Friday, Enriquez (23-1, 9 KOs) defends one of those silly worthless interim titles against Sanchez (8-4) at the Auditorio Municipal in Tijuana. The fight card will be streamed by Bluemoonfight.tv
It's free. Simply sign up and you can view the streamed fight card.
During the same time frame, Erika Cruz (13-1) defends the WBA featherweight world title against Melissa Esquivel (12-1-1) in Puerto Vallarta, Mexico. DAZN will stream the fight card live.
Cruz, a skilled southpaw, toppled the long reign of Canada's Jelena Mrdjenovich with an outstanding performance that took place last April at West Point, New York. The title fight was televised and produced an instant star.
Esquivel has been fighting mostly as a super bantamweight and moves up a division to face the featherweight champion. If you know anything about the Mexican female fighters, they do not play around. A couple of weeks ago the world witnessed a similar collision as Arely Mucino barely edged Jacky Calvo in Southern California.
Expect more savagery.
The women are on the verge of headlining major fight cards for a number of reasons: they want to perform, they are well-trained, and they cost less. That will soon change when their drawing power begins to show up. Promoters will pay more if the women draw more viewers.
Women are on the verge of breaking through all the barriers.
Las Vegas vs New York
Super bantamweights headline a fight card in Las Vegas while lightweights clash in New York City. Take your pick.
Las Vegas hosts a pair of riveting super bantamweight fights pitting WBC super bantamweight titlist Brandon Figueroa (22-0-1, 17 KOs) against WBO titlist Stephen Fulton (19-0, 8 KOs) in a unification match at the Park Theater in Las Vegas. Showtime will televise.
"This fight is going to boil down to guts. To heart. Hard work. Conditioning. I feel like it's going to take everything from both of us. I know we both have a lot to gain. There's a lot at stake. We're both in our primes. We're ready to peak. He's 27-years-old. I'm 24. We're here doing it," said Figueroa from Weslaco, Texas.
Fulton believes his prior competition makes him the favorite.
"My resume is better [than Figueroa's] and I feel comfortable saying that. I've taken risks since the beginning of my career. I've faced undefeated fighters that no one wanted to face. I've taken the harder road to get to this fight," said Fulton who hails from Philadelphia.
The same card features another dangerous super bantamweight in Raeese Aleem (18-0, 12 KOs) who fights Mexico's Eduardo Baez (20-1-2, 7 KOs) in a 10-round affair. It should be a shootout between two fighters who upset their previous foes.
In New York, unified lightweight world champion Teofimo Lopez (16-0, 12 KOs) a native Brooklynite, meets Australia's George Kambosos (19-0, 10 KOs) at Madison Square Garden Theater in Manhattan on Saturday Nov. 27. DAZN will stream the card.
This fight has taken so many twists and turns that it's almost a joke. But Lopez is no joke and seeks to prove it. How much rust has developed may be the big question. He has not fought since beating Vasyl Lomachenko over a year ago and you can never get back time.
Kambosos has nothing to lose. He's the unknown factor and a win over Lopez would be monstrous for the Aussie. Very few Aussies have been able to crack a dent against a pound for pound fighter like Lopez.
"It's not my first rodeo, I've been in the big fights, I've earned this the hard way," said Kambosos. "But we're ready, and we're clever, and the preparation has been great; there's no burn-out or weight issues, nothing, no emotion, just coming here to win the fight and be a real champion."
The lightweight champion was stymied by the Covid-19 virus and other factors. Can he resume a career that was skyrocketing to another level?
"It's a blessing to be here but it's time to start putting people in their place, and time that they sit down and be humble," said Lopez. "I've been humbled and I am humble. There comes a point that you just have to smack these guys."
Fights to Watch
Fri. DAZN 5 p.m. Erika Cruz (13-1) vs Melissa Esquivel (12-1-1).
Fri. Bluemoonfight.tv 7 p.m. Kenia Enriquez (23-1) vs Gabriela Sanchez (8-4).
Fri. Estrella TV 7 p.m. Jair Valtierra (15-1) vs J.J. Clavero (29-8).
Sat. DAZN 5 p.m. Teofimo Lopez (16-0) vs George Kambosos (19-0).
Sat. Showtime 7 p.m. Brandon Figueroa (22-0-1) vs Stephen Fulton (19-0).
Check out more boxing news on video at the Boxing Channel
To comment on this story in the Fight Forum CLICK HERE
The First Monster Upset of the 20th Century Happened on a Thanksgiving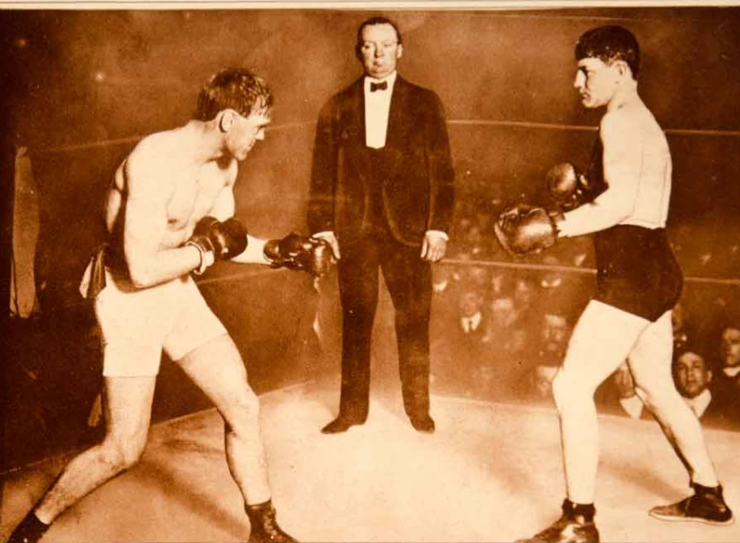 One wouldn't have thought that holding a big fight on a Thanksgiving would be a smart idea. True, many workers get the next day off and get to sleep late. However, it's a day when family comes first and a big meal with all the trimmings doesn't lend itself to getting off one's rump to attend a boxing show.
However, back in 1901, a very important fight was held on Thanksgiving. It produced a big upset with the accent on BIG and when the smoke cleared, the world had a new featherweight champion. Moreover, it would be one of the most hashed-over fights until it eventually receded from memory. It would be no exaggeration to say that it ranked right up there with Dempsey-Firpo and Hagler-Hearns among fights chock full of goosebumps compressed into a tight window of time.
The principals were Terry McGovern and William Rothwell whose ring name was Young Corbett II, a name that paid homage to his trainer Johnny Corbett. There was no top-10 pound-for-pound list back then, but had there been, Terry McGovern would have assuredly reigned supreme.
Terrible Terry, the pride of South Brooklyn, was a ring marvel. Heading in, he had lost only twice in 63 bouts, both times by disqualification. Thirty-five of his wins had come inside the distance – this in an era where knockouts were not as common as they are today. During one 175-day stretch in 1899, McGovern forged 12 consecutive knockouts, all coming within the first three rounds.
Signature wins? Terry McGovern had several. On Dec. 12, 1899, he knocked out British bantamweight champion Pedlar Palmer in the opening round in one of the first big international prizefights contested on American soil. Nicknamed "Box o' Tricks," the clever Palmer was the Willie Pep of his day. On Jan, 9, 1900, he knocked the immortal George "Little Chocolate" Dixon into a short-lived retirement with an eighth-round stoppage. Later that year, he stopped reigning lightweight champion Frank Erne, a Future Hall of Famer, in the third round before an SRO crowd at Madison Square Garden.
Young Corbett II hailed from Denver, Colorado. He had defeated George Dixon in his most recent fight, but by then Dixon was considered over-the-hill and the word from Denver was that Corbett II had been fortunate to get the nod, finishing the fight with his face bathed in blood. Earlier in his career he had been stopped in eight rounds by 18-year-old Chicago prospect Benny Yanger. "As far as cleverness is concerned there are probably fifty men at his weight who could make Corbett look like an amateur," ventured boxing promoter/newspaperman Lou Houseman, the sports editor of the Chicago Inter-Ocean.
Terry McGovern came to the fore when New York was the leading destination for big fights. But the state legislature had repealed the ultra-liberal Horton Law — the repeal took effect on Sept. 1, 1900 – and New York for the rest of the decade would be a boxing wasteland so far as big fights were concerned. That's how McGovern's title defense against Young Corbett II wound up in Hartford, Connecticut. But this was still pro-McGovern territory. Young Corbett II had fought almost exclusively in Colorado, never venturing farther east than Des Moines.
Terrible Terry and Young Corbett II fought hammer and tongs from the opening bell. The second round, in which both fighters were on the canvas, was a blur. Terry McGovern came up swinging like a wildcat after being sent down by a left hook. He returned the favor with a right hook and then staggered Corbett before a rattling exchange in which Corbett put Terry on the deck again with a right to the jaw. McGovern struggled to get upright, but was unable to beat the "10" count. It was all over at the 1:44 mark of round two.
It was a massive upset.
New York Evening World sports editor Robert Edgren, who covered thousands of prizefights, would write that the first round of the battle was the most furious three rounds of boxing that he had ever seen. Other eye-witness accounts bear witness that it was a jaw-dropper. Looking back twenty-five years, syndicated sportswriter Joe Williams wrote that no featherweight fight, before or since, matched it for savagery and drama.
Styles make fights, as they say, and Young Corbett II, the stockier of the two featherweights, had Terry's number. He KOed McGovern again in their rematch in San Francisco, another doozy of a fight in which both were groggy at times until the Denver lad applied the finisher in round 11. (The photo that accompanies this article, McGovern on the left, is from their second fight. The man in the middle is referee Eddie Graney.) They would fight once more, hooking up in Philadelphia in the fall of 1906 where fights were restricted by law to 6 rounds, and although this was an entertaining and closely-contested match, by then Young Corbett II was also considered damaged goods and the event wasn't a big news story.
It was snowing in Hartford on Thanksgiving 1901 when fight fans descended upon the city for the McGovern-Corbett fight. It was a very unpleasant day, made more unpleasant for Terry McGovern's fans by what transpired inside the arena – a humdinger of a fight, that was true, but one with a sad conclusion.
Ringside reporter Robert Edgren returned to New York on the special train that brought McGovern's rooters back home from Hartford. He would write that the mood was as somber as if they had attended a funeral.
To all TSS readers, here's hoping your Thanksgiving is a joyous occasion. Happy Thanksgiving!
Check out more boxing news on video at the Boxing Channel
To comment on this story in the Fight Forum CLICK HERE