The Beast of Stillman's Gym, Part 2
The Beast of Stillman's Gym
PART 2: THE NATURAL
"The joint always smells wrong," A.J. Liebling said about Stillman's Gym. Even so, he could look at the soot covering its brick façade and see ivy –-"The University of Eighth Avenue," he called it. Joe Rein calls it "The Center of the Boxing Universe" but something stayed in his nose too. He remembers the windows, "opaque with thirty years of grime" and sealed shut. Gene Tunney once demanded that someone pry them open, figuring the fresh air would do some good. "Fresh air?" said one of the regulars, "Why that stuff is likely to kill us!"
All the greats from boxing's golden era trained at Stillman's and thirty-five cents was all it took to rub shoulders with them all. Sometimes a king with an upcoming title defense would make an entrance and the price of admission would be raised. It was worth it. The artistry that unfolded in the exhibition rings was enough to make everyone forget the stench.
When Bernie Bernstein laced the gloves on a garage attendant he picked up on King's Highway, no one gave him a second look. When he shoved him into one of the rings with a serious professional middleweight, you bet they did.
Urban crowds have found spectacles like this amusing since martyrs were shoved into Roman rings with serious lions. 'Damnation ad bestia' they used to call it and it's never pretty. Here's how it works: a bumpkin novice walks into a boxing gym. Eagle-eyed managers size him up to see if he's an easy mark, a confidence-builder for his fighter. One of them approaches the novice with interest. The novice has faint misgivings but is too polite to turn back once his ears are filled up with fast-talk and the headgear is strapped on. Fifteen minutes later, a traumatized bumpkin leaves the gym. If he looks back it's only because his head is spinning.
Bernstein's bumpkin turned out to be something else altogether.
Calvin Coolidge Lytle, who had "boxed a little" in the navy "and wanted to get back into it," beat the living hell out of a good middleweight right there in Stillman's, right there in front of a snickering crowd. After that eye-opener, Bernstein would speak to savvy Sammy Aaronson and turn him professional. Tiny Patterson was selected as his manager of record, though she had a trainer's license in only a few states. Bernstein would fill in everywhere else.
That was in the flag-waving spring of 1944. The truth of Calvin's military service record could only hurt him, so the Aaronson office got right to work revising it. His bad conduct discharge became a medical discharge. All those captain's masts, confinements in the brig, and the court martial were exchanged for a new narrative: Calvin was recast as a patriotic example who saw so much action in the European and Caribbean theatres that he was called "Lucky" for cheating death.
Calvin was indeed lucky. He was lucky enough to be close to the action in New York City and luckier still to have the backing of the Aaronson office, which had the largest stable of fighters in the world at the time. They took him over to Newark where he made his pro debut at the Meadowbrook Bowl.
He did not fight under his real name. Twelve years earlier, another fighter who eventually signed with the Aaronson office was fighting under the moniker "Cocoa Kid" in honor of the then-streaking Kid Chocolate. His right name was Herbert Lewis Hardwick and he was in New Haven at the same time that the famous Cuban was making headlines 75 miles away in Manhattan. News reports of the time parroted a claim concocted by managers that Cocoa Kid was also from Cuba, though he was born in Puerto Rico. By the summer of 1944, he had moved to Brooklyn after an honorable discharge from the Navy. He trained at Stillman's and took Calvin under his wing. It is an aging Cocoa Kid's fingerprints that can be seen all over that pro debut on July 17th 1944: Twenty-year-old Calvin was introduced to the fight mob as "Chocolate Kid of Cuba."
The opponent was Artie Towne.
Towne was 9-0 and a stable mate of none other than Sugar Ray Robinson. He was already a highly skilled boxer-puncher who would later become what was called a "policeman" for Robinson. When solicited by certain opponents, Robinson's management would reroute them to Towne before any contracts were signed. Towne was counted on to clear the field of low-yield threats and thereby allow Robinson to pursue more lucrative bouts. It worked well enough for Robinson, though not for Towne, who was strictly a preliminary fighter for most of his career. "Robinson was too big then," he recalled, "They didn't have any time for me."
Not three years into his professional career he was already using aliases to get fights. Managers were getting cold sweats –-most managers, that is. Sammy Aaronson and company were braver than most. Sending their fresh-faced prospect into the ring against Towne strongly suggests that Calvin had done more than beat up a contender or two at Stillman's Gym; he was doing it regularly enough to make two suits and a skirt giddy with confidence–-
Aaronson, Bernstein, and Ms. Patterson were convinced that what they had was a natural fighter.
They miscalculated. Natural talent is usually not enough to deal with experience, and the Towne-Chocolate Kid match seemed to confirm that axiom. Towne was given the decision over six rounds.
A week later, Calvin faced a fellow southpaw with 44 fights and only 9 losses. Joe Curcio was not only far more experienced than the 0-1 prospect; he was good enough to stop Towne later that year. "The Chocolate Kid," read the Newark Evening News, "bashed" him.
One week after defeating Curcio, Calvin was in the ring against Lew Perez, "the fighting clown of Puerto Rico." Perez constituted the first "opponent" that Calvin faced. In boxing parlance, an opponent is good enough to test a new prospect but not good enough to beat him; he lies somewhere between a journeyman and a bum on the respectability scale. Perez's prowess was not enough to earn a following (he would end his career with almost twice as many losses as wins) so he became an entertainer. The Evening News reported that he "supplied the fans with plenty of laughs in his match with Chocolate Kid of Cuba, but when he ran out of gas in the fourth round he also ran out of laughs, and was counted out."
Calvin began his career facing three distinctive styles in a boxer-puncher, a southpaw, and an unorthodox fighter. He was on a greased track in a new city with big-time managers, fleeing his past with a narrative that would change yet again. The moniker "Chocolate Kid" was never used after the Perez fight; perhaps because with both the memory of Kid Chocolate and the skills of Cocoa Kid receding, the moniker's marketability receded with them. All that remained of his past was a name given him by an auto mechanic almost three years dead in honor of a president dead longer than that. 'Calvin Coolidge Lytle' was an old tag on a new suit.
Five days after the Perez fight, he was announced as someone else from somewhere else at Mechanic's Hall in Worcester, Massachusetts. Although Bernstein is credited with coming up with his latest ring moniker, odds are good that it was showgirl Tiny Patterson who recalled the silent screen star with a similar surname. And just like that Lytle (pronounced L?t?l) became Lytell (pronounced L?'-t?l?). The Worcester Evening Gazette introduced him as "Bert Lytell," a "highly touted newcomer" with a reputation made in California "where he rated among the best on the Coast." Thus began the most durable of his evolving mythology; one so convincing that he himself believed it.
When a reporter for The Ring asked him where he was born, Calvin "smiled mysteriously" and said he was born in Fresno, California on May 24th 1924. He said he was a graduate of San Petersburg High School and an all-star athlete, a half-back and quarter-back on the football team and a center fielder with a batting average of between 360 and 375 on the baseball team. The Boston Evening News was told he was from Fresno, while the Providence Journal heard he was from Oakland. A few years later the San Francisco Chronicle was told that he was born in Oakland and went to Oakland High School. The Times-Picayune couldn't stay consistent with itself –-they had him from Fresno one day and Oakland the next.
The truth is he was born four months earlier than claimed, attended a "colored" school in Texas called F.W. Gross High School and never made it past ninth grade.
In the summer of 1944 the press was trumpeting his "26-0 record with 23 knockouts" though he only had a handful of professional bouts at that point. Even the date of his pro debut was pushed back from July to March –-9th to be exact, which was actually the date of his bad conduct discharge. But padding the record wasn't the problem. The problem was that no one could keep the cock-and-bull straight. Reporters got suspicious. Speed Reilly of The Referee and the Redhead spoke to gym rats in the Oakland area during what he called "Operations Whosis" and only ended up more confused. Arthur Susskind, Jr. relayed his suspicions about this "mystery man" after discovering that the California Boxing Commission had no record that the fighter ever applied for a license.
His style of fighting proved to be as flexible as his back story, and twice as confusing.
By his fifth bout he was drawing comparisons with Harry Greb, a frenzied middleweight from the 20s who fought all-comers in almost 300 recorded bouts. By early 1945, Bert was approaching Greb's frantic schedule, fighting an average of once a week through March. Swarmers cannot be expected to maintain such a schedule without coasting at times but Bert did better than that; he changed styles whenever the spirit moved him. In one fight report he would be described as a fighter of the "'bore in', perpetual motion variety" while in the next he conjured up Cocoa Kid by appearing to be "an exceedingly slick ringman" who could dominate a fight behind a constant jab and movement. Johnny Finazzo, whose decision win was avenged within four months, had the best view to describe his style. "Lytell," he said, "is a fast, clever fellow and keeps coming at you every second."
Hard men were wilting under a relentless attack that was as flexible as his narrative, but something else was becoming plain, disturbingly plain –-an inflexible jaw. Punches bounced off Bert like tennis balls off a bus.
Tiny Patterson was cheering herself hoarse as the "sharpshooting southpaw" dominated Joe Reddick in Providence, Rhode Island despite being outweighed by 11½ pounds. It was April 20th 1945 and a win here would clinch a date in Boston on the 27th with the top-ranked middleweight on the planet. According to the Providence Journal, Bert landed "so many left hands off Reddick's head –-jaw, chin, nose, ears, forehead–- that it was almost sickeningly repetitious."
Reddick took the ninth round and no more, and that because Bert was distracted by a shadow on the wall.
It was the shadow of a man hunched over like a bull.  
____________________________
The "Raging Bull" Jake LaMotta, at his nastiest, faces the surging southpaw in PART 3 OF "THE BEAST OF STILLMAN'S GYM."
Graphic: (from left to right) Bert Lytell, Speed Reilly, and Sammy Aaronson. Courtesy of Harry Otty.
Two eyewitness accounts of Stillman's Gym, A.J. Liebling's "The University of Eighth Avenue" and Joe Rein's "The Center of the Boxing Universe" came in handy here. Tunney and Dundee's vignette found in Ronald K. Fried's Corner Men: Great Boxing Trainers, p. 37. The Fresno-Oakland issue illustrated in The Times-Picayune 8/31/, 9/1/45. Dick Friendlich's "Boxing Briefs" in San Francisco Chronicle undated. The Berkshire Evening Eagle 9/11/47. "Ray Robinson's Policeman To Make First Main Fight," by Jack Hand 10/14/55. New Jersey Star Ledger 7/17/44. Newark Evening News 7/31/44 for the Curcio bout, Perez in 8/1/44. Claim of 26 fights in Worcester Evening Gazette 8/18/44; 40 fights claimed in Providence Journal 2/18/45. Patterson fight in Worcester Evening Gazette 8/5/44, compared to Greb in 9/1/44 edition, "bore-in variety" in 9/15/44. "Slick ringman" comment in Providence Journal 2/25/45. Finazzo comments in Boston Evening American 3/1/45. Reddick in Providence Journal 4/21/45.
Springs Toledo can be contacted at scalinatella@hotmail.com">scalinatella@hotmail.com.
Dan Parker Bashed the Bad Guys in Boxing and Earned a Ticket to the Hall of Fame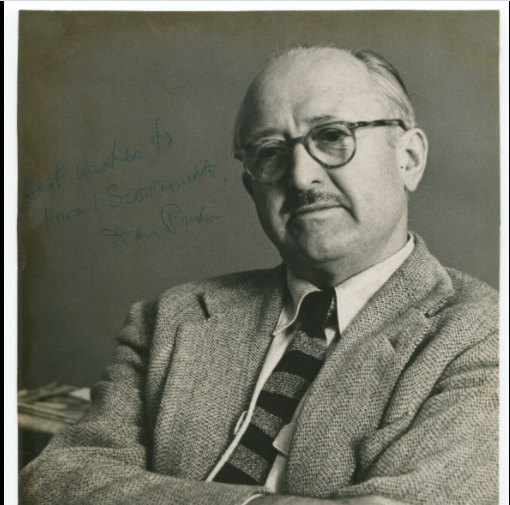 Twenty-five years ago this month, sportswriter Dan Parker was formally ushered into the International Boxing Hall of Fame in the non-participant category. Parker wasn't there to enjoy the moment. He had been dead going on 30 years.
Dan Parker, who began his career in journalism as a court reporter in his native Waterbury, Connecticut, hired on with the New York Daily Mirror in 1924, was named sports editor two years later, and remained with the paper until it folded during a prolonged newspaper strike in 1963, a total of 39 years.
Parker has been underappreciated by historians of the sports page because he worked for a paper that didn't make the cut when advances in microphotography allowed copies of old newspapers to be stored on microfilm. During this reporter's days as a college student — and here I date myself – the only out-of-town papers archived in the school library were the New York Times, Los Angeles Times, and the Washington Post, and to cull something out of them for a term paper one had to commit to spending long hours manually scrolling through reels of microfilm on a clunky machine. The tabloids – and the Daily Mirror was a tabloid – were considered too lowbrow for serious research, and even today in the digital age, stuff by Dan Parker is hard to find if one doesn't have the luxury of hunkering down for an extended stay in the periodicals section of the Library of Congress. His online omnibus consists entirely of scattered stories that were picked up by other newspapers and a few magazine pieces.
But among boxing writers, Dan Parker was a giant. He did more than anyone to cleanse the sport of the hoodlum element. The IBHOF electorate has come up with some curious choices in the non-participant category over the years, but in the case of Dan Parker they certainly got it right.
Parker was a big man, carrying about 240 pounds on his six-foot-four frame, but a man's size is irrelevant when staring into the barrel of a gun and Parker was fearless when facing off with the goons that infested the fight racket. His best year, one might say, was 1955 when a story he authored for Bluebook magazine flowered into an award-winning, six-part series in the Mirror titled "They're Murdering Boxing." The series spawned an investigation that ultimately resulted in the imprisonment of Frankie Carbo, boxing's so-called underworld czar, a man with a long rap sheet, and several of Carbo's collaborators, most notably Philadelphia numbers baron Frank "Blinky" Palermo.
Parker's friends urged him to lay off the hoodlums before something bad happened to him, but he ignored their counsel. "Everybody in boxing lived in fear of this enforcer (Frankie Carbo) but not Dan Parker. Nobody ever put enough heat on Parker to slow down his typewriter," reminisced Hartford Courant sports editor Bill Lee.
Parker's reputation as a reformer was well-established before he zeroed in on the machinations of Carbo and others of his ilk. In 1944, when a vacancy came up on the New York State Athletic Commission, Governor Thomas Dewey, who had made his reputation as a racket-busting District Attorney, offered the post to Parker.
It was easy money, but he declined. "What would I use for a punching bag if I were on the boxing commission myself?," he said.
During a portion of Parker's tenure with the paper, there were eight other New York dailies competing for readers. The Mirror was the paper of choice for well-informed boxing fans thanks in large part to Murray Lewin who came to be recognized as the city's best fight prognosticator within the ranks of the newspaper writers. Lewin, the boxing beat writer, did the grunt work, attending all the little shows and writing up the summaries. Parker, as he freely admitted, was more interested in writing about sporting characters than about the games they played. And like his good buddy Damon Runyon, who wrote for the New York American (later the Journal-American), Parker was inevitably drawn to boxing and horseracing because that was where the most colorful characters were found.
Parker found time to write one book, a primer for novice horseplayers published in 1947 when horseracing was on the cusp of the boom that would lead it to becoming America's top spectator sport (a distinction, needless to say, that wouldn't last).
The book had a chapter on touts, one of Parker's favorite subjects for his newspaper column. They were all charlatans, he wrote, an opinion that did not endear him to the bean-counters as they were forever cluttering up his sports section with ads from racetrack tipsters. Parker wasn't afraid to make enemies on his own paper.
Believe it or not, but there were still folks back then who believed that professional wrestling was on the up-and-up. Parker educated them when he wrote a column that gave out all the winners on a show that hadn't yet started.
The programs for the wrestling shows, which included the bout sheet, were published well in advance and then hidden away until they were needed. Parker procured a copy and from it was able to glean which wrestlers had won their preceding match.
"Dan was a shy, gentle, and kindly man with a quick sense of humor," wrote New York Times sports editor Arthur Daley. But within his profession, he wasn't everyone's cup of tea. The legendary Herald Tribune sports editor Stanley Woodward once likened him to Fearless Fosdick, a character in the L'il Abner comic strip who was a parody of Dick Tracy. Parker had a long-running feud with New York Daily News sportswriter Jimmy Powers which may have had something to do with Powers becoming a well-known radio commentator. In the eyes of the old guard, a true journalist didn't do "electronic media."
When Damon Runyon died from cancer of the larynx in 1946, several of his close friends, notably Parker and the famous gossip columnist Walter Winchell, a Daily Mirror colleague, got together and resolved to create a charity in Runyon's memory. What resulted was a foundation that has raised millions for cancer research. Parker worked tirelessly on its behalf.
Daniel Francis "Dan" Parker died on May 20, 1967, at age 73. He was quite a guy.
Check out more boxing news on video at the Boxing Channel
To comment on this story in the Fight Forum CLICK HERE
What Next for Gabriel Rosado?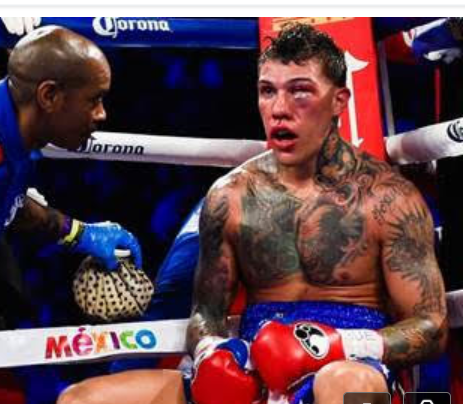 What Next for Gabriel Rosado?
Bektemir Melikuziev, Freddie Roach, Edgar Berlanga, and Jaime Munguia are names that, one way or another, figured into Gabe Rosado's stunning KO last Saturday night in El Paso. It overshadowed the impressive showing by Noaya "Monster" Inoue later that night in Las Vegas.
Rosado (26-13-1) is a well-documented bleeder and just might start spurting during the walk-in, but he is never, ever in a dull fight. The tougher-than-tough Philadelphian won Top Gore honors for his blood and guts TKO loss to Canadian middleweight star David Lemieux in 2014. The year before, he bled aplenty in his game but losing effort against Gennady Golovkin.
This time against Melikuziev, the unbeaten Uzbek, the fight ended in round three when the 35-year-old underdog beat the Eastern Euro fighter to the punch during an exchange of rights with Gabe's landing first and sending the former amateur star into dreamland. The force of the blow was amplified by the younger and faster man coming forward with caution to the wind. And this time, there was no bloodletting.
The knockout should be a contender for KO of the Year. In fact, it was reminiscent of Juan Manuel Marquez's explosive knockout of Manny Pacquiao in their final match.
Once again, Rosado (who is now trained by Freddie Roach) has revived his career and can count on at least one last decent payday. While many think Jaime Munguia would be a solid next fight, the thinking here is that Rosado could get carved up by the undefeated Tijuana veteran who has won 30 of his 37 fights by KO. Munguia is just too good.
The Catch 22
Rosado is an all-action fighter but scar tissue and his propensity to bleed is his worst enemy. It has cost him in the past. For such an offensive-minded fighter as Gabe, he is trapped in a terrible catch-22. If he can get the lead early and the bleeding is stemmed within reasonable limits, he can be a force, but not against the likes of Munguia.
If not Munguia, then who?  Here is one suggestion: How about "The Chosen One," Edgar Berlanga (17-0) whose first round KO streak recently came to an end. Brooklyn vs. Philadelphia would be a nice added touch –not to mention the Puerto Rican factor. Could Rosado expose Berlanga as someone without enough experience, aka rounds? Would Gabe show that Berlanga is more Tyson Brunson that Edwin Valero?
Let's make it happen!
Ted Sares enjoys researching and writing about boxing. He also competes as a powerlifter in the Master-class. He can be reached at  tedsares@roadrunner.com
Check out more boxing news on video at the Boxing Channel
To comment on this story in the Fight Forum CLICK HERE
Fast Results from Las Vegas: Inoue Demolishes Dasmarinas; Mayer UD Farias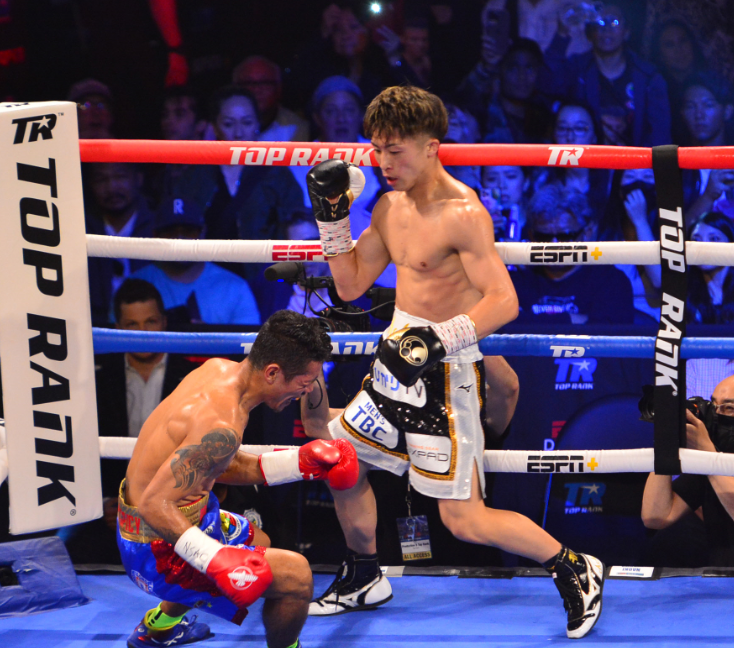 Fast Results from Las Vegas: Inoue Demolishes Dasmarinas; Mayer UD  Farias
LAS VEGAS — Top Rank was at the Virgin Hotels in Las Vegas on Saturday, June 19, for the second of their three June shows. In the headliner, WBA/IBF world bantamweight champion Naoya "Monster" Inoue lived up to his nickname with a vicious third round stoppage of Filipino import Michael Dasmarinas.
Inoue (21-0, 18 KOs) had his opponent fighting off his back foot from the opening bell. He knocked down Dasmarinas in the second with a left hook to the liver and twice more in the third round before referee Russell Mora waived it off. The official time was 2:45.
Dasmarinas brought a 30-2-1 record and hadn't lost since 2014. But he was no match for the "Monster" who looks younger than his 28 years. Those body shots landed with a thud that could be heard in the far reaches of the arena. This kid is really good.
Mikaela Mayer continues to improve as she showed tonight in the first defense of her WBO world super featherweight title. Mayer 15-0 (5) turned away Argentina's Erica Farias (26-5) with a 10-round unanimous decision in a fight that was frankly rather monotonous.
Mayer won by scores of 97-93 and 98-92 twice. Farias, who landed the best punch of the fight, didn't have the taller Mayer's physical equipment but yet landed the best punch of the fight. Her only setbacks have come on the road against elite opponents—Cecilia Braekhus, Delfine Person, Jessica McCaskill (twice) and now Mikaela Mayer.
The opener on the ESPN portion of the show was a lusty 10-round welterweight affair between Ghana native Isaac Dogboe and Glendale, California's Adam Lopez. Dogboe, whose only losses came at the hands of Emanuel Navarette in world title fights, improved to 22-2 by dint of a majority decision that could have easily gone the other way. Dave Moretti had it a draw but was overruled (97-93 and 96-94).
Lopez, one of two fighting sons of the late Hector Lopez, an Olympic silver medalist, did his best work late, particularly in the eighth round. With the loss, his record declines to 15-3.
Other Bouts
Monterrey, Mexico super lightweight Lindolfo Delgado, a 2016 Olympian, was extended the distance for the first time in his career but won a wide 8-round decision over Guadalajara's Salvador Briceno
Delgado won by scores of 80-72 and 79-73 twice while advancing his record to 12-0. Delgado's best round was the eighth, but Briceno (17-7) weathered the storm. Briceno is 5-6 in his last 11, but has been matched tough. The six fighters to beat him, including Delgado, were a combined 78-3 at the time that he fought them.
Vista, California lightweight Eric Puente has yet to score a KO but he is undefeated in six starts after winning a unanimous decision over Mexico's Antonio Meza (7-6). Puente, who is trained by Robert Garcia, knocked Meza down early into the fight with a sweeping left and was the aggressor throughout. The judges had it 57-56 and 58-55 twice.
Puerto Rican super lightweight Omar Rosario improved to 4-0 (2) with a fourth-round stoppage of Reno, Nevada's Wilfred "JJ" Moreno (3-1) The official time was 0:47.
Photo credit: Al Applerose
To comment on this story in the Fight Forum CLICK HERE