The Beast of Stillman's Gym, Part 2
The Beast of Stillman's Gym
PART 2: THE NATURAL
"The joint always smells wrong," A.J. Liebling said about Stillman's Gym. Even so, he could look at the soot covering its brick façade and see ivy –-"The University of Eighth Avenue," he called it. Joe Rein calls it "The Center of the Boxing Universe" but something stayed in his nose too. He remembers the windows, "opaque with thirty years of grime" and sealed shut. Gene Tunney once demanded that someone pry them open, figuring the fresh air would do some good. "Fresh air?" said one of the regulars, "Why that stuff is likely to kill us!"
All the greats from boxing's golden era trained at Stillman's and thirty-five cents was all it took to rub shoulders with them all. Sometimes a king with an upcoming title defense would make an entrance and the price of admission would be raised. It was worth it. The artistry that unfolded in the exhibition rings was enough to make everyone forget the stench.
When Bernie Bernstein laced the gloves on a garage attendant he picked up on King's Highway, no one gave him a second look. When he shoved him into one of the rings with a serious professional middleweight, you bet they did.
Urban crowds have found spectacles like this amusing since martyrs were shoved into Roman rings with serious lions. 'Damnation ad bestia' they used to call it and it's never pretty. Here's how it works: a bumpkin novice walks into a boxing gym. Eagle-eyed managers size him up to see if he's an easy mark, a confidence-builder for his fighter. One of them approaches the novice with interest. The novice has faint misgivings but is too polite to turn back once his ears are filled up with fast-talk and the headgear is strapped on. Fifteen minutes later, a traumatized bumpkin leaves the gym. If he looks back it's only because his head is spinning.
Bernstein's bumpkin turned out to be something else altogether.
Calvin Coolidge Lytle, who had "boxed a little" in the navy "and wanted to get back into it," beat the living hell out of a good middleweight right there in Stillman's, right there in front of a snickering crowd. After that eye-opener, Bernstein would speak to savvy Sammy Aaronson and turn him professional. Tiny Patterson was selected as his manager of record, though she had a trainer's license in only a few states. Bernstein would fill in everywhere else.
That was in the flag-waving spring of 1944. The truth of Calvin's military service record could only hurt him, so the Aaronson office got right to work revising it. His bad conduct discharge became a medical discharge. All those captain's masts, confinements in the brig, and the court martial were exchanged for a new narrative: Calvin was recast as a patriotic example who saw so much action in the European and Caribbean theatres that he was called "Lucky" for cheating death.
Calvin was indeed lucky. He was lucky enough to be close to the action in New York City and luckier still to have the backing of the Aaronson office, which had the largest stable of fighters in the world at the time. They took him over to Newark where he made his pro debut at the Meadowbrook Bowl.
He did not fight under his real name. Twelve years earlier, another fighter who eventually signed with the Aaronson office was fighting under the moniker "Cocoa Kid" in honor of the then-streaking Kid Chocolate. His right name was Herbert Lewis Hardwick and he was in New Haven at the same time that the famous Cuban was making headlines 75 miles away in Manhattan. News reports of the time parroted a claim concocted by managers that Cocoa Kid was also from Cuba, though he was born in Puerto Rico. By the summer of 1944, he had moved to Brooklyn after an honorable discharge from the Navy. He trained at Stillman's and took Calvin under his wing. It is an aging Cocoa Kid's fingerprints that can be seen all over that pro debut on July 17th 1944: Twenty-year-old Calvin was introduced to the fight mob as "Chocolate Kid of Cuba."
The opponent was Artie Towne.
Towne was 9-0 and a stable mate of none other than Sugar Ray Robinson. He was already a highly skilled boxer-puncher who would later become what was called a "policeman" for Robinson. When solicited by certain opponents, Robinson's management would reroute them to Towne before any contracts were signed. Towne was counted on to clear the field of low-yield threats and thereby allow Robinson to pursue more lucrative bouts. It worked well enough for Robinson, though not for Towne, who was strictly a preliminary fighter for most of his career. "Robinson was too big then," he recalled, "They didn't have any time for me."
Not three years into his professional career he was already using aliases to get fights. Managers were getting cold sweats –-most managers, that is. Sammy Aaronson and company were braver than most. Sending their fresh-faced prospect into the ring against Towne strongly suggests that Calvin had done more than beat up a contender or two at Stillman's Gym; he was doing it regularly enough to make two suits and a skirt giddy with confidence–-
Aaronson, Bernstein, and Ms. Patterson were convinced that what they had was a natural fighter.
They miscalculated. Natural talent is usually not enough to deal with experience, and the Towne-Chocolate Kid match seemed to confirm that axiom. Towne was given the decision over six rounds.
A week later, Calvin faced a fellow southpaw with 44 fights and only 9 losses. Joe Curcio was not only far more experienced than the 0-1 prospect; he was good enough to stop Towne later that year. "The Chocolate Kid," read the Newark Evening News, "bashed" him.
One week after defeating Curcio, Calvin was in the ring against Lew Perez, "the fighting clown of Puerto Rico." Perez constituted the first "opponent" that Calvin faced. In boxing parlance, an opponent is good enough to test a new prospect but not good enough to beat him; he lies somewhere between a journeyman and a bum on the respectability scale. Perez's prowess was not enough to earn a following (he would end his career with almost twice as many losses as wins) so he became an entertainer. The Evening News reported that he "supplied the fans with plenty of laughs in his match with Chocolate Kid of Cuba, but when he ran out of gas in the fourth round he also ran out of laughs, and was counted out."
Calvin began his career facing three distinctive styles in a boxer-puncher, a southpaw, and an unorthodox fighter. He was on a greased track in a new city with big-time managers, fleeing his past with a narrative that would change yet again. The moniker "Chocolate Kid" was never used after the Perez fight; perhaps because with both the memory of Kid Chocolate and the skills of Cocoa Kid receding, the moniker's marketability receded with them. All that remained of his past was a name given him by an auto mechanic almost three years dead in honor of a president dead longer than that. 'Calvin Coolidge Lytle' was an old tag on a new suit.
Five days after the Perez fight, he was announced as someone else from somewhere else at Mechanic's Hall in Worcester, Massachusetts. Although Bernstein is credited with coming up with his latest ring moniker, odds are good that it was showgirl Tiny Patterson who recalled the silent screen star with a similar surname. And just like that Lytle (pronounced L?t?l) became Lytell (pronounced L?'-t?l?). The Worcester Evening Gazette introduced him as "Bert Lytell," a "highly touted newcomer" with a reputation made in California "where he rated among the best on the Coast." Thus began the most durable of his evolving mythology; one so convincing that he himself believed it.
When a reporter for The Ring asked him where he was born, Calvin "smiled mysteriously" and said he was born in Fresno, California on May 24th 1924. He said he was a graduate of San Petersburg High School and an all-star athlete, a half-back and quarter-back on the football team and a center fielder with a batting average of between 360 and 375 on the baseball team. The Boston Evening News was told he was from Fresno, while the Providence Journal heard he was from Oakland. A few years later the San Francisco Chronicle was told that he was born in Oakland and went to Oakland High School. The Times-Picayune couldn't stay consistent with itself –-they had him from Fresno one day and Oakland the next.
The truth is he was born four months earlier than claimed, attended a "colored" school in Texas called F.W. Gross High School and never made it past ninth grade.
In the summer of 1944 the press was trumpeting his "26-0 record with 23 knockouts" though he only had a handful of professional bouts at that point. Even the date of his pro debut was pushed back from July to March –-9th to be exact, which was actually the date of his bad conduct discharge. But padding the record wasn't the problem. The problem was that no one could keep the cock-and-bull straight. Reporters got suspicious. Speed Reilly of The Referee and the Redhead spoke to gym rats in the Oakland area during what he called "Operations Whosis" and only ended up more confused. Arthur Susskind, Jr. relayed his suspicions about this "mystery man" after discovering that the California Boxing Commission had no record that the fighter ever applied for a license.
His style of fighting proved to be as flexible as his back story, and twice as confusing.
By his fifth bout he was drawing comparisons with Harry Greb, a frenzied middleweight from the 20s who fought all-comers in almost 300 recorded bouts. By early 1945, Bert was approaching Greb's frantic schedule, fighting an average of once a week through March. Swarmers cannot be expected to maintain such a schedule without coasting at times but Bert did better than that; he changed styles whenever the spirit moved him. In one fight report he would be described as a fighter of the "'bore in', perpetual motion variety" while in the next he conjured up Cocoa Kid by appearing to be "an exceedingly slick ringman" who could dominate a fight behind a constant jab and movement. Johnny Finazzo, whose decision win was avenged within four months, had the best view to describe his style. "Lytell," he said, "is a fast, clever fellow and keeps coming at you every second."
Hard men were wilting under a relentless attack that was as flexible as his narrative, but something else was becoming plain, disturbingly plain –-an inflexible jaw. Punches bounced off Bert like tennis balls off a bus.
Tiny Patterson was cheering herself hoarse as the "sharpshooting southpaw" dominated Joe Reddick in Providence, Rhode Island despite being outweighed by 11½ pounds. It was April 20th 1945 and a win here would clinch a date in Boston on the 27th with the top-ranked middleweight on the planet. According to the Providence Journal, Bert landed "so many left hands off Reddick's head –-jaw, chin, nose, ears, forehead–- that it was almost sickeningly repetitious."
Reddick took the ninth round and no more, and that because Bert was distracted by a shadow on the wall.
It was the shadow of a man hunched over like a bull.  
____________________________
The "Raging Bull" Jake LaMotta, at his nastiest, faces the surging southpaw in PART 3 OF "THE BEAST OF STILLMAN'S GYM."
Graphic: (from left to right) Bert Lytell, Speed Reilly, and Sammy Aaronson. Courtesy of Harry Otty.
Two eyewitness accounts of Stillman's Gym, A.J. Liebling's "The University of Eighth Avenue" and Joe Rein's "The Center of the Boxing Universe" came in handy here. Tunney and Dundee's vignette found in Ronald K. Fried's Corner Men: Great Boxing Trainers, p. 37. The Fresno-Oakland issue illustrated in The Times-Picayune 8/31/, 9/1/45. Dick Friendlich's "Boxing Briefs" in San Francisco Chronicle undated. The Berkshire Evening Eagle 9/11/47. "Ray Robinson's Policeman To Make First Main Fight," by Jack Hand 10/14/55. New Jersey Star Ledger 7/17/44. Newark Evening News 7/31/44 for the Curcio bout, Perez in 8/1/44. Claim of 26 fights in Worcester Evening Gazette 8/18/44; 40 fights claimed in Providence Journal 2/18/45. Patterson fight in Worcester Evening Gazette 8/5/44, compared to Greb in 9/1/44 edition, "bore-in variety" in 9/15/44. "Slick ringman" comment in Providence Journal 2/25/45. Finazzo comments in Boston Evening American 3/1/45. Reddick in Providence Journal 4/21/45.
Springs Toledo can be contacted at scalinatella@hotmail.com">scalinatella@hotmail.com.
Canelo-Charlo Gets All the Ink, but Don't Overlook the Compelling Match-up of Gassiev-Wallin in Turkey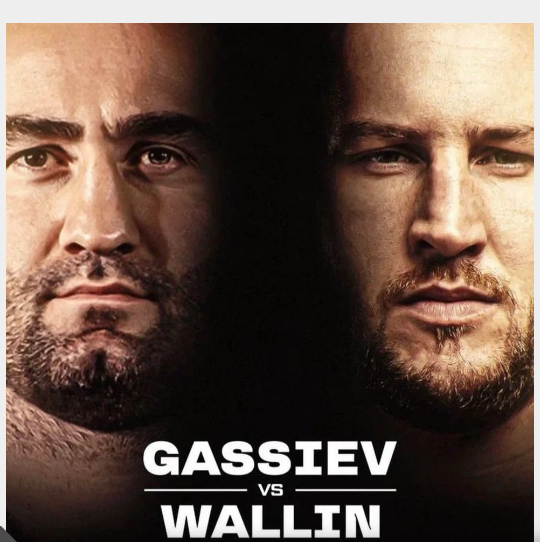 Canelo-Charlo Gets All the Ink, but Don't Overlook the Compelling Match-up of Gassiev-Wallin in Turkey
The eyes of the boxing world will be on Las Vegas this Saturday where Mexican superstar Saul "Canelo" Alvarez risks his four super middleweight title belts against unified 154-pound champion Jermell Charlo. Earlier that day at a luxury resort hotel in the city of Antalya on the Mediterranean coast of Turkey, there's a heavyweight match sitting under the radar that may prove to be the better fight. It's an intriguing match-up between former world cruiserweight title-holder Murat Gassiev and Swedish southpaw Otto Wallin, a bout with significant ramifications for boxing's glamour division.
Gassiev (30-1, 23 KOs) and Wallin (25-1, 14 KOs) have only one loss, but those setbacks came against the top dogs in the division. Gassiev was out-boxed by Oleksandr Usyk back in the days when both were cruiserweights. Wallin gave Tyson Fury a world of trouble before losing a unanimous decision.
Since those fights, both have been treading water.
Gassiev
Gassiev was inactive for 27 months after his match with Usyk while dealing with legal issues and an injury to his left shoulder. He is 4-0 (4 KOs) since returning to the ring while answering the bell for only eight rounds. The only recognizable name among those four victims is German gatekeeper Michael Wallisch. After stopping Wallisch, Gassiev was out of action for another 13 months while reportedly dealing with an arm injury.
A first-round knockout of Carlouse Welch, an obscure 40-something boxer from the U.S. state of Georgia on Aug. 26, 2022, in Belgrade, Serbia, was promoted as a title fight. The sanctioning body was the Eurasian Boxing Parliament (insert your own punchline here). Gassiev followed that up with a second-round knockout of former NFL linebacker Mike Balogun who came in undefeated and was seemingly a legitimate threat to him.
Although he has yet to fight a ranked opponent since leaving the cruiserweight division, Gassiev — a former stablemate of Gennady Golovkin who has been living in Big Bear, California, training under Abel Sanchez – is one of the most respected fighters in the division because he has one-punch knockout power as Balogun and others can well attest. The rub against the Russian-Armenian bruiser is that he is somewhat robotic.
Wallin
Otto Wallin, a 32-year-old southpaw from Sweden who trains in New York under former world lightweight champion Joey Gamache, fought Tyson Fury on Sept. 14, 2019 at the MGM Grand in Las Vegas. There was a general feeling that the Swede would be a stroll in the park for Fury, but to the contrary, he gave the Gypsy King a hard tussle while losing a unanimous decision.
Wallin is 5-0 since that night beginning with victories over Travis Kauffman (KO 5) and Dominic Breazeale (UD 12), but his last three opponents were softer than soft and all three lasted the distance. In order, Wallin won an 8-round decision over Kamil Sokolowski, who was 11-24-2 heading in, won a 10-round decision over ancient Rydell Booker, and won an 8-round decision over Helaman Olguin. His bout with Utah trial horse Olguin was at a banquet hall in Windham, New Hampshire.
It isn't that Wallin has been avoiding the top names in the division; it's the other way around. His promoter Dmitriy Salita reportedly came close to getting Wallin a match with Anthony Joshua whose team had second thoughts about sending Joshua in against another southpaw after back-to-back setbacks to Oleksandr Usyk.
Gassiev vs Wallin is a true crossroads fight. Both are in dire need of a win over a credible opponent. At last look, Gassiev, who figures to have the crowd in his corner, was a 3/1 favorite.
To comment on this story in the Fight Forum CLICK HERE
Skavynskyi and Bustillos Win on a MarvNation Card in Long Beach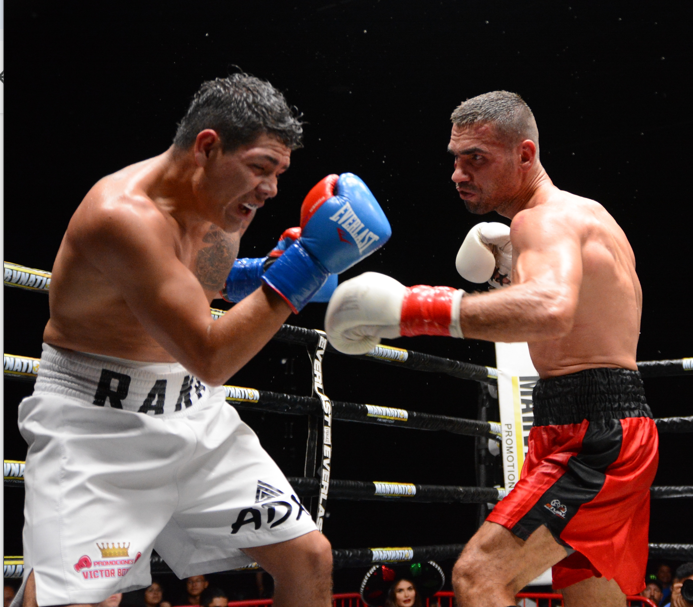 Skavynskyi and Bustillos Win on a MarvNation Card in Long Beach
LONG BEACH, Ca.-A cool autumn night saw welterweights and minimumweights share main events for a MarvNation fight card on Saturday.
Ukraine's Eduard Skavynskyi (15-0, 7 KOs) experienced a tangled mess against the awkward Alejandro Frias (14-10-2) but won by decision after eight rounds in a welterweight contest at the indoor furnace called the Thunder Studios.
It was hot in there for the more than 600 people inside.
Skavynskyi probably never fought someone like Mexico's Frias whose style was the opposite of the Ukrainian's fundamentally sound one-two style. But round after round the rough edges became more familiar.
Neither fighter was ever damaged but all three judges saw Skavynskyi the winner by unanimous decision 79-73 on all three cards. The Ukrainian fighter trains in Ventura.
Bustillo Wins Rematch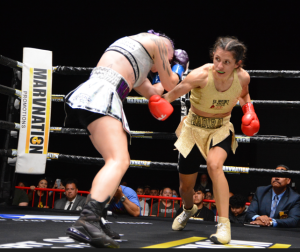 In the female main event Las Vegas' Yadira Bustillos (8-1) stepped into a rematch with Karen Lindenmuth (5-2) and immediately proved the lessons learned from their first encounter.
Bustillos connected solidly with an overhand right and staggered Lindenmuth but never came close to putting the pressure fighter down. Still, Bustillos kept turning the hard rushing Lindenmuth and snapping her head with overhand rights and check left hooks.
Lindenmuth usually overwhelms most opponents with a smothering attack that causes panic. But not against Bustillos who seemed quite comfortable all eight rounds in slipping blows and countering back.
After eight rounds all three judges scored the contest for Bustillos 78-74 and 80-72 twice. Body shots were especially effective for the Las Vegas fighter in the fifth round. Bustillos competes in the same division as IBF/WBO title-holder Yokasta Valle.
Other Bouts
In a middleweight clash, undefeated Victorville's Andrew Buchanan (3-0-1) used effective combination punching to defeat Mexico's Fredy Vargas (2-1-1) after six rounds. Two judges scored it 59-55 and a third 60-54 for Buchanan. No knockdowns were scored.
A super lightweight match saw Sergio Aldana win his pro debut by decision after four rounds versus Gerardo Fuentes (2-9-1).
Photos credit: Al Applerose
To comment on this story in the Fight Forum CLICK HERE
Tedious Fights and a Controversial Draw Smudge the Matchroom Boxing Card in Orlando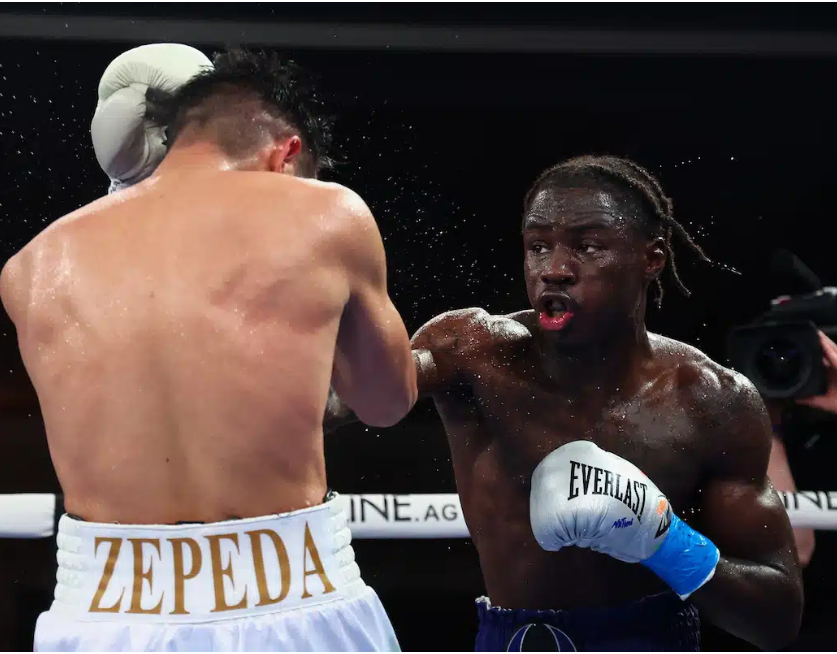 Matchroom Boxing was at the sprawling Royale Caribe Resort Hotel in Orlando, Florida tonight with a card that aired on DAZN. The main event was a ho-hum affair between super lightweights Richardson Hitchins and Jose Zepeda.
SoCal's Zepeda has been in some wars in the past, notably his savage tussle with Ivan Baranchyk, but tonight he brought little to the table and was outclassed by the lanky Hitchins who won all 12 rounds on two of the cards and 11 rounds on the other.  There were no knockdowns, but Zepeda suffered a cut on his forehead in round seven that was deemed to be the product of an accidental head butt and another clash in round ten forced a respite in the action although Hitchins suffered no apparent damage.
It was the sort of fight where each round was pretty much a carbon of the round preceding it. Brooklyn's Hitchins, who improved to 17-0 (7), was content to pepper Zepeda with his jab, and the 34-year-old SoCal southpaw, who brought a 37-3 record, was never able to penetrate his defense and land anything meaningful.
Hitchins signed with Floyd Mayweather Jr's promotional outfit coming out of the amateur ranks and his style is reminiscent in ways of his former mentor. Like Mayweather, he loses very few rounds. In his precious engagement, he pitched a shutout over previously undefeated John Bauza.
Co-Feature
In the co-feature, Conor Benn returned to the ring after an absence of 17 months and won a unanimous decision over Mexico's Rodolfo Orozco. It wasn't a bad showing by Benn who showed decent boxing skills, but more was expected of him after his name had been bandied about so often in the media. Two of the judges had it 99-91 and the other 96-94.
Benn (22-0, 14 KOs) was a late addition to the card although one suspects that promoter Eddie Hearn purposely kept him under wraps until the week of the fight so as not to deflect the spotlight from the other matches on his show. Benn lost a lucrative date with Chris Eubank Jr when he was suspended by the BBBofC when evidence of a banned substance was found in his system and it's understood that Hearn has designs on re-igniting the match-up with an eye on a date in December. For tonight's fight, Benn carried a career-high 153 ½ pounds. Mexico's Orozco, who was making his first appearance in a U.S. ring, declined to 32-4-3.
Other Bouts of Note
The welterweight title fight between WBA/WBC title-holder Jessica McCaskill (15-3-1) and WBO title-holder Sandy Ryan (6-1-1) ended in a draw and the ladies' retain their respective titles. Ryan worked the body effectively and the general feeling was that she got a raw deal, a sentiment shared by the crowd which booed the decision. There was a switch of favorites in the betting with the late money seemingly all on the Englishwoman who at age 30 was the younger boxer by nine years.
The judges had it 96-94 Ryan, 96-95, and a vilified 97-93 for Chicago's McCaskill.
In the opener of the main DAZN stream, Houston middleweight Austin "Ammo" Williams, 27, improved to 15-0 (10) with a 10-round unanimous decision over 39-year-old Toronto veteran Steve Rolls (22-3). All three judges had it 97-93. Rolls has been stopped only once, that by Gennady Golovkin.
Photo credit: Ed Mulholland / Matchroom Boxing
To comment on this story in the Fight Forum CLICK HERE