Courtside with David Diamante
Boxing fans know David Diamante as a guy with dreadlocks that reach below his waist and as one of the best ring announcers in the business. The sweet science is his first love. But recently, it has been his secondary gig.
Since the start of the 2011-2012 NBA season, Diamante has been the in-arena voice of the New Jersey Nets.
Last fall, David read an article about the Nets holding auditions for a new PA announcer. He applied for the position, went through a rigorous audition process, and got the job. Then, like everyone else, he waited through a contract dispute between the owners and players that delayed the start of the NBA season until December 25th.
"It was tough sitting out the lockout," David says, "although I'm sure it was tougher for the players and a lot of other people associated with the Nets. It was a great Christmas present for me when everything was settled and the games started. I'm passionate about sports. Boxing is my favorite; I want to announce fights forever. But I love basketball and I love doing this. I've got a multi-year contract with the Nets, which means I can put all of my energy and emotion into doing the job right rather than worrying about whether or not I'll he hired to work the next fight."
This season has tested the loyalty of Nets fans. Brook Lopez (the team's elite center) has been sidelined with a foot injury. Point guard Deron Williams is the squad's best player, but power forward Kris Humphries is the most famous by virtue of his ill-fated marriage to Kim Kardashian. The Nets didn't win at home until their fifteen game; a 107-100 triumph over Golden State on January 18th. And it's a matter of record that the team will move across the Hudson River to the Barclays Center in Brooklyn after the 2011-2012 season.
Diamante is responsible for creating an air of optimism in the here and now at the Prudential Center in Newark (where the Nets play their home games).
"I felt comfortable in the job from the start," David says. "That's partly because I'm backed by good people who give me great support. And some of the jobs I had before this, like working in clubs where anything can happen, means that the unexpected never shakes me."
"And I love the job," Diamante continues. "I'm a boxing guy. When you're boxing and someone hits you in the nose and you feel the bone crunch and you taste your own blood, you can't call 'time out'. Basketball is a game. People die in boxing. But there's a lot of physical contact in basketball. These guys are big; these guys are strong; and there are times when they beat each other up. Taking a charge in the NBA is like getting punched in the body by a heavyweight. And when a basketball player falls, it's on a hard wood court, not a ring canvas. The best basketball players have the same killer instinct that fighters have. They'll pay any price to win. And seeing them up close, you realize what amazing athletes they are. You can't really see how good they are on television. But to sit at the edge of the court and watch them whiz by on a fast break; for men that big to move that fast with such agility is extraordinary. And it's beautiful to see them work together as a team."
On Sunday, January 29th, Diamante arrived at the Prudential Center at 4:00 PM. Wearing a navy-blue suit, striped shirt, and conservative tie, he moved easily through the back passageways of the arena, offering a warm hello to everyone he passed.
The Nets would be playing the Toronto Raptors. Game time was 6:05 PM. New Jersey had a 7-and-13 record, but was coming into the contest on a two-game winning streak. The Raptors sported a 6-and-14 ledger and were without their leading scorer (7-foot center Andrea Bargnani).
Diamante does his homework assiduously. He watches all of the Nets away games on television and researches upcoming opponents on the Internet. He's constantly running inventive phrases through his mind. A three-point field goal for Deron Williams becomes a "three-Will" for D-Will. Alone at home, he rehearses his calls again and again to see how they sound and feel.
In the press room, David picked up a media packet and began highlighting names with a yellow marker.
The Nets have four players whose surname is Williams: Deron Williams, Sheldon Williams, Jordan Williams, and Shawne Williams.
"If I miss a play," Diamante noted, "I can call 'Williams' and have a pretty good chance of getting it right."
When his review was done, David ate a light dinner (there was a buffet for staff and working press). At 5:15, he entered the arena and took his place at a long table midway between the Nets and Raptors benches.
"Ladies and gentlemen," he intoned, "welcome to the Prudential Center, home of Nets basketball."
Over the next half-hour, Diamante offered a stream of information to those in attendance. He thanked various Nets sponsors; talked about ticket packages for upcoming games; warned against smoking in the arena, and welcomed a group of students from the Willard School in Ridgewood, New Jersey. In due course, he was joined at the table by the timekeeper, head scorer, and announcers for the YES television network.
At 5:47, the Raptors took the floor to warm up . . . "Ladies and gentlemen; please welcome tonight's opponent, the Toronto Raptors."
The Nets followed a minute later . . . "Ladies and gentlemen, please welcome your NEW . . . JERSEY . . . NETS !!!!!"
"In boxing," Diamante notes, "I'm expected to be impartial. Here, it's part of my job to be a Nets fan. I'm always respectful toward the other team. But when one of our guys scores, I don't just say it; I sing it."
At 6:05, Diamante introduced the Raptors starting line-up. Then —
Lights out . . . Spotlights . . . Pulsating music . . .
"The starting line-up for your NEW . . . JERSEY . . . NETS !!!!!"
And finally, Diamante's signature line, modified for basketball.
"And now, ladies and gentlemen; from the four corners of the world to the four corners of this court, the game starts now."
Tip-off . . . The Nets controlled the ball.
"Being the PA announcer for an NBA team requires a different skill set from ring announcing," Diamante explains. "In boxing, there are times when I'm in the center of the ring reading the decision after a close fight and millions of people are hanging on my every word. Here, the focus is never on me. I'm heard but not seen. And unlike ring announcing, where I'm only on at the beginning and end of a fight, I'm calling the entire game for the crowd. There's no downtime, no time to daydream. I have to pay close attention every second of the game."
As the game progressed, Diamante catalogued the action, calling out the name of each player who scored and more.
"Traveling . . . Time out, Nets . . . Checking in for Toronto, number eleven . . . Please welcome the Nets dancers . . ."
At the end of the first quarter, the score was tied at 24. Toronto had a 44-39 lead at the half. A 10-2 spurt put the Raptors up by 13 points early in the third stanza. The Nets trailed by 17 at the three-quarter mark. With 7:24 left in the game and the Raptors ahead 82-to-62, the crowd began filing out.
At 8:15 PM, it was over. The Nets had lost a game that, on paper, they should have won. Final score: Raptors 94 Nets 73.
Diamante announced that Deron Williams was high scorer for the Nets with 24 points; then closed with, "Thank you for coming. And please, arrive home safely."
Boxing fans should be pleased. Another one of our own has made it to the bigtime.
Thomas Hauser can be reached by email at thauser@rcn.com. His most recent book (Winks and Daggers: An Inside Look at Another Year in Boxing) was published by the University of Arkansas Press.
Jermell Charlo Unifies Super Welterweights Via Solar Plexus Punch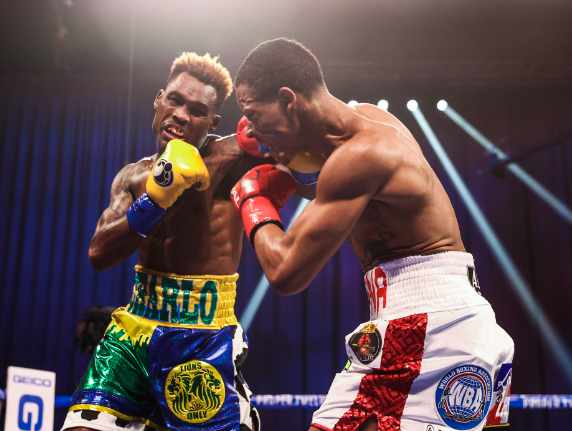 WBC super welterweight titlist Jermell Charlo knocked out IBF and WBA titlist Jeison Rosario with a knockout punch delivered to the solar plexus on Saturday to add two more belts to his collection.
"I'm definitely bringing home the straps," said Charlo.
Shades of Bob Fitzsimmons.
Back in 1897, Fitzsimmons used the same solar plexus punch to dethrone Gentleman James Corbett for the heavyweight title in Carson City, Nevada.
In another casino city Charlo (34-1, 18 KOs) floored Dominican Republic's Rosario (20-2-1, 14 KOs) three times at the Mohegan Sun Casino in Uncasville, Conn. He and his brother co-headlined a heavy duty pay-per-view card with no fans in attendance on the Premier Boxing Champions card.
Charlo jumped on Rosario quickly in the first round when he charged and clipped him with a left hook to the temple. Down went the two-belt champion for the count. But he got up seemingly unfazed.
For the next several rounds Rosario was the aggressor and put the pressure on Charlo who was content to allow the Dominican to fire away. Occasionally the Houston fighter jabbed but allowed Rosario to pound up and down with both fists.
After allowing Rosario to get comfortable with his attack, suddenly Charlo stopped moving and connected with a short crisp counter left hook and right cross in the sixth round. Down went Rosario again and he got up before the count of 10.
Charlo said it was part of the game plan.
"I'm growing and I realize that the knockout will just come," he said.
Charlo was in control with a patient style and allowed Rosario to come forward. But the Dominican was more cautious in the seventh.
In the eighth round Charlo jabbed to the head and then jabbed hard to Rosario's stomach. The Dominican fighter dropped down on his seat as if felled by a gun shot. He could not get up and convulsed while on the floor. The referee Harvey Dock counted him out at 21 seconds of round eight.
"That jab that got to him must have landed in a vital point," said Charlo after the fight. "I hope he recovers and bounces back."
Charlo now has three of the four major super welterweight world titles.
WBC Super Bantamweight Title
Luis Nery (31-0, 24 KOs) captured the WBC super bantamweight title by unanimous decision over fellow Mexican Aaron Alameda (25-1, 13 KOs) in a battle between southpaws. The war between border town fighters was intense.
Nery, a former bantamweight world titlist, moved up a weight division and found Alameda to be a slick southpaw with an outstanding jab. At first the Tijuana fighter was a little puzzled how to attack but found his groove in the fourth round.
But Alameda, who fights out of Nogales, Mexico, began using combinations and finding success.  A crafty counter left uppercut caught Nery charging in a few times, but he managed to walk through them.
In the final two rounds Nery picked up the action and increased the pressure against the slick fighting Alameda, He forced the Nogales fighter to fight defensively and that proved enough to give the last two rounds for Nery and the victory by unanimous decision. The scores were 115-113, 116-112 and 118-110 for Nery who now holds the WBC super bantamweight world title. He formerly held the WBC bantamweight title.
Roman Wins
Danny "Baby-Faced Assassin" Roman (28-3-1, 10 KOs) managed to rally from behind and defeat Juan Carlos Payano (21-4, 9 KOs) in a battle between former world champions in a nontitle super bantamweight clash. It wasn't easy.
Once again Roman fought a talented southpaw and in this fight Payano, a former bantamweight titlist, moved up in weight and kept Roman off balance for the first half of the fight. The jab and movement by the Dominican fighter seemed to keep Roman out of sync.
Roman, who fights out of Los Angeles, used a constant body attack to wear down the 35-year-old Payano and it paid off in the second half. Then the former unified world champion Roman began to pinpoint more blows to the body and head. With seconds left in the 12th and final round, a left hook delivered Payano down and through the ropes. Sadly, the referee missed the knockdown. It didn't matter as all three judges scored it identical at 116-112 for Roman after 12 rounds.
"I made some adjustments and picked up the pace and got the win," said Roman who formerly held the WBA and IBF super bantamweight world titles.
Photo credit: Amanda Westcott / SHOWTIME
Check out more boxing news on video at the Boxing Channel 
To comment on this story in the Fight Forum CLICK HERE
Jermall Charlo UD 12 Derevyanchenko; Figueroa and Casimero Also Triumphant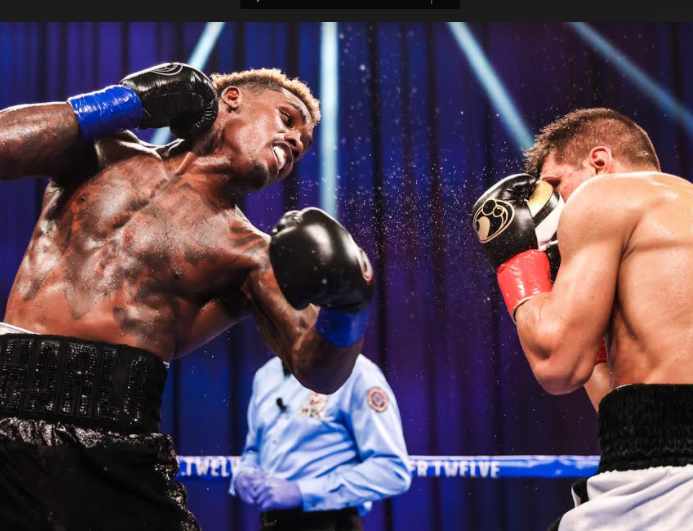 Jermall Charlo UD 12 Derevyanchenko; Figueroa and Casimero Also Triumphant
The Mohegan Sun Casino in Uncasville, Connecticut, was the site of the first pay-per-view boxing event in the United States since the Fury-Wilder rematch on Feb. 22. There were six fights in all, five of which were title fights and the other a title-eliminator. They were divided into two tiers but bundled into a package that cost approximately a dollar a round with a facile intermission tossed in at no extra charge.
The headline attraction of the first "three-pack" – and the most anticipated fight of the evening – found WBC world middleweight champion Jermall Charlo defending his title against Sergiy Derevyanchenko. The Ukrainian gave Gennady Golovkin a hard tussle when they fought in November of last year at Madison Square Garden – GGG won a unanimous decision but the scores were tight and many thought Derevyanchenko deserved the decision – and the expectation was that tonight's match would also be very competitive.  But it really wasn't although the rugged Derevyanchenko rarely took a backward step.
The fight went the distance and there were no knockdowns, but Charlo buckled his knees at the end of round three and Derevyanchenko ended the fight with cuts above both eyes. The judges had it 118-110, 117-111, and 116-112.
With Canelo Alvarez apparently headed to 168 and GGG showing his age at 38, one can make a strong case that the undefeated 30-year-old Jermall Charlo (31-0, 22 KOs) is now the top middleweight in the world. Derevyanchenko, who was 23-1 in the semi-pro World Series of Boxing before turning pro, saw his pro record decline to 13-3 with all three losses in middleweight title fights.
—
The middle fight of the first tier was a lusty encounter between Mexican-American super bantamweights Brandon Figueroa and Damien Vazquez. Figueroa, one of two fighting brothers from the Mexican border town of Weslaco, Texas, was a huge favorite over Vazquez, a Colorado native who moved to Las Vegas as a freshman in high school and had fought extensively in Mexico where he made his pro debut at age 16. But Vazquez, the nephew of former three-time world super bantamweight title-holder Israel Vazquez, came to fight and gave a good effort until the fight turned lopsidedly against him.
In the middle rounds, Figueroa's high-pressure attack began to wear Vazquez down. Vazquez had a few good moments in rounds six and eight, but when his right eye began swelling from the cut above it, he was fighting an uphill battle. He took a lot of punishment before referee Gary Rosato halted it at the 1:18 mark of round 10.
Figueroa, 23, successfully defended his WBA 122-pound title while improving his record to 21-0-1 with his 16th KO. Vazquez declined to 15-2-1.
—
The lid-lifter was a WBO bantamweight title defense by John Riel Casimero with Duke Micah in the opposite corner. Micah, from Accra, Ghana, came in undefeated at 24-0, but Casimero had faced a far stronger schedule and was a substantial favorite.
A Filipino who was been training in Las Vegas under Bones Adams, Casimero took Micah out in the third round. The Brooklyn-based Micah was somewhat busier in the opening frame, but the tide turned quickly in favor of the Filipino. Casimero hurt Micah with a left hook in round two and went for the kill. He wasn't able to finish him, but Micah was on a short leash and referee Steve Willis was quick to step in when Casimero resumed his attack after the break. The official time was 0:54.
Casimero (30-4, 21 KOs) was defending the title he won last November with a third-round knockout of favored Zolani Tete in Birmingham, England. He was slated to fight this past April in Las Vegas against Naoya Inoue, but that fight evaporated as a result of the coronavirus. After the bout, Casimero called out Inoue (and others): "I'm the real monster," he said. "Naoya Inoue is scared of me. You're next. I would have knocked out anyone today. If Inoue doesn't fight me, then I'll fight Guillermo Rigondeaux, Luis Nery, or any of the top fighters."
Check back shortly for David Avila's summaries of the remaining fights.
Photo credit: Amanda Westcott / SHOWTIME
Check out more boxing news on video at the Boxing Channel 
To comment on this story in the Fight Forum CLICK HERE
Mairis Briedis and Josh Taylor Impress on a Busy Fight Day in Europe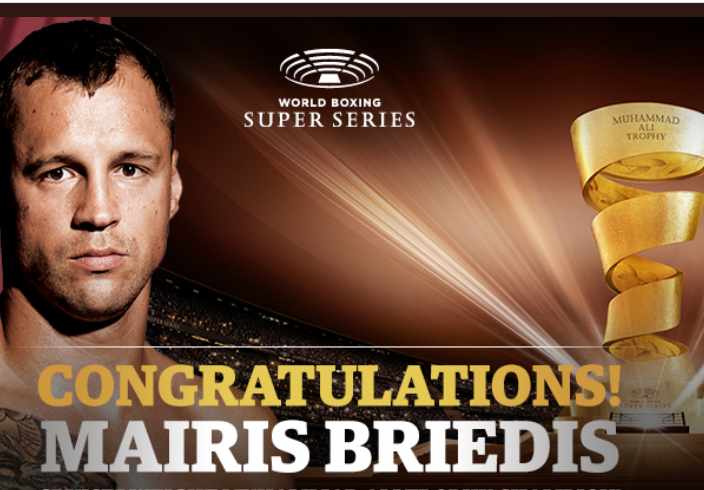 In the busiest weekend of boxing thus far in 2020, there were fights of note all over the map in Europe. The most compelling was held at the Plazamedia Broadcasting Center in Munich where the long-delayed WBSS cruiserweight final pit IBF world cruiserweight title-holder Yuniel Dorticos against Mairis Briedis. Both had only one loss on their ledger, that coming in a semifinal of Season One of the WBSS tourney.
Heading in, Briedis was recognized as the more well-rounder boxer. Dorticos had a style somewhat similar to Deontay Wilder, meaning that he was over-dependent on his big right hand. It figured that Briedis would fight with extreme caution, using his faster hands and superior footwork to keep out of harm's way, but to the contrary he wasn't afraid to trade with Dorticos and actually landed the harder punches. At the end, he captured the IBF belt and the more coveted Muhammad Ali Trophy with a majority decision. The judges had it 117-111, 117-111, and a confounding 114-114.
The first fighter from Latvia to win a world title, Briedis (27-1, 19 KOs) is now a two-time world cruiserweight champion. He previously held the WBO cruiserweight belt, but vacated it rather than adhere to the organization's mandate that he give Krzysztof Glowacki a rematch. (Their first fight, a TKO 3 for Briedis, was very messy and he was fortunate that he wasn't disqualified.) Dorticos, the Cuban defector, returns to his adopted home in Miami with a 24-2 record.
Briedis, 35, may own only one piece of the world cruiserweight title, but at the moment he is clearly the topmost fighter in the division.
York Hall, London
Apinun Khongsong's first engagement outside the Orient didn't go well for him. The 24-year-old Thai boxer with an Muay Thai background was out of his element against WBA/IBF champion Josh Taylor who dismissed him in a hurry with a "solar plexus punch" that would have made Bob Fitzsimmons proud. The punch from the left-handed Scotsman sent Khongsong to the canvas writhing in pain and he was down for several minutes before he was able to stand upright. The official time was 2:41 of the opening round.
Taylor, the Tartan Tornado, was making his first start since October of last year when he won a 12-round majority decision over Regis Prograis in a Fight of the Year candidate. His next fight may be a full unification of the 140-pound belt with Jose Carlos Ramirez in the opposite corner. Both he and Khangsong entered today's fight with 16-0 records, but Taylor, who scored his 13th knockout, was in a different league.
Undercard Bouts of Note
In a 10-round bantamweight contest, Charlie Edwards (16-1, 1 NC, 6 KOs) out-classed British countryman Kyle Williams (11-3). The referee awarded Edwards nine of the 10 rounds. Edwards, 27, previously held the WBC 112-pound title but was forced to relinquish it because he had trouble making the weight.
York Hall has been a jinx for David Oliver Joyce, the 33-year-old super bantamweight from Mullinger, Ireland, who is 0-2 in this building and 12-0 elsewhere. Joyce failed to last three rounds today in his match with Ionut Baluta. A Romanian who fights out of Bilbao, Spain, Baluta knocked Joyce down with a big left hook and then swarmed all over him when he arose, forcing the referee to intervene. The official time was 1:49 of round three.
It was the sixth straight win for Baluta (14-2, 3 KOs) and his third straight over a once-beaten opponent.
Riga, Latvia
Riga native Richard Bilotniks successfully defended his version of the European 175-pound title and advanced to the finals of the Golden Contract Light Heavyweight Tournament with a one-sided 10-round decision over Hosea Burton. A late bloomer who won only four of his first eight pro fights, Bilotnicks 30, won every round on one of the scorecards and eight rounds on the others to advance record to 17-5-1. Burton, who lost for the second time in 27 starts, let down his cousin Tyson Fury who flew to Latvia to cheer him on.
Struer, Denmark
At an arena in the city of Struer, hometown lass Dina Thorslund had a harder time than expected with Nina Radovanovic, but the Serb got no respect from the judges who didn't see fit to award her a single round. Thorslund (15-0, 6 KOs) successfully defended her WBO world 122-pound title.
In the chief undercard bout, heavyweight Filip Hrgovic (11-0, 9 KOs) moved a step closer to a world title opportunity with a second-round blast-out of late sub Alexandre Kartozia. There was no need to count when Hrgovic leveled Kartozia with a big right hand.
Check out more boxing news on video at the Boxing Channel 
To comment on this story in the Fight Forum CLICK HERE