Martinez Wins But Weakens His Case As Top Three PFP
His name is Sergio Martinez and he boasts a stellar career record of 49-2-2 (28). He's clearly at the top of the food chain in the middleweight division and is the universally recognized champion amongst his 160 pound counterparts. This past weekend he was tested against the UK's Matthew Macklin 28-4 (19) for eight rounds before making a few adjustments against his tiring opponent and ultimately prevailed when Macklin's trainer Buddy McGirt wisely didn't allow his fighter to come out for the 12th and final round.
Martinez is a natural fighter and he's one of the best conditioned boxers in the world. However, there seems to be a love fest going on between him and the boxing media that can't be explained. In order to plaster-saint him many things have been said about his style and skill level that just aren't there. But since he's been widely accepted as being so terrific it goes unquestioned.
Another thing that is never pointed out is how thin the middleweight division of today really is. Everyone kills the Klitschkos and the heavyweights, but exactly who in the middleweight division today looks like a current or future world beater? If you follow boxing you know the names and in-abilities of the other middleweight contenders which don't need to be rehashed here.
HBO did their best to build up a one dimensional fighter in order for Martinez to look great after he beat him. He should have completely dominated every minute of the fight against Macklin who is somewhat technically sound but neither fast nor much of a puncher. With all due respect to Matthew Macklin who fought to win until he had nothing left, he is a limited fighter at the world class level. He was no doubt greatly aided by the training and wisdom of his trainer Buddy McGirt.
The fact is, if Martinez lost to any of the highest ranked contenders in line to face him it would be a monumental upset. Yet at 154 I'd pick Floyd Mayweather to beat him. It's a shame that Floyd is so insecure and lacks gumption because he could really get over on the public by fighting and defeating Martinez. But instead we know in order to make the fight Floyd will make ridiculous demands like forcing Sergio to come down to 150 so the fight never happens.
It'll never change with Mayweather. He'll continue for the rest of what's left of his career to fight set-ups where he has every advantage so he can retire undefeated. Sure, he's fighting a declining Miguel Cotto at 154 this coming May, but the fight could've been made six plus years when beating Cotto was considered quite a feat.
In regards to Martinez, what makes him so tough to fight is his southpaw style along with his hand and foot speed. He's certainly no ring genius or technician, although he showed something against Macklin that was impressive and of course will be under-reported which I'll touch on later. Sergio's bread and butter punch is his left lead, a rarity for southpaws. An overwhelming majority of left handed fighters use their right jab to set up their finishing left cross. However, Martinez can instinctively throw his left as a lead set-up or finishing punch.
Throughout the entire careers of Muhammad Ali, Bernard Hopkins and Roy Jones, we saw them consistently disrupt and blunt the aggression of left handed fighters with right leads. Which of course everyone knows if you're good enough to throw it without leaving yourself wide open, it's money against a southpaw. But, how many times did Ali, Hopkins or Jones encounter a lefty that was adept at throwing left leads back at them like Martinez can?
Another thing that Martinez does is give his opponents a lot of herky jerky movement as he draws them to follow and reach for him. When they over-commit and reach to touch them, he counters back, and like Hector Camacho used to do, slides around to their blind side. And this past weekend Matthew Macklin nullified that by just throwing one-twos at Martinez' chest and chin. When Macklin only cut loose with his jab and cross, he froze Martinez, whose instinct was to counter a flurry, only to have Macklin step off after the right landed. This worked beautifully for Mackin and by not fully engaging Martinez he prevented Sergio from really getting some free and open shots at him.
The only problem was Macklin was tiring because the mental pressure of him concentrating on staying with what was working took a lot out of him as a desperate Martinez was looking to raise the rent and turn up the heat. After seven rounds Macklin not only was winning the fight strategically, he was winning it on points as well. Then Martinez's greater experience and natural physical ability kicked in. Sergio, realizing that Macklin wasn't going to chase him all over and miss and allow himself to be countered, began to push the fight by throwing single right jabs at a time that forced Macklin back and caused him to eventually have to open up and try to stabilize the fight. Only he was tiring and easier to hit because once Martinez fought as the attacker, Macklin's instinct to fight back eventually became his undoing. Once Macklin was slowed and incapable of implementing a plan B, Martinez unloaded with everything he had.
During the last two rounds Martinez was hurting Macklin with lead left hands despite his shoulders not being lined up with his fist, hips, legs and feet. In fact, the way Martinez was launching some of those left leads and hurting Macklin is something that you'd admonish an amateur fighting novice for doing. Yet Sergio is such a natural fighter he can even excel when he's technically wrong or out of position. And as everyone reading this knows that cannot be taught or learned.
The most impressive thing Martinez did this past weekend was adjust and become more aggressive behind his right hand when the bout was slipping away. Usually fighters are embarrassed when they get hit by the opponents power hand when thrown as a lead. What that often does is make the fighter being hit with it (Macklin) fight with more urgency as if to say you can't do that with me. Only Macklin didn't fall for it and that caused Martinez to resort to something else. Remember, fighters are not watching the fight as it's happening through a camera from ringside. Things look a lot different to the fighter that the opponent is or isn't doing when he's in front of him. In that regard Martinez gets all the props in the world by changing up and taking the fight to Macklin.
Sure, it can be said that he had to pick it up in a fight he was losing, but how many fighters actually do that? Also, the left leads stopped and the right jab became the dominant punch. The left was basically only used as a finishing punch and as we saw it was the follow up lefts that dropped Macklin twice in the 11th round.
Is Sergio Martinez a great fighter and technician? Not in my eyes. Is he a hall of famer if he were to never fight again, not to me. What he is is a natural fighter who's always in great condition who is stronger and more mentally tough than he gets credit for being. I say he's more difficult to fight because of his instincts and style than he is a spectacular fighter. He's gifted and in great condition which happen to go a long way today.
And no way is he the third best pound for pound fighter in professional boxing. That is as long as Floyd Mayweather, Manny Pacquiao, Andre Ward, Nonito Donaire and Juan Manuel Marquez are still active.
Check out more boxing news on video at The Boxing Channel.
Buatsi Flattens Dos Santos in Manchester; Charr KOs Fraudulent Lovejoy in Cologne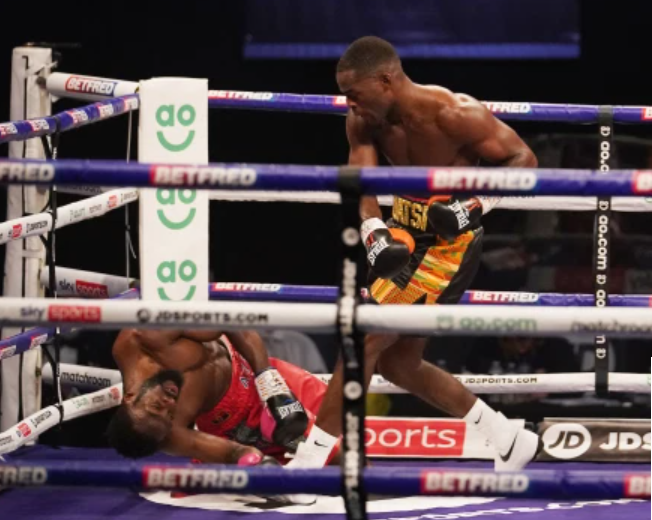 In a Knockout of the Year candidate, rising light heavyweight contender Joshua Buatsi (14-0, 12 KOs) leveled Daniel Blenda Dos Santos, an unheralded Frenchman, in the fourth round, closing the show with a pulverizing right hand – and for good measure, touching him with another right as he fell. A 2016 Olympic bronze medalist for England, the Ghana-born Buatsi trained for two months in the California Bay Area under his new trainer Virgil Hunter and his American sojourn paid dividends.
Dos Santos, who found his way to boxing after serving three-and-a-half years in prison, was undefeated (15-0, 8 KOs) coming in, but hadn't fought beyond six rounds. He was knocked down earlier in the fight with a chopping right hand. There were less than 20 seconds remaining in the fourth when Buatsi put Dos Santos to sleep, and to his credit he did not celebrate but consoled his distraught victim.
Other Bouts
In a shocker, 31-year-old southpaw Jason Cunningham improved to 29-6 (6) with a unanimous decision over Gamal Yafai (18-2) who was making the first defense of the European bantamweight title that he won in Milan.
Cunningham had Yafai on the canvas three times — knocking him down with left hands in the second, fourth and sixth rounds — but Yafai, the younger brother of former 115-pound world title-holder Kal Yafai — wasn't deterred and kept coming forward. In the end, however, Cunningham's lead was too big for Yafai to overcome. The judges had it 115-110 and 114-111 x2 for the southpaw who was a consensus 10/1 underdog.
Super middleweight Lerrone Richards breezed to a lopsided 12-round decision over Italian veteran Giovanni DeCarolis to snatch a vacant European title. Trained by Dave Coldwell, who previously handled Tony Bellew, Richards was content to rack up points and the one-dimensional DeCarolis, who was making his first start in 23 months, had no way to stop him.
The judges had it 120-108 and 119-109 twice. The London-born Richards, whose family roots are in Ghana, improved to 15-0 (3). This may have been the last rodeo for the 36-year-old DeCarolis who fell to 28-10-1.
Belfast's Tommy McCarthy (18-2, 9 KOs) was fed a softie for his first defense of his European cruiserweight title in the form of 36-year-old Romanian Alexandru Jur who brought a 19-4 record but had defeated only four men with winning records. Except for a few brief moments, Jur showed little inclination to mix it up. McCarthy put Jur down with a body punch in round four and finished him off two rounds later with another body punch. The official time was 2:09.
McCarthy, who is of Irish and Jamaican descent, moves on to a date with fellow Brit Chris Billam-Smith. Jur lost for the fourth time in his last six starts.
Cologne
Credit Christopher Lovejoy for having the gumption to defy Don King who threatened legal action if Lovejoy went ahead with his match today with WBA "champion in recess" Mahmoud (Manuel) Charr. But the 37-year-old Lovejoy, who arrived in Germany all by himself, traveled a long way to destroy whatever credibility he may have had. Fighting off the grid, he had rung up 19 fast knockouts in 19 fights against 19 presumptive Tijuana taxi drivers.
Carrying 306 ½-pounds, the six-foot-five Lovejoy lasted less than two full rounds against Charr who was making his first ring appearance in 42 months. Lovejoy was counted out after being dropped with a volley of punches in the second round.
Photo credit: Mark Robinson / Matchroom
Check out more boxing news on video at the Boxing Channel
To comment on this story in the Fight Forum CLICK HERE
Avila Perspective, Chap. 135: Danny Roman and Super Bantamweights Perform in L.A.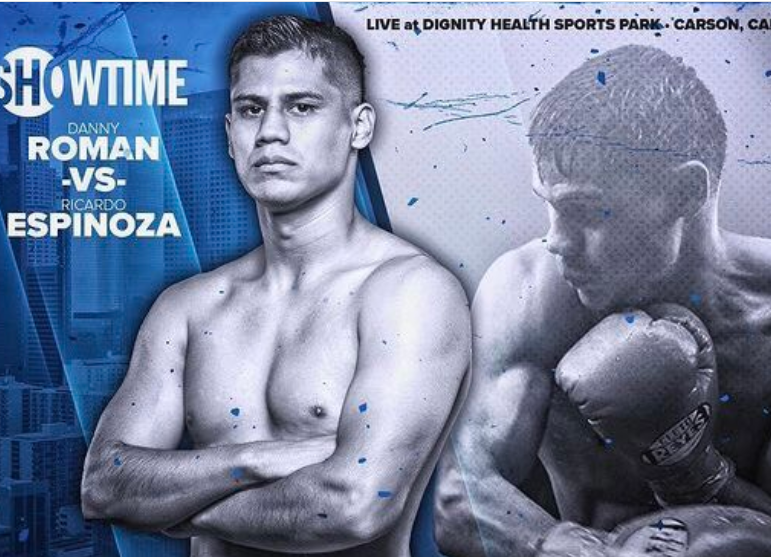 Avila Perspective, Chap. 135: Danny Roman and Super Bantamweights Perform in L.A.
The super bantamweight division was virtually unknown by most fans of prizefighting for the last decade.
Then Danny Roman arrived and re-booted the 122-pound division virtually by himself by challenging and defeating world champions from Japan and the United Kingdom.
Roman (28-3-1, 10 KOs) no longer holds the world titles but itches to regain his footing when he fights Ricardo Espinoza (25-3, 21 KOs) at Dignity Health Sports Park on Saturday May 15. Showtime will televise the battle on the Premier Boxing Champions card.
"Everything I do in boxing from here on out is to regain my status as a world champion," said the normally ultra-reserved Roman, 31.
Ironically, both Roman and Espinoza turned their careers around with numerous battles at boxing shows in Ontario, California. They entered as boys and emerged as battle-tested men.
For the last 20 years Thompson Boxing Promotions has been pumping out world champions and contenders at a furious rate despite their small size in Southern California. They do not pamper or cajole their prospects.
Both Roman and Espinoza suffered their first losses as professionals at Thompson Boxing's bloody battles at the Doubletree Hotel in Ontario. But despite losing, they continued to learn and evolve. Now they meet in Los Angeles on the big stage.
When Roman lost to Japan's Takashi Okada in 2011 and Juan Reyes in 2013, that could have derailed the Los Angeles-based fighter for good. Instead, he re-grouped and reloaded to become a unified world champion. Roman traveled to Japan and won the WBA super bantamweight world title by stoppage of Shun Kubo in 2017. A couple of years later after several defenses, he clashed with WBO super bantamweight titlist TJ Doheny to win an incredible battle by decision in Los Angeles. It was perhaps the Fight of the Year in 2019 and gained Roman the WBO belt.
Though Roman lost both the WBA and WBO titles to Murodjon Akhmadaliev, it was a disputed split decision. Many felt Roman was the true winner. So now he must battle back toward the top.
Espinoza also fought many bloody affairs at the Doubletree Hotel in Ontario including his first two losses. He lost to Sam Rodriguez in 2016 and Christian Nieto in 2017. Then the power-punching fighter from Tijuana, Mexico knocked out 12 of 13 of his opponents to gain a world title fight that he lost in April 2019. Since then, he has returned to his winning ways and upset undefeated Brandon Valdes last year.
"Danny Roman has fought some really quality opponents that are high in the rankings, but this is my time. This is when I show that I can step up in competition and prove that I belong with the best," said Espinoza who is very familiar with Roman.
The Tijuana fighter is a punching machine.
"This is not going to be an easy fight because I know my opponent is a tough fighter from Tijuana who is coming with everything he's got. He's got a lot of power, so I must be smart on how I throw my combinations," said Roman who lives within 10 miles of the event. "I believe my experience in big fights is going to be the difference on May 15. I'm expecting a rough fight and I'm ready for an intense battle."
Now the two veterans of the Ontario, California wars finally meet each other to see who advances toward a world title fight. They won't have to look far. The main event pits two titleholders against each other.
Unification Battle for Super Bantam Belts
Mexico's Luis Nery holds the WBC super bantamweight world title and faces Texan Brandon Figueroa who holds a version of the WBA super bantamweight title in the main event on the Dignity Health Sports Park card on Saturday. Showtime will televise.
Nery formerly held the bantamweight title too. But the Tijuana-based fighter had problems making weight and wisely moved up a weight division. So far, the extra pounds hasn't been a problem.
The problem facing Nery is Figueroa has a solid chin.
Figueroa may look like a pretty boy but he fights like he's ugly. The Weslaco, Texas native has firepower and a rock chin but does he have the skills to match Nery?
"I come forward. I bring the pressure and I'm definitely going to bring the power, the size and all the advantages I have to make sure that we give the fans a great show. I do respect him as a fighter but we're just going to have to find out Saturday," said Figueroa whose brother Omar Figueroa fought in the same venue two weeks ago.
Nery has quickness and agility to supplement his power. He also has experience in world class opposition and that's something Figueroa lacks.
"Brandon's style really fits with what I want to do in the ring," said Nery, a boxer-slugger. "This is going to be an all-out war from the first round on. People are going to be talking about it for a long time after."
The winner of this clash will hopefully meet the winner of Roman and Espinoza. That would really heat up the super bantamweight division to blue hot levels.
Some of my favorite fighters of the past occupied the super bantamweight division like Wilfredo "Bazooka" Gomez, Marco Antonio Barrera and Israel "Magnifico" Vazquez who twice fought in this same venue. His third fight with Rafael Marquez on March 1, 2008 was voted Fight of the Year for its brutal but spectacular display of super bantamweight power.
The winners of this quasi-super bantamweight tournament can equally achieve the same kind of greatness those former stars achieved. This is a good start.
Fights to Watch (All times are Pacific Coast)
Friday UFC Fight Pass 5:30 p.m. Heather Hardy (22-1) vs Jessica Camara (7-2); Melissa St. Vil (13-4-4) vs Olivia Gerula (18-18-4).
Friday Telemundo 11:30 p.m. Denilson Valtierra (14-0) vs Emanuel Lopez (30-12-1).
Sat. DAZN 10 a.m. Lerrone Richards (14-0) vs Giovanni De Carolis (28-9-1).
Sat. Showtime 7 p.m. Luis Nery (31-0) vs Brandon Figueroa (21-0-1); Danny Roman (28-3-1) vs Ricardo Espinoza (25-3).
Check out more boxing news on video at the Boxing Channel
To comment on this story in the Fight Forum CLICK HERE
Charr vs Lovejoy: Better Late Than Never, or Not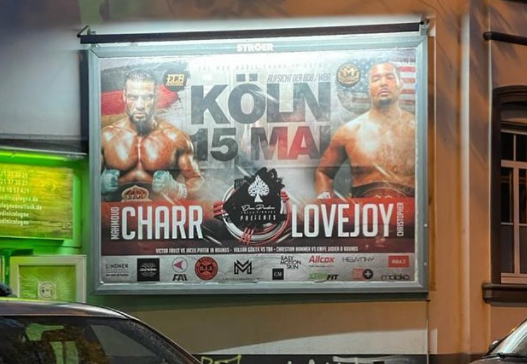 COLOGNE – There are many questions to be answered regarding Mahmoud Charr's scheduled fight against Christopher Lovejoy this Saturday night at a training facility along the Rhine. The most primary point to be determined is whether the contest actually occurs.
Charr has been idle since capturing a WBA title belt against Aleksandr Ustinov way back in November 2017. Since then numerous delays and cancellations, many of them out of Charr's control, have kept the erstwhile ranked heavyweight out of the championship picture and far from the international public eye.
The most recent of such situations found Charr unable to obtain a travel visa for a defense against Trevor Bryan in Florida last January. Machinations by Don King and the WBA in relegating Charr to "in recess" status further tarnished both the promoter and the organization's already disgraceful reputations.
King has also had a hand in keeping Lovejoy off the rumbling radar, after the boxer previously claimed retirement as a way out of King's contractual clutches. When Lovejoy attempted to face Dave Allen in London on the undercard of Usyk-Chisora, King contacted Matchroom's Eddie Hearn with enough of a claim that Lovejoy's appearance was cancelled.
According to Lovejoy, King has also attempted to block Saturday's fight, so uncertainty remains until the first bell rings this weekend. That said, everything else about the relatively low key card seems to be well in place, and there is plenty to look forward to, questions and all. A subscriber-based live stream on German news outlet Bild.de will broadcast the bout.
How the long layoff, which began way before the coronavirus pandemic, has affected Charr is probably the most crucial factor, but what the rarely seen Lovejoy brings to the table is as compelling as it is curiously noteworthy. His record of 19-0 with 19 quick knockouts, compiled completely off-grid in frequent madhouse Tijuana could mean damn near anything.
Charr, 31-4 (17), has been stopped three times and in two of those KOs (by Maris Briedis and Alexander Povetkin) he was blasted into one-shot oblivion. Under Saturday's scenario one of the few possible surprises might be if Lovejoy doesn't try to get Charr out of there immediately.
Lovejoy, listed at 6'4", looks substantially larger than 6'3" Charr, but not any taller. An uneducated guess indicates a strong possibility that the more proven Charr is capable of wearing Lovejoy down, especially considering how he did it against a respectable version of Ustinov.
When Lovejoy refused to shake Charr's hand and insulted his courage during their press conference photo op, there was a slight but very significant twitch in Charr's almost constantly upbeat countenance. If Lovejoy doesn't indeed carry huge power in his punches, he may have inspired a painful night.
To put Charr's simmering anger in perspective, it must be remembered that he still looked like he was calmly waiting for his food while being carried out on a stretcher after getting shot four times in the lower abdomen during a 2015 ambush in nearby Essen. When his assailant, a former boxing protégé, confessed by saying he only meant to shoot him in the leg, Charr told an emotion packed courtroom bygones were bygones, saying "I am a man who forgives."
A refugee at five years old whose father was killed in the Lebanese civil war, Charr seems to clearly envision a bigger picture than just his boxing career, and he consistently posts positive motivational copy on social media, including an end of Ramadan message stressing nonpartisan hope for the current Gaza conflict.
The 10-round fight carries no title designation but whatever they may or may not step into the ring with, one thing Charr and Lovejoy share is the potential for a make-or-break performance.
If Charr wins, people will dismiss Lovejoy's merit in the first place but it still keeps a bit of shine on his championship claims, increasing his leverage regarding Bryan or even bigger game. If Lovejoy wins, especially by dramatic KO, he has definitely upped his recognition factor marketability.
The only safe bet is that the winner will probably hear from somebody representing Don King.
And maybe even Fres Oquendo.
Questions, questions.
Check out more boxing news on video at the Boxing Channel
To comment on this story in the Fight Forum CLICK HERE