THE BREAKDOWN: Erik Morales-Danny Garcia
THE SETTING:
Nearly all great fighters are eventually knocked off their pedestal by a younger, hungrier opponent. This Saturday, at the Reliant Arena in Houston, Texas, Mexican legend Erik Morales will be hoping to prove that it's not yet time for him to be knocked off, when he defends his 140 pound title against unbeaten rising star Danny Garcia. The bout will be televised by HBO.
Greatness can be an overused word in boxing. But when it comes to the career of Erik Morales, 52-7, [36 kos] there are few better words with which to describe him. Morales, a sure fire hall-of-famer, has just about done it all. Starting with his first world title at the age of 21, with a win over Daniel Zaragoza in 1997, Morales went onto establish himself as one of the best Mexican fighters of this or any era. While he is most famous for his grueling trilogy with Mexican rival Marco Antonio Barrera, which remains his most compelling body of work, his upset win over Manny Pacquiao back in 2005 [Morales remains the only fighter to defeat Pacquiao in America] may well be his best.
For a time, it looked like it was also his last.
After three defeats fights in a row [Zahir Raheem and Pacquiao twice] Morales stepped up to the lightweight division where he challenged titlist David Diaz. Despite being the more skilled fighter, Morales ended up on the wrong side of a unanimous decision. It was his fourth defeat in a row. Consequently, Morales retired from boxing.
Mounting a comeback in 2010, against far less talented opposition, Morales won three fights in a row. Looking less than impressive in each, the old warrior it seemed, could no longer compete at the highest level.
Heading into his fight with the hard punching Marcos Maidana, Morales was deemed nothing more than a sacrificial lamb being led to its slaughter. So much so, many feared for Morales' safety. Defiantly, and against the odds, Morales put on an outstanding display. Displaying his old warrior spirit, " El Terrible " competed on even terms with one of the most feared fighters in boxing. Although he lost a majority decision, there were those who thought Morales deserved the win. Last time out, back in September of last year, 36 year-old Morales became the first Mexican four weight world champion [bantamweight, featherweight, super featherweight and junior welterweight] when he defeated Pablo Cesar Cano for the vacant 140 pound title. His place in Canastota is well beyond doubt.
By the time Philadelphian prospect Danny Garcia, 22-0 [14 kos] made his professional debut in 2007, Erik Morales was already three months into his supposed retirement. Appearing mainly as an undercard attraction, Garcia quickly set tongues wagging with his crowd pleasing, knockout ending performances. Garcia dominated his early opposition, remaining untested until his sixteenth pro contest, in a tough split decision win over England's Ashley Theophane.
Garcia continued his winning ways with four consecutive stoppage victories, before taking a significant step up in competition against former lightweight title holder, Nate Campbell. With Campbell clearly past his best, the younger Garcia dominated the action throughout, winning by a wide unanimous decision.
Last time out, in what was on paper, the biggest test of his young career, Garcia took on the hard hitting Kendall Holt. Although Garcia won by split decision, the fight was not as close as the official result suggests. Garcia outworked Holt from start to finish, in what was a very good showing against a dangerous opponent.
Defeat for Morales at this stage in his career could make this fight his last. A win, and there is a strong possibility we may finally see Morales versus Juan Manuel Marquez, the missing piece of this era's featherweight jigsaw puzzle [Barerra, Pacquiao, Morales, Marquez]. Garcia on the other hand, will be doing his upmost to make sure that the wishes of most boxing fans are not granted.
THE SCIENCE:
Morales, fighting out of an orthodox stance, has changed his style somewhat over the years. Where Morales was once a take two to land one ultra aggressor, age, wear and tear and experience have resulted in him becoming more of a ring strategist. Still a blood-and-guts warrior, a lot of Morales' Tijuana tenacity has been replaced with technique. A smart counterpuncher, Morales is effective with a variety of punches. His jab, either to create distance or set up other punches, has been featured a lot more of late. His lack of speed is well compensated by the accuracy of his punches. While he is not thought to be in the same league as Juan Manuel Marquez when it comes to combination punching, Morales can still let the punches flow. His straight right hand, along with his right uppercut, could well be his best shots. Morales' left hook to the body, which, like most of his shots, is not devastating, has enough power to keep an opponent honest. A creative fighter, Morales likes to disguise his left uppercut behind a straight right hand feint. This served Morales extremely well against Marcos Maidana.
Defensively, Morales has improved significantly over the years. Where at one time his answer to defense was more offense, Morales now shows a lot more responsibility when it comes to defending. Refusing to take a step back during his early years, Morales, using his footwork, is now very effective at creating angles and distance to mute offense. Even with his back to the ropes, Morales is very calm under pressure. Rather than simply rally back with offense, Morales prefers to slip and roll with the punches. Maidana, one of the better inside fighters in boxing, found it difficult to land clean on Morales when he was up on the ropes.
Like Morales, Garcia is an orthodox boxer-puncher. His blend of speed and power make him a formidable opponent for anyone at 140 pounds. Garcia's lead left hook, thrown either upstairs or down, is his most fluid and effective punch. Garcia also mixes his left handed attack up with a well timed overhand right. Because of his strong amateur pedigree, he looks extremely comfortable in the ring. Capable of fighting going forward or backing up, Garcia can adapt to his opponent's style. While he can keep the fight at a distance behind his jab, Garcia's best work may be done in close. A committed body puncher, using his left hand in particular, Garcia can reduce his opponent's activity levels during the fight. He is also very effective at countering on the inside. By bending at the waist, Garcia can slip a punch, and immediately counter with a left hook. As a result of his above average handspeed, Garcia has a way of turning his left jab into a lead left hook at the last second. His left hand attack cannot be overstated.
Although not a defensive wizard, because of good footwork, good balance and good reflexes, Garcia's defense is above average. He can step out of range or use upper body movement to evade punches. While he sometimes carries his hands a little low, Garcia's understanding of ring generalship, in particular, his ability to move off at an angle after throwing, has
kept him from being in any real trouble thus far.
THE SCENARIO:
While Morales holds the advantage in craftsmanship and experience, Garcia possesses the advantages that go with youth. Speed is the biggest equalizer in sports. Technique can trump power, but speed can trump technique.
Morales has experienced both cases.
Against Marcos Maidana, technique trumped power. Doing his best impression of Carmen Basillio against Ray Robinson and with his eye badly swollen, it appeared Morales had rolled back the years. He came within an inch of defeating the most feared man in the 140 pound division. On reflection, Morales, using his superior technique, took advantage of Maidana's wildness. Where Maidana was plodding forward with no head movement, throwing wide, easily read punches, Morales was using angles, throwing straight punches down the middle. Maidana's lack of speed and eagerness to load up on his punches was there to be taken advantage of. On the other hand, against Manny Pacquiao, Erik Morales' superior technique was rendered useless by Pacquiao's speed and power. Unable to keep up with the younger man, Morales' own lack of speed was taken advantage of. In his last outing, Morales looked far from convincing against a fighter who can be considered a full one or two levels below himself. Yet because of Cano's speed and movement, the fight was fought on even terms for longer than it really should have been.
Erik Morales is 36 years old. More importantly, an OLD 36 years old. He has been involved in so many tough wars during his career, that it is hard to believe Morales is twelve years Bernard Hopkins' junior. Combine this with the fact that Morales is really a super feather/lightweight fighting at junior welter by being overweight, and you get a true understanding of what he will be up against when he meets Garcia.
Of course, there are some areas of Garcia's game that Morales could exploit. Garcia, like Maidana, throws wide looping punches, mainly his lead left hook. If Morales can take a step to his left, and get his right shoulder in line with Garcia's centre, his straight right hand could find a home. Alternatively, Morales could take advantage of Garcia's lack of head movement, and low left hand, by throwing an overhand right. Then there is Morales' tremendous resiliency. Garcia has never been involved in anything like what Morales has been through. If Morales can make it a war, Garcia may find himself out of his depth.
In reality, Morales' strong showing against Maidana was down to a conflict in styles and skill, not age and youth, as Morales will likely be a victim of against Garcia.
Ultimately, Danny Garcia should be too big, too fast, too strong and too energetic for Morales. Garcia's speed and intelligence will likely keep him from getting into the trenches with Morales. Garcia will employ lateral movement, and lots of it. Garcia will be throwing volume… with speed, then moving off at angles…with speed.
Speed kills, and that's an asset missing in Morales' work.
Morales will probably be competitive early on, even placing doubt in Garcia's head. Utilising patience and timing, along with his well placed jab and right hand, Morales will be doing his best trying to convince everyone that he has Garcia figured out.
However, around the mid way point, the fight will change course.
With Morales unable to keep up with the pace of the fight, there will be more urgency in Garcia's work; by throwing his left hand more, particularly to the body, Morales will start slowing up. Consequently, Morales will be on the receiving end of some heavier shots, like heavy left hooks and right hands. With Morales fading, and way behind on the scorecards, the ring official will be keeping a close eye on the action. Morales' tremendous resolve should see him mount one last surge late in the fight, but because of Garcia's earlier work, it will likely be too little and too late for Erik Morales.
Jerry Forrest: When Heart Counts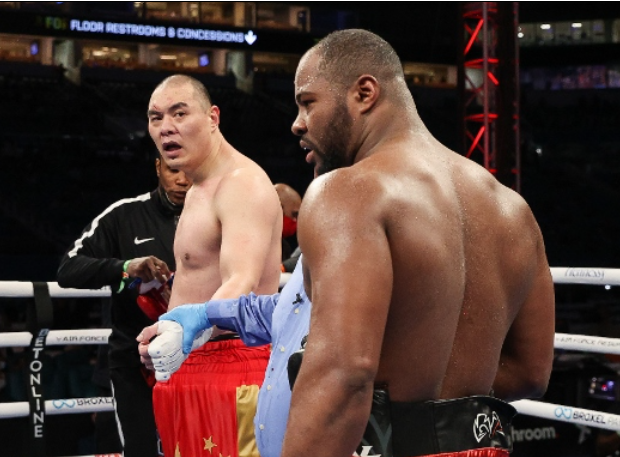 While many Canelo fights end up in some fan's memory bank, that probably won't be the case given what occurred this past Saturday night in Miami. However, the show was salvaged by the entertaining heavyweight draw between China's Zhilei "Big Bang" Zhang (22-0-1) and Jerry "Slugger" Forrest (26-4-1) on the undercard. This one had the fans up and roaring but for different reasons.
The 6'6" Zhang (with excellent amateur credentials) floored the American once in each of the first three rounds and the crowd sensed a stunning KO was on the way. But lo and behold, it didn't come.
Then things began to change, subtle at first, as a determined Forrest survived the onslaught and began to fight back working well inside and landing shots both upstairs and to the body.
A Shift in Momentum
The momentum clearly changed in the fifth as Zhang used his body to lean on "Slugger" to tire him out, but in the process he didn't mix and thereby lost rounds. Soon this strategy (albeit illegal) backfired and served to tire "Big Bang" more than Forrest and making matters worse for Zhang, he was deducted a point in the ninth by referee Frank Gentile for holding. (Given that he had been holding since the fifth round, the deduction was spot-on and could well have come earlier.)
Going into the last round, the fight seemed to be up for grabs and the fresher Forrest obliged as he landed crunching shots that had the fickle fans (are there any others?) now in is corner. He was actually chasing the gassed Chinese monster at the end and had the fight gone another minute, "Slugger" likely would have lived up to his moniker.
"For Jerry Forrest, this is a momentous result after a terrible start, and keeps him in the mix as a high-level gatekeeper, someone who will take on basically anyone and give it the effort. He's a danger to prospects and mid-tier veterans alike," wrote prominent boxing writer Scott Christ.
The scores were 95-93 Forrest and 93-93 twice for a majority draw. Zhang was lucky to keep his undefeated record intact.
Jerry Forrest showed a tremendous amount of heart. Hopefully, when folks look back at this card, Canelo's blowout of Avni Yildirim won't completely overshadow this entertaining heavyweight match.
(Note: Zhang was taken to a hospital for observation when his handlers noticed some concerning symptoms in the locker room after the fight. According to a published statement from Terry Lane of Lane Brothers Management, Zhang was found to be "suffering from anemia, high enzyme levels, and low-level renal failure, which may have been caused by severe dehydration. The good news is that all of his neurological signs are clear…Credit and respect to a game Jerry Forrest who battled back for a ten-round draw…Zhilei will be back.")
Photo credit: Ed Mulholland / Matchroom
Ted Sares can be reached at tedsares@roadrunner.com
Check out more boxing news on video at the Boxing Channel
To comment on this story in the Fight Forum CLICK HERE
The Canelo-Yildirim Travesty was Another Smudge on 'Mandatory' Title Defenses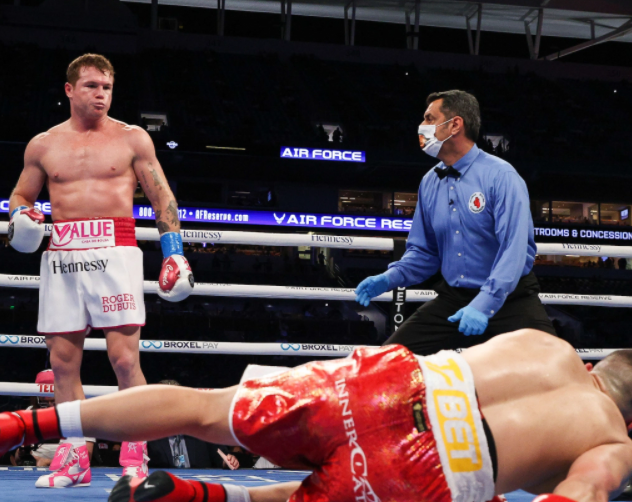 Canelo Alvarez's rout of grossly overmatched Avni Yildirim has once again cast a harsh light on the "mandatory challenger" gambit employed by the sport's world sanctioning bodies. Canelo successfully defended his WBC 168-pound belt this past Saturday in Miami when Yildirim's corner pulled him out after only three rounds.
During the nine minutes of actual fighting, Yildirim was credited with landing only 11 punches, none of which appeared to have been launched with bad intentions. A person posting on a rival web site likened Yildirim's woeful performance to that of Nate Robinson's showing against Jake Paul. Another snarky poster said that faint-hearted Adrien Broner, by comparison, had the heart of a lion. True, the 29-year-old Turk was sent in against a beast, but one yet has a right to expect more from a contest packaged as a world title fight.
Yildirim was coming off a loss. In his previous fight, he lost a split decision to Anthony Dirrell in a bout that was stopped in the 10th round by the ringside physician because of a bad cut over Dirrell's left eye that resulted from an accidental head butt. He hadn't won a fight in three-and-a-half years, not since out-pointing 46-year-old Lolenga Mock who predictably faded late in the 12-round fight, enabling Yildirim to win a narrow decision. Earlier in his career, he was stopped in the third round by Chris Eubank Jr in a fight that was one-sided from the get-go.
So, how exactly did Avni Yildirim build himself into position to become the mandatory opponent for the sport's top pound-for-pound fighter? Did he "earn" this opportunity and the rich payday that came with it by submitting the winning bid in an auction? Is that a rhetorical question?
In an ESPN Q & A, the award-winning writer Mark Kriegel said that Canelo-Yildirim was payback for certain favors that were granted to Canelo by the WBC, citing the organization's new "Franchise Champion" category and to their decision to countenance Canelo's fight with Callum Smith for their vacant 168-pound title. But this doesn't answer the question as to how Yildirim ascended to the role of a mandatory challenger; it merely informs us why Canelo agreed to take the fight.
This was the second great mismatch in 10 weeks involving a mandatory challenger. On Dec. 18, Gennadiy Golovkin opposed Poland's Kamil Szeremeta in the first defense of the IBF middleweight title that he won with a hard-earned decision over Sergiy Derevyanchenko. The feather-fisted Szeremeta was undefeated (21-0, 5 KOs) but hadn't defeated an opponent with a recognizable name.
This was a stroll in the park for GGG. Szeremeta was a glutton for punishment – he lasted into the seventh round — but at no point in the fight did he pose a threat to the 38-year-old Kazakh. Golovkin knocked him down four times before the plug was pulled.
In theory, the "mandatory challenger" ruling forestalls the very abuses with which it has become identified. It prevents a champion from fighting a series of hapless opponents while a more worthy challenger is left out in the cold. One could say that it stands as an example of the law of unforeseen consequences, save that it would be naïve to think that the heads of the sanctioning bodies didn't foresee this versatility and venally embrace it.
Historians will likely lump Avni Yildirim with such fighters of the past as Patrick Charpentier and Morrade Hakker who were accorded mandatory contender status by the WBC so that they could be fodder for a title-holder in a stay-busy fight. Charpentier was rucked into retirement by Oscar De La Hoya who dismissed the overmatched Frenchman in three one-sided rounds at El Paso in 1998. Hakker was thrown in against Bernard Hopkins at Philadelphia in 2003. He brought his bicycle with him, so to speak, and thus lasted into the eighth.
In common with Yildirim and a slew of other mandatory challengers (Vaughn Bean comes quickly to mind), Charpentier and Hakker had misleading records. Steve Kim, in an article for this publication, said that Hakker's record was more inflated than the Goodyear blimp.
A mandatory title defense isn't always a rip-off. One wonders where Tyson Fury would be career-wise today if the WBO hadn't established the Gypsy King as the mandatory challenger to Wladimir Klitschko, setting the wheels in motion for a changing of the guard. That worked out well for the good of the sport as Fury, after some disconcerting speed bumps, would prove to be a breath of fresh air.
But a mandatory title defense between evenly-matched opponents remains a rarity and there's no end in sight to the charade.
Photo credit: Ed Mulholland / Matchroom
Check out more boxing news on video at the Boxing Channel
To comment on this story in the Fight Forum CLICK HERE
Canelo Pummels Yildirin Into Submission in Three One-Sided Frames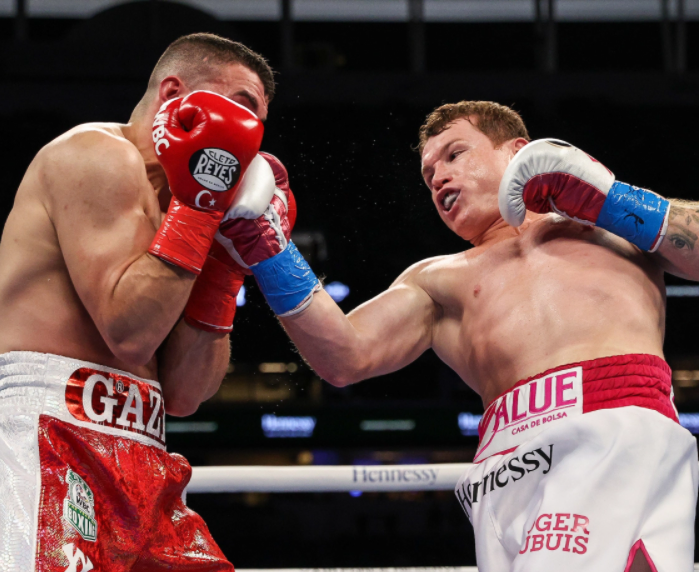 Mexico's Saul "Canelo" Alvarez dismissed Avni Yildirim like a bothersome fly to retain the WBA and WBC super middleweight titles by technical knockout in a mandatory fight on Saturday.
Challenge completed.
After less than three months from his last victory, Canelo (55-1-2, 37 KOs) returned to the boxing ring and battered Turkey's Yildirim (21-3, 12 KOs) to submission at the Hard Rock Stadium in Miami, Florida. Callum Smith or Yildirim please take your seat.
It was just 70 days ago that Alvarez took the WBA title away from England's Smith but the Mexican redhead was eager to return to the ring and dominated Yildirim like the former sparring partner he was.
It was hardly a contest.
Yildirim spent most of 2020 working with Southern California's famed trainer Joel Diaz, but there is only so much a teacher can teach. Regardless of the expertise given to the Turkish fighter the trainer can't jump in the boxing ring. Despite repeated admonishments by Diaz, his fighter just could not pull the trigger.
"It doesn't matter who trains him I just do my work and listen to my corner," said Alvarez "I feel very strong at this weight."
Alvarez pummeled Yildirim like a punching bag early and often during the first two rounds. Left and right uppercuts pierced through Yildirim's guard and body shots pummeled the body. Return fire was seldom exchanged.
After two rounds of sustaining punishment to the head and body, Yildirim attempted to fire back. He paid for his gamble with a counter right fired through the guard by Canelo and down went the challenger.
Though Yildirim survived the third-round knockdown, as he returned to the corner his trainer Diaz warned that another round like the third would force a stoppage. Diaz decided after further inspection to end the fight then and there at the end of the third round.
"I said I would get the knockout and I got the knockout," said Alvarez.
The win sets up a showdown with England's Billy Joe Saunders who holds the WBO super middleweight world title.
"This year it's going to be very special against BJ Saunders," said Matchroom Boxing promoter Eddie Hearn who is planning their encounter for May 8. "It's going to be one of the biggest fights of the year."
Canelo said he is eager for the pending encounter.
"He's a difficult fighter. He has the WBO title and we need to go for him," said Alvarez.
Alvarez said his plans are to continue making history as a Latino fighter winning undisputed world titles in the super middleweight division.
"In Latin America it hasn't been done," Alvarez said. "I want to make history."
Other Bouts
McWilliams Arroyo walked through Abraham Rodriguez's punches and won by technical knockout in the fifth round to win the interim WBC flyweight title.
Despite a change of opponents within the last week Arroyo (21-4, 15 KOs) was able to adapt to last-minute opponent Rodriguez (27-3, 13 KOs) and work the body and head until the Mexican fighter's corner tossed in the white towel to end the fight at 1:41 of the fifth round.
A battle of heavyweights between China's Zhilei Zhang (22-0-1, 17 KOs) and America's Jerry Forrest (26-4-1) ended in a majority draw after 10 rounds. Despite three early knockdowns scored by Zhang, the momentum changed after Forrest attacked the body inside. The scores were 95-93 Forrest and 93-93 twice for a majority draw.
In a super middleweight fight between two extremely tall prospects Diego Pacheco (11-0, 8 KOs) won by unanimous decision over Rodolfo Gomez Jr. after eight rounds. No knockdowns were scored between the two fighters who each towered at 6-feet 4-inches.
Photo credit: Ed Mulholland / Matchroom
Check out more boxing news on video at the Boxing Channel
To comment on this story in the Fight Forum CLICK HERE