Greg Sirb Declares War on Germany
Greg Sirb, longtime executive director of the Pennsylvania State Athletic Commission, has declared war on Germany, or at least that country's boxing commission.
Sirb, who served as president of the United States-based Association of Boxing Commissions from 1992 to '98, is incensed that 47-year-old former WBC heavyweight champion Oliver "The Atomic Bull" McCall, who was on medical suspension in the U.S., nonetheless was allowed to fight on May 16 in Frankfurt, Germany, where he lost a 10-round, unanimous decision to unbeaten Italian southpaw Francesco Pianeta, who is 20 years McCall's junior.
"It's ridiculous," an obviously miffed Sirb said from his office in Harrisburg, Pa. "It's been an issue with Germany for some time now. I'm going to bring it up at the ABC meeting (July 21-25 in Clearwater, Fla.) and tell all our state commissioners we shouldn't be sending fighters over there anymore. "
The always opinionated Sirb, in fact, isn't disposed to cool his heels while waiting to make his case to representatives of the world governing bodies, who have been invited to attend the ABC confab. Known for his ringside feistiness and disinclination to back down from any fight, Sirb has fired off a volley of emails to officials around the country and the world alerting them to a situation he believes should be addressed immediately. That email reads:
As per the Oliver McCall fight in Frankfurt, Germany, on May 12, 2012, Mr. McCall was under medical suspension from the Mohegan Sun Athletic Commission since Nov. 11, 2011, for a serious medical condition.
This is at least the third time the German Boxing Commission has allowed an American boxer to compete in their country while under medical suspension. As world boxing groups, I really think it is time to STOP sanctioning any title fights in Germany.
This is maybe the only pressure that will make this group take notice of how serious the situation is. No more title bouts – at least until they comply with a basic RULE that if a boxer is on medical suspension, they cannot fight.
It is simple when you have any U.S. fighter competing in a foreign country. It should be the responsibility of that foreign boxing commission to request a Fight Fax so that they can determine that boxer's accurate record and if that boxer is under any type lf suspension.
At the upcoming ABC meeting I will be instructing all members NOT to comply with any requests from the German Boxing Commission. This commission has totally ignored the national suspension list and has put one too many boxers at risk.
Of course, Sirb's tough talk is likely to fall upon more than a few deaf ears. Although there are American laws on the books to protect the interests and physical well-being of fighters –specifically the Muhammad Ali Boxing Reform Act and Professional Boxing Safety Act – the provisions of those laws lack real teeth and are enforced more or less the same as those prohibiting jaywalking and spitting on the sidewalk.
Sirb's position is that, to truly serve the sport and its participants, those laws already in place need to consist of something more than commendable words, and – you have heard this before – a federal boxing commission with far-reaching powers needs to be created.
"You have to have uniform physicals, uniform medical standards, uniform contractual agreements and a place where all contracts and documentation can be registered in one place," Sirb said. "You need to show an ID cards, to pass your medicals, to have insurance. Those should be basic requirements if you're going to have boxing in your state, or anywhere."
Sounds reasonable, but the realization of Sirb's vision would require the clearing of a veritable minefield of complications that reformers have been unable to agree on for at least the last half-century, and likely would be unable to resolve even if there was a consensus reached by boxing's movers and shakers.
In this election year, with the U.S. national debt approaching $17 trillion dollars, taxes on the rise and basic goods and services being slashed at every level of government, would American citizens dare to accept the creation of still another federal bureaucracy? And if a nation commission were to come into existence, is there any assurance it could be prevented from becoming politicized, to the possible detriment of fighters?
"It may not be the right political climate, but from the information I've seen, a national boxing commission could pay for itself very easily," said Sirb, who has retained his position under Republican and Democratic governors of Pennsylvania. "Of course, you'd still have to have state commissions. There's no way a national commission could do meat-and-potatoes work in, say, Iowa. But you could have a uniform set of rules and a central agency to ensure that there were enforced.
"I hear people say, `A national commission will ruin boxing.' No, it won't. It can only make it better."
Getting back to the matter of Germany's non-observance of U.S. medical suspensions, Sirb is enough of a realist to understand that fighters such as McCall will still want to ply their trade there, because the sport is hugely popular in the European nation and the better paydays on the other side of the Atlantic are perceived as being worth the risk.
"Guys get paid well to fight over there," Sirb conceded. "It's professional boxing. You want to fight for the biggest purses you can command. But although there is no hard and fast set of rules that will be perfectly fair to everyone, and a lot of areas that need to be judged on a case-by-case basis, the one line that should never be crossed is the one regarding observance of medical suspensions. Boxing is not tiddlywinks. You never should take unnecessary chances with fighters' lives and health.
"If the German commission is going to allow people to fight while on medical suspension, they might as well disband. It's a horrible situation. We get pretty good cooperation from the boxing commissions of most other countries. I don't know what the freakin' problem is with Germany."
USA Olympic Boxing Team Sputters After a Strong Start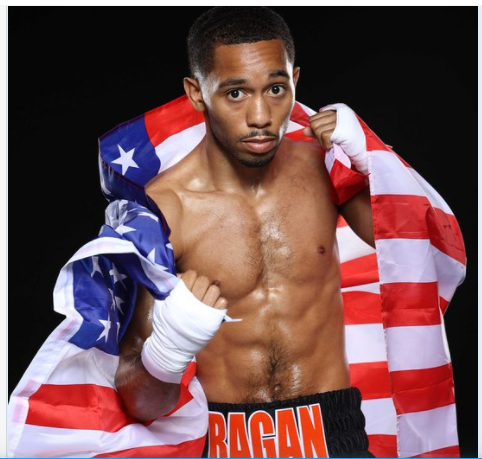 USA Olympic Boxing Team Sputters After a Strong Start
Boxers from the United States were collectively 6-1 during the first four days of competition at the ongoing Tokyo Olympics. The only boxer that failed to advance was women's featherweight Yarisel Ramirez. A late addition to the U.S. squad and the youngest member of the 10-person team, the 21-year-old Ramirez, born in Cuba and raised in Las Vegas, lost a unanimous decision to Croatia's Nikolina Cacic.
Middleweight Troy Isley (Alexandria, Virginia) turned away the well-seasoned Belarussian Vitali Bandarenka in his first bout, but came up short in his second, losing a split decision to Russia's Gleb Bakshi, the #2 seed. Likewise, Ginny Fuchs (Houston, TX) won her first bout, but couldn't get past the second hurdle. The 33-year-old LSU grad was defeated by veteran Bulgarian campaigner Stoyka Krasteva.
Middleweight Naomi Graham (Fayetteville, NC) saw her first action on Wednesday and was eliminated by Russia's Zemfira Magomedaliev who prevailed on a split decision. Cincinnati featherweight Duke Ragan, who overcame France's Samuel Kristohurry in his first bout, was more fortunate. Ragan got over the second hump with a unanimous decision over Kazakhstan's Serik Temirzhanov. That sets up a date on Sunday with Northern Ireland's well-regarded Kurt Walker. The winner is assured of at least a bronze medal.
Toledo welterweight Oshae Jones scored a split decision over Mexico's Brienda Cruz and now faces Maria Moronta of the Dominican Republic. The match goes tomorrow (Friday, July 30) with a scheduled start time of 5:03 am EST. Lynn, Massachusetts lightweight Rashida Ellis, who like Jones is a member of a prominent boxing family, makes her Olympic debut tomorrow and she's matched tough. Her opponent, Caroline Dubois, who sports a 36-2 record, is the sister of the fearsome British heavyweight Daniel Dubois.
With two wins under his belt, 22-year-old Cleveland welterweight Delante "Tiger" Johnson is the most advanced member of the U.S. team, but one suspects that he is living on borrowed time. He vaulted into the quarterfinals with wins over Argentina's Brian Arregui and Kazakhstan's Ablaikhan Zhussupov, winning both by split decision. Up next for Johnson is Cuba's 303-fight veteran Roniel Iglesias, a two-time Olympian who won gold at the 2012 Games in London.
Norfolk, Virginia lightweight Keyshawn Davis, the most ballyhooed member of the U.S. team, won his opening round bout against Enrico La Cruz of the Netherlands and is now set to renew acquaintances with Sofiane Oumiha of France who he defeated in a 2019 tournament in Russia. Oumiha defeated Teofimo Lopez and former IBF world flyweight champion Amnat Ruenroeng en route to a berth in the finals at the 2016 Olympiad in Rio.
Super heavyweight Richard Torrez Jr (Tulare, CA) was the only male boxer in the U.S. contingent to be seeded. The team's captain, Torrez was given the #3 seed in a division with a clear-cut favorite in Uzbekistan's Bakhodir Jalolov.
Torrez rolled into the quarterfinals with a one-sided decision over Algeria's Chaouib Bouloudinats. He now faces Dainier Pero, a 21-year-old Cuban who was awarded a split decision over Torrez at a 2019 tournament in Lima, Peru. The last U.S. super heavyweight to medal was Riddick Bowe who settled for silver after being stopped by Lennox Lewis at Seoul in 1988.
Check out more boxing news on video at the Boxing Channel
To comment on this story in the Fight Forum CLICK HERE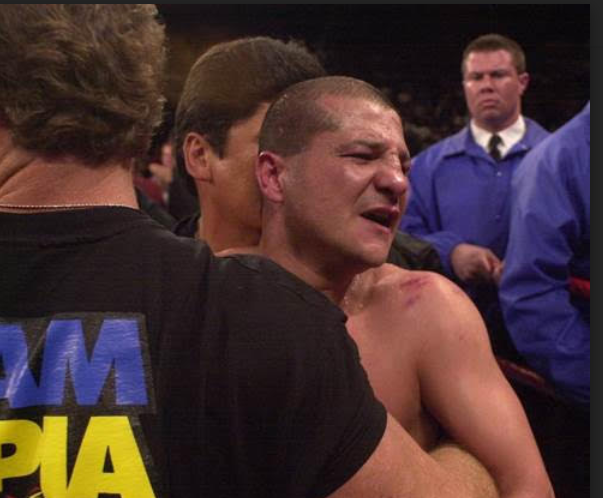 The Agony of Defeat
Bad decisions are as much a part of boxing as enswell, but reactions from the losers vary widely.
The look on Roberto Duran's face wasn't agony, but it was something pretty close when the judges ruled against him in his 1996 bout with Hector Camacho. The crowd booed when the scores were announced: 115-113, 116-113, and an unbelievable 117-111, all for the "Macho" man. In the eyes of many, the well-conditioned Duran had controlled the fight since round five.
When George Foreman was robbed in his 1997 fight with Shannon Briggs, he simply left the ring and retired while the crowd screamed Bull****! Bull****! Bull****!
The same happened when Dave Tiberi was robbed in his infamous 1992 fight with James Toney at the Trump Taj Mahal in Atlantic City. Tiberi simply walked away in disgust and never boxed again. Widely considered one of the most controversial decisions in boxing history, this one prompted a federal investigation. Donald Trump's disgust was such that he reportedly banned boxing in all of his casinos for six months.
                                          **************
"To be able to fight the number one person in the world [Toney], during his heyday, and in my heart of hearts, knowing that I did everything I had to do to be able to win the world championship, I'm at peace." — Dave Tiberi
**************
Toney himself got a taste of it in the first of his two fights with Samuel Peter. Visibly and pleasantly surprised by the result. Peter literally ran to his dressing room to celebrate, while Toney stood in his corner seemingly in shock with his hands on the ropes and his face looking down in disbelief at the SD loss. He would never be quite the same.
Paul Williams "win" over Erislandy Lara was such a rank decision that all three judges were suspended. Similar to Dave Tiberi, Lara did not make a big fuss though his boxing stock went up.
This writer scored the 2007 fight between Jose Armando Santa Cruz and Joel Casamayor 119-109 in favor of Santa Cruz and many sitting at ringside had it the same way. When the bell rang ending the fight, Casamayor was lifted up as the anticipated winner. "I thought 'Oh Oh,' said Jim Lampley, "the crowd seems a little nonplussed that someone would lift Casamayor as if he won."
In fact, the crowd booed loudly in disbelief when the decision by the relatively inexperienced judges went in favor of Casamayor. Frank Lombardi and Ron McNair scored it 114-113 for the Cuban while Tony Paolillo scored it 114-113 for Santa Cruz. Again, cries of Bull**** Bull**** Bull**** rained down.
"Just when you think you have seen everything– every bizarre decision — something like this happens," said Lampley. Harold Lederman chimed in: "That's a tough decision to explain. It was dreadful. I wish I had a stronger word." Max Kellerman added, "That's just not a bad decision; that's an outright robbery."
However, they all witnessed it again when Tim Bradley "beat "Manny Pacquiao in 2012. That one should be expunged.
Tapia vs Ayala
 In 1999, in his 49th professional fight, Johnny Tapia suffered his first loss, losing a decision and the WBA title to Paulie Ayala in The Ring magazine's "Fight of the Year." Later that year, the tightly wound Tapia attempted suicide and required hospitalization.
 The following year, Ayala defeated Tapia again in another wild and hellacious fight. Early on, Tapia wobbled Ayala after which the two traded bombs. Johnny appeared to be in control but he was taking his share of Ayala 's incoming and sharp blows. After twelve rounds, Tapia was lifted up by his cornermen and had no doubt (in his mind) that he had won. But when Ayala was once again declared the winner by unanimous decision, Tapia became enraged and a look of pure agony appeared on his face. That look said it all; it was indelible. And it might well have been the precursor to more demonic issues down the line.
"We all have our demons…But Johnny had them to an extent that's almost impossible to believe. He was fighting addiction. He was fighting mental illness. He spent years in jail…"  Lou DiBella
For the losers, this was all about the pain of knowing—correctly or not— that you won but realizing you hadn't.
Ted Sares can be reached at tedsares@roadrunner.com
To comment on this story in the Fight Forum CLICK HERE
Top 12 New England Boxing Ratings as of July 2021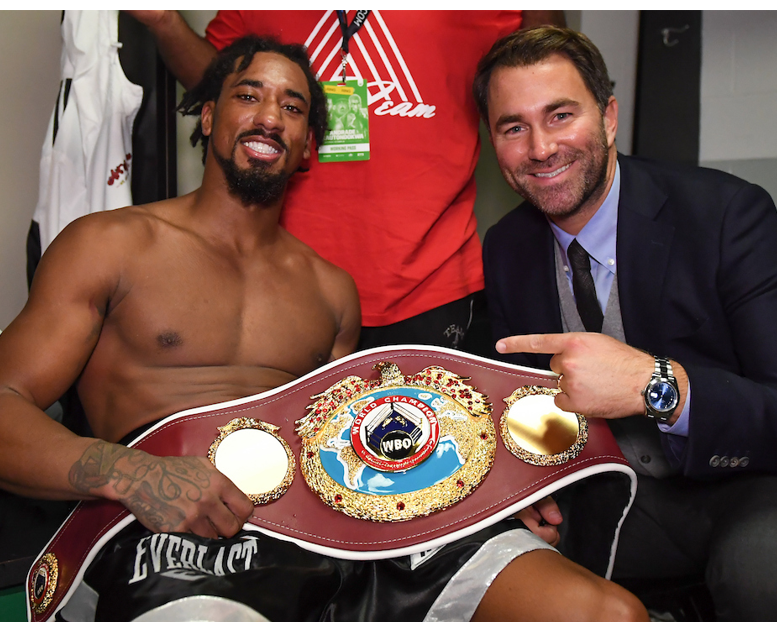 For the sake of these regionalized rankings, the New England region officially consists of Maine, Vermont, Massachusetts, Rhode Island and Connecticut. And I know I don't have to remind TSS readers that the glory days of Willie Pep and world title fights at the old Boston Garden are over.
It's now 2021.
New England boxing boasts only one current world champion to crow about and no top contenders to get too excited about. The championship run of New Haven's Chad Dawson and the championship aspirations of Worcester's Edwin Rodriquez are presently a thing of the past.
What we have here now are mostly youngish prospects and a few potential contenders with a mix of would-be Micky Ward types scattered throughout. What follows are the twelve best and most accomplished New England boxers in all weight classes from the above mentioned states.
Top 12 New England Ratings:
1. Demetrius "Boo Boo" Andrade, Providence, Rhode Island: The current WBO middleweight champion was recently made to look like a fool after crashing a Canelo Alvarez post-fight presser to declare his fandom and be accused of fighting "no body man" by a smirking Alvarez.
The 33-year-old Andrade is 30-0 (18) and desperate for a payday! Since winning the vacant WBO 160- pound strap in 2018 at the Boston Garden with a boring decision over Walter Kautondokwa, Andrade has beaten four B-level boxers, stopping only one of them with some help from the referee. Eddie Hearn is a good promoter but even he can't make us like Boo-Boo.
2. Rashidi Ellis, Lynn Massachusetts: The speedy younger brother of Akeem, "Speedy" Rashidi is 23-0 (14) at welterweight and is rated #23 at 147 by BoxRec. Ellis, 28, went pro in Boston in 2013 and fought there three more times before taking his act on the road, fighting frequently in Puerto Rico and the Dominican Republic. Ellis has not fought since a 12-round unanimous decision over undefeated Alexis Rocha in 2020. The win earned Speedy Rashidi a minor title.
Promoted by Oscar De La Hoya's Golden Boy, Ellis' win over Rocha came as a surprise as Rocha was an undefeated GBP prospect beaten by Ellis in his own California backyard.
3. Mark DeLuca, Whitman, Massachusetts: At 33, the "Bazooka" is the most battle-hardened fighter on this list at 27-2 with 15 knockouts. DeLuca avenged the first loss of his career, decisioning Walter Wright at the Boston Garden in 2018. In 2020, he travelled to Sheffield, U.K. for a Matchroom match-up with Kell Brook. DeLuca was knocked out in 7 one-sided rounds.
Despite the setback, DeLuca stayed active in 2020 with two wins late in the year. DeLuca went to Tijuana last February to pick up a win and he's scheduled to face Charles Conwell in Cleveland next month. Conwell, 15-0 with 11 knockouts, fatally defeated Patrick Day in 2019.
4. Ronald Ellis, Lynn, Massachusetts: AKA Akeem, this 31-year-old super middleweight has been a professional since 2011. In that ten year period, Ellis battled his way up to big fight opportunities, winning some, losing some—and drawing in others. Ellis dropped a Showtime televised decision to DeAndre Ware in 2019 before rebounding that same year to decision Immanuwel Aleem in Brooklyn, NY. Ellis will fight anywhere and he always comes to win.
In 2020, Ellis got a win over veteran Matt Korobov when the Russian broke his ankle and was unable to continue in the bout at Mohegan Sun Casino in CT. Ellis was then stopped last March in 11 rounds by David Benavidez at the same venue. Ellis is now 18-2-2 with 12 knockouts.
The Ellis brothers' younger sister Rashida is boxing in the 2020 Tokyo Olympics for Team USA at 60 kg. With a 45-16 record in 61 bouts, the 26-year-old is determined to win a Gold medal.
5. "Marvelous" Mykquan Williams, Hartford, Connecticut: This 23-year-old welterweight is signed to DiBella Entertainment and is managed by Jackie Kallen. At 16-0-1 with 7 knockouts, Williams broke his pandemic-induced inactivity last January at Mohegan Sun in Connecticut with a 10-round unanimous decision over undefeated (15-0) Yeis Gabriel Solano on Showtime.
In his final bout of 2019, before missing all of 2020, Williams was held to an 8-round draw in Brooklyn by a southpaw spoiler named Tre'Sean Wiggins. A recent automobile accident resulted in a broken wrist, thus "Marvelous" Mykquan will be sidelined for the foreseeable future.
6. Toka Kahn Clary, Providence, Rhode Island: Once a highly touted local prospect, the professional reality of Toka Khan, 29, is clear. At 28-3, this southpaw featherweight has been knocked out by a nobody and beaten by decision twice when he stepped up to world level.
In 2020, Khan was beaten by Shakur Stevenson in Las Vegas, losing every round on all cards. In 2018, he was outclassed at the Boston Garden by British world title challenger Kid Galahad.
7. Kendrick Ball Jr., Worcester, Massachusetts: The now 28-year-old super middleweight mostly flew under the radar while fighting for Jimmy Burchfield's Classic Entertainment and Sports (CES) on Mr. B's Twin River, Rhode Island undercards. After a win here, a draw there, and a loss there later, the tall Ball (6' 2") won twice in 2020 (and in 2019) before decisioning veteran Bryan Vera last April in Derry, New Hampshire on a Granite Chin promoted show.
Ball, 16-1-2 (11) is scheduled to main event the CES card scheduled for August 7 in Springfield, Massachusetts at the recently reopened MGM casino venue in the western part of the state.
8. Greg Vendetti, Stoneham, Massachusetts: The Murphys Boxing promoted "Villain" Vendetti (now 31) is a come-forward fighter who earned his chops on the local scene before stepping up and into the international fray with mixed results. A 2018 win over Yoshihiro Kamegai in California was followed by a devastating second-round knockout loss to Michel Soro in France.
Vendetti regrouped with a pair of local decision wins in 2019 before going back to California for a 2020 shot at Erislandy Lara's two junior middleweight titles. Vendetti, now 22-4-1 (12), dropped a wide 12-round unanimous decision to the very defensively oriented Cuban freedom fighter.
9. Cassius Chaney, New London, Connecticut: This 34-year-old super-sized heavyweight got a late start in boxing in 2015 after relocating from Baltimore to Connecticut and switching sports. At six foot six, Chaney played basketball in college. In boxing, Chaney is undefeated at 20-0 with 14 KOs and he is Greg Page huge! His afro is even bigger. According to his bio on the Main Events website, Chaney boasts an 85-inch reach and was named after Cassius Clay. With a degree in sports management, he's a stinker and a thinker! Still, despite being named after the GOAT, this Cassius is still in 8-rounders and hasn't fought anyone expected to challenge him.
Chaney won four times in 2019, twice in 2020 and he is scheduled to fight on the Rivera Promotions show (New England's Future VII) on August 14 at the Worcester Palladium.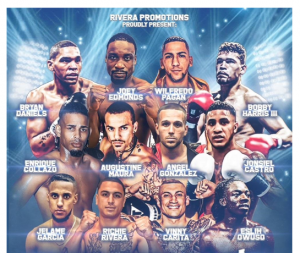 10. Richard "Popeye" Rivera, Hartford, Connecticut: The most charismatic fighter on this list, Rivera is a free-swinging cruiserweight who gladly plays the part of Popeye The Sailor Man, bringing a pipe to the ring and singing the trademarked "Toot Toot" jingle. After blasting out "Vermont Bully" Kevin Cobbs in 2018, Rivera has been extremely active, winning four more times that year, seven more times in 2019 and twice in 2020. Rivera won another stay-busy fight last February in Orlando, Florida, a first-round knockout of some Mexican punching bag.
At 19-0 with 14 knockouts, Rivera is back in action on next month's (August 14) RPE promoted show in Worcester, Massachusetts at the Palladium where he made his pro debut back in 2017.
11. Jamaine Ortiz, Worcester, Massachusetts: This Jimmy Burchfield promoted lightweight is 14-0-1 (8). Last April, he showed great promise on a Top Rank promoted show in Florida, drawing in 8 with undefeated (14-0-2) TR prospect Joseph Adorno. Many ringsiders felt that Ortiz, 25, deserved to get the win and that Adorno was fortunate to keep his unbeaten record.
12. Irvin Gonzalez, Worcester, Massachusetts: Now 14-3 with 11 knockouts, the losses are starting to pile up for this once highly regarded featherweight prospect. Before losing his "0" by knockout in 2019 to journeyman Elijah Pierce at Foxwoods Casino, there was talk of Gonzalez being signed by Evander Holyfield's upstart promotional company. Three months later, Gonzalez lost again at Foxwoods, this time a wide 10-round decision loss to Toka Khan.
Gonzalez also lost his most recent fight, an 8-round split decision loss to Texas tough-guy Edward Vazquez in Los Angeles on a Jimmy Burchfield promoted show in November of 2020.
Irvin is still only 25, he can build back better.
KO's Honorable Mentions: Chris Traietti (cruiserweight, Quincy, MA), Ryan Kielczweski (lightweight, Quincy, MA) and Brandon "The Cannon" Berry (welterweight, West Forks, Maine).
The 35-year-old Traietti is more promoter than active fighter these days but he still laces up the gloves on his own Granite Chin Promotions shows and he sports a 30-4 (24) record. He was beaten by Lowell's Joey McCreedy, Worcester's Edwin Rodriguez and by Mike Lee in Chicago.
Known as the "Polish Prince" in the ring, Kielczweski turned pro in 2008 and racked up a 22-0 record before his first decision loss in 2015 to Danny Aquino. Momentum killing decision losses to Miquel Flores, Frank De Alba, Tommy Coyle, and Gabriel Flores have stalled his career at 35.
All of which brings us to Maine's Brandon Berry. A short little welterweight with no reach and little in the way of technique, Berry gets by on pure heart. The 33-year-old is now 22-5-2 (15) and has both fought and promoted himself to 9 straight victories since a pair of losses in 2018.
Berry now fights for the memory of best friend Joel Bishop, a fellow boxer who died on Berry's wedding night in 2017. Berry has overcome personal tragedy, humiliating losses in the ring and a shoulder injury requiring surgery to carve out a respectable professional boxing career.
*** As noted above there are a few New England shows scheduled that local live fans should know about. Next Saturday night on July 31, Vertex Promotions has a club show scheduled in Dedham, MA featuring several novice local pros in action. Then on August 7 in Springfield, MA, CES is putting on a show at the MGM Springfield with Kendrick Ball Jr. in the main event.
Promoter Jose Antonio Rivera (the former WBA junior middleweight champion) is then back at the Palladium in Worcester, MA on August 14 with "New England's Future VII" featuring the return of the popular "Popeye" Rivera. And on August 28 in Derry, NH, Chris Traietti's Granite Chin promotions returns for what Chris calls an "invitational elite class boxing tournament."
Boxing Writer Jeffrey Freeman grew up in the City of Champions, Brockton, Massachusetts from 1973 to 1987, during the Marvelous career of Marvin Hagler. JFree then lived in Lowell, Mass during the best years of Irish Micky Ward's illustrious career. A former member of the Boxing Writers Association of America and a Bernie Award Winner in the Category of Feature Story Under 1500 Words. Freeman covers boxing for The Sweet Science in New England.
Check out more boxing news on video at the Boxing Channel
To comment on this story in the Fight Forum CLICK HERE