Small Consolation for Plant-Eaters
In the early nineties, I was one of a ragtag band of boxers who trained at the Boston YMCA on Huntington Avenue. Sparring matches were held on Monday, Wednesday, and Friday evenings and were closely monitored by licensed trainers. After hours, when they had left the building, things got nasty. Renegade trainers drifted in and held unauthorized bouts where weight classes didn't matter and headgear was frowned upon. There was blood on the walls. There was blood on the ceiling. One night I stood across the ring from an opponent who had a sculpted torso like Marvin Hagler, or come to think of it, Tim Bradley. You could grate Parmigiano-Reggiano on his abs.
When the bell rang, I proceeded with caution. He was quick, and stepped in to land a flush right hand. I should have seen stars. But I didn't. I threw a lazy jab on purpose to test his power again on my terms. He did as expected and countered with another right. I turned my head with it, riding it out to gauge its force. For a fighter—especially one who routinely fought for his life in underground smokers—what I learned in that first round was a great relief. He hit about as hard as Aunt Madge.
Privately after the bout, I asked him if he was a vegetarian. The question surprised him and he answered that he was. "Go and get yourself a steak," I said. "Plant-eaters don't beat carnivores." He offered what I'm sure was an impressive oration about healthy protein alternatives like tofu and soybeans though I didn't much know what he was talking about and my parting remark told him I didn't much care: "Tofu ain't flesh."
Untold numbers in the holistic health field believe that human beings are natural herbivores; that our hands are designed for berry-picking, not holding down prey, and our so-called canines are too small and flat to tear out flesh. What's more, they say that our digestive systems have not yet adapted to meat and cite studies connecting obesity, heart disease, and other health risks to the delicatessen. Under the glaring light of new science, my flip remarks look like medieval superstition. Or do they? Within a few months, my opponent became less enlightened. He added red meat to his diet. Already quick-fisted with sound technique, his punching power was soon denting my ribs and we both knew why.
Civilians have every reason to eat tofu and beans in lieu of meat; to build their lifestyles around health consciousness, comfort, and self-preservation. They have every reason to stay out of boxing rings. But don't mistake a civilian for a fighter. Humanist Dr. Harold Hillman doesn't. He identifies what he calls the "vegetarian conscience" and lists activities that "vegetarian personalities" could be logically expected to vigorously oppose. Between "child labor" and "infanticide" sits "boxing." In his defense, I suspect that his ability to appreciate the sweet science is no more advanced than my ability to appreciate the sedentary lifestyle of a soft-bellied academic.
Sugar Ray Robinson's decidedly anti-humanist achievement of knocking out ninety-seven men would horrify Hillman. His carnivorous habits would have called for smelling salts to revive Hillman. At a contract-signing luncheon in Chicago before his sixth match against Jake LaMotta in 1951, Robinson asked the waiter for a big glass of beef blood. The waiter was as confused as LaMotta was disturbed. "I'll get you some extra gravy right away," he said. "No, not the gravy," Robinson corrected him. "The actual blood, the blood in the meat before it's cooked." When the glass was set down before him, he turned to LaMotta. "It's what makes a skinny guy like me so strong," he said as he added just a pinch of salt and pepper.
"You're outta your mind," said LaMotta.
To the uninitiated, anyone who gets into the ring is "outta his mind." Indeed; if self-preservation and material pursuits are all that matters, then risking one's life for a chance at glory can only be insane.
It's been over ten years since the Huntington Avenue YMCA in Boston ended its boxing program. Odds are 4-1 that the executive director at the time was a vegetarian.
Saturday night, 4-1 underdog Tim Bradley was given a dubious decision over Manny Pacquiao. I predicted a knockout of the most violent sort and though I didn't mention it, part of my reasoning was rooted in the same evidence-based superstition that prompted me to warn my opponent all those years ago: Plant-eaters don't beat carnivores. Bradley is the picture of health and wellness. His discipline goes beyond that of mere vegetarianism during training camp, he becomes downright vegan and refrains from consuming any animal product. No meat. No fish. No milk. He makes the not-outlandish claim that all that green leafy stuff gives him a surplus of energy. I'm a believer. Had it not been for what hand-wringing academics deplore as a most unfortunate choice of occupations, he'd probably live to be a hundred and ten.
But he sure can't hit.
Despite the fact that Bradley understands how to fight southpaws enough to move to his left, away from their power line, his offense was of the "get off me!" variety. It reminded me of those Animal Planet episodes where a soon-to-be consumed herbivore flails in a panic just before the beast clamps down on its throat. Pacquiao stalked without fear and shook off left hooks and right hands like a prep cook would wet lettuce.
I watched the bout three times in a vain attempt to see how it was that the judges decided in favor of the plant-eater. "I thought Bradley gave Pacquiao a boxing lesson," said Las Vegas judge Duane Ford. "I went in with a clear mind." That's hard to reconcile given that Bradley was out landed by Pacquiao in ten of twelve rounds. The scattered punches that Bradley did manage to land inflicted no damage and the fact that he landed only 19% of them confirms that they weren't much more than panicky flurries. Panicky flurries constitute neither "clean, effective punching" nor "effective aggression," both of which are a major part of the judging criteria. My scorecard was 117-112 for Pacquiao.
That knockout I predicted was there all night. Had Pacquiao reversed his direction—had he simply went right instead of left—those left blasts he landed would have ended matters once and for all. He gave Bradley the assist he needed because he wasn't positioning his back foot in front of Bradley's chin in a straight line, in the power line. As it was, Pacquiao and the newly-inducted Hall of Fame trainer Freddie Roach neither saw nor made the adjustment. The lion circled the lamb in the wrong direction but proved it was a lion, and the lamb flailed, survived, and took a split decision that defies explanation.
Then again, perhaps none of Saturday night's blunders defy explanation. According to holistic gurus, meat promotes over-acidification of the body and one of the symptoms is unclear thinking. In that case, someone needs to check the books at Tom Coliccio's Craftsteak at the MGM Grand, where the portions are big and the porterhouse is still breathing. Four-to-one says judges Ford and CJ Ross have standing reservations from way back.
June 10, 2012
____________________________
Springs Toledo can be contacted at scalinatella@hotmail.com">scalinatella@hotmail.com.
Dan Parker Bashed the Bad Guys in Boxing and Earned a Ticket to the Hall of Fame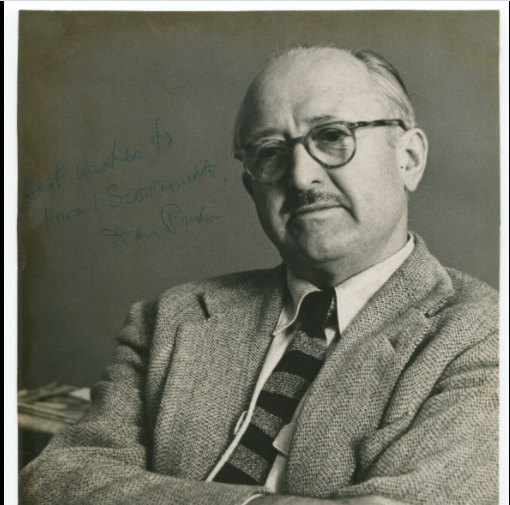 Twenty-five years ago this month, sportswriter Dan Parker was formally ushered into the International Boxing Hall of Fame in the non-participant category. Parker wasn't there to enjoy the moment. He had been dead going on 30 years.
Dan Parker, who began his career in journalism as a court reporter in his native Waterbury, Connecticut, hired on with the New York Daily Mirror in 1924, was named sports editor two years later, and remained with the paper until it folded during a prolonged newspaper strike in 1963, a total of 39 years.
Parker has been underappreciated by historians of the sports page because he worked for a paper that didn't make the cut when advances in microphotography allowed copies of old newspapers to be stored on microfilm. During this reporter's days as a college student — and here I date myself – the only out-of-town papers archived in the school library were the New York Times, Los Angeles Times, and the Washington Post, and to cull something out of them for a term paper one had to commit to spending long hours manually scrolling through reels of microfilm on a clunky machine. The tabloids – and the Daily Mirror was a tabloid – were considered too lowbrow for serious research, and even today in the digital age, stuff by Dan Parker is hard to find if one doesn't have the luxury of hunkering down for an extended stay in the periodicals section of the Library of Congress. His online omnibus consists entirely of scattered stories that were picked up by other newspapers and a few magazine pieces.
But among boxing writers, Dan Parker was a giant. He did more than anyone to cleanse the sport of the hoodlum element. The IBHOF electorate has come up with some curious choices in the non-participant category over the years, but in the case of Dan Parker they certainly got it right.
Parker was a big man, carrying about 240 pounds on his six-foot-four frame, but a man's size is irrelevant when staring into the barrel of a gun and Parker was fearless when facing off with the goons that infested the fight racket. His best year, one might say, was 1955 when a story he authored for Bluebook magazine flowered into an award-winning, six-part series in the Mirror titled "They're Murdering Boxing." The series spawned an investigation that ultimately resulted in the imprisonment of Frankie Carbo, boxing's so-called underworld czar, a man with a long rap sheet, and several of Carbo's collaborators, most notably Philadelphia numbers baron Frank "Blinky" Palermo.
Parker's friends urged him to lay off the hoodlums before something bad happened to him, but he ignored their counsel. "Everybody in boxing lived in fear of this enforcer (Frankie Carbo) but not Dan Parker. Nobody ever put enough heat on Parker to slow down his typewriter," reminisced Hartford Courant sports editor Bill Lee.
Parker's reputation as a reformer was well-established before he zeroed in on the machinations of Carbo and others of his ilk. In 1944, when a vacancy came up on the New York State Athletic Commission, Governor Thomas Dewey, who had made his reputation as a racket-busting District Attorney, offered the post to Parker.
It was easy money, but he declined. "What would I use for a punching bag if I were on the boxing commission myself?," he said.
During a portion of Parker's tenure with the paper, there were eight other New York dailies competing for readers. The Mirror was the paper of choice for well-informed boxing fans thanks in large part to Murray Lewin who came to be recognized as the city's best fight prognosticator within the ranks of the newspaper writers. Lewin, the boxing beat writer, did the grunt work, attending all the little shows and writing up the summaries. Parker, as he freely admitted, was more interested in writing about sporting characters than about the games they played. And like his good buddy Damon Runyon, who wrote for the New York American (later the Journal-American), Parker was inevitably drawn to boxing and horseracing because that was where the most colorful characters were found.
Parker found time to write one book, a primer for novice horseplayers published in 1947 when horseracing was on the cusp of the boom that would lead it to becoming America's top spectator sport (a distinction, needless to say, that wouldn't last).
The book had a chapter on touts, one of Parker's favorite subjects for his newspaper column. They were all charlatans, he wrote, an opinion that did not endear him to the bean-counters as they were forever cluttering up his sports section with ads from racetrack tipsters. Parker wasn't afraid to make enemies on his own paper.
Believe it or not, but there were still folks back then who believed that professional wrestling was on the up-and-up. Parker educated them when he wrote a column that gave out all the winners on a show that hadn't yet started.
The programs for the wrestling shows, which included the bout sheet, were published well in advance and then hidden away until they were needed. Parker procured a copy and from it was able to glean which wrestlers had won their preceding match.
"Dan was a shy, gentle, and kindly man with a quick sense of humor," wrote New York Times sports editor Arthur Daley. But within his profession, he wasn't everyone's cup of tea. The legendary Herald Tribune sports editor Stanley Woodward once likened him to Fearless Fosdick, a character in the L'il Abner comic strip who was a parody of Dick Tracy. Parker had a long-running feud with New York Daily News sportswriter Jimmy Powers which may have had something to do with Powers becoming a well-known radio commentator. In the eyes of the old guard, a true journalist didn't do "electronic media."
When Damon Runyon died from cancer of the larynx in 1946, several of his close friends, notably Parker and the famous gossip columnist Walter Winchell, a Daily Mirror colleague, got together and resolved to create a charity in Runyon's memory. What resulted was a foundation that has raised millions for cancer research. Parker worked tirelessly on its behalf.
Daniel Francis "Dan" Parker died on May 20, 1967, at age 73. He was quite a guy.
Check out more boxing news on video at the Boxing Channel
To comment on this story in the Fight Forum CLICK HERE
What Next for Gabriel Rosado?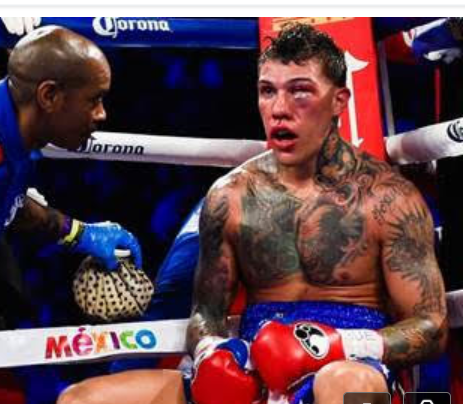 What Next for Gabriel Rosado?
Bektemir Melikuziev, Freddie Roach, Edgar Berlanga, and Jaime Munguia are names that, one way or another, figured into Gabe Rosado's stunning KO last Saturday night in El Paso. It overshadowed the impressive showing by Noaya "Monster" Inoue later that night in Las Vegas.
Rosado (26-13-1) is a well-documented bleeder and just might start spurting during the walk-in, but he is never, ever in a dull fight. The tougher-than-tough Philadelphian won Top Gore honors for his blood and guts TKO loss to Canadian middleweight star David Lemieux in 2014. The year before, he bled aplenty in his game but losing effort against Gennady Golovkin.
This time against Melikuziev, the unbeaten Uzbek, the fight ended in round three when the 35-year-old underdog beat the Eastern Euro fighter to the punch during an exchange of rights with Gabe's landing first and sending the former amateur star into dreamland. The force of the blow was amplified by the younger and faster man coming forward with caution to the wind. And this time, there was no bloodletting.
The knockout should be a contender for KO of the Year. In fact, it was reminiscent of Juan Manuel Marquez's explosive knockout of Manny Pacquiao in their final match.
Once again, Rosado (who is now trained by Freddie Roach) has revived his career and can count on at least one last decent payday. While many think Jaime Munguia would be a solid next fight, the thinking here is that Rosado could get carved up by the undefeated Tijuana veteran who has won 30 of his 37 fights by KO. Munguia is just too good.
The Catch 22
Rosado is an all-action fighter but scar tissue and his propensity to bleed is his worst enemy. It has cost him in the past. For such an offensive-minded fighter as Gabe, he is trapped in a terrible catch-22. If he can get the lead early and the bleeding is stemmed within reasonable limits, he can be a force, but not against the likes of Munguia.
If not Munguia, then who?  Here is one suggestion: How about "The Chosen One," Edgar Berlanga (17-0) whose first round KO streak recently came to an end. Brooklyn vs. Philadelphia would be a nice added touch –not to mention the Puerto Rican factor. Could Rosado expose Berlanga as someone without enough experience, aka rounds? Would Gabe show that Berlanga is more Tyson Brunson that Edwin Valero?
Let's make it happen!
Ted Sares enjoys researching and writing about boxing. He also competes as a powerlifter in the Master-class. He can be reached at  tedsares@roadrunner.com
Check out more boxing news on video at the Boxing Channel
To comment on this story in the Fight Forum CLICK HERE
Fast Results from Las Vegas: Inoue Demolishes Dasmarinas; Mayer UD Farias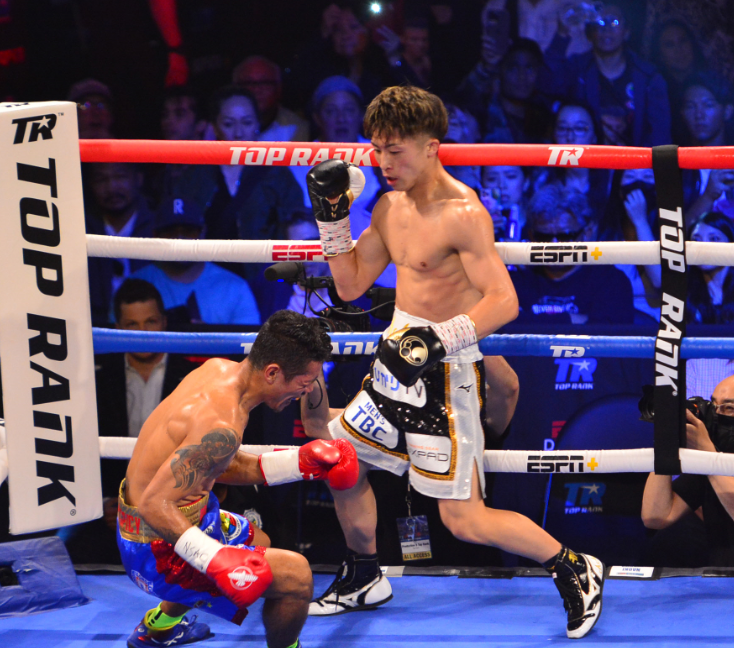 Fast Results from Las Vegas: Inoue Demolishes Dasmarinas; Mayer UD  Farias
LAS VEGAS — Top Rank was at the Virgin Hotels in Las Vegas on Saturday, June 19, for the second of their three June shows. In the headliner, WBA/IBF world bantamweight champion Naoya "Monster" Inoue lived up to his nickname with a vicious third round stoppage of Filipino import Michael Dasmarinas.
Inoue (21-0, 18 KOs) had his opponent fighting off his back foot from the opening bell. He knocked down Dasmarinas in the second with a left hook to the liver and twice more in the third round before referee Russell Mora waived it off. The official time was 2:45.
Dasmarinas brought a 30-2-1 record and hadn't lost since 2014. But he was no match for the "Monster" who looks younger than his 28 years. Those body shots landed with a thud that could be heard in the far reaches of the arena. This kid is really good.
Mikaela Mayer continues to improve as she showed tonight in the first defense of her WBO world super featherweight title. Mayer 15-0 (5) turned away Argentina's Erica Farias (26-5) with a 10-round unanimous decision in a fight that was frankly rather monotonous.
Mayer won by scores of 97-93 and 98-92 twice. Farias, who landed the best punch of the fight, didn't have the taller Mayer's physical equipment but yet landed the best punch of the fight. Her only setbacks have come on the road against elite opponents—Cecilia Braekhus, Delfine Person, Jessica McCaskill (twice) and now Mikaela Mayer.
The opener on the ESPN portion of the show was a lusty 10-round welterweight affair between Ghana native Isaac Dogboe and Glendale, California's Adam Lopez. Dogboe, whose only losses came at the hands of Emanuel Navarette in world title fights, improved to 22-2 by dint of a majority decision that could have easily gone the other way. Dave Moretti had it a draw but was overruled (97-93 and 96-94).
Lopez, one of two fighting sons of the late Hector Lopez, an Olympic silver medalist, did his best work late, particularly in the eighth round. With the loss, his record declines to 15-3.
Other Bouts
Monterrey, Mexico super lightweight Lindolfo Delgado, a 2016 Olympian, was extended the distance for the first time in his career but won a wide 8-round decision over Guadalajara's Salvador Briceno
Delgado won by scores of 80-72 and 79-73 twice while advancing his record to 12-0. Delgado's best round was the eighth, but Briceno (17-7) weathered the storm. Briceno is 5-6 in his last 11, but has been matched tough. The six fighters to beat him, including Delgado, were a combined 78-3 at the time that he fought them.
Vista, California lightweight Eric Puente has yet to score a KO but he is undefeated in six starts after winning a unanimous decision over Mexico's Antonio Meza (7-6). Puente, who is trained by Robert Garcia, knocked Meza down early into the fight with a sweeping left and was the aggressor throughout. The judges had it 57-56 and 58-55 twice.
Puerto Rican super lightweight Omar Rosario improved to 4-0 (2) with a fourth-round stoppage of Reno, Nevada's Wilfred "JJ" Moreno (3-1) The official time was 0:47.
Photo credit: Al Applerose
To comment on this story in the Fight Forum CLICK HERE