The heart of the sport can be seen, immense and healthy, at shows like the one Joe Rein reported on back in 2003.
"Reports of my death are grossly exaggerated," Mark Twain said… The same's true of boxing, if you'd seen the army straining to get into the Grand Olympic Auditorium in L.A. for Oscar de La Hoya's "Boxeo de Oro."
It was only 5 P.M. on a workday and ticket holders were in a ragged line stretching well around Grand Ave. — looked like the Oklahoma land rush just before the gun went off.
These were largely roll-up-your-sleeves guys, from what I could tell, Latino. They'd earned their faces and were in good spirits — with maybe a head start on a drink or two. They knew the niceties of the game, but they came to see guys fight, to see someone bite down and show "Corazon." Heart….Somebody they could identify with… root for.
When the floodgates opened, the mob poured in, sweeping aside the ticket takers.
It was impossible being jostled along in those narrow, sweating corridors, not to have the hairs on the back of my neck stand up, imagining Enrique Bolonas, Jose Becerra, Ruben Olivares, Mando Ramos and Bobby Chacon battling in this very ring, defining Aztec warrior and the legacy of the Olympic.
Management gave it a new paint job, new seats, but this is the gladiator pit that dates back to the '30s…where Al Jolson and "Bugsy" Seigel arrived by limo to sit just a few feet from me to watch "The Brown Bomber" and Henry Armstrong. The reverence was palpable.
Not a bad sight line in the place.
The arena was filling quickly, electricity charging the air and bringing the legends to life.
On the main floor behind the 15-20 rows of ringside seats was a portable bar. "All American beer! No Mexican beer!" shouted the bartender. A curious marketing ploy, considering. It didn't seem to hurt sales; a quick look around confirmed.
It was one large extended family: A reunion of stand-up guys. The badges of the trade marking every beaming face — balcony to ringside. Much backslapping, ribbing, dirty laughter, intros, and lots and lots of beer all 'round.
They yelled, stamped their feet and pounded the air when the action heated in the ring. A Godzilla-sized promotional bottle of Miller Lite, with a poor soul inside, was being led blind through their midst by a guy with a rope…and threatened to tip over at every step, much to the delight of all.
The only things missing from the "old school" picture were: The smell of cigars and the cloud of smoke that made it all look like film-noir.
The early KO's by the super middleweight Andrade brothers had everybody toasting and the beer flowing.
Librado Andrade, in a ring overrun by press, was bursting with pride accepting the first Miller Lite Golden State Award for the outstanding performance of the evening, for his emphatic KO of Errol Banner.
Watching Andrade clutch that sculpture, being turned in every direction for pictures and interviews, and standing on the bottom strand of the ropes trying to stretch to the balcony to share his excitement with friends from La Habre, it was easy to see, he was going to have no trouble dedicating himself to winning a world title.
Security was having no luck trying to clear revelers out of the aisles. No sooner did a group reluctantly disperse than they re-assembled larger and louder.
Raven-haired Pamela Anderson wannabes with painted-on jeans and as much cleavage as they could engineer trolled ringside endlessly in hopes of catching the eye of some mover-n'-shaker for a taste of the "good life". The hotties acted offended at the whistles and street remarks, but never failed to retrace their routes.
Some ringsiders slipped their tickets to buddies who scampered down from the cheap seats to claim them over the mezzanine wall when a guard wasn't looking. And then, like cats with cream on their whiskers, nonchalantly flashed the ducats at security and disappeared among the heavy hitters, like children let loose in a candy factory.
The fans got an extra glimpse of skin in the prelims prior to the televised fights. The round-card girls jiggled and waved and threw kisses in Band-Aids and floss that lost the struggle to contain the Jell-O inside. The building rocked in appreciation of the generous scoops of dessert served up on stiletto heels.
The PG-rated TV bouts had the same girls in gym shorts and halters, looking more like an aerobics class. Their more-modest garb drew a collective groan. Spice is what they wanted, not health food.
Fernando Vargas, not the least surly or ill-at-ease at a Golden Boy promotion, lounged at the ring apron in tinted shades and an open silken shirt, basking in adulation all around him.
A hulking figure–standing just off to the side of Vargas– in an oversize football jersey–arms locked across his chest, expressionless, with menacing dark glasses, clocking anything to do with Vargas–was the lone reminder of his recent headlines.
Watching two of Vargas's homies shuttle the adoring to and from him between rounds was damn impressive; it had all the precision of a military operation. One mother gingerly handed Vargas her baby. He cradled it and smiled, while she snapped a picture that might inspire a future ring career.
It looked like the line to sit on Santa's lap at X-Mas in a department store.
Two strikingly beautiful women swathed in Calvin Klein and Armani stole away from their escorts and flirtatiously snuggled-in for a picture with Vargas, who grinned and encircled them with his arms. It was good to be the king.
A smarmy guy in a Hawaiian shirt over a paunch and shoe black on his hair was pressing the flesh of anybody-and-all a few rows from Vargas, showing his barely-teenage stable of fighters in the $250 seats what it would be like when they hit it big. With their Marine haircuts and wide eyes, the young fighters looked like goslings plunked down from another planet.
A Nell Carter look-alike, in a scarlet lamp-shade-of-a-dress and lots of 'tude, invaded a row of celebs and got each one up to pose with her for a picture, handing the camera to whoever was closest. And if the flash didn't go off, she insisted on another. Then she passed around a boxing glove to be signed, instructing each what to write. She just waved off any objection. With her in my corner, I could get a title shot.
When Julio Gonzalez and "Panchito" Bojado were spotted, they both were unfailingly gracious–and genuinely touched–under the onslaught of fans for handshakes, pictures with them, a word or two, or a signed program or a blouse front. Some nearly fell out of the stands just for a touch as they went by.
Bojado circulated all around the arena, always in the center of bodies clawing at him; his posse trying to screen him, as best they could. Eventually, he stood right below me; he looked no more than 16. Like bees to honey, everybody descended on Bojado, climbing over each other and the wall to get to him.
When I asked the guys in front to sit down, I couldn't see, Bojado poked his head through the jam: "I'm terribly sorry for the interruption. I apologize," and he drew the mob away, like the Pied Piper. Pretty classy. He made a fan out of me.
Just to the left of my aisle seat, a guy looking like he was doing a bad-drunk imitation swayed precariously at the top of the stairs, with beer sloshing out of his cup, about 10 feet above the concrete floor. In what seemed like slow motion, he lost his hold on the railing. I just managed to grab his wrist before he fell, and some others pitched in immediately to pull him back. The drunk's friends were all over me with 'Thanks' in rapid-fire Spanish; their beers punctuated every word. I was sure I was in for a shower.
Bobby Chacon wove his way through the crowd, shaking hands, just a hint unsteady on his pins–oddly small, considering what a giant he was in the ring–with that same signature grin plastered on every sports page when he roared off the streets of Compton to shake the Olympic to the rafters and insure his place in the hearts of these fans. He should have been saluted at center ring; he left so much of himself there.
A fellow in his 20s, next to me, tapped my arm and pointed to Chacon, with the respect reserved for an idol, and went on in Spanish about him. His tone said it all. The guy behind me leaned in, expressing the same sentiments, and offered me some tortilla chips.
The heir apparent to Chacon may be "Mighty" Mike Anchondo; nearly the same size as Chacon, with the same schoolboy good looks, masking a killer instinct and a flare for the dramatic.
Anchondo fought the semi wind-up 10 rounder against Nicaraguan Roque "Rocky" Cassiani (23-4-1), who looked like a mini Marvin Hagler when he doffed his brocaded robe. The similarity ended with the muscles.
Anchondo has 21 fights and 17 KOs, is not tall for a 130-pounder, but he has the mark of a veteran: totally relaxed in the ring; his combinations so fluid they belie the speed and power; and almost on cue, he responds to the urging of the crowd with the kind of vicious salvos that seem over-the-top in a movie.
After some confusion at the end of the 9th round, where it looked like referee James Jen-Kin stepped in to stop it– with Anchondo raining unanswered blows on a helpless Cassiani sagging against the ropes–the ref, inexplicably, allowed it to continue.
It was bedlam before the 10th round. The crowd smelled blood and tore the roof off. They were on their feet, chanting "Mighty Mike! Mighty Mike!" …Anchondo didn't disappoint. At the bell, he attacked and kept firing until the ref called a halt. Then, in unbounded joy, he leaped into the arms of his handlers, who held him aloft while he punched the sky repeatedly, and the building shook.
Cassiani was made to order for Anchondo, with his relentless, one-dimensional, search-n'-destroy mind-set. Cassiani threw with bad intentions, and pressed and pressed, and took it, and took it, and took it…until the ref decided he should take no more. He went out on his shield.
After the Anchondo fight, while the ref was standing against the ropes congratulating Anchondo, a woman producer for HBO shoved the ref aside, yelled something in his face, and yanked Anchondo –literally– across the ring to the color commentator, barking orders to clear the way, and glaring. Roberto Duran couldn't have been more menacing.
Anchondo came back out after changing. He was greeted with the adulation one sees only at the Plaza De Toros after a brave kill.
"Mighty Mike! Mighty Mike!" It was deafening. Anchondo signed and flung gloves with all the strength he could muster to the top of the balcony. The place was in a frenzy. Had some fans not been caught by the ankles at the last moment, they'd have sailed off the balcony diving for a glove.
Some months ago, I was impressed with Anchondo's sparring at the Wild Card Gym, and wanted to interview him, so I looked for an interpreter, without any luck. I approached Anchondo, with some hesitation: "DO…YOU…SPEAK…ANY…ENGLISH? I…DON'T…SPEAK…ANY SPANISH."
"I don't either," he said, laughing. "It happens to me all the time."
He's a very engaging, open-faced, unlikely looking executioner, who connects with the barrio, like Art Aragon used to. Plus, the personality to make him a media favorite. It's about time they start beating the drum for him. He could headline the card and pack the place.
The main-go was won convincingly by Jose Navarro over Jorge Luis "Speedy" Gonzalez, for the IBA Continental Americas junior bantamweight title. Navarro is not what you think of when the image of a Mexican fighter comes to mind: Chango Carmona or "Bazooka" Limon.
Navarro is a well-balanced, unflappable ring technician, who fires from the port side like a surgeon. He keeps sticking broomsticks in your face, and threads the needle up and down– stinging, stinging, stinging, keeping pressure at the end of his long arms. He's an educated boxer, and though he doesn't fire the blood, it's going to take a special fighter to take him out of his game.
Gonzalez was outclassed, but he kept throwing bricks and finally his body, in wave after kamikaze wave against the Gatling gun that was strafing him. Freddie Roach, Gonzalez's trainer, must have told him before the last round: 'Son, you need a knockout!'
At the bell, Gonzalez bolted out at full gallop, flailing and swinging, trying to will himself past those whirring blades to land the one shot that would turn the tide. Gonzalez fell short, but he gave it all of his heart and won the heart of the crowd doing it.
Most walkout bouts are just that. People can't get to their cars fast enough, but quite a few stayed and were treated to a very spirited six-round junior featherweight go that Kahren Harutyunyan won by a split decision over Marinho Gonzalez.
It's not a given that a taller man will out jab a shorter one. Harutyunyan proved that. He looked like he was going to need a ladder to reach Gonzalez, but he always got there first…and often. Though Harutyunyan was the only non-Latino on the card, what few that remained didn't begrudge him his props.
Harutyunyan has been a hard luck fighter, and far better than his record indicates (9-1-3). When he got the nod, most of the Armenian community of Glendale jumped into the ring and danced and embraced him. When he came down the ring steps with a grin as big as he was, the Wild Card regulars showed him how they treated their own.
Spilling out into the downtown night with fathers and sons still animatedly buzzing about the fights in Spanish, my step quickened with the pride of inclusion in this fraternity that spans generations and language. It was no different than the old Garden or St. Nick's; and though boxing is relegated to the back page of the sports section, this invalid still has a lotta life in it. It's all about "Corazon."
An Open Letter to Gov. Kathy Hochul Regarding The New York State Athletic Commission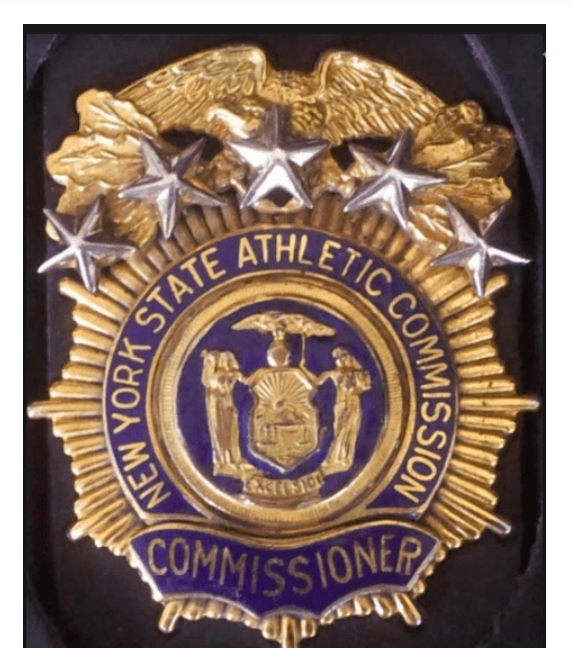 Dear Governor Hochul — I received several text messages earlier this month from someone I don't know who wrote to me about a problem at the New York State Athletic Commission. Two days later, I got a telephone call about the same issue from someone I respect and know reasonably well.
These people reached out to me because, over the years, I've written a series of investigative reports about the New York State Athletic Commission. Sometimes the problems I write about are self-evident. Other times, people contact me regarding issues I'm unaware of in the hope that something I write will lead to positive change. On eight occasions, articles I've written have been honored by the Boxing Writers Association of America as the "best investigative reporting" of the year. In other words, there's some substance to what I write.
I hope this article lands on your desk. The New York State Athletic Commission is a small state agency whose mandate pales in comparison to the job of overseeing public health, public education, mass transit, and a host of other needs. But because it's a small agency, it can be understood and the problems within it can be fixed.
What's happening now at the NYSAC is happening on your watch. Andrew Cuomo is gone. How you deal with this situation will be regarded by people familiar with the issues involved as a litmus test for how you govern as opposed to how you talk about governing.
First, a word about the New York State Athletic Commission, since you're probably only vaguely familiar with it. The NYSAC is charged with regulating combat sports in the State of New York. This means boxing, mixed martial arts, and professional wrestling. You might ask why the State of New York regulates professional wrestling (which is scripted entertainment). The answer is that some NYSAC employees like to be paid a per diem salary in addition to being reimbursed by taxpayers for the cost of meals and transportation to watch Roman Reigns and Brock Lesnar cavort around a wrestling ring. You could save New York taxpayers some money by ending this silly regulatory practice.
The New York State Athletic Commission falls within the jurisdiction of the New York State Department of State. This places it directly under your control.
Some capable conscientious public servants work at the NYSAC. But too often, political connections take priority over performance. This applies to some – not all – fulltime jobs at the commission as well as the selection of fight-night officials such as inspectors, referees, and judges.
On November 2, 2013, a Russian heavyweight named Magomed Abdusalamov suffered life-changing injuries in a boxing match at Madison Square Garden. Ultimately, the State of New York paid $22 million to Abdusalamov and his family to settle claims alleging substandard medical protocols and improper conduct by New York State Athletic Commission personnel that night.
The Abdusalamov case led to an investigation of the NYSAC by the Inspector General of the State of New York that began as a review of the commission's medical practices and expanded into a broader study of its overall operation during the tenure of chairperson Melvina Lathan. The subsequent report of the Inspector General (which was released in 2016 and covered a wide range of issues, many of which were unrelated to Abdusalamov) documented numerous instances of incompetence and corruption at the NYSAC.
There have been periods of good oversight at the NYSAC, most notably during the tenure of David Berlin. In May 2014, in the wake of the Abdusalamov tragedy, Berlin was brought in to serve as executive director of the commission. He was respected throughout the boxing industry as a competent, honest, knowledgeable administrator who refused to put a political agenda ahead of properly doing his job. Most notably, Berlin sought to implement standards and accountability and curb the use of the NYSAC as a favor bank for powerful economic interests and a source of employment for unqualified job seekers with politically-well-connected friends. Berlin's approach to his job offended your predecessor. In May 2016, he was fired. Since July 2017, Kim Sumbler (who to the best of my knowledge lives in Canada) has been the NYSAC executive director. Sumbler is more compliant in dealing with the powers that be than Berlin was.
There are two fulltime positions on the NYSAC organizational chart directly below Sumbler – director of boxing and director of mixed martial arts. In recent years, Matt Delaglio and Ed Kunkle have done a credible job of filling these roles. But on September 3, 2021, Kunkle resigned. That set up the search for a new director of mixed martial arts and brings us to the text messages and telephone call that I received earlier this month.
The first text message read, "Are you aware that the NYSAC hired Todd Anderson as the new MMA coordinator after the Commission manipulated job requirements? He would not have qualified under previous posting."
This text was accompanied by a screen shot of a statement posted on social media by a minor sanctioning body official that read in part, "To hire a person with Zero experience as a regulator to oversee and regulate combat sports in NYS is laughable and makes this state what it was prior to 2016. I have no faith in this state, its Department of State, or Athletic Commission."
Then I received additional texts from the original correspondent with messages like, "I do not work for the commission nor have I been in a professional setting with Sumbler. But I have witnessed her nepotism in action with her sister Jackie, and I certainly am aware she's a long-term personal friend of Todd Anderson's . . . I do not know Todd. I'm sure he's a nice guy. But I find it odd that she would recruit a personal friend who resides in Canada . . . It's all deeply disappointing and disconcerting. Hiring Todd, who does not have the regulatory experience, is questionable for the integrity of the sport in NYS . . . I reached out to you because something about this scenario doesn't appear ethical or lawful. As a journalist, you have a voice which can be amplified."
Then I received the telephone call that I mentioned above from someone I know and respect who also complained to me about Anderson's appointment. At that point, I decided to do some research.
First, let me address the claim of "nepotism" relating to Sumbler and her sister. Prior to joining the New York State Athletic Commission, Sumbler oversaw combat sports for the Seneca Nation of Indians Athletic Commission. Her sister (Jackie Grant) now has that job. I assume that Sumbler had some input in her sister's selection. But that doesn't mean it was inappropriate.
Then I turned my attention to Todd Anderson – a retired police officer who lived in Canada through the end of 2021. According to opengovca.com, Anderson was a sergeant with the Niagara Regional Police Service in Ontario. He's also an MMA referee who has been widely criticized for his performance.
Go to Google. Type "Todd Anderson" after "exact word or phrase." Then, after "any of these words," type in "MMA." Now hit search. Some of the headlines that appear are, "Dana White is critical of UFC 208 main event referee Todd Anderson" and "Dana White blasts main event referee Todd Anderson." Scroll down and you'll come to an article entitled "The Top 10 Worst Referees in MMA of All Time." Anderson is #2 on the list. These lists are subjective. You could probably find an article posted somewhere that lists me as one of the ten worst boxing writers of all time. And Bellator seems comfortable with Anderson's refereeing. But one UFC insider recently told me, "Todd Anderson is a lousy referee."
Of course, just because someone might be lacking as a referee doesn't mean that he, or she, isn't a fine administrator. So next, I looked at the qualifications required by the New York State Athletic Commission to be its director of mixed martial arts.
Three years ago when the job opening was posted by the Department of State prior to Ed Kunkle's appointment, the listing read, "MINIMUM QUALIFICATIONS: Five (5) years of supervisory regulatory experience overseeing Mixed Martial Arts (MMA). Three (3) years of this experience must have been in a role exercising management responsibilities over staff."
However, when the same opening was posted by the Department of State on September 20, 2021, it read, "MINIMUM QUALIFICATIONS: Five (5) years of governmental regulatory experience in a supervisory or management role. Three (3) years of this experience must have been in a role exercising management responsibilities over staff."
In other words, it was no longer required that the five years of regulatory experience in a supervisory or management role involve "overseeing Mixed Martial Arts." Instead, the applicant was required to demonstrate "skills with regard to composition of reports and memoranda" and "in-depth knowledge of professional and amateur Mixed Martial Arts (MMA)."
So, let's look at Todd Anderson's "five years of governmental regulatory experience in a supervisory or management role," three years of which are required to have been "in a role exercising management responsibilities over staff" and also his "demonstration of skills with regard to composition of reports and memoranda."
A well-placed source at the New York State Athletic Commission says the party line on this is, "Well, Todd was a police officer." A police officer in Canada who doesn't appear to have been in a supervisory or management role exercising management responsibilities over staff.
The same source says that Sumbler led the interview process that resulted in Anderson's appointment.
In an effort to confirm that Anderson had been appointed as the NYSAC's new director of mixed martial arts, I sent two emails to the Department of State public information officer assigned to the commission. Neither email elicited the courtesy of a response. I then sent a third email requesting interviews with Sumbler and Anderson. I hoped to speak with Sumbler, not only about Anderson but also about some of the larger issues that the NYSAC faces today. Again, there was no response.
That's from the Andrew Cuomo school of transparency and open government.
Finally, on January 15, Newsday reported Anderson's appointment.
I don't know Todd Anderson. I don't know anything about his administrative ability. I do know that two people – one of whom I respect a great deal – have concerns about his appointment.
Maybe Anderson will do a good job as director of MMA. But the process doesn't feel right. As the source who telephoned me about his appointment said, "Todd comes from Ontario. He's friendly with Kim Sumbler. It was clear that Kim wanted this from the start, and she chose Todd over at least one applicant who was clearly more qualified than he is. Coming to New York and fighting at Madison Square Garden or Barclays Center is the highest level of MMA in the world. And you're putting someone with no real regulatory experience in charge."
Governor Hochul, when you took the oath of office last August, you pledged to implement "a dramatic change in culture with accountability and no tolerance for individuals who cross the line." That's a direct quote.
Reporting on your January 5, 2022, State of the State address, the New York Times recounted, "Governor Hochul vowed to open a new chapter of ethical, more transparent government. The package of ethics and government reforms were meant to hold accountable elected officials in a State Capitol with a long history of graft and corruption."
One component of good government is ensuring that taxpayers get fair value from employees who are on the public payroll. I question whether that's happening now at the New York State Athletic Commission.
As noted above, Kim Sumbler is the NYSAC executive director. According to SeeThroughNY, her salary in 2020 was $133,896. The previous (pre-pandemic) year, it was $132,964.
The New York State Athletic Commission is located at 123 William Street in Manhattan (which as you know from your travels throughout the state, is one of New York City's five boroughs). Sumbler lives in Ontario. Multiple sources say that, prior to the pandemic, she was seldom in the William Street office and that, after the office reopened last year, she was largely a no-show.
One of the points that the Inspector General's 2016 report made in criticizing Melvina Lathan was that she was only in the William Street office four days a week. For Sumbler, that number might be closer to four days a month. Sumbler has said that she works at home and out of a Department of State office in Buffalo. But to be effective, an executive director should be where the action is.
Or phrased differently, how many agency heads in your administration lead from their home in Canada? And what exactly does Kim Sumbler do five days a week?
There are also instances where hourly payments to NYSAC employees should be reviewed.
Angela Gagliardi is the assistant chief medical officer for the New York State Athletic Commission. Sources say that, prior to the pandemic, Dr. Gagliardi (listed by SeeThroughNY as an hourly employee) worked from home and came into the office one day a week. Her responsibilities included coordinating medical matters for the commission in addition to attending weigh-ins and fights. In 2019, her salary, as listed by SeeThroughNY, was $185,875.
In 2020 (the first year of the pandemic when there were virtually no fights in New York), the state paid Dr. Gagliardi $168,980. She was listed by SeeThroughNY as an hourly employee at a pay rate of $78 per hour. This means that, in theory, Dr. Gagliardi worked 2,166 hours in 2020 (42 hours per week).
What did Dr. Gagliardi do to occupy her time for 2,166 hours?
In February 2020, she communicated with close to one hundred NYSAC personnel regarding the manner in which they should rent vehicles while traveling on official NYSAC business. You might ask why New York taxpayers were paying a doctor an hourly rate to do this and whether it could have been done by Kim Sumbler or an office administrator as part of their duties.
Dr. Gagliardi also contacted commission employees (including non-medical and per diem personnel) on a monthly basis in 2020 about the administrative requirement that all NYSAC business be transacted on Department of State servers rather than private email accounts and instructed them to send at least one email each month on their Department of State email account to keep their account active.
In addition, on November 2, 2020, and again on November 6, 2020, Dr. Gagliardi sent emails to the "NYSAC team" stating that she was "assisting with Veterans Day activity" and encouraging veterans and their families to "share a bio, pictures and/or personal stories related to their vast experiences."
Was Kim Sumbler so busy that New York taxpayers had to pay Dr. Gagliardi to do this?
We're living in an era of fiscal challenges. The NYSAC should be run accordingly.
To give you another example of a practice that troubles me; it's an open secret that fighters' purses are sometimes under-reported to the New York State Athletic Commission, which enables these fighters and others (who receive a percentage of the fighter's purse) to escape the full state and city taxes that should be paid. One former NYSAC employee told me, "I recall discussing it with Kim and it being on her radar. I don't think there was much interest in pursuing it above her." The rationale for allowing this practice is that, if big-name fighters have to pay all legally-mandated taxes, they won't fight in New York.
That's an interesting approach to government. We're going to let a group of people who make millions of dollars for a night's work under-report their income so they (along with some other vested economic interests) can make more money. Try putting that idea in your next State of the State message and see how it's received by health-care workers and others who are having trouble making ends meet and pay taxes on their full salary.
Administratively, the New York State Athletic Commission is in chaos. As one insider said bluntly, "It's a horribly run administrative nightmare with zero accountability."
Some administrative errors at the commission are embarrassing but not harmful. For example, on January 13, 2022, Kim Sumbler sent a notice to all NYSAC per diem employees regarding a mandatory training session. Several dead people were on the recipient list, one of whom (Dr. Sheryl Wulkan) died last August.
Other administrative errors are more dangerous.
One of the last UFC events in New York before the pandemic began was held in Rochester. Three fighters on that card (Austin Hubbard, Charles Olivera, and Antonio Carlos Junior) were allowed to compete even though they weren't licensed to fight in New York. Three weeks later, a boxer with a bullet in his head (Marcus McDaniel) fought at Madison Square Garden without a New York license.
Fighters who have been suspended slip through the cracks and compete in New York while still on suspension. Edgar Soghomonyan was placed on indefinite medical suspension pending neuro-clearance after a second-round defeat in a "Rage in the Cage" MMA bout on October 9, 2021. Twenty-nine days later, he fought in New York in a "Holiday Havoc" MMA contest without his suspension having been lifted.
On January 3 of this year, the NYSAC issued an MMA ID for a mixed martial arts combatant who was sixteen years old. That's two years beneath the legal age for professional combat in New York. If that young man were badly hurt in a fight, I'm sure you'd be concerned since you're a compassionate woman. And being a practical woman, you'd note the prospect of a litigation settlement rivaling the $22 million that was paid to Magomed Abdusalamov and his family.
You might ask the powers that be at the NYSAC how these things happen. You're more likely to get a call back from them than I am.
The home page on the New York State Athletic Commission website proclaims, "The Commission is committed to health, safety, and integrity with standardized protocols at ringside, enhanced medical screening procedures and strong, effective leadership."
That's a bad joke.
The commission has a medical advisory board. But the board has met only three times since June 2017. In each instance, its business consisted largely of approving the minutes of the board's previous meeting and the appointment and reappointment of NYSAC physicians. Policy wasn't discussed in any meaningful way.
Nitin Sethi (a neurologist whose primary practice is affiliated with Weill Cornell Medicine) is the NYSAC's chief medical officer. Dr. Sethi devotes an enormous amount of time and energy to his parttime position with the commission. He's a valuable asset to the NYSAC and has been steadfast in his commitment to protecting the health and safety of fighters (which, for too many in combat sports, is little more than a rhetorical device). But Dr. Sethi has been limited in what he can accomplish at the NYSAC because of the attitude that the commission overlords have toward medical issues.
The most glaring medical deficiency at the New York State Athletic Commission is the lack of understanding and resolve with regard to the use of illegal performance enhancing drugs. Illegal PED use is not a victimless crime. It results in fighters being hit in the head harder than would otherwise be the case and thus sustaining more short-term and long-term brain damage. It's one of the reasons that fighters die.
The NYSAC's drug-testing program is fundamentally flawed. The commission takes a pre-fight urine sample from each fighter on fight night. For championship bouts, a post-fight urine sample is also taken. In today's world of micro-dosing, having fighters urinate into a cup on fight night does not constitute a serious PED-testing program. Also, Quest Diagnostics (where the NYSAC sends urine samples) is not accredited by the World Anti-Doping Agency.
The New York State Athletic Commission has an outdated prohibited-drug list and refuses to incorporate the World Anti-Doping Agency's prohibited list by reference or separately list the substances banned by WADA. Thus, erythropoietin (EPO), blood-doping, and meldonium – each of which is banned by every credible jurisdiction outside of New York – are not banned by the NYSAC.
Victor Conte is one of the most knowledgeable people in the world with regard to illegal performance enhancing drugs. Google him if you don't know who he is. He spent four months in prison in 2005 as an outgrowth of his work with various high-profile athletes. He's now a forceful advocate for clean sport.
"I find it to be absolutely crazy," Conte says, "that the NYSAC does not test for EPO. In my opinion, EPO is the most powerful drug that boxers can use to enhance their performance and the most dangerous and damaging to the health of both the opponent and the fighters themselves."
If there's a reason other than stupidity that EPO isn't on the list of banned substances for combat sports in New York, I don't know what it is.
Let me quote something I wrote in 2019 about medical practices at the NYSAC.
"What precisely should a commission inspector do if a fighter collapses in the dressing room after a fight? Calling a doctor would be a good start. Okay. How should the inspector call a doctor? Does the inspector leave the fighter unattended while he (or she) runs to ringside to look for a commission doctor? That could take a long time. Does the inspector telephone 911? Probably not since, pursuant to NYSAC regulations, there should already be paramedics and an ambulance on site. Does the inspector telephone someone at a designated number? I've spoken with numerous inspectors and other 'back of the house' NYSAC personnel. If there's a protocol in place, they don't know about it."
In response to this criticism, on February 18, 2020, the NYSAC approved a 32-page "Medical Emergency Action Plan" that was sent to all commission employees. The plan, one lawyer said at the time, is "a plaintiffs' lawyer's dream." It has two flow charts that look like they were pieced together by a pre-school toddler sticking colored rectangles on a magnetic board and is deficient in myriad ways.
Among other things, the plan contains the statement, "Staff Contact List/Emergency Contacts. For each event, a list of NYSAC staff working the event with cell phone numbers will be distributed. Emergency contact information for venue management, EMS and the promoters will also be included."
Two years later, this emergency contact information is still not being distributed to inspectors on fight night.
Sloppy administration.
I might add here that, on fight nights, the NYSAC also endangers its own personnel by not following its mandated COVID protocols. At a recent fight card at Madison Square Garden, dozens of commission personnel were crammed into a small room at the start of the evening. Social distancing was impossible. Numerous commission personnel, including Sumbler, were unmasked for extended periods of time. One person who was there complained afterward that James Vosswinkel (a NYSAC commissioner and physician) "was walking around with his mouth and nose uncovered and his mask dangling from one ear."
Many of the commission's per diem employees are poorly trained. It doesn't help for an inspector (some of whom are excellent public servants) to watch a fighter's hands being wrapped in the dressing room before a fight if the inspector doesn't know what to look for (which most NYSAC inspectors don't).
Inspectors whose performance is clearly substandard have been allowed to stay on the job too long. Sometimes this is because they're well-connected politically. Other times, it's because those in an oversight role haven't noticed, simply don't care, or are afraid of unwarranted litigation if the employee is terminated
There are some good referees and judges at the New York State Athletic Commission and also some bad ones.
No referee gets everything right. But when a referee makes a mistake, there should be constructive follow-up by the commission, both with the referee and in the form of an acknowledgement to the aggrieved fighter and the public. This doesn't happen.
As for the judging; I've been at fights in New York when the crowd favorite has been awarded a decision that was so unfair that the crowd actually booed. Fight fans want their fighter to win, but they also have a sense of fairness.
In one instance, a judge's scorecard was so off the mark that, after the fourth round, a deputy commissioner was dispatched to ask him if he was confused as to which fighter was which. That was hard to confuse, since the cards filled out by judges after each round clearly designate a "red" and "blue" corner. The judge denied that he had confused the fighters. Asked for comment on the judge's scorecard after the fight, a spokesperson for the NYSAC responded, "We have no comment."
A fighter spends years toiling in pursuit of a dream. And it can be taken away in seconds by an incompetent or corrupt judge.
Major sports leagues such as the NFL and NBA acknowledge it when an official makes a mistake. These acknowledgments don't undermine the officiating. They reaffirm the integrity of the officiating process and the commitment of the supervising authority to getting things right.
Kim Sumbler was named acting executive director of the New York State Athletic Commission in July 2017. Soon after that, her appointment became permanent. She has had almost five years to put her imprint on the commission and, for almost five years, I've tried to give her the benefit of the doubt.
Sumbler has proven to be an adept political player. That's a good skill to have. The question is whether she has utilized this skill to make the commission better. Let's look at another case study
On November 1, 2019, Kelvin Gastelum weighed in for a UFC-244 match to be contested at Madison Square Garden against Darren Till. The contract weight was 186 pounds. It was widely known in the MMA community that Gastelum had been having trouble making weight. Before stepping on the scale, he stripped down completely naked and a towel was lifted in front of him to shield his genitals from public view. Then, to everyone's surprise, his weight was announced as 184 pounds. That was a full two pounds under the contract weight. But – and this is an elephant-sized "but" – video of the weigh-in shows Gastelum resting his elbow on his coach, Rafael Cordeiro, as he stood on the scale. And the NYSAC officials conducting the weigh-in missed it.
You might ask, "How did NYSAC allow this to happen?"
In answering that question, I'll start by noting that weigh-ins for major fights in New York City are usually overseen by deputy commissioners Robert Orlando and George Ward. Orlando and Ward are retired New York City corrections officers. Each man has been with the commission for decades and knows all the tricks. But while on site and readying for the Gastelum-Till weigh-in, Orlando and Ward were advised by Sumbler that they were being replaced at the scales by two less experienced commission employees who had been brought to New York City from upstate. When one of the deputy commissioners asked why they were being replaced, he was told "because I said so."
You're a smart woman, Governor Hochul. Put the pieces together on that one.
There's also a leadership void at the NYSAC at the commissioner level.
The New York State Athletic Commission has five commissioners who, in theory, are charged with making policy for the commission. But the commissioners rarely, if ever, discuss issues of importance. In some instances, they aren't even aware of them.
Lino Garcia is the most recently appointed commissioner. On June 7, 2021, the New York State Senate approved more than fifty last-minute nominations by Governor Cuomo to various state agency boards and commissions without serious discussion or debate. Garcia was among them. He's president of a company called Unanimo Sports Media and has extensive experience in sports marketing. Nothing on his resume indicates expertise with regard to the issues facing the combat sports industry today. And one might ask whether his day job poses a conflict of interest.
My understanding (which the Department of State won't confirm or deny) is that the other four commissioners are serving on a holdover basis. In other words, their terms have expired and, unless reappointed, they'll stay on until replaced. One of these commissioners (a man of considerable past accomplishment) has significant cognitive deficits due to the ravages of old age. Another has little interest in boxing or mixed martial arts but accepted the position at the urging of a colleague. By and large, they don't understand combat sports from a business or competitive point of view.
Let me ask you a question, Governor Hochul. Before I started writing, I went to law school at Columbia, clerked for a federal judge, and spent five years as a litigator on Wall Street with a law firm called Cravath Swaine & Moore. I'm politically aware and largely in agreement with you on the issues that the State of New York faces today. I'm pretty smart. Would you hire me to run your gubernatorial campaign? Of course, not. Why not? Because I don't have any experience running political campaigns.
So why do you have five commissioners at the NYSAC who, as a group, are largely uninformed about the inner workings of combat sports? They might be fans. They might be honest, intelligent, hard-working individuals (although one of them, as noted, has serious cognitive issues). But how can they possibly make and evaluate the implementation of NYSAC policy when they don't have expertise in the industry they're charged with regulating?
The people you appoint as commissioners will say a lot about your commitment to good government.
Governor Hochul, in your August 24 speech, you promised "a dramatic change in culture, with accountability and no tolerance for individuals who cross the line." You also declared, "You'll find me to be direct, straight-talking, and decisive."
The New York State Athletic Commission represents an opportunity for you to prove the truth of those words. We're not talking about radical political change or big spending. In fact, the reforms I'm talking about will save the state money. We're talking about competent administration, the implementation of standards and accountability, addressing legitimate health and safety concerns, upholding existing laws, and applying common sense. These are not big lifts.
In 2016, I wrote, "The NYSAC is broken. It can be fixed if Governor Cuomo is more interested in getting it to function properly than in using it as a vehicle for granting political favors and repaying political debts. It's not hard to do the job right if conscientious, hard-working men and women who understand the sport and business of boxing are pressed into service at every level. Political observers should watch the New York State Athletic Commission closely. Not because they care about combat sports; most of them don't. But because it offers an easily understood case study on how Andrew Cuomo governs. Either Andrew Cuomo is serious about good government or he isn't."
Now it's your turn. You might say, "Well, I need to make certain accommodations and put certain people in important positions at the NYSAC and allow certain dicey things to happen to get the campaign contributions and power I need to do good works on a broader scale. That's the way politics works."
Or you might take a different view.
So . . . Governor Hochul . . . Will it be business as usual at the New York State Athletic Commission or do you plan to fix this?
I'll be happy to discuss these issues further with a member of your staff if you'd like.
Thomas Hauser's email address is thomashauserwriter@gmail.com. His most recent book – Broken Dreams: Another Year Inside Boxing – was published by the University of Arkansas Press. In 2004, the Boxing Writers Association of America honored Hauser with the Nat Fleischer Award for career excellence in boxing journalism. In 2019, he was selected for boxing's highest honor – induction into the International Boxing Hall of Fame.
To comment on this story in the Fight Forum CLICK HERE
Can Evan Holyfield Revitalize Main Events, his Promotional Firm?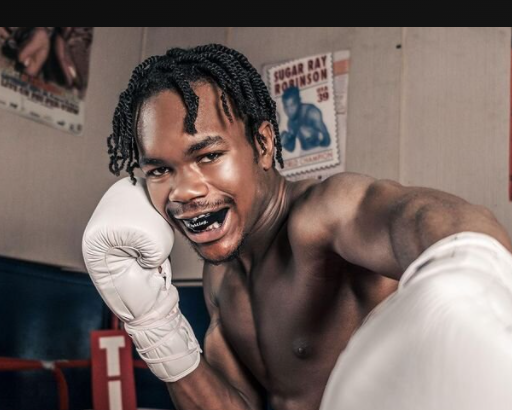 Evan Holyfield, the middle child of Evander Holyfield's 11 children, made his pro debut on Nov. 2, 2019. His opponent lasted 16 seconds. Last night, Holyfield, a junior middleweight, pushed his record to 9-0 (6) with a comfortable 6-round decision over gritty but outclassed Chris Rollins at the Borgata Hotel in Atlantic City.
Standing a shade under six-foot-two, Holyfield, 24, seemingly has a very bright future. A big question is whether he will still be welded to his current promoter, Main Events, when he reaches his peak. If not, the curtain may have closed on the New Jersey-based company that was once a dominant force in the industry. At the moment, the Main Events cupboard is lean and while it includes several former amateur standouts who have yet to taste defeat at the professional level, there's no one with the pull to command a hefty purse anytime soon.
Evan Holyfield officially turned pro at a press conference in Houston, the city where his famous father was chiseled into a more imposing warrior by sports performance guru Tim Hallmark. In choosing to cast his lot with Main Events, young Holyfield was following the path trod by his father who fought under the Main Events banner for most of his career.
Main Events had its genesis in a series of monthly club fights in the 1970s at a skating rink in the northern New Jersey town of Totowa. The driving force was Lou Duva, who had transitioned into promoting after working as a part-time trainer and cut man. Duva's timing couldn't have been better. In 1976, voters in New Jersey approved a referendum that brought casino gambling to Atlantic City. The first licensed U.S. casino east of Nevada opened in May of 1978, infusing new money into the fight game, and another spigot opened with the birth of ESPN in 1979.
The craggy-faced Duva remained the face of the company after his son Dan, one of his five children and the oldest of his two sons, became the titular head of the company after earning a law degree from Seton Hall. A partnership between the Duvas and rock concert promoter Shelly Finkel took the firm to new heights.
Dan Duva died in January of 1996 at age 44 from brain cancer. (His father Lou Duva lived to be 94, passing away in 2017). During Dan's tenure, Main Events promoted more than 100 championship fights, including 12 in the heavyweight division. Evander Holyfield and Pernell Whitaker were among six 1984 U.S. Olympians that signed with Main Events coming out of the amateur ranks.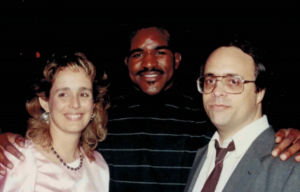 The Duvas were an exceedingly tight-knee family until Dan passed away. A power struggle between Lou's other son Dino Duva and Dan's widow Kathy ensued with Kathy, who had been the firm's publicist, assuming control of the company in June of 1999.
During her early years at the helm of Main Events, Arturo Gatti bubbled into a big star. His nuclear confrontations with Micky Ward set revenue records for non-title fights. In more recent years, the top gun of the Main Events stable was Sergey Kovalev.
Heading into his first encounter with Andre Ward, "Krusher" Kovalev was on virtually everyone's list of the top pound-for-pound fighters in the world. His setback to Ward barely dented his stature as the verdict was controversial. However, Kovalev's star plummeted after he was stopped by Ward in their rematch and he largely disappeared from view after being stopped by Canelo Alvarez.
Kovalev has had two fights fall out since his bout with Canelo, the first because the pandemic made it economically unfeasible and the second because he tested positive for a banned substance. However, both bouts were designed as confidence-restorers and neither would have attracted much buzz.
Last we checked, Kovalev is still under contract to Main Events. According to ESPN's Mike Coppinger, he will be returning to the ring on March 12 against Meng Fanlong at a catchweight of 188 pounds on a Triller Fight Club promotion in Los Angeles. Triller is known for overpaying the fighters that appear on their shows, but it's hard to imagine that Kovalev will command a purse anywhere near what he earned for either of his matches with Andre Ward and at age 38 his best days are behind him.
This coming June, Kathy Duva will be formally inducted into the International Boxing Hall of Fame, joining her late husband and late father-in-law in the Canastota shrine. It's a well-deserved honor, but can't mask the fact that Main Events is tottering on unsteady legs. Perhaps Evander Holyfield's son can restore the luster.
To comment on this story in the Fight Forum CLICK HERE
Mark Magsayo Takes Advantage of Damaged Goods and Upsets Gary Russell Jr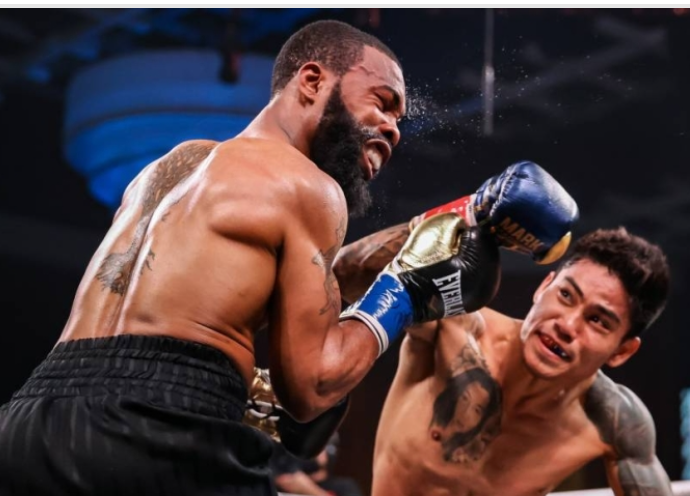 SHOWTIME was at the Borgata in Atlantic City tonight with a tripleheader. In the main go, WBC featherweight champion Gary Allen Russell Jr, who had the odd distinction of being the sport's longest-reigning and least active world title-holder, was dethroned by Mark Magsayo in a bout that begs for a rematch, not because it was fan-friendly, but because Magsayo's win was tainted. Russell was handicapped by an injury to his right shoulder that reduced him to a one-armed fighter for most of the battle.
It appeared that the injury happened in the fourth frame when Russell winced after taking a punch on his right shoulder. However, in his post-fight interview with Jim Gray, Russell allowed that he may have torn a tendon in the shoulder two weeks ago in training camp. Even with that handicap, Russell, who started slowly, almost kept his title, losing a majority decision. One of the judges had it a draw, but the others credited Magsayo with winning seven of the 12 rounds.
A protégé of Manny Pacquiao, his Filipino countryman, Magsayo is the latest fighter to win a world title with Freddie Roach in his corner. He entered the bout undefeated (23-0, 16 KOs), but was a heavy underdog against Russell, now 31-2, whose lone previous defeat was also by majority decision, that coming in 2014 at the hands of Vasyl Lomachenko.
Co-Feature
In the semi wind-up, an action-packed slugfest, Subriel Matias avenged the lone defeat on his ledger and advanced to 18-1 (18 KOs) with late-round TKO over game but out-gunned Petros Ananyan (16-3-2). Ananyan went down hard after absorbing a vicious left hook right before the bell ending round nine and the ring physician wouldn't let him come out for the 10th. There was no dissent as the tide had turned strongly in Matias's favor (shades of the tragic Matias-Dadashev fight) and Ananyan's visage bore witness that he had taken a frightful amount of punishment.
In their first meeting in February of last year at the MGM Grand, Ananyan, an LA-based Armenian, methodically wore Matias down to win a close but unanimous decision in a major upset. Puerto Rico's Matias, 29, was a different fighter tonight. His victory may have earned him a match with Argentina's Jeremiah Ponce for a vacant IBF title.
—
In the TV opener, a 10-round featherweight contest, Tugstsogt Nyambayar (12-2-1) had a strong final round to salvage a draw with late sub Sakaria Lukas, a 37-year-old sergeant in the Namibian Marine Corps. The judges had it 96-94, 94-96, and 95-95.
There were no official knockdowns, but a knockdown by the Namibian that was ruled a slip in round eight factored large in the outcome.  A 2012 Olympic silver medalist for Mongolia, the LA-based Nayambayar, formerly a well-regarded prospect, is 1-2-1 in his last four. Lucas, a big underdog, was 25-1 heading in.
In an undercard fight of note, Evan Holyfield improved to 9-0 (6) with a 6-round unanimous decision over gritty but outclassed Chris Rollins (5-4-1). It was something of a moral victory for Rollins, a 32-year-old campaigner from Charlottesville, VA, who wasn't expected to last the distance.
Photo credit: Amanda Westcott / SHOWTIME
Check out more boxing news on video at the Boxing Channel
To comment on this story in the Fight Forum CLICK HERE