The heart of the sport can be seen, immense and healthy, at shows like the one Joe Rein reported on back in 2003.
"Reports of my death are grossly exaggerated," Mark Twain said… The same's true of boxing, if you'd seen the army straining to get into the Grand Olympic Auditorium in L.A. for Oscar de La Hoya's "Boxeo de Oro."
It was only 5 P.M. on a workday and ticket holders were in a ragged line stretching well around Grand Ave. — looked like the Oklahoma land rush just before the gun went off.
These were largely roll-up-your-sleeves guys, from what I could tell, Latino. They'd earned their faces and were in good spirits — with maybe a head start on a drink or two. They knew the niceties of the game, but they came to see guys fight, to see someone bite down and show "Corazon." Heart….Somebody they could identify with… root for.
When the floodgates opened, the mob poured in, sweeping aside the ticket takers.
It was impossible being jostled along in those narrow, sweating corridors, not to have the hairs on the back of my neck stand up, imagining Enrique Bolonas, Jose Becerra, Ruben Olivares, Mando Ramos and Bobby Chacon battling in this very ring, defining Aztec warrior and the legacy of the Olympic.
Management gave it a new paint job, new seats, but this is the gladiator pit that dates back to the '30s…where Al Jolson and "Bugsy" Seigel arrived by limo to sit just a few feet from me to watch "The Brown Bomber" and Henry Armstrong. The reverence was palpable.
Not a bad sight line in the place.
The arena was filling quickly, electricity charging the air and bringing the legends to life.
On the main floor behind the 15-20 rows of ringside seats was a portable bar. "All American beer! No Mexican beer!" shouted the bartender. A curious marketing ploy, considering. It didn't seem to hurt sales; a quick look around confirmed.
It was one large extended family: A reunion of stand-up guys. The badges of the trade marking every beaming face — balcony to ringside. Much backslapping, ribbing, dirty laughter, intros, and lots and lots of beer all 'round.
They yelled, stamped their feet and pounded the air when the action heated in the ring. A Godzilla-sized promotional bottle of Miller Lite, with a poor soul inside, was being led blind through their midst by a guy with a rope…and threatened to tip over at every step, much to the delight of all.
The only things missing from the "old school" picture were: The smell of cigars and the cloud of smoke that made it all look like film-noir.
The early KO's by the super middleweight Andrade brothers had everybody toasting and the beer flowing.
Librado Andrade, in a ring overrun by press, was bursting with pride accepting the first Miller Lite Golden State Award for the outstanding performance of the evening, for his emphatic KO of Errol Banner.
Watching Andrade clutch that sculpture, being turned in every direction for pictures and interviews, and standing on the bottom strand of the ropes trying to stretch to the balcony to share his excitement with friends from La Habre, it was easy to see, he was going to have no trouble dedicating himself to winning a world title.
Security was having no luck trying to clear revelers out of the aisles. No sooner did a group reluctantly disperse than they re-assembled larger and louder.
Raven-haired Pamela Anderson wannabes with painted-on jeans and as much cleavage as they could engineer trolled ringside endlessly in hopes of catching the eye of some mover-n'-shaker for a taste of the "good life". The hotties acted offended at the whistles and street remarks, but never failed to retrace their routes.
Some ringsiders slipped their tickets to buddies who scampered down from the cheap seats to claim them over the mezzanine wall when a guard wasn't looking. And then, like cats with cream on their whiskers, nonchalantly flashed the ducats at security and disappeared among the heavy hitters, like children let loose in a candy factory.
The fans got an extra glimpse of skin in the prelims prior to the televised fights. The round-card girls jiggled and waved and threw kisses in Band-Aids and floss that lost the struggle to contain the Jell-O inside. The building rocked in appreciation of the generous scoops of dessert served up on stiletto heels.
The PG-rated TV bouts had the same girls in gym shorts and halters, looking more like an aerobics class. Their more-modest garb drew a collective groan. Spice is what they wanted, not health food.
Fernando Vargas, not the least surly or ill-at-ease at a Golden Boy promotion, lounged at the ring apron in tinted shades and an open silken shirt, basking in adulation all around him.
A hulking figure–standing just off to the side of Vargas– in an oversize football jersey–arms locked across his chest, expressionless, with menacing dark glasses, clocking anything to do with Vargas–was the lone reminder of his recent headlines.
Watching two of Vargas's homies shuttle the adoring to and from him between rounds was damn impressive; it had all the precision of a military operation. One mother gingerly handed Vargas her baby. He cradled it and smiled, while she snapped a picture that might inspire a future ring career.
It looked like the line to sit on Santa's lap at X-Mas in a department store.
Two strikingly beautiful women swathed in Calvin Klein and Armani stole away from their escorts and flirtatiously snuggled-in for a picture with Vargas, who grinned and encircled them with his arms. It was good to be the king.
A smarmy guy in a Hawaiian shirt over a paunch and shoe black on his hair was pressing the flesh of anybody-and-all a few rows from Vargas, showing his barely-teenage stable of fighters in the $250 seats what it would be like when they hit it big. With their Marine haircuts and wide eyes, the young fighters looked like goslings plunked down from another planet.
A Nell Carter look-alike, in a scarlet lamp-shade-of-a-dress and lots of 'tude, invaded a row of celebs and got each one up to pose with her for a picture, handing the camera to whoever was closest. And if the flash didn't go off, she insisted on another. Then she passed around a boxing glove to be signed, instructing each what to write. She just waved off any objection. With her in my corner, I could get a title shot.
When Julio Gonzalez and "Panchito" Bojado were spotted, they both were unfailingly gracious–and genuinely touched–under the onslaught of fans for handshakes, pictures with them, a word or two, or a signed program or a blouse front. Some nearly fell out of the stands just for a touch as they went by.
Bojado circulated all around the arena, always in the center of bodies clawing at him; his posse trying to screen him, as best they could. Eventually, he stood right below me; he looked no more than 16. Like bees to honey, everybody descended on Bojado, climbing over each other and the wall to get to him.
When I asked the guys in front to sit down, I couldn't see, Bojado poked his head through the jam: "I'm terribly sorry for the interruption. I apologize," and he drew the mob away, like the Pied Piper. Pretty classy. He made a fan out of me.
Just to the left of my aisle seat, a guy looking like he was doing a bad-drunk imitation swayed precariously at the top of the stairs, with beer sloshing out of his cup, about 10 feet above the concrete floor. In what seemed like slow motion, he lost his hold on the railing. I just managed to grab his wrist before he fell, and some others pitched in immediately to pull him back. The drunk's friends were all over me with 'Thanks' in rapid-fire Spanish; their beers punctuated every word. I was sure I was in for a shower.
Bobby Chacon wove his way through the crowd, shaking hands, just a hint unsteady on his pins–oddly small, considering what a giant he was in the ring–with that same signature grin plastered on every sports page when he roared off the streets of Compton to shake the Olympic to the rafters and insure his place in the hearts of these fans. He should have been saluted at center ring; he left so much of himself there.
A fellow in his 20s, next to me, tapped my arm and pointed to Chacon, with the respect reserved for an idol, and went on in Spanish about him. His tone said it all. The guy behind me leaned in, expressing the same sentiments, and offered me some tortilla chips.
The heir apparent to Chacon may be "Mighty" Mike Anchondo; nearly the same size as Chacon, with the same schoolboy good looks, masking a killer instinct and a flare for the dramatic.
Anchondo fought the semi wind-up 10 rounder against Nicaraguan Roque "Rocky" Cassiani (23-4-1), who looked like a mini Marvin Hagler when he doffed his brocaded robe. The similarity ended with the muscles.
Anchondo has 21 fights and 17 KOs, is not tall for a 130-pounder, but he has the mark of a veteran: totally relaxed in the ring; his combinations so fluid they belie the speed and power; and almost on cue, he responds to the urging of the crowd with the kind of vicious salvos that seem over-the-top in a movie.
After some confusion at the end of the 9th round, where it looked like referee James Jen-Kin stepped in to stop it– with Anchondo raining unanswered blows on a helpless Cassiani sagging against the ropes–the ref, inexplicably, allowed it to continue.
It was bedlam before the 10th round. The crowd smelled blood and tore the roof off. They were on their feet, chanting "Mighty Mike! Mighty Mike!" …Anchondo didn't disappoint. At the bell, he attacked and kept firing until the ref called a halt. Then, in unbounded joy, he leaped into the arms of his handlers, who held him aloft while he punched the sky repeatedly, and the building shook.
Cassiani was made to order for Anchondo, with his relentless, one-dimensional, search-n'-destroy mind-set. Cassiani threw with bad intentions, and pressed and pressed, and took it, and took it, and took it…until the ref decided he should take no more. He went out on his shield.
After the Anchondo fight, while the ref was standing against the ropes congratulating Anchondo, a woman producer for HBO shoved the ref aside, yelled something in his face, and yanked Anchondo –literally– across the ring to the color commentator, barking orders to clear the way, and glaring. Roberto Duran couldn't have been more menacing.
Anchondo came back out after changing. He was greeted with the adulation one sees only at the Plaza De Toros after a brave kill.
"Mighty Mike! Mighty Mike!" It was deafening. Anchondo signed and flung gloves with all the strength he could muster to the top of the balcony. The place was in a frenzy. Had some fans not been caught by the ankles at the last moment, they'd have sailed off the balcony diving for a glove.
Some months ago, I was impressed with Anchondo's sparring at the Wild Card Gym, and wanted to interview him, so I looked for an interpreter, without any luck. I approached Anchondo, with some hesitation: "DO…YOU…SPEAK…ANY…ENGLISH? I…DON'T…SPEAK…ANY SPANISH."
"I don't either," he said, laughing. "It happens to me all the time."
He's a very engaging, open-faced, unlikely looking executioner, who connects with the barrio, like Art Aragon used to. Plus, the personality to make him a media favorite. It's about time they start beating the drum for him. He could headline the card and pack the place.
The main-go was won convincingly by Jose Navarro over Jorge Luis "Speedy" Gonzalez, for the IBA Continental Americas junior bantamweight title. Navarro is not what you think of when the image of a Mexican fighter comes to mind: Chango Carmona or "Bazooka" Limon.
Navarro is a well-balanced, unflappable ring technician, who fires from the port side like a surgeon. He keeps sticking broomsticks in your face, and threads the needle up and down– stinging, stinging, stinging, keeping pressure at the end of his long arms. He's an educated boxer, and though he doesn't fire the blood, it's going to take a special fighter to take him out of his game.
Gonzalez was outclassed, but he kept throwing bricks and finally his body, in wave after kamikaze wave against the Gatling gun that was strafing him. Freddie Roach, Gonzalez's trainer, must have told him before the last round: 'Son, you need a knockout!'
At the bell, Gonzalez bolted out at full gallop, flailing and swinging, trying to will himself past those whirring blades to land the one shot that would turn the tide. Gonzalez fell short, but he gave it all of his heart and won the heart of the crowd doing it.
Most walkout bouts are just that. People can't get to their cars fast enough, but quite a few stayed and were treated to a very spirited six-round junior featherweight go that Kahren Harutyunyan won by a split decision over Marinho Gonzalez.
It's not a given that a taller man will out jab a shorter one. Harutyunyan proved that. He looked like he was going to need a ladder to reach Gonzalez, but he always got there first…and often. Though Harutyunyan was the only non-Latino on the card, what few that remained didn't begrudge him his props.
Harutyunyan has been a hard luck fighter, and far better than his record indicates (9-1-3). When he got the nod, most of the Armenian community of Glendale jumped into the ring and danced and embraced him. When he came down the ring steps with a grin as big as he was, the Wild Card regulars showed him how they treated their own.
Spilling out into the downtown night with fathers and sons still animatedly buzzing about the fights in Spanish, my step quickened with the pride of inclusion in this fraternity that spans generations and language. It was no different than the old Garden or St. Nick's; and though boxing is relegated to the back page of the sports section, this invalid still has a lotta life in it. It's all about "Corazon."
The Top Ten Light-Heavyweights of the Decade 2010-2019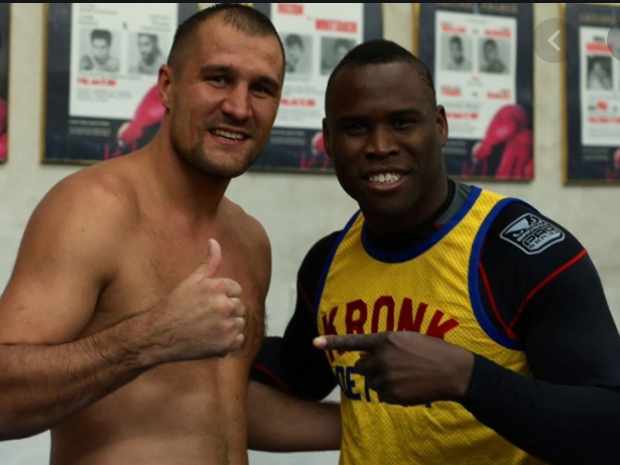 The light-heavyweight decade just passed was neither as impressive as cruiserweight nor as underwhelming as heavyweight when placed under the microscope; most notable was the emergence of no fewer than six lineal champions, an impressive number that will not be bettered and might tell any one of a hundred stories depending on who is writing it.
I welcome you to my telling.
10 – Oleksandr Gvozdyk
Peak Ranking: Ch. Record for the Decade: 17-1 Ranked For: 10% of the Decade
Tavoris Cloud came close to grabbing the number ten spot, but his second most impressive win after his 2010 defeat of Glen Johnson is his points decision over Gabriel Campillo from 2012. This, sadly, is a straight-up robbery despite Campillo suffering a disastrous first round. It's a very good fight though, and if you have the time, check it out. I did actually look at Campillo then, because despite the fact he has lost many of his keynote contests, he was repeatedly abused on the cards, against Cloud, against Beibut Shumenov and in the draw with Karo Murat, but there isn't quite enough there to make the ten. I looked briefly at Andrzej Fonfara, who did as much to eliminate Campillo from contention as any other fighter but despite all the right names, Fonfara tended to meet them on all the wrong dates, when they were well past prime.
So, I went back to the future and have named as the #10 light-heavyweight for the decade the last lineal champion but one, Oleksandr Gvozdyk. Gvozdyk inflicted terrible injuries on the long-reigning champion Adonis Stevenson and so it seems ghoulish to dwell upon how they were dealt, but the big clue came in the third round when Stevenson was dropped hard. He was nimble, quick-handed and already had a nice line in feints with glove and boot.  He essentially outlasted a much more seasoned fighter to take the stoppage victory in eleven.
He managed just a single defense before an even more deadly Artur Beterbiev caught up with him, but I think he did just enough on his run to the Stevenson fight to get the nod, picking off the likes of Tommy Karpency and Isaac Chilemba as early as ninth and tenth fights.
09 – Chad Dawson
Peak Ranking: Ch. Record for the Decade: 7-5-0-1 Ranked For: 45% of the Decade
Chad Dawson's run from 2006 to 2009 was legitimately special but was brought to a juddering halt by Jean Pascal in the summer of 2010. Dawson was a preeminent light-heavyweight of the time but the last decade was not kind to him, as reflected in his paper record. So, the question isn't whether he should rank any higher here, but whether he should rank at all.
I've come down on the side of "yes" due to just three fights and in essence just one. Dawson bounced back from Pascal with a very impressive win over Adrian Diaconu who had his own problems with Pascal but remained a ranked contender and a well-organized, doughty opponent. Dawson outboxed him cleanly over twelve in his first fight with Emmanuel Steward in his corner and from here moved on to a contest with true champion Bernard Hopkins.
Hopkins, ancient and brilliant, suffered a separation of his left shoulder and the fight was abandoned, originally awarded to Dawson, later rendered a no-contest making a rematch a necessity. Dawson, whose style had elements of the cutie, turned stalker for Diaconu and it was a style he re-embraced for his contests with Hopkins. Working behind a jab, his superior speed and an occasional flurry brought him what should have been a clear points win despite the majority decision the judges found.
As unsatisfying as these fights were, they represent a summit in that Dawson became the true light-heavyweight champion of the world. When he lost it in a disastrous first round knockout loss to the decade's defining champion, Adonis Stevenson, it spelled the end for him as a top contender. He has continued to box but has yet to earn another meaningful victory at the poundage, a harsh indictment of his late career.
The early career sneaks him in at number nine.
08 – Jean Pascal
Peak Ranking: Ch. Record for the Decade: 10-5-1-1 Ranked For: 68% of the Decade
It feels very much as though Jean Pascal has been around forever and certainly his longevity is reflected in the touchstone fighters he has met across the decade. How many men faced both Hopkins and Dawson and Bivol and Elieder Alvarez?
Despite this, Pascal has failed to nail up the kind of scalps that might be expected from so many years spent on the dangerous side of the street. He lost to all of the above, bar one, and his second-best result is arguably his last – a twelve round split over #8 contender Badou Jack scored in dying days of a decade he once ruled over. Their fight was a lo-fi classic, all tension and surges, first one way, then the other and the cards reflected this, Pascal's sudden spurts of activity and jab (excellent when he used it) enough to get him across the line in a split decision. It was a rough, difficult, contest and not the type of fight a veteran tends to win.
In the fight immediately prior to this came another surprising and exciting victory, this time over the much younger Marcus Browne. In many ways this was the ultimate old-man mugging, as Pascal lost every round – except the ones that mattered. Buying himself three points on the cards by way of knockdowns, Pascal turned a sure defeat into a sure victory as he was out-sped, out-hit but not-out-thought or outpointed. He won by way of technical decision over eight rounds and by a single point after an accidental headbutt opened a gusher on Browne's forehead.
So, Pascal finalized his case with mere hours of the decade remaining, but it was a victory that he earned when it was only months old that cements his place. In August of 2010 another accidental headbutt resulted in another technical decision in the favor of Pascal, this time after eleven, the victim, Chad Dawson. That made Pascal the lineal champion.
07 – Eleider Alvarez
Peak Ranking: 1 Record for the Decade: 21-1 Ranked For: 52% of the Decade
Eleider Alvarez is the most underrated fighter on this list, and although I don't feel great about him slipping in ahead of Jean Pascal, it helps that Alverez defeated him.
Pascal, as it happened, had several special nights before him, but at the time it felt like Alvarez was clearing up on the last generation as Isaac Chilemba (then still ranked, a part of so many of these stories), Lucian Bute and Pascal all fell to him. The Chilemba fight was dull and close, the Pascal fight a jab clinic with Alvarez in control, however the judges scored it, but it was against Bute that Alvarez showed what might be possible. Bute was the mere remains of the fighter that had impressed years previously, but Alvarez dazzled with his speed and heavy-handedness, thrashing him in five.
A Columbian by birth, Alvarez fights out of fistic hotspot Montreal but went in the summer of 2018 to the United States to face Sergey Kovalev. Kovalev's air of invincibility had been crushed forever by Andre Ward, but he had re-established himself as the number one contender to the legitimate title when Eleider came calling. The Columbian, in truth, was marginally outboxed through the first six rounds but Kovalev never appeared entirely comfortable while stalking his man. In the seventh, behind on the cards and with the fight ebbing away, Alvarez followed up a swift feinted jab with a booming right hand over the top that set Kovalev on his trunks; his follow-up was sensational and saw him a winner on the three-knockdown rule.
Alvarez was out-classed by a jab-right hand strategy in the rematch, and that puts the brakes on his standing here. He remains, at thirty-five, a serious player in the division.
06 – Dmitry Bivol
Peak Ranking: 1 Record for the Decade: 17-0 Ranked For: 25% of the Decade
Dmitry Bivol is currently ranked the world's #1 contender to Artur Beterbiev's championship and joyfully, that fight will likely be made for 2020. In 2018 and 2019, Bivol cleared out several fighters belonging to the last generation and picked off two live contenders from this one, and it's enough to see him ensconced in the decade's divisional top ten.
Bivol impressed in bombing out Cedric Agnew and Trent Broadhurst in 2017 but his first fight of 2018, against Sullivan Barrera, was when he was confirmed top tier. Barrera was highly ranked, a puncher, and tough. Bivol won every minute of every round and stopped him in the twelfth. No light-heavyweight was ever so assured after so few fights. The footwork was quick and sure. His jab was so good it stripped Barrera almost entirely of his own jab, and he went literal clusters of rounds without landing one. The right hand behind is as fast as any in boxing despite his size and the body-attack is deployed as a part of a layered offense, strategic, opportunistic. Bivol has the depth in offense of a much, much more experienced man.
Once more pitted against generational leftovers behind this win, Bivol completely dominated the scorecards against Isaac Chilemba and Jean Pascal. These were fighters on the slide but what was impressive was that Bivol was at no point out-thought by either. His defensive surety and offensive riffing meant that both men failed to find tactical cracks in Bivol's boxing armor despite whatever fleeting successes they achieved.
When he turned in similarly one-sided cards against the fresher, hungrier Joe Smith, Bivol's completeness was signaled. He has been imperious and dominant against a wide range of quality opposition in a short timeframe.
05 – Bernard Hopkins
Peak Ranking: Ch. Record for the Decade: 5-3-1-1 Ranked For: 46% of the Decade
If you remember 2010-2019 the same way I do, you remember Bernard Hopkins beating up an ancient Roy Jones and thinking "that makes sense, now he'll retire."
He didn't retire and in fact he had some of the most thrilling fights of his career – yes thrilling – before him. Chief among these was his December 2010 battle with Jean Pascal. Pascal, by then lineal champion, dropped Hopkins twice in the contest but was so summarily outboxed that many believed he was lucky to escape with the draw. An immediate rematch was fought.
This fight had George Foreman, whose record as the oldest champion in boxing history was about to be supplanted, "on the edge of his seat" with excitement, a response to the tension that purveyed each round. Emanuel Steward called it "the best fight" Hopkins had boxed since his knockout of Felix Trinidad.  It was an astonishing display and a unanimous points victory over a prime, young, hungry champion boxing in his hometown. Hopkins was under heavy pressure early but leading with the right hand placed a clearly uncertain Pascal back in his box. He sniffed the decision out by a point on my card.
Hopkins was not always so much fun at light-heavyweight and when he ran into Chad Dawson in his next two fights (a no contest and a loss) the fun seemed to be over; but writing Hopkins off is foolish. He came back and out-smarted Tavoris Cloud, then the #2 contender in the world, punishing him for every little mistake, scraping up enough points for a clear decision. He was by then forty-eight years old. Karo Murat and Beibut Shumenov fared little better – Shumenov even became the first Hopkins opponent to visit the canvas in a decade; then the wheels came off a little with a wide loss to Sergey Kovalev before he was knocked clean out of the ring and the sport by Joe Smith.
But he will never be forgotten. During a decade of life when most men are looking to wind down, Hopkins wound up and he wound up a big chunk of the light-heavyweight division.
04 – Andre Ward
Peak Ranking: 1 Record for the Decade: 11-0 Ranked For: 14% of the Decade
I had no clue what to do with Andre Ward when I realized I had to rank him. 11-0 for the decade, sure, but less than that at 175lbs where he hovers at around half a dozen contests. It's not a great deal.
But the more I thought about it the less troubling it seemed. Sure, he didn't spend a lot of time in the division, but his numerical record is a site better than that of Chad Dawson, as is his paper one. The reason is his two duels with Sergey Kovalev.
The first, fought in late 2016, ached with tension. Kovalev dominated the first two rounds and even dumped Ward on the end of a one-two in the second but the American's adaptability is his great strength.  His original plan was to scavenge punches while taking as little risk as possible but Kovalev saw straight through that and sought to dominate him behind the jab. In the third, Ward spent some time taking chances, nothing radical, but enough to make Kovalev think about his speed. In the sixth he pot-shot the body; he wrestled, he out-hit Kovalev in ugly clinches in a desperately close fight.
And that's the key here. Ward identified early that he was outgunned and mashed a whole series of small adaptations into a strategic quilt that he used it to make the fight close. I had Kovalev winning by a point, but his success was as much making it reasonable for him to have won as in winning. It was a tortuous fight to score.
Most media favored Kovalev making a rematch inevitable. Famously, or infamously, Ward landed significant low blows in this fight, in the second, when he appeared to be losing control, the seventh, and the eighth, where punches deemed either borderline or low depending on your perspective resulted in a stoppage win for Ward.
What to make of all this? A desperately close first fight that could be scored any one of three ways, a controversial stoppage in the second? In the end, I honor those results. I won't overturn the decision in such a close fight for ranking purposes and a stoppage is a stoppage. This means Ward has the best and second-best wins on this list. It's the top five for him!
03 – Artur Beterbiev
Peak Ranking: Ch. Record for the Decade: 15-0 Ranked For: 50% of the Decade
Current champion Artur Beterbiev spent longer in the decadal rankings than the likes of Bernard Hopkins and Chad Dawson, all while competing in just fifteen professional fights. He achieved this by being matched tough but brilliantly early. In just his sixth fight he met Tavoris Cloud, who had lost back to back against Bernard Hopkins and Adonis Stevenson but remained ranked at #7 and was a sure challenge for a green professional, albeit one who had rated a crack amateur.
Beterbiev blew through Cloud in two rounds, already boxing like an AI/human hybrid, his control of ring center absolute, his variety and technical surety on offense outstanding. Probably there is no "correct" way to box, but for the four short minutes this fight lasted that seemed arguable. Inside, outside, offense, defense, against a world-class opponent on the slide, Beterbiev was devastating.
A few months later Beterbiev, still nothing but a baby in professional terms, took on Gabriel Campillo, the big, awkward light-heavyweight who was robbed against Cloud three years before. This was a different type of challenge: one that was mobile, quick, a slippery boxer with a nice line in unorthodox offense.  Beterbiev found him in just four, with shorter, harder punches than Cloud was able to land on Campillo in twelve.
Beterbiev is a wrecking-machine, a new incarnation of the east European technician, a Russian raised on boxing who studied at a Sports School from the age of sixteen. His title-winning performance against Gvozdyk was seminal, wearing him out, out-landing and finally bullying him to the canvas, echoing their meeting in the amateurs. He is going to take some beating, though at thirty-five years of age this exquisite form surely can't last much longer.
02 – Adonis Stevenson
Peak Ranking: Ch. Record for the Decade: 16-2-1 Ranked For: 56% of the Decade
When Adonis Stevenson separated Chad Dawson from his senses in the first minute of their 2013 championship contest he became, for around half that time, everyone's favorite fighter. The grotesque over-celebration in Dawson's stunned face, followed by nine title defenses during which the highest ranked opponent he met was Andrzej Fonfara (5), made him rather less popular.
The truth of those defenses is inescapable, however. While Stevenson may not have shown much interest in meeting the best in the division once he'd easily dispatched the champion, he did dispatch the champion, and he did stage the defenses. Years of ranking fighters has taught me that they should be ranked in accordance with what they did do, rather than what they did not. Stevenson's title reign made him the definitive champion for the decade and the opposition he did meet saw him build the number two light-heavyweight resume for that timeframe.
It is constructed in part of men who are on this list (Dawson, Cloud) and men who were considered for it at some stage (Fonfara, Karpency). As a puncher, he's arguably unequalled even in this company and remains undervalued as a boxer. His reign came to a tragic end when Gvozdyk repeatedly found and hurt him in their 2018 contest, hospitalizing him and injuring him seriously. That he was recovered enough in October to attend the WBC convention and take the stage under his own steam is testimony enough to his fighter's heart and was a fitting end to the light-heavyweight decade.
01 – Sergey Kovalev
Peak Ranking: 1 Record for the Decade: 29-4-1 Ranked For: 84% of the Decade
I remember Sergey Kovalev's 2013 arrival in the UK very well.  He was here to take on Nathan Cleverly, who due to his holding a mathematics degree and having the word "clever" in his name was repeatedly lauded for his "ring IQ" by the British press, who also made him a favorite. In fact, he was about to be hopelessly outgunned by a fighter who may look like a mere prototype for Bivol or Beterbiev right now, but who in his day was every bit as intimidating as either of those men.
Kovalev landed in England having brutalized Campillo earlier that year; he didn't rank with the truly elite combination artists of the decade, but he had a two-piece and a three-piece as good as literally anyone boxing, and he laid it out for Campillo that night. The Spaniard was gone in three rounds. Cleverly would get as far as the fourth.
All of this made Kovalev a strapholder, something he would remain for much of the rest of the decade, but he would never become the true world champion. That title was held by Adonis Stevenson and Stevenson wanted no part of Kovalev. As a writer who upholds the "tradition" (dubious, as there were conflicting claims in every era) of one division, one champion, this requires some explaining: if Stevenson managed nine defenses of the legitimate world title, how can Kovalev be justified as ranking above him?
True championship status is indeed a heavy indicator of pre-eminence, but it is far from definitive. The reasoning for Kovalev's standing as the finest light-heavyweight of the decade is simple: he defeated more ranked contenders; he defeated more top five contenders; he defeated the number one ranked contender on two separate occasions; he sat atop the division for longer; he looked a better fighter.
The last of these points is disputable, the rest is not. It was clear when Kovalev embarrassed the ageing Hopkins that he was not just dangerous, but special; twice stopping Jean Pascal, who had never even been down before his first contest with Kovalev, rendered him terrifying. Even after he was toppled by Ward and then, later, by Eleider Alvarez, he returned to the top of the rankings. Now, in 2020, years after his savage prime ended, Kovalev remains ranked among the new generations of former Soviet-bloc light-heavyweights, even the embarrassing loss to middleweight Saul Alvarez not enough to flush him out of the top five.
The decade captured both the worst and the best of Kovalev and that makes appraising his reign complex. What makes him the clear number one is the timing that emerged around him. Clearly the best of the first decadal generation, emerging talent didn't have time to build a conquering resume.
First by default is still first; nobody came close to overhauling him.
Check out more boxing news on video at The Boxing Channel 
To comment on this story in The Fight Forum CLICK HERE
Plant TKOs Feigenbutz in Nashville; A Bizarre Turnabout in the Co-Feature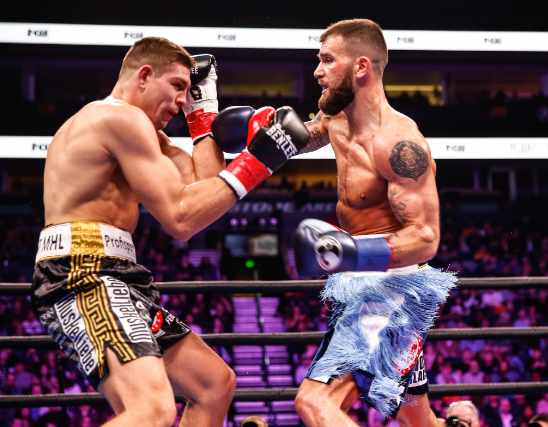 Vincent Feigenbutz came to Nashville with the hopes of becoming the first fighter from Germany to win a world title on American soil since Max Schmeling in 1930. But he was out-gunned by hometown hero Celeb Plant who successfully defended his IBF world super middleweight title with a 10th round stoppage.
It was obvious early on that Plant was the better athlete. He was more fluid and had a more well-rounded game and there was never a point in the fight where he was in jeopardy. But Feigenbutz made a gallant effort and remained upright until the very end. Eventually, however, referee Malik Waleed decided that Feigenbutz had taken enough punishment for one night. Waleed called a halt at the 2:23 mark of round 10.
The unbeaten, 27-year-old Plant, now 20-0 (12 KOs) was making the second defense of the title he won from Jose Uzcategui. Feigenbutz, who was making his U.S. debut, lost for the third time in 34 pro starts.
—
In the co-feature, tenacity eventually paid dividends for Abel Ramos who stopped Bryant Perrella with one second remaining in the 10th and final round of their welterweight contest. The fight harked to the famous first meeting between Julio Cesar Chavez and Meldrick Taylor which the broadcasters and both combatants referenced in their post-fight commentary.
Perrella, a 30-year-old southpaw from Fort Myers, Florida, took advantage of his significant height and reach advantage to pile up points and was comfortably ahead on the scorecards entering the final round, In fact, scoring the last round 10-7 for Ramos, Perrella would have still prevailed, albeit by a majority decision. But with barely a minute remaining in the 10th, Ramos dropped him with a hard left uppercut and then dropped him again with an overhand right as the fight moved into the final seconds.
Perrella beat the count but his gait was unsteady as he walked laterally from referee Jack Reiss and Reiss stopped the fight with only one tick left on the clock. Pennsylvania-born, Phoenix-based Ramos, who has fought extensively in Mexico, improved to 26-3-2 with his 20th knockout. Hard-luck Bryant Perrella fell to 17-3.
—-
In the TV opener, a 10-round lightweight match, Las Vegas veteran Diego Magdaleno (32-3, 18 KOs) rejuvenated his career with a unanimous decision over Nashville's Austin Dulay (13-2). Magdaleno, 33, was making his first start since being stopped in the seventh round by Teofimo Lopez last February and his first start with new trainer Bones Adams.
Magdaleno started slow but found his rhythm in round four and gradually took the starch out of Dulay with a steady barrage of body punches. Some of the punches landed low and referee Reiss deducted a point from Magdaleno in round seven shortly after Magdaleno put Dulay on the canvas with a body punch. The scores were 97-91 and 96-92 twice.
—
In a non-televised undercard bout of note, Flint, Michigan junior middleweight Leon Lawson III needed only 36 seconds to put away Francisco Javier Castro. The 20-year-old Lawson, who defeated Ryan Garcia in the amateurs, improved to 13-0 (6). It was the fifth straight loss for the 36-year-old Castro who declined to 28-13.
Check out more boxing news on video at The Boxing Channel 
To comment on this story in The Fight Forum CLICK HERE
Cruz Wins a Thriller over Mattice in a Valentine's Day Bon Bon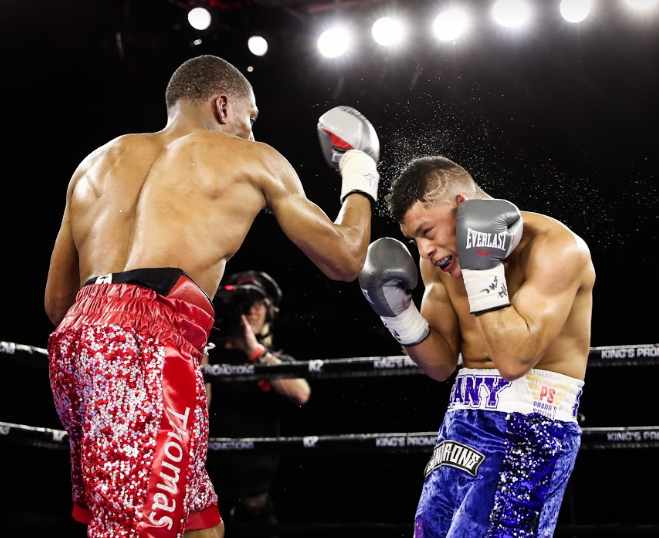 Cruz Wins a Thriller over Mattice
PHILADELPHIA – Whether you're sitting on a bus-stop bench in the Deep South or in a half-filled, club-show-type boxing venue in a big city in the Northeast, the words of wisdom uttered by Forrest Gump's mom apparently are true.
Life really is like a box of chocolates in that you never know what you're going to get.
At the tail end of a long night's journey into early-morning day, lightweights Thomas Mattice and Isaac Cruz engaged in a dandy fight that bore a very slight resemblance to a historical matchup of all-time greats that took place in Madison Square Garden almost 49 years earlier.
Didn't the taller (5-foot-9 to 5-4½), leaner, quicker Mattice resemble an imitation Muhammad Ali as he flitted about the ring at the 2300 Arena here, flicking jabs and unfurling combinations at Isaac Cruz, a relentless, squatty, left-hooking pursuer who seemingly was channeling his inner Joe Frazier? Did anyone else in the estimated turnout of 800 to 1,000 feel that they were watching a pugilistic version of Olivier and Gielgud doing Hamlet at the Old Vic in London, but with part-time actors with regular jobs staging the classic play at a dinner-show production off-off-Broadway?
When the last punch was thrown, at 12:52 a.m. – nearly six hours after the seven-bout, ShoBox: The New Generation-televised card began – the 10-round majority decision went to faux Smokin' Joe, uh, Cruz (19-1-1, 14 KOs). Scores were 96-94 for Cruz (twice) and 95-95.
"We were going for the knockout, but it didn't come up so we'll take the decision," said Cruz, the IBF's No. 7-rated lightweight from Mexico City who out-landed Mattice in total punches, 205-117, and in power shots, 171-87. "I thought I won all 10 rounds. I don't know what the judges were watching. Round one to Round 10 I dominated and I was never hurt."
Mattice came reasonably close to salvaging a draw, and would have had he been only one point behind instead of three on the scorecards of judges Steve Weisfeld and Adam Friscia entering the 10th round. But Mattice (16-2-1, 11 KOs), the Cleveland resident who was making his sixth appearance on ShoBox, won the last round on all three cards, which only served to narrow the gap between himself and Cruz. The gracious loser said he had no reason to feel he had been victimized by pencil.
"I have no excuses," he said. "(Cruz) was the better man tonight. He could hit a little bit. I started out a little slow, trying to see what he had, and he jumped out to an early lead."
The other three televised fights were a mixed bag of hits and misses, made notable mostly by the appearance of a super lightweight named Love on Valentine's Day. It seemed eerily appropriate that Montana Love (13-0-1, 6 KOs), of Cleveland, got his own box of figurative chocolates in scoring a close but unanimous eight-round decision over Jerrico Walton (16-1, 7 KOs), of New Orleans. A southpaw, Love extricated himself from numerous clinches often enough to outland Walton, 103-56, thus nailing down the nod by margins of 78-74 and 77-75 (twice).
"I give my performance a C-plus," said Love, a tough self-grader. "I could have been more active in there. But I didn't get hit a lot, and I felt good. I hurt him a few times, but I let him off the hook."
Walton, whose chief second was the accomplished Ronnie Shields, wasn't as willing as Mattice to go quietly into that good night.
"I think the fight was closer than it was scored," complained Walton, who wore black-and-gold gloves and trunks in obvious tribute to his hometown New Orleans Saints. "I think it was at least a draw. I'm very disappointed."
Super bantamweight Ra'eese "The Beast" Aleem (16-0, 10 KOs), of Las Vegas by way of Muskegon, Mich., had no reason to feel disappointed as he registered what went into the books as a fourth-round stoppage of San Antonio's Adam Lopez (19-4-3, 9 KOs). Aleem was pretty much having his way with Lopez when Lopez's corner waved a towel in the traditional signal of surrender.
"I didn't see any film of the guy, but I knew he was a tough Mexican," Aleem said. "Once we got in there I could see speed difference. I rushed some punches and made some mistakes, but I kept my hands up and my speed and movement were good. And I'm glad I stopped him. I didn't want it to go to a decision."
In the first of the four televised bouts, also an eight-rounder, super welterweight Joseph "Action" Jackson (16-0, 12 KOs), of Greensboro, N.C., gave a Valentine of sorts to the 40 or so fans who traveled to Philly to cheer him on in his first career appearance out of his home state, a unanimous decision over Derrick Coleman Jr. (11-1, 8 KOs), of Detroit.
"We just dug deep and got the job done," Jackson said. "I'd give my performance an 8 out of 10, but I know I can show better."
Photo credit: Amanda Westcott / SHOWTIME
Check out more boxing news on video at The Boxing Channel 
To comment on this story in The Fight Forum CLICK HERE