What about Claressa Shields?
Colbert knows what rates. He had Claressa Shields on Sept. 25. But to be real, there probably should have been more of a hubbub surrounding Shields' gold medal, and her skills. She deserves better, and more.
It's Saturday night, and not just any. Tonight is fight night at the McCarson household. My wife and I have the popcorn and drinks ready, and we're sitting on the couch. We're watching Andre Ward fight Chad Dawson on HBO. It's one of the biggest fights of the year, and it's on regular HBO, not PPV.
All is right in the boxing world.
During the telecast, HBO analyst Max Kellerman says something I agree with. He says Andre Ward is the last American boxer to win a gold medal.
But Max and I are wrong.
My wife turns to me with a look of almost-horror on her face. I wonder if I've spilled something on the couch or said something stupid, but no, it's what Max said.
"What about Claressa?" she says. And she's right. What about Claressa?
I see from Twitter that Claressa is thinking the same exact thing. I don't know Kellerman personally, but having been around him a few times at fights, I know enough to think he didn't mean it that way. Kellerman is the type of guy who talks and takes pictures with fans for as long as they want him to be there. He smiles and seems genuinely interested in what people have to say to him when they talk, and he doesn't hurry off when he's approached by someone. He makes eye contact, smiles and chats it up with them like it matters, because he knows it does.
He's just made a mistake.
The two connect and Max apologizes to her. He says it's his mistake, congratulates her and tells her she's made everyone proud. The only problem is that he says this to her via Twitter where only a few people can see, and what he said on HBO that night was to millions of fight fans who might not have been sitting next to someone like my wife to let them know he's wrong – we're wrong.
Max and I are wrong because we operate under that same stodgy old paradigm that's been in place for years: it's had its moments, but for the most part, women's boxing is just a sideshow.
Life Goes On
Honestly, I never really think about the series of events again until I'm talking to Claressa this week. I set up an interview with her publicist and make the call. She answers herself, probably tired after a long day from being at school. She's a senior at Flint Northwestern High School in Michigan, just a kid really. Over the summer, she carried on her shoulders the hopes and dreams of women everywhere, but now she's back to carrying normal things like school books.
For some reason, I'm nervous talking to her.
I ask Claressa what it's like being an Olympic champion. I've talked to all sorts of fighters and sports figures before, but never a reigning gold medalist and most certainly not one as important as her.
"When you first win the gold medal, it's so special," she tells me. "It was my dream for so many years, and now I've accomplished my dream."
It's always nice to hear stories like this, so I'm genuinely excited to listen to it firsthand. But then she continues.
"Then, for like a week or so, I was like 'what's next'?" she says. "You know, after having the same dream so many times and then one day you lay down and you have the same dream but you wake up and you've got the gold medal wrapped around you, you get to thinking…why I am still having that dream? I already made it a reality, you know?"
It is at this point I start to think about Kellerman and that look on my wife's face. Claressa keeps talking.
"I'll definitely continue boxing," she says. "The Olympics were just the first step. I still feel like I need to get my recognition. You know? I felt like I would get more recognition because I'm seventeen and I won the gold medal, but I didn't."
The knife begins to go in, but I don't really feel it yet.
"It just seems like a women's gold medal isn't as valuable as a man's gold medal. I don't know…"
It is at this point that it hits me. We've failed her. I've failed her. Max has failed her. We. Have. All. Failed. Her.
Claressa comes from some rough stuff. She's endured it, and she's come out a better person for it. She's only seventeen, but she's wise in the way people who have to crawl from the bottom to the top are, and besides, nobody with the nickname "T-Rex" let's little things like recognition get them down. If she did, she would've never started boxing in the first place.
Claressa's father, Clarence Shields, was an amateur fighter nicknamed "Cannonball" because of his fast, hard punches. When Claressa first asked her dad if she could learn to box, he told her boxing was a man's sport. Max and I would have probably told her the same thing; I know I probably would have. But Claressa kept at it anyway until, at eleven years old, her father finally gave in to her, thinking she'd surely get beat up and quit.
She didn't.
"I'm not really the type of person to think 'oh I wish I had this, oh I wish I had that'", she says. "I just accept what I have and just make the best out of it."
Claressa is a fighter.
A Real Boxer
Claressa is old school tough. She watches fight films of the greats and she emulates them. She considers herself a mash-up of Joe Louis and Ray Robinson. She tells me during one of her first matches in London, she heard someone compare her to Sylvester Stallone's fictional movie character, Rocky Balboa.
This offends her.
"Someone called me Rocky Balboa!" she says. "In my first fight at the Olympics, I was throwing a lot of punches…I was like…that's an insult! He's not even a real boxer. I was like NO, I do not box like him!"
Claressa tells me that in her first fight, her opponent's strategy forced her to throw wider punches than normal. She says she knew she could land her hook, but in the first couple rounds she was missing by a few inches here and there, so she just kept throwing it. In the rest of her fights, she says she got back to what she does best.
"I was throwing wide punches [in that fight] but the next day, I was throwing sharp punches which is how I usually box," she says. "I make them miss, and then I make them pay! That's when you can see how much skill I have."
Claressa says she looks up to the old school fighters and this doesn't surprise me. She says she watches tapes of her idols, Joe Louis and Ray Robinson, the most, and that she has The Brown Bomber's powerful left hook and a sweet, straight right like Sugar's.
I tell her I've heard her compared to Marvin Hagler, and she laughs almost giddily and says what anyone would say to something like that.
"He was pretty good, too!"
A Brave New World
There has never been a Claressa Shields before. She's new territory in boxing. Sure, we've had women boxers before, but we've never had a seventeen-year-old gold medalist who grows up immersed in the sport's amateur ranks like she's been. We've not had a girl who watches black and white film of the best fighters ever and then puts what she sees to use.
Claressa didn't have someone like her to look up to, either. No one did. I ask her if she truly understands who and what she is, and what she'll forever be to every girl who ever grows up in the United States wanting to be a boxer.
"It's very special to be looked at as an inspiration," she says, but she says it in a way that doesn't give me the impression we've helped her understand how important she really is. This is where Max and I (and you) come back in.
You see, boxing is for everyone, and it's at its very best when it combines the truth of tough, gritty and skilled competition with the mythologizing poetry of storytelling. It's not that we make them to be more than they really are, rather we describe them in the most honest way we can. Gods of War, as Springs Toledo calls them, the best of the very best.
Claressa deserves to be part of that.
Her narrative is one of newness and hope. It's something rare and unbelievable. It's different. It's special.She's a pioneer of a sport that's been around for centuries. She's Amelia Earhart. She's Jackie Robinson. She's Billy Jean King. She's Jack Johnson.
What about Claressa? Let's give her the credit she's due. She deserves it. It's says something about us, the boxing community, that she hasn't gotten it, and it's something I don't like. Let's be better than that. Let's rally around Claressa and all the other women who want to be treated as real fighters. Let's make Claressa the show, not the sideshow. Let's demand Golden Boy Promotions, Top Rank and Main Events start beating down her door to sign her the way they would've a man. Let's demand Everlast and Grant to fight each other for her endorsement. I want her on the cover of Ring Magazine. I want Monday columns from BWAA members about her. Dan Rafael should be buddying up to her on Twitter, and Jim Lampley should be prepping for his extensive interview with her on HBO's next installment of "The Fight Game."
Boxing should take care of its own.
For now, Claressa has no idea what she'll do next. She says she's already back in the gym training, and that she's already got a fight lined up next week in a PAL tournament. She's a fighter, she says. It's what she does.
"So I've been thinking about the next Olympics," she tells me. "If I get two gold medals, there's no way they cannot give [the recognition] to me then, right?"
I am not sure I know the answer to her question, and my heart breaks because of it. So should yours.
Avila Perspective, Chap. 134: Mexico vs World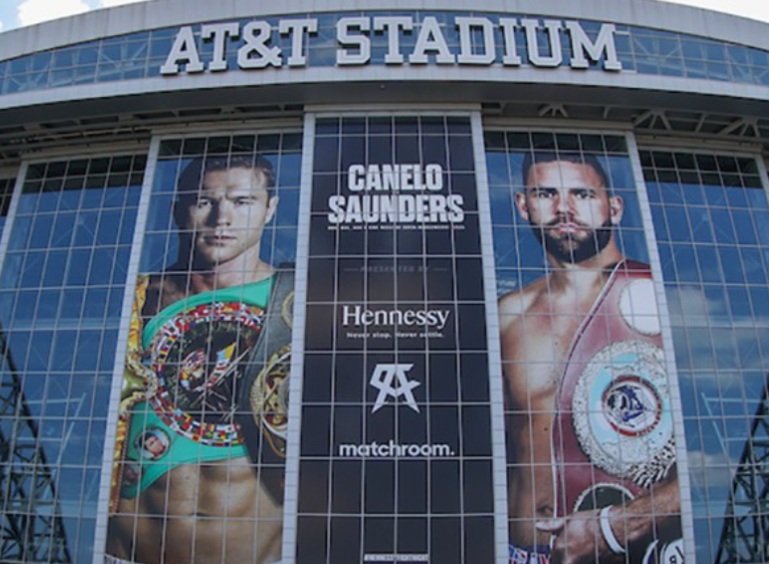 A couple of Mexican champions lead the way to the Texas fight card as Saul "Canelo" Alvarez seeks to gather another world title and mini-bomber Elwin "La Pulga" Soto defends his title this weekend.
Canelo (55-1-2, 37 KOs) holds the WBC and WBA super middleweight belts and wants the WBO belt that Billy Joe Saunders (30-0, 14 KOs) holds. They meet Saturday, May 8, at AT&T Stadium in Arlington, Texas. DAZN will stream the Matchroom Boxing card.
It's not an easy fight, especially when you consider Saunders is a speedy southpaw who can easily run for 12 rounds. For those with good memories, another southpaw runner named Erislandy Lara gave a preview of that back in 2014. That fight bored most of the boxing world to tears. Let's hope this one is better.
Fight fans want to see blows exchanged. Few want to see someone scurry around the boxing ring with nary a blow exchanged. It's the primary reason people like brawls or prefer to watch people fight in the stands over spilt beer.
Canelo longs to establish himself as one of the greats in boxing and knows that by unifying the super middleweight division he can stamp his name in the history books. Only one other super middleweight did it. And he was a Brit.
Chasing Calzaghe
Joe Calzaghe was his name and to be more accurate he was Welsh. The "Italian Dragon" fought from 1993 to 2008 and ended his career with a flourish.
Calzaghe's last three fights were against Mikkel Kessler, Bernard Hopkins and Roy Jones Jr. Though he was floored by both Jones and Hopkins in the first round he rallied to win by decisions in the U.S., not in the United Kingdom. Quite a feat.
It's never easy to fight another world champion so when Calzaghe fought Hopkins in Las Vegas back in April 2008, many Americans expected the Philly fighter to be too much for the Welshman. It was a rugged scrap as Hopkins manhandled Calzaghe early in the fight before adjustments were made and the Welshman simply out-hustled the defensive-minded Hopkins.
Calzaghe won by split decision in a razor close fight. He fought one more time against Jones and had a much easier time in defeating the former undisputed light heavyweight titlist. He simply retired with little fanfare from those here in the US, but the Welshman was a tough, tough customer with speed, footwork and a solid chin. One more thing: he was a southpaw.
When Canelo faces Saunders he's fighting someone who somewhat resembles the physical elements of Calzaghe. One thing about Calzaghe, he never ran. He simply stood right in front of his foe and out-punched them.
Should Canelo win, he has a firm date against IBF super middleweight titlist Caleb Plant of Las Vegas in September.
"We have always been open about what our short- and long-term plans have been. I want to unify the 168lb division, and Caleb Plant would be next in line to secure that short term goal if successful against Billy Joe Saunders," said Alvarez.
Mini-bomber from Mexicali
WBO light flyweight titlist Elwin Soto (18-1, 12 KOs) defends against Japan's Katsunari Takayama (32-8, 12 KOs) who is moving up from minimumweight where he was the world titlist.
Soto, 24, hails from Mexicali, the border town east of Tijuana, and has fought on American soil four times. The Mexican champion known as "La Pulga" has a kamikaze style of fighting. He's not keen on looking stylish unless you mean his hair style.
Ironically, the Mexican kamikaze will be fighting Takayama who at 37 years old returns to the wars after spending four years away between 2016 and 2020. He moved up one weight division after winning the vacant WBO minimumweight title in August 2016 and did not fight again until last December.
Takayama has been in the fight game for a while and actually fought Roman "Chocolatito" Gonzalez for the minimumweight world title back in 2009 when the great Nicaraguan fighter campaigned at that weight class. That's quite a few years ago.
Takayama has been fighting 20 years professionally. That's a lot of wear and tear. But against Soto the former minimumweight world champion should not worry about a boxing match, he just has to be wary of those bombs coming his way.
Dignity. Always Dignity.
This is a favorite movie line that my spouse and I like to repeat. It was uttered by dancer/actor Gene Kelly in the motion picture Singing in the Rain.
Premier Boxing Champions presents its second of three boxing cards at the Dignity Health Sports Park on Saturday May 15, when WBC super bantamweight titlist Luis Nery defends against Brandon Figueroa.
Tijuana's Nery has always been recognized as loaded with talent and also with too many tacos. He failed to make weight a few times as a bantamweight and now campaigns at super bantamweight. It's one of the most talented divisions in prizefighting.
"I have a lot of respect for Brandon, but inside the ring, I am going to be the rudest person he's ever met. Respect goes out of the window inside that ring. I am going to do everything to get the win," said Nery.
Figueroa, 24, holds some version of the WBA super bantamweight title. Another fighter on this card, Danny Roman, held the original version that he won back in 2017 and then took the IBF version in 2019. He recently lost both belts, losing a split decision to Murodjon Akhmadaliev in January 2020.
The 122-pounders will be on display and its going to be a crackling affair.
Tickets are available now for the PBC fight card that takes place at Dignity Health Sports Park in Carson, Calif. Those outside of the area can watch on Showtime.
Fights to Watch
Fri. Telemundo 11:30 p.m. George Acosta (11-1) vs Gadwin Rosa (11-1).
Sat. DAZN 5 p.m. Saul Alvarez (55-1-2) vs Billy Joe Saunders (30-0); Elwin Soto (18-1) vs Katsunari Takayama (32-8); Kieron Conway (16-1-1) vs Souleymane Cissokho (12-0).
Check out more boxing news on video at the Boxing Channel
To comment on this story in the Fight Forum CLICK HERE
Boxing Odds and Ends: 'Stitch' Duran at the Top Rank Gym and More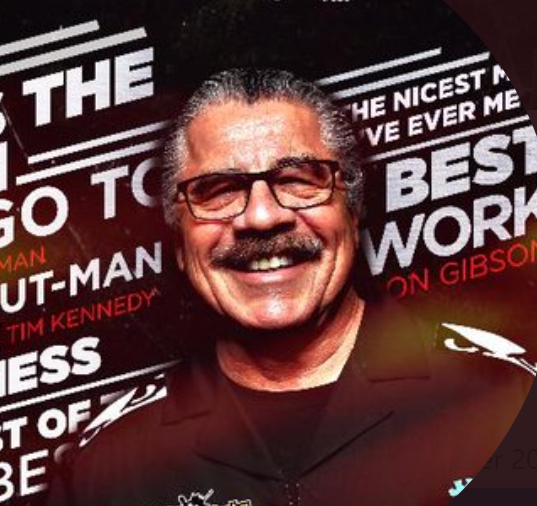 Jacob "Stitch" Duran is the most famous cutman in the world. But this past November, when he was working the first of the four Triller shows — the show in Los Angeles anchored by the Mike Tyson vs. Roy Jones Jr exhibition – Duran realized for the first time that his renown wasn't confined to the insular world of combat sports.
"Snoop Dogg came up to me and said, 'man you're a legend, may I take a picture with you?' I was shocked. I had no idea that anyone knew me in that world. It was a memorable moment."
Duran, who turned 70 this month and looks years younger, has had many memorable moments. The night that he plied his trade in London's Wembley Stadium before 90,000 screaming fans is forever embedded in his memory. But that adventure was bittersweet. He worked the corner of Wladimir Klitschko, with whom he had a 12-year relationship, and that see-saw fight between Klitschko and Anthony Joshua ended with Klitschko on the receiving end of a barrage of punches, forcing the referee to step in and call off the contest in the 11th round.
Duran grew up in Planada, CA, an overwhelmingly Hispanic community where a third of the population lives below the poverty line. Planada is in the agriculturally fertile San Joaquin Valley. Most of the working adults are employed by the farms or in a food-related industry. Duran's memoir, "From the Fields to the Garden" (as in Madison Square), written with Zac Robinson, was released in 2011 and spawned a sequel.
If there is ever a third book, one chapter will likely be titled "Life in the Bubble." Duran and Mike Bazzel, and eventually Floyd Mayweather's associate Bob Ware, were tabbed to be the house cutmen for all of Top Rank's so-called Bubble Fights, 22 in all, a series that ran from June 23, 2020 to Feb. 20 of this year from the sterile MGM Grand Conference Center in Las Vegas.
The cutmen and other essential employees were quarantined on the 12th floor of the hotel, departing only for breakfast, lunch and dinner, and for the weigh-in. Bazzel, who has a home in the San Francisco Bay Area, never left the hotel. Duran, who lived 20 minutes away, was able to go home between assignments but the better part of his week was still spent in his 12th-floor "crib."
It was boxing's version of the "Shawshank Redemption," says Stitch, referencing the 1994 prison movie starring Tim Robbins and Morgan Freeman. "We were literally in solitary confinement." But he is thankful that Top Rank COO Brad Jacobs called him and offered him the gig. Duran was one of the few people in boxing who was able to stay busy when things slowed to a crawl.
Duran, an Air Force veteran, came to Las Vegas in 1995. During his early years in the city, he prowled the boxing and MMA gyms, looking for work. Nowadays, he doesn't have to look for work, it seeks him out, but Duran is still an insatiable gym rat of sorts.
Earlier this week he was at the Top Rank Gym which was bustling with activity. Tyson Fury was there being put through his paces by trainer SugarHill Steward, as was Scotland's Josh Taylor, who has a big fight upcoming with Jose Ramirez. The winner will be the undisputed 140-pound champion owning all four meaningful belts.
Duran and the Gypsy King are well-acquainted. When Fury hooked up with Steward, the nephew of the late Emanuel Steward, Stitch Duran came along in what was something of a package deal. Their first fight together was Fury's rematch with Deontay Wilder. Staged at the MGM Grand Garden on Feb. 22, 2020, it was a tour-de-force for the Gypsy King.
"Working with Fury was a seamless transition because I was so familiar with the Kronk way of doing things," says Duran. The legendary Emanuel Steward handled Wladimir for 17 fights. When Steward died of colon cancer in 2012, the torch was passed to Emanuel's longtime assistant Johnathan Banks.
One can number Stitch among those who thought that Emanuel Steward had no peer as a boxing coach: "Emanuel's work with Wladimir in his first fight with Samuel Peter was the best corner work I ever saw. Emanuel's instructions got him back in the fight."
Klitschko looked like a cooked goose after Peter knocked him down twice in the fifth round, but the big Ukrainian went on to win a clear-cut unanimous decision.
There was a camera crew at the Top Rank Gym gathering up the final pieces for a Stitch Duran documentary that commenced filming in Santa Fe, New Mexico. It should prove interesting.
Nat Fleischer Award
The Boxing Writers Association of America has named Joe Maxse the 48th recipient of the Nat Fleischer Award. The award, which recognizes Excellence in Boxing Journalism, is voted on by previous honorees.
A Cleveland native, Maxse, 69, covered boxing for the Cleveland Plain Dealer from 1987 to 2013. Cleveland was an important fight town during most of those years. Don King built his empire there before relocating to New York City and eventually Deerfield Beach, Florida.
The Fleischer Award has been presented every year since 1973. The first recipient was Barney Nagler who went on to helm the BWAA from 1984 to 1989. Nagler was then the sports columnist for the Daily Racing Form. He had begun his journalism career with the Bronx Home News and was the author of two boxing books, most notably "James Norris and the Decline of Boxing," a book that still appears on many lists of the best boxing books of all time.
Former recipients include two members of the TSS family: Bernard Fernandez (1998) and Thomas Hauser (2004). Last year's winner was Graham Houston, the longtime North American correspondent and sometimes editor for several British boxing publications including the venerable Boxing News.
Maxse will be honored along with other award winners (a two-year supply) at the 95th BWAA awards dinner, the date and site of which have yet to be determined. Hopefully, when Maxse takes the podium, he won't conclude his speech without tossing in an impression of the late Harry Carey. Maxse's spot-on impersonation of the iconic baseball announcer endeared him to his peers.
Check out more boxing news on video at the Boxing Channel
To comment on this story in the Fight Forum CLICK HERE
Canelo vs. BJ Saunders: Predictions and Analyses from the TSS Faculty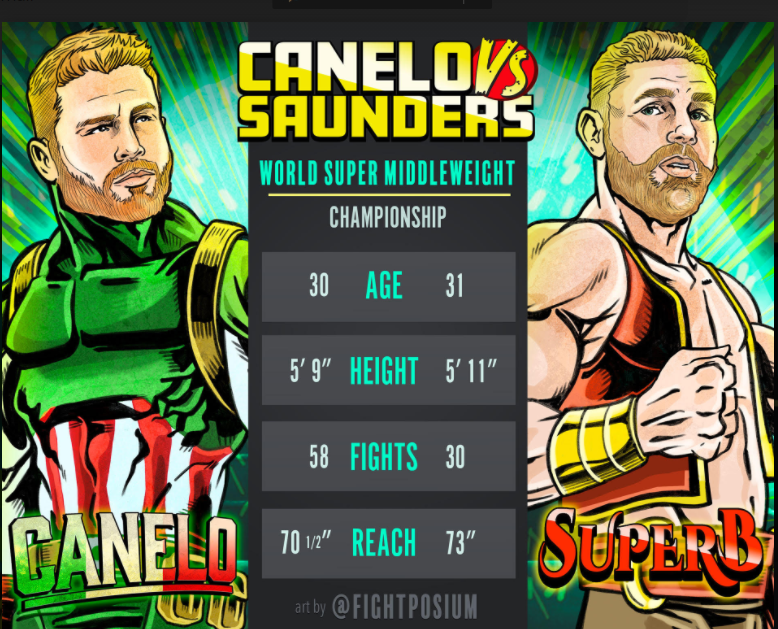 More than 60,000 fight fans are expected to gather at AT&T Stadium, home of the Dallas Cowboys, on Saturday. The turnout for the fight between Saul "Canelo" Alvarez and Billy Joe Saunders represents a turning point in the COVID-19 era. Boxing has been pretty much walled-off to the general public since a sellout crowd of 15,816 witnessed the second encounter between Tyson Fury and Deontay Wilder on Feb. 20, 2020 in Las Vegas.
Canelo Alvarez (55-1-2, 37 KOs) holds the WBC and WBA world titles at 168 pounds. Billy Joe Saunders (30-0, 14 KOs) owns the WBO belt. However, the hardware is largely immaterial whenever Canelo steps in the ring as he is widely considered the best pound-for-pound fighter in the world. In Saunders he is meeting a slick southpaw bidding to become the second member of the Traveling community to hold multiple title belts simultaneously, joining his friend Tyson Fury. The bout headlines a 7-bout card that will air on DAZN in 200+ countries and territories worldwide and on TV Azteca in Mexico.
Whenever a fight of this magnitude comes down the pike, we invite members of our editorial staff to provide a quick analysis of the match and forecast the outcome. Their prognostications appear below with the respondents listed in alphabetical order.
The graphic is by Colorado comic book cover artist ROB AYALA, an honored guest whenever we perform this kind of exercise. Check out more of Rob's cool illustrations at his web site fight posium.
PICKS and ANALYSIS
No gimme for Canelo here, as Saunders is a southpaw who can box, has a bit of pop in his punch, as well as a knack for making his opponents look not quite as impressive as they normally are. Still, Canelo is at the top of the boxing food chain for a reason. It's all right for him to win some fights and not be spectacular in doing so. Figure the Mexican icon on scoring a knockdown or two along the way, but he may have to be satisfied with a win on points this time out. – BERNARD FERNANDEZ
I no longer pick against Canelo Alvarez. And certainly not against a boxing basket case like Billy Joe Saunders. There's a huge difference in the level of maturity between these two fighters and that will be seen in the ring when Canelo becomes the first to corner the fleet-footed Saunders and put him on his back. Canelo KO in 10. – JEFFREY FREEMAN
Canelo by decision. He does everything better than Saunders, who will fight well enough to survive but not win. – THOMAS HAUSER
Billy Joe is formidable. You don't lock in an Olympic berth at age 18 without natural talent. You don't run circles around a big puncher like David Lemieux without a high ring IQ. But Saunders, despite his undefeated record, has been inconsistent. Canelo, as Kevin Iole noted in a recent column, doesn't do one thing great, but he does everything well. How does one formulate a smart game plan for a boxer with no flaws to exploit? Canelo UD. – ARNE LANG
Much has been made by Saunders' camp this week about the size of the ring that will be used in the fight. While it seems strange and even unruly that there can be such vast disparities in how large the boxing ring is or how spongy the mat can be for any professional fight card in our sport, the truth of the matter is that Saunders probably doesn't have much hope in beating Alvarez no matter how those other factors play out. They could fight on a basketball court, and I'd still pick Alvarez. The best the cagey UK fighter will be able to muster is trying to go the distance with the Mexican. Callum Smith pulled it off back in December, but Saunders won't quite get there. CANELO via 9th-round stoppage. – KELSEY McCARSON
There was a time, not that long ago, when I would have favoured Saunders to beat Canelo and stylistically I still feel Saunders holds all the aces. Canelo's improvements in the last 30 months have astonished, though. He has found a meaningful fourth and fifth punch for his combinations and his strength, for whatever reason, is prestigious at whatever weight he fights. Saunders, something of a persona-non-grata here in his home country after a series of public relations disasters, is very much a man out of time.  Canelo, bodyshots, between the eighth and the tenth. – MATT McGRAIN
There is a case to be made that Canelo Alvarez has not faced a pure boxer on the level of Billy Joe Saunders since his do-si-do with Erislandy Lara in 2014, in a fight that still has some screaming robbery (Alvarez won by split decision). Of course, that was nearly seven years ago, back when Alvarez was still trading on his telenovela bonafides. Since then, he has gone on to distinguish himself as arguably the best boxer in the sport today. The same cannot be said for the erratic and self-sabotaging Saunders, who has squandered his impressive showing against David Lemieux in 2017 with consecutive lackluster outings against mostly middling opposition. The southpaw will find ways to frustrate Alvarez at times, to be sure, but expect Alvarez to slow down the jittery motions of the Brit by punishing him to the body en route to a mostly clear win on the cards. Canelo by majority decision. – SEAN NAM
I see a feeling-out type fight in the first two rounds and then Canelo begins the stalk. Saunders will be more elusive and more savvy than most of Canelo's opponents, occasionally getting in some sharp counters. However, he will begin to tire late from an accumulation of Canelo's body work and from backing up. This will allow the Mexican to increase the tempo looking for a way to close the show. The Traveler will survive. But Canelo will win with a dominating UD. – TED SARES
Two names come to mind for me when deciding how this fight will play out. First, Erislandy Lara, who I saw outbox but not outfight Alvarez. Second is Alexander Povetkin, whose horrible performance against Dillian Whyte was reportedly due to coronavirus residue, which Alvarez also claims to have been afflicted by. Can Saunders, another left-hander with a bit more of a reach advantage than Lara, take advantage of a possibly weakened Canelo? Don't bet on it unless Cinco de Mayo weekend gets cancelled and nobody from Texas or Mexico shows up for the fight. Saunders seems capable of making it interesting, but Alvarez wins by wide decision or late TKO.  – PHIL WOOLEVER
To comment on this story in the Fight Forum CLICK HERE