TSS SPECIAL REPORT: What Happened in Texas
As another Texas-sized boxing event approaches with Saul "Canelo" Alvarez vs. Austin Trout, TSS looks back at last year's middleweight battle between Julio Cesar Chavez, Jr. and Andy Lee. Did the Texas Department of Licensing and Regulation's Combative Sports division do their job? Did journalists do any better? Is there anything we can learn from what did (or didn't) happen last summer in El Paso?
Last summer, middleweights Julio Cesar Chavez, Jr. and Andy Lee agreed to face each other in El Paso, Texas in a 12-round bout for Chavez's WBC middleweight title belt. The contest would help determine which talented up-and-comer would earn a lucrative opportunity against linear champion and pound-for-pound superstar, Sergio Martinez.
What ended up happening in Texas that summer was more than just a fight. What happened in Texas changed the way I think about the sport of boxing and the journalists who cover it.
The Long and Winding Road
Honestly, at the time of the fight, they were my two favorite middleweights. As a boxing writer in Texas, I had attended Chavez's two preceding bouts against Peter Manfredo in Houston and Marco Antonio Rubio in San Antonio. It is said that familiarity breeds contempt but that's a boldfaced lie. The exact opposite is more often the case. Chavez had grown on me.
As for Andy Lee, he's just one of those fighters who happen to appeal to me for some reason. The Irishman has a pleasant demeanor, is articulate and fights from a southpaw stance; all characteristics I admire. Plus, my personal interaction with him revealed we seem to enjoy the same kind of things: humor, music and movies.
Either man, I thought at the time, would be the one to dethrone the aging Martinez. Still, El Paso is a long way away from Houston, and Texas is not like other states: one does not simply pile into a car to drive to its outermost boundaries. Right?
As it so happened, it actually wasn't so far outside the realm of possibility to not happen. The McCarson clan, consisting of your TSS scribe and his wife/photographer, Rachel, did decide by unanimous vote that the fight was well worth the 745 mile drive across the long, serpentine highways through lonely parts of Texas. After all, eleven hours in a car is nothing compared to witnessing in person one of the better fights of the year between two of your favorite fighters. Off we went.
Weighty Issues
The customary Friday afternoon weigh-in before the Saturday night bout was anything but normal, despite my report submitted that evening:
Middleweights Julio Cesar Chavez Jr. and Andy Lee both made weight Friday ahead of their scheduled showdown in El Paso, Texas. The bout will be televised live Saturday on HBO World Championship Boxing beginning at 10:00 p.m. ET.
Challenger Andy Lee was first to the scale where officials announced a weight of 159.25 pounds. The usually mild-mannered Lee appeared focused and determined, even going so far as to wear a scowl for the majority of the time he stood on the dais.
Next up was Chavez, who was cheered on heavily by the robust, pro-Mexican crowd of spectators who had waited patiently in line outside the venue to see him before jamming themselves into one of the city's more famous landmarks, the historic Plaza Theatre.
Chavez, son of legendary Mexican champion of the same name, has developed a reputation as of late for not taking training camps as seriously as perhaps his handlers would like, but he looked fit and ready to rumble this go around, weighing in at 159 pounds.
Both fighters appeared to be in impeccable shape and ready to fight. While fans of Chavez made up the majority of spectators present as expected, there was a noticeable contingent of pro-Lee supporters donning classic gold and black Kronk gym colors there as well.
What's missing from the report is what I did not see. I did not see the contention on Team Lee's faces as they argued over the weight of Chavez's gloves. I did not see them argue with Top Rank officials and trainer Freddie Roach about the construction of Chavez's gloves, did not see Lee put his own glove on the scale to prove it met the 10 oz middleweight requirement, did not see Texas official Robert Tapia refuse Lee's request for reasons only he could fathom.
What else did I miss? At 159 pounds, was Chavez "fit and ready" as I noted above? Or was he, as others said at the time, disturbingly gaunt?
A Night at the Bar
A popular song in the Lone Star State says "the stars at night are big and bright, deep in the heart of Texas." What is said about the night's sky was also true of the hotel bar that night. For despite being in the relatively secluded area of El Paso, the boxing's biggest stars were out in full force.
Completed in 1912, this historic Camino Real is a truly magnificent building. The old world spaciousness and attention to detail is a special refuge from what passes for glamour in today's increasingly postmodernly simple world. Under the cut-glass chandeliers, surrounded by hand-carved marble, said to be carefully crafted by Italian workmen over a century ago, the boxing world got together and had some drinks.
Larry Merchant is knocking them back with fans before turning it in for the night early. Over in the corner, Bob Arum chats with Harold Lederman, each stopping their conversation whenever necessary to submit to passerby requests for pictures or autographs. Irish middleweight Matt Macklin slouches comfortably in a foyer lazy boy, telling all who will listen it will be Lee's day tomorrow. Peddlers hock shirts and hats with "Chavez" emblazoned across them in red, green and white letters to anyone who will have them. Many will.
Rachel and I are here now, too, over from our quaint Microtel to meet Twitter friends Eoin Casey and Paddy Cronan at the fancy fight hotel. Eoin and Paddy are there when we arrive, chatting it up with boxing trainer Ronnie Shields about tomorrow's big bout. The Irishmen like Lee's chances. Shields isn't so sure, but after a few drinks of our own, Rachel and I do our best to help convince him otherwise.
Suddenly, Jim Lampley enters the fray. Jim snakes his way around the crowd to one of the happy bartenders in the middle of the room to order his fare. He heads back to the elevator when laughter erupts from nearby. It's our table, because Paddy and Eoin have pointed out something a little peculiar: Lampley isn't wearing any shoes.
The night ends with more alcohol than it probably should have. Eoin and Paddy are younger than I (at least at heart), so they employ their special Irish brand of vitality to head out and see what other nightlife El Paso has to offer. The McCarsons, meanwhile, put discretion before valor and head back to their sensibly sized mini-sized suite near the airport to rest up for the big fight.
Before drifting off to sleep, I send a direct message to Andy Lee on Twitter. I tell him how excited everyone seems at the hotel and how everyone I talked to believes in him. I do not mention Ronnie Shields, whose concerned look has me questioning my own pick by morning.
Snipers at the Sun Bowl
It almost didn't happen, in El Paso anyway.
Just two months before the fight, The University of Texas System Chancellor, Francisco G. Cigarroa, forbade the fight from happening at the University of Texas El Paso's football stadium, the Sun Bowl, citing numerous but vague security concerns. The people of El Paso simply weren't having it. They wanted a big fight and they would have it. A coordinated effort from the community as well as numerous University of Texas at El Paso officials convinced Cigarroa to reverse his position in short order. Cigarroa's concession came with conditions, though, including the prohibition of alcohol at the event.
Whether warranted or not, Cigarroa's actions created tons of tension the night of the fight, so much so, in fact, that the Associated Press sent not one, but two reporters to ringside that evening. One of the men there, Bart Barry, was tasked with standard fight report duties. The other, Juan Carlos Llorca, was sent to capture any and all nonboxing events that might occur at the Sun Bowl related to the supposed danger for which Cigarroa was so fearful.
As the sun receded behind the surrounding Franklin mountain range, the threat of rain fell with it. Lined around the top of the stadium's room, silent guardians appeared as statuesque silhouettes above us, rifles in hand and ready to fire. But Cigarroa was wrong, and Llorca would have nothing to cover that night. Even typical fight night fisticuffs were conspicuously absent this evening. Bout after bout, there was no danger. By the time the main event came, the thought the time spent in the Sun Bowl being anything other than your typical fight night had all but disappeared completely, made only audible every now and then by boxing writer Barry's teachings to his newly found neophyte friend, Llorca.
It was time for the fight.
The Fight
The fight itself lived up to its billing. It was entertaining and had an abrupt end. The two middleweights accounted well for themselves, each having his moment. Lee got off early, using a sharp, stiff jab and a long reach to build an early points lead. Chavez started coming on though in the fifth, and by the seventh round, his heavier punches were finally taking their toll.
The fight was stopped by referee Laurence Cole at 2:21 of round number seven. Lee was up against the ropes, visibly hurt and unable to defend himself, with Chavez pouring it on top of him like an avalanche.
My ringside report filed at deadline tells the story:
Julio Cesar Chavez Jr. (46-0-1, 32 KOs) notched his most impressive win to date Saturday night in front of 13,467 boxing fans in El Paso, defeating Irish challenger Andy Lee (28-2, 20 KOs) by TKO in round number seven.
Things did not start so well for Chavez.
The fight began with Lee soundly outboxing the tentative Chavez with forceful jabs and deft footwork. The second round was more of the same, as Chavez seemed befuddled by his opponent's size and reach. In the third, Chavez started finding success digging in hard shots to the body, but he ate too many clean counters from Lee to take the round decisively.
The fourth round went to Chavez, though, as he was able to position Lee in the corner, at times almost at will, and let loose powerful hooks and uppercuts, even stunning the challenger for the first time in the contest when both men landed hard shots at the same time.
It was perhaps then, that Chavez realized the power advantage he possessed over Lee.
The now determined Chavez started taunting Lee in the fifth, which seemed to lead the challenger to not only do the same in return, but to also abandon his jab almost completely in order to trade shots with the slugging Mexican. Both men landed heavy shots as the action picked up.
"He'd just walk through them," Lee would say afterwards.
The men took turns getting the better of each other in the sixth, with Chavez coming out on top of things by the end of it, landing both excellently timed and powerfully thunderous punches in the corner as the bell sounded.
Chavez would just keep coming in the seventh, where ultimately his harder, more effective blows turned out to be just too much for the brave Irish challenger.
With the win, Chavez retained his WBC middleweight title belt, setting up a showdown with linear champion Sergio Martinez.
After the fight, Lee praised the champion as a worthy opponent for Martinez.
"I couldn't hold him off," he said. "He was too big and too strong. He'd give Martinez a hell of a fight."
Lee's hall of fame trainer, Emanuel Steward, concurred. "Junior fought a smart fight. He's very strong. He passed the test. "
After the fight, Chavez seemed confident in the execution of his plan in the fight, despite being down on all three judges scorecards' at the time four rounds to two.
"I started by studying him," he said. "I saw he had nothing. I dove in."
The story of Julio Cesar Chavez Jr. is becoming increasingly interesting. The 26-year-old continues to make his mark in the same sport his famous father made his, despite being ever present in the shadow of the man largely considered the greatest Mexican champion of all-time.
"I'm very happy to carry this name, to keep doing more, and to write my story in boxing."
The next part of the story will include Sergio Martinez. Bob Arum and Lou DiBella confirmed the contest for September 15th in Las Vegas after the fight.
Chavez Sr. seems as eager as his son for the fight. "Martinez has talked too much," he told the press. "I hope when the times come for the fight he doesn't' run like a chicken in the ring."
Junior was less openly disdainful of Martinez.
"Martinez moves a lot so I'll have to move. That's a fight I have to make."
The fight was over, and it was time to travel home. Plans set beforehand were already in motion. If he ever wanted another shot at the middleweight title, Lee would have to get back in line. For Chavez, his time against Martinez had come. Bob Arum and Lou DiBella were now ready to cash in on the most lucrative fight possible for September's fast approaching Mexican Independence Day weekend. Everyone was ready to move on.
The story should have been over, but it wasn't. I did not know it at the time of our long drive home from the furthest point west in Texas, but questions were already starting to circulate within the boxing media. Calls needed to be made; documentation checked. If journalists had failed to ask the right questions in El Paso that night, questions about how PED tests were administered for both fighters, about what PEDs were tested for, about when the tests occurred, someone would now need to pick up the slack to find out what had happened in Texas.
What Andy Lee Didn't Do
An eleven hour car ride back from El Paso provides lots of quiet time. I spent much of it reflecting on the fight, what Chavez was able to do and what Andy Lee didn't. First things first, Andy fought a dumb fight.
Andy Lee is a thinking man, a boxer. He's best when he uses his range, fires off a sturdy jab and keeps his opponent off balance by moving laterally. This does two very important things. First, it keeps his opponent from being able to plant his feet. The less his feet are planted, the less power he can generate, keeping Lee safer from harm. Second, this allows Andy to set up counter shots that have double the impact. As Lee's opponent moves forward, Lee wants to use his ring generalship to set traps. As his opponent turns and turns to catch him, as he becomes increasingly flustered by Lee's steady jab, he becomes more and more susceptible to rushing in like a fool. Once he does, Lee can use this ill timed aggression to pounce with naturally hard punches made even more forceful by his opponent's forward momentum.
When Lee fights like this, he has his best chance to win. When he doesn't, he risks losing. Such was the case in his first fight against rugged slugger Brian Vera. Vera wanted to make it a brawl and Lee obliged. The result was a TKO 7 upset win for Vera. In his second fight with Vera, though, Lee won virtually every round precisely because he forsook bravado and fought the way he should. The result was a wide UD win for Lee. It was a pure shutout, virtuoso boxer Andy Lee at his best, in such a thorough and sound boxing lesson that Vera had no qualms about serving as Lee's chief sparring partner for the Chavez fight.
Conventional wisdom said Lee had learned his lesson, but apparently he hadn't. Because what Andy Lee didn't do against Julio Cesar Chavez, Jr. was fight like he should have. He didn't learn from his loss and subsequent win versus Brian Vera, didn't use the time spent with Vera sparring to establish footwork he would use in the fight, didn't listen to cornerman, the late Manny Steward, telling him not to stand there and trade with Chavez like a glutton.
No, in photos taken that night from ringside, Rachel captured far too many cases of Lee standing right in front of Chavez, far too many moments of the two men's heads resting up against each other, far too many lineal advances by Chavez met head on by the valiantly foolish Andy Lee.
What Andy Lee didn't do that night likely cost him the fight.
The Question
Unbeknownst to those of us on press row that evening, there were some serious issues regarding Julio Cesar Chavez, Jr.'s prefight urinalysis.
"The format calls for the fighters to walk to the ring now, but there has been a delay in Julio Cesar Chavez's dressing room," Jim Lampley told the HBO television audience. "We're told that in the other dressing room, Chavez tried and failed to provide a urine sample and the Texas State Athletic Commission has elected to take the sample after the fight."
But according to Manny Steward and assistant Javon "Sugar" Hill, Chavez submitted his urinalysis before the fight, albeit under less than ideal circumstances.
"A guy runs over into our locker room and tells me to come back over because Chavez has to use the bathroom," Hill told boxing writer Geoffrey Ciani. "He was taking his gloves off because he had to use the bathroom. So I go back over there, and there is a bathroom in the locker room. He's in the bathroom and they're taking his gloves off. That's the only part I see. I didn't look in the bathroom to see who was in there, but they took his gloves off when he was in there. There was a guy standing in front and holding a towel up across the doorway of the bathroom, because there was no door. I was standing there for maybe ten minutes at the most. They didn't tell me he was taking a drug test. They said he had to use the bathroom. I was assuming that he had already taken the drug test because they put the gloves on him the first time.
"Then at that point I go back over there and I'm waiting for him to use the bathroom. Then finally a guy, I don't know if he was a doctor or not, left. I asked the Commissioner what that was about, and he said, 'That was Chavez, he just took his drug test'. I said, 'Chavez just took his drug test now?' 'Yeah, yeah. He just took his test right now'."
So which was it? That was the question (or so it seemed at the time). Did Chavez submit to a urinalysis drug test? Secondarily, did it occur before or after the fight?
Boxing journalists sprang to action, your TSS scribe included. I sent an email to Dickie Cole, Program Manager for Texas' Combative Sports Program. In what I've since discovered is typical Cole fashion, he forwarded my inquiry to someone else for response.
"Julio Cesar Chavez, Jr. and Andy Lee submitted urine samples at Saturday's fight," Public Affairs Project Manager Randy Nesbitt emailed me on June 19, 2012.
"Thanks very much," I replied. "Can you tell me what company does the testing and when the results are expected?"
No response.
Perhaps Mr. Nesbitt had bigger fish to fry. ESPN's Dan Rafael (who did not travel to El Paso for the fight) reported later the same day that both Chavez and Lee provided pre-fight urine samples. Rafael's sources included Billy Keane (Chavez's manager), Carl Moretti (Vice President of Chavez's promotional company, Top Rank), and Randy Nesbitt. So then, was HBO's Jim Lampley just misinformed that evening when he told HBO viewers the urinalysis for Chavez would be done after the fight? Rafael says so. In a pro-Chavez blog entry, the ESPN writer says it was all just misunderstanding.
"Jim's comments at the time were accurate," said HBO spokesman Kevin Flaherty. "We were unaware that shortly thereafter a sample was provided. That was unfortunate."
Indeed, "Sugar" Hill's recollection of the events that night seems to corroborate the story told to Rafael. And, while the circumstances explained by Hill would be less than ideal for any serious urinalysis test (typically, there would only be the fighter and a nonpartisan representative in the room in charge of observing and collecting the specimen), it's quite within the realm of possibility that the urinalysis test was taken as described.
But were we, as boxing journalists, asking the right question?
The Question about the Question
Let's assume both fighters took the WBC mandated and Texas prescribed pre-fight urinalysis drug tests just as Rafael reported, and let's also assume there were no shenanigans done that night to keep either fighter from submitting a valid and true sample. While there seems to be lingering questions about this point, particularly with Chavez, let's momentarily give everyone the benefit of the doubt and say before the fight, both Julio Cesar Chavez, Jr. and Andy Lee submitted pre-fight urinalysis tests in their dressing rooms. Whoever told HBO's Jim Lampley there was trouble with Chavez submitting his test, and that it would be done after the fight, was simply mistaken. And the events described in the dressing room by "Sugar" Hill were just happenstance. Both fighters took the test. It was administered and collected properly. The tests were sent to the testing agency and the results came back clean.
Is there still a question that hasn't been asked or answered? Isn't it readily apparent (in hindsight at least) that we never asked what the urinalysis test we assumed was given was screening for? Perhaps we should have.
As we learned just this February in this TSS exclusive, the state of Texas does not regularly test professional boxers for the use of performance enhancing drugs (PEDs), including anabolic steroids, HGH, etc. Instead, the standard nine-panel screen is geared to illicit recreational substances. Moreover, despite numerous inquiries made by TSS, the state will not say definitively whether they've ever tested any fighter for PEDs. In fact, the state is even reluctant to advise its main event participants.
Ask Andy Lee. After his loss to Chavez last June, one of his representatives, Damian McCann, personally called Dickie Cole to ask the very questions we in the media should have been asking in the first place.
"He told me his great grandfather or somebody was Irish and we were friends and if there was any wrong-doing he would be the first to put his hands up and fix it in the future," said McCann. "I got no information at all about events of the previous Saturday evening; he did not know anything about the drug testing."
McCann says he restated his questions to Cole again via email, hoping Texas' head boxing man would provide the information. McCann's email dated 6/18/2012:
Hi Dick,
Good to talk to you earlier. Further to our conversation, I can confirm that Andy Lee provided a urine sample for the Texas State Athletic Commission last Saturday evening (June 16, 2012) before his bout with Julio Cesar Chavez Jr.
I would now like to officially request confirmation and clarity from the Texas State Athletic Commission on the following:
Did Julio Cesar Chavez Jr. provide a urine sample as per professional boxing's anti-doping drug testing regulations on Saturday evening (June 16, 2012) for the Texas State Athletic Commission?
If so, was Julio Cesar Chavez Jr.'s urine sample test carried out before or after the bout on Saturday evening (June 16, 2012)?
If so, what was the result of Julio Cesar Chavez Jr.'s urine sample test of June 16, 2012?
If so, what are the names of the individuals who performed Julio Cesar Chavez Jr.'s urine sample test of June 16, 2012?
Many thanks,
Damian McCann
Cole responded to McCann by forwarding the questions over to – you guessed it – Randy Nesbitt.
Nesbitt again confirmed both Chavez and Lee submitted a pre-fight urinalysis test before their bout, and that the tests would take 7-14 days to be returned. He did not advise McCann on any of his more specific questions regarding the drug tests. McCann remained undeterred. On 6/20/12, he submitted the following:
Mr. Nesbitt,
Further to my request yesterday for a copy of the Texas State Athletic Commission's Ant-Doping Testing Procedures, Rules and Regulations.
In relation the Julio Cesar Chavez Jr.'s urine sample, can you please advise what specific test(s) are being conducted and what specific drug(s) are being test for?
What are the name (s) of the individual (s) and organisation or laboratory who performed Julio Cesar Chavez Jr.'s urine sample test?
Also can you please advise the name(s) of the official(s) and witness(s) that were present for the test.
Many Thanks,
Damian McCann
Almost three weeks later, McCann finally received a response to his request, though this time from the Texas Department of Licensing and Regulation's Public Information Officer, Susan Stanford and Attorney General Greg Abbot, dated 7/10/12:
Good afternoon, Mr. McCann.
My name is Susan Stanford and I am the public information officer for the Texas Department of Licensing and Regulation.
I apologize for the delay in responding to your request but I was out of the office from May 26 until July 2.
I have attached a copy of a Texas Attorney General's opinion regarding the release of information regarding drugs test results in relation to combative sports events. As you can see, the state's AG determined that drug test results constitute confidential medical records and are not public information.
Susan Stanford
Needless to say, TSS's own subsequent efforts to confirm even the number of fighters tested for PEDs in the state of Texas has been unsuccessful. In fact, it appears the state does not even keep records of the information on hand.
"We do not keep those records," confirmed Stanford to TSS via phone, when questioned about the unavailability of the records through the Public Information Act.
Aftermath
According to reports, 1.6 million fight fans watched Julio Cesar Chavez, Jr. batter Andy Lee into the ropes on HBO's World Championship Boxing. The event drew 13,476 people to the Sun Bowl that night and was televised worldwide, producing $1.84 million in ticket sales and distribution revenues for Top Rank, Inc.
Despite its success, questions remain around the drug tests performed that evening. Were any drug tests administered to the participants? Were they done before or after the fight? Were the drugs tests administered in such a way as to ensure both fighters gave accurate and true samples? Perhaps most importantly, in a WBC title bout, a fight between two world-class middleweights, where one of the fighters had previously failed a PED test in Nevada, did the drug test administered include screens for any PEDs, at minimum the diuretic Chavez tested positive for in 2009?
The late Manny Steward remained unconvinced about the situation. His night in El Paso turned out to be his last fight in the corner of longtime friend and roommate, Andy Lee. Steward voiced his concerns to Boxing Scene's Chris Harmony just three months before succumbing to the illness that ultimately took his life that fall.
"I am very, very surprised and I am very concerned. In my experience I just recently had with Andy Lee; to my knowledge Julio Cesar Chavez [Jr.] never really took any drug test. They me tell me he was going to take a test after the fight and at the last minute they had my nephew come in, 'Oh, he's going to take it now' and here, he comes in the room with two other guys and they said he took the test so he doesn't have to take nothing now.
"As Andy said, 'I've boxed with Wladimir Klitschko many times; for this fight I boxed with guys 180 pounds. His strength was going like he was almost a 500-pound man'. Based on that and some of the other things I am beginning to see, I realize that there may be something going on that I don't know of.
"I'm looking at this, and he's having leg cramps and Manny Pacquiao having leg cramps; there's too many strange things going on. I really do believe now that's become a very serious issue in our sport that has to be seriously dealt with, because having advantages of hometowns and small rings, even partial officials, that's one thing. But to have where a person's human strength and endurance is doubling and tripling that of an opponent, that could be one of the most difficult and problematic problems in our sport in the next year or so."
McCann shared similar sentiments to me this week, as we discussed continued efforts to find out what happened in Texas last June. At very minimum, we reason together, the fighters who participated in the main event that night deserve to know what kind of drug tests were ordered, right?
"Emanuel Steward and his assistant, 'Sugar' Hill, knew that Andy had to provide a urine sample to officials at the venue prior to the fight," said McCann. "They or Andy were not aware what drugs would be tested for as there is no uniformed and generic code of practice for drug testing in boxing in the US…but like everyone else we assumed, as a matter of course and to hold in good standing the credibility of the testing practice of [the state], that PEDs would be tested for. Without testing for PEDs, the testing regulations are not fit for purpose and totally inadequate."
This weekend in San Antonio there will another big time boxing event in Texas. The unification bout between WBC junior middleweight titlist Saul "Canelo" Alvarez and WBA champ Austin Trout will be televised to millions of people all over the world. The venue has already sold over 30k tickets. The promoters of the bout, Golden Boy Promotions, and their television partner Showtime, are sure to bring in millions of dollars in ticket sales and distribution revenues.
What ends up happening in Texas will be more than just a fight. What happens in Texas could change the way we all think about the sport of boxing and the journalists who cover it. Maybe things get better this time. Maybe there will be transparency in the drug testing process, maybe the drug tests will be administered under proper protocol and include a screen for PEDs. Maybe the fighters and the promoters will leave no doubt about what happens in the ring that night and everyone goes home happy. Or maybe things remain the same, or maybe they get worse. Maybe facts about what happens in Texas on fight night keep getting muddled or withheld, maybe PED tests never become the norm, or even enforced, until someone dies in the ring because no one in the state will stand up for the participants.
Follow McCarson on Twitter @KelseyMcCarson.
Don Dunphy:  Simply the Best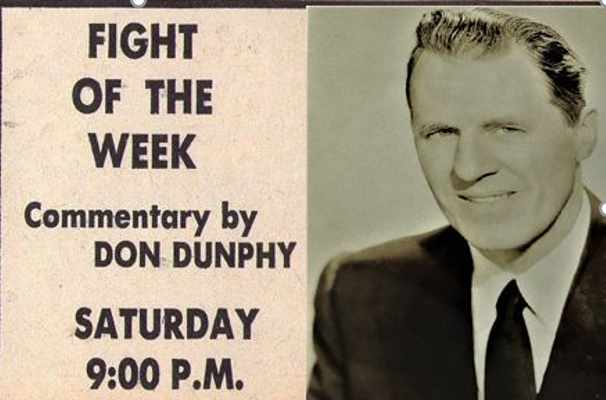 Don Dunphy once said, "When two or more people do blow by blow….they overtalk and emphasize too much." He was responding in 1996 to the issue of modern television's insistence on multiple announcers at ringside.
Don was unique. He a clear, no-nonsense delivery, "pungent phrasing," and just the right sense of drama (without faking it). His voice was crystal-clear with a noirish tang of his New York City roots.
Dunphy's distinct and informative style was not limited to boxing, but boxing was his thing – his signature sport, marked by his election to ten halls of fame (Don was 90 when he passed away in 1998).
Dunphy called the blow-by-blow for more than 2000 fights, 200 or so for titles and 50, or thereabouts, for the heavyweight championship. It was his nasal-voiced staccato style that gave him unique status among announcers back in the day. (I dearly liked Jimmy Powers but I loved Don as his clear voice made following a fight an easy and enjoyable experience on the radio. Win Elliott filled in nicely between rounds.)
"Don Dunphy was boxing" – Marv Albert
Don was the master of brevity. He would allow long periods of time to pass without saying anything, interjecting just enough to add to the drama and not interrupt it. He was indeed the golden voice of boxing. His announcing style was like a well-timed left hook, short and crisp.
More importantly, Don never let himself become the focus. It was never about him.
His first blow-by-blow broadcasts came in 1939, but his fame came two years later when the Gillette Razor Company began its marvelous Friday night tradition.
Here's what Don's son, Bob, had to say during a telephone conversation: "My father had tremendous respect for the fighters and he always knew what his role was in relation to the event. On radio broadcast that was to give a total blow by blow description of what was happening in the ring. On TV he felt it was unnecessary to repeat what the viewer could see for himself and looked to call attention to what was not so obvious. Simply put, nobody did it better.
Don was Boxing's answer to Baseball's Mel Allen.
Along with ring announcer Johnny Addie who never used fake or manufactured enthusiasm, timekeeper Fred Abbatiello, and judge Artie Aidala, the fans were treated to the very best. As much as Dunphy knew about boxing, he never came across as if he knew more than his audience. He made us feel that we were all enjoying the fights together.
Compared with Don Dunphy, the screamers of today are sometimes like a bunch of guys in the front row standing up on every occasion and blocking the view. Unlike these shrill announcers (some of whom have been very fine like Jim Lampley who is one of the most intelligent, humble, and accessible boxing announcers you will ever meet), Dunphy gave viewers only the information they needed. He was a host first and, as the fights unfolded, his calls punctuated the drama.
I grew up listening to Dunphy. He was very much a part of my childhood. His voice, the Gillette jingle, Johnny Addie and peripheral figures like trainer Whitey Bimstein will always be among the highlights and fond memories of my life.
Don Dunphy was inducted into the International Boxing Hall of Fame in 1993.
Ted Sares can be reached at tedsares@roadrunner.com
Check out more boxing news on video at The Boxing Channel 
To comment on this story in The Fight Forum CLICK HERE
Noted Boxing Buffs Name Their Favorite Boxing Book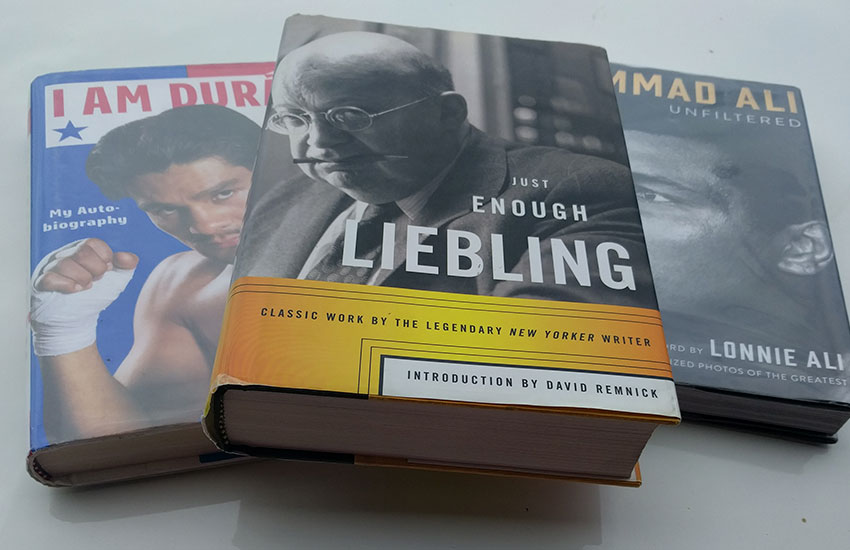 If you happen to have a lot of time on your hands (and, unfortunately, many of us do) this might be a good time to cuddle up with a good book. If you are like us, you promised yourself that you would get acquainted with a particular author, but somehow never found the time. Well, now just may be the right time to fulfill that promise.
And it just so happens that we have a ready-made list of recommendations.
In August of 2017, TSS writer Ted Sares reached out to more than two dozen noted boxing buffs and asked them to name their favorite boxing book. Many felt compelled to name more than one, which was fine with us. We thought this would be a good time to re-visit Ted's survey.
Yes, we know that bookstores and libraries are closed right now throughout most of the English-speaking world, but almost every title can be found on Amazon and some of the classics – even books prized by collectors – can be acquired very cheaply from independent online booksellers who specialize in used books. Their ranks have mushroomed in recent years.
We listed Ted's correspondents alphabetically by their last name. Here are their picks:
JIM AMATO (writer, historian): A.J. Liebling's "The Sweet Science."
RUSS ANBER (elite trainer, corner man, and TV personality): "Joe Louis -Black Hero in White America" by Chris Mead. I remember reading this from cover to cover, unable to put it down. Others: "The Greatest Fight of Our Generation" by Lewis A. Erenberg, "The Sixteenth Round" by Rubin "Hurricane" Carter, "Beyond Glory" by David Margolick.
JOE BRUNO (former New York Tribune sportswriter; author of more than 45 crime-related books, including true crime, novels and screenplays): AJ Liebling's "The Sweet Science."
TRACY CALLIS (eminent boxing historian, writer, and journalist): Seven come quickly to mind. I love to read about boxing so I like almost any book about the game.
"A Man among Men" by Kelly Richard Nicholson
"Chicago's Greatest Sportsman" by Mark T. Dunn
"Hitters, Dancers and Ring Magicians" by Kelly Richard Nicholson
"In the Ring with Bob Fitzsimmons" by Adam Pollack
"In the Ring with James J. Jeffries" by Adam Pollack
"The Choynski Chronicles" by Chris LaForce
"Ultimate Tough Guy" by Jim Carney Jr.
STEVE CANTON (A member of the International Boxing Research Organization, Steve has been involved in every aspect of boxing for more than 52 years): There are so many excellent boxing books. "Only The Ring Was Square" by Teddy Brenner with Barney Nagler was outstanding. "Bummy Davis vs. Murder Inc." by Ron Ross, "Boxing Babylon" by Nigel Collins, just to name a few.
WILLIAM DETLOFF (former amateur boxer, author, editor of Ringside Seat magazine): I'll go with Liebling's "The Sweet Science." Wiley's anthology is certainly up there. It's underrated.
JILL DIAMOND (boxing writer, official, and matchmaker): BOX: "The Face of Boxing" by Holgar Keifel because I love a good photography book. "Four Kings" by George Kimball. In fiction, "The Harder They Fall" by Budd Schulberg. There are so many others.
BERNARD FERNANDEZ (boxing writer and lifetime member of the BWAA): It's a tough call. There are a lot of good ones floating around, but I'll go with John Schulian's "Writers' Fighters and Other Sweet Scientists." But then I'm kind of biased as John, a colleague of mine for a time at the Philadelphia Daily News, is a friend.
IVAN GOLDMAN (ex-Washington Post and LA Times newspaperman, boxing writer, novelist): I humbly submit my novel "The Barfighter" for consideration.
Dr. MARGARET GOODMAN (President of VADA, former Nevada boxing official, neurologist, author): Actually my novel "Death in Vegas" is my favorite book as it tells the truth about the sport via thinly-veiled fiction. Writing it was very cathartic.
LEE GROVES (boxing writer, author): If I had to pick one, it would be "McIlvanney on Boxing" by Hugh McIlvanney. Anytime I want to get a booster shot of excellent, muscular prose, that's what I read. The two A.J. Liebling books "The Sweet Science" and "The Neutral Corner" also provide inspiration.
KEVIN IOLE (Yahoo combat sports writer): I loved "The Fight" by Norman Mailer, which I found to be a well-reported, gripping tale of one of the seminal events of my youth. I also loved "Muhammad Ali: His Life and Times" by Thomas Hauser and "Fight of the Century" by Michael Arkush.
MIGUEL ITURRATE (TSS writer and Senior Archivist at The Boxing Channel): I really enjoy the history books, especially biographies. Battling Nelson's autobiography is a good one. I also really enjoyed "Muldoon: The Solid Man of Sport" by Edward Van Every.
Dr. STUART KIRSCHENBAUM (former amateur boxer; co-founder National Association of Boxing Commissioners): "Empire of Deceit" by Dean Allison. It's a fascinating true story of the Wells Fargo Bank embezzlement by boxing promoter Harold Smith. I had dealings with him while I was the head of the boxing commission in Michigan. He promoted several Kronk championship fights. Cast of characters include Muhammad Ali, Thomas Hearns, and a who's who of that era. Only in America and only in boxing… crime does pay.
HAROLD LEDERMAN (famous boxing judge, member of HBO team, and 2016 IBHOF inductee): "All Time Greats Of Boxing" by Peter Arnold is my favorite boxing book because it's a great book.
FRANK LOTIERZO: (TSS writer emeritus): I can't pick a favorite….so I'll give you a few of my favorites that I've read this summer. "In This Corner" by Peter Heller which I read for the third time; "Sugar Ray Robinson" with Dave Anderson, "Joe Louis: The Great Black Hope" by Richard Bak, "Hard Luck: The Triumph and Tragedy of Jerry Quarry" by Steve Springer and Blake Chavez
ARNE LANG (historian, author, editor-in-chief of The Sweet Science): Many years ago I stumbled on a book called "Bella of Blackfriars" in a used book store in Carlsbad, California. Bella was Bella Burge, the widow of Dick Burge, an English middleweight champion who went to prison for eight years in a massive bank fraud. From her husband's death in 1918 until 1940, Bella ran "The Ring," a boxing house in a circular building on Blackfriars Road in London that was originally an Anglican chapel. I would liken "The Ring" to the Olympic Auditorium in LA. It didn't get the biggest fights but housed many important fights and attracted a loyal clientele that included some salty characters. I found the book a great window into the world of boxing in London. By the way, The Ring had fallen on hard times when it was reduced to rubble by the German Luftwaffe in 1940. I never tire of reading A.J. Liebling, whether he's writing about boxing or Louisiana politics or whatever. I read Liebling for pleasure and also in hopes that some of his skill as a wordsmith will rub off on me but it never has.
RON LIPTON (world class referee): I enjoyed "Jersey Boy: The Life and Mob Slaying of Frankie DePaula" and "Dick Tiger: The Life and Times of a Boxing Immortal," both by Adeyinka Makinde, and the Rocky Graziano biography "Somebody Up There Likes Me." Also, anything by Ted Sares, Springs Toledo, Mike Silver, and William Detloff.
GORDON MARINO (philosophy professor, Wall Street Journal boxing writer, trainer): I guess I would go with Carlo Rotella's "Cut Time" and Roger Kahn's "A Flame of Pure Fire: Jack Dempsey and the Roaring 20's."
ROBERT MLADINICH (former NYPD police detective, author, boxing writer): "Writers, Fighters and Other Sweet Scientists" by John Schulian. It is a collection of his columns from the Chicago Sun-Times and there is not a weak story in the batch. He is a master storyteller and my favorite boxing writer. I also immensely enjoyed "Beyond Glory: Joe Louis vs. Max Schmeling and a World on the Brink" by David Margolick for its historical and social significance and the underrated but exceptional "Weigh-In: The Selling of a Middleweight" by title challenger Fraser Scott.
TED SARES (TSS writer) Ralph Wiley's "Serenity: A Boxing Memoir." I also enjoyed Mike Silver's "The Arc of Boxing: The Rise and Decline of the Sweet Science" for the primary reason that it stirred up a lot of much needed debate between Old School and New School.
JOHN SCULLY (elite trainer, former world title challenger): My favorite boxing book is one that I believe to be one of the greatest books ever written on the inside of boxing called "The Black Lights" by Thomas Hauser. It was actually sent to me by Mike Jones back in 1988 when he was trying to sign me to a professional contract. He sent me the book I assumed as a way to show me how he deals in the boxing game as it is centered around his fighter, Billy Costello. It is a truly great book.
MIKE SILVER (boxing historian; author): I could easily name at least a dozen truly outstanding boxing books that are my favorites, but if asked to name just one I would place David Margolick's "Beyond Glory Joe Louis vs. Max Schmeling and a World on the Brink" in the top spot. Another all-time favorite is the great Nat Fleischer's "50 Years at Ringside."
CARYN A. TATE (boxing writer) While it encompasses more than boxing, Bruce Lee's "Tao of Jeet Kune Do" is probably my favorite book on combat. The book is filled with priceless instruction that is relevant and insightful. Lee was a great admirer of many Western boxers and incorporated some of their techniques into the martial art he founded. More than just an instruction manual, the book fuses technique with philosophy and real world psychology. The book shows that Lee was on the same page with great minds in boxing like Emanuel Steward and Cus D'Amato.
BRUCE TRAMPLER (Top Rank matchmaker; a member of the International Boxing Hall of Fame): Off the top of my head, "The Professional" by W.C. Heinz, "Fat City" by Leonard Gardner, "A Boxing Companion" by Richard O'Brien, "Only The Ring Was Square," and "James Norris and the Decline of Boxing" by Barney Nagler.
GARY "DIGITAL" WILLIAMS: (boxing writer, blogger and "Master of the Beltway"): I have two. Jack Newfield's "Only in America: The Life and Crimes of Don King" is one of the great investigative books of all time. It was riveting. Also, Brad Berkwitt's "Boxing Interviews of a Lifetime." I love the range of people — in and out of the sport — that he interviews in the book.
PETER WOOD: (former boxer, author): My favorite iconic boxing books are "The Sweet Science" by A.J. Liebling and "The Harder They Fall" by Budd Schulberg. My favorite non-fiction boxing books are "Weigh-In" by Fraser Scott; "In This Corner" by Peter Heller, "Atlas" by Teddy Atlas, and "The Raging Bull" by Joseph Carter and Peter Savage. My favorite fictional boxing books are "My Father's Fighter" by Ronald K. Fried and "The Professional" by W.C. Heinz.
Special Mention goes to "Flash Gordon's 1970 East Coast Boxing Yearbook" with Johnny Bos and Bruce Trampler. My all-time favorite boxing autobiography is "Confessions of a Fighter" by Peter W. Wood.
EDITOR'S NOTE: Several interesting books have been published since Ted Sares conducted this survey. A new publishing house in Boston, Hamilcar Publications, released several boxing books, both hardcover and paperback, with more on the way. One of Hamilcar's initial offerings was a reprint of Donald McRae's 1997 opus "Dark Trade: Lost in Boxing," which many consider one of the best boxing books of all time. The Hamilcar edition, with a new chapter by the author, clocks in at 552 pages.
Each year during the holiday season, Hall of Fame boxing writer Thomas Hauser publishes a list of what he considers the best books on boxing. It's a long list. Here's a recent compilation.
Check out more boxing news on video at The Boxing Channel 
To comment on this story in The Fight Forum CLICK HERE
Art of Boxing Series: Sergio 'The Latin Snake' Mora of East L.A.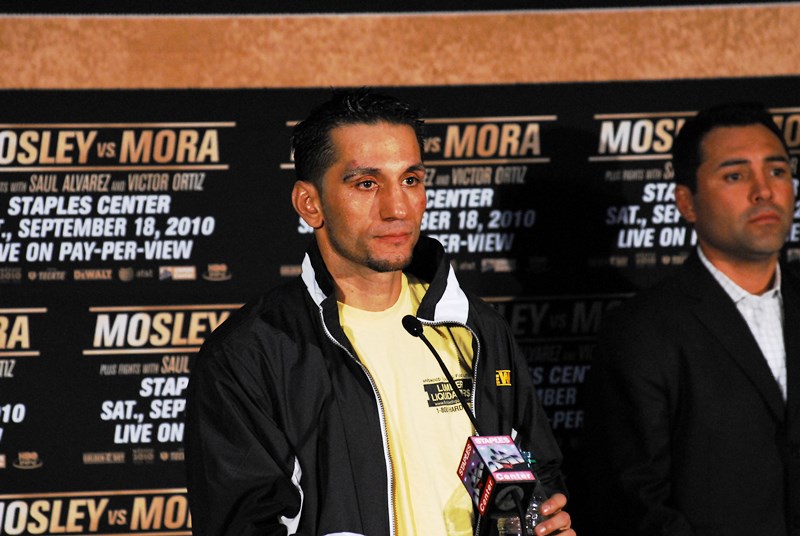 Art of Boxing Series: Sergio 'The Latin Snake' Mora of East L.A.
Not all prizefighters are built or fight the same. This is a series devoted to those who mastered the art of boxing.
Meet Sergio Mora the "Latin Snake".
Thumping neighborhood boys in an East Los Angeles backyard led to eventually winning a reality television tournament called The Contender, to winning a world championship and now sitting as an expert analyst for DAZN's boxing series.
It's been an extraordinary journey for Mora, the boxer from East L.A. who traded punches against neighbors and relatives as a teen for fun.
"We called it barbecue boxing," said Mora of his inauspicious discovery of his talent. "We used to box each other when I was a kid in junior high. We made videos of the fights. You can look it up. I was knocking out older guys."
A few boxing experts advised that he should look deeper into the sport and he did. After a few hits and misses looking for a gym, he found a perfect location at a Montebello gym. He hooked up with a trainer named Dean Campos and advisor in John Montelongo and they made history together.
"I owe it all to Dean and John," said Mora now 39.
But we are getting ahead of ourselves.
Mora's natural abilities included quickness, agility and the ability to absorb punishment. He also relished competition and proving others wrong.
But the East L.A. youngster finally put all of his traits together artistically when he followed the advice of the young trainer Campos whose radical boxing ideas fit perfectly.
"Nobody believed in his unorthodox ideas but they worked for me," said Mora.
For several years Mora and Campos and Montelongo befuddled the amateur competition, first in Southern California and then nationally. He made the semi-finals of the 2000 Olympic Trials and fought to a draw with Darnell Wilson. Somebody decided to determine the winner by who threw the most punches. Wilson threw more punches and moved forward.
It was a severe disappointment for Mora.
The Contender
After three years of dwelling in the amateur boxing world Mora and his team entered the non-structured prizefighting universe not knowing what to expect.
Though Campos taught an unorthodox style of fighting to Mora, the youngster didn't feel confident in using its assets to full capacity in the beginning.
"It wasn't until I fought a guy named Charles Blake that I used everything that Dino (Campos) taught me," said Mora who fought the undefeated Blake at the Arrowhead Pond in Anaheim in 2001. "I did everything he told me and I won pretty easily."
It was also the first time I spotted Mora and quickly determined he would be difficult to beat especially with that fighting style that utilized his speed and agility. I had never seen or heard of Mora before but he stood out.
Two months later he fought again at the Pond and then in June 2001 he fought a hard-charging opponent named Warren "War Dog" Kronberger. It was a middleweight fight set for six rounds but War Dog kept running into Mora's punches and was stopped in three.
After the fight I met the team and discovered Mora was from East L.A. near my family's home. I don't know if he remembers, but I told him he was going to be a world champion someday. It was the first time I ever said that to a fighter though I had been a boxing reporter since 1985.
For the next several years Mora kept knocking off opposition with his crouching tiger style and soon a television production company came calling. Actually, it was a radio announcement during a morning Hip Hop show calling for all boxers interested in making $1 million dollars in a television tournament.
"I was driving in the morning listening to Big Boy when he made the announcement," said Dean Campos who trains Mora. "I couldn't believe what I heard and I told Sergio and John about it. They didn't believe me at first until we went to San Diego to spar somebody and they asked if we were going to try out."
A reality television show called the Contender pit young talented fighters against each other and housed them together in a studio-made home. Week by week the NBC network telecast the show to millions of living rooms across the country.
After months of auditions and tryouts Mora was among those selected.
Filming was done in Pasadena and those prizefighters who participated were Peter Manfredo Jr., Ishe Smith, Alfonso Gomez, Jesse Brinkley and several others including Mora.
The fights were taped and later shown to the public in edited form. But few outside of the production crew knew who the winners were for many weeks. The finals of the first season took place at Caesars Palace in Las Vegas. The winner would take home $1 million dollars and a free truck among other things including a promotion deal.
Fans of boxing did not like watching edited fights but despite the many criticisms from hardcore fans, when the finals took place on May 24, 2005, thousands of fans showed up in Las Vegas to watch Manfredo battle Mora in the championship fight.
Manfredo's fans arrived in droves and shouted "Pi-Ta!" "Pi-Ta" which confused many who were not familiar with the New England accent. Manfredo fans were shouting the first name Peter but it comes out as Pi-Ta. Southern California fans arrived but were muted in comparison to the East Coast fans.
It was a surprise to see Manfredo in the semi-final because he had lost earlier to Alfonso Gomez. But he returned as a wild card participant and vanquished his way to the finals against Mora who had defeated Najai Turpin, Ishe Smith, and Jesse Brinkley to get to the finals.
In the finals the boisterous crowd saw Mora defuse Manfredo's attacks and win the seven-round middleweight The Contender championship fight by unanimous decision. Mora went from unknown boxer to a nationally and internationally recognized prizefighter in not just the boxing world, but households everywhere.
The East L.A. youngster who was 24 years old at the time, suddenly morphed from impoverished boxer to bankable fighter. His team also benefited from the massive exposure. It also remained the same three members from start to finish with Dean Campos serving a trainer and manager, John Montelongo as assistant trainer and benefactor and Mora the fighter.
"Rolando Arrellano who worked as a manager and promoter said he couldn't believe we had been together that long with no changes," said Campos, who managed Mora's fighting career without a written contract. "Nobody else does that, but we never wrote anything down."
Montelongo, a motorcycle police officer, always took care of the team's needs especially in terms of equipment and facilities. In the beginning Mora would train at the Montebello Police headquarters small gym.
Forrest, Mosley and More
For several years Mora continued fighting under the Contender promotions banner and always sought better competition. After a 10-round draw against Elvin Ayala in Carson, the East L.A. native decided to accept any world title match.
"I didn't want to slip up so I figured let's just go for a big fight," said Mora. "That's when we got the offer for Vernon Forrest, may he rest in peace."
When the fight was announced only two boxing writers picked Mora to win. Those two were the only journalists familiar with the boxing abilities of the stance switching fighter. It was not seen as a competitive fight by other writers or announcers.
"Vernon Forrest really under-estimated me," said Mora who had sparred Forrest once at the Wild Card Gym in Hollywood years earlier. "It was my one of my most satisfying wins because I proved I was good enough to beat one of the best."
Mora utilized his crouching style to perfection and basically stymied most of Forrest's attacks. Though it appeared the East L.A. boxer won clearly, one judge saw it a draw but two saw Mora out-performing the champion.
After capturing the WBC super welterweight title Mora went on a celebration binge according to his own words. Three months later they fought again.
"We had a rematch clause and I partied too much," said Mora. "I was in no way ready for Vernon Forrest in the second fight. He beat me good in the rematch."
Two years later Mora accepted a fight against Sugar Shane Mosley at the Staples Center on September 2010. It remains the biggest disappointment in Mora's career.
Mosley and Mora battled 12 rounds in a slow-moving battle in which both engaged in counter-punching. There was a weight problem Mora suffered that resulted in him weighing 157 pounds instead of the 154 contracted weight.
"There was something wrong with the scale in the hotel for the B side of the fight card," said Mora. "Almost everyone on the B-side missed their weight."
Regardless of losing weight before the fight, Mora felt he was far enough ahead in the fight to win handily against Mosley.
"I should have listened to my corner," said Mora. "Dino told me that I needed to throw more punches, that it could be a close fight. But I thought I was comfortably ahead. It was a huge mistake on my part. I lost a lot of money because of it."
After 12 rounds the fight was scored a split-decision draw. The HBO commentators eviscerated Mora and not Mosley.
Mora remained a viable contender for the remainder of his career and on August 2015 he was offered a shot at the WBA middleweight title against Daniel Jacobs at Brooklyn, New York. He eagerly accepted the fight.
"He really underestimated me and thought he would run over me," said Mora of their clash at Barclays Center. "He knocked me down with a punch. I've never been hit that hard before. But then I knocked him down when he ran into my punch. It was a perfectly placed left hook."
The fight proceeded but in the second round the two middleweights got entangled and Mora went down to the floor writhing in pain from a severe ankle injury. He could not go on.
"Jacobs leaned on me with his full body and it just tore my ligament," said Mora.
The fight was ruled a knockout win for Jacobs and though they would meet again Mora's leg had seen better days. He lost in the rematch badly a year later by technical knockout in the seventh round.
"I had no legs anymore," said Mora regarding the rematch held a year later. "It was my worst training camp. I don't think I ever looked good even in sparring. But Jacobs was the better man and was definitely the hardest puncher I ever faced."
Mora fought once more against his old pal Alfredo "El Perro" Angulo. They had sparred many times over the years especially when they both trained at the same gyms in South El Monte and in Montebello.
"I love Angulo but it was a fight," said Mora. "I won the first half of the fight and he won the second half of the fight. But fans will tell you it was one of the most entertaining fights I've ever been in."
Mora won the fight that night on April 2018 and it was the final time Mora entered the prize ring.
DAZN
One day Mora received an unlisted phone call and answering it led to another change in his boxing life.
"I never answer unknown numbers but for some reason I answered it. I'm glad I did," said Mora.
That phone call was from John Learing of Perform Group who wanted him as an analyst for the DAZN boxing series. They put Mora on a live broadcast for a prize fight and ever since that night he has been a regular analyst on DAZN's boxing shows.
"It's been one of the most satisfying experiences I've ever had," said Mora. "Not only do I get to stay in boxing, I love what I do and I love the challenges. It's hard work and I'm learning every day."
Mora has steadily established himself as an acute analyst whose own ring intelligence plays out with his new work as a boxing journalist. He's always been a quick study especially when it pertains to the sweet science.
"Now I'm learning the other side of boxing," said Mora who had 36 pro bouts in an 18-year career as a prizefighter. "I really love it."
Few would have predicted that the East L.A. kid who didn't pack a big punch would last in this business. Instead, Mora mastered the art of boxing that allowed him to match blows against some of the best that ever fought. And he won.
Photos credit: Al Applerose
Check out more boxing news on video at The Boxing Channel 
To comment on this story in The Fight Forum CLICK HERE