TSS SPECIAL REPORT: What Happened in Texas
As another Texas-sized boxing event approaches with Saul "Canelo" Alvarez vs. Austin Trout, TSS looks back at last year's middleweight battle between Julio Cesar Chavez, Jr. and Andy Lee. Did the Texas Department of Licensing and Regulation's Combative Sports division do their job? Did journalists do any better? Is there anything we can learn from what did (or didn't) happen last summer in El Paso?
Last summer, middleweights Julio Cesar Chavez, Jr. and Andy Lee agreed to face each other in El Paso, Texas in a 12-round bout for Chavez's WBC middleweight title belt. The contest would help determine which talented up-and-comer would earn a lucrative opportunity against linear champion and pound-for-pound superstar, Sergio Martinez.
What ended up happening in Texas that summer was more than just a fight. What happened in Texas changed the way I think about the sport of boxing and the journalists who cover it.
The Long and Winding Road
Honestly, at the time of the fight, they were my two favorite middleweights. As a boxing writer in Texas, I had attended Chavez's two preceding bouts against Peter Manfredo in Houston and Marco Antonio Rubio in San Antonio. It is said that familiarity breeds contempt but that's a boldfaced lie. The exact opposite is more often the case. Chavez had grown on me.
As for Andy Lee, he's just one of those fighters who happen to appeal to me for some reason. The Irishman has a pleasant demeanor, is articulate and fights from a southpaw stance; all characteristics I admire. Plus, my personal interaction with him revealed we seem to enjoy the same kind of things: humor, music and movies.
Either man, I thought at the time, would be the one to dethrone the aging Martinez. Still, El Paso is a long way away from Houston, and Texas is not like other states: one does not simply pile into a car to drive to its outermost boundaries. Right?
As it so happened, it actually wasn't so far outside the realm of possibility to not happen. The McCarson clan, consisting of your TSS scribe and his wife/photographer, Rachel, did decide by unanimous vote that the fight was well worth the 745 mile drive across the long, serpentine highways through lonely parts of Texas. After all, eleven hours in a car is nothing compared to witnessing in person one of the better fights of the year between two of your favorite fighters. Off we went.
Weighty Issues
The customary Friday afternoon weigh-in before the Saturday night bout was anything but normal, despite my report submitted that evening:
Middleweights Julio Cesar Chavez Jr. and Andy Lee both made weight Friday ahead of their scheduled showdown in El Paso, Texas. The bout will be televised live Saturday on HBO World Championship Boxing beginning at 10:00 p.m. ET.
Challenger Andy Lee was first to the scale where officials announced a weight of 159.25 pounds. The usually mild-mannered Lee appeared focused and determined, even going so far as to wear a scowl for the majority of the time he stood on the dais.
Next up was Chavez, who was cheered on heavily by the robust, pro-Mexican crowd of spectators who had waited patiently in line outside the venue to see him before jamming themselves into one of the city's more famous landmarks, the historic Plaza Theatre.
Chavez, son of legendary Mexican champion of the same name, has developed a reputation as of late for not taking training camps as seriously as perhaps his handlers would like, but he looked fit and ready to rumble this go around, weighing in at 159 pounds.
Both fighters appeared to be in impeccable shape and ready to fight. While fans of Chavez made up the majority of spectators present as expected, there was a noticeable contingent of pro-Lee supporters donning classic gold and black Kronk gym colors there as well.
What's missing from the report is what I did not see. I did not see the contention on Team Lee's faces as they argued over the weight of Chavez's gloves. I did not see them argue with Top Rank officials and trainer Freddie Roach about the construction of Chavez's gloves, did not see Lee put his own glove on the scale to prove it met the 10 oz middleweight requirement, did not see Texas official Robert Tapia refuse Lee's request for reasons only he could fathom.
What else did I miss? At 159 pounds, was Chavez "fit and ready" as I noted above? Or was he, as others said at the time, disturbingly gaunt?
A Night at the Bar
A popular song in the Lone Star State says "the stars at night are big and bright, deep in the heart of Texas." What is said about the night's sky was also true of the hotel bar that night. For despite being in the relatively secluded area of El Paso, the boxing's biggest stars were out in full force.
Completed in 1912, this historic Camino Real is a truly magnificent building. The old world spaciousness and attention to detail is a special refuge from what passes for glamour in today's increasingly postmodernly simple world. Under the cut-glass chandeliers, surrounded by hand-carved marble, said to be carefully crafted by Italian workmen over a century ago, the boxing world got together and had some drinks.
Larry Merchant is knocking them back with fans before turning it in for the night early. Over in the corner, Bob Arum chats with Harold Lederman, each stopping their conversation whenever necessary to submit to passerby requests for pictures or autographs. Irish middleweight Matt Macklin slouches comfortably in a foyer lazy boy, telling all who will listen it will be Lee's day tomorrow. Peddlers hock shirts and hats with "Chavez" emblazoned across them in red, green and white letters to anyone who will have them. Many will.
Rachel and I are here now, too, over from our quaint Microtel to meet Twitter friends Eoin Casey and Paddy Cronan at the fancy fight hotel. Eoin and Paddy are there when we arrive, chatting it up with boxing trainer Ronnie Shields about tomorrow's big bout. The Irishmen like Lee's chances. Shields isn't so sure, but after a few drinks of our own, Rachel and I do our best to help convince him otherwise.
Suddenly, Jim Lampley enters the fray. Jim snakes his way around the crowd to one of the happy bartenders in the middle of the room to order his fare. He heads back to the elevator when laughter erupts from nearby. It's our table, because Paddy and Eoin have pointed out something a little peculiar: Lampley isn't wearing any shoes.
The night ends with more alcohol than it probably should have. Eoin and Paddy are younger than I (at least at heart), so they employ their special Irish brand of vitality to head out and see what other nightlife El Paso has to offer. The McCarsons, meanwhile, put discretion before valor and head back to their sensibly sized mini-sized suite near the airport to rest up for the big fight.
Before drifting off to sleep, I send a direct message to Andy Lee on Twitter. I tell him how excited everyone seems at the hotel and how everyone I talked to believes in him. I do not mention Ronnie Shields, whose concerned look has me questioning my own pick by morning.
Snipers at the Sun Bowl
It almost didn't happen, in El Paso anyway.
Just two months before the fight, The University of Texas System Chancellor, Francisco G. Cigarroa, forbade the fight from happening at the University of Texas El Paso's football stadium, the Sun Bowl, citing numerous but vague security concerns. The people of El Paso simply weren't having it. They wanted a big fight and they would have it. A coordinated effort from the community as well as numerous University of Texas at El Paso officials convinced Cigarroa to reverse his position in short order. Cigarroa's concession came with conditions, though, including the prohibition of alcohol at the event.
Whether warranted or not, Cigarroa's actions created tons of tension the night of the fight, so much so, in fact, that the Associated Press sent not one, but two reporters to ringside that evening. One of the men there, Bart Barry, was tasked with standard fight report duties. The other, Juan Carlos Llorca, was sent to capture any and all nonboxing events that might occur at the Sun Bowl related to the supposed danger for which Cigarroa was so fearful.
As the sun receded behind the surrounding Franklin mountain range, the threat of rain fell with it. Lined around the top of the stadium's room, silent guardians appeared as statuesque silhouettes above us, rifles in hand and ready to fire. But Cigarroa was wrong, and Llorca would have nothing to cover that night. Even typical fight night fisticuffs were conspicuously absent this evening. Bout after bout, there was no danger. By the time the main event came, the thought the time spent in the Sun Bowl being anything other than your typical fight night had all but disappeared completely, made only audible every now and then by boxing writer Barry's teachings to his newly found neophyte friend, Llorca.
It was time for the fight.
The Fight
The fight itself lived up to its billing. It was entertaining and had an abrupt end. The two middleweights accounted well for themselves, each having his moment. Lee got off early, using a sharp, stiff jab and a long reach to build an early points lead. Chavez started coming on though in the fifth, and by the seventh round, his heavier punches were finally taking their toll.
The fight was stopped by referee Laurence Cole at 2:21 of round number seven. Lee was up against the ropes, visibly hurt and unable to defend himself, with Chavez pouring it on top of him like an avalanche.
My ringside report filed at deadline tells the story:
Julio Cesar Chavez Jr. (46-0-1, 32 KOs) notched his most impressive win to date Saturday night in front of 13,467 boxing fans in El Paso, defeating Irish challenger Andy Lee (28-2, 20 KOs) by TKO in round number seven.
Things did not start so well for Chavez.
The fight began with Lee soundly outboxing the tentative Chavez with forceful jabs and deft footwork. The second round was more of the same, as Chavez seemed befuddled by his opponent's size and reach. In the third, Chavez started finding success digging in hard shots to the body, but he ate too many clean counters from Lee to take the round decisively.
The fourth round went to Chavez, though, as he was able to position Lee in the corner, at times almost at will, and let loose powerful hooks and uppercuts, even stunning the challenger for the first time in the contest when both men landed hard shots at the same time.
It was perhaps then, that Chavez realized the power advantage he possessed over Lee.
The now determined Chavez started taunting Lee in the fifth, which seemed to lead the challenger to not only do the same in return, but to also abandon his jab almost completely in order to trade shots with the slugging Mexican. Both men landed heavy shots as the action picked up.
"He'd just walk through them," Lee would say afterwards.
The men took turns getting the better of each other in the sixth, with Chavez coming out on top of things by the end of it, landing both excellently timed and powerfully thunderous punches in the corner as the bell sounded.
Chavez would just keep coming in the seventh, where ultimately his harder, more effective blows turned out to be just too much for the brave Irish challenger.
With the win, Chavez retained his WBC middleweight title belt, setting up a showdown with linear champion Sergio Martinez.
After the fight, Lee praised the champion as a worthy opponent for Martinez.
"I couldn't hold him off," he said. "He was too big and too strong. He'd give Martinez a hell of a fight."
Lee's hall of fame trainer, Emanuel Steward, concurred. "Junior fought a smart fight. He's very strong. He passed the test. "
After the fight, Chavez seemed confident in the execution of his plan in the fight, despite being down on all three judges scorecards' at the time four rounds to two.
"I started by studying him," he said. "I saw he had nothing. I dove in."
The story of Julio Cesar Chavez Jr. is becoming increasingly interesting. The 26-year-old continues to make his mark in the same sport his famous father made his, despite being ever present in the shadow of the man largely considered the greatest Mexican champion of all-time.
"I'm very happy to carry this name, to keep doing more, and to write my story in boxing."
The next part of the story will include Sergio Martinez. Bob Arum and Lou DiBella confirmed the contest for September 15th in Las Vegas after the fight.
Chavez Sr. seems as eager as his son for the fight. "Martinez has talked too much," he told the press. "I hope when the times come for the fight he doesn't' run like a chicken in the ring."
Junior was less openly disdainful of Martinez.
"Martinez moves a lot so I'll have to move. That's a fight I have to make."
The fight was over, and it was time to travel home. Plans set beforehand were already in motion. If he ever wanted another shot at the middleweight title, Lee would have to get back in line. For Chavez, his time against Martinez had come. Bob Arum and Lou DiBella were now ready to cash in on the most lucrative fight possible for September's fast approaching Mexican Independence Day weekend. Everyone was ready to move on.
The story should have been over, but it wasn't. I did not know it at the time of our long drive home from the furthest point west in Texas, but questions were already starting to circulate within the boxing media. Calls needed to be made; documentation checked. If journalists had failed to ask the right questions in El Paso that night, questions about how PED tests were administered for both fighters, about what PEDs were tested for, about when the tests occurred, someone would now need to pick up the slack to find out what had happened in Texas.
What Andy Lee Didn't Do
An eleven hour car ride back from El Paso provides lots of quiet time. I spent much of it reflecting on the fight, what Chavez was able to do and what Andy Lee didn't. First things first, Andy fought a dumb fight.
Andy Lee is a thinking man, a boxer. He's best when he uses his range, fires off a sturdy jab and keeps his opponent off balance by moving laterally. This does two very important things. First, it keeps his opponent from being able to plant his feet. The less his feet are planted, the less power he can generate, keeping Lee safer from harm. Second, this allows Andy to set up counter shots that have double the impact. As Lee's opponent moves forward, Lee wants to use his ring generalship to set traps. As his opponent turns and turns to catch him, as he becomes increasingly flustered by Lee's steady jab, he becomes more and more susceptible to rushing in like a fool. Once he does, Lee can use this ill timed aggression to pounce with naturally hard punches made even more forceful by his opponent's forward momentum.
When Lee fights like this, he has his best chance to win. When he doesn't, he risks losing. Such was the case in his first fight against rugged slugger Brian Vera. Vera wanted to make it a brawl and Lee obliged. The result was a TKO 7 upset win for Vera. In his second fight with Vera, though, Lee won virtually every round precisely because he forsook bravado and fought the way he should. The result was a wide UD win for Lee. It was a pure shutout, virtuoso boxer Andy Lee at his best, in such a thorough and sound boxing lesson that Vera had no qualms about serving as Lee's chief sparring partner for the Chavez fight.
Conventional wisdom said Lee had learned his lesson, but apparently he hadn't. Because what Andy Lee didn't do against Julio Cesar Chavez, Jr. was fight like he should have. He didn't learn from his loss and subsequent win versus Brian Vera, didn't use the time spent with Vera sparring to establish footwork he would use in the fight, didn't listen to cornerman, the late Manny Steward, telling him not to stand there and trade with Chavez like a glutton.
No, in photos taken that night from ringside, Rachel captured far too many cases of Lee standing right in front of Chavez, far too many moments of the two men's heads resting up against each other, far too many lineal advances by Chavez met head on by the valiantly foolish Andy Lee.
What Andy Lee didn't do that night likely cost him the fight.
The Question
Unbeknownst to those of us on press row that evening, there were some serious issues regarding Julio Cesar Chavez, Jr.'s prefight urinalysis.
"The format calls for the fighters to walk to the ring now, but there has been a delay in Julio Cesar Chavez's dressing room," Jim Lampley told the HBO television audience. "We're told that in the other dressing room, Chavez tried and failed to provide a urine sample and the Texas State Athletic Commission has elected to take the sample after the fight."
But according to Manny Steward and assistant Javon "Sugar" Hill, Chavez submitted his urinalysis before the fight, albeit under less than ideal circumstances.
"A guy runs over into our locker room and tells me to come back over because Chavez has to use the bathroom," Hill told boxing writer Geoffrey Ciani. "He was taking his gloves off because he had to use the bathroom. So I go back over there, and there is a bathroom in the locker room. He's in the bathroom and they're taking his gloves off. That's the only part I see. I didn't look in the bathroom to see who was in there, but they took his gloves off when he was in there. There was a guy standing in front and holding a towel up across the doorway of the bathroom, because there was no door. I was standing there for maybe ten minutes at the most. They didn't tell me he was taking a drug test. They said he had to use the bathroom. I was assuming that he had already taken the drug test because they put the gloves on him the first time.
"Then at that point I go back over there and I'm waiting for him to use the bathroom. Then finally a guy, I don't know if he was a doctor or not, left. I asked the Commissioner what that was about, and he said, 'That was Chavez, he just took his drug test'. I said, 'Chavez just took his drug test now?' 'Yeah, yeah. He just took his test right now'."
So which was it? That was the question (or so it seemed at the time). Did Chavez submit to a urinalysis drug test? Secondarily, did it occur before or after the fight?
Boxing journalists sprang to action, your TSS scribe included. I sent an email to Dickie Cole, Program Manager for Texas' Combative Sports Program. In what I've since discovered is typical Cole fashion, he forwarded my inquiry to someone else for response.
"Julio Cesar Chavez, Jr. and Andy Lee submitted urine samples at Saturday's fight," Public Affairs Project Manager Randy Nesbitt emailed me on June 19, 2012.
"Thanks very much," I replied. "Can you tell me what company does the testing and when the results are expected?"
No response.
Perhaps Mr. Nesbitt had bigger fish to fry. ESPN's Dan Rafael (who did not travel to El Paso for the fight) reported later the same day that both Chavez and Lee provided pre-fight urine samples. Rafael's sources included Billy Keane (Chavez's manager), Carl Moretti (Vice President of Chavez's promotional company, Top Rank), and Randy Nesbitt. So then, was HBO's Jim Lampley just misinformed that evening when he told HBO viewers the urinalysis for Chavez would be done after the fight? Rafael says so. In a pro-Chavez blog entry, the ESPN writer says it was all just misunderstanding.
"Jim's comments at the time were accurate," said HBO spokesman Kevin Flaherty. "We were unaware that shortly thereafter a sample was provided. That was unfortunate."
Indeed, "Sugar" Hill's recollection of the events that night seems to corroborate the story told to Rafael. And, while the circumstances explained by Hill would be less than ideal for any serious urinalysis test (typically, there would only be the fighter and a nonpartisan representative in the room in charge of observing and collecting the specimen), it's quite within the realm of possibility that the urinalysis test was taken as described.
But were we, as boxing journalists, asking the right question?
The Question about the Question
Let's assume both fighters took the WBC mandated and Texas prescribed pre-fight urinalysis drug tests just as Rafael reported, and let's also assume there were no shenanigans done that night to keep either fighter from submitting a valid and true sample. While there seems to be lingering questions about this point, particularly with Chavez, let's momentarily give everyone the benefit of the doubt and say before the fight, both Julio Cesar Chavez, Jr. and Andy Lee submitted pre-fight urinalysis tests in their dressing rooms. Whoever told HBO's Jim Lampley there was trouble with Chavez submitting his test, and that it would be done after the fight, was simply mistaken. And the events described in the dressing room by "Sugar" Hill were just happenstance. Both fighters took the test. It was administered and collected properly. The tests were sent to the testing agency and the results came back clean.
Is there still a question that hasn't been asked or answered? Isn't it readily apparent (in hindsight at least) that we never asked what the urinalysis test we assumed was given was screening for? Perhaps we should have.
As we learned just this February in this TSS exclusive, the state of Texas does not regularly test professional boxers for the use of performance enhancing drugs (PEDs), including anabolic steroids, HGH, etc. Instead, the standard nine-panel screen is geared to illicit recreational substances. Moreover, despite numerous inquiries made by TSS, the state will not say definitively whether they've ever tested any fighter for PEDs. In fact, the state is even reluctant to advise its main event participants.
Ask Andy Lee. After his loss to Chavez last June, one of his representatives, Damian McCann, personally called Dickie Cole to ask the very questions we in the media should have been asking in the first place.
"He told me his great grandfather or somebody was Irish and we were friends and if there was any wrong-doing he would be the first to put his hands up and fix it in the future," said McCann. "I got no information at all about events of the previous Saturday evening; he did not know anything about the drug testing."
McCann says he restated his questions to Cole again via email, hoping Texas' head boxing man would provide the information. McCann's email dated 6/18/2012:
Hi Dick,
Good to talk to you earlier. Further to our conversation, I can confirm that Andy Lee provided a urine sample for the Texas State Athletic Commission last Saturday evening (June 16, 2012) before his bout with Julio Cesar Chavez Jr.
I would now like to officially request confirmation and clarity from the Texas State Athletic Commission on the following:
Did Julio Cesar Chavez Jr. provide a urine sample as per professional boxing's anti-doping drug testing regulations on Saturday evening (June 16, 2012) for the Texas State Athletic Commission?
If so, was Julio Cesar Chavez Jr.'s urine sample test carried out before or after the bout on Saturday evening (June 16, 2012)?
If so, what was the result of Julio Cesar Chavez Jr.'s urine sample test of June 16, 2012?
If so, what are the names of the individuals who performed Julio Cesar Chavez Jr.'s urine sample test of June 16, 2012?
Many thanks,
Damian McCann
Cole responded to McCann by forwarding the questions over to – you guessed it – Randy Nesbitt.
Nesbitt again confirmed both Chavez and Lee submitted a pre-fight urinalysis test before their bout, and that the tests would take 7-14 days to be returned. He did not advise McCann on any of his more specific questions regarding the drug tests. McCann remained undeterred. On 6/20/12, he submitted the following:
Mr. Nesbitt,
Further to my request yesterday for a copy of the Texas State Athletic Commission's Ant-Doping Testing Procedures, Rules and Regulations.
In relation the Julio Cesar Chavez Jr.'s urine sample, can you please advise what specific test(s) are being conducted and what specific drug(s) are being test for?
What are the name (s) of the individual (s) and organisation or laboratory who performed Julio Cesar Chavez Jr.'s urine sample test?
Also can you please advise the name(s) of the official(s) and witness(s) that were present for the test.
Many Thanks,
Damian McCann
Almost three weeks later, McCann finally received a response to his request, though this time from the Texas Department of Licensing and Regulation's Public Information Officer, Susan Stanford and Attorney General Greg Abbot, dated 7/10/12:
Good afternoon, Mr. McCann.
My name is Susan Stanford and I am the public information officer for the Texas Department of Licensing and Regulation.
I apologize for the delay in responding to your request but I was out of the office from May 26 until July 2.
I have attached a copy of a Texas Attorney General's opinion regarding the release of information regarding drugs test results in relation to combative sports events. As you can see, the state's AG determined that drug test results constitute confidential medical records and are not public information.
Susan Stanford
Needless to say, TSS's own subsequent efforts to confirm even the number of fighters tested for PEDs in the state of Texas has been unsuccessful. In fact, it appears the state does not even keep records of the information on hand.
"We do not keep those records," confirmed Stanford to TSS via phone, when questioned about the unavailability of the records through the Public Information Act.
Aftermath
According to reports, 1.6 million fight fans watched Julio Cesar Chavez, Jr. batter Andy Lee into the ropes on HBO's World Championship Boxing. The event drew 13,476 people to the Sun Bowl that night and was televised worldwide, producing $1.84 million in ticket sales and distribution revenues for Top Rank, Inc.
Despite its success, questions remain around the drug tests performed that evening. Were any drug tests administered to the participants? Were they done before or after the fight? Were the drugs tests administered in such a way as to ensure both fighters gave accurate and true samples? Perhaps most importantly, in a WBC title bout, a fight between two world-class middleweights, where one of the fighters had previously failed a PED test in Nevada, did the drug test administered include screens for any PEDs, at minimum the diuretic Chavez tested positive for in 2009?
The late Manny Steward remained unconvinced about the situation. His night in El Paso turned out to be his last fight in the corner of longtime friend and roommate, Andy Lee. Steward voiced his concerns to Boxing Scene's Chris Harmony just three months before succumbing to the illness that ultimately took his life that fall.
"I am very, very surprised and I am very concerned. In my experience I just recently had with Andy Lee; to my knowledge Julio Cesar Chavez [Jr.] never really took any drug test. They me tell me he was going to take a test after the fight and at the last minute they had my nephew come in, 'Oh, he's going to take it now' and here, he comes in the room with two other guys and they said he took the test so he doesn't have to take nothing now.
"As Andy said, 'I've boxed with Wladimir Klitschko many times; for this fight I boxed with guys 180 pounds. His strength was going like he was almost a 500-pound man'. Based on that and some of the other things I am beginning to see, I realize that there may be something going on that I don't know of.
"I'm looking at this, and he's having leg cramps and Manny Pacquiao having leg cramps; there's too many strange things going on. I really do believe now that's become a very serious issue in our sport that has to be seriously dealt with, because having advantages of hometowns and small rings, even partial officials, that's one thing. But to have where a person's human strength and endurance is doubling and tripling that of an opponent, that could be one of the most difficult and problematic problems in our sport in the next year or so."
McCann shared similar sentiments to me this week, as we discussed continued efforts to find out what happened in Texas last June. At very minimum, we reason together, the fighters who participated in the main event that night deserve to know what kind of drug tests were ordered, right?
"Emanuel Steward and his assistant, 'Sugar' Hill, knew that Andy had to provide a urine sample to officials at the venue prior to the fight," said McCann. "They or Andy were not aware what drugs would be tested for as there is no uniformed and generic code of practice for drug testing in boxing in the US…but like everyone else we assumed, as a matter of course and to hold in good standing the credibility of the testing practice of [the state], that PEDs would be tested for. Without testing for PEDs, the testing regulations are not fit for purpose and totally inadequate."
This weekend in San Antonio there will another big time boxing event in Texas. The unification bout between WBC junior middleweight titlist Saul "Canelo" Alvarez and WBA champ Austin Trout will be televised to millions of people all over the world. The venue has already sold over 30k tickets. The promoters of the bout, Golden Boy Promotions, and their television partner Showtime, are sure to bring in millions of dollars in ticket sales and distribution revenues.
What ends up happening in Texas will be more than just a fight. What happens in Texas could change the way we all think about the sport of boxing and the journalists who cover it. Maybe things get better this time. Maybe there will be transparency in the drug testing process, maybe the drug tests will be administered under proper protocol and include a screen for PEDs. Maybe the fighters and the promoters will leave no doubt about what happens in the ring that night and everyone goes home happy. Or maybe things remain the same, or maybe they get worse. Maybe facts about what happens in Texas on fight night keep getting muddled or withheld, maybe PED tests never become the norm, or even enforced, until someone dies in the ring because no one in the state will stand up for the participants.
Follow McCarson on Twitter @KelseyMcCarson.
Remembering 'Rocky Estafire,' One Tough Syrian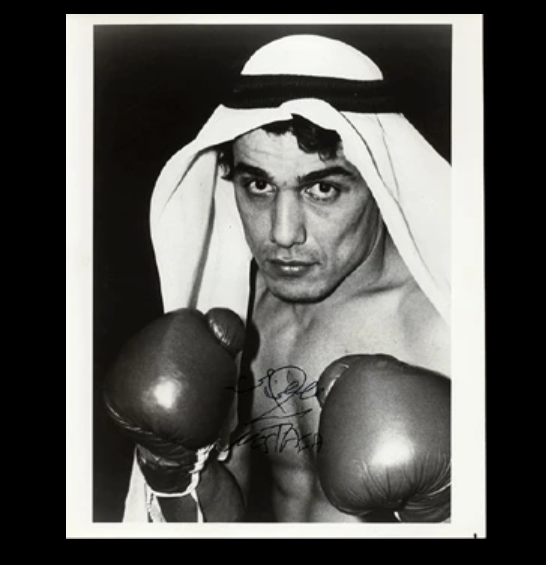 On Sept. 9, 1978, a Bayonne, New Jersey brawler who was billed as Rocky Estafire when he was first starting out, stopped slick Bobby "Boogaloo" Watts in Jersey City giving notice that he was becoming a force to be reckoned with in the middleweight division. Watts was no slouch having split a pair with Marvelous Marvin Hagler.
"Strictly LaMotta style," said Paddy Flood of his fighter who would come to be known by his real name, Mustafa Hamsho.
In 1980, he beat undefeated Wilford Scypion and followed that up with close wins over Curtis Parker and Alan Minter in 1981 leading to his first of two title clashes with Hagler. This bloody encounter, won by Hagler on an 11th-round TKO, left both fighters needing stiches.
"Throughout Hagler's nonstop, 11th-round barrage, Hamsho kept coming on. He didn't win a round, but he did take the battle of the stitches, 55-5," wrote Pat Putnam in Sports Illustrated. "I don't know what his corner was waiting for…The meat from his eyes was hanging down. But I can't let that bother me. I just have to think, better him than me," said Hagler.
More from Putnam: "When Hagler had left the hospital, the doctors were still working over Hamsho, who, until his trainer, Al Braverman, jumped into the ring to stop the fight, looked as though he would run out of blood before he ran out of heart. He was badly cut under both brows: Each wound was at least two inches long and half an inch wide. There was another slice under his left eye. He didn't win a round from any of the three officials."
Al Braverman, who co-managed Hamsho with the aforementioned Flood, once described the Syrian's style as follows: "…."He's got no style. He just wades in, throwing punches from any angle."  He also possessed great stamina, a granite chin and incredible courage, along with head and shoulder butts, elbows, low blows, shoves, holding, chops behind the head, and whatever he could get away with.
The Matinee Idol
Bobby Czyz was 20-0 when he met Hamsho at the Convention Center in Atlantic City on Nov. 20, 1982. The undefeated New Jersey lad with the somewhat strange moniker of "Matinee Idol" and the high IQ had solid wins over Danny Long, Teddy Mann, Oscar Albarado, Elisha Obed, and Robbie Sims. Against Hamsho he was stepping up in class but he was a solid opponent for the Syrian who was 34-2-2 coming in.
If Bobby won, he would position himself for a shot at Marvelous Marvin, but Hamsho mauled and mugged the future world light heavyweight champion over ten rounds and won a convincing UD. (The rest of the Bobby Czyz story is told in "The Boxer Who Became a Bagger," a remarkable and poignant article by sports columnist Steve Politi that first appeared in the Newark Star-Ledger.)
Wilfred Benitez
HIs UD victory over Wilfred Benitez (45-2-1) in 1883 was pure Hamsho featuring elbows, butts, and low blows. The third round was difficult to watch as the compact Syrian rendered a brutal beating on "El Radar," using accurate nonstop shots coming from all directions. Between slips and knockdowns, Wilfred hit the deck four times.
Clearly, Benitez had faded, but Hamsho hastened the process and helped point the legendary Puerto Rican in a downward direction. Wilfred looked sluggish and poorly conditioned; he was not the same Benitez who knocked out Maurice Hope in spectacular fashion or out-boxed Roberto Duran for 15 rounds. Something was wrong.
But even in top shape, Benitez would have struggled against Hamsho with his mauling, brawling, non-stop pressure. Hamsho could make anyone look bad.  (Wilfred Benitez would lose several more outings after the Hamsho beatdown. Matthew Hilton finished the job with a terrifying KO in 1986. Wilfred's story is a terribly sad one as he now requires constant care.)
Hamsho would lose another fight with Hagler—this time quickly and badly– and then go 6-2 before retiring in 1989 with a record of 44-5-2.
Those who were fortunate enough to see him fight remember a fan-pleasing, all-action combination of Vito Antuofermo, Michael Katsidis, Antonio Margarito, and Gene Fullmer.
Amir Khan and Prince Naseem Hamed are two very high profile, proud Muslim fighters. Mustafa Hamsho's name can be added.
Ted Sares can be reached at tedsares@roadrunner.com
Check out more boxing news on video at the Boxing Channel
To comment on this story in the Fight Forum CLICK HERE
Miguel Madueno Scores His 12th Straight Knockout at Ontario, Calif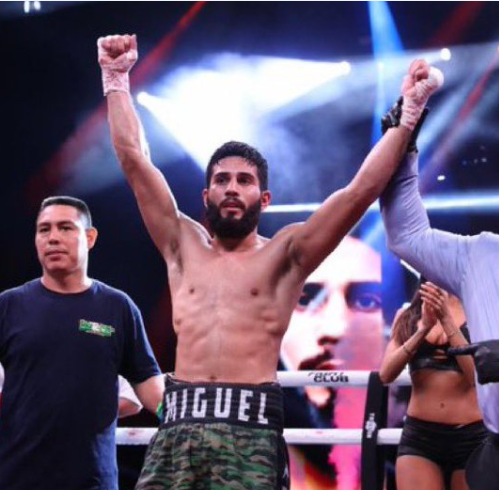 Ontario, CA — A return of fans to the Inland Empire saw Mexico's Miguel Madueno extend his consecutive knockout streak to a dozen at the Doubletree Hotel in Ontario, California on Friday.
It was the first fan-filled event for a Thompson Boxing card in the "I.E." in almost two years.
Lightweight contender Madueno (26-0, 24 KOs) of Culiacan powered his way to his 12th consecutive knockout and this came at the expense of fellow Mexican Jose Luis Rodriguez (25-15-1, 13 KOs) with a focused attack to the body.
Rodriguez was clever and tough and would not allow Madueno to overwhelm him during the first four rounds. But in the fifth he was not as lucky as a four-punch barrage to the body sent him to one knee. He beat the count but was overwhelmed by Madueno who forced referee Raul Caiz to end the fight at 2:46 of the fifth round.
"In reality I thought I would end it early," said Madueno about seeking an early knockout. "But he could take it."
In the co-main event Japan's Katsuma Akitsugi (7-0) outhustled Northern California's Eros Correa (10-1) after eight rounds in a bantamweight scrap to win by majority decision.
Akitsugi, a southpaw, and Correa both showed quick hands and good chins. But the Japanese fighter was always on attack and Correa resorted to holding from the second round on. He was never warned by the referee for excessive holding. It could have helped him get back in the fight.
Every time Akitsugi entered the danger zone Correa would grab ahold like an MMA fighter instead of fighting on the inside. While Correa held Akitsugi punched and that proved the difference as two judges scored it 78-74 for Akitsugi, while a third saw it 76-76.
"I could not box my style at all," said Akitsugi, 23. "I'm glad I brought the win home."
Other Bouts
San Bernardino's Esteban Munoz (5-1, 3 KOs) knocked out Tijuana's Manuel Martinez (6-5-4) with a body shot in the first round. He could not beat the count. Munoz had stunned Martinez earlier with a counter right. Then he found an opening to the body and delivered a right to the gut and down went Martinez. He was counted out at 1:50 of the first round.
Coachella's Lazaro Vargas (4-0) out-worked Ulises Rosales (0-5) over four rounds of a super bantamweight match to win by unanimous decision 40-36 on all three cards.
Check out more boxing news on video at the Boxing Channel
To comment on this story in the Fight Forum CLICK HERE
Oscar Rivas is Boxing's First Bridgerweight Champ; Tops Spunky Ryan Rozicki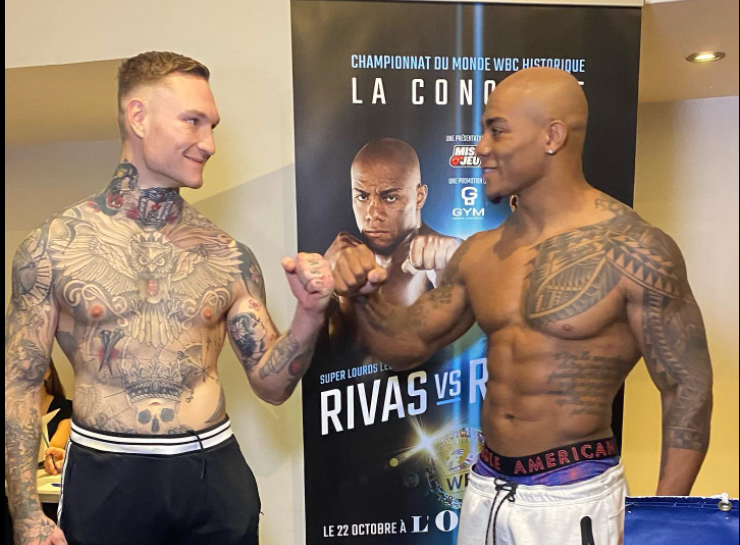 Back in January, the World Boxing Council announced that they were creating a new weight division. Tailored to boxers weighing between 200 and 224 pounds, they named it Bridgerweight. Tonight, at the Olympia Theatre in Montreal, the first WBC bridgerweight champion was crowned. Montreal-based Oscar Rivas, a 2008 Olympian representing his native Columbia, turned the trick with a unanimous 12-round decision over fellow Canadian Ryan Rozicki, advancing his record to 28-1 (19).
Rozicki, who is from Nova Scotia, out-performed expectations. Although he had knocked out all 13 of his opponents since turning pro in 2016, he hadn't defeated anyone of note and hadn't fought beyond six rounds. He drew the assignment when Rivas's original opponent Bryant Jennings was scratched because of his refusal to accept Canada's COVID protocols for unvaccinated foreigners. (A match between Rivas and Jennings would have been a rematch of their Jan. 18, 2019 contest in Verona, New York, a rather ho-hum match that had a dramatic ending when Rivas turned up the heat in the 12th round.)
Rivas, 34, was making his second start since suffering his lone defeat, a setback on points in a 12-round contest with Dillian Whyte in London. The heavier man by 19 pounds, he dominated the first two frames, rocking Rozicki in the opening stanza, but the Nova Scotian clawed his way back into the fight. Rivas had a strong penultimate round and although he had a point deducted for holding in the final stanza, it did not factor into the outcome. The judges had it 116-111 and 115-112.
What's next for Oscar Rivas? Logically a bout with Evgeny Romanov. A 36-year-old Russian with a 16-0 (11-0 mark), Romanov was ranked #2 behind Rivas in the WBC's latest set of bridgerweight rankings. Romanov's claim to fame is that he TKOed Deontay Wilder is in amateur days, but that was way back in 2008.
Another possibility, and one likely to attract more buzz, would be a bout with Alen Babic. A 30-year-old Brit by way of Croatia, the colorful, free-swinging Babic (8-0, 8 KOs) has a date later this month in London with Texas trial horse Eric Molina.
The best guess, however, is that Rivas will discard the belt and go back to competing as a heavyweight. The bridgerweight title, we suspect, like many of the lesser titles, will be perpetually vacant, which likely wouldn't trouble the WBC at all as they will gather up a sanctioning fee from a bridgerweight title fight whether there is an incumbent or not.
There were two 8-rounders offering chief support, but both were cancelled when the opponents failed to pass muster. Left in the lurch were "A side" Canadians Sebastien Bouchard, a welterweight, and Steve Rolls, a middleweight.
Check out more boxing news on video at the Boxing Channel
To comment on this story in the Fight Forum CLICK HERE