Boxing Gods Bring Sunshine to Hall of Fame Celebration
CANASTOTA, N.Y. – There is a tale, which might or might not be apocryphal, of the transcendence of the late, great Alabama football coach, Paul "Bear" Bryant. On an overcast, drizzly afternoon in Birmingham's Legion Field, a Crimson Tide player was injured and lying motionless on the field. A hush fell over the crowd, and Bryant walked out to check on the player's condition.
Just as Bryant leaned over, someone yelled, `Heal him, Bear!'" And at that very moment the rain stopped, the sun peeked out from behind a cloud and the player rose to his feet.
Perhaps there are gods of boxing capable of controlling the elements, or maybe Carmen Basilio, the Canastota native, two-division world champion and pied piper of the International Boxing Hall of Fame, was smiling from his celestial perch and making Bear-like magic. But for whatever reason, the IBHOF's 24th annual Induction Weekend – a bit of a misnomer, given that the four-day festivities actually begin on a Thursday – caught a clear, bright and dry break here Sunday, after steady rains for much of the week had dampened the ground, if not the spirits of pilgrims who come here every year to celebrate great fights and great fighters.
If not by Basilio, for whom the earthly bell tolled 10 on Nov. 7, 2012, the overcast skies might have been chased away by one or both of two Hall of Famers who also passed away last year, Angelo Dundee and Bert Sugar, whose cheerfulness and winning ways with the public made attendance for these festivities a must on any fight fan's calendar.
"You couldn't ask for nicer weather," said one fan from New Jersey, who had changed out of his Friday and Saturday attire of windbreaker and long pants, made necessary by mid-50s temperatures, a chill wind and steady rain, into shorts and a T-shirt. "Somebody up there must be looking out for us down here."
There had been a nettlesome school of thought that the IBHOF, first dreamed of in the mid-1980s, made a reality in 1989 by Canastota city fathers and persistent benefactors, and whose first induction class was in 1990, could not be the same with so many of the old standbys gone to their eternal reward. But boxing endures despite whatever adversities are thrown at it, and so it was on another glorious afternoon this picturesque central New York village of 5,000 permanent residents that doubles and sometimes triples in size when the boxing superstars descend upon it.
The 11-member Class of 2013 included former world champions Virgil Hill and the late Arturo Gatti, both of whom were chosen in their first year of eligibility, along with Myung-Woo Yuh; "Let's get it on!" referee Mills Lane; ring announcer Jimmy Lennon Jr. and British boxing writer Colin Hart.
Also inducted – all posthumously — were Joe Coburn in the pioneer category, Wesley Ramey, Arturo Hernandez and Jeff Smith in the old-timers category, and cartoonist Ted Carroll in the observer category.
The moment in the sun, both literal and figurative, enjoyed by the living inductees was heightened by the presence of the usual phalanx of boxing superstars and near-superstars: 91-year-old Jake La Motta, the only attendee from the inaugural Class of 1990, along with, among others, Marvelous Marvin Hagler, Micky Ward, Aaron Pryor, Michael Spinks, Leon Spinks, Tony DeMarco, Pipino Cuevas, Danny "Little Red" Lopez, Gerry Cooney, Earnie Shavers, Carlos Ortiz, Julian Jackson, Iran Barkley, Mike Weaver, Tracy Harris Patterson, Angel Manfredy, Carlos Palomino, Gaspar Ortega, Mike Weaver, Simon Brown, Zab Judah, Simon Brown, Marlon Starling and Basilio's nephew, Billy Backus, who, like his uncle, became a welterweight champion.
Pryor, a 1996 IBHOF inductee who has come here for 18 Induction Weekends, spoke for many when he described what it means to return to a place that has become to boxing what Cooperstown, N.Y., about an hour's drive away, is to baseball.
"It's like a dream that comes true every time I'm here," said the former junior welterweight champion from Cincinnati known as "The Hawk," who fashioned a 39-1 record, with 35 knockouts. "You can get hooked. If you come once, you're probably going to want to come year after year after year.
"To me, it's one of the greatest feelings you could ever have to come to this special place. I look forward to it like a little kid looks forward to Christmas. The fans here just take you in. They embrace you."
Pryor believes that a big part of that is location. Like Cooperstown and other non-large-city sites of sports halls of fame – Cooperstown, Canton, Ohio, and Springfield, Mass. – Canastota doesn't offer so many entertainment outlets that a gathering of former boxers is swallowed up.
"It's different, it's special," Pryor said. "If the Hall of Fame was in, say, New York City, I don't think it would feel the same. Too many different things to do or see there. Here, it's all about boxing for these four days."
Hill, the former light heavyweight and cruiserweight titlist, can relate. Born in Clinton, Mo., he was raised in Williston, North Dakota, which is a long way from Canastota, in terms of miles, but extremely close in its comfortable, rural feel.
"To me, a city is a place with 45,000 people," said Hill, whose idea of the big time while growing up was Grand Forks, N.D. But this hick from the sticks, part Native American, went on to post a 228-11 amateur record, win a silver medal at the 1984 Los Angeles Olympics and make 20 defenses of his 175-pound crown.
Then there is Gatti, whose blood-and-guts style made him hugely popular with fans, and whose death in 2009 – ruled a suicide by Brazilian authorities, a decision hotly disputed by his family and friends – made him the central figure in this year's Induction weekend, even in death.
Gatti's 40-9 record, with 31 victories inside the distance, isn't as flashy as that of some Hall of Famers, and even some very good fighters still awaiting their call from the Hall. But he was a fighter's fighter, backing down from no one, giving no quarter and asking none. His three bouts with Ward, as well as other memorable slugfests with Ivan Robinson, Angel Manfredy, Gabriel Ruelas and others, made him an icon in his pugilistic home of Atlantic City, and with HBO subscribers who drove the ratings up whenever he appeared on the pay-cable giant.
Still, there are those who would argue that Gatti, despite his high entertainment quotient, was not an elite fighter who deserves to walk with the real legends of the ring.
Main Events president Kathy Duva, whose company promoted Gatti throughout his career, acknowledged that Gatti's enshrinement had raised some hackles among boxing purists, as did the earlier inductions of Ingemar Johansson and Ken Norton. But she quoted Theodore Roosevelt, whose speech at the Sorbonne in Paris in1910 almost presaged Gatti's future arrival on the boxing scene.
"It is not the critic who counts, not the man who points out how the strong man stumbled, or where the doer of deeds could have done better," she said during her turn at the podium. "The credit belongs to the man who is actually in the arena; whose face is marred by the dust and sweat and blood; who strives valiantly … and who, at worst, if he fails, at least fails while daring greatly, so that his place shall never be with those cold and timid souls who know neither victory nor defeat."
Lynch said after the induction ceremonies had ended that he was still bitter that there appears to be no way to reverse the ruling by Brazilian officials that Gatti – born in Italy, raised in Canada and based in New Jersey throughout his professional boxing career – had committed suicide.
"As of now the case is close in the Brazilians' eyes," said Lynch. "The detectives we hired and who did so much investigating say it's 100 percent certain it was not suicide. Someone is responsible for Arturo's murder.
"But the fact that Arturo never obtained American citizenship means that the FBI can't look into this for us. It's just very frustrating."
Emerging Heavyweights: Three to Watch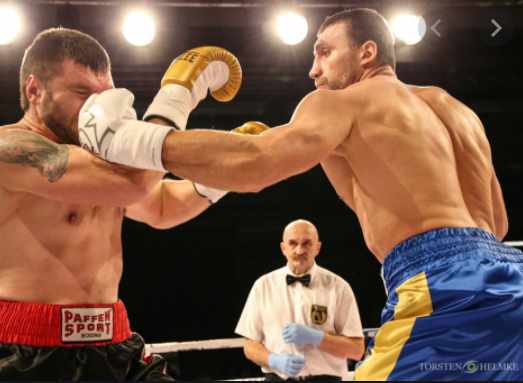 Victor Faust (Viktor Vykhryst), a 6'6" 232-pound Ukrainian heavyweight (and long-time amateur) is a product of the great amateur program in the Ukraine–one that has produced the likes of the Klitschko brothers, Oleksandr Usyk, Vasily Lomachenko, and more recently Sergiy Derevyanchenko.
At first glance, his amateur record does not appear stellar, but a closer review indicates several SD's or MD's.
Earlier this month, on Sept. 20, he scored a frightening one punch KO when he fought the more experienced Gabriel Enguema (10-9) in the Ukrainian city of Dnipro. It was his third KO victory in three professional fights—all in 2020. The end came as a result of a Doctor Steelhammer-like perfect straight right to knock the Spaniard out cold. It brought back memories of Wladimir's KO of Calvin Brock in 2006. Faust displayed skills, size, a solid chin, and power in dispatching his opponent.
"…Soon everyone will …see how skillful he is. He's the complete package and will compete in massive fights sooner rather than later." Erol Ceylan (Faust's German promoter)
Oh yes, Faust beat Romanian Mihai Nistor in the amateurs and the talented Nistor in turn halted Anthony Joshua in the amateurs back in 2011. (Nistor also went 1-2 with Filip Hrgovic and lost to Tony Yoka in 2012.) Of course, one must be circumspect when using logic in boxing. Now that Nistor has turned pro, he will be worth following as his style is very much Tysonesque.
There are others who have—at a minimum– the same potential as Faust.
Tony Yoka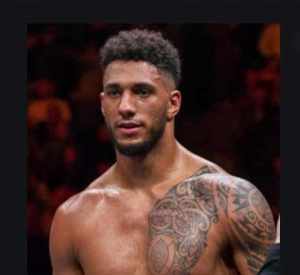 Hard-hitting Frenchman 6'7" Tony Yoka (8-0) has beaten far better opposition than Faust and has a far better amateur record. In fact, he beat Filip Hrgovic and Joe Joyce in the 2016 Rio Games on the way to a Gold Medal. Recently, he dismantled veteran and fellow Frenchman Johan Duhaupas, a fringe contender with some notable notches on his belt. The end came in the first round by virtue of a crunching right uppercut.
Yoka perhaps could be slotted above Faust at this point.; he just might be the best of the new guys on the block. However, there are some dicey anti-doping issues that have tainted his reputation, though they do seem to be mostly resolved at this point.
Arslanbek Makhmudov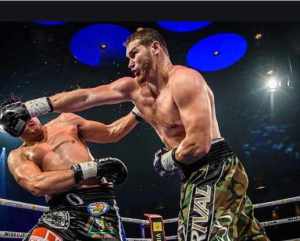 This Russian "Lion," 6'5 ½", 260 pounds with an imposing muscular frame, is still another hungry prospect ready to break into the next tier. Nicknamed the "Lion," — he also has been called "Predator" and "Beast — he is 10-0 (10 KOs).
He now lives and fights out of Montreal. The holder of two regional titles, he stopped a shot Samuel Peter in one round this past December.
"I'm confident that with my team, Eye of the Tiger Promotions and Golden Boy Promotions, I will reach my goal of becoming heavyweight champion of the world," —Makhmudov.
This all said, The Lion needs some work on his technical skills as size can only go so far.
Makhmudov's next opponent is Canadian heavyweight Dillon "Big Country" Carman (14-5) whose claim to fame is that he KOd comebacking Donovan Ruddock in 2015 in Toronto. This one will end differently for "Big Country."
Others
Arguably, classy Americans Stephan Shaw (13-0), and Jared Anderson (6-0 with four KOs in the first round) could be added to the above. Filip Hrgovic and Efe Ajagba, both 6'6", have already moved up.
A good yardstick is 6'5" American Jonathan Rice who lost a 10-round bout to Ajagba, was TKO'd in the seventh round Makhmudov, lost a 6-round decision to Tony Yoka, and a lost 6-round decision to Shaw.
Have I missed any?
Ted Sares can be reached at tedsares@roadrunner.com of on Facebook.
Check out more boxing news on video at the Boxing Channel 
To comment on this story in the Fight Forum CLICK HERE
Jermell Charlo Unifies Super Welterweights Via Solar Plexus Punch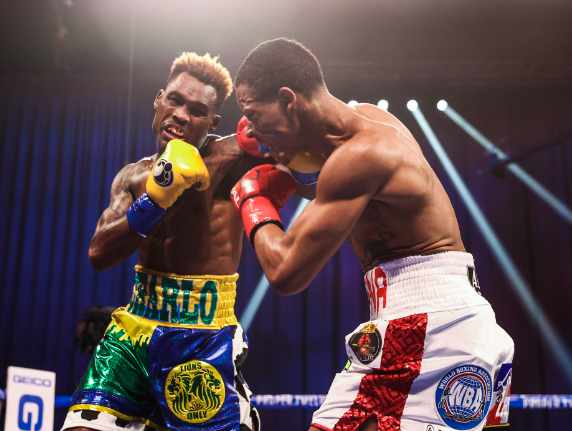 WBC super welterweight titlist Jermell Charlo knocked out IBF and WBA titlist Jeison Rosario with a knockout punch delivered to the solar plexus on Saturday to add two more belts to his collection.
"I'm definitely bringing home the straps," said Charlo.
Shades of Bob Fitzsimmons.
Back in 1897, Fitzsimmons used the same solar plexus punch to dethrone Gentleman James Corbett for the heavyweight title in Carson City, Nevada.
In another casino city Charlo (34-1, 18 KOs) floored Dominican Republic's Rosario (20-2-1, 14 KOs) three times at the Mohegan Sun Casino in Uncasville, Conn. He and his brother co-headlined a heavy duty pay-per-view card with no fans in attendance on the Premier Boxing Champions card.
Charlo jumped on Rosario quickly in the first round when he charged and clipped him with a left hook to the temple. Down went the two-belt champion for the count. But he got up seemingly unfazed.
For the next several rounds Rosario was the aggressor and put the pressure on Charlo who was content to allow the Dominican to fire away. Occasionally the Houston fighter jabbed but allowed Rosario to pound up and down with both fists.
After allowing Rosario to get comfortable with his attack, suddenly Charlo stopped moving and connected with a short crisp counter left hook and right cross in the sixth round. Down went Rosario again and he got up before the count of 10.
Charlo said it was part of the game plan.
"I'm growing and I realize that the knockout will just come," he said.
Charlo was in control with a patient style and allowed Rosario to come forward. But the Dominican was more cautious in the seventh.
In the eighth round Charlo jabbed to the head and then jabbed hard to Rosario's stomach. The Dominican fighter dropped down on his seat as if felled by a gun shot. He could not get up and convulsed while on the floor. The referee Harvey Dock counted him out at 21 seconds of round eight.
"That jab that got to him must have landed in a vital point," said Charlo after the fight. "I hope he recovers and bounces back."
Charlo now has three of the four major super welterweight world titles.
WBC Super Bantamweight Title
Luis Nery (31-0, 24 KOs) captured the WBC super bantamweight title by unanimous decision over fellow Mexican Aaron Alameda (25-1, 13 KOs) in a battle between southpaws. The war between border town fighters was intense.
Nery, a former bantamweight world titlist, moved up a weight division and found Alameda to be a slick southpaw with an outstanding jab. At first the Tijuana fighter was a little puzzled how to attack but found his groove in the fourth round.
But Alameda, who fights out of Nogales, Mexico, began using combinations and finding success.  A crafty counter left uppercut caught Nery charging in a few times, but he managed to walk through them.
In the final two rounds Nery picked up the action and increased the pressure against the slick fighting Alameda, He forced the Nogales fighter to fight defensively and that proved enough to give the last two rounds for Nery and the victory by unanimous decision. The scores were 115-113, 116-112 and 118-110 for Nery who now holds the WBC super bantamweight world title. He formerly held the WBC bantamweight title.
Roman Wins
Danny "Baby-Faced Assassin" Roman (28-3-1, 10 KOs) managed to rally from behind and defeat Juan Carlos Payano (21-4, 9 KOs) in a battle between former world champions in a nontitle super bantamweight clash. It wasn't easy.
Once again Roman fought a talented southpaw and in this fight Payano, a former bantamweight titlist, moved up in weight and kept Roman off balance for the first half of the fight. The jab and movement by the Dominican fighter seemed to keep Roman out of sync.
Roman, who fights out of Los Angeles, used a constant body attack to wear down the 35-year-old Payano and it paid off in the second half. Then the former unified world champion Roman began to pinpoint more blows to the body and head. With seconds left in the 12th and final round, a left hook delivered Payano down and through the ropes. Sadly, the referee missed the knockdown. It didn't matter as all three judges scored it identical at 116-112 for Roman after 12 rounds.
"I made some adjustments and picked up the pace and got the win," said Roman who formerly held the WBA and IBF super bantamweight world titles.
Photo credit: Amanda Westcott / SHOWTIME
Check out more boxing news on video at the Boxing Channel 
To comment on this story in the Fight Forum CLICK HERE
Jermall Charlo UD 12 Derevyanchenko; Figueroa and Casimero Also Triumphant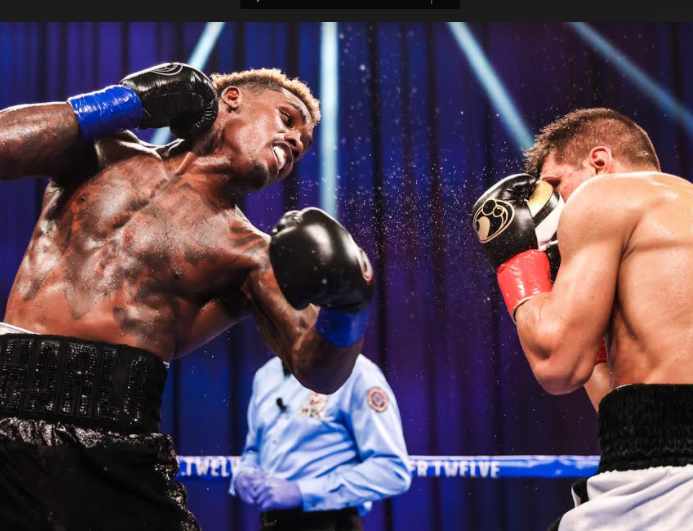 Jermall Charlo UD 12 Derevyanchenko; Figueroa and Casimero Also Triumphant
The Mohegan Sun Casino in Uncasville, Connecticut, was the site of the first pay-per-view boxing event in the United States since the Fury-Wilder rematch on Feb. 22. There were six fights in all, five of which were title fights and the other a title-eliminator. They were divided into two tiers but bundled into a package that cost approximately a dollar a round with a facile intermission tossed in at no extra charge.
The headline attraction of the first "three-pack" – and the most anticipated fight of the evening – found WBC world middleweight champion Jermall Charlo defending his title against Sergiy Derevyanchenko. The Ukrainian gave Gennady Golovkin a hard tussle when they fought in November of last year at Madison Square Garden – GGG won a unanimous decision but the scores were tight and many thought Derevyanchenko deserved the decision – and the expectation was that tonight's match would also be very competitive.  But it really wasn't although the rugged Derevyanchenko rarely took a backward step.
The fight went the distance and there were no knockdowns, but Charlo buckled his knees at the end of round three and Derevyanchenko ended the fight with cuts above both eyes. The judges had it 118-110, 117-111, and 116-112.
With Canelo Alvarez apparently headed to 168 and GGG showing his age at 38, one can make a strong case that the undefeated 30-year-old Jermall Charlo (31-0, 22 KOs) is now the top middleweight in the world. Derevyanchenko, who was 23-1 in the semi-pro World Series of Boxing before turning pro, saw his pro record decline to 13-3 with all three losses in middleweight title fights.
—
The middle fight of the first tier was a lusty encounter between Mexican-American super bantamweights Brandon Figueroa and Damien Vazquez. Figueroa, one of two fighting brothers from the Mexican border town of Weslaco, Texas, was a huge favorite over Vazquez, a Colorado native who moved to Las Vegas as a freshman in high school and had fought extensively in Mexico where he made his pro debut at age 16. But Vazquez, the nephew of former three-time world super bantamweight title-holder Israel Vazquez, came to fight and gave a good effort until the fight turned lopsidedly against him.
In the middle rounds, Figueroa's high-pressure attack began to wear Vazquez down. Vazquez had a few good moments in rounds six and eight, but when his right eye began swelling from the cut above it, he was fighting an uphill battle. He took a lot of punishment before referee Gary Rosato halted it at the 1:18 mark of round 10.
Figueroa, 23, successfully defended his WBA 122-pound title while improving his record to 21-0-1 with his 16th KO. Vazquez declined to 15-2-1.
—
The lid-lifter was a WBO bantamweight title defense by John Riel Casimero with Duke Micah in the opposite corner. Micah, from Accra, Ghana, came in undefeated at 24-0, but Casimero had faced a far stronger schedule and was a substantial favorite.
A Filipino who was been training in Las Vegas under Bones Adams, Casimero took Micah out in the third round. The Brooklyn-based Micah was somewhat busier in the opening frame, but the tide turned quickly in favor of the Filipino. Casimero hurt Micah with a left hook in round two and went for the kill. He wasn't able to finish him, but Micah was on a short leash and referee Steve Willis was quick to step in when Casimero resumed his attack after the break. The official time was 0:54.
Casimero (30-4, 21 KOs) was defending the title he won last November with a third-round knockout of favored Zolani Tete in Birmingham, England. He was slated to fight this past April in Las Vegas against Naoya Inoue, but that fight evaporated as a result of the coronavirus. After the bout, Casimero called out Inoue (and others): "I'm the real monster," he said. "Naoya Inoue is scared of me. You're next. I would have knocked out anyone today. If Inoue doesn't fight me, then I'll fight Guillermo Rigondeaux, Luis Nery, or any of the top fighters."
Check back shortly for David Avila's summaries of the remaining fights.
Photo credit: Amanda Westcott / SHOWTIME
Check out more boxing news on video at the Boxing Channel 
To comment on this story in the Fight Forum CLICK HERE