HOW HE DID IT: Adonis Showed Ring Smarts, Not Just Power
Chad Dawson's career took a serious nose dive this past Saturday night in Montreal after Adonis Stevenson knocked him out in the very first round and claimed the lineal light heavyweight title.
A little under a minute into the fight, Stevenson (now 21-1 with 18 knockouts) connected with a stiff left cross that sent Dawson (now 31-3 with 2 no contests and 17 knockouts) crashing to the canvas. Although Dawson managed to beat the count, referee Michael Griffen correctly deemed him unfit to continue and signalled for the end.
In this brief analysis of a very brief fight, I'd like to breakdown what Adonis Stevenson did that allowed him to take advantage of a serious hole in Chad Dawson's game and score that stunning first round knockout.
A lot can happen in under a minute!
Neutralizing and establishing the jab
As I'm certain anyone reading this will be aware, the jab is an essential part of any fighter's arsenal. Quite simply, there is no greater weapon in boxing. Needless to say, if a fighter can successfully take away his/her opponent's jab while establishing their own, chances of them winning will increase dramatically. In the very short time the fight lasted, we saw Stevenson consistently countering Dawson's jab.
Here, Stevenson performs an outside parry and counters Dawson with a short right hook on the chin.
Stevenson continued to counter Dawson's jab with a right hook along with a jab of his own.
Here is Stevenson countering Dawson's jab on three separate occasions. By taking his head off line, Stevenson connects with his right hand and forces Dawson (whose head remains central) to miss with his.
Stevenson also had success landing his jab to the body.
Here is Stevenson targeting Dawson's body with the jab.
The body jab is an excellent weapon to use against reactive fighters like Dawson who tend to overreact by lowering their guard in order to compensate. Attacking one target for a period of time before shifting the attack to a different target is excellent strategy (Floyd Mayweather is a masterful at it).
The knockout
By consistently landing his jab to Dawson's body, Stevenson was able to lay down the ground work for the knockout left cross.
In the knockout sequence, Stevenson circles right (which he did for best part of the fight), feints low (as if to throw a body jab), blinds Dawson with a non-contact jab and then connects with a left cross. Notice how Dawson has overreacted to Stevenson's level change (feint). Also, take a look at Stevenson's body alignment in relation to Dawson's as he shoots his left cross. When moving from the jab to the cross in combination (one-two), a fighter should move his lead foot out to the lead side. By doing this in conjunction with throwing a blinding jab to serve as a distraction, Stevenson was able to bridge the gap and secure a dominant angle of attack without telegraphing his intentions.
An intelligent fighter should always study his opponent in search for any habits prior to the fight, making note of any patterns that seem recurrent in their tactics. It is my belief, that while Chad Dawson was rumored to have called upon Google to learn more about his opponent, Stevenson had done his homework and studied Chad Dawson extensively. Going one step further, I believe Stevenson may have seen something specific in Dawson during his fight with Andre Ward.
Whenever his opponents launch an attack, Dawson nearly always tries to counter them with a lead right hook. By attacking Dawson indirectly (either by feinting or by targeting the body before attacking up top), Ward was able to sneak his left hand in past Dawson's low lead arm as he was winding up his hook.
Here is Andre Ward taking advantage of Dawson as he attempts to launch a counter right hook. The low lead of Dawson exposes him to attacks coming in from his right.
Another look at the knockout shows Dawson trying to land the exact same counter right hook against Stevenson.
Notice Dawson's poor lead hand position as Stevenson connects with a left cross. Because Stevenson is a hard hitting southpaw whose main threat was coming from his more potent rear hand, the low lead hand of Dawson was a recipe for disaster.
Because of the nature of the knockout, Stevenson's punching power will likely garner most of the headlines. But as was the case with Lucas Matthysse the other week, I've come away finding myself even more impressed with Stevenson's ring acumen and ability to maximize his punching power –using good footwork, feints and a varied jab—by knowing how to first set his opponent up.
Mairis Briedis and Josh Taylor Impress on a Busy Fight Day in Europe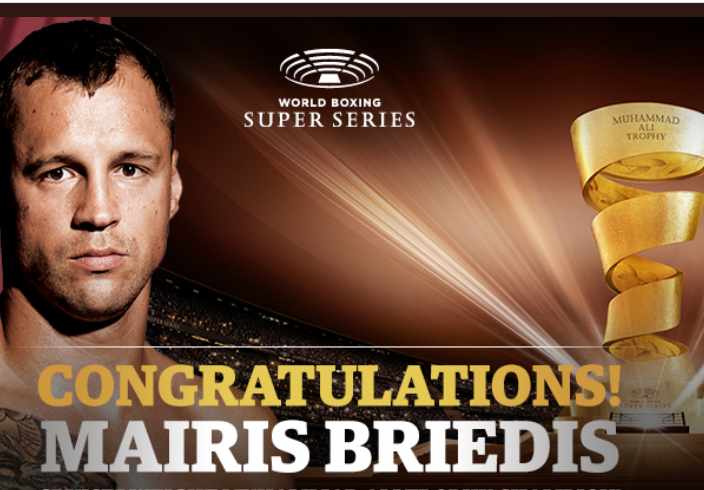 In the busiest weekend of boxing thus far in 2020, there were fights of note all over the map in Europe. The most compelling was held at the Plazamedia Broadcasting Center in Munich where the long-delayed WBSS cruiserweight final pit IBF world cruiserweight title-holder Yuniel Dorticos against Mairis Briedis. Both had only one loss on their ledger, that coming in a semifinal of Season One of the WBSS tourney.
Heading in, Briedis was recognized as the more well-rounder boxer. Dorticos had a style somewhat similar to Deontay Wilder, meaning that he was over-dependent on his big right hand. It figured that Briedis would fight with extreme caution, using his faster hands and superior footwork to keep out of harm's way, but to the contrary he wasn't afraid to trade with Dorticos and actually landed the harder punches. At the end, he captured the IBF belt and the more coveted Muhammad Ali Trophy with a majority decision. The judges had it 117-111, 117-111, and a confounding 114-114.
The first fighter from Latvia to win a world title, Briedis (27-1, 19 KOs) is now a two-time world cruiserweight champion. He previously held the WBO cruiserweight belt, but vacated it rather than adhere to the organization's mandate that he give Krzysztof Glowacki a rematch. (Their first fight, a TKO 3 for Briedis, was very messy and he was fortunate that he wasn't disqualified.) Dorticos, the Cuban defector, returns to his adopted home in Miami with a 24-2 record.
Briedis, 35, may own only one piece of the world cruiserweight title, but at the moment he is clearly the topmost fighter in the division.
York Hall, London
Apinun Khongsong's first engagement outside the Orient didn't go well for him. The 24-year-old Thai boxer with an Muay Thai background was out of his element against WBA/IBF champion Josh Taylor who dismissed him in a hurry with a "solar plexus punch" that would have made Bob Fitzsimmons proud. The punch from the left-handed Scotsman sent Khongsong to the canvas writhing in pain and he was down for several minutes before he was able to stand upright. The official time was 2:41 of the opening round.
Taylor, the Tartan Tornado, was making his first start since October of last year when he won a 12-round majority decision over Regis Prograis in a Fight of the Year candidate. His next fight may be a full unification of the 140-pound belt with Jose Carlos Ramirez in the opposite corner. Both he and Khangsong entered today's fight with 16-0 records, but Taylor, who scored his 13th knockout, was in a different league.
Undercard Bouts of Note
In a 10-round bantamweight contest, Charlie Edwards (16-1, 1 NC, 6 KOs) out-classed British countryman Kyle Williams (11-3). The referee awarded Edwards nine of the 10 rounds. Edwards, 27, previously held the WBC 112-pound title but was forced to relinquish it because he had trouble making the weight.
York Hall has been a jinx for David Oliver Joyce, the 33-year-old super bantamweight from Mullinger, Ireland, who is 0-2 in this building and 12-0 elsewhere. Joyce failed to last three rounds today in his match with Ionut Baluta. A Romanian who fights out of Bilbao, Spain, Baluta knocked Joyce down with a big left hook and then swarmed all over him when he arose, forcing the referee to intervene. The official time was 1:49 of round three.
It was the sixth straight win for Baluta (14-2, 3 KOs) and his third straight over a once-beaten opponent.
Riga, Latvia
Riga native Richard Bilotniks successfully defended his version of the European 175-pound title and advanced to the finals of the Golden Contract Light Heavyweight Tournament with a one-sided 10-round decision over Hosea Burton. A late bloomer who won only four of his first eight pro fights, Bilotnicks 30, won every round on one of the scorecards and eight rounds on the others to advance record to 17-5-1. Burton, who lost for the second time in 27 starts, let down his cousin Tyson Fury who flew to Latvia to cheer him on.
Struer, Denmark
At an arena in the city of Struer, hometown lass Dina Thorslund had a harder time than expected with Nina Radovanovic, but the Serb got no respect from the judges who didn't see fit to award her a single round. Thorslund (15-0, 6 KOs) successfully defended her WBO world 122-pound title.
In the chief undercard bout, heavyweight Filip Hrgovic (11-0, 9 KOs) moved a step closer to a world title opportunity with a second-round blast-out of late sub Alexandre Kartozia. There was no need to count when Hrgovic leveled Kartozia with a big right hand.
Check out more boxing news on video at the Boxing Channel 
To comment on this story in the Fight Forum CLICK HERE
Tony Yoka Makes Quick Work of Duhaupas; Yoka's Wife Wins Too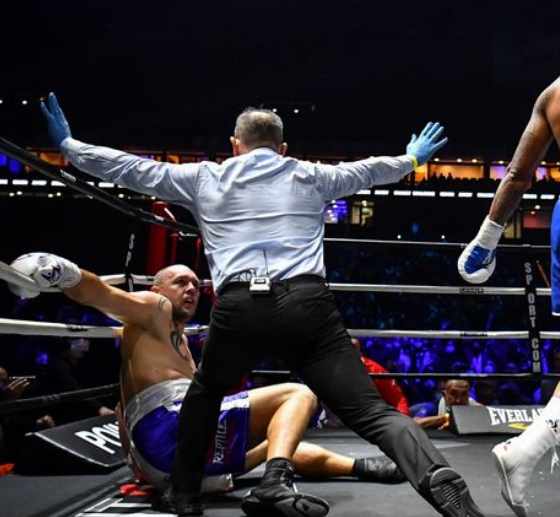 An indoor rugby stadium in Nanterre, a township in an inner suburb of Paris, was the site today of a five-fight boxing show featuring Tony Yoka and his wife Estelle Mossely in separate bouts (when they fight each other, they do it in the privacy of their home). Attendance was limited to 5,000 with social distancing protocols in place.
Yoka and Mossely, the parents of two young children, the youngest a boy born in May, were each gold medal winners in boxing at the 2016 Rio games. The six-foot-seven Yoka defeated Filip Hrgovic in the semis and Joe Joyce in the gold medal round.
Today Yoka, in his first scheduled 12-rounder, was matched against 39-year-old French warhorse Johan Duhaupas who was 38-5 (25) heading in. Duhaupas went 12 rounds with Jarrell Miller, extended Deontay Wilder into the 11th frame, and knocked out Robert Helenius, the conqueror of Adam Kownacki. Despite his advanced age, he represented a step up in class for Yoka, 28, whose pro career was disrupted by a one-year suspension from the French Boxing Federation for being a no-show at three PED tests. At the very least, Duhaupas was expected to give Yoka some rounds.
But Yoka had other ideas. He needed only 121 seconds to dismantle his countryman and show that he belongs in the conversation with Daniel Dubois, Jared Anderson, the aforementioned Hrgovic and others when talking about the next generation of heavyweight stars.
Yoka (8-0, 7 KOs) dropped Duhaupas midway through the opening round with an overhand right. Duhaupas didn't appear to be badly hurt, but he had no antidote for the barrage that followed. The coup-de-gras was a big right uppercut that sent him flying backward against the ropes. The referee stepped in immediately.
Yoka's U.S. promoter is Top Rank which is seeminly out to corner the market on bright young heavyweight prospects. When Yoka turned pro it was under the tutelage of Virgil Hunter, the trainer of Andre Ward. Yoka has spent considerable time in Las Vegas while serving as the chief sparring partner for Joseph Parker.
—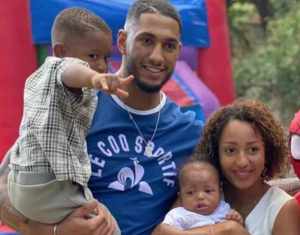 Estelle Mossely kept pace with her hubby. Mossely, 28, advanced her record to 7-0 (1) with an 8-round unanimous decision over countrywoman Aurelie Froment. The scores were 80-72 across the board.
This was an assignment designed to shed the rust. Froment, 33, entered the fight with a 3-0-1 record, but hadn't previously met an opponent with a winning record. In fact, none of Froment's previous opponents had ever won a fight. In the aggregate, the foursome was 0-32-5 at the time that she fought them. Even the world sanctioning bodies steered clear of this affair, refusing to cloak the fight in some sort of title.
That observation aside, it was a nice win for Mossely coming so soon after giving birth. Born in France of Congolese and Ukrainian descent, she is rated the world's best active female lightweight by BoxRec.
Hot prospect Souleymane Cissikho was originally scheduled to be on the card, but pulled out for an undisclosed reason. An Olympic teammate of Tony Yoka, Cissikho is a  special talent.
Check out more boxing news on video at the Boxing Channel 
To comment on this story in the Fight Forum CLICK HERE
Season 2 of the World Boxing Super Series Concludes on Saturday in Munich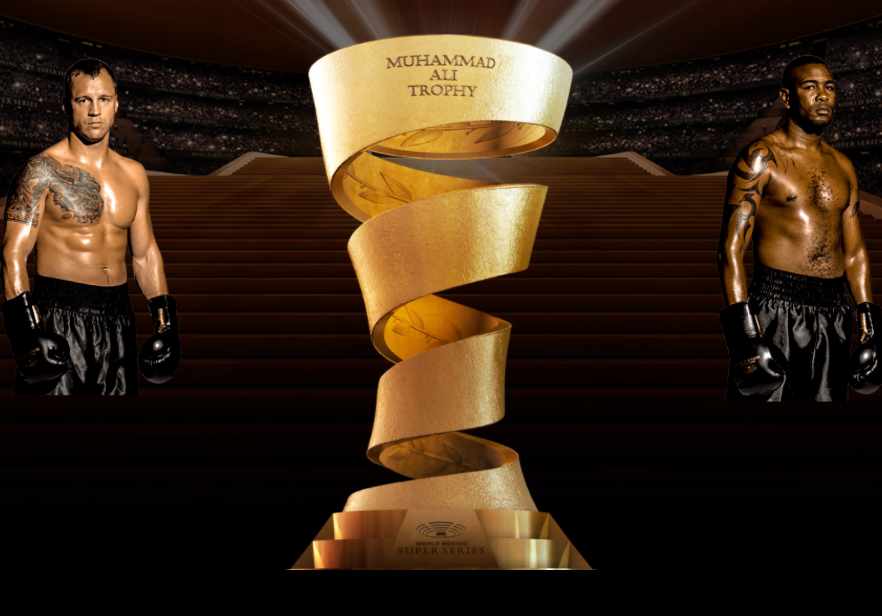 PRESS RELEASE: The hotly-anticipated World Boxing Super Series Season II Cruiserweight Final between Mairis Briedis and Yuniel Dorticos takes place behind-closed-doors in a film studio at Plazamedia Broadcasting Center in Munich, Germany on Saturday, 26 September. On the line: The Muhammad Ali Trophy, IBF World Title, and vacant Ring Magazine 200 lbs belt.
The final will be shown live on DAZN in the US and Sky Sports in the UK.
"A final for the Muhammad Ali Trophy has proved to be something extraordinary. We have seen that it brings out the best in boxers which reflects the DNA of our tournament as to deliver and continue to deliver boxing at its very best to fans of the sport," said Andreas Benz, CEO of Comosa, the event organizer.
"Plazamedia is a phenomenal solution, the studios are providing a controlled environment which is of huge benefit to us and the production team to keep everyone safe while also putting on a great show.
"At the same time, we have done everything to secure fair conditions for both teams, and to ensure they remain healthy and isolated until the action starts."
Mairis Briedis, tournament No. 1 seed, qualified for the final through wins over Noel Mikaelian (UD) and Krzysztof Glowacki (TKO3), while Dorticos, No. 2 seed conquered Mateusz Masternak (UD) and Andrew Tabiti (KO10) to enter the 200 lbs decider.
"We are very happy about the announcement of the final," said Latvia's Mairis Briedis. "I love the fact that it will be in Munich as it reminds me of every time I went to train with the Klitschko brothers in Germany and the flights were always via Munich. Those are some great memories of the time spent with them there."
Said Miami-based Cuban, Yuniel 'The KO Doctor' Dorticos, IBF World Cruiserweight Champion: "To all my fans worldwide, In Europe and especially in Munich, Germany: I am super happy the World Boxing Super Series final will take place in Munich, Germany, and I will see you all on Saturday, September 26th. The KO Doctor is back and ready to prescribe another dose of pain and take the Muhammad Ali Trophy back to Miami."
Kalle Sauerland, Chief Boxing Officer of the WBSS, said: "On 26 September we will not only crown the best cruiserweight on the planet but also send a sign to the world that boxing is back with the first major transatlantic championship bout between the undisputed number one and two in their division.
The final is not only about honour and glory, but cementing a legacy. The winner will become a member of an exclusive 'Ali Trophy Winner Club' that includes Oleksandr Usyk, Callum Smith, Naoya Inoue and Josh Taylor. It doesn't get much bigger in boxing, and we expect Briedis and Dorticos to have an absolute barnstormer!"
The Muhammad Ali Trophy was created by the late world-renowned artist Silvio Gazzaniga who also designed the iconic FIFA World Cup Trophy.
Check out more boxing news on video at the Boxing Channel 
To comment on this story in the Fight Forum CLICK HERE