Ethnic Pride Keeps Smaller Shows Like Golovkin-Macklin Alive
MASHANTUCKET, Conn. – Ireland's Matthew Macklin didn't attend the press conference at the Foxwoods Casino following his fight with Gennady Golovkin. Media interaction wasn't a priority for someone who had just been pummelled by one of boxing's hardest punchers.
A few miles away, Danny O'Connor was in hospital receiving stitches to a damaged eye following his bout on the same card. But despite his facial appearance, O'Connor was victorious, outpointing Hector Munoz and helping bring some joy to the Irish-American bandwagon that drove the several thousand ticket sales for the event.
A promoter's goal is to find fighters that can resonate with a community. That's because boxing is among the few sports still driven by ethnic tribalism. Save for a couple of major fights each year, the US mainstream media generally ignores boxing, thus diminishing its exposure to the average sports fan. It's left to those fuelled by factors of race and nationality to keep smaller shows alive.
HBO and much of the boxing media heralded Kazakhstan native Golovkin as a future star before Saturday's bout, and while he may yet realize that status, it was Macklin and O'Connor that most of the crowd traveled to see. A fighter without an established fanbase must accomplish exceptional feats to attract a crowd. Not so for Irish fighters; their fervent support means that even unremarkable achievements can result in high-profile exposure. The Irish contingents don't follow a fighter because they think he will be the next star. Their pursuit is based on ethnic pride.
Nobody went to Connecticut on Saturday thinking the 31-year-old Macklin (pictured above, euphoric after his previous win, in Hogan photo) was headed for greatness. Macklin, born in England to Irish parents, had 29 wins but was knocked out by the premier middleweight Sergio Martinez last year, was outpointed by another middleweight titlist Felix Sturm in 2011 and had two previous losses on his record. The oddsmakers made the unbeaten Golovkin a 1/8 favorite to win. Regardless, Irish fans still came to see him try to take Golovkin's WBA piece of the middleweight crown.
Yet the pro-Macklin chants of "Ole, Ole" quickly dissipated as the bell sounded and the out-numbered Kazakhs suddenly made their presence felt. Macklin was on the back foot from the start, unable to mount much offense. Avoiding thudding blows from Golovkin became the top priority. His face severely reddened after only two minutes, Macklin looked like he had completed an average fight. But Golovkin isn't an average fighter. Every time Macklin attempted an attack, he was caught by head-snapping punches. The pattern continued until one minute into the third round when Golovkin forced Macklin onto the ropes and delivered a sickening left hook to the stomach. The challenger went down and remained there for several minutes, gasping for air.
"He never let me get started," said Macklin after regaining his composure. "He has clubbing, solid power and you can feel the weight of every punch he throws. I tip my hat to him."
"We knew Macklin would be brave, but we knew that once he stood and fought with us, it would be over," said Golovkin's trainer Abel Sanchez. Golovkin now has a record of 27-0 with 24 knockouts.
The Irish-American fans were in better voice earlier in the night. Even though welterweight Danny O'Connor was fighting a man who entered the ring with a 21-10 record and a first round knockout defeat in his most recent bout, it was immaterial to the busloads of supporters from Massachusetts who wore green "Clan O'Connor" shirts. O'Connor, a proud Irish-American from the Boston suburbs, may have just one loss on his record but after another points victory on Saturday he has now scored only seven knockouts in 21 wins, a worrying stat given that concussive power is a typical requirement for a world-class prizefighter. O'Connor has rarely been in an easy bout. Although not powerful, he often adopts a straightforward, aggressive style that results in crowd-pleasing fights. So was the case on Saturday en route to a 79-73 points decision verdict from all three judges.
"I let it become a fight," said O'Connor, 28, afterward. "He was a tough dude, but that was partially my fault. At the end of the day, I just like to fight. I guess I'm more old-school than some guys. Obviously it's not the best route."
An Irish fighter who achieves even a modicum of success can attract partisan fans who think their man is worth following regardless of how porous his defense or delicate his scar tissue. The Jewish and Italian groups that also drove US prizefighting in previous generations no longer have the same staunch loyalty to the sport. Excluding the Irish, enthusiastic crowds in recent years have come from ethnicities associated with the lower rungs of American's socio-economic ladder, such as Mexicans, Filipinos and Puerto Ricans.
While many Irish have assimilated into the upper echelons of American society, large swathes of the community still band together for the fights, using the events as a vehicle to embrace their heritage. Boxing provides the perfect opportunity for ethnic groups to sing songs about the homeland, forget woes in a sea of alcohol and testosterone, and cheer on one of their own as he bravely takes the fight to the world.
And so it was that those with varying degrees of Irishness traveled to Connecticut on Saturday. The crowd would have been notably smaller if Macklin was waving the Union Jack or if O'Connor chose not to emphasize his roots.
While their performances weren't overly inspiring, both Macklin and O'Connor fought like stereotypical Irishmen; game, tough and flawed enough to make the fights entertaining. Macklin's journey may be coming to an end and O'Connor will need to make some tactical adjustments if he is to extend his career. But there'll be others before long; Ireland's severe economic recession will see continued emigration and more fighters looking for support from their US-based kindred. Before that, promoters can always dream that Golovkin will spur an awakening in the Kazakh community's love for the fight game.
COVID-19 Has Combat Sports on the Ropes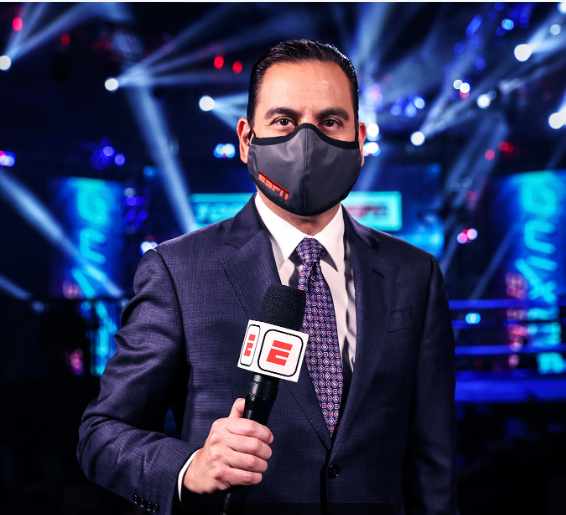 By Special Correspondent Ryan Sakacs — After months of sparring between players unions and league executives, the major American sports have finally overcome the legal and logistical hurdles delaying the restart of stalled seasons. While empty stadiums and shortened schedules will be this year's hallmark, the financial burden associated with COVID-19 protocols will present a lasting challenge for many combat sports promoters.
State athletic commissions – charged with protecting the health and safety of fighters and promoting the integrity of competition – will play a critical role in shaping the post-pandemic future of boxing and mixed martial arts. Without a unified governing body, rules and regulations can vary significantly from state-to-state – from trivial topics, such as ring attire and facial hair, to more meaningful matters, including the selection of officials, the use of instant replay, and medical standards for licensing (i.e., neurological and PED testing). Coronavirus testing and distancing policies will also differ considerably.
Some athletic commissions and promotional companies have taken the lead in developing effective, albeit costly, measures. The UFC was the first major American sport to return to live competition in early May when it held three full fight cards in eight days – an ambitious feat even in a pre-pandemic world. According to UFC President Dana White, the company coordinated with the Florida State Boxing Commission to administer over 1,100 tests to every fighter, second, and staff member at a cost of $150,000 per event.
Despite the fiscal challenges, the UFC hosted four events at its Las Vegas headquarters in June.  Under the supervision of the Nevada State Athletic Commission, the UFC reportedly conducted more than 2,500 tests and implemented strict rules requiring fighters and seconds to self-isolate upon arriving at the facility until Friday's official weigh-in. The UFC continued to bolster its regulations during its four-event campaign on "Fight Island" in Abu Dhabi, which featured extensive testing, a "safe zone" off limits to the general public, nightly temperature screenings, and ample on-site medical personnel.
Top Rank led boxing's return in June with twice-weekly cards in Las Vegas. According to CEO Bob Arum, the undertaking has been an expensive one – increased testing will cost the company at least $25,000 per event, in addition to the price of extra security, hotel rooms, and specialized dining arrangements.
While heavyweights like the UFC and Top Rank (with substantial financial resources and lucrative broadcasting deals) can overcome higher overhead costs and reduced revenues, live events may be cost prohibitive for the foreseeable future for local promoters operating on more modest budgets.
Joe DeGuardia, President and CEO of Star Boxing, expects exponential harm for the sport and beyond. "Even before COVID, club shows in New York were hanging on by a thread.  The cost was already increasing. Under these circumstances, with the added expense of testing and no fans, it's impossible.  Losing club shows for a significant period will kill boxing. They're the lifeblood of the sport. People don't realize that the local shows fuel the major events.  Many of those fighters end up on major cards at Madison Square Garden and Barclays."
It's a story DeGuardia has seen play out with his own stable of fighters. Chris Algieri and Joe Smith Jr. both rose to regional renown in the Paramount Theatre in Huntington, Long Island before achieving major success on the international level. Algieri went on to face some of the sport's biggest stars in Manny Pacquiao, Amir Khan, and Errol Spence after winning the WBO International junior welterweight title in 2014. Smith, Jr., of course, retained the WBC International light heavyweight title in 2016 with a devastating knockout of all-time-great Bernard Hopkins.
DeGuardia also laments broader economic effects due to COVID-19 restrictions. "We would pack New York Avenue in Huntington for our shows at the Paramount. Those local restaurants, bars, and hotels will also lose out on money. Before COVID, we had events planned for months in advance.  Now there's nothing."
The downturn has already hit the industry hard. For instance, referees, judges, and athletic commission staff in every state have and will continue to lose out on income because of the lack of events – In 2019, California regulated more than 120 boxing and MMA cards, compared to 18 so far in 2020.
Furthermore, some states also stand to lose considerable revenue." Last year, Governor Andrew Cuomo announced, "Combat sports industry has produced unprecedented revenue and economic activity for New York since the introduction of Mixed Martial Arts two years ago." This year, however, the state has only held three events to date.
The coronavirus presents another existential crisis for combat sports. The demise of boxing has been touted for years, and its battle for relevance is ongoing. Just a generation ago, boxing was one of the world's most popular sports, and its stars were some of the most recognizable athletes. Sadly, it now resembles a niche sport, like thoroughbred racing, with casual viewers only tuning in for mega-fights. Meanwhile, MMA withstood intense political pressure and public outcry for two decades before establishing itself as a legitimate international attraction. However, if club shows fall victim to the "new normal," professional fighting could permanently lose its standing as a main event.
—
Ryan Sakacs is the former chief of the Prescription Drug Investigation Unit with the New York City's Special Narcotics Prosecutor. During his 12-year career as an assistant district attorney, he founded the country's most prolific prosecutorial unit dedicated to combating the surge in prescription drug diversion, addiction, and fatal overdoses. Sakacs has also served as counsel to the New York State Athletic Commission.
Pictured: Bernardo Osuna at the MGM/Top Rank "Bubble"— Photo credit: Mikey Williams
Check out more boxing news on video at The Boxing Channel 
To comment on this story in the Fight Forum CLICK HERE
Harper and Jonas Battle to a Draw in Episode 2 of 'Matchroom Fight Camp'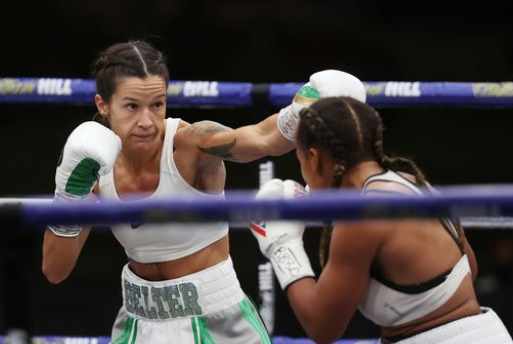 The second edition of Eddie Hearn's "Fight Camp" summer series unfolded today in the backyard of the mansion that serves as the Matchroom Sport headquarters in Brentwood, Essex, England. The main event was ostensibly the 12-round bout for the Commonwealth cruiserweight title between Chris Billam-Smith and Nathan Thorley, but most of the pre-event talk was about the women's match between Terri Harper and Natasha Jonas which went last in the program. Harper was making the first defense of the WBC world super featherweight title that she took from long-reigning title-holder Ewa Wahlstrom in February.
Harper vs. Jonas, originally scheduled for April 24, was the first-ever female world title fight between two Brits and it proved to be a very entertaining scuffle, building on the momentum of the inaugural Fight Camp offering last Saturday when Ted Cheeseman and Sam Eggington put on a splendid show.
When the smoke cleared, Terri Harper retained her belt by virtue of earning a draw, but the question of which English boxer was superior remained unanswered.
At age 23, Harper was younger by 13 years, but Liverpool's Jonas, a 2012 Olympian, had the stronger amateur pedigree. Jonas started fast but Harper had the edge plus youth on her side as the bout wended into the final furlongs. In round eight, however, Jonas rocked her with a left-right combination and she hurt her again in the next round.
Harper had to dig deep in the final round to arrest the momentum and she rose to the occasion, staving off defeat. The judges had it 96-94 for Harper, 96-95 for Jonas, and 95-95.
Harper remained undefeated at 11-0. It was the second loss for Jonas in 11 pro fights.
Terri Harper is a good human interest story. Before she was coaxed out of retirement in 2017, she was peeling potatoes in a fish and chips shop in her hometown of Denaby in County Yorkshire. As for her next fight, she now has three apparent options: a unification fight with Poland's Ewa Brodnicka, the WBO belt-holder and a recent Matchroom signee, a match with Mikaela Mayer (Brodnicka's "mandatory"), or a rematch with Natasha Jonas. Whatever develops, her next match will be eagerly anticipated.
Other Bouts
The fight between Chris Billam-Smith and Nathan Thorley, which actually went second in the bout order, was a soft defense for Billam-Smith. Trained by Shane McGuigan, Billam-Smith (11-1, 10 KOs) blasted out Thorley in the second round. He ended the one-sided scrap with a short right hand as Thorley was boring in, knocking him to his knees. Thorley beat the count, but his legs were unsteady and the referee properly stopped it.
A 27-year-old Welshman, Thorley came in undefeated (14-0), but he had been feasting on slop – his previous opponents were collectively 106-549 – and the result wasn't unexpected. The official time was 2:05.
In a 10-round contest in the super-welterweight division, Liverpool's Anthony Fowler, another Shane McGuigan protégé, improved to 13-1 (10) with a seventh-round stoppage of game but out-gunned Adam Harper (9-2). Fowler, a gold medal winner at the 2014 Commonwealth Games as a middleweight, had no fear of the light-punching Harper and was in full control from the get-go. His lone defeat came by split decision to rising contender Scott Fitzgerald.
In a featherweight contest, 20-year-old Leeds southpaw Ivan "Hopey" Price improved to 3-0 with a 6-round shutout over Jonny Phillips (5-5).
A fifth fight, a scheduled 8-round clash between lightweights Kane Baker and Aqib Fiaz, was canceled when Fiaz took ill.
Check out more boxing news on video at The Boxing Channel 
To comment on this story in the Fight Forum CLICK HERE
Avila Perspective, Chap. 100: Global Impact of Prizefighting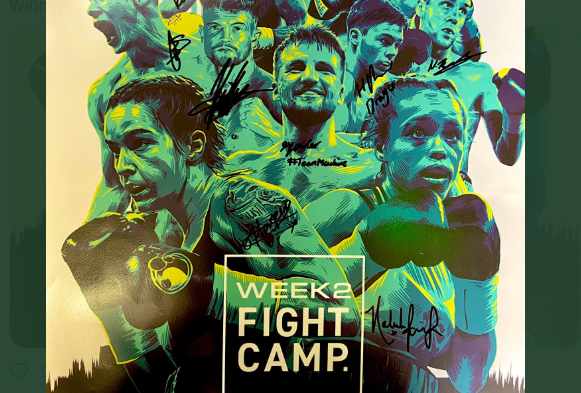 Boxing is huge.
Unknown to many, professional prizefighting extends to almost every country on this planet. Only soccer exceeds it in appeal.
Prizefighting could very well be the very first professional sport ever established in history. Scholars of history concur.
This weekend you can get a taste of boxing's reach to other parts of the world.
London, England will be boxing central on Friday Aug. 7.
DAZN will be streaming a Matchroom Boxing fight card that features cruiserweights Chris Billiam-Smith (10-1) and Nathan Thorley (14-0) battling for the Commonwealth cruiserweight title. It's an eight-hour time difference between London and Los Angeles, California where the start time will be 11 a.m.
The main feature, however, pits WBC super featherweight titlist Terri Harper (10-0) against Olympian Natasha Jonas (9-1) in a 10-round bout. Both of these fights take place at Fight Camp, the home of promoter Eddie Hearn.
If the set up looks familiar, years ago America's Hugh Hefner used to stage boxing cards at his home, the Playboy Mansion in Beverly Hills, California. The late magazine mogul loved the sport and invited many of his friends in the entertainment industry to watch prizefighting. People watching from their living rooms saw via television the rich enjoying their riches.
It's the closest I will ever come to being rich.
One of the first events I ever saw at the Playboy Mansion showcased female fighters. Hefner was a true believer in female boxing and always included a female bout if possible. It was one of his stipulations.
Daytime Boxing
This Friday morning on the West Coast, boxing fans get an opportunity to re-visit an outdoor setting similar to the Playboy Mansion fights. DAZN will be streaming the card live from England.
If Americans think they are the only boxing fans in the world, well, they definitely are not.
When it comes to boxing, the Brits, Irish, Scots, Welsh and neighboring countries all love boxing more than Americans do. Even when you go further east into Poland, Romania, Ukraine, Russia and all the other countries that used to be part of the defunct Soviet Union, they all love boxing. Let me reiterate, they love boxing.
In America, we're accustomed to acknowledging that Mexicans love boxing as well as the Cubans and Puerto Ricans. But when it comes down to it, all of Latin America loves boxing. It comes second to soccer but that's it. Boxing is a staple in Latin America.
In the good ole U.S. of A. the majority of people – including newspaper editors – favor team sports. Individual sports like tennis, track and field, and prizefighting take a back seat on newspapers or television network sports news.
But when boxing or MMA comes on a television screen or is scheduled for an arena, the American fans of those sports come out rain or shine.
Pacific Ocean and Other Areas
Across the Pacific, in the Australia and Asian continents, boxing also has a firm grip. Smaller weight classes have been dominated by Japanese, Korean and Philippine fighters for years.
They love boxing too.
A dream of mine has always been to see a fight card at Tokyo's Korakuen Hall. Japanese boxing fans are able to watch boxing almost every week at the legendary fight palace.
Asia has always produced great fighters in the lower weight classes.
Manny Pacquiao arrived more than 20 years ago barely a blip on the boxing radar. Who would have guessed he would be revered as one of the greatest fighters of his generation?
Can American fight fans imagine what the boxing world would be like without fighters from other countries?
Imagine boxing without Saul "Canelo" Alvarez, Gennady "GGG" Golovkin, Tyson Fury, Anthony Joshua, Vasyl Lomachenko, Naoya Inoue or Roman Gonzalez. It's easy to forget that all of these fighters mentioned are not from the USA. Each has fought many times in front of American audiences.
In America, we fail to realize we don't have a monopoly on talent.
Last week, both DAZN and Showtime placed fight cards on the same day. DAZN started early and brought a thoroughly entertaining boxing card including a possible Fight of the Year between super welterweights that saw Ted Cheeseman win over Sam Eggington after 12 raucous rounds of action.
Later, on the same night, Showtime brought super bantamweights, and boxing fans got a look at new WBO super bantamweight title winner Angelo Leo win by decision over last-minute entry Tramaine Williams. The replacement fighter accepted the challenge after scheduled fighter Stephen Fulton tested positive for the coronavirus.
Saturday Expectations
On Saturday night, Showtime returns with super tall welterweight Jamal James (26-1, 12 KOs) meeting Thomas Dulorme (25-3-1, 16 KOs) at the Microsoft Theater in downtown Los Angeles.
Both James and Dulorme suffered losses to Yordenis Ugas.
It's a shame that the virus has shut down audiences throughout the world. Los Angeles would have been eager to watch this event, especially in the heart of downtown. Rumors spreading are that one or two major fight cards will be held in L.A. later in the year.
Fans can watch on television as Dulorme and James battle to see who can crack that top 10 tier of welterweights. Dulorme miraculously salvaged a draw against Jessie Vargas when they fought by scoring a knockdown late in their fight. James has beaten solid competition but no one convincingly. This is an opportunity for either fighter to prove his worth.
To comment in this story in the Fight Forum CLICK HERE