Kaliesha West Goes Hunting
The Sweet Science caught up with Kaliesha West ahead of yet another foray into the spotlight of national television. The boxer from Moreno Valley, California should be used to it by now. Not only has she participated in (and won) world title fights all over world, but she was also a contestant on Wayne Brady's Let's Make a DealTV game show just last May.
West recently took part in a brand new reality television show on the CW network called Capture. The first episode airs Tuesday, July 30 at 8 PM CST, and features twelve teams of two competing against each other in a high-tech wilderness compound (check out a preview clip here). The contestants live in primitive conditions for one month in a winner-take-all for a $250,000 grand prize. Each week, different teams are designated as the Hunters. The Hunter's prey (i.e. the rest of the teams) live on limited rations and wear high-tech equipment that forces them to stay constantly on the move, making hunger and exhaustion even more intense. The Hunters track down the other teams and when they have two teams in captivity, the rest of the competitors vote on who stays and who goes home.
West said she relied on her experience as a world class boxer heavily all throughout the competition.
"The way I was raised as a fighter really helped me in this competition," she said. "It really, really helped me."
West told TSS all the injuries you'll see on the TV show are real, and that the competition was as intense as she's ever experienced.
"There were a lot of high intensity moments. There was a lot of pressure. Thank God I'd been a professional fighter for six years, and I have that experience to keep myself well balanced, poised and relaxed. If I hadn't traveled the world and competed on big stages before, I don't know what I would've done. I don't know how I would've acted!"
West couldn't say much about the show, but she did lay down the very basics.
"The competition lasted for a month. We were out in North California on a four thousand acre forest. We lived outside. We were given very, very little food. We slept on metal bunks outside, and it was freezing cold at night!"
The producers, West said, kept her and the other contestants on their toes at all times.
"The Game Master could basically change the game at any time. We could be in the middle of a hunt and he could just stop everything and do something crazy!"
West said her status as a world champion boxer helped her land the gig, but anyone who knows her would probably say it just helped get her foot in the door. West's greatest attribute is her charisma, which is brought out best by bright lights and the camera. Still, West said she was thankful for the opportunity she knows boxing helped her take hold of.
"If I wasn't a three-time, two-division champion, I know an opportunity like this would have never come about. Even though the state of women's boxing isn't as good as it is for men, opportunities for us still do knock."
One has to wonder if this kind of exposure will help West land the kinds of lucrative American television dates she rightfully covets. While the fairer sex gets a fairer shake elsewhere in the world, American promoters and their broadcast partners have been reluctant to support women's boxing in the United States.
TSS asked if she had any sort of marketing strategy heading into it.
"You know, when I went into the competition, I didn't even consider that. I just wanted to do something different and challenge myself. I love competition. But throughout the competition, I realized that when this hits television, all of America will know who I am and where I came from."
It certainly couldn't hurt matters, right?
"I had nothing to lose and everything to gain. It was an experience of a lifetime."
West said she competed on the show with her real life boyfriend of one and a half years, Matthew Rosado (pictured alongside West, above). She said the two learned a lot about each other through the process.
"It was interesting competing at such a high level with him."
TSS asked how it all worked out. Did they get into any on air tiffs? Did they break up, get back together, break up and get back together again? What happened?
"You'll have to tune into watch!" she said with a laugh.
Fight fans wondering where West has been since last October's UD win over Christina Ruiz will be glad to know she's back training again after a bit of a self-imposed layoff.
"After my last fight, I stepped away from boxing a bit. I went back to school and got some undergrad courses done. I have a long ways to go [in school] because I started late, but I'm back in the gym training again. My dad's been working on a few things."
Juan West is more than just Kaliesha's dad. He not only trains his daughter, but he also serves as her manager and advisor. Team West, she says, is looking for something big this year and won't settle for anything less.
"I've accomplished so much in boxing," she said. "But right now, what's paying my bills? Boxing isn't. It's unfortunate because I love boxing, but I'm really trying to take care of myself now. Boxing is fun for me but if it isn't taking care of me, I have to step away and I don't want to do that."
West said she hopes Showtime's rumored interest in women's boxing is for real, and that she hopes she can be part of their plans.
"I know Showtime is talking about televising a fight with Ana Julaton. That's the big rumor out there. And what would better than a fight against me? That's what Showtime needs to see!"
Indeed, West and Julaton are two names US fight fans could really get behind.
"I guess you can say I'm going after the big dogs. That would be a good, good fight. I know Showtime is interested in Ana. If I have to come in and be the underdog, then so be it. At least I got my last opportunity in boxing."
West said she has a couple of other fights cooking, too, but that she also wasn't remaining stagnant outside the ring because of it. After working six years in the Emergency Ward of the Loma Linda Medical Center, West said she's moving on to greener pastures. She told TSS she just finished a pilot for yet another TV show earlier this month with Stone Cold Steve Austin, and that she had other similar types of opportunities popping up, too.
And what of other opportunities inside of the ring?
"I feel like I've accomplished everything I can as a fighter. The only thing missing is a televised fight on a major TV network in America."
132,000-Plus….A Boxing Attendance Record Unlikely to Ever be Broken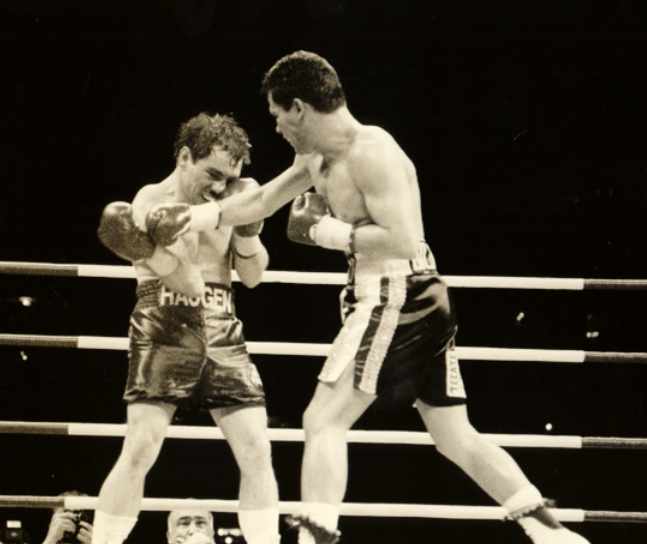 You always hear that records are meant to be broken, but, barring a stunning change in national policy by a Communist country unwelcoming to outsiders, the 132,000-plus that turned out to see Julio Cesar Chavez pummel Greg Haugen on Feb. 20 1993, at Mexico City's Estadio Azteca likely will forever stand first for live attendance for a boxing event.
Chavez's intentionally cruel thrashing of the lippy Haugen enabled the Mexican national hero variously known as "JC Superstar" and El Gran Campeon to successfully defend his WBC super lightweight title for the 10th time. That fight was the capper to an incredibly deep card dubbed the "Grand Slam of Boxing" by promoter Don King, which also featured title retentions by such top-shelf attractions as Azumah Nelson, Terry Norris and Michael Nunn. But make no mistake, those outstanding fighters – Nelson and Norris, like Chavez, have been inducted into the International Boxing Hall of Fame – merely served as fillers until the main event. The massive crowd might have been nearly as large and boisterous had the only scheduled bout been the white-hatted Chavez vs. Haugen, the presumptive American villain.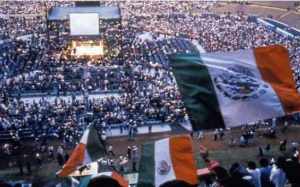 The announced attendance of 132,247 for a showdown fast approaching its 27th anniversary shattered the previous high for a boxing event, the 120,470 that filled Philadelphia's Sesquicentennial Stadium on Sept. 23, 1926, to see Gene Tunney lift Jack Dempsey's heavyweight title on a 10-round unanimous decision. (A crowd estimated at 135,000 turned up in a public park in Milwaukee to see Tony Zale fight Billy Pryor on Aug. 16, 1941, but that doesn't count as there was bleacher seating for only a few thousand and the event was free for everyone.)
The recent incidence of stadium bouts with impressively large gatherings – 90,000 jammed London's Wembley Stadium on April 29, 2017, to watch Great Britain's Anthony Joshua retain his WBA and IBF heavyweight titles on an 11th-round TKO of long-reigning previous champion Wladimir Klitschko – hints at more large throngs willing to leave the comfort of their living rooms to see live boxing, but no promoter can fit a gallon into a quart bottle. Live attendance at least partially hinges on how much space there is in a place, and there is only one stadium that presently has a seating capacity larger than that of Estadio Azteca in 1993. That would be Rungrado 1st of May Stadium in Pyongyang, North Korea, which has a capacity of 150,000. But that huge facility is used primarily as a means of the country's populace dutifully assembling for the purpose of feeding the ego of dictator Kim Jong Un.
It's a sharp drop from Rungrado 1st of May Stadium to the 110,000-seat capacity of Sardar Patel Gujarat Stadium in India, known mostly as a cricket venue, and the 107,601-seat Michigan Stadium, the "Big House" of college football in the United States. Sesquicentennial Stadium (later known as John F. Kennedy Stadium) was demolished in 1992, and even Estadio Azteca, which was erected to host the soccer matches at the 1968 Mexico City Olympics, has been downsized, having undergone renovations in 1999, 2013 and 2016. It now lists a capacity of "only" 87,523.
All of which likely stamps Chavez-Haugen as a pugilistic equivalent to Woodstock as a you-had-to-be-there human magnet in the estimation of renowned ring announcer Jimmy Lennon Jr., whose memories of the literally biggest event he ever worked are as vivid now as they were then.
"I can't remember if they had large projection screens like they do now, but I'm assuming they didn't have them then," recalled Lennon, who joined referee Joe Cortez in sharing their recollections for this story. "Here you had this vast sea of people.  I saw these little fires high up in the stands. People brought their own food and were cooking way up in the more distant seats. I remember thinking this was more of a mass celebration than just a sporting event. Whether or not a lot of people could really see much down in the ring, it certainly seemed that they were enjoying themselves. It was kind of like the huge crowd for Woodstock; just being there was a huge part of it."
Cortez, now 76 and retired from refereeing, said he also was amazed by the gargantuan crowd.
"Walking into the stadium that day was like walking into a different world," he said. "You had to be there to believe it, an event with that many fans, almost all of them rooting for Chavez.
"When Chavez was making his walk to the ring, the cheers were so incredibly loud I almost had to cover my ears, and the boos for Haugen when he was making his walk to the ring were just about as loud. It was an intense feeling, I think, for everybody. I knew it was for me. I never had been in a situation like that. I remember thinking, `What the hell can the people in the seats farthest away from the ring see, unless they have binoculars? The fighters must have seemed like two little ants, with me the third ant, in a tiny box. I knew then it was going to be an experience I would remember the rest of my life, and I still feel that way."
Even though Chavez was and is the most popular Mexican fighter ever, the scene might not have been so incredibly jam-packed or emotional were not for the opponent. The ill will Chavez harbored toward Haugen, a onetime "Tough Man" contestant who had risen above those humble circumstances to win titles at both lightweight and super lightweight, was palpable, and had been simmering for three years. Each new affront by Haugen only served to harden JCC's determination to someday make him pay.
The feud began behind closed doors, when Haugen showed up at a Chavez sparring session. As Chavez left the ring, Haugen approached him and sneeringly said that his sparring partners were "nothing but young little girls with dresses on."
"I hated him from that moment on," Chavez would later say, with Haugen seemingly enjoying any occasion by which he could verbally torment a fighter who the trash-talking antagonist knew would represent his biggest payday.
The stakes were raised on Dec. 13, 1992, moments after Chavez had scored a sixth-round TKO of Marty Jakubowski at The Mirage in Las Vegas. Haugen entered the ring and again confronted Chavez, telling him that his 84-0, with 72 wins inside the distance, had been crafted against "Tijuana taxi drivers that my mom could whip." But this insult was heard on television, a flung gauntlet that Chavez was only too glad to pick up. He would make Haugen, who came in 32-4-1 with 16 KO victories, regret such impudence.
"I will not have mercy on you," Chavez told Haugen. "I will rip your head off."
King immediately realized that this fight called for the biggest possible setting, and what could be bigger than Estadio Azteca? His Hairness played up the revenge angle to the hilt, which was to be expected, except that it wasn't standard pre-fight hype this time. Chavez, who was known to inflict as much pain as possible on any opponent who did not pay him his due as a great fighter, was on a mission to hurt and humiliate Haugen more so than anyone he had faced. There is little doubt that Chavez's making the bout personal imbued his many supporters with the determination to be there so they could someday regale their children and grandchildren with the tale of how they witnessed their glorious knight slay the impudent dragon.
"I arrived very early at the stadium, maybe 1 p.m. or 1:30," Lennon recalled. "I was in my tuxedo and practicing my announcements, but even then, maybe nine hours before the main event went on, there had to be 15,000 people in the stands. They were cheering as I practiced my introduction of Chavez. It's always kind of awkward to practice your introductions in an empty arena, but it sure wasn't empty then. Of course, all 132,000 hadn't shown up either."
Cortez, as was the case with almost everyone there except the few hardy souls who had come to support Haugen, figured Chavez to win. But what if the brash underdog from Washington state pulled off the upset that could spoil the festive mood of all those JCC supporters?
"The security was unbelievable," Cortez said. "There were so many police officers and military people with their plastic shields, and a lot of them had German Shepherds on leashes. If a riot broke out, which nobody wanted, the security people were ready, but how ready could they have been with a crowd that big?"
Fortunately for all concerned, maybe even Haugen, the hordes of Chavez fans who had come anticipating another sterling performance by their hero got it, which enabled all of them to go home happy. Chavez dropped Haugen with an overhand right just 25 seconds into the first round, the first time the challenger had been decked as a pro, and he might have finished him off shortly thereafter had he pressed the issue. But Chavez eased his foot off the gas pedal, the better to do what he had vowed to do, which was to prolong the pain he was so intent on dishing out. That plan must have been obvious to everyone, even to the folks in the nosebleed section who paid only 5,000 pesos for their bargain tickets, then the equivalent of about $1.65 U.S.
"He has no way to keep Julio Cesar Chavez off, except mercy on the part of Chavez, and he has none," TV commentator Ferdie Pacheco said of the systematic disassembly of a fighter who had no chance of winning but was too proud and determined to quit.
"I remember the way Chavez punished Haugen to the body instead of getting him out of there quickly," Lennon said. "But that was the way Chavez was. You had the sense he was controlling every moment of the fight and could have ended it whenever he wanted to."
Finally, after an elapsed time of 2 minutes, 2 seconds in the fifth, Chavez decided Haugen had had enough. Or maybe it was the compassionate Cortez who chose to intervene, wrapping his arms around the valiant but thoroughly beaten-up American.
Asked what he thought about all those "Tijuana taxi drivers" who he had characterized as Chavez victims, Haugen said, "They must have been very tough taxi drivers."
No fight is made memorable solely by the number of butts occupying the seats. Upon reflection, Chavez vs. Haugen was utter domination of a good fighter by a clearly superior one. There have been many of those in the annals of the sport. But still …
"That is definitely one fight I won't forget," Lennon said. "When people ask me about the most memorable fights I've done, that one is right up there. If it isn't No. 1, it's pretty close, if only for the size of the crowd."
Check out more boxing news on video at The Boxing Channel 
To comment on this story in The Fight Forum CLICK HERE
Ryan Garcia's Thunderous KO Tops This Week's Installment of HITS and MISSES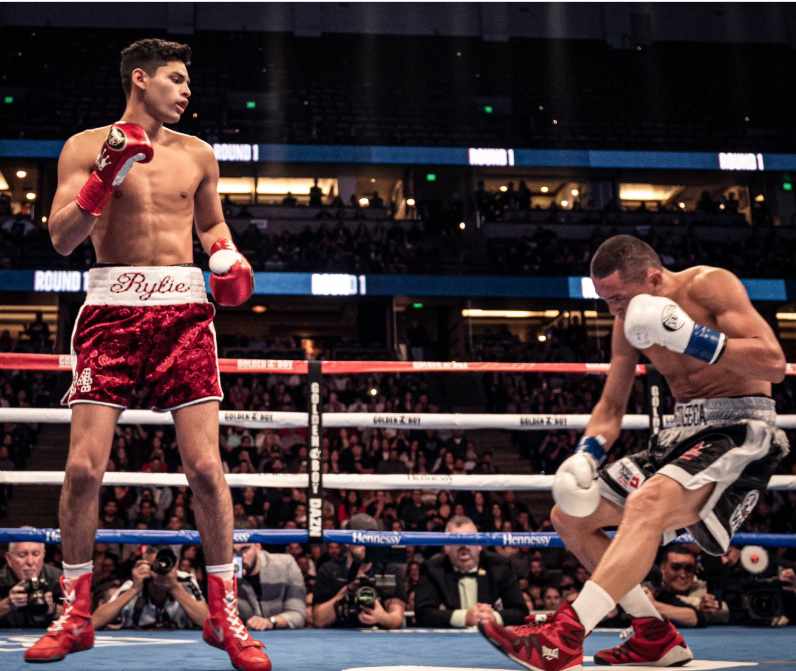 Ryan Garcia's Thunderous KO Tops This Week's Installment of HITS and MISSES
There was plenty to love about boxing over Valentine's Day weekend. Heck, there were even a few reasons to feel jilted over what might have been. But the biggest story was that boxing absolutely delivered the goods just before the world was turning its full attention toward this weekend's huge rematch between Deontay Wilder and Tyson Fury.
Yep, Cupid slung plenty of arrows at boxing fans over the past couple of days. Here are his biggest HITS and MISSES.
HIT – Ryan Garcia's Thunderous Valentine's Day KO 
Heartthrob lightweight contender Ryan Garcia has over 5 million followers on Instagram, hangs around with other social media influencers/invaders like Logan and Jake Paul, and seems to be the biggest hit with the ladies in boxing since his promoter Oscar De La Hoya cut a musical album back in 2000.
But Garcia sure can fight, and that's something that cannot be denied after seeing him shockingly knock out Francisco Fonseca in the first round of the main event of a Valentine's Day special card showcased on DAZN Friday night in Anaheim, Calif. Garcia looked sensational, and the 21-year-old should only keep getting better under the tutelage of Canelo Alvarez's trainer Eddy Reynoso. What a win it was for Garcia, and what huge statement the fighter made as he seeks to become boxing's next big thing.
MISS – IBF's Silly Super Middleweight Rankings 
German super middleweight Vincent Feigenbutz found himself with the opportunity of a lifetime on Saturday night in his main event battle against IBF titleholder Caleb Plant in Nashville, Tenn. The 24-year-old had only competed in fights on the other side of the Atlantic Ocean during his nine-year professional boxing career, and most of those were in his home country. But thanks to the IBF's 168-pound rankings, which amazingly rated the one-loss fighter with no notable wins in the division at No. 3, Feigenbutz found himself with a huge chance to become the first German fighter to win a world title in the U.S. since Max Schmeling defeated Jack Sharkey in 1930.
The problem, of course, was the Feigenbutz was nowhere near ready for such a huge leap up in competition. That could easily be seen just from the 10 seconds of mitt work Fox showed the fighter doing before he headed into the ring on fight night. Look, it makes sense for the PBC, Fox and everyone else involved to operate within boxing's current system, even if it's an incredibly flawed one. But Plant vs. Feigenbutz was a silly mismatch that couldn't possibly do anything for anyone beyond getting Plant paid for one easy night of work.
HIT – Abel Ramos' Fantastic Final Round Effort Lands Fighter Epic Comeback KO
Welterweight Bryant Perrella was in control of the fight and on his way to scoring the unanimous decision victory over Abel Ramos on Saturday night on Fox's Plant-Feigenbutz card. Perrella was ahead on all three scorecards entering the 10th round for good reason. According to CompuBox, for example, Perrella had the 200-79 edge in total connected punches.
But Ramos wasn't prepared to let those last three minutes run off the clock without doing his best to nab the unlikely victory. He knocked Perrella down midway through the last round, then finished him off during the final seconds of the fight. It was an incredible display of fortitude.
Much was made afterward about referee Jack Reiss stopping the contest with just one second left on the clock. But I'd rather give credit here to Ramos for throwing the kitchen sink at his opponent when he had to know the odds were completely stacked against him.
MISS – Fighters Not Listening to Their Corners
Fighters aren't really capable of judging fights while they participate in them, but 24-year-old lightweight Austin Dulay had the hometown gig against 33-year-old veteran Diego Magdaleno in Tennessee and absolutely should have been listening to his corner on fight night. Had he done that, Dulay would at least not have offered such a quizzical look on his face after judges turned in their scorecards in favor of Magdaleno. The elder had been busier, better and more active for most of the fight. Dulay can act as shocked as he wants over the scores after the fact, but what should really shock him is his own lack of attention to the simple act of listening to his corner's instructions during the fight.
Magdaleno was winning the fight. Dulay's corner told him that. Dulay didn't change a thing to his approach.
HIT – Immediate Promotion of Ryan Garcia vs. Jorge Linares Summer Showdown
Former lightweight champion Jorge Linares returned to American soil on the undercard of Garcia-Fonseca, and the idea put forth by the DAZN crew was that if both Garcia and Linares won their fights, the two would meet in May. So, the apparent promotion of each man's next fight started well before they even won on Friday night and kept going after each fighter delivered the goods.
Garcia appears to be a runaway train type of talent that could become a huge crossover star. But Linares has the talent, experience and punching power to stop that train in its tracks. Well done by DAZN, Golden Boy Promotions and the two fighters for getting the hype on the proposed Garcia-Linares going so early. It's a big fight made even bigger by that smart approach.
Photo credit: Tom Hogan, Hogan Photos / Golden Boy Promotions
Check out more boxing news on video at The Boxing Channel 
To comment on this story in The Fight Forum CLICK HERE
Three Punch Combo: Two Intriguing Prelims on the Wilder-Fury Card and More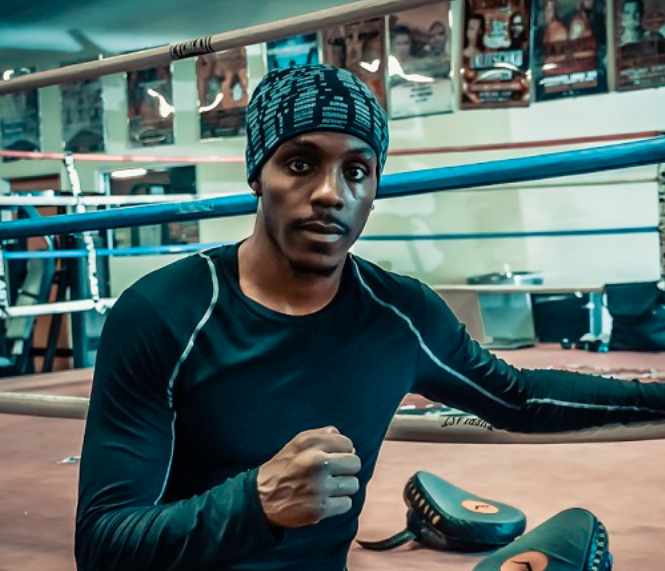 THREE PUNCH COMBO — Wilder-Fury II fight week is upon us and there will certainly be plenty of stories written about the remarkable comeback of Tyson Fury. But Fury is not the only comeback story this week. On the undercard as part of the televised pre-show leading up to the PPV event, Amir Imam (22-2, 19 KO's) will look for his second straight win following a lengthy layoff after losing to Jose Ramirez in their 140-pound title fight in March of 2018.
Comeback stories in boxing come in many forms. Some, like Fury's, derive from battling personal demons outside the ring. Some come from fighters suddenly figuring the game out after being seemingly vanquished to permanent journeyman status. Think of Orlando Salido and Tevin Farmer. And finally, some come from once promising fighters rebounding from setbacks that turned them into an afterthought in the sport. This is where Amir Imam falls.
Imam (pictured) is an afterthought at the moment. But as I have harped about on several occasions, just because a fighter suffers a setback or even multiple setbacks, that does not necessarily mean they should be seen as afterthoughts. Sometimes setbacks actually become a blessing in disguise.
Let's not forget that Imam was a highly decorated amateur. He nearly qualified for the 2012 Olympics but was in the unfortunate position of fighting in the same weight class as Errol Spence Jr.
Early in his pro career, Imam showcased a telephone pole-like jab that was mindful of the jab of former welterweight champion Ike Quartey. Often freezing opponents in their footsteps, Imam often worked thunderous pinpoint combinations behind this jab. He had skill, power and speed. It is easy to see why so many, myself included, thought Imam could not only win a world title one day but become a superstar.
Remember just two-and-a-half years into his pro career Imam easily out boxed Yordenis Ugas in winning a wide eight-round unanimous decision. Fast-forward six years later and Ugas has turned into one of the best welterweights in the sport. That win by Imam showed just how good a fighter he can be.
In November of 2015, Imam was one step away from a title fight when he was upset by Adrian Granados in what was supposed to be a tune-up fight. Granados was a vastly underrated fighter at that time and Imam looked somewhat unprepared for the storm that he encountered that night.
Two-and-a-half years later, Imam held his own while losing a unanimous decision to Jose Ramirez. After this bout, a legal battle ensued with his then promoter Don King that caused an extended ring absence. Imam is now aligned with Top Rank.
Many in boxing have all but given up on Imam. But the talent that we saw when he was coming up the ladder is still there. And that was evident last November when in his first fight back from the Ramirez loss, he impressively knocked out Marcos Mojica.
On Saturday, Imam will be in the ring with Javier Molina (21-2, 9 KO's) who is coming off an upset first- round knockout of Hiroki Okada. The fight is at a catch-weight of 142 pounds. Molina is a solid pro and an impressive win by Imam would put him back on the map. Not only do I expect an impressive performance by Imam here but I think he will one day soon complete his own comeback bid and become a world champion.
Who is Jeo Santisima?
On the pay-per-view portion of the Wilder-Fury II undercard, boxing's busiest champion Emanuel Navarrete (30-1, 26 KO's) will defend his WBO 122-pound title against the organization's number five ranked contender in Jeo Santisima (19-2, 16 KO's) of the Philippines. So, who is Santisima and does he pose any threat to Navarrete?
Santisima, 23, turned pro when he was 16 and has had all 21 of his fights in the Philippines. He began his career 2-2 but since then has reeled off 17 straight wins.
To put it mildly, Santisima has been in with soft competition. Even the most hardcore boxing fan would be hard-pressed to recognize any names on his resume. His best win on paper was a first- round knockout in 2017 of Goodluck Mrema who was then 16-0. Mrema has lost four more fights since then, including three by knockout.
There is actually quite a bit of footage available of Santisima on YouTube. He is an orthodox fighter who is a boxer-puncher by trade. He has a decent left jab and will look to work combinations behind that punch. Santisima also will sit back and look to counter. Again, against limited opposition, he has shown an ability to bait his opposition into throwing by using subtle feints to set up counter opportunities.
Santisima is fairly athletic. His hand speed is average, but he appears to possess heavy-handed power in both fists. I'd say his best punch is his left hook. It is often delivered short, quick and compact. He has hurt opponents to both the head and body with that punch.
One major flaw in Santisima's game is that when he jabs, he often gets lazy when bringing it back. He has been clipped a few times when doing this and will need to correct this flaw to stand any chance against Navarrete.
I initially dismissed Santisima's chances in this fight, but after watching him on YouTube, I suspect he may surprise some people. We all know Navarrete is a punching machine. But by throwing so many punches, Navarrete is somewhat susceptible to counter shots. With Santisima being a decent counterpuncher with heavy hands, I can see him landing some damaging punches. And that left hook, in my opinion, is for real.
Everything considered, I think Santisima will, at the least, make the fight with Navarrete entertaining for the fans. Yes, there is a good chance he may get overwhelmed but as long as he is standing, he will be dangerous and make things fun.
An Interesting Option for Diego Magdaleno
Diego Magdaleno (32-3, 13 KO's) put a spark in his career when he won a clear 10-round unanimous decision over Austin Dulay (13-2, 10 KO's) in a lightweight contest this past Saturday. Coming on national television, the win will certainly get Magdaleno another opportunity. And putting my matchmaker hat on for a second, I see one very interesting option out there for him.
Back in January, I was ringside at the Turning Stone Resort & Casino in Verona, NY to watch one time can't-miss prospect Felix Verdejo in action against journeyman Manuel Rey Rojas. The prevailing thought at ringside was "don't blink" with the expectation that Verdejo would dispatch Rojas quickly and in a spectacular fashion.
Instead, Verdejo looked sluggish in coasting to a wide unanimous decision victory. The fight looked like a glorified sparring session and the explosiveness we once saw in the early portion of Verdejo's career was once again non-existent. Despite the win, Verdejo's stock continued to plummet.
Top Rank, Verdejo's promoter, needs to find out what they have in Verdejo once and for all. There is no need to match him anymore with the Manuel Rey Rojas' of the world. Verdejo needs a step-up and Magdaleno fits the bill.
Could Verdejo lose to Magdaleno? The answer is a resounding yes. But could Magdaleno with his aggressive style bring out the best in Verdejo? The answer is also a resounding yes.
Verdejo vs. Magdaleno would be a perfect co-feature to the big title unification fight that Top Rank is planning in the spring.
Check out more boxing news on video at The Boxing Channel 
To comment on this story in The Fight Forum CLICK HERE