The Tale of Gatti-Ward Has An Untold Rest of the Story
Paul Harvey, the iconic radio announcer who was 90 when he passed away in February 2009, wasn't into merely repeating to his listeners what they already knew, or thought they knew. Harvey understood there was always something in every breaking-news bulletin that wasn't so much at the forefront of the discussion as on the back burner. It was there, behind that curtain, where he felt it was his duty to take those listeners.
"You know what the news is," he would say in that familiar chirpy voice, rife with his signature dramatic pauses. "In a minute you're going to hear … the rest of the story."
HBO Sports, which hauled in a load of awards with its 12-episode boxing documentary series, Legendary Nights, in 2002, is heading back into its comfort zone on Oct. 19 with the premiere of the first of several new Legendary Nights, "The Tale of Gatti-Ward," which chronicles the epic trilogy that pitted blood-and-guts brawlers Arturo Gatti and "Irish" Micky Ward from April 18, 2002, to June 7, 2003. The first of several play dates comes at the witching hour of midnight, following the live telecast of the Mike Alvarado-Ruslan Provodnikov junior welterweight clash from Denver, Colo., which begins at 9:45 p.m.
The nine George Foster Peabody Awards and 33 Sports Emmys for documentaries racked up by HBO Sports, a number of which were won for work done on the 2003 Legendary Nights, are an indication that the pay-cable giant is back to doing something it has always done exceptionally well. And there is an undeniable sense that, in many ways, things are picking up right where they left off a decade ago, when "The Tale of Lewis-Tyson" ended the series run. The production again is high-level, the highlight clips exciting, the remembrances of those involved (Gatti died, far too soon, at 37 on July 11, 2009) compelling. Executive producer Rick Bernstein, an integral part of not only prior Legendary Nights but other award-winning HBO Sports documentaries, is back to helm "The Tale of Gatti-Ward," providing the common thread that connects what was, what is and what will be.
But former HBO Sports president Ross Greenburg, the master of the sports documentary and driving force behind the 2002 Legendary Nights, is now performing similar duties at HBO's increasingly bitter rival, Showtime. The narrator for "The Tale of Gatti-Ward" is Mark Wahlberg, who was nominated for a Best Actor Oscar for his role as Ward in 2010's The Fighter, which didn't deal with Ward's career-defining bouts with Gatti but with his contentious relationship with his half-brother/trainer, the drug-addicted former boxer Dicky Ecklund. Wahlberg takes over for HBO Sports' longtime narrator, Liev Schreiber, because Wahlberg is so obviously identified with Ward. But look for Schreiber, who has the title role in Showtime's new drama series, Ray Donovan, to still be the voice of HBO Sports' various reality series and other projects.
It's impossible to fit a gallon of material into a quart bottle, and so it would have been difficult to wrap all those curious, behind-the-scenes developments around a three-act passion play that has been elevated to a special place in boxing history even though Gatti and Ward were fighters with as many flaws as strengths, Gatti's June 9 induction into the International Boxing Hall of Fame notwithstanding. It is perhaps because their ring traits were so alike that Gatti and Ward were repeatedly able to make magic, even if neither attained greatness in the same talent-drenched manner as such past Legendary Nights subjects as Sugar Ray Leonard, Thomas Hearns, Aaron Pryor, Alexis Arguello, Marvelous Marvin Hagler, Julio Cesar Chavez, Meldrick Taylor, Evander Holyfield, Riddick Bowe, Lennox Lewis, Mike Tyson, Oscar De La Hoya, Felix Trinidad, George Foreman and Riddick Bowe. What Gatti and Ward might have lacked in natural ability they made up for with almost bottomless wells of want-to.
"In the last few rounds, Arturo and Micky looked like they had nothing left, but they kept digging deeper and deeper and found what it took to keep going," HBO boxing analyst Larry Merchant said after their first slugfest, which the underdog Ward won on a 10-round split decision at the Mohegan Sun in Uncasville, Conn., a quote I fetched from my voluminous personal files and not from "The Tale of Gatti-Ward" preview DVD. "Whether it's on the highest level of Arguello and Pryor, or Bowe and Holyfield, I can't say. But I don't know how anything could be more exciting."
Round 9 of that fight is time-capsule-preservable quality, with Gatti going down from a crushing hook to the body, seemingly in deep trouble after beating the count, then rallying with a flurry of his own before Ward roared back to again regain the upper hand.
Blow-by-blow announcer Jim Lampley summed up that back-and-forth round thusly: "Every once in a while, someone will ask me, `What's the greatest fight you've ever called?,' or `What's the greatest round you've ever called?,' or `What's the greatest thing you've ever seen in boxing?'" Lampley said, still amazed by what he witnessed 11-plus years earlier. "And the answer is, `Gatti-Ward I, Round 9.' I think that will always be the answer."
So we got it then, and we get it now. Something out of the ordinary unfolded in and out of the ring between Ward, the red-haired journeyman from Lowell, Mass., and Gatti, the Italian-born, Montreal-raised, Jersey City-based basher who used to be leading-man handsome until too many smacks to the face on too many fight nights had him resembling Quasimodo after some of his more punishing adventures in pugilism. And Ward willingly accepted as many lumps, abrasions and stitches from his future best friend as he dished out in those three wars of attrition.
"I didn't mind taking the pain, taking the punches," Ward said of a career that featured enough trips in ambulances that he conceivably could have qualified for frequent-rider status. "I didn't mind the stitches, I didn't mind getting cut."
Said Gatti's longtime manager, Pat Lynch: "Arturo always said, `My toughest fight is when I fight someone just like me.' After that (first Ward) fight he said to me, `Guess what? I just fought someone just like me.'"
It could very well be that "The Tale of Gatti-Ward" represents the high-water mark for this updated round of Legendary Nights. HBO got into boxing business way back on Jan. 22, 1973,with its telecast of a young George Foreman wresting the heavyweight championship on a second-round technical knockout of Joe Frazier in Kingston, Jamaica, so Greenburg, Bernstein and Schreiber had a wealth of material from which to draw when the 2002 slate of Legendary Nights went into production. In the 11 years since … well, maybe the number of fight nights that could justifiably could be described as "legendary" are fewer and farther between, which is what happens when the really good, really interesting matchups are now more evenly parsed between HBO and Showtime, with each entity taking strict care to ignore the other when they aren't publicly bickering like, say, the Kardashians and their husbands/boyfriends du jour. In other words, don't expect "The Tale of Corrales-Castillo" or "The Tale of Mayweather-Alvarez" to turn up any time soon on HBO. To the suits at HBO headquarters in midtown Manhattan, it's like those Showtime bouts never happened.
It's here where Paul Harvey would jump in with "the rest of the story," telling tales out of school about the cross-pollination that have those trying to keep up with the respective networks' management affairs unable to tell the players without scorecards.
Not only do you have Greenburg, who was HBO Sports president from 2000 to 2011, now consulting for Showtime's "All Access" advance peeks at Mayweather's bouts with Robert Guerrero and Canelo Alvarez, and Schreiber carrying the load with Ray Donovan, but HBO replaced Greenburg with Ken Hershman, who had been executive vice president and general manager of Sports and Event Programming at Showtime. It's like the Hatfields and McCoys of premium cable, replete with occasional cross-breeding. The feud figures to get even hotter moving forward; Showtime barely had half the number of HBO subscribers in 2005, but now, thanks in no small part to its increased involvement in big-time boxing, the gap has narrowed significantly, with HBO sitting at approximately 27.5 million subscribers to Showtime's 22 million. At least Showtime didn't poach its top sports executive from HBO, instead installing Stephen Espinoza, who had been a partner in Ziffren Brittenham LLP, as well as lead counsel for Golden Boy Promotions, in Hershman's old role.
Game on … and on, and on.
It would be one thing if HBO and Showtime followed the advice of King (Rodney, not Don) and found a way to, you know, just get along. Then maybe some of the bouts fight fans would like to see, legendary nights in theory, would become reality instead of unfulfilled wishes upon excluded stars. But HBO won't open its arms to Golden Boy fighters, and Showtime is deprived of the usage of members of Bob Arum's Top Rank stable, so the Cold War continues with no thaw in sight.
There are always winners and losers in boxing, and not just on the scorecards or with a referee tolling to the count of 10 over a fighter who's been knocked to the canvas. Early in "The Tale of Gatti-Ward," there is a snippet of footage of a bleeding Gatti getting popped in the chops by a fighter Wahlberg doesn't identify. That fighter is Ivan Robinson.
There are those who would say that Gatti's two fights with Robinson in 1998 – both razor-thin decision losses – were every bit as action-packed as his three more heralded clashes with Ward. But while the 2002 Legendary Nights series included multiple episodes involving Leonard, Hagler, Hearns and Tyson, don't expect "The Tale of Gatti-Robinson" any time soon.
"Those (Gatti-Robinson) fights were technically better, I thought, than Gatti's fights with Ward," said Joseph Pasquale, the New Jersey-based judge who worked both Gatti-Ward II and Gatti-Robinson II. "Of course, that's just my opinion. But you know what they say. The winners are the ones who write the version of history that sticks."
Robinson, with two wins in as many tries with Gatti, wonders if that's really true. He said he might have been better off if referee Benjy Esteves Jr. hadn't docked Gatti a penalty point for low blows in the eighth round of their rematch. Had that not been the case, the two scorecards on which he won by a single point would have evened out, resulting in a majority draw and a possible third meeting for big bucks and greater glory. Had that scenario played out, a Gatti-Robinson trilogy might now be held in the same lofty esteem as Gatti-Ward.
"After my second fight with Arturo, I was, like, `I beat him twice, I don't need to fight him again,'" Robinson said. "I thought, maybe foolishly, that's I'd get more credit than I did. Instead, everybody talks more about Arturo and Micky Ward, and that's fine. Those were really good fights. I loved Arturo and I like Micky a lot, even though me and Micky never fought for whatever reason. I wanted that fight and so did he, but it didn't happen.
"But who knows? If I had lost that second fight with Arturo, I don't think they would have ever given me a third fight with him. I really believe that."
Meanwhile, fight fans never got to see a first fight between Tyson and Bowe, or Mayweather and Manny Pacquiao. So legendary nights, whenever and wherever they occur, should be cherished for the mere fact of their existence. Because wonderful stuff doesn't happen as nearly as often as it should, a situation that could become even more acute if the real rivalries continue to be played out in mahogany-paneled boardrooms.
As Mr. Harvey might say, that's the rest of the story.
Skavynskyi and Bustillos Win on a MarvNation Card in Long Beach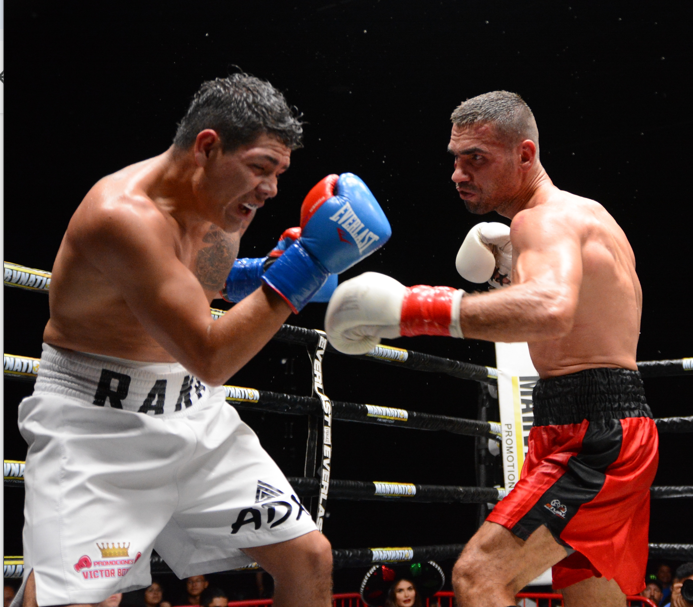 Skavynskyi and Bustillos Win on a MarvNation Card in Long Beach
LONG BEACH, Ca.-A cool autumn night saw welterweights and minimumweights share main events for a MarvNation fight card on Saturday.
Ukraine's Eduard Skavynskyi (15-0, 7 KOs) experienced a tangled mess against the awkward Alejandro Frias (14-10-2) but won by decision after eight rounds in a welterweight contest at the indoor furnace called the Thunder Studios.
It was hot in there for the more than 600 people inside.
Skavynskyi probably never fought someone like Mexico's Frias whose style was the opposite of the Ukrainian's fundamentally sound one-two style. But round after round the rough edges became more familiar.
Neither fighter was ever damaged but all three judges saw Skavynskyi the winner by unanimous decision 79-73 on all three cards. The Ukrainian fighter trains in Ventura.
Bustillo Wins Rematch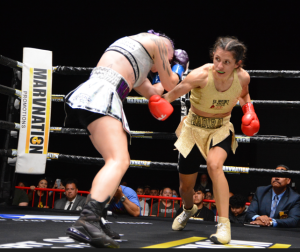 In the female main event Las Vegas' Yadira Bustillos (8-1) stepped into a rematch with Karen Lindenmuth (5-2) and immediately proved the lessons learned from their first encounter.
Bustillos connected solidly with an overhand right and staggered Lindenmuth but never came close to putting the pressure fighter down. Still, Bustillos kept turning the hard rushing Lindenmuth and snapping her head with overhand rights and check left hooks.
Lindenmuth usually overwhelms most opponents with a smothering attack that causes panic. But not against Bustillos who seemed quite comfortable all eight rounds in slipping blows and countering back.
After eight rounds all three judges scored the contest for Bustillos 78-74 and 80-72 twice. Body shots were especially effective for the Las Vegas fighter in the fifth round. Bustillos competes in the same division as IBF/WBO title-holder Yokasta Valle.
Other Bouts
In a middleweight clash, undefeated Victorville's Andrew Buchanan (3-0-1) used effective combination punching to defeat Mexico's Fredy Vargas (2-1-1) after six rounds. Two judges scored it 59-55 and a third 60-54 for Buchanan. No knockdowns were scored.
A super lightweight match saw Sergio Aldana win his pro debut by decision after four rounds versus Gerardo Fuentes (2-9-1).
Photos credit: Al Applerose
To comment on this story in the Fight Forum CLICK HERE
Tedious Fights and a Controversial Draw Smudge the Matchroom Boxing Card in Orlando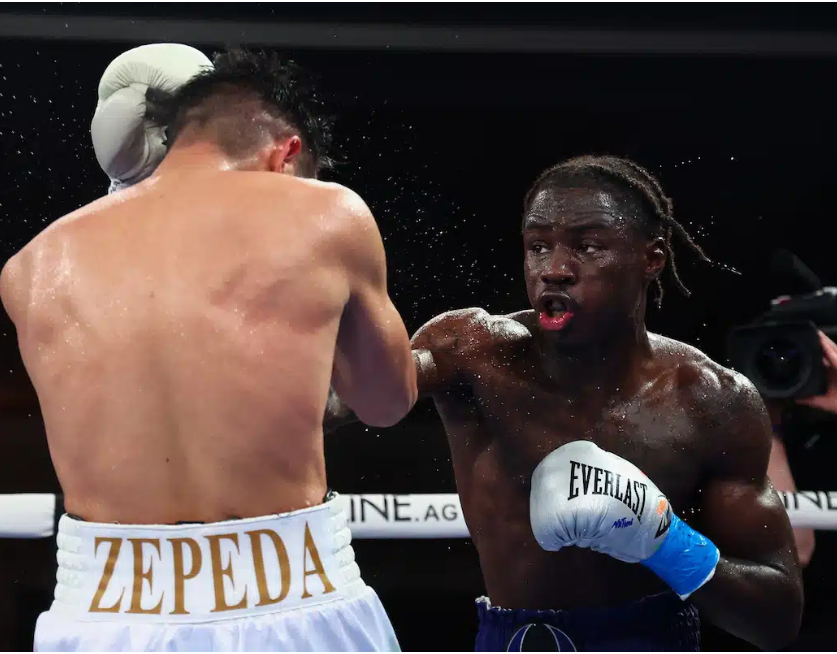 Matchroom Boxing was at the sprawling Royale Caribe Resort Hotel in Orlando, Florida tonight with a card that aired on DAZN. The main event was a ho-hum affair between super lightweights Richardson Hitchins and Jose Zepeda.
SoCal's Zepeda has been in some wars in the past, notably his savage tussle with Ivan Baranchyk, but tonight he brought little to the table and was outclassed by the lanky Hitchins who won all 12 rounds on two of the cards and 11 rounds on the other.  There were no knockdowns, but Zepeda suffered a cut on his forehead in round seven that was deemed to be the product of an accidental head butt and another clash in round ten forced a respite in the action although Hitchins suffered no apparent damage.
It was the sort of fight where each round was pretty much a carbon of the round preceding it. Brooklyn's Hitchins, who improved to 17-0 (7), was content to pepper Zepeda with his jab, and the 34-year-old SoCal southpaw, who brought a 37-3 record, was never able to penetrate his defense and land anything meaningful.
Hitchins signed with Floyd Mayweather Jr's promotional outfit coming out of the amateur ranks and his style is reminiscent in ways of his former mentor. Like Mayweather, he loses very few rounds. In his precious engagement, he pitched a shutout over previously undefeated John Bauza.
Co-Feature
In the co-feature, Conor Benn returned to the ring after an absence of 17 months and won a unanimous decision over Mexico's Rodolfo Orozco. It wasn't a bad showing by Benn who showed decent boxing skills, but more was expected of him after his name had been bandied about so often in the media. Two of the judges had it 99-91 and the other 96-94.
Benn (22-0, 14 KOs) was a late addition to the card although one suspects that promoter Eddie Hearn purposely kept him under wraps until the week of the fight so as not to deflect the spotlight from the other matches on his show. Benn lost a lucrative date with Chris Eubank Jr when he was suspended by the BBBofC when evidence of a banned substance was found in his system and it's understood that Hearn has designs on re-igniting the match-up with an eye on a date in December. For tonight's fight, Benn carried a career-high 153 ½ pounds. Mexico's Orozco, who was making his first appearance in a U.S. ring, declined to 32-4-3.
Other Bouts of Note
The welterweight title fight between WBA/WBC title-holder Jessica McCaskill (15-3-1) and WBO title-holder Sandy Ryan (6-1-1) ended in a draw and the ladies' retain their respective titles. Ryan worked the body effectively and the general feeling was that she got a raw deal, a sentiment shared by the crowd which booed the decision. There was a switch of favorites in the betting with the late money seemingly all on the Englishwoman who at age 30 was the younger boxer by nine years.
The judges had it 96-94 Ryan, 96-95, and a vilified 97-93 for Chicago's McCaskill.
In the opener of the main DAZN stream, Houston middleweight Austin "Ammo" Williams, 27, improved to 15-0 (10) with a 10-round unanimous decision over 39-year-old Toronto veteran Steve Rolls (22-3). All three judges had it 97-93. Rolls has been stopped only once, that by Gennady Golovkin.
Photo credit: Ed Mulholland / Matchroom Boxing
To comment on this story in the Fight Forum CLICK HERE
Zhilei Zhang KOs Joe Joyce; Calls Out Tyson Fury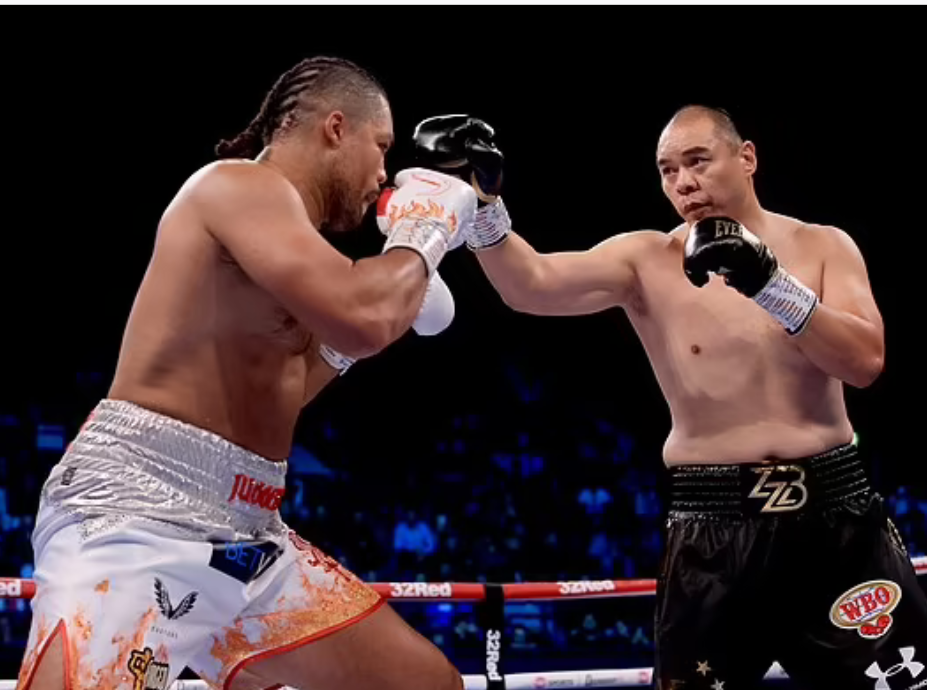 Joe Joyce activated his rematch clause after being stopped in the sixth frame by Zhilei Zhang in their first meeting. In hindsight, he may wish that he hadn't. Tonight at London's Wembley Stadium, Zhang stopped him again and far more conclusively than in their first encounter.
In the first meeting, Zhang, a southpaw, found a steady home for his stiff left jab. Targeting Joyce's right eye, he eventually damaged the optic to where the ring doctor wouldn't let Joyce continue. At the end, the fight was close on the cards and Joyce was confident that he would have pulled away if not for the issue with his eye.
In the rematch tonight, Zhang (26-1-1, 21 KOs) closed the curtain with his right hand. A thunderous right hook on the heels of a straight left pitched Joyce to the canvas where he landed face first. He appeared to beat the count by a whisker, but was seriously dazed and referee Steve Gray properly waived it off. The official time was 3:07 of round three.
Zhang, who lived up to his nickname, "Big Bang," was credited with landing 29 power punches compared with only six for Joyce (15-2) who came in 25 pounds heavier than in their first meeting while still looking properly conditioned. One would be inclined to say that age finally caught with the "Juggernaut" who turned 38 since their last encounter, but Zhang, 40, is actually the older man. In his post-fight interview in the ring, the New Jersey resident, a two-time Olympian for China, when asked who he wanted to fight next, turned to the audience and said, "Do you want to see me shut Tyson Fury up?"
He meant it as a rhetorical question.
Semi-Windup
Light heavyweight Anthony Yarde was matched soft against late sub Jorge Silva, a 40-year-old Portuguese journeyman, and barely broke a sweat while scoring a second-round stoppage. Yarde backed Silva against a corner post and put him on the deck with a short right hand. Silva's body language indicated that he had no interest in continuing and the referee accommodated him. The official time was 2:07 of round two.
A 30-year-old Londoner, Yarde (24-3, 23 KOs) was making his first start since being stopped in eight rounds by Artur Beterbiev in a bout that Yarde was winning on two of the scorecards. Silva, a late replacement for 19-3-1 Ricky Summers, falls to 22-9.
Also
Former leading super middleweight contender Zach Parker (23-1, 17 KOs) returned to the ring in a "shake-off-the-rust" fight against 40-year-old Frenchman Khalid Graidia and performed as expected. Graidia's corner pulled him out after seven one-sided rounds.
In his previous fight, Parker was matched against John Ryder who he was favored to beat. The carrot for the winner was a lucrative date with Canelo Alvarez. Unfortunately for Parker, he suffered a broken hand and was unable to continue after four frames. Tonight, he carried 174 pounds, a hint that he plans to compete as a light heavyweight going forward. Indeed, he has expressed an interest in fighting Anthony Yarde. Graidia declined to 10-13-4.
The Zhang-Joyce and Yarde-Silva fights were live-streamed in the U.S. on ESPN+.
To comment on this story in the Fight Forum CLICK HERE