The Tale of Gatti-Ward Has An Untold Rest of the Story
Paul Harvey, the iconic radio announcer who was 90 when he passed away in February 2009, wasn't into merely repeating to his listeners what they already knew, or thought they knew. Harvey understood there was always something in every breaking-news bulletin that wasn't so much at the forefront of the discussion as on the back burner. It was there, behind that curtain, where he felt it was his duty to take those listeners.
"You know what the news is," he would say in that familiar chirpy voice, rife with his signature dramatic pauses. "In a minute you're going to hear … the rest of the story."
HBO Sports, which hauled in a load of awards with its 12-episode boxing documentary series, Legendary Nights, in 2002, is heading back into its comfort zone on Oct. 19 with the premiere of the first of several new Legendary Nights, "The Tale of Gatti-Ward," which chronicles the epic trilogy that pitted blood-and-guts brawlers Arturo Gatti and "Irish" Micky Ward from April 18, 2002, to June 7, 2003. The first of several play dates comes at the witching hour of midnight, following the live telecast of the Mike Alvarado-Ruslan Provodnikov junior welterweight clash from Denver, Colo., which begins at 9:45 p.m.
The nine George Foster Peabody Awards and 33 Sports Emmys for documentaries racked up by HBO Sports, a number of which were won for work done on the 2003 Legendary Nights, are an indication that the pay-cable giant is back to doing something it has always done exceptionally well. And there is an undeniable sense that, in many ways, things are picking up right where they left off a decade ago, when "The Tale of Lewis-Tyson" ended the series run. The production again is high-level, the highlight clips exciting, the remembrances of those involved (Gatti died, far too soon, at 37 on July 11, 2009) compelling. Executive producer Rick Bernstein, an integral part of not only prior Legendary Nights but other award-winning HBO Sports documentaries, is back to helm "The Tale of Gatti-Ward," providing the common thread that connects what was, what is and what will be.
But former HBO Sports president Ross Greenburg, the master of the sports documentary and driving force behind the 2002 Legendary Nights, is now performing similar duties at HBO's increasingly bitter rival, Showtime. The narrator for "The Tale of Gatti-Ward" is Mark Wahlberg, who was nominated for a Best Actor Oscar for his role as Ward in 2010's The Fighter, which didn't deal with Ward's career-defining bouts with Gatti but with his contentious relationship with his half-brother/trainer, the drug-addicted former boxer Dicky Ecklund. Wahlberg takes over for HBO Sports' longtime narrator, Liev Schreiber, because Wahlberg is so obviously identified with Ward. But look for Schreiber, who has the title role in Showtime's new drama series, Ray Donovan, to still be the voice of HBO Sports' various reality series and other projects.
It's impossible to fit a gallon of material into a quart bottle, and so it would have been difficult to wrap all those curious, behind-the-scenes developments around a three-act passion play that has been elevated to a special place in boxing history even though Gatti and Ward were fighters with as many flaws as strengths, Gatti's June 9 induction into the International Boxing Hall of Fame notwithstanding. It is perhaps because their ring traits were so alike that Gatti and Ward were repeatedly able to make magic, even if neither attained greatness in the same talent-drenched manner as such past Legendary Nights subjects as Sugar Ray Leonard, Thomas Hearns, Aaron Pryor, Alexis Arguello, Marvelous Marvin Hagler, Julio Cesar Chavez, Meldrick Taylor, Evander Holyfield, Riddick Bowe, Lennox Lewis, Mike Tyson, Oscar De La Hoya, Felix Trinidad, George Foreman and Riddick Bowe. What Gatti and Ward might have lacked in natural ability they made up for with almost bottomless wells of want-to.
"In the last few rounds, Arturo and Micky looked like they had nothing left, but they kept digging deeper and deeper and found what it took to keep going," HBO boxing analyst Larry Merchant said after their first slugfest, which the underdog Ward won on a 10-round split decision at the Mohegan Sun in Uncasville, Conn., a quote I fetched from my voluminous personal files and not from "The Tale of Gatti-Ward" preview DVD. "Whether it's on the highest level of Arguello and Pryor, or Bowe and Holyfield, I can't say. But I don't know how anything could be more exciting."
Round 9 of that fight is time-capsule-preservable quality, with Gatti going down from a crushing hook to the body, seemingly in deep trouble after beating the count, then rallying with a flurry of his own before Ward roared back to again regain the upper hand.
Blow-by-blow announcer Jim Lampley summed up that back-and-forth round thusly: "Every once in a while, someone will ask me, `What's the greatest fight you've ever called?,' or `What's the greatest round you've ever called?,' or `What's the greatest thing you've ever seen in boxing?'" Lampley said, still amazed by what he witnessed 11-plus years earlier. "And the answer is, `Gatti-Ward I, Round 9.' I think that will always be the answer."
So we got it then, and we get it now. Something out of the ordinary unfolded in and out of the ring between Ward, the red-haired journeyman from Lowell, Mass., and Gatti, the Italian-born, Montreal-raised, Jersey City-based basher who used to be leading-man handsome until too many smacks to the face on too many fight nights had him resembling Quasimodo after some of his more punishing adventures in pugilism. And Ward willingly accepted as many lumps, abrasions and stitches from his future best friend as he dished out in those three wars of attrition.
"I didn't mind taking the pain, taking the punches," Ward said of a career that featured enough trips in ambulances that he conceivably could have qualified for frequent-rider status. "I didn't mind the stitches, I didn't mind getting cut."
Said Gatti's longtime manager, Pat Lynch: "Arturo always said, `My toughest fight is when I fight someone just like me.' After that (first Ward) fight he said to me, `Guess what? I just fought someone just like me.'"
It could very well be that "The Tale of Gatti-Ward" represents the high-water mark for this updated round of Legendary Nights. HBO got into boxing business way back on Jan. 22, 1973,with its telecast of a young George Foreman wresting the heavyweight championship on a second-round technical knockout of Joe Frazier in Kingston, Jamaica, so Greenburg, Bernstein and Schreiber had a wealth of material from which to draw when the 2002 slate of Legendary Nights went into production. In the 11 years since … well, maybe the number of fight nights that could justifiably could be described as "legendary" are fewer and farther between, which is what happens when the really good, really interesting matchups are now more evenly parsed between HBO and Showtime, with each entity taking strict care to ignore the other when they aren't publicly bickering like, say, the Kardashians and their husbands/boyfriends du jour. In other words, don't expect "The Tale of Corrales-Castillo" or "The Tale of Mayweather-Alvarez" to turn up any time soon on HBO. To the suits at HBO headquarters in midtown Manhattan, it's like those Showtime bouts never happened.
It's here where Paul Harvey would jump in with "the rest of the story," telling tales out of school about the cross-pollination that have those trying to keep up with the respective networks' management affairs unable to tell the players without scorecards.
Not only do you have Greenburg, who was HBO Sports president from 2000 to 2011, now consulting for Showtime's "All Access" advance peeks at Mayweather's bouts with Robert Guerrero and Canelo Alvarez, and Schreiber carrying the load with Ray Donovan, but HBO replaced Greenburg with Ken Hershman, who had been executive vice president and general manager of Sports and Event Programming at Showtime. It's like the Hatfields and McCoys of premium cable, replete with occasional cross-breeding. The feud figures to get even hotter moving forward; Showtime barely had half the number of HBO subscribers in 2005, but now, thanks in no small part to its increased involvement in big-time boxing, the gap has narrowed significantly, with HBO sitting at approximately 27.5 million subscribers to Showtime's 22 million. At least Showtime didn't poach its top sports executive from HBO, instead installing Stephen Espinoza, who had been a partner in Ziffren Brittenham LLP, as well as lead counsel for Golden Boy Promotions, in Hershman's old role.
Game on … and on, and on.
It would be one thing if HBO and Showtime followed the advice of King (Rodney, not Don) and found a way to, you know, just get along. Then maybe some of the bouts fight fans would like to see, legendary nights in theory, would become reality instead of unfulfilled wishes upon excluded stars. But HBO won't open its arms to Golden Boy fighters, and Showtime is deprived of the usage of members of Bob Arum's Top Rank stable, so the Cold War continues with no thaw in sight.
There are always winners and losers in boxing, and not just on the scorecards or with a referee tolling to the count of 10 over a fighter who's been knocked to the canvas. Early in "The Tale of Gatti-Ward," there is a snippet of footage of a bleeding Gatti getting popped in the chops by a fighter Wahlberg doesn't identify. That fighter is Ivan Robinson.
There are those who would say that Gatti's two fights with Robinson in 1998 – both razor-thin decision losses – were every bit as action-packed as his three more heralded clashes with Ward. But while the 2002 Legendary Nights series included multiple episodes involving Leonard, Hagler, Hearns and Tyson, don't expect "The Tale of Gatti-Robinson" any time soon.
"Those (Gatti-Robinson) fights were technically better, I thought, than Gatti's fights with Ward," said Joseph Pasquale, the New Jersey-based judge who worked both Gatti-Ward II and Gatti-Robinson II. "Of course, that's just my opinion. But you know what they say. The winners are the ones who write the version of history that sticks."
Robinson, with two wins in as many tries with Gatti, wonders if that's really true. He said he might have been better off if referee Benjy Esteves Jr. hadn't docked Gatti a penalty point for low blows in the eighth round of their rematch. Had that not been the case, the two scorecards on which he won by a single point would have evened out, resulting in a majority draw and a possible third meeting for big bucks and greater glory. Had that scenario played out, a Gatti-Robinson trilogy might now be held in the same lofty esteem as Gatti-Ward.
"After my second fight with Arturo, I was, like, `I beat him twice, I don't need to fight him again,'" Robinson said. "I thought, maybe foolishly, that's I'd get more credit than I did. Instead, everybody talks more about Arturo and Micky Ward, and that's fine. Those were really good fights. I loved Arturo and I like Micky a lot, even though me and Micky never fought for whatever reason. I wanted that fight and so did he, but it didn't happen.
"But who knows? If I had lost that second fight with Arturo, I don't think they would have ever given me a third fight with him. I really believe that."
Meanwhile, fight fans never got to see a first fight between Tyson and Bowe, or Mayweather and Manny Pacquiao. So legendary nights, whenever and wherever they occur, should be cherished for the mere fact of their existence. Because wonderful stuff doesn't happen as nearly as often as it should, a situation that could become even more acute if the real rivalries continue to be played out in mahogany-paneled boardrooms.
As Mr. Harvey might say, that's the rest of the story.
Gerald Sinclair Watches Over the Mayweather Boxing Club, a Las Vegas Landmark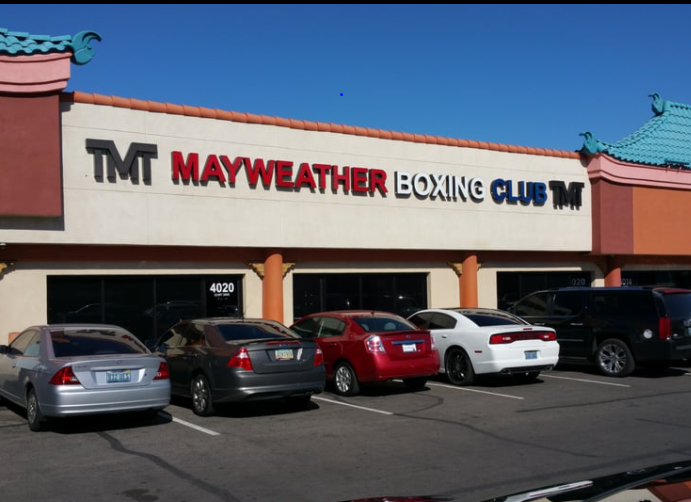 It isn't a stretch to say that the Mayweather Boxing Club is a Las Vegas landmark. Regardless of one's feelings toward Floyd — and he certainly has his detractors – the man transcended his sport like no other boxer of recent vintage. According to Forbes, which publishes an annual list of the world's highest-paid athletes, Floyd Mayweather Jr is one of only three athletes to surpass one billion dollars in career earnings, putting him on the same lofty pedestal as Michael Jordan and Tiger Woods – this despite the fact that Floyd competed in what has been characterized as a dying sport while attracting comparatively little money in commercial endorsements.
The word landmark conveys the thought of an edifice that is architecturally impressive. The Mayweather Boxing Club certainly isn't that. It sits in a one-story complex of small businesses that take up a full block in an older section of Chinatown which in Las Vegas isn't a residential neighborhood but an ever-sprawling stretch of Spring Mountain Road that runs west of the Strip for roughly a mile, a string of Asian-owned businesses, predominantly restaurants and massage parlors. The Mayweather gym sits in the back of the complex facing away from the street.
It's easy to miss it if one is heading there for the first time (it's helpful to have a car equipped with a GPS locator) but yet tourists often find their way there and that is another defining feature of a landmark.
When entering the gym, it's likely the first person that one will see is Gerald Sinclair. He co-manages the gym along with his brother John and Cornelius Boza-Edwards, the former world super featherweight champion who engaged in some of the most exciting fights of the 1980s.
The Mayweather Boxing Club opened in 2007. Sinclair, 56, was there from the beginning when the facility was roughly half its current size. He grew up in Hudson, New York, a city named for the river that borders the town on the east. Before moving to Las Vegas, he worked as a fork lift driver in a warehouse.
Sinclair was induced to come to Las Vegas by his sister. She is Floyd Mayweather's mother. Floyd is Gerald's nephew. It's all about family at the Mayweather Gym. Floyd's father of the same name and his uncle Jeff are fixtures there, as was their brother, the late Roger Mayweather, the best of the three fighting Mayweather brothers.
This reporter has never been in a boxing gym that didn't have colorful posters of old fights tacked to the wall. The Mayweather gym is no exception but all of the oversized posters, all 15 of them, are of Mayweather's fights. (Needless to say, he won them all.) His face appears on other insignia, including a large banner above a row of folding chairs. There are two regulation-size boxing rings, 11 punching bags of various descriptions clustered in a nook and some of the standard exercise equipment, all indicative of the fact that this is a place to work up a sweat, but the Mayweather Boxing Club is also a little museum of sorts, a paean to the splurgy proprietor who once sported the nickname "Pretty Boy."
Some boxing gyms – Abel Sanchez's compound in Big Bear comes quickly to mind – are off-limits to outsiders. The Mayweather Boxing Club is welcoming (which isn't to say that a busload of fans would be welcome; it wouldn't).
"When we opened the place," says Gerald Sinclair, "Floyd came to us and said if fans want to come in and look around, go ahead and let them."
While we were there the other day, an older man with a Spanish accent appeared in the doorway and sheepishly inquired if he and the people in his party could come inside and give it a quick look-see. "Be my guest," said Sinclair, whereupon the visitor left and returned with his wife and another couple that he had left waiting in the car.
Sinclair says if the man hadn't happened to mention that there were other people in his party, that he would have likely brought it up. "We have had guys who came by and left their wife and kids outside in the car and I told them to please invite them in. I know this place is a slice of history. We don't exclude anyone."
A tourist giving the gym a gander invariably takes a few selfies and then comes the million-dollar question: "Is he here?" A selfie with Floyd would be a prized souvenir.
No, he's never there, or almost never there. On the rare occasions when he does pop in during normal business hours, he arrives unannounced, usually with a bodyguard. Floyd Mayweather Jr, who is known to hop in one of his private jets and fly halfway around the world on a whim, lives in a different universe than the denizens of the gym that bears his family name.
Although also rare, a visitor has a better shot of bumping into a celebrity. Eddie Murphy, Christine Aguilera, Maria Carey and P Daddy have walked in the door, as have many prominent athletes including Mike Tyson.
When Tyson appears, it's old home week for Gerald Sinclair and his brother. During his amateur days and in his early days as a pro, Iron Mike resided in Catskill, living with his trainer Cus D'Amato in the large Victorian home that D'Amato shared with the sister of a sister-in-law. Catskill and Hudson are separated by only 12 miles. Sinclair remembers young Tyson turning up at some of his softball games. Mike made a big hit with the folks running the snack bar, covering the tab of kids hovering around him at the refreshment stand.
A number of boxers from overseas have worked out at the gym while visiting Las Vegas. For some novice boxers, a trip to the Mayweather Boxing Club is a rite of passage. (A stranger in town for a convention or trade show can also use the facility if it isn't too crowded. There is a day rate for these situations, and the visitor must sign a waiver absolving the club of any liability should he get hurt.)
The Mayweather Boxing Club is now back at full steam after being closed to the general public for several months because of Covid-19. For a time, it was effectively the private gym of Gervonta "Tank" Davis and his team. Everyone who was there while Tank was preparing for his Oct. 31, 2020 date with Leo Santa Cruz, was required to get tested twice a week. There were no hiccups.
"As a boss, Floyd has been very generous to me," says Sinclair. Thanks to Floyd, he got to see a part of the world that he never would have gotten to see. Floyd invited him along when he flew to Tokyo for his exhibition with Tenshin Nasukawa. Prior to this, Sinclair's lone trip outside the United States was a trip to Tijuana.
Sinclair has picked up a new skill since leaving New York. He's frequently the go-to guy when a boxer at the gym needs his hands wrapped. It's not as simple as it looks, there's an art to it, and Gerald learned at the feet of the master, Rafael Garcia Sr, who encouraged his interest. Garcia passed away in November of 2017 at age 88, leaving a hole in the hearts of the extended Mayweather family that burned wider when his fellow traveler Roger Mayweather joined him in the afterlife.
The United States has housed several iconic boxing gyms over the years. A short list would include Stillman's Gym in mid-Manhattan, the Main Street Gym in downtown Los Angeles, the 5th Street Gym in Miami Beach, and the Kronk Gym in Detroit. The Mayweather Boxing Club is destined to eventually join that hallowed roster.
Check out more boxing news on video at the Boxing Channel
To comment on this story in the Fight Forum CLICK HERE
Avila Perspective, Chap.131: 'Boo Boo' Andrade, Carlos Gongora and More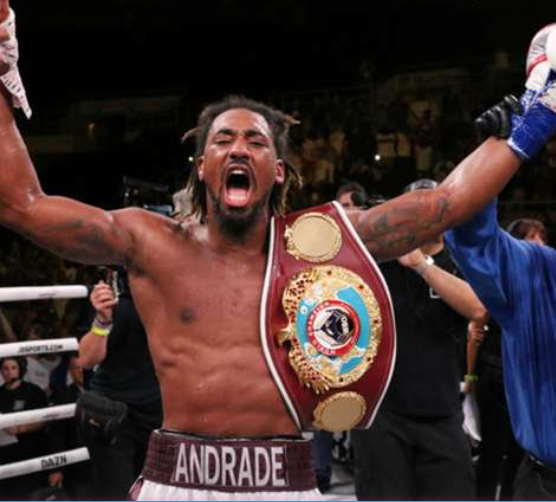 Avila Perspective, Chap.131: 'Boo Boo' Andrade, Carlos Gongora and More
Do not confuse skill with athleticism.
Fans and many journalists often erroneously label a fighter with lightning speed, power, and a good jab as a skilled fighter when they are really, simply physically gifted athletes.
A truly skilled fighter can fight nose to nose with another and you can't touch him, but he can clobber you. That is skill. They don't need to run around the boxing ring at full flight mode. They can fight you straight-up.
One fighter Demetrius Andrade seems to finally be proving his skill-level after years of relying on mere athletic prowess.
Andrade (29-0, 18 KOs) defends the WBO middleweight title against Great Britain's Liam Williams (23-2-1, 18 KOs) on Saturday April 17, at the Seminole Hard Rock Hotel and Casino in Hollywood, Florida. DAZN will stream the Matchroom Boxing card.
The undefeated southpaw from Providence, Rhode Island makes his fourth defense of the title he won in 2018. He formerly held the WBO super welterweight title too.
"You're going to see the same you always see from me – a solid game plan, dominance, landing big shots, an all-around great performance and giving people what they have been missing, the sweet science," said Andrade whose nickname is "Boo Boo."
Because of his past reliance on athleticism, many possible foes simply avoided confrontations with Andrade in the prize ring. Who wants to step into a boxing ring and watch another fighter touch you with a jab and zip around the boxing ring? Fans don't want to see it either. They want to see a fight, not a dance.
In his last defense Andrade was seen exhibiting inside fighting skills when he dispatched Luke Keeler by technical knockout in the ninth round in Miami. It was a display of straight-up fighting not often seen when the Rhode Island boxer performs.
Is this the new Andrade at age 33?
Williams, who hails from Wales, is nicknamed "the Machine" but lost twice to Liam Smith in two very close bouts. Those are his only defeats.
"I'm super confident and I don't think there's any way that he beats me. I think I can knock him out," said Williams.
Andrade laughs at Williams' comments.
"They call him 'The Machine', but when I am done with him, he'll be 'The Rust Bucket," claims Andrade.
Williams feels its time to expose Andrade.
"I don't think he has the same intensity as me,' said Williams. "I wear my heart on my sleeve. I can punch harder than him. I have a better engine than him. I'm going to bring it all on the night and I don't think he has the answers."
Andrade expects the same results.
"Liam is not going to stop my train," said Andrade. "I expect him to bring the fight because this is his opportunity, but at the end of the day he'll be able to say, 'I lost to Demetrius Andrade'."
Gongora
IBO super middleweight titlist Carlos Gongora (19-0, 14 KOs) makes his first defense of his fringe world title against American Christopher Pearson (17-2, 12 KOs) in a battle between southpaws in the semi-main event at Seminole Hard Rock.
Ecuador's Gongora was a last-minute replacement and upset Kazakhstan's heavily favored Ali Akhmedov by knockout in the last round of their title fight last December. He also became his country's first world title-holder.
Pearson enters the boxing ring after a similar feat. He was a late replacement when he met the favored Yamaguchi Falcao two years ago at the Hard Rock Hotel in Las Vegas. He out-fought the Brazilian with a gutsy performance that convinced Golden Boy Promotions to sign him.
Gongora and Pearson both have much to prove.
Sunday
Thompson Boxing Promotions returns with one of its star prospects Ruben Torres (14-0, 10 KOs) who faces Diego Contreras (11-3, 5 KOs) in a super lightweight main event at Omega Products International in Corona, California. The fight card will be streamed on www.ThompsonBoxing.com and on its Facebook and YouTube.com pages.
Fights to Watch
Fri. 6 p.m. ESPN+ Miguel Vazquez (42-10) vs Isai Hernandez (10-1-1).
Sat. 11 a.m. ESPN+ Danny Dignum (13-0) vs Andrey Sirotkin (19-1).
Sat. 12 p.m. DAZN Demetrius Andrade (29-0) vs Liam Williams (23-2-1).
Sat. 5 p.m. FOX Tony Harrison (28-3) vs Bryant Perrella (17-3).
Sat. 6 p.m. TrillerFightClub.com (ppv) Regis Prograis (25-1) vs Ivan Redkach (23-5-1).
Sun. 2 p.m. ThompsonBoxing.com (free) Ruben Torres (14-0) vs Diego Contreras (11-3).
Check out more boxing news on video at the Boxing Channel
To comment on this story in the Fight Forum CLICK HERE
Tank Davis and the Charlo Twins Featured on the Loaded Showtime/PBC Schedule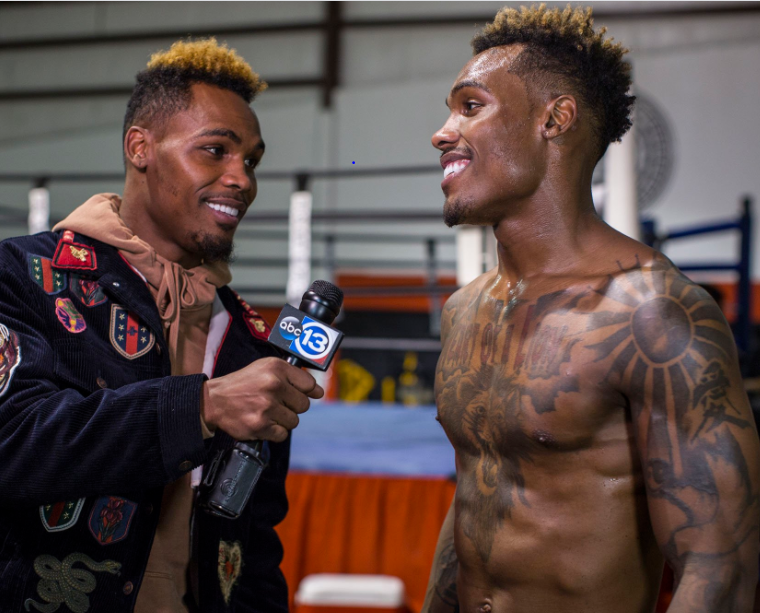 Tank Davis and the Charlo Twins Featured on the Loaded Showtime/PBC Schedule
PRESS RELEASE — SHOWTIME Sports and Premier Boxing Champions today unveiled a loaded five-month boxing schedule of nine high-stakes world championship events beginning Saturday, May 15, live on SHOWTIME. The schedule delivers two events per month through August. Thirteen matchups have been announced thus far with no less than seven world title fights, and 12 fighters defending undefeated records. The lineup features many of boxing's best young fighters taking on career-defining challenges in their primes. All fights on the schedule will take place before a live audience, keeping with applicable local COVID-19 safety protocols.
The sizzling summer run features the dynamic Charlo twins as undefeated electrifying champion Jermall Charlo defends his WBC middleweight world title against Juan Macias Montiel in a special Juneteenth homecoming in Houston on Saturday, June 19, live on SHOWTIME.
The following Saturday, June 26, unbeaten Mayweather Promotions star Gervonta "Tank" Davis moves up two weight classes for a chance to become a three-division world champion when he takes on fellow undefeated champion Mario Barrios for his super lightweight world title in what will be Davis' second pay-per-view showdown.
The next month, WBC, WBA and IBF 154-pound charismatic world champion Jermell Charlo looks to make boxing history when he takes on WBO junior middleweight world champion Brian Castaño in a mega-fight to crown the first four-belt 154-pound world champion.
The SHOWTIME boxing schedule features eight editions of SHOWTIME CHAMPIONSHIP BOXING and one premier SHOWTIME PPV event, all presented by Premier Boxing Champions:
MAY 15 – SHOWTIME CHAMPIONSHIP BOXING

Luis Nery vs. Brandon Figueroa, WBC Super Bantamweight World Title Fight
Danny Roman vs. Ricardo Espinoza Franco, Super Bantamweight Fight
Xavier Martinez vs. Abraham Montoya, WBA Super Featherweight Fight
MAY 29 – SHOWTIME CHAMPIONSHIP BOXING

Nordine Oubaali vs. Nonito Donaire, WBC Bantamweight World Title Fight
Subriel Matias vs. Batyrzhan Jukembayev, IBF Super Lightweight Title Eliminator

JUNE 19 – SHOWTIME CHAMPIONSHIP BOXING 

Jermall Charlo vs. Juan Macias Montiel, WBC Middleweight World Title Fight

JUNE 26 – SHOWTIME PPV

Gervonta Davis vs. Mario Barrios, WBA Super Lightweight World Title Fight
Erickson Lubin vs. Jeison Rosario, WBC Junior Middleweight Title Eliminator
JULY 3 – SHOWTIME CHAMPIONSHIP BOXING
Chris Colbert vs. Yuriorkis Gamboa, WBA Super Featherweight Interim Title Fight

JULY 17 – SHOWTIME CHAMPIONSHIP BOXING 

Jermell Charlo vs. Brian Castaño, Undisputed IBF, WBA, WBC & WBO Junior Middleweight World Title Unification Fight

AUGUST 14 – SHOWTIME CHAMPIONSHIP BOXING
                  Guillermo Rigondeaux vs. John Riel Casimero, WBO Bantamweight World Title Fight
         AUGUST 28 – SHOWTIME CHAMPIONSHIP BOXING
David Benavidez vs. Jose Uzcategui, WBC Super Middleweight Title Eliminator

SEPTEMBER 11 – SHOWTIME CHAMPIONSHIP BOXING
Stephen Fulton, Jr. vs. winner of Nery-Figueroa, Super Bantamweight World Title Unification Fight
"High-impact, meaningful fights amongst many of the biggest names and brightest stars in combat sports. That is what SHOWTIME promises and that is what we are delivering," said Stephen Espinoza, President, SHOWTIME Sports. "With an opportunity to crown an undisputed world champion at 154 pounds, a highly anticipated super bantamweight title unification, a stacked pay-per-view showdown and more than a dozen fights between 118-168 pounds, SHOWTIME is presenting boxing's best young fighters, all daring to be great by putting their world titles and undefeated records on the line.
Editor's Note: This press release has been edited for brevity.
Check out more boxing news on video at the Boxing Channel
To comment on this story in the Fight Forum CLICK HERE