Vitali Klitschko Retires To Pursue Politics
WBC heavyweight champion Vitali Klitschko has retired and given up his title to pursue politics in the Ukraine. Klitschko vacated his title on Monday and said he doesn't expect to fight again as he pursues a presidential bid in his home country, where citizens have been protesting for weeks in Kiev over President Viktor Yanukovych's decision to shun closer ties with the European Union and push his country toward Russia.
The World Boxing Council proclaimed Klitschko a "Champion Emeritus," a move that would allow him to challenge the new champion directly should he wish to resume his career." This offer makes it theoretically possible to return to the ring, which I cannot imagine at all happening as things stand now," Klitschko said in a statement. "I am now concentrating on the politics in Ukraine, I feel people need me there."
Klitschko is a lawmaker and chairman of the opposition party Udar (Punch) and intends to run for president in 2015. Yes, the door was left open for Vitali to return to the ring and maybe after jumping into politics with both feet, he may long to get punched in the face again, because the business of politics is the only business more corrupt and ruthless than boxing/contact sports. If you're looking for commentary on Klitschko's politics, sorry, not here. However, there's plenty to speak of regarding Vitali the former heavyweight title holder, who retires with a career record of 45-2 (41) with an 87% KO ratio, which is among the top three in heavyweight history. He's also the only heavyweight title-holder in history who has never been knocked of his feet during his career.
Who would've thought a decade ago before he really arrived on the scene that he would retire 10 years after fighting and losing to Lennox Lewis and would go on to compile hall of fame credentials?
I remember being at the press conference in Atlantic City in June of 2002 for Wladimir Klitschko's final press conference before his fight with Ray Mercer. Wladimir was mobbed by writers and reporters while Vitali was standing in the back by himself with nobody paying him any mind. And when he was singled out, it was said that he was the less formidable fighter and his younger brother Wladimir was the future of the heavyweight division. Ironically, those remarks were made by the European writers who supposedly had the real down low on the Klitschko brothers. Amazingly those who covered the brothers most closely were so much off the mark and never grasped until years later that Vitali was the greater fighter and is the most accomplished heavyweight since Lennox Lewis retired after defeating Vitali in a life and death struggle back in June of 2003. When Vitali turned pro in 1996, he took a back seat to his younger brother Vitali in much the same manner Michael Spinks did to his older brother Leon, when the brothers made their pro-debut in 1977. And like Vitali, Michael ended up being the better and more accomplished fighter. Vitali blew through his opponents on the way up and was seldom met with much resistance until he fought the small and slick southpaw Chris Byrd. Vitali was controlling the fight until he injured his shoulder during the last third of the bout and retired after the ninth round. Despite his commanding lead, his heart and toughness was questioned by the media after the fight.
After losing to Byrd, Klitschko won five straight bouts and then challenged WBC title holder Lennox Lewis who was coming off of his eighth round knockout of former undisputed champion Mike Tyson.
Lewis didn't think much of Vitali as a fighter and showed up in terrible condition. Lennox paid for that mistake and was subjected to one of the toughest fights of his career. Luckily for Lewis that during the brawl he managed to cut Vitali over his left eye with a big right hand and the fight was stopped after the sixth round with Klitschko leading 58-56 on all three judges scorecards. The fight was sloppy and both fighters were spent after six rounds and it's a matter of speculation as to who would've won had the fight continued.
Lewis retired after fighting Vitali and has smartly avoided coming back. Lennox knew that if he continued after fighting Vitali, there was only one fight out there that made sense for him to take, a rematch with Klitschko. After thinking it over Lewis declined and left the division to Vitali and Wladimir to clean out, and they did. Only Vitali won 13 fights after fighting Lewis and never lost. He even took off four years and came back to reclaim a piece of the title at age 37. In fact he and George Foreman are the only two heavyweight title holders in history to defend a version of the title over the age of 40.
Those who have followed the heavyweight division during Vitali's era circa 2000/2013 know the names and history of the fighters he's faced on the way up and as a title holder. Yes, it was a very weak lot and you could make the case that the two best fighters on his record technically hold victories over him. However, he was winning both fights and was never punched around or man-handled by any fighter he ever faced, including Lewis. The negative on Vitali is, he was forced to fight and defend his title against a very pedestrian era of heavyweights. The fighters he faced who could punch, couldn't fight. The others couldn't fight or punch and the rest were journeyman who earned a title shot by compiling a few consecutive wins. There's no way around it, like Larry Holmes and many other heavyweight title holders, there weren't any outstanding or great challengers around to really test him.
Unlike Holmes, Vital Klitschko looked clumsy in the ring and was very awkward, something he used to his advantage during combat. The bottom line is the opposition he fought was very limited, but that's not his fault, he fought whoever was the most qualified to fight him and he dominated practically every time out. Actually, he seldom lost rounds let alone bouts. And as he leaves today he'd still be favored over every heavyweight in the word if they were to meet, even at age 42.
Here's the positive regarding Vitali the title-holder. At 6'7″ and 250 plus, he was very big and physically strong. More importantly he knew how to use his size and strength in the ring. He was versatile and could circle and move if fighting an attacker like Corrie Sanders or Dereck Chisora. He could also press the fight against the fighters who moved away from him like Tomasz Adamek and Kevin Johnson and he also was a very effective counter-puncher. Vitali possessed great punch anticipation and was hard to hit. He had more than adequate stamina and if he hit you clean, he could get you out of there evidenced by his high knockout ratio. Vitali was a confident fighter and was not intimidated by any opponent he fought. Regardless of his opponent's style, he forced them to address his strengths and awkwardness before they could even attempt to try and fight their fight. No, he didn't always look polished and refined, but he was damned effective and was a thinking fighter in the ring. In fact he never made mistakes or beat himself once in 47 bouts.
Where does he rank in heavyweight history? It's too early to say for sure. What can be said is he must be considered amongst the top 15 heavyweight title holders in history based on what he brought to the ring as a fighter. Yes, I'd make him an underdog to Joe Louis, Sonny Liston, Muhammad Ali, George Foreman, Larry Holmes, Evander Holyfield and Lennox Lewis, but he would give them one of the toughest fights of their careers if so in a losing effort. As for the rest of the great champions and title holders, he's even money because of his size and style advantage against them head-to-head.
Like Gene Tunney, Rocky Marciano and Lennox Lewis, Vitali Klitschko is getting out of boxing at the right time. He's leaving as the best fighter in the division as champ with his health, wealth and respect intact. That alone makes him unique. Frank Lotierzo can be contacted at GlovedFist@gmail.com
Jermall Charlo UD 12 Derevyanchenko; Figueroa and Casimero Also Triumphant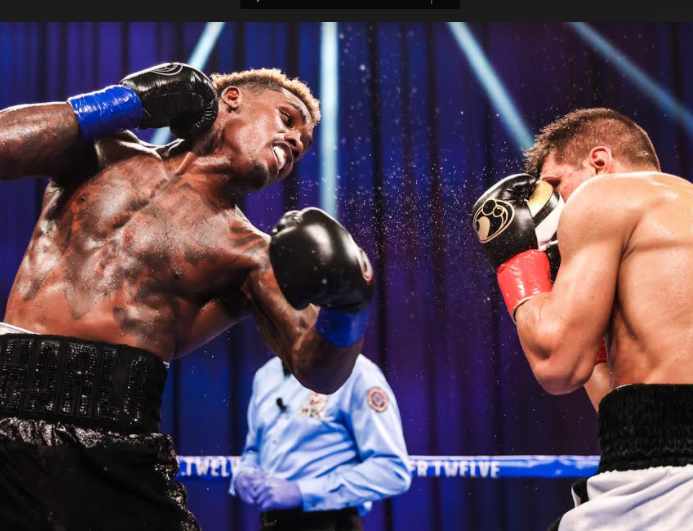 Jermall Charlo UD 12 Derevyanchenko; Figueroa and Casimero Also Triumphant
The Mohegan Sun Casino in Uncasville, Connecticut, was the site of the first pay-per-view boxing event in the United States since the Fury-Wilder rematch on Feb. 22. There were six fights in all, five of which were title fights and the other a title-eliminator. They were divided into two tiers but bundled into a package that cost approximately a dollar a round with a facile intermission tossed in at no extra charge.
The headline attraction of the first "three-pack" – and the most anticipated fight of the evening – found WBC world middleweight champion Jermall Charlo defending his title against Sergiy Derevyanchenko. The Ukrainian gave Gennady Golovkin a hard tussle when they fought in November of last year at Madison Square Garden – GGG won a unanimous decision but the scores were tight and many thought Derevyanchenko deserved the decision – and the expectation was that tonight's match would also be very competitive.  But it really wasn't although the rugged Derevyanchenko rarely took a backward step.
The fight went the distance and there were no knockdowns, but Charlo buckled his knees at the end of round three and Derevyanchenko ended the fight with cuts above both eyes. The judges had it 118-110, 117-111, and 116-112.
With Canelo Alvarez apparently headed to 168 and GGG showing his age at 38, one can make a strong case that the undefeated 30-year-old Jermall Charlo (31-0, 22 KOs) is now the top middleweight in the world. Derevyanchenko, who was 23-1 in the semi-pro World Series of Boxing before turning pro, saw his pro record decline to 13-3 with all three losses in middleweight title fights.
—
The middle fight of the first tier was a lusty encounter between Mexican-American super bantamweights Brandon Figueroa and Damien Vazquez. Figueroa, one of two fighting brothers from the Mexican border town of Weslaco, Texas, was a huge favorite over Vazquez, a Colorado native who moved to Las Vegas as a freshman in high school and had fought extensively in Mexico where he made his pro debut at age 16. But Vazquez, the nephew of former three-time world super bantamweight title-holder Israel Vazquez, came to fight and gave a good effort until the fight turned lopsidedly against him.
In the middle rounds, Figueroa's high-pressure attack began to wear Vazquez down. Vazquez had a few good moments in rounds six and eight, but when his right eye began swelling from the cut above it, he was fighting an uphill battle. He took a lot of punishment before referee Gary Rosato halted it at the 1:18 mark of round 10.
Figueroa, 23, successfully defended his WBA 122-pound title while improving his record to 21-0-1 with his 16th KO. Vazquez declined to 15-2-1.
—
The lid-lifter was a WBO bantamweight title defense by John Riel Casimero with Duke Micah in the opposite corner. Micah, from Accra, Ghana, came in undefeated at 24-0, but Casimero had faced a far stronger schedule and was a substantial favorite.
A Filipino who was been training in Las Vegas under Bones Adams, Casimero took Micah out in the third round. The Brooklyn-based Micah was somewhat busier in the opening frame, but the tide turned quickly in favor of the Filipino. Casimero hurt Micah with a left hook in round two and went for the kill. He wasn't able to finish him, but Micah was on a short leash and referee Steve Willis was quick to step in when Casimero resumed his attack after the break. The official time was 0:54.
Casimero (30-4, 21 KOs) was defending the title he won last November with a third-round knockout of favored Zolani Tete in Birmingham, England. He was slated to fight this past April in Las Vegas against Naoya Inoue, but that fight evaporated as a result of the coronavirus. After the bout, Casimero called out Inoue (and others): "I'm the real monster," he said. "Naoya Inoue is scared of me. You're next. I would have knocked out anyone today. If Inoue doesn't fight me, then I'll fight Guillermo Rigondeaux, Luis Nery, or any of the top fighters."
Check back shortly for David Avila's summaries of the remaining fights.
Photo credit: Amanda Westcott / SHOWTIME
Check out more boxing news on video at the Boxing Channel 
To comment on this story in the Fight Forum CLICK HERE
Mairis Briedis and Josh Taylor Impress on a Busy Fight Day in Europe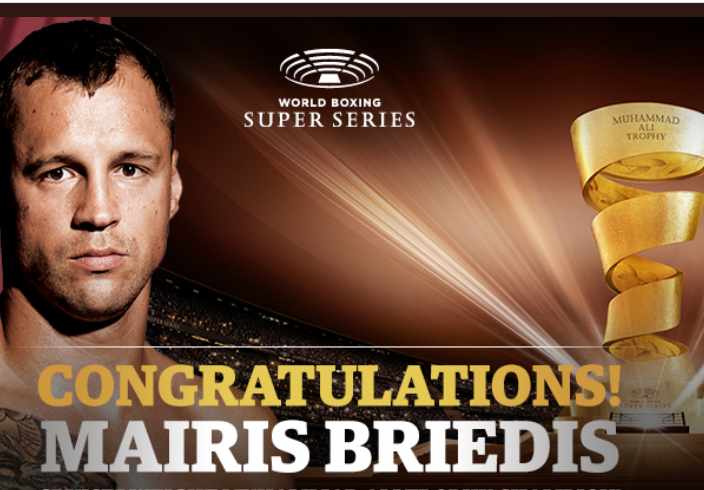 In the busiest weekend of boxing thus far in 2020, there were fights of note all over the map in Europe. The most compelling was held at the Plazamedia Broadcasting Center in Munich where the long-delayed WBSS cruiserweight final pit IBF world cruiserweight title-holder Yuniel Dorticos against Mairis Briedis. Both had only one loss on their ledger, that coming in a semifinal of Season One of the WBSS tourney.
Heading in, Briedis was recognized as the more well-rounder boxer. Dorticos had a style somewhat similar to Deontay Wilder, meaning that he was over-dependent on his big right hand. It figured that Briedis would fight with extreme caution, using his faster hands and superior footwork to keep out of harm's way, but to the contrary he wasn't afraid to trade with Dorticos and actually landed the harder punches. At the end, he captured the IBF belt and the more coveted Muhammad Ali Trophy with a majority decision. The judges had it 117-111, 117-111, and a confounding 114-114.
The first fighter from Latvia to win a world title, Briedis (27-1, 19 KOs) is now a two-time world cruiserweight champion. He previously held the WBO cruiserweight belt, but vacated it rather than adhere to the organization's mandate that he give Krzysztof Glowacki a rematch. (Their first fight, a TKO 3 for Briedis, was very messy and he was fortunate that he wasn't disqualified.) Dorticos, the Cuban defector, returns to his adopted home in Miami with a 24-2 record.
Briedis, 35, may own only one piece of the world cruiserweight title, but at the moment he is clearly the topmost fighter in the division.
York Hall, London
Apinun Khongsong's first engagement outside the Orient didn't go well for him. The 24-year-old Thai boxer with an Muay Thai background was out of his element against WBA/IBF champion Josh Taylor who dismissed him in a hurry with a "solar plexus punch" that would have made Bob Fitzsimmons proud. The punch from the left-handed Scotsman sent Khongsong to the canvas writhing in pain and he was down for several minutes before he was able to stand upright. The official time was 2:41 of the opening round.
Taylor, the Tartan Tornado, was making his first start since October of last year when he won a 12-round majority decision over Regis Prograis in a Fight of the Year candidate. His next fight may be a full unification of the 140-pound belt with Jose Carlos Ramirez in the opposite corner. Both he and Khangsong entered today's fight with 16-0 records, but Taylor, who scored his 13th knockout, was in a different league.
Undercard Bouts of Note
In a 10-round bantamweight contest, Charlie Edwards (16-1, 1 NC, 6 KOs) out-classed British countryman Kyle Williams (11-3). The referee awarded Edwards nine of the 10 rounds. Edwards, 27, previously held the WBC 112-pound title but was forced to relinquish it because he had trouble making the weight.
York Hall has been a jinx for David Oliver Joyce, the 33-year-old super bantamweight from Mullinger, Ireland, who is 0-2 in this building and 12-0 elsewhere. Joyce failed to last three rounds today in his match with Ionut Baluta. A Romanian who fights out of Bilbao, Spain, Baluta knocked Joyce down with a big left hook and then swarmed all over him when he arose, forcing the referee to intervene. The official time was 1:49 of round three.
It was the sixth straight win for Baluta (14-2, 3 KOs) and his third straight over a once-beaten opponent.
Riga, Latvia
Riga native Richard Bilotniks successfully defended his version of the European 175-pound title and advanced to the finals of the Golden Contract Light Heavyweight Tournament with a one-sided 10-round decision over Hosea Burton. A late bloomer who won only four of his first eight pro fights, Bilotnicks 30, won every round on one of the scorecards and eight rounds on the others to advance record to 17-5-1. Burton, who lost for the second time in 27 starts, let down his cousin Tyson Fury who flew to Latvia to cheer him on.
Struer, Denmark
At an arena in the city of Struer, hometown lass Dina Thorslund had a harder time than expected with Nina Radovanovic, but the Serb got no respect from the judges who didn't see fit to award her a single round. Thorslund (15-0, 6 KOs) successfully defended her WBO world 122-pound title.
In the chief undercard bout, heavyweight Filip Hrgovic (11-0, 9 KOs) moved a step closer to a world title opportunity with a second-round blast-out of late sub Alexandre Kartozia. There was no need to count when Hrgovic leveled Kartozia with a big right hand.
Check out more boxing news on video at the Boxing Channel 
To comment on this story in the Fight Forum CLICK HERE
Tony Yoka Makes Quick Work of Duhaupas; Yoka's Wife Wins Too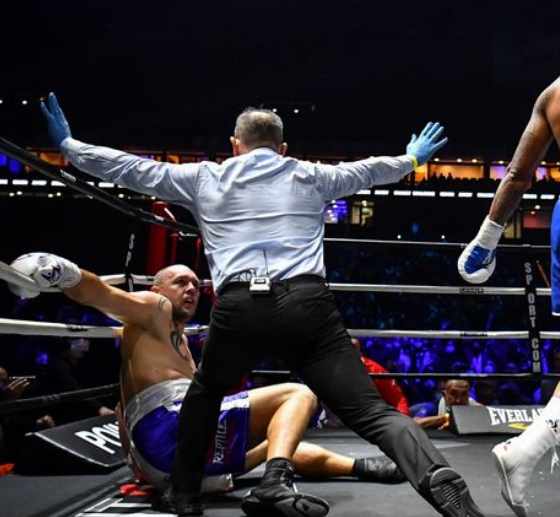 An indoor rugby stadium in Nanterre, a township in an inner suburb of Paris, was the site today of a five-fight boxing show featuring Tony Yoka and his wife Estelle Mossely in separate bouts (when they fight each other, they do it in the privacy of their home). Attendance was limited to 5,000 with social distancing protocols in place.
Yoka and Mossely, the parents of two young children, the youngest a boy born in May, were each gold medal winners in boxing at the 2016 Rio games. The six-foot-seven Yoka defeated Filip Hrgovic in the semis and Joe Joyce in the gold medal round.
Today Yoka, in his first scheduled 12-rounder, was matched against 39-year-old French warhorse Johan Duhaupas who was 38-5 (25) heading in. Duhaupas went 12 rounds with Jarrell Miller, extended Deontay Wilder into the 11th frame, and knocked out Robert Helenius, the conqueror of Adam Kownacki. Despite his advanced age, he represented a step up in class for Yoka, 28, whose pro career was disrupted by a one-year suspension from the French Boxing Federation for being a no-show at three PED tests. At the very least, Duhaupas was expected to give Yoka some rounds.
But Yoka had other ideas. He needed only 121 seconds to dismantle his countryman and show that he belongs in the conversation with Daniel Dubois, Jared Anderson, the aforementioned Hrgovic and others when talking about the next generation of heavyweight stars.
Yoka (8-0, 7 KOs) dropped Duhaupas midway through the opening round with an overhand right. Duhaupas didn't appear to be badly hurt, but he had no antidote for the barrage that followed. The coup-de-gras was a big right uppercut that sent him flying backward against the ropes. The referee stepped in immediately.
Yoka's U.S. promoter is Top Rank which is seeminly out to corner the market on bright young heavyweight prospects. When Yoka turned pro it was under the tutelage of Virgil Hunter, the trainer of Andre Ward. Yoka has spent considerable time in Las Vegas while serving as the chief sparring partner for Joseph Parker.
—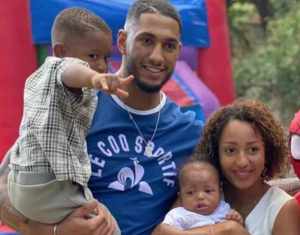 Estelle Mossely kept pace with her hubby. Mossely, 28, advanced her record to 7-0 (1) with an 8-round unanimous decision over countrywoman Aurelie Froment. The scores were 80-72 across the board.
This was an assignment designed to shed the rust. Froment, 33, entered the fight with a 3-0-1 record, but hadn't previously met an opponent with a winning record. In fact, none of Froment's previous opponents had ever won a fight. In the aggregate, the foursome was 0-32-5 at the time that she fought them. Even the world sanctioning bodies steered clear of this affair, refusing to cloak the fight in some sort of title.
That observation aside, it was a nice win for Mossely coming so soon after giving birth. Born in France of Congolese and Ukrainian descent, she is rated the world's best active female lightweight by BoxRec.
Hot prospect Souleymane Cissikho was originally scheduled to be on the card, but pulled out for an undisclosed reason. An Olympic teammate of Tony Yoka, Cissikho is a  special talent.
Check out more boxing news on video at the Boxing Channel 
To comment on this story in the Fight Forum CLICK HERE