HBO Boxing Looks Back With Pride At A Year of Transition
It's time to take pause, and ponder. The four titans of the industry, HBO, Top Rank, Showtime and Golden Boy went their separate ways, and decided nine months ago to divide, and conquer.
HBO set the so-called Cold War in motion, deciding that Floyd's ask was too grand, and that they'd rather not pay such a hefty price to roll the dice for a fighter closer to 40 than 30, even one as majestically talented as maestro Mayweather. They chose not to match the Showtime buy-in, so they bid adieu to the talents and services and pay-per-view potential of the greatest fighter of his era. One might have figured they'd be quaking, or at the very least, their braintrust would be needing the odd Ambien or two to facilitate the shutdown of brain churning, as they lay awake, pondering what their identity would be. No more Floyd, no more business with Golden Boy, and by extension, minimal interaction with uber advisor Al Haymon.
To get some clarity on the subject, I headed over to HBO headquarters in Manhattan, where ex Showtime boss Ken Hershman steers the ship, and chatted with Mark Taffet, the PPV guru now in his 20th year at the cabler. Hershman was busy dealmaking, crafting the first quarter 2014 calendar, and the foundation of the year-long slate for his crew, so I listened to Taffet synopsize the eventful year, and peppered him with some queries, looking to get some intel on what's next for the wrecking crew they are building around, in this post Floyd period.
First off, my overall takeaway perception: I didn't get the sense that I was being spun, as Taffet, who can be a persuasive salesman, in a decidedly low-key manner, told me that this was "one of the most exhilarating, exciting, rewarding years" he's had at HBO. "There's been a lot of adrenaline flowing."
Understandable, given that Mayweather jumped ship (was helped to disembark, maybe Team HBO would put it?) in February, and gleefully signed a six-fight megadeal with the Stephen Espinoza-led Showtime, for $250 million. Yep, I dare say adrenaline flowed when HBO in March filed divorce papers, and stated they'd no longer buy bouts from Richard Schaefers' Golden Boy, because, after all, a re-invention would be necessitated. But, to hear Taffet describe it, it was adrenaline, it wasn't the stress hormone cortisol which flooded their collective system post split. His evidence: just look at the top 25 bouts on cable TV this year. HBO presented 21 of them. The Miguel Cotto-Delvin Rodriguez bout on Oct. 5 drew 1.6 million eyeballs, with Julio Cesar Chavez Jr. (vs. Brian Vera on 9-28), Gennady Golovkin (vs. Curtis Stevens last month), and then" Mr. HBO" Adrien Broner (vs. Gavin Rees in February) just behind the Puerto Rican drawing card.
The shift in strategy, away from Floyd, and the focus on pay-per-view, he said, has been a revitalizer for HBO, because fight fans now get to see more must-see hitters on the regular channel. HBO did just two PPVs, featuring Manny Pacquiao, and the Juan Manuel Marquez-Tim Bradley tussle. They aren't out of the business, Taffet said, but he seemed to be content with that number.
"Pay per view events are primarily an opportunity to reach a general audience which occasionally looks at boxing," he said. That windfall primarily goes to the fighter, in the boxing realm, as opposed to the MMA realm, so, the message in between the lines was, it's not like PPV is making boatloads of cash for the parent company when so much of it is diverted to the talent (and let's not forget the cut going to the cable companies which offer the staging platforms.) I was reminded at this meeting that HBO heard similar sort of talk when Mike Tyson took his talents to Showtime, in 1991, and it forced them to work harder and smarter.
(I also got the sense there is, perhaps, in some circles at HBO, a degree of respectful skepticism about the ability of Team Showtime to continue the momentum woven during the Mayweather-Canelo promotion, which did a record $150 million in PPV revenue. I never pretend to be a master predictor, so I won't even guess how a Mayweather vs. Amir Khan fight would do, but I will say I won't demean the skillfulness at the promoters in these big leagues at whetting appetites for matches that some deride as sub-premium. I actually think Khan's speed, combined with his iffy chin, makes for a more fun fight than the last two Mayweather scraps, so there.)
Listen, contrary to what the wife occasionally tells me when I put a red shirt in with whites in the wash and turn everything pink, I'm no fool. I get it that any entity is going to put that best foot, freshly manicured with painted nails, forward. It's not like Team HBO is purely euphoric all the time post-Floyd. The man did generate 9.6 million buys and $543 million in television revenue, in nine PPV appearances on HBO. And he has looked as good, or maybe better, than ever in his last two scraps. And Showtime has surged in buzz, and they love their year over year numbers. Showtime Championship Boxing is up 24 percent in 2013 and 64 percent since 2011.
Maybe the lesson, or part of it, anyway, is that this so called cold war hasn't been all bad for the fan, for the consumer. The titans are all battling hard to be the best, and yes, the rivalry sometimes veers toward the bitter. You get the sense that a Bob Arum-Richard Schaefer rumble wouldn't look out of place as a curtain jerker on a Floyd PPV…
But from that consumer perspective, I dare say we can all agree that it hasn't been a bad thing for HBO to be in that revision mode, which meant they put energy and funds into building up some fighters that we all can agree are fun to watch. Gennady Golovkin is top three in the pound for pound buzz category, and but of course you know I gave Taffet the third degree on when and if we will get that light heavyweight showdown we are craving, between Sergey Kovalev and Adonis Stevenson. "We are in conversations," is all he would really say about where that bout stands. "It's a fight every fan wants to see, and we have to talk to the fighters and promoters."
Fans are curious to know if HBO might televise the next Golovkin scrap, Feb. 1 in Monaco against Osumanu Adama. "Right now, we're not planning to show that," Taffet said. The time difference would make such a choice harder, as it's no slam dunk to spend dough on an overseas fight, when the location is in a time zone six hours ahead of EST, is my sense. I think Golovkin back on HBO in April is a better bet, fans.
You have to get the sense that HBO is casting their lot more so with traders and rumblers than cuties. It's not like cuties and slickies and technicians can't do numbers, but apart from Broner, who drew eyeballs as much probably for his personality as anything, and Bernard Hopkins, all the more popular principals in the top ten most watched bouts on cable this year were more so punchers than sweet scientists. So, if HBO continues that course, that could spell doom for a Guillermo Rigondeaux, whose fight with Joseph Agebko wasn't universally embraced by the craver of trading. When I asked Taffet about Rigo's future on HBO, he replied, "We're going to listen to the fans. That's going to be the watchword for us going into 2014."
Speaking of listening to the fans, I've been a vocal proponent for many moons of packing cards, from top to bottom, with compelling matches. Resume builder squashes, especially on PPVs, always irk me, as a consumer. I asked Taffet about that, in context of the undercard of Pacquiao's Macau appearance. "We listen to the fans, the fans have said they want value," he answered, "in the main event and the supporting fights. Top Rank understands that."
One thing that was clarified for me as I sat at HBO, I was under the assumption that it often takes about ten years for a fighter to get to a place where they can really reap the rewards of their name recognition. Cotto, Chavez Jr., Bradley, these guys are now at a place where their years of toil have resulted in solid name recognition. But I was surprised at the Golovkins, Broners, Stevensons, Kovalevs, and Provodnikovs topping the top ten most watched list. I do think the supporting programming, the 2 Days, the Faceoffs, etc., really helped accelerate the popularity growth of these guys, and resulted in HBO having a better year than many folks might have assumed back in February or March. Also, I was told, appetite for that support programming is growing nicely among millenials, which is a good thing for people who want to see the sport they appreciate continue to thrive.
That's me, and that's you. We want boxing to flourish. Looking forward, a lot of us will be clamoring the "give peace a chance" carol, and advocating for the titans to kiss and make up, or at least, shelve the animus long enough to make those handful of fights we all want, which can only happen if the Godzillas work together. As my sense is that isn't happening in the near future, perhaps it's best we wrap our brains around the dynamic as it presently exists. And as it presently exists, in my mind, Showtime has lifted their game, and is presenting some compelling programming, and HBO has pivoted skillfully in this year of transition, befitting their veteran status, with a 40 year history in the space, and proven that no Floyd by no means means their relevance is reduced.
Fast Results from Las Vegas: Shakur Wins a Snoozer; Pedraza Stops Rodriguez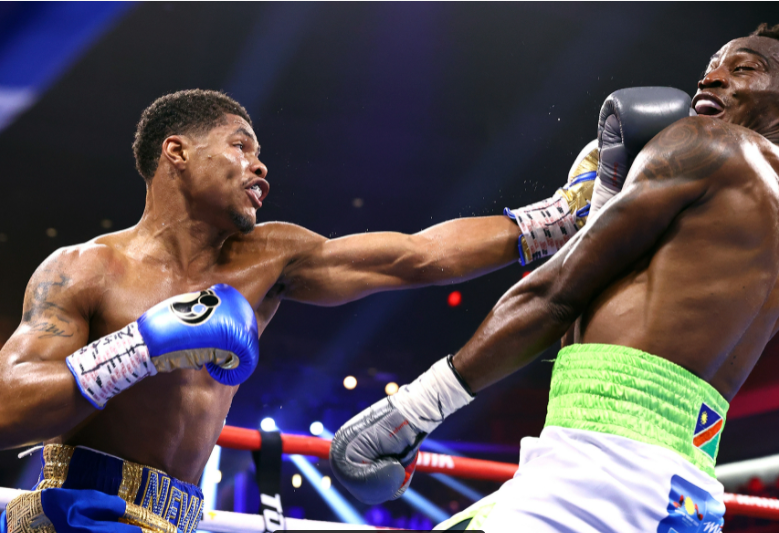 Shakur Stevenson, the 23-year-old Newark native and 2016 Olympic silver medalist, had the distinction of headlining the first of Top Rank's two dozen MGM "Bubble" shows, an event that marked the return of boxing to Las Vegas after a 101-day absence. Tonight, he headlined the first true post-pandemic boxing show in Nevada, the first show that allowed full capacity.
Stevenson was matched against Jeremiah Nakathila at the Virgin Hotels (an awkward plural). A 31-year-old policeman, Nakathila hailed from the same town in Namibia that produced Julius Indongo, fodder for Terence Crawford in 2017.
Indongo lasted into the third round vs Crawford; Nakathila went the distance vs Shakur and lost every round on all three scorecards.
In common with virtually all of Stevenson's former opponents, Nakathila found Shakur almost impossible to hit. But Stevenson respected Nakathila's big right hand and kept the fight at a distance, pot-shotting the Namibian rather than throwing combinations. He knocked Nakathila down in the final seconds of the fourth round with a right hook that landed high on the head, but Nakathila wasn't badly hurt.
Stevenson (16-0, 8 KOs) pitched a shutout but yet lost luster in a monotonous fight. This was the U.S. debut for Nakathila (21-2) who had won 10 straight, all inside the distance, since traveling to Ekaterinburg, Russia, and losing a majority decision in a 12-round fight with a local man.
Shakur is expected to fight WBO 130-pound champion Jamel Herring next but also has his eye on Oscar Valdez. A match against Herring wouldn't get the juices flowing, but Valdez may bring out the best in him.
Co-Feature
Junior welterweight Julian Rodriguez stepped up in class and suffered his first pro defeat at the hands of Puerto Rican veteran Jose "Sniper" Pedraza. Rodriguez's corner stopped the fight after nine rounds owing to severe swelling over both of Rodriguez's eyes.
Pedraza switched from southpaw to orthodox effectively while repeatedly peppering his opponent with an effective jab. New Jersey's Rodriguez entered the contest 21-0. Pedraza, a 2008 Olympian and former 130-pound world title-holder, improved to 29-3 with his 14th knockout.
Other Bouts
In a mild upset, Dallas junior lightweight Manuel Rey Rojas (21-5, 6 KOs) won a unanimous 8-round decision over Toledo's Tyler McCreary (16-2-1). McCreary, who had a strong amateur background, was making his first appearance since being widely outpointed by Carl Frampton in November of 2019. The judges had it 79-73 and 80-72 twice.
Welterweight John Bauza, in his first outing since joining David McWater's stable, had a laugher vs. Houston's Christon Edwards who left his corner without his mouthpiece and likely would have been easy meat without this oversight. Bauza knocked him down three times before the bout was halted at the 0:40 mark of round two. From North Bergen, New Jersey via Puerto Rico, Bauza (15-0, 6 KOs) was purportedly 178-8 as an amateur. Edwards (12-3) entered the contest riding a 6-fight winning streak.
Welterweight Xander Zayas, an 18-year-old rising star from Sunrise, Florida, via San Juan, improved to 9-0 (7) with a third-round stoppage of Larry Fryers (11-4). As a pro, Zayas has answered the bell for only 21 rounds. It was the third straight loss for Fryers, originally from Clones, Ireland, who was making his first start with new trainer Wayne McCullough.
In his final fight before the Tokyo Summer Olympics, middleweight Troy Isley (2-0, 2 KOs) scored a fourth-round stoppage of Philadelphia's LaQuan Evans (4-2). Evans was losing but didn't appear hurt when referee Russell Mora waived it off with 34 seconds to go in the fourth and final round.
Photo credit: Miket Williams / Top Rank via Getty Images
Check out more boxing news on video at the Boxing Channel
To comment on this story in the Fight Forum CLICK HERE
Marco Antonio Barrera and More at the First SoCal Club Show in More Than a Year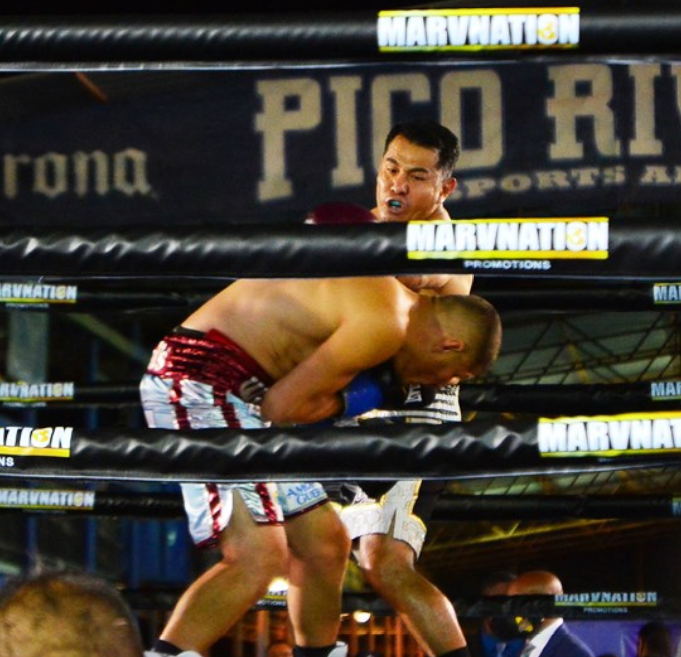 RINGSIDE REPORT by special correspondent Tarrah Zael — MarvNation Promotions hosted "Return of the Legends" on Friday, June 11, at the Pico Rivera Sports Arena in Whittier, CA. Along with a pro card, there was an exhibition featuring the legendary Mexican warrior Marco Antonio Barrera.
It was the first club show in more than a year in Southern California. Local celebrities eager to watch live boxing were everywhere.
In what seems to be a trend of former boxers entering the ring after their retirement, the "Baby-faced Assassin" Marco Antonio Barrera (67-7, 44 KOs) boxed with retired brawler Jesus Soto Karass (29-13-4, 18 KOs) in a six-round bout with two-minute rounds. It was Barrera's first fight in a decade. He last fought in 2011 when he TKOed Jose Arias in the second round. This win came not too long after a bloody defeat from the heavy puncher Amir Khan, leaving Barrera fans worried that he may have lost his fire.
Soto Karass's last fight saw him win a majority decision over undefeated Neeco Macias in a 10-round super welterweight contest in 2018. The win would be his first in five years and last of his professional career. But he was competitive in virtually all of his defeats.
Barrera and Soto Karass battled with big 16-ounce gloves in an exhibition with no judges. The 47-year-old, former three-division world champion Barrera landed multiple hooks upon the former title challenger 38-year-old Soto Karass. The living legend had fun and the two hugged at the finish of what looked like a sparring session.
The exhibition was the main event. When it was over, boxing legends Antonio Margarito and Erik Morales entered the ring for pictures and conversation. Marco Antonio Barrera and Morales had a well-known trilogy and hope to continue their rivalry next month with an exhibition in Dallas.
Pro Bouts
In the co-main event, upcoming Pico Rivera boxing star Angel "El Moreno" Rodriguez (9-0, 6 KO) returned to the ring after a long pause from the 2020 pandemic in a six-round lightweight bout against southpaw Bergman Aguilar (15-8-1, 5 KOs).
In the early rounds, Rodriguez unloaded a flurry of body shots upon Aguilar, a Costa Rica native, causing him to take a knee. There wasn't much coming back from Aguilar and when Rodriguez connected with a power shot in the second round, Aguilar took a knee again and stayed down for a count of "7."
In the third round, Rodriguez invited his opponent to come into his range and Aguilar took the bait. Once there, Rodriguez unloaded hard power shots upon the body of Aguilar and down to his knee he went once again. Referee Ray Corona counted to seven and allowed the Costa Rican to continue as he did not look badly hurt. But when it happened yet again, Corona did not fall for his antics and called the fight off. It ended at the 1:40 mark of round three, a KO win for Rodriguez who retained his undefeated record.
Undercard
Two heavy hitting super welterweights fought to a bloody majority draw in the fight before the co-main event. Diego Padilla (1-2-1) of South-Central Los Angeles and Oleg Zumenko (3-1-1) representing the country of Ukraine laid into each other all four rounds.
In the first round, Padilla going forward delivered wide punches and uppercuts while Zumenko chose to study his opponent. But after being dropped by an uppercut, studying by the Ukraine fighter was over. A hard right cross by Zumenko slowed down the Los Angeles fighter and we saw an almost even amount of power shots from both brawlers that continued until the end of the fight. Padilla switched his stance multiple times to offset his opponent but that did not stop the Ukrainian from moving into his line of fire. Judge Ron Stevens scored the bout 40-36, but Max DeLuca and Damian Walton both had it 38-38.
Long Beach native Tyrell "Dirty Left" Washington (3-0, 3 KO) knocked down Nebraska's Ginno Montoya (0-4) with a three-punch combination in the opening round of a scheduled four-round welterweight bout and referee Raul Caiz Jr. halted it at only 1:19 of the first.
Houston featherweight Adrian Leyva (2-2) won a four-round decision over Pablo "Bam Bam" Meglar (4-1-1, 3 KO) of South-Central Los Angeles. Although Meglar landed some good combinations and showed a lot of heart, the Texan was the sharper, more technical fighter. One judge scored the bout 39-37 and the others had it 40-36 for Leyva.
Other Fights
 Michael Land (1-2-1) of Houston, Texas and South-Central Los Angeles' Oliver Galicia (3-0-1, 3 KO) fought to a draw in a four-round super featherweight fight. All three judges had it 37-37.
The opening fight of the show, a scheduled 4-round lightweight clash between Mexico native Braulio Avila (3-9, 1 KO) and Honduras resident Cris Reyes (10-0, 9 KO), ended after two rounds. Reyes stayed calm, cool and calculated against the wild-swinging Avila and sent him to the canvas for an 8-count in the second round with a left hook to the chin. Avila didn't come out for the third.
Celebrity Watch
Besides Erik Morales and Antonio Margarito, others in attendance included Tattoo, Big Boy, LA County Sheriff Alex Villanueva, Tom Loeffler, Roberto Diaz, and DJ Ray.
Photo credit: Al Applerose
Check out more boxing news on video at the Boxing Channel
To comment on this story in the Fight Forum CLICK HERE
Boxing Odds and Ends: Fury-Wilder III Particulars, Kirkland Laing and More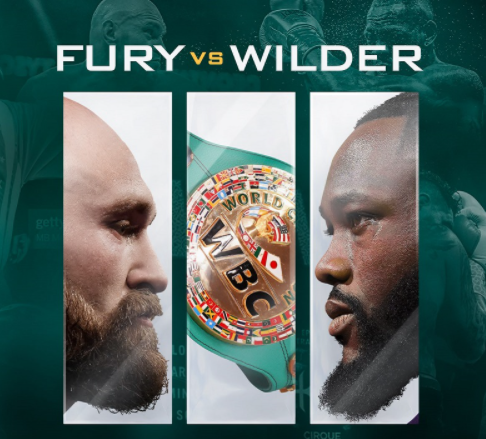 The third fight between Tyson Fury and Deontay Wilder will be staged at the T-Mobile Arena in Las Vegas on July 24. The pre-fight hoopla kicks off on Tuesday at a press conference in Los Angeles.
The date was no secret. Co-promoter Bob Arum had circled it even before an arbitrator ruled that a unification fight between Fury and Anthony Joshua could not jump the queue. It was Team Fury's Plan B. But speculation about the venue had centered around two other properties in Las Vegas: Allegiant Stadium and the MGM Grand Garden Arena.
It will be the eighth boxing card in the five-year history of the T-Mobile. The benchmark, attendance-wise, was set on Sept. 16, 2017, when Canelo Alvarez opposed Gennady Golovkin in the first of their two encounters. The event attracted an announced crowd of 22,358 (17,318 paid).
Top Rank promoter Bob Arum notes that the T-Mobile is superior to the MGM Grand in that the operators of rival casinos are more willing to purchase tickets for their best customers. The T-Mobile sits on MGM property behind New York-New York and is half-owned by the MGM (the other half is owned by the Anschutz Entertainment Group which owns arenas around the world including LA's Staples Center and the O2 Arena in London) but yet is considered neutral territory in that it isn't attached to a casino. Casino operators have always been skittish about sending their best customers to an event at a rival property for fear they will be wooed away.
There are no plans to hold press conferences in other cities before the final press conference in Las Vegas. London is out because of Covid restrictions and Arum believes that a conference in New York would be superfluous as that would be redundant.
Arum orchestrated the most dappled (and most frenetic) press tour in boxing. Marvin Hagler and Thomas Hearns, traveling in separate Gulfstream jets, covered 21 cities in 12 days to hype their April 15, 1985 clash at Caesars Palace.
"There was no internet in those days," says Arum. He did not need to elaborate. Press conferences nowadays are live-streamed and people around the world can tune in. Reporters for traditional newspapers, whose ranks have been thinned, are no longer an indispensable conduit for selling a fight.
Kirkland Laing
The late Harry Mullan, who served 19 years as the editor of British Boxing News, had a grand opinion of Kirkland Laing. "He is the most technically gifted boxer I've ever seen, a genius in an odd sort of way," wrote Mullan of Laing who defeated Roberto Duran and was a three-time British welterweight champion, but would be best remembered for squandering his talent. Born in Jamaica and raised in Nottingham, Laing died on Wednesday, June 9, at age 66.
Laing, who often wore dreadlocks, was quite a character. Lore has it that he once adamantly denied using weed to an interviewer while forgetting that he had a joint tucked behind his ear. He purportedly fought most of his fights while stoned.
Laing brought a 23-3-1 record into his date with Duran on Sept. 4, 1982 at Detroit's Cobo Hall. The first two losses were incurred in domestic title fights with Colin Jones who stopped him in the ninth round on both occasions.
Laing won a split decision but there was no controversy. The consensus among ringside scribes was that Laing won seven of the 10 rounds. He was too quick for the Panamanian tough guy. The Ring magazine named it the Upset of the Year.
This was Duran's third loss in his last five fights. Reporters, by and large, wrote him off as finished. Needless to say, that appraisal was premature as Pipino Cuevas, Davey Moore, and Iran Barkley would attest.
A year would elapse before Kirkland Laing entered the ring again. For a long stretch during this lacuna, his whereabouts were unknown. His manager Mickey Duff could not find him.
Laing returned on Sept. 10, 1983 in Atlantic City. In the opposite corner was Fred Hutchings, a fighter from Stockton, California with a 22-1 record. Hutchings blasted him out in the 10th round. The last punch landed with such force, said the correspondent for a New Jersey paper, that Laing "fell over backward, his head crashing to the canvas with a loud thud." Referee Frank Cappuccino started his count but waived the fight off when he reached "6."
Laing went on to recapture the British welterweight title, but he never fought in the U.S. again. He left the sport with a record of 43-12-1. He scored 24 knockouts and was stopped eight times.
Within months after his final fight in 1994, Laing and his partner Paula Chen who was carrying his child, were reportedly living on the dole. In December of 2001, he was arrested during a massive sweep of East London crack dens. In 2013, he almost died after he fell or was pushed from a fourth-floor balcony. He was then living in a flat in a council estate (i.e., government subsidized housing) in the London borough of Hackney. At the time of his death, he was said to be residing in a nursing home in Yorkshire.
Kirkland Laing was always eccentric, but some of his aberrant behavior may have been a residue of his bout with Fred Hutchings. He was taken to the hospital with a concussion and remained there for four days. His cause of death has not been disclosed.
Sky
Ever the opportunist, Bob Arum was quick to reach out to the honchos at Sky Sport which was left in the lurch when Matchroom's Eddie Hearn jumped ship, giving DAZN an exclusive. Great Britain's premier sports channel, Sky needed a new content provider.
Josh Taylor, the fighting pride of Scotland, recently took Sky to task for failing to pick up his recent fight with Jose Ramirez. That was an egregious oversight on the part of Sky – the network missed out on a whizbang fight that produced a result that will live long in British boxing lore – and Arum allows that Sky executives may have been somewhat embarrassed, making them more receptive to his proposal.
The Sky/Top Rank partnership begins immediately with Saturday's card in Las Vegas headlined by the match between Shakur Stevenson and Namibia's obscure Jeremiah Nakathila.
Check out more boxing news on video at the Boxing Channel
To comment on this story in the Fight Forum CLICK HERE