HBO Boxing Looks Back With Pride At A Year of Transition
It's time to take pause, and ponder. The four titans of the industry, HBO, Top Rank, Showtime and Golden Boy went their separate ways, and decided nine months ago to divide, and conquer.
HBO set the so-called Cold War in motion, deciding that Floyd's ask was too grand, and that they'd rather not pay such a hefty price to roll the dice for a fighter closer to 40 than 30, even one as majestically talented as maestro Mayweather. They chose not to match the Showtime buy-in, so they bid adieu to the talents and services and pay-per-view potential of the greatest fighter of his era. One might have figured they'd be quaking, or at the very least, their braintrust would be needing the odd Ambien or two to facilitate the shutdown of brain churning, as they lay awake, pondering what their identity would be. No more Floyd, no more business with Golden Boy, and by extension, minimal interaction with uber advisor Al Haymon.
To get some clarity on the subject, I headed over to HBO headquarters in Manhattan, where ex Showtime boss Ken Hershman steers the ship, and chatted with Mark Taffet, the PPV guru now in his 20th year at the cabler. Hershman was busy dealmaking, crafting the first quarter 2014 calendar, and the foundation of the year-long slate for his crew, so I listened to Taffet synopsize the eventful year, and peppered him with some queries, looking to get some intel on what's next for the wrecking crew they are building around, in this post Floyd period.
First off, my overall takeaway perception: I didn't get the sense that I was being spun, as Taffet, who can be a persuasive salesman, in a decidedly low-key manner, told me that this was "one of the most exhilarating, exciting, rewarding years" he's had at HBO. "There's been a lot of adrenaline flowing."
Understandable, given that Mayweather jumped ship (was helped to disembark, maybe Team HBO would put it?) in February, and gleefully signed a six-fight megadeal with the Stephen Espinoza-led Showtime, for $250 million. Yep, I dare say adrenaline flowed when HBO in March filed divorce papers, and stated they'd no longer buy bouts from Richard Schaefers' Golden Boy, because, after all, a re-invention would be necessitated. But, to hear Taffet describe it, it was adrenaline, it wasn't the stress hormone cortisol which flooded their collective system post split. His evidence: just look at the top 25 bouts on cable TV this year. HBO presented 21 of them. The Miguel Cotto-Delvin Rodriguez bout on Oct. 5 drew 1.6 million eyeballs, with Julio Cesar Chavez Jr. (vs. Brian Vera on 9-28), Gennady Golovkin (vs. Curtis Stevens last month), and then" Mr. HBO" Adrien Broner (vs. Gavin Rees in February) just behind the Puerto Rican drawing card.
The shift in strategy, away from Floyd, and the focus on pay-per-view, he said, has been a revitalizer for HBO, because fight fans now get to see more must-see hitters on the regular channel. HBO did just two PPVs, featuring Manny Pacquiao, and the Juan Manuel Marquez-Tim Bradley tussle. They aren't out of the business, Taffet said, but he seemed to be content with that number.
"Pay per view events are primarily an opportunity to reach a general audience which occasionally looks at boxing," he said. That windfall primarily goes to the fighter, in the boxing realm, as opposed to the MMA realm, so, the message in between the lines was, it's not like PPV is making boatloads of cash for the parent company when so much of it is diverted to the talent (and let's not forget the cut going to the cable companies which offer the staging platforms.) I was reminded at this meeting that HBO heard similar sort of talk when Mike Tyson took his talents to Showtime, in 1991, and it forced them to work harder and smarter.
(I also got the sense there is, perhaps, in some circles at HBO, a degree of respectful skepticism about the ability of Team Showtime to continue the momentum woven during the Mayweather-Canelo promotion, which did a record $150 million in PPV revenue. I never pretend to be a master predictor, so I won't even guess how a Mayweather vs. Amir Khan fight would do, but I will say I won't demean the skillfulness at the promoters in these big leagues at whetting appetites for matches that some deride as sub-premium. I actually think Khan's speed, combined with his iffy chin, makes for a more fun fight than the last two Mayweather scraps, so there.)
Listen, contrary to what the wife occasionally tells me when I put a red shirt in with whites in the wash and turn everything pink, I'm no fool. I get it that any entity is going to put that best foot, freshly manicured with painted nails, forward. It's not like Team HBO is purely euphoric all the time post-Floyd. The man did generate 9.6 million buys and $543 million in television revenue, in nine PPV appearances on HBO. And he has looked as good, or maybe better, than ever in his last two scraps. And Showtime has surged in buzz, and they love their year over year numbers. Showtime Championship Boxing is up 24 percent in 2013 and 64 percent since 2011.
Maybe the lesson, or part of it, anyway, is that this so called cold war hasn't been all bad for the fan, for the consumer. The titans are all battling hard to be the best, and yes, the rivalry sometimes veers toward the bitter. You get the sense that a Bob Arum-Richard Schaefer rumble wouldn't look out of place as a curtain jerker on a Floyd PPV…
But from that consumer perspective, I dare say we can all agree that it hasn't been a bad thing for HBO to be in that revision mode, which meant they put energy and funds into building up some fighters that we all can agree are fun to watch. Gennady Golovkin is top three in the pound for pound buzz category, and but of course you know I gave Taffet the third degree on when and if we will get that light heavyweight showdown we are craving, between Sergey Kovalev and Adonis Stevenson. "We are in conversations," is all he would really say about where that bout stands. "It's a fight every fan wants to see, and we have to talk to the fighters and promoters."
Fans are curious to know if HBO might televise the next Golovkin scrap, Feb. 1 in Monaco against Osumanu Adama. "Right now, we're not planning to show that," Taffet said. The time difference would make such a choice harder, as it's no slam dunk to spend dough on an overseas fight, when the location is in a time zone six hours ahead of EST, is my sense. I think Golovkin back on HBO in April is a better bet, fans.
You have to get the sense that HBO is casting their lot more so with traders and rumblers than cuties. It's not like cuties and slickies and technicians can't do numbers, but apart from Broner, who drew eyeballs as much probably for his personality as anything, and Bernard Hopkins, all the more popular principals in the top ten most watched bouts on cable this year were more so punchers than sweet scientists. So, if HBO continues that course, that could spell doom for a Guillermo Rigondeaux, whose fight with Joseph Agebko wasn't universally embraced by the craver of trading. When I asked Taffet about Rigo's future on HBO, he replied, "We're going to listen to the fans. That's going to be the watchword for us going into 2014."
Speaking of listening to the fans, I've been a vocal proponent for many moons of packing cards, from top to bottom, with compelling matches. Resume builder squashes, especially on PPVs, always irk me, as a consumer. I asked Taffet about that, in context of the undercard of Pacquiao's Macau appearance. "We listen to the fans, the fans have said they want value," he answered, "in the main event and the supporting fights. Top Rank understands that."
One thing that was clarified for me as I sat at HBO, I was under the assumption that it often takes about ten years for a fighter to get to a place where they can really reap the rewards of their name recognition. Cotto, Chavez Jr., Bradley, these guys are now at a place where their years of toil have resulted in solid name recognition. But I was surprised at the Golovkins, Broners, Stevensons, Kovalevs, and Provodnikovs topping the top ten most watched list. I do think the supporting programming, the 2 Days, the Faceoffs, etc., really helped accelerate the popularity growth of these guys, and resulted in HBO having a better year than many folks might have assumed back in February or March. Also, I was told, appetite for that support programming is growing nicely among millenials, which is a good thing for people who want to see the sport they appreciate continue to thrive.
That's me, and that's you. We want boxing to flourish. Looking forward, a lot of us will be clamoring the "give peace a chance" carol, and advocating for the titans to kiss and make up, or at least, shelve the animus long enough to make those handful of fights we all want, which can only happen if the Godzillas work together. As my sense is that isn't happening in the near future, perhaps it's best we wrap our brains around the dynamic as it presently exists. And as it presently exists, in my mind, Showtime has lifted their game, and is presenting some compelling programming, and HBO has pivoted skillfully in this year of transition, befitting their veteran status, with a 40 year history in the space, and proven that no Floyd by no means means their relevance is reduced.
Jaron Ennis KOs Sergey Lipinets and Other Results from the Mohegan Sun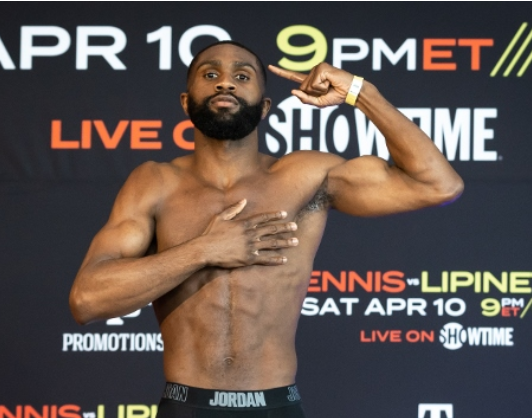 Philly is on the up. Again.
Jaron "Boots" Ennis kicked his stature into another gear with an impressive knockout of former world champion Sergey Lipinets on Saturday.
"It's on the up now for bigger and better fights," said Ennis.
Those Philly fighters know how to do it.
Before a small audience Philadelphia's Ennis (27-0, 25 KOs) showed that he's ready for the elite level class by dominating the always tough Lipinets (16-2-1, 12 KOs) at Mohegan Sun Casino in Uncasville, Conn.
Is there any other American welter looking for action?
Ennis walked into the arena with all of the physical advantages, but experience can be a tricky matter in the fight game. Lipinets was ready to provide the lesson.
For the first two rounds Ennis used his superior reach, height and speed to keep the former super lightweight world titlist from entering his domain. The Philly fighter wacked at the Russian fighter's body and head while taking minimal return fire.
Lipinets finally found his way inside and both fighters traded big blows. A wicked right uppercut by Ennis connected and Lipinets bounced a right cross on the Philly fighter. Both absorbed the big blows with little effect.
Still, Ennis was winning all of the rounds and Lipinets realized that maintaining the status quo was not doing him any good. He increased his attack and slipped on Ennis foot and went down. It was incorrectly ruled a knockdown by the referee but it was the least of the Russian fighter's problems.
Both fighters attacked the body but Lipinets shot one far below the belt and the fight was stopped for a moment. Lipinets was warned. Both went into attack inside and it seemed to be Lipinets best round. He seemed to find his way back into a groove.
"I saw he wasn't as skilled on the inside as I was so that's when I started getting a little closer," Ennis said.
Ennis may have realized that Lipinets had a good round and he wasn't about to allow another. As the two fighters re-engaged in their war inside, Ennis connected with a right hook to the chin and a left uppercut finished the job. Down went Lipinets and referee Arthur Mercante waved off the fight at 2:11 of the sixth round without a count.
"We worked on a lot of power shots and a lot of speed. That's what we did," said Ennis. "Everything is all natural."
The impressive knockout of Lipinets proved that Ennis has more than enough ability to hang with the best welterweights around.
"Maybe one of the guys will want to fight me. Who knows?", said Ennis.
Other Bouts
IBF super flyweight titlist Jerwin Ancajas (33-1-2, 22 KOs) floored Mexico's Jonathan Rodriquez (22-2, 16 KOs) and hammered out a win by unanimous decision. But it wasn't an easy fight. It never is when you put the Philippines versus Mexico.
Ancajas needed the win to keep his name handy for a possible match in the now heated super flyweight division that features Juan Francisco Estrada, Roman Gonzalez, and Carlos Cuadras.
A battle between welterweight contenders saw Eimantis Stanionis (13-0) power his way to a unanimous decision win after 12 rounds versus Thomas Dulorme (25-5-1).
Check out more boxing news on video at the Boxing Channel
To comment on this story in the Fight Forum CLICK HERE
Fast Results from Tulsa: Joe Smith Jr Nips Vlasov, Wins WBO Title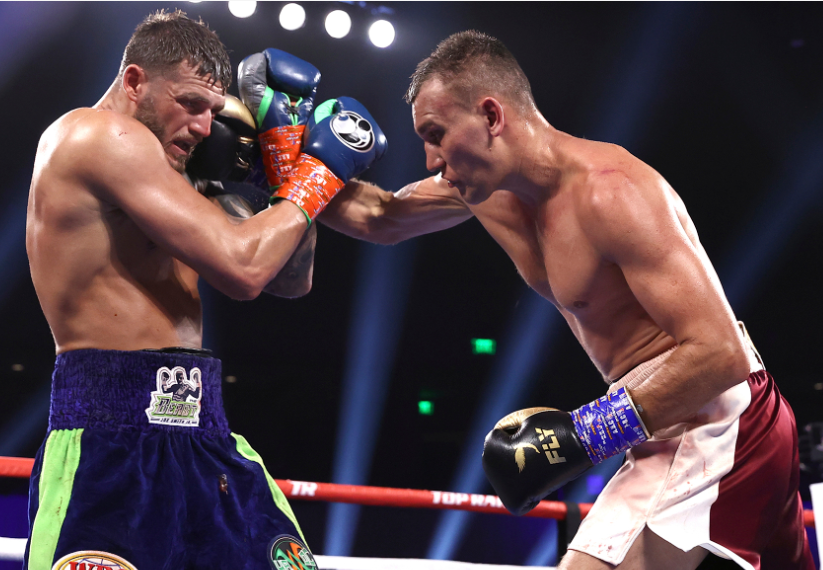 Joe Smith Jr had to dig down deep to upend Russian veteran Maxim Vlasov, but pulled the fight out of the fire with a late rally to capture the vacant WBO light heavyweight title before a sold-out crowd of 500 masked-up fight fans at Tulsa's Osage Casino. Smith prevailed by a majority decision. One of the judges had it a draw (114-114), but he was overruled by his cohorts who each turned in tallies of 115-113.
Smith, the quintessential blue-collar fighter, suffered a cut above his left eye in the first round and it troubled him throughout. Vlasov fought a smart fight, out-working the more one-dimensional Smith in most of the rounds, but a cut inside his mouth and Smith's body punches eventually took their toll. Smith had a strong seventh round but Vlasov recaptured the lead only to let it slip away in a good action fight. There were no knockdowns, but Vlasov went down in the 11th from a punch that landed behind his head, an illegal punch, hence no knockdown.
Smith Jr improved to 27-3 and earned a date with WBC/IBF champion Artur Beterbiev. Vlasov, whose effort commanded a rematch that won't happen — at least not any time soon — falls to 45-4. All four of the Russian's losses have come on U.S. soil, two right here in Tulsa where Vlasov was out-pointed by future world title challenger Isaac Chilemba way back in 2011.
—
The were nine bouts in all the card, the majority of which were intended to showcase up-and-coming heavyweights. The result was a predictable slew of quick stoppages, resulting in plenty of dead time between bouts.
The match between Efe Ajagba and Brian Howard was packaged as the co-feature. Ajagba had been less than impressive in some of his recent starts, but tonight the 6-foot-6 former Olympian for Nigeria scored a devastating one-punch knockout to restore whatever luster he may have lost. The lightning bolt came at the 1:29 mark of round three. Howard was unconscious before he hit the canvas. Ajagba advanced to 15-0 with his 12th knockout. Howard declined to 15-5.
Other Bouts
In the last of the seven preliminary fights on ESPN's subscription channel, Jared Anderson improved to 9-0 (9) with a second-round stoppage of West Virginia southpaw Jeremiah Karpency. The gifted 21-year-old Anderson, from Toledo, Ohio, scored two knockdowns with hard body shots before the bout was halted after only 38 seconds of the second round. The grossly overmatched Karpency was 16-2-1 heading in.
Local fan favorite Trey Lippe Morrison advanced his record to 17-0 with his 17th knockout, stopping 36-year-old Alabama journeyman Jason Bergman (27-20-2) in the third frame. Bergman came to fight and actually scored a knockdown in the opening round that the ref erroneously called a push. Fighting with his back against the ropes, Bergman landed a left that knocked Morrison off his pins.
It was a quirky knockout, coming at the 1:27 mark of round three when Bergman rolled his ankle while throwing an errant punch. He fell to the canvas in obvious pain and the bout was stopped. Bergman had lost seven of his last nine coming in, but was meeting an undefeated opponent for the fifth straight time.
Tulsa native Jeremiah Milton (3-0, 3 KOs) had a successful homecoming, bombing out Mississippi's Jayvone Dafney in the first round. An overhand right by Milton left Dafney out on his feet with his back pinned against the ropes. Milton, realizing that his opponent was seriously hurt, held back, waiting for the referee to intervene. The time was 1:19.
In the ESPN+ opener, Philadelphia's Sonny Conto (7-0, 6 KOs) returned after a 15-month absence and dismissed paunchy Waldo Cortes in the opening round. Conto put Cortes (6-4) down for the 10-count with a perfectly placed right hand. The official time was 1:41.
Photo credit: Mikey Williams / Top Rank via Getty Images
Check out more boxing news on video at the Boxing Channel
To comment on this story in the Fight Forum CLICK HERE
Conor Benn Embarrasses His Detractors, Demolishes Vargas in 80 Seconds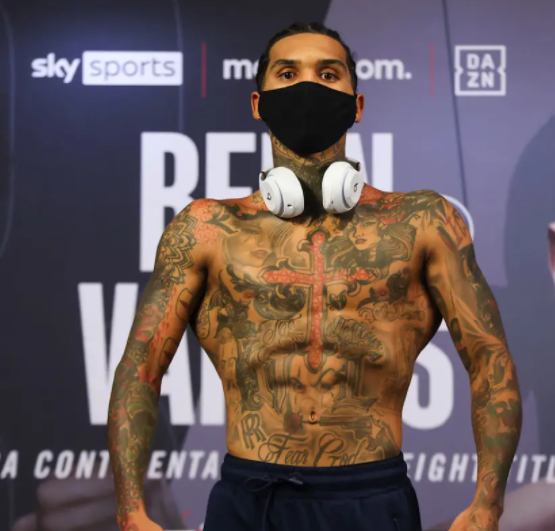 Conor Benn fought Samuel Vargas in London today (Saturday, April 10). Although Benn was a solid favorite, he was stepping up in class. Vargas, a 31-year-old Canadian via Columbia, brought a 31-6-2 record. He had been in with the likes of Errol Spence Jr and Danny Garcia and had extended Amir Khan 12 rounds on Khan's turf in Manchester.
Vargas's best days were behind him , but the prevailing sentiment was that he would make it interesting, likely taking the fight into the late rounds and perhaps lasting the distance. So much for prevailing sentiment. Benn walked right through him. Vargas couldn't cope with Benn's superior speed. He was being battered against the ropes and offering nothing in return when referee Michael Alexander stepped in and waived it off. It was all over in 80 seconds. Benn improved to 18-0 with his 12th win inside the distance.
Benn, 24, is the son of Nigel Benn, a former two-division world champion who was one of England's most celebrated fighters. Conor had a brief amateur career in Australia before turning pro at age 19 in London, the city of his birth. While his record is unblemished, it would be incorrect to say that he passed every test as he was climbing the ladder. His first fight with Cedric Peynaud, a marginally skilled Frenchman, has haunted him.
Benn was knocked down twice in the opening round, but scored two knockdowns of his own late in the 6-round fight and was awarded the decision. Peynaud brought a 5-4-3 record and to say that Conor's performance was underwhelming would be an understatement. At the finish, his right eye was badly swollen.
Scott Gilfoid offered up the most damning criticism: "To say that Benn looked poor tonight is being kind. He was absolutely horrible….The flaws that I saw in Benn's game tonight are ones that likely won't go away anytime soon….His performance has to be viewed as a warning sign that he's not destined to go far in the sport like his famous father."
Benn and Peynaud fought on Dec. 13, 2017. This was Benn's 12th pro fight. He had one more bout under his belt before he and the Frenchman had another go at it. The rematch, scheduled for 10 rounds, took place on July 28, 2018, on a show headlined by the heavyweight match between Dillian Whyte and Joseph Parker.
Benn knocked Peynaud down three times but couldn't finish him. However, the outcome was never in doubt. He won by scores of 98-90 and 98-91 twice.
Trevor McIntyre, a stablemate of the aforementioned Scott Gilfoid (rumor has it that Gilfoid and McIntyre are the same person, and that both are aliases of the owner of the web site where their bylines appear) conceded that Benn showed improvement, but was otherwise unimpressed: "(He) still looked like someone that would be blown away by a halfway decent journeyman fighter….Benn's defense was leaky, his hand speed slow, and his movements looked uncoordinated throughout."
Benn's most recent fight before tonight came against Sebastian Formella, a sturdy but feather-fisted German who was coming off a 12-round defeat to Shawn Porter, a bout in which he showed great heart but won nary a round. Benn won lopsidedly. The scorecards read 100-91, 99-91, and 98-92.
The mysterious Barry Holbrook, whose byline appears at the same web site as Gilfoid and McIntyre, acknowledged that Benn proved some of his doubters wrong, but wrote that "a top welterweight like Errol Spence, Keith Thurman, Danny Garcia, Terence Crawford, or Vergil Ortiz Jr would have knocked him out. If they didn't score a knockout, they would have battered him to the point where the referee would have needed to stop it."
The respected British scribe Ron Lewis offered a different take: "(Conor) looked a completely changed fighter from the wild youngster of his early professional career, switching well from head to body, being patient, and picking his spots well." Lewis did not speculate how Benn would have fared against some of the division's top guns, but certainly hinted that Nigel's son could become a factor in what is currently a very strong welterweight division.
As today's showing proved, Mr. Lewis is a more perceptive observer than his counterpart(s) at the web site where Benn has been repeatedly 'dissed. Nigel's son has made enormous strides in the last few years. He's also an interesting character. Having spent much of his formative years living on the Spanish island of Majorca, he's fluent in Spanish which is always a useful attribute from a marketing standpoint. But as for how good he is, let's not jump to conclusions, mindful that Samuel Vargas was on the wrong side of the curve, having lost three of his last five heading in.
The question doesn't yet have a definitive answer, but tonight in London, Conor Benn was very good, very very good.
Check out more boxing news on video at the Boxing Channel
To comment on this story in the Fight Forum CLICK HERE