TYSON LIVING THIRD ACT OF AN AMERICAN LIFE
There are no second acts in American lives.
—F. Scott Fitzgerald, author of "The Last Tycoon"
Fitzgerald, just 44 when he died of a heart attack in 1940, might have been thinking of himself when he came up with one of his more memorable lines, ostensibly about U.S. citizens who have risen to great heights, only to tumble into an abyss from which there is no escape or redemption. But Fitzgerald, better known for his masterwork, The Great Gatsby, was wrong. There are many Americans who have gone on to live very public second acts, not all of them as successful as the first, and some who have even staged third and fourth acts which command widespread interest.
At first glance, two-time former heavyweight champion Mike Tyson, now 47, would appear to be in Act 3 of a roller-coaster life, even though he suggests the actual number is low. "I had 10!" Tyson in 2009 told a Sports Illustrated reporter who also brought up the Fitzgerald quote. But for purposes of brevity here, better to compress the many phases of Michael Gerard Tyson into a more easily digestible three-part evolutionary cycle.
The first act with which everyone is familiar is that of a seemingly invincible destroyer in the ring, a remorseless battering ram who made a habit of sending opponents into spasms of fear before he sent them crashing to the canvas.
"I'll break Spinks. I'll break them all," that Tyson said prior to his June 27, 1988, first-round knockout of Michael Spinks in Atlantic City's Boardwalk Hall. "When I fight someone, I want to break his will. I want to take his manhood. I want to rip out his heart and show it to him."
The second spotlighted incarnation saw Tyson stripped of much of his earlier aura of unbridled power. He came to know defeat, inside and outside the ropes. His $300 million fortune not only vanished, but was transformed into a $38 million debt, in part from leeching hangers-on and in part because of his profligate lifestyle. His deepening unhappiness caused him to lapse into a hazy fog of drugs and alcohol. He twice was incarcerated during his career as an active fighter, most notably on a rape conviction that he has always insisted was a miscarriage of justice brought about mostly by his increasingly unsavory reputation. Oh, and he was involved in perhaps the most notorious incident in boxing history, when he was disqualified by referee Mills Lane after chewing off part of Evander Holyfield's right ear in their second fight.
"I wanted to kill him, bite him," Tyson said in a Playboy interview during his Nevada State Athletic Commission-mandated suspension that was the "Bite Fight's" byproduct. "I snapped. I was an undisciplined soldier. I wanted to hurt him. I never thought about what I was doing."
And now?
In human terms, the current Tyson is neither destroyer nor destroyed. He is not quite as famous as when he was when he was knocking opponents stiff, and certainly not as rich, but he seems to have found the inner peace that always was more elusive for him to attain than the spectacular knockouts, the available women, the mansions, the fancy rides and piles of cash. He is the president and show pony of a relatively new boxing promotional company, Iron Mike Productions, and the star of a one-man stage show, Undisputed Truth, in which he lays bare for audiences the circuitous path he followed to glory, then to hell and back. His cites the highs and the lows of his personal journey in unsparing, often profane detail, and the effect on audiences is that, well, maybe there really is more to the guy than the one-dimensional pugilistic idol of Act 1 or the similarly shallow villain of Act 2.
Americans have always been suckers for comeback stories, which might be why this latest revision of Tyson's continually shifting tale is noticeably upbeat. He – more so than the fighters who have signed with his fledgling company – is the reason for those relatively pricey $200 ringside tickets for Saturday night's seven-bout card at the Sands Event Center in Bethlehem, Pa., which he will attend. (He also will give a performance of Undisputed Truth in the same arena on Thursday night.) Maybe that's because it's been a long time, too long, since the snarling beast from the gritty Brownsville section of Brooklyn, N.Y., was the centerpiece of the last golden era of American heavyweight boxing, along with Holyfield, Spinks, Riddick Bowe and a resurrected George Foreman. Even somewhat lesser lights from that time frame, Ray Mercer and Tommy Morrison, tower above what now passes for the best of the U.S. big men in an era dominated by the Klitschko brothers and a host of other Eastern Europeans. It takes a vivid imagination to even dare to compare, say, Deontay Wilder and Bryant Jennings to the Tyson that used to be.
"Boxing is entertainment," Tyson the promoter said of his first serious return to the sport that made him famous since his then-38-year-old self, out of shape and clearly disinterested, quit on his stool after six rounds against lumbering Irish journeyman Kevin McBride on June 11, 2005, in Washington, D.C. "People want to see exciting fights. I gave them exciting fights."
Well, he did that and very well for a long time, although probably not as long as he might have had his passion for boxing remained on high flame. "I was a young guy on the rise," he sighed, "but I rose too fast. Life was coming at me too fast."
What happens when confused young people with a singular talent are suddenly thrust into a lifestyle of the rich, famous and decadent is that they find themselves with everything they thought they ever wanted, and emotionally with nothing. The wise heads and anchors of Tyson's early years as boxing's hottest attraction, trainer Cus D'Amato and co-manager Jimmy Jacobs, died before they could finish imparting whatever knowledge he would need to cope with his newfound fame and wealth . Tyson's marriage to actress Robin Givens quickly became grist for gossip columns, and ended in lurid failure, with Givens going on television to accuse her husband of schizophrenia and slapping her around.
From there on, it probably was only a matter of time before the tightly wound kid from Brownsville's mean streets unraveled, although his intimidating demeanor and crushing power enabled him to linger at or near the top until the remnants of what he had been were exposed by Buster Douglas, Holyfield, Lennox Lewis and even the improbable likes of Danny Williams and McBride.
Whereupon Tyson slid into Act 2, a long descent into darkness and despair. His fighting weight, around 217 pounds at his peak, ballooned to an unhealthy 330 and he was doing copious amounts of cocaine to boot. He had become a sad caricature of himself, and he knew it. But he had not hit bottom just yet. That would take the kind of tragedy that would send him totally over the edge, or finally make him take stock in himself and glove up for his hardest fight, the one with the inner demons to whom he had for so long surrendered.
His lowest point, Tyson said, was when his 4-year-old daughter, Exodus, somehow got a cord from an exercise machine wrapped around her neck and was suffocated nearly to the point of death. Tyson, who was no longer with the child's mother, received the call from Phoenix police on May 26, 2009. She died the next day.
A devastated Tyson did not careen over the edge and into oblivion. With the support of his third wife, Lakiha – you can call her Kiki – he took off 110 pounds, quit the dusk-to-dawn nightclub scene and dedicated himself to becoming the kind of husband and father he had always admired, but could never bring himself to emulate. Well-received roles in The Hangover movies and the stage play followed as Act 3 hinted at a happy ending, or at least a happier one.
"Absolutely," he said when asked if acting out his life story, the good and the bad, before live audiences had resulted in a stage fright he had seldom experienced in boxing. "I had to put in a lot of preparation to do this. It is sort of like fighting, but harder. But somehow it just clicked."
So, too, did his reintroduction to boxing, which came in the form of an offer from Garry Jonas, the chief executive officer of Acquinity Sports, which was formed in 2010 in Deerfield Beach, Fla. Jonas invited Tyson to become his partner, and the company was renamed Iron Mike Productions in 2013. IMP staged its first fight card on Aug. 23 of that year at the Turning Stone Casino Resort in Verona, N.Y., which served as a reminder to Tyson that what he had enjoyed of boxing was still there for him to enjoy again, if only he could put aside all the negative memories of real and perceived betrayals.
"I had just mentally given up," he said of those lost years. "I was not interested at all in boxing for a very long time. But my partner, Garry Jonas, is a shrewd businessman who gave me an offer I couldn't refuse. I said to myself, `Let's go with this and see what happens.'"
There is no irrefutable proof that Iron Mike Productions will grow and prosper, or disappear. Great fighters have a hit-and-miss history when it comes to trying their hand at the promotional side of it. Oh, sure, Oscar De La Hoya transitioned easily, with the aid of CEO Richard Schaefer, into one of boxing's power brokers with the hugely successful Golden Boy Promotions. But Sugar Ray Leonard's foray with Sugar Ray Leonard Boxing fizzled, in no small part because of differences with his partner, Bjorn Rebney.
The future of Iron Mike Productions might well depend on how well its titular head and the "shrewd businessman," Jonas, continue to mesh. That could be problematical, given the various trainers and support personnel Tyson jettisoned or added during his own tumultuous ring career, but for now things appear to be going smoothly.
"We've already surpassed everybody's expectations of us as promoters," Tyson said. "The thing is, I'm not monopolizing nobody. I'll work with other promoters to make good fights. I welcome everybody with open arms.
"What we want to do is to stage a fight card every month. Hopefully, we can get associated with a big television network like Fox. We're in negotiations with them now. We want to make boxing big again."
Tyson's clashes with his own promoters, most notably Don King, whom he sued for $10 million, are well-documented. He said his experiences will dictate how he treats the 16 fighters currently in IMP's stable. "The first thing I tell them is to get a great lawyer," Tyson said. "You never want to be too trusting in this business. Everything we do at Iron Mike Productions is on the record, on the table. That's the way it needs to be."
The 10-round featherweight main event on Friday pits IMP's Claudio "The Matrix" Marrero (14-1, 11 KOs) against Jose Angel Beranza (36-28-2, 28 KOs) , while the 10-round bantamweight co-feature pairs IMP's Juan Carlos Payano (14-0, 8 KOs) against German Meraz (46-29-1, 25 KOs). But the most attention – other than that lavished upon Tyson, of course – features brilliant welterweight prospect Erickson Lubin (3-0, 3 KOs) in a four-rounder against Tirobio Ball (4-1-1, 1 KO). Everyone, Tyson included, seems to believe Lubin has a chance to develop into something special.
"He can go all the way to the top," Tyson said of the 18-year-old Lubin, who had been seen as possibly the United States' best chance for a gold medal in boxing at the 2016 Rio de Janeiro Olympics before he decided to go pro with IMP. "We just need to get him more experience, have him fight guys who can take a punch and make him go more rounds. But there's something there, definitely."
Boxing Odds and Ends: The Sept. 26 Horn of Plenty and Other Notes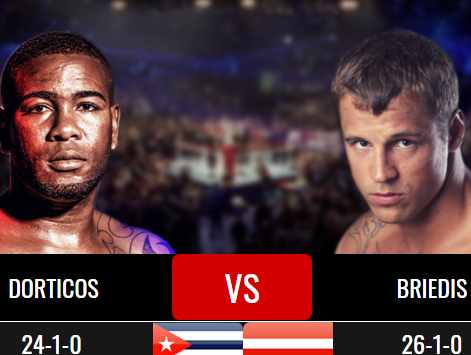 Considering the constraints, the month of September has been a pretty good month for professional boxing. And the month will close with a flourish. Eight world title-holders will be in action on the 26th, the last Saturday of the month.
Five of the belt-holders will appear on the SHOWTIME PPV doubleheader featuring the Charlo twins. The most intriguing fight on that card finds Jermall Charlo risking his belt and his undefeated record against rugged Sergiy Deveryanchenko. At last glance, Jermall was a consensus 17/10 (minus-170) favorite. In baseball, a 17/10 favorite is a heavy favorite. In boxing, not so. A serious handicapper who wouldn't think of laying 17/10 in a baseball game would have no hesitation about laying these odds in a boxing match.
When Deveryanchenko steps into the ring, 51 weeks will have elapsed since his last fight, his bruising tiff with Gennadiy Golovkin. Jermall Charlo hasn't been on the shelf for quite that long, having last fought in December.
A more interesting match on this particular Saturday, at least in the eyes of this reporter, will unfold earlier that day in Munich when the curtain finally comes down on Season 2 of the long-drawn-out World Boxing Super Series. Two titles will be on the line when Mairis Briedis (26-1, 19 KOs) meets Yuniel Dorticos (24-1, 22 KOs).
Briedis' lone defeat came at the hands of Oleksandr Usyk in a very competitive fight. Briedis won five rounds on two of the cards and won six rounds on the other. Dorticos' lone defeat came on enemy turf in Sochi, Russia when he was stopped with eight seconds remaining in a doozy of a fight with Murat Gassiev.
Forget the titles; titles are a dime a dozen. These two guys are plainly the two best cruiserweights on the planet.
"The tickets are flying out the door and we expect to sell out within hours, if not days," said co-promoter Kalle Sauerland at a pre-fight press conference.
That assertion was made way back on January 22 when the fight, originally targeted for late December of last year, was headed to Riga, Latvia, on March 21. That date didn't work, nor did the re-scheduled date of May 16, and ultimately Riga didn't work either.
Whatever tickets were sold, had to be refunded. There will be no fans in attendance when Briedis and Dorticos finally lock horns on Sept. 26 at a TV studio in Munich. The fight will air on DAZN in the U.S.
"Rest makes rust" was an often-heard caution when big gamblers of yesteryear dissected a boxing match. The late, great pricemaker Herb Lambeck reflexively shied away from boxers that had been inactive for a considerable period of time. For him, the Briedis-Dorticos match would likely be a head-scratcher. Both combatants have been inactive since June 15 of last year when they appeared in separate bouts on the same card in Riga, Briedis's hometown. And they aren't getting any younger. Briedis is 34 and Dorticos is 35.
The odds got nicked down somewhat when the site shifted from Riga with fans to Munich without, predictably so as Briedis, the first fighter from Latvia to win a world title, has an avid local following.
Briedis, the superior boxer, is a consensus 9/5 favorite. That seems a shade high as he won't be able to feed off the crowd – there won't be a crowd – and Dorticos, the Cuban KO Doctor, has a better chance of ending the fight with one punch. It wouldn't be shocking if the fight followed a similar tack as the recent fight between Dillian Whyte and Alexander Povetkin.
In case you missed it, Whyte was dominating his Russian adversary when things changed in a flash in the fifth round. Out of nowhere, Povetkin, the underdog, unleashed a picture-perfect uppercut that left Whyte flat on his back, unconscious before he hit the canvas. There have been other smashing one-punch knockouts this year – Ryan Garcia's demolition of Francisco Fonseca comes quickly to mind – and there may be a few more, but it's hard to visualize anyone topping Povetkin in the voting for Knockout of the Year.
By the way, if he wins it, Povetkin, 41, would be the second-oldest boxer to score the Knockout of the Year. George Foreman was 45 when he knocked out Michael Moorer in 1994. The source is The Ring magazine which has been issuing this award since 1989.
And if you happen to know the youngest fighter to score The Ring Knockout of the Year, then you're pretty sharp. No, it's not baby-faced Naoya Inoue, who is older (27) than he looks. The honor goes to the long-forgotten African-American/Filipino southpaw Morris East who was 19 when he knocked out defending WBA 140-pound champion Akinobu Hironaka in 1992.
In a rarity, it didn't take long for Alexander Povetkin and Dillian Whyte to agree on a rematch. They will meet again on Nov. 21. The venue is undecided, but Eddie Hearn is hopeful that he can pot the fight somewhere outside his backyard "fight camp" with fans in attendance. The first lines on the fight show Whyte the favorite in the vicinity of 13/5. Povetkin-Whyte II will be a nice appetizer for the Errol Spence vs. Danny Garcia match that goes off later that day.
In an unrelated development, Fury-Wilder III is purportedly going to Allegiant Stadium, the new home of the Las Vegas Raiders, in late December. Bob Arum anticipates a crowd of 10,000-15,000 with social distancing protocols in place.
Check out more boxing news on video at the Boxing Channel 
To comment on this story in the Fight Forum CLICK HERE
Meekins vs. Kawoya: File It Under Bizarre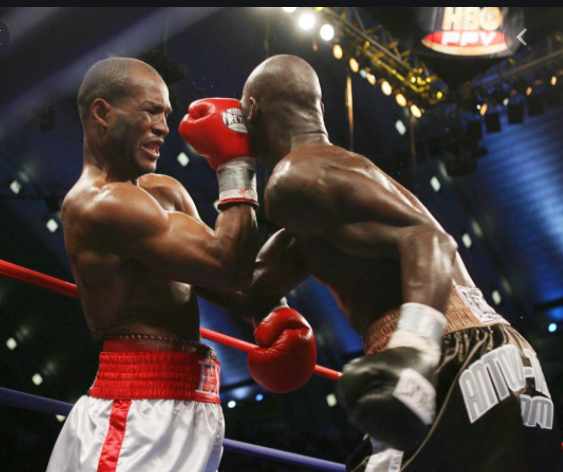 It was August 8, 1988. The location was Resorts International in Atlantic City. The main event featured New Yorker John Wesley Meekins (18-1-2) vs another New Yorker (via Uganda and Denmark) Mohammed Kawoya (11-3).
The rangy and skilled Meekins with a stellar amateur career was a clear favorite over the lesser known Kawoya who had fought only once in the US, losing to Jorge Maysonet on cuts at the Felt Forum. Meekins was expected to move on to a world title fight after dispatching Kawoya.
Meekins enjoyed a successful career between 1984 and 1994, fighting the likes of Davey Montana, Mike Mungin, Harold Brazier, Saoul Mamby, Santos Cardona, Darrin Morris (who won his last 16 fights in a row), and Terence Alli. He would lose to a prime Meldrick Taylor (20-0-1) in 1989 with the IBF World Super Lightweight title at stake.
On June 15, 1990, Meekins beat Santos Cardona over 12 rounds to win the NABF light-welterweight championship, but would lose it to Terence Alli some seven months later. It was downhill after that and he retired in November 1994 with a record of 24-5-2 after being stopped by so-so Darryl Lattimore.
Back to Meekins vs. Kawoya
 This one did not go as expected. After being decked in round 2, Kawoya dropped Meekins in the opening seconds of round 3. An exciting fight with multiple knockdowns and furious exchanges was in progress and the fans loved it.
An aroused Meekins then went after the Ugandan with a vengeance and set up one of the most bizarre endings that few boxing fans have ever heard about, much less witnessed, as he again dropped Kawoya this time with a fast left hook. He then went for the kill. Referee Paul Venti sensed it and moved in—perhaps prematurely– as Meekins unleashed what he hoped would be a fight-ending volley of hard shots.
 As soon as Venti stepped in to stop the fight, Kawoya landed a right that dropped Meekins and had him crawling on the canvas and holding on to the ropes devoid of his senses for at least ten seconds. The punch was thrown at the exact moment that Venti ended matters and Venti didn't realize what had occurred.
 While Kawoya thought he has scored a clean KO and celebrated wildly, the fact was that Venti had ended the fight a fraction of a second before and his decision would stand.
The fans not only enjoyed a great fight, they witnessed something truly memorable—something that had to be seen to be believed; namely, a winner struggling to get up and a loser celebrating what he thought was a knockout.
Kawoya pulled out of the rematch because of a throat infection and Saoul Mamby took his place as a late sub. The Ugandan never fought again, while Meekins never got the title shot that a more impressive effort might have gotten him.
Ted Sares can be reached at tedsares@roadrunner.com or on Facebook and welcomes comments.
Check out more boxing news on video at the Boxing Channel 
To comment on this story in the Fight Forum CLICK HERE
Price and Programming Lineup for Sept. 26 Charlo Twins PPV Doubleheader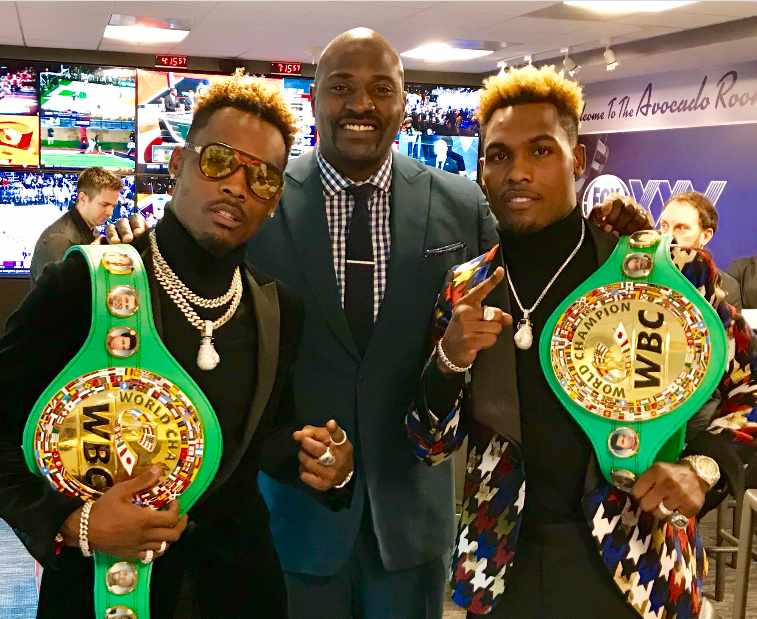 PRESS RELEASE — SHOWTIME Sports has announced the price and programming lineup for the first-of-its-kind pay-per-view doubleheader on Saturday, September 26, featuring two stacked fight cards each headlined by one of the world champion Charlo twins in an event presented by Premier Boxing Champions. THE SHOWTIME PPV event, CHARLO DOUBLEHEADER, is available for purchase at a suggested retail price (SRP) of $74.95 and includes six compelling fights, five of which are world championship bouts.
 THE EVENT
The first card of the SHOWTIME PPV telecast will be headlined by undefeated WBC Middleweight World Champion Jermall Charlo defending his title against Sergiy Derevyanchenko. WBA Super Bantamweight Champion Brandon Figueroa will defend his title against Damien Vázquez in the co-featured bout, while WBO Bantamweight World Champion John Riel Casimero faces off against Duke Micah in the pay-per-view opener. Following the main event and a 30-minute intermission, the second three-fight card headlined by WBC Super Welterweight World Champion Jermell Charlo facing unified 154-pound World Champion Jeison Rosario will begin. Luis Nery will battle Aaron Alameda for the vacant WBC Super Bantamweight World Championship in the co-feature, while former unified champion Danny Román faces former champion Juan Carlos Payano in a WBC Super Bantamweight title eliminator bout to open the second three-fight card of the pay-per-view.
TELECAST TEAM
The announce team for the SHOWTIME PPV telecast is comprised of the most experienced and decorated boxing team on television. Veteran sportscaster Brian Custer is the host. Versatile combat sports voice Mauro Ranallo handles blow-by-blow action alongside Hall of Fame analyst Al Bernstein and four-time world champion Abner Mares. Two Hall of Famers round out the telecast team: boxing historian Steve Farhood as unofficial scorer, and world-renowned ring announcer Jimmy Lennon Jr.
THE JOURNEY: CHARLO DOUBLEHEADER and DIGITAL PROGRAMMING LINEUP
In the leadup to the unprecedented two-event pay-per-view, SHOWTIME Sports will produce and premiere THE JOURNEY: CHARLO DOUBLEHEADER, a 30-minute show that chronicles the unique story of Jermall and Jermell, twins born one minute apart in Houston, Texas, as they rise through the ranks and put themselves in position to become global boxing stars. Voiced by SHOWTIME boxing host Brian Custer, THE JOURNEY: CHARLO DOUBLEHEADER features rarely seen footage and gives viewers a behind-the-scenes look at their most pivotal career moments, motivations, and life outside of the ring.
THE JOURNEY will premiere on SHOWTIME on Sunday, September 13 at 11:30 p.m. ET/PT and will be available for free on the SHOWTIME Sports YouTube channel and all SHOWTIME On Demand platforms.
SHOWTIME Sports will also release new episodes, of the original, digital franchiseRING RESUME which examines the career progressions of boxing's top stars, available on the SHOWTIME Sports YouTube channel. Beginning Monday, September 21, the SHOWTIME Boxing Snapchat page will focus on high-energy fight and training camp highlights featuring the Charlos. In addition, the Snapchat page will feature the Charlos' RING RESUMES and THE JOURNEY to expand reach to young audiences with short-form, fast-paced storytelling. Plus, Brendan Schaub and Kenny Florian will preview the keys to the fights on BELOW THE BELT BREAKDOWN, available on the BELOW THE BELT YouTube channel.
MORNING KOMBAT INTERMISSION
Combat sports aficionados Luke Thomas and Brian Campbell will host a 30-minute intermission show after the conclusion of the Charlo vs. Derevyanchenko main event and the start of the second three-fight card. The duo, hosts of the popular live combat sports talk show and podcast MORNING KOMBAT, will also host live streams of the main events press conference and official weigh-in in addition to providing in-depth coverage on MORNING KOMBAT throughout the week. The official weigh-in and main events press conference will stream live on the SHOWTIME Sports YouTube channel and SHOWTIME Boxing Facebook page.
Check out more boxing news on video at the Boxing Channel 
To comment on this story in the Fight Forum CLICK HERE