Battle Hymn – Part 8: Shadow and Light
When Aaron Wade left San Francisco in 1945, he left behind a son and a pregnant wife. "He didn't want to be a family man," Jenny said. "He didn't want nothing." Right around the time he took a dive against Sugar Ray Robinson in February 1950, Alan Roy Wade turned four and had yet to meet him. By then, Jenny had given up and filed for divorce. It was finalized that year.
Wade moved in with a girlfriend in Jersey City and got a job at the Department of Sanitation. There were half-hearted attempts to reach out to his sons and every so often an envelope with a $20 money order inside would arrive at his ex-wife's address in San Francisco. It was made out in his girlfriend's handwriting, which speaks well of her character. In the mid-fifties, she died in a car accident and Wade went into a tailspin; he reached for the bottle with both hands and drowned his sorrows, or watched them swim.
In 1960, he made his way to Peoria to meet Alan for the first time. His mother Willie Mae and Jenny seem to have arranged the family reunion and Wade did his part; he stuck a cork in the bottle and put on a suit to make a good first impression. "He greeted me like a father," Alan recalled, "and he looked younger than his years." Wade tried to maintain contact by telephone—he tried to be a better father—but could not sustain it. The binging was getting worse.
He was bottoming out. Somewhere in his drunken haze the ghost of Kid Farmer was coming on, and hell followed with him.
When Kid Farmer was born over a saloon in 1884, Peoria was still called "Still City" and produced more whiskey than any other city in the nation. The saloon was only a few doors down from where the Wades would live in 1922/1923. Like Wade, Farmer became a professional fighter who never quite abstained from booze. Like Wade, he excelled in the sport anyway. Farmer was the kind of local legend carried from the ring on the shoulders of cheering fans—he reportedly had over 600 fights and 283 knockouts before he took a running leap into a bottomless vat.
It was said that Farmer was avoided by name-fighters and drank out of discouragement. It was also said Farmer never got a title shot because he was a drunk. Either way or both, he would fight half-cocked just like Wade did. "Staggering is strength," he'd quip. "The weak fall down." Eventually, his career became as erratic as his field of vision; he'd be in a main event one night and a curtain-raiser the next. When his career finally collapsed, he did too. Anyone looking for him was bound to find him face-down in a gutter beside an empty bottle or in a flop on skid row. One night in 1945, he got the bum's rush out of a saloon and stumbled into the street where he was killed by a car just yards from where he was born. He's buried in an unmarked grave in St. Mary's cemetery, according to local historian Chuck Burroughs, "surrounded by hundreds of bodies of decent folk, who, if they knew Farmer was in their midst, would get up and walk away."
Wade was teetering on the edge of Kid Farmer's vat.
In May 1962, Wade was laid out on the third floor of a condemned house in Jersey City. "Paralyzed drunk," is how he described it. He heard someone's voice above him. "C'mon get yourself up," it said. Wade could not. "Not a muscle in my body would move," he said. So he murmured a prayer: "Please, Lord, let me stand on my feet."
"The good Lord heard me," he said. "I was able to stand, wobbly a bit, but steady enough to walk." He made a promise then and there to stop drinking, but had another attack on the way home and was taken to the hospital. "There they told me what I always knew," Wade said. "I was an alcoholic."
He was likely suffering from alcoholic myopathy, the symptoms of which include sudden weakness and collapse after a drinking bout. It is invited by long-term alcohol use, as is delirium tremens (DTs), neuropathy, liver disease, and death.
—Wade had nowhere to go except up.
"I accepted Jesus Christ as my Lord and personal Saviour," he told anyone who would listen. "Ever since that day, He has blessed me." Wade began examining a conscience dulled for decades. What he saw were numerous tragedies that were the direct results of his "waywardness." He had a son with a teenage sweetheart in Peoria and left them both behind when he moved west, he got mixed up with shady characters in San Francisco, got shot, almost got indicted, abandoned his wife and children when he moved east, blew a title shot after a drunken tantrum at the New York State Athletic Commission, trashed his last comeback, and became a Bowery bum shunned by his family. Wade had many regrets, though he found comfort in the sublime feeling that he was forgiven. Moved with gratitude, he began studying for the Christian ministry.
Early in 1968, Deacon Wade returned to San Francisco after a twenty-three-year absence. "I guess it was the good Lord that told me to come back to San Francisco," he said, "where I might be able to carry on His work among people who might have remembered me when I was fighting." He also drew nearer to his sons, now young men. "We saw him every week," Alan told me. "Every week."
"What was he like?" I asked Alan. "He was even-tempered, a happy man, always smiling and laughing," he said. When either he or his brother talked back to his mother, though, the smile fell off. "He'd straighten us up," Alan said with a chuckle, and left it at that.
He saw his father praying often and at different times during the day—head bowed, eyes closed, lips moving.
In March, the long-retired fighter stopped by the offices of the San Francisco Examiner and found the boxing writer who covered so many of his West Coast wars.
Eddie Muller glanced up from his desk as a little man with enormous shoulders pulled up a chair. Wade wore glasses by then, but Muller remembered him. "Aaron Wade was a prize fighter. A good one too," he would write after their reunion. "Good enough to whip Archie Moore right here in San Francisco." Wade told Muller what he had been through since his glory days, he spoke of shadows and light and how he'd "been telling others at church missions and meetings that the good Lord can do for them what He did for me." Muller was impressed when Wade didn't ask for a hand-out. He was even more impressed when Wade told him he received no compensation besides the "good feeling" he got helping the less fortunate.
"Even if you only help one you've really accomplished something," he said.
Muller decided to help one too. He decided to help Wade. "Wade didn't ask for this help. I am," Muller told the Examiner's100,000 subscribers. "The fellow can use a job."
It was an irony that Wade probably welcomed as a test of faith when the Gallo Wine Company, then located on the south side of San Francisco, offered him a job at its warehouse. Wade accepted it and worked there for the rest of his life. Every Friday, employees would be handed a couple bottles of wine with their paychecks, but by then Wade and Kid Farmer's ghost had gone separate ways. He gave the bottles away.
He still liked to eat. Alan fondly recalled going with him to the North Beach section of San Francisco. Wade, looking sharp in a suit, would walk into an Italian club and hobnob with guys who knew the slam-bang fighter he once was. He and his sons, who sat cowed by his warning not to say "mafia," ate porchetta, Prosciutto di Parma, and Pork Chop Milanese free of charge. It was a sign of respect.
On March 5, 1971, Wade, now 54, was married for the second time to a short, heavyset nurse's aide named Sallie Cousar —and life was good.
---
Photo by Kurt Bank found in Shaping San Francisco (digital archive).
Kid Farmer's story found in Come Out Fighting: True Fight Tales for Fight Fans by Chuck Burroughs (1977), pp. 51-68; San Francisco Examiner 3/1/68 and 4/20/74 (Eddie Muller).
Springs Toledo can be contacted at scalinatella@hotmail.com .
Boxing Odds and Ends: Filip Hrgovic vs. Efe Ajagba, Dame Helen Mirren and More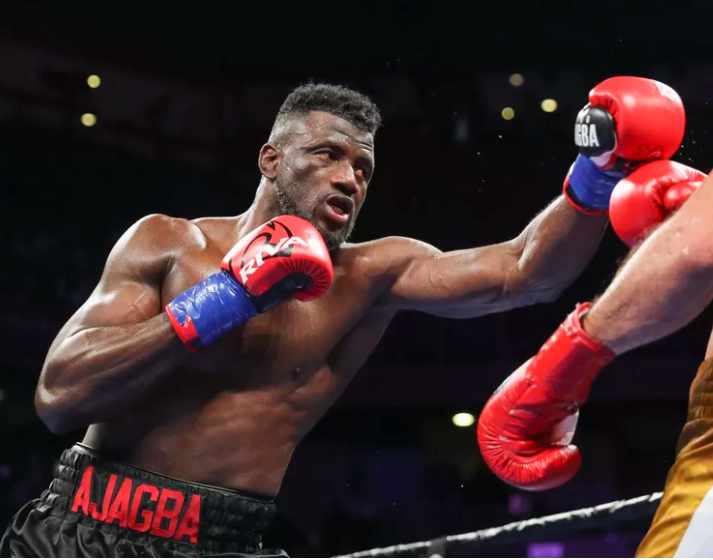 There's a battalion of young heavyweights ready to make their mark when Tyson Fury and Anthony Joshua and their cohorts leave the scene. There's Daniel Dubois and Tony Yoka and Filip Hrgovic and Efe Ajagba to name just four.
When one thinks of a fantasy fight, one usually thinks of a "what if?" match between two all-time greats. But one can also contrive a fantasy fight out of two young guns who have a high probability of meeting down the road.
Filip Hrgovic (12-0, 10 KOs) and Efe Ajagba (14-0, 11 KOs) are at a similar stage of development. Both fought in the 2016 Olympics – Hrgovic for Croatia and Ajagba for Nigeria – and both have been touted as future champions. Ajagba's former trainer Ronnie Shields, not a man given to hyperbole, compared him to a young George Foreman.
Who would win if Filip Hrgovic were to meet up with Efe Ejagba?
We posed this question to Jonnie Rice who is quite familiar with both fighters. Rice sparred with Ajagba and then went 10 rounds with him at the MGM Bubble on Sept. 19. Shortly thereafter, he was off to Florida to help Hrgovic prepare for his bout earlier this month with Rydell Booker. Rice sparred frequently with Hrgovic during the three weeks he spent in the Croatian's training camp.
"You have to respect Efe's power," Rice told us, "but I would have to go with Filip because he throws more punches and has better footwork."
Jonnie Rice, by the way, is improving at age 33 although one wouldn't assume that from his 13-6-1 record. He was outpointed by Ajagba but had several good moments late in the fight.
Helen Mirren
Andrew Moloney failed to recapture his WBA world super flyweight title in his rematch with Joshua Franco on Nov. 14, but won legions of new fans. In case you missed it, the fight was stopped after only two rounds because Franco's right eye was swollen shut. Referee Russell Mora ruled that the damage was caused by an accidental head butt which meant that the fight would go into the books as a "no-decision" and Franco would keep the title.
It took the Nevada Athletic Commission 26 minutes to confirm Mora's ruling. During the lacuna, the abbreviated fight was replayed over and over again for folks tuning in on ESPN. There was no visible head butt, at least not one that could have produced this result, and the TV talking heads, lead announcer Joe Tessitore the most vocal among them, were adamant that Moloney, who clearly won the first two rounds, was the victim of a grave injustice.
Many well-known people took to social media to weigh in on the "villainy," none more famous than Helen Mirren, Dame Helen Mirren, if you please, having been invested with that title during a 2003 ceremony at Buckingham Palace. The multi-decorated British-American actress (she holds dual citizenship), who won both a Tony and a Best Actress Oscar for her portrayal of Queen Elizabeth II, wrote "Moloney was clearly robbed in Vegas tonight. Shame on the Nevada boxing organisation" on her Instagram platform which reportedly has 903,000 followers.
Many people were surprised to learn that a classy Dame like Mirren, now 75 years old, had any interest in pugilistic affairs, but maybe that shouldn't have been so surprising considering that Mirren once had an affair with the ill-fated Argentine boxer Oscar Bonavena.
I had best re-phrase that. Her screen character had the affair.
The movie was called "Love Shack." In the 2010 film, directed by Mirren's husband Taylor Hackford — who shared a producing credit with Lou DiBella — Mirren played Sally Conforte, the wife of Joe Conforte, the keeper of Nevada's most infamous brothel, the Mustang Ranch on the outskirts of Reno. In 1976, the rugged Bonavena, who twice went the distance with Joe Frazier and took Muhammad Ali into the 15th round, was working there as a bouncer when he was fatally shot by one of Joe's henchmen, a killing supposedly sparked by Joe's jealousy over Sally's affair with the 33-year-old bruiser whose 38-vehicle funeral procession through the streets of Buenos Aires would reportedly attract more than 150,000 onlookers.
The movie seemingly couldn't miss. It had a compelling storyline based on real-life events and two stars in the leading roles, with Joe Pesci smartly cast as Joe Conforte. However, the movie got lukewarm reviews and died a quick death.
Mirren's hubby, by the way, is helming the big screen biopic of Mike Tyson with Jamie Foxx portraying Iron Mike. The movie, as they say, is in pre-production.
Literally Matched Soft
In case you missed it, former IBF light-heavyweight title-holder Tavoris Cloud returned to the ring this past Friday after a six-year absence. Cloud was matched Soft, and yes, that's Soft with a capital "S."
Cloud's opponent, a Sioux Indian from Rapid City, South Dakota, fights under the name Ryan Soft. He brought a 4-11-1 record and had been stopped eight times. Cloud made it "9", stopping the softie in the third round on a show in Daytona Beach, Florida.
Cloud, who was managed by Don King for much of his career, opened his career with 25 straight wins that included four successful defenses of his IBF belt. He lost his title to 48-year-old Bernard Hopkins, was stopped by Adonis Stevenson and Artur Beterbiev in his next two fights, and then disappeared. At age 38 and without a lot of mileage on his odometer, he may be young enough to snag a few decent paydays before he calls it quits for good.
The Upside of Covid-19
Five games in college football's top division were postponed this past Saturday, including two games vs. Top 5 teams. Also, there was a hastily arranged boxing card this past Saturday on the Fox Sports 1 network.
These developments were interrelated and they point out that this terrible scourge called Covid-19 hasn't been all bad for boxing. As other kinds of sporting events are postponed or cancelled with little advance warning, boxing stands poised to fill the void. The mushrooming sports channels need content.
The ever-expanding number of weight divisions in pro boxing pales alongside the glut of bowl games in college football. Counting the national title game and the semifinals bleeding into it, there will be 37 bowl games this year. The games are splayed across a 22-day window straddling New Year's Day and it all starts with the ludicrous Tropical Smoothie Café Bowl on Dec. 19 in Frisco, Texas.
Correction: There would be 37 bowl games if they all get played. But many will be cancelled. That opens the door to enterprising boxing promoters.
On balance, of course, the pandemic has been terrible for all sports that depend in whole or in part on gate receipts, without which they are not sustainable. By and large, the boxers that have appeared in "bubble fights" have been working on the cheap. But for some, the pandemic has provided an opportunity for exposure they would not have otherwise received, and that will pay dividends down the road when the world returns to normal.
Check out more boxing news on video at the Boxing Channel 
To comment on this story in the Fight Forum CLICK HERE
Avila Perspective, Chap. 114: Electrifying Ryan Garcia Opens Up 2021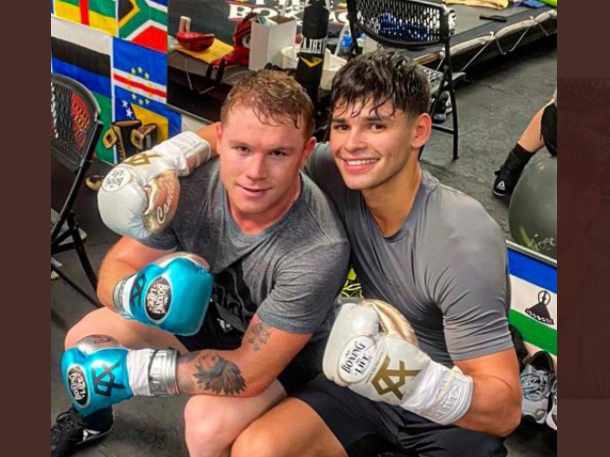 Southern California's Ryan "Kingry" Garcia will face England's Luke Campbell on Saturday January 2, 2021. DAZN will stream the battle for the interim WBC lightweight title at Fantasy Springs Casino in Indio, Calif.
Another one of those useless titles but it's really all about the fight.
Garcia (20-0, 17 KOs) was supposed to meet Campbell (20-3, 16 KOs) in early December, but the British fighter contracted the coronavirus and was forced to quarantine. This new date allows enough time for the fight to be re-scheduled.
"My mindset going into this fight hasn't changed, and my training hasn't stopped," said Ryan Garcia. "I'm excited we have a new date and can finally bring this to the fans. I'm here, and I'm ready to ring in the new year with a victory…let's go."
Campbell expects to be ready.
"New date, new year, same result," said Luke Campbell. "I'm fully back in training and have never felt better. What a way to start 2021 this is going to be with a clinical Luke Campbell win."
It's rare for a non-world title fight to grab main event status on a major boxing card, but Garcia (pictured on the right with his famous stablemate) is not the usual contender. Though undefeated, it's really the manner of his victories that have electrified fans. In his last three fights, none of his opponents survived longer than six minutes. Francisco Fonseca was electrocuted with a left hook at 1:20 of the first round the last time Garcia walked into a prize ring.
British fans expect Campbell to prove Garcia is pure hype and a product of social media mania and a large female fan base. They cite Campbell's experience against world champions like Vasyl Lomachenko and Jorge Linares that ended in decision losses. Also, that Campbell has never been stopped.
So far, Garcia has never been floored as a professional and shown extraordinary speed. It's not a push-over fight but a strategically important step for the Southern Californian's future as a major force in boxing and a crossover star who can attract non-boxing fans.
We have seen this before several decades ago.
"What better way to start this new chapter than with boxing's newest crossover star? Despite being just 22 years old, Ryan Garcia has already built a huge fan base, and once he gets past Luke Campbell, the sky is the limit," said Oscar De La Hoya who knows a thing or two about crossover appeal.
De La Hoya also happens to be Garcia's promoter.
Now if Oscar can hang onto Garcia's contract, we might see a revisit to a golden era like we saw when De La Hoya sold out boxing cards from Los Angeles to New York. And of course, Las Vegas.
One day after the new year begins, Garcia could be the vanguard of a new boxing era.
We shall see.
New Boxing Networks
No matter how many times prizefighting gets kicked and stomped on from detractors and haters, the sport always seems to rise up again.
Two boxing cards competed on a Thursday night with NBC Sports Network showcasing Ring City USA at the Wild Card Gym parking lot in Hollywood, and another show in Mexico City streamed on UFC Fight Pass.
Boxing continues to attract media outlets.
American fighters were sent to Sonora, Mexico on Roy Jones Jr. Boxing Promotions to battle Mexican fighters. On the same night, Mexican fighters were sent to Hollywood, California USA to battle American fighters.
Both competed against each other.
Ring City USA has no particular promoter tie and already has dates set up for December and beyond.
"We're willing to work with all promoters and we are not promoters," said Evan Rutkowski on a DAZN boxing talk show. "We're not taking options on any of these fighters."
UFC Fight Pass has a deal with Roy Jones Jr. Boxing Promotions, but rumors are spreading that the streaming network plans to expand its boxing platform on a large scale.
One of its promoters is said to be Salita Promotions and if that is true, then it could be a major coup led by top female fighter Claressa Shields.
At the moment, it is merely a rumor.
Spence and Garcia
All systems are go for the welterweight showdown between IBF and WBC welterweight titlist Errol Spence Jr. and former champion Danny "Swift" Garcia on December 5 at AT&T Stadium in Arlington, Texas. It will be shown on FOX pay-per-view.
Questions remain about the health of Spence after a horrific car crash that saw his car topple end over end a year ago. Does the Texas southpaw still possess the reflexes and grit that propelled him to victory over Shawn Porter, Mikey Garcia and Kell Brook?
Garcia has only two losses and both were firefights with no clear winner.
This is an important measuring stick for both Spence and Garcia.
Canelo
With the departure of Saul "Canelo" Alvarez from Golden Boy Promotions it does not seem to constitute a complete amputation. DAZN will continue to stream the redheaded Mexican's fights.
Alvarez will be fighting Callum Smith on Saturday Dec. 19, at the Alamodome in San Antonio, Texas. A limited number of fans will be allowed to witness the fight that will be co-promoted by Matchroom Boxing and Canelo Promotions. DAZN will stream.
"I am thrilled to be back at the Alamodome and very thankful to be fighting in front of my fans on December 19," said Canelo. "I have great memories of my previous bouts in Texas, and I expect this to be a special fight to close out the year."
Callum Smith is a younger brother of Liam Smith one of Canelo's earlier knockout victims. He also has a seven-inch height advantage and equal reach advantage. Canelo, tiny by comparison, has a towering assignment to complete.
Check out more boxing news on video at the Boxing Channel 
To comment on this story in the Fight Forum CLICK HERE
Fast Results from LA: Javier Fortuna Brings his "A" Game; Halts Lozada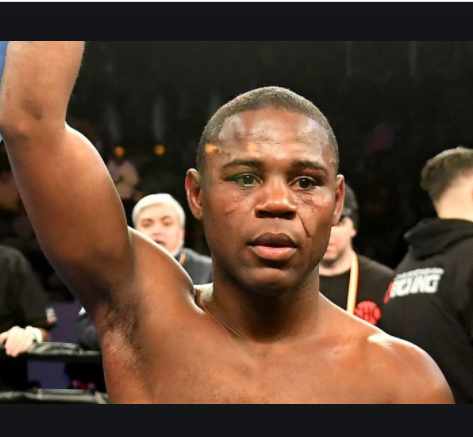 Former two-division world title-holder Javier Fortuna turned in a Lomachenko-like performance tonight at the Staples Center in Los Angeles. The lightweight from the Dominican Republic had too many different looks and too much power for lanky Antonio Lozada who was rescued by the referee in the sixth round.
Lozada, whose signature win was a 10th-round stoppage of previously undefeated Felix Verdejo, has now lost three straight. In his previous bout 13 months ago in Tijuana, he suffered a shocking loss on points to a 9-5-2 journeyman. Tonight's defeat reduced his record to a still-impressive 40-5-1.
Fortuna (36-2-1, 25 KOs), put Lozada on the canvas in the opening stanza with a sweeping left hook. For a moment, it didn't appear that Lozada would survive the round but he lasted into the sixth. A barrage of punches from Fortuna, the last of which was a straight left hand with Lozada's back against the ropes, brought about the stoppage. The official time was 2:34.
Co-Feature
Nashville lightweight Austin Dulay got back on the winning track with a lopsided 10-round decision over Bakersfield's Jose Luis Gallegos. Dulay was coming off a loss in his hometown to Diego Magdaleno who out-pointed him in a mild upset.
Gallegos, who fell to 19-10, is a sturdy fighter and was a willing mixer, but Dulay, a southpaw, had faster hands and was more fluid. He won all 10 rounds on two of the scorecards and nine rounds on the other while improving his ledger to 14-2.
Referee Tom Taylor stopped the fight twice after accidental head butts that impacted each fighter and gave the fighter that took the worst of it time to recover.
Also
Guadalajara's Fernando Molina, an 18-year-old lightweight, improved to 3-0 in his U.S. debut with a 6-round unanimous decision over Jose Zaragoza (5-3-1) who was spunky but outclassed. Molina put Zaragoza on the canvas with a short right uppercut in round two, leading to three identical 60-53 scores.
Molina is advised by Hall of Fame facilitator Shelly Finkel. Zaragoza, a 32-year-old father of three from Sedalia, Missouri, also competes in MMA.
The PBC show, which was patched together on short notice, aired in the United States on Fox Sports 1.
Check out more boxing news on video at the Boxing Channel 
To comment on this story in the Fight Forum CLICK HERE