Floyd Mayweather, Donald Sterling, and TMZ
Now that Floyd Mayweather vs. Marcos Maidana is over, boxing fans can refocus their attention on the story that the sports media has fixated on for the past ten days.
On Friday, April 25, TMZ posted a tape of a 9-minute-26-second telephone conversation between Los Angeles Clippers owner, 80-year-old billionaire Donald Sterling, and a 31-year-old woman named V. Stiviano. The conversation was recorded by Stiviano, who was once Sterling's mistress. The link to the recording is http://www.tmz.com/videos/0_wkuhmkt8/.
In the conversation, Sterling (who is battling prostate cancer) comes across as an unhappy old man. Stiviano appears to be leading, manipulating, and sometimes goading him into making racist comments. Sterling, after some initial resistance, obliges. The worst of Sterling's comments have been widely reported.
A firestorm of media coverage and protest followed the TMZ post. Barack Obama denounced Sterling's comments as "incredibly offensive." On April 29, NBA Commissioner Adam Silver announced that Sterling had been fined $2,500,000 (the maximum fine that can be levied by the league under the circumstances) and banned for life from entering the team facilities or attending any team practice or NBA game. Silver further declared that, pursuant to the league constitution and by-laws, he would ask the other NBA owners to force Sterling to sell the team.
Stiviano now says that she "never meant to hurt" Sterling, which is a little like John Wilkes Booth saying that he never meant to hurt Abraham Lincoln. It wouldn't be surprising if her next step is to sell her story to the National Enquirer or pose for Playboy.
The media as a whole seems unconcerned with the fact that Sterling has humiliated his wife with public and private dalliances for years. It has also failed to fully explore numerous other issues.
If Sterling's remarks had been about Jews or gays, would the national uproar and punishment have been the same? Does anyone really think that Donald Sterling is the only NBA owner who harbors racist sentiments? What about Major League Baseball owners? The National Football League? Before the sports establishment gets a sore arm from patting itself on the back as a consequence of Sterling's punishment, let's reflect for a moment on the Washington Redskins, who are owned by Daniel Snyder (the other DS).
Unlike "Blackhawks" and "Braves," Redskins is a derogatory term. Want proof? Use the term "Redskins" in a sentence that doesn't carry a negative connotation and is unrelated to the National Football League. Or phrased differently, what would happen if James Dolan suggested changing the name of the New York Knicks to the New York Colored People?
And what about Charles Barkley's comment on national television that the NBA is "a black league"? I love Charles Barkley as a commentator. But didn't he step over the line here? Suppose Barkey had called the NBA a "Christian league" or a "straight league"?
Perhaps the most thoughtful public commentary on the Sterling affair came from Kareem Abdul-Jabbar, who addressed it in an essay for Time Magazine with characteristic dignity and grace.
"The poor guy's girlfriend is on tape cajoling him into revealing his racism," Abdul-Jabbar wrote. "What a winding road she led him down to get all of that out. She blindfolded him and spun him around until he was just blathering all sorts of incoherent racist sound bites that had the news media peeing with glee."
"Racists," Abdul-Jabbar continued, "deserve to be paraded around the modern town square of the television screen so that the rest of us who believe in the American ideal of equality can be reminded that racism is a disease that we haven't yet licked. What bothers me about this whole Donald Sterling affair isn't just his racism. I'm bothered that everyone acts as if it's a huge surprise. [Sterling's racist conduct] has been going on for years and this ridiculous conversation with his girlfriend is what puts you over the edge? That's the smoking gun? And shouldn't we be equally angered by the fact that his private intimate conversation was taped and then leaked to the media? The making and release of this tape is so sleazy that just listening to it makes me feel like an accomplice to the crime."
"Sterling," Abdul-Jabbar concluded, "is the villain of this story. But he's just another jerk with more money than brains."
That makes for a nice segue to Floyd Mayweather.
On April 29, Mayweather said of Donald Sterling, "I don't have nothing negative to say about the guy. He's always treated me with the utmost respect. He has always invited me to games, always. And he always says, 'Floyd, I want you to sit right next to me and my wife.'"
Malcolm X had a term for people of color who thought like that. And it wasn't pretty.
Then Mayweather inserted himself further into the Sterling dialogue by saying that he was interested in being part of a group that would buy the Clippers. But he cautioned, "I can't come in talking about Mayweather only gonna get three percent, four percent. I got to get a solid percentage. Do we want to buy the Clippers? Yes, we do. We are very very interested in buying the Clippers."
That's just the ownership the NBA needs after censuring Donald Sterling for racist comments.
Lest one forget; Mayweather was seen worldwide on UStream.com calling Manny Pacquiao a "little yellow chump," a "whore," and a "f—-t." He also said, "Once I stomp the midget, I'll make that m——–r make me a sushi roll and cook me some rice." For good measure, Floyd then added, "M——-r Pacquiao, he can't speak no English."
Closer to home insofar as the NBA is concerned, Mayweather reacted to the outpouring of media attention that Jeremy Lin received two years ago by tweeting, "All the hype is because he's Asian."
Mayweather owning an NBA franchise would also do wonders for the league's outreach to women.
Over the years, Floyd has had significant issues with women and the criminal justice system. In 2002, he pled guilty to two counts of domestic violence. In 2004, he was found guilty on two counts of misdemeanor battery for assaulting two women in a Las Vegas night club. In 2012, he served two months in prison after pleading guilty to charges relating to another indictment for domestic violence.
Nor are women likely to look fondly on Mayweather's recent decision to excoriate his former fiancee, Shantel Jackson, by informing the world via social media that she'd had an abortion and posting ultrasound images of "our twin babies" on his Facebook page and Instagram.
Mayweather, of course, had his own TMZ "Oops!" moment on March 12 of this year, when TMZ reported, "Floyd Mayweather allegedly orchestrated a savage attack on two of his employees he suspected of stealing his jewelry. Sources familiar with the situation tell TMZ Sports the two men had been hired to work on Floyd's Vegas homes. But when jewelry went missing, Floyd pointed the finger at them. We're told the men claim they were instructed to meet Floyd at an off-site location. When the men arrived, they claim Floyd was waiting for them – along with a number of his 'people' who proceeded to beat the living crap out of them with various weapons, including clubs. Our sources say the attack was so brutal the men could have easily died. Both men had broken arms and legs and were hospitalized for several days. We're told the men are adamant they never took anything from Floyd, and it appears Floyd realizes that now."
Two days later, TMZ posted a follow-up report that included X-rays purporting to show "a broken arm . . . a snapped pinkie . . . multiple fractures in the left hand that required pins to reset the bones . . . We're told the left arm was so badly broken, doctors drilled into the bone to attach a titanium plate so it would reset . . . Just a few of the injuries suffered by one of the men allegedly beaten by Floyd Mayweather's crew."
Here, it should be noted that TMZ's Mayweather report was undocumented beyond the unsourced allegations and anonymous X-rays. Unlike the matter of Donald Sterling, there was no tape of the beating. And unlike V. Stiviano, Mayweather's alleged victims chose to remain anonymous.
On March 24, Laura Meltzer (a public information officer for the Las Vegas Police Department) told the New York Daily News, "We've had a variety of reports that have come out stating this event occurred. We have not had a victim come forward to the police to make an official complaint. As of right now, the bureau commander is not aware of any complaint that has been officially filed. If this is a victim who is choosing not to come forward and make a report; then that's up to the victim. We don't have any say in that. There is no criminal complaint on file, so there is no reason to go and contact Mr. Mayweather."
That said; TMZ has a pretty good track record on reports of this nature. And there appears to be a culture of this sort of incident around Mayweather. His Rolls Royce was spotted on the scene after an August 23, 2009, shooting outside a Las Vegas skating rink. One of his associates, Ocie Harris, was indicted on attempted murder charges for shooting at two passengers in another car, one of who had reportedly insulted Mayweather. After the shooting, police searched Mayweather's house, looking for evidence, and seized handguns, ammunition, and bulletproof vests, none of which were used in the shooting. Harris' lawyer has said that his client was used as a pawn by police and prosecutors in an effort to link the shooting to Mayweather. Harris subsequently pled guilty to three felony charges and was sentenced to two-to-five years in prison.
Quite possibly, the TMZ report about the beating allegedly administered at Mayweather's command is unfounded. And Floyd is under no obligation to respond to every rumor about him that surfaces in the media. But the silence of Team Mayweather on the issue so far has been deafening.
It's also worth noting how little attention the story has received in the mainstream media. If this had been LeBron James, Payton Manning, or David Ortiz (or Mike Tyson), it would have been the lead story on ESPN SportsCenter and on the front or back page of every tabloid in America.
The fact that boxing's flagship fighter is at the center of these allegations is a problem. The fact that the mainstream media doesn't seem to care might be a bigger problem. It shows how little Mayweather (and boxing) now matter to the wider audience.
Mayweather-Maidana was a much better fight than it was expected to be. Floyd is still technically brilliant. He still knows all the tricks. Against Maidana, he sat down more on his punches than in the past and showed a fighting heart.
But at age 37, Mayweather is losing his legs. That was evident early in the fight. And his box office appeal appears to be dwindling.
Floyd is a big draw, but he has always needed a dance partner to generate stratospheric numbers. He was only half of the equation for the dollars that flowed from fights against Oscar De La Hoya and Canelo Alvarez. Best estimates are that Mayweather-Maidana (like Mayweather vs. Robert Guerrero) engendered under 900,000 pay-per-view buys. That means Showtime could lose millions of dollars on the event. And one day before Mayweather-Maidana, thousands of tickets were selling on secondary market sites such as TiqIQ.com for as much as 45 percent off list price.
Want more on where Mayweather ranks in contemporary culture?
Two days before Mayweather-Maidana, a Google search for "Floyd Mayweather" brought up 4,310,000 "results." That's an impressive number. But that same day, a Google search for "Game of Thrones" brought up 548,000,000 results. In other words, interest in Mayweather ran at less than eight-tenths of one percent of the interest in Game of Thrones.
Thomas Hauser can be reached by email at thauser@rcn.com. His most recent book (Reflections: Conversations, Essays, and Other Writings) has just been published by the University of Arkansas Press.
David Avanesyan: "My Aggressive Style is Going to Give Crawford Problems"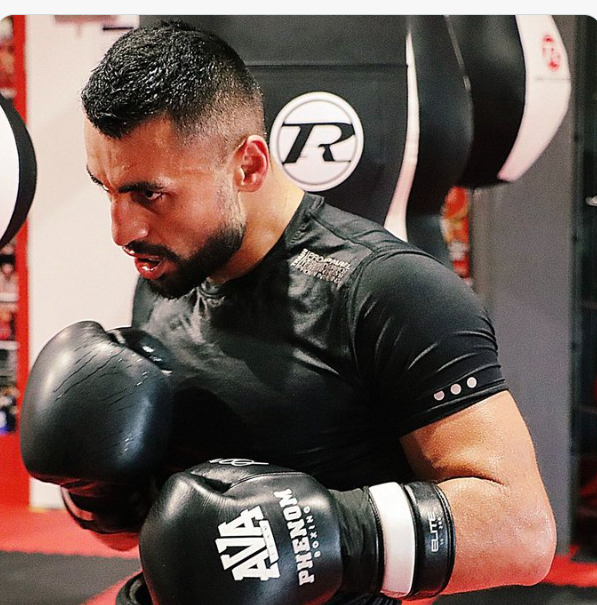 With determination and total confidence in his abilities, Russian David Avanesyan rejects the idea that he will be the "ugly duckling" when he faces Terence Crawford who will be defending his WBO welterweight title for the sixth time this December 10th.
"This is an opportunity of a lifetime for my family and me, one I will not take for granted," Avanesyan said. "I know going in that I'm a huge underdog and no one is giving me a chance, but let me tell you, I'm going to surprise everyone watching. I've had enough time to prepare, so I'll be ready for the southpaw."
Thirty-four-year-old Avanesyan (29-3-1, 17 KOs) was born in Russia but resides in England, where he has been preparing for the momentous matchup against Crawford.
European champion in the welterweight division, Avanesyan has won six straight, all within the distance; the most recent being in the first round against Finnish Oskari Metz (16-1, 6 KOs) in London.
Ranked sixth by the WBO and seventh by the IBF, Avanesyan says he has learned many tricks over the years and is now a completely different and more mature boxer.
"Coming from the amateur ranks, I had to learn how to sit on my punches correctly, which can take a lifetime for some fighters. The bad habits that plagued me early in my career are now fixed. Today I'm a completely different fighter in the ring, and my last six fights have shown my growth when it comes to my power punching. I believe my aggressive style is going to give Crawford problems," said Avanesyan.
Prior to his six-fight winning streak, Avanesyan was knocked out in the eighth round by California-based Lithuanian Egidijus Kavaliauskas in the city of Reno, Nevada where they fought for the NABF belt.
Avanesyan is not misguided as he assesses the enormous task ahead. "There's a reason Terence Crawford is considered the best fighter in boxing, his skill set is amazing, and he knows how to win," stated Avanesyan. "I know my hands are full, but I'm going to do everything I can to become a world champion. I need to stick to the game plan we have in place, and if adjustments need to be made during the fight, I will have to make them."
Although Avanesyan logically praises Crawford's career, the match-up has created a sea of ​​criticism for the undefeated Crawford (38-0, 29 KOs), who is ranked among the best pound for pound fighters. The vast majority of fans wanted to see him face his countryman, the undefeated Errol Spence Jr (28-0, 22 KOs), the current title holder of the other three most prestigious belts: the WBC, WBA and IBF.
But the thirty-five-year-old Crawford from Omaha, Nebraska says that regardless of his results and whatever adversary he faces, he will continue to be blamed by the people who just don't like him.
"Before, I always cared a lot about what the fans say and say about me," stated Crawford. "But the older I got, the more I came to the fact that you can't please everyone. No matter what you do, no matter who you beat and how many fights you won, how many divisions you conquered, there will still be those who will not love you for their own reasons. It seems to me that all the great fighters went through this. All the greats who were before me, and all those who will be after me, it will be the same with everyone."
In his brilliant professional career, Crawford has been world champion in three divisions: lightweight, super lightweight and welterweight.
Six years after his professional boxing debut, Crawford claimed the WBO 135-pound world title by unanimously defeating host Ricky Burns in Glasgow, Scotland.
Thirteen months later, Crawford added the vacant WBO 140-pound title by anesthetizing Thomas Dulorme in the sixth round. Dulorme could not endure Crawford's powerful punch and visited the canvas three times in the fateful sixth round.
Crawford became the undisputed king of the super lightweight division in August 2017, when he chloroformed Namibian Julius Indongo in Lincoln, Nebraska. The African lost the WBA and IBF belts, while Crawford retained the WBC and WBO belts.
In June 2018, Crawford conquered the WBO welterweight belt after putting Australian Jeff Horn (20-3-1, 13 KOs) to sleep in the ninth round at the MGM Grand Casino in Las Vegas.
Thanks to his blazing hand speed, ring savvy, counterpunching skills, as well as his ability to switch from right guard to left guard and back again, Crawford is considered a heavy favorite to take down Avanesyan.
*Note: As of December 2nd:  Crawford  -1600 / Avanesyan  +780
Article submitted by Jorge Juan Alvarez in Spanish.
Please note any adjustments made were for clarification purposes and any errors in translation were unintentional.
To comment on this story in the Fight Forum CLICK HERE
Juan Francisco Estrada Holds Off 'Chocolatito' Again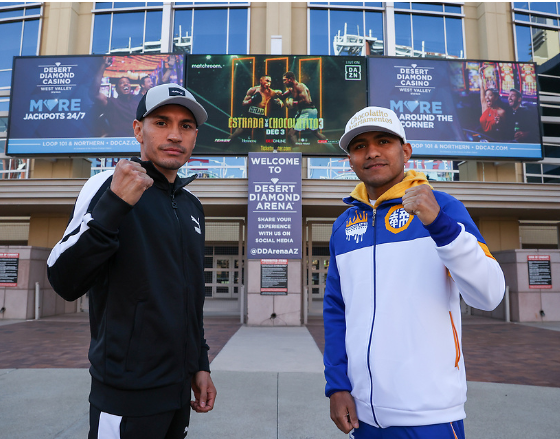 Once again Juan Francisco Estrada jumped out in front early and Roman "Chocolatito" Gonzalez needed time to crank up the engine, but fell too far behind as the Mexican fighter won the vacant WBC flyweight world title on Saturday.
Estrada wins the trilogy 10 years in the making.
Once again Estrada (44-3, 28 KOs) surged ahead early in the fight against Nicaragua's Gonzalez (51-4, 41 KOs) and then navigated toward another win, this time at the Gila River Arena in Glendale, Arizona on the Matchroom Boxing card.
"We had excellent preparation at high altitude and I think we left the fight clear on who won the fight this time," said Estrada about the third encounter.
Ten years ago, the trilogy began in Los Angeles as "Chocolatito" confronted an unknown fighter at the time in Estrada. The two surprised the crowd who expected Gonzalez to destroy yet another Mexican fighter. But it did not happen that night though Chocolatito proved too experienced and battered his way to victory in a light flyweight world title clash.
Then, in March 2021, Estrada finally fought Gonzalez in a rematch and the two engaged in a closely-fought super flyweight world title match. This time Estrada proved slightly better according to the judges and won by split decision in Dallas, Texas.
Few knew what to expect in a third encounter.
At first the coronavirus stalled plans for the trifecta so Chocolatito fought a replacement and dominated. Meanwhile Estrada fought another Mexican and did not look good.
On Saturday, a decade after their first encounter, Estrada looked fluid and accurate in dominating the first six rounds of the fight. Though he did not hurt Gonzalez, he was repeatedly scoring at will.
Gonzalez woke up around the seventh round.
Suddenly the Nicaraguan who was once considered the best fighter Pound for Pound showed up and fired rapid combinations. The spring in his legs suddenly appeared and the energy level was cranked up high after nearly being on idle.
Estrada suddenly found himself against the ropes forced to slip and slide away from Gonzalez's powerful combination punches. A real fight suddenly erupted during the final six rounds.
"All fights are different and all fights are difficult and this was the most difficult one," said Gonzalez, a four-division world champion.
Though neither fighter was ever visibly hurt, Gonzalez's pressure kept Estrada expending too much energy trying to evade the Nicaraguan's traps during the final six rounds.
"He always goes 100 miles an hour," said Estrada of his nemesis.
Estrada used uppercuts and slide steps to maneuver against Gonzalez's hard charges. It seemed to work and allowed the Mexican fighter more room and time to apply counter-measures.
In the final round, those maneuvers allowed Estrada to connect with a hard punch to the body that forced Chocolatito to cover up. It also allowed Estrada to unravel a combination that gave him the last round if needed. After 12 rounds one judge scored it 114-114, while two others saw it 116-112, 115-113 for Estrada who becomes the new WBC super flyweight world titlist.
"We did an excellent fight and I got the victory," said Estrada. "I've always said Chocolatito is a future Hall of Famer."
Gonzalez was gracious in defeat.
"What is important is we gave that good fight to the fans and we came out in good health," Gonzalez said.
There is even talk of a fourth fight.
"As long as they pay well, of course," said Gonzalez.
Other Fights
Julio Cesar Martinez (19-2, 14 KOs) retained the WBC flyweight world title by majority decision over Spain's Samuel Carmona (8-1) in a rather dull affair. Mexico's Martinez chased Carmon all 12 rounds in a fight that saw Carmona slap and run, then hold.
No knockdowns were scored and Martinez won 114-114, 117-111, 116-112.
Diego Pacheco (17-0, 14 KOs) ran over Mexico's Adrian Luna (24-9-2) with three knockdowns in winning by stoppage in the second round of the super middleweight fight. It was no surprise.
The 21-year-old from South Central L.A. once again showed that despite his youth his power seems to be continually increasing as evident in the knockout win.
Now training with Team David Benavidez, the young super middleweight looked sharp, especially with the lead overhand right that floored Luna in the second round. Luna was floored two more times and the fight was wisely stopped by his own corner.
"You put in the hard work then you come in here and shine," said Pacheco. "I joined team Benavidez this year."
Nicaragua's former world titlist Cristofer Rosales (35-6, 21 KOs) won a dog fight over Mexico's Joselito Velasquez (15-1-1, 10 KOs) by unanimous decision after 10 rounds in a flyweight clash.
It was a back-and-forth struggle that saw the taller Rosales take over in the second half of the fight and win by simply out-punching Velasquez and handing the Mexican his first loss as a professional by scores 97-93 three times.
Photo credit: Milena Pizano
To comment on this story in the Fight Forum CLICK HERE
Tyson Fury TKOs Derek Chisora in Round 10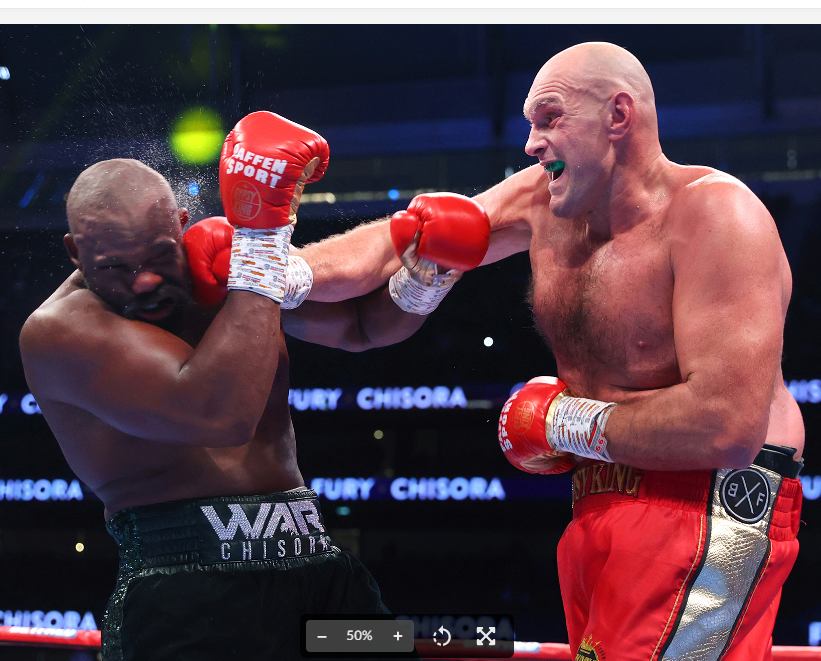 It was a chilly night in London but that didn't deter a near-capacity crowd from turning out at Tottenham Hotspur Stadium to witness the third rumble between Tyson Fury and Derek Chisora. The Gypsy King was heavily favored to retain his WBC and lineal heavyweight title and performed as expected. Indeed, this fight closely resembled their second encounter back in 2014.
In that bout, Chisora absorbed a terrific amount of punishment before his corner pulled him out at the conclusion of the 10th round. Tonight's fight ended nine seconds earlier at the 2:51 mark of round 10 and it was the referee who terminated the match.
When is a heavyweight not a heavyweight? When the man in the opposite corner is substantially bigger. With an 8-inch height advantage and a 15-inch reach advantage, the six-foot-nine Fury was simply too big a mountain to climb for the brave Derek Chisora, a fighter who changed his nickname in mid-career, transitioning from "Dell Boy" to "War."
Fury dominated round two, especially the last minute, a round in which he was credited with landing 18 power punches. The writing was on the wall for Chisora who ate a lot of thudding uppercuts in the ensuing rounds and ended the contest with a badly swollen right eye and a bloody mouth. With the victory, Fury improved his ledger to 32-0-1 with his 24th win inside the distance. The Zimbabwe-born Chisora falls to 33-13.
Oleksandr Usyk and Joe Joyce were in attendance and the Gypsy King addressed both before he left the ring. Calling Usyk "The Rabbit," he indicated that he would fight Usyk next in a true unification fight, but said if there were a snag in negotiations he wouldn't mind trading blows with the Juggernaut, Joe Joyce, who wore down and stopped former heavyweight title-holder Joseph Parker, a former Fury sparring partner, in his most recent engagement. However, Fury also revealed that he had an issue with his right elbow that may require surgery.
Co-Feature
In a heavyweight match that lasted only three rounds but was chock-full of action, Daniel Dubois overcame three knockdowns to retain his secondary WBA heavyweight title he won at the expense Trevor Bryan with a third-round stoppage of upset-minded Kevin Lerena.
In the opening stanza, Johannesburg's Lerena, landed an overhand left on the top of Dubois's head that put the Englishman on the canvas and left him all at sea. He went down twice more before the round was over, the first time of his own volition when he took a knee (reminiscent of his match with Joe Joyce) and the second from a glancing blow.
Dubois, whose legs are spindly for a man of his poundage, had trouble regaining his equilibrium in round two, but Lerena didn't press his advantage. In the next frame, a short right from Dubois penetrated Lerena's guard and down went the South African. Smelling blood, Dubois knocked him down again and was pummeling him against the ropes when the referee interceded just as it appeared that Lerena would be saved by the bell.
It was the fourth straight win for Dubois (19-1, 18 KOs) since his mishap versus Joyce. Lerena, who entered the bout on a 17-fight winning streak, lost for the second time in 30 fights.
Also
In a ho-hum affair, Denis Berinchyk, a 24-year-old Ukrainian, captured the European lightweight title and remained undefeated with a unanimous decision over French-Senagalese warhorse Ivan Mendy. Berinchyk (17-0, 9 KOs) was making his first appearance in London since winning a silver medal at the 2012 Olympics where he was a teammate of Oleksandr Usyk and Vasiliy Lomachenko.
The judges had it 117-112 and 116-112 twice for the Ukrainian. The 37-year-old Mendy, who has answered the bell for 380 rounds, falls to 47-6-1.
Photo credit: Mikey Williams / Top Rank via Getty Images
To comment on this story in the Fight Forum CLICK HERE