Of Boxing, Fathers, And Sons, And An 'Adults Only' Trip To Barclays
I attended Saturday Night's Golden Boy fight card with my dad, who drove from Buffalo to Brooklyn for the occasion.
If baseball is America's communion ground for fathers and young sons, why shouldn't boxing be similarly sanctified for adult sons bonding with their retired fathers? The Sweet Science is, if nothing else, America's most "adult" sport. And perhaps overlooked in boxing's much-ballyhooed decline is its fundamental failure to appeal to children in a culture where everything "is for the children" and where the phrase "Adults Only" seems relic of a barbarian past. Yes, heaven forbid adults be granted their pastimes and pleasures without guilt and apology.
So rather than walking hand in hand around Yankee Stadium, where the bright sunlight and emerald grass advertise ready-made virtue, my dad and I walked beer-to-beer in the concrete tunnels of the Barclays, where reeking floors and scantily-clad dates advertised the vices of old. Along for the ride was my younger brother, Pop's son from another marriage. Sixteen years my junior, it meant three generations were represented. And as if we were three geological layers tracing the extinction of a sport, my dad knew everything about boxing, I knew a middling amount, and my little brother knew nothing. But we were all along for the ride.
We didn't expect it to be a very good ride. As everyone knew, this Golden Boy card served no purpose other than to drum up interest in a future "superfight" between WBA/WBC light welterweight champion Danny Garcia and IBF light welterweight champion Lamont Peterson. In tonight's separate contests, both men would make easy work of their unranked opponents, and fans watching live and on Showtime were paying to watch champs chomp on chumps in tune-ups for a unification bout. So lopsided were the matchups, that when the card was announced, ESPN's Teddy Atlas fumed that the sport he loves has "no respect, no credibility" because Salka was not a top-15 contender (he wasn't even top-50) and the WBA was therefore violating its own rules by sanctioning Garcia's title defense (in the end, the WBA and WBC reversed course and did not sanction the bout). Many speculated the best fight of the night might be the under-under-card battle between Daniel Jacobs (27-1, 24 KO's) and Jarrod Fletcher (18-1, 10 KO's) for the vacant WBA middleweight title. Yet even there, Fletcher was considered a heavy underdog.
But as my father said, "I'm used to watching crap boxing. I just want to spend time with my sons," and so exhibited the kind of philosophical attitude that behooves a boxing fan as he walks through valley of his sport: through madness and folly and vexation of spirit. Completing the profile, dad admitted to the pitiable optimism which sustains us when he went on to say, "And you never know. When two guys are throwing leather strange things can happen," but swiftly mocked his own naiveté, "and hey –if they don't –we'll still get drunk." That's the fight fan for you: he's a sucker, but he knows he's a sucker, and that's wisdom that rivals anything in Ecclesiastes. It's something I love about our sport: baseball fans are statisticians, but fight fans are philosophers.
Thanks to that philosophy, we were able to enjoy our evening of farce. The crowd still had its characters with their signature cheers. The red-white-blue ring was still beautiful under the lights. And as in a Bellows painting, the crowd still rose, roared, and threw uppercuts at the air when a KO was near. As for what happened in the ring? Edgar Santana at least demonstrated heartbreaking toughness as he endured at age 35 the most sustained bodywork I had ever seen. By Round 5 the crowd winced and groaned as one at every Lamont Peterson left hook to the liver. When Santana gamely came out round after brutal round, we nodded solemnly at his resolve; his hopeless beating was for us a meditation on matters profound. And maybe because I've never been much good at meditation, I was relieved when his corner tossed the towel in the 10th.
About the other "fights," there's even less to say. Brooklyn native Jacobs outclassed the Aussie Fletcher, whose feet moved too much and whose head didn't move enough: faults that might have been less noticeable had he been able to punch. Fittingly enough, the main event was the worst of the bunch, as Danny Garcia turned Rod Salka into a slapstick punch-line. Aaron Lowinger suggested to me that maybe Garcia's camp simply wanted a highlight knockout to put on Youtube. Well, they got it –congratulations. But they might as well have set Garcia up against any average joe with the discipline to hit the gym 5 days a week. I saw myself in Salka: that would be me, if I trained as hard as I could for six months. That would be me, or any of us, if pitted against a truly elite athlete. It's a humbling reminder that we should not –as Salka did one second before his lights got knocked out –beat our own chests too fiercely.
For me, the real story of the night was about fathers and sons. It was fitting to attend the show with my dad because fatherhood is a theme that runs through so many boxers' stories, and tonight's contestants were no exception. Lamont Peterson famously grew up parentless. Rod Salka Sr. works as a cornerman for his son. But the biggest story of the night was arguably the relationship between Danny "Swift" Garcia and his father, Angel, who works as his son's trainer and adviser. Although Garcia's manager Al Haymon bears most of the blame for this laughable card, Angel Garcia ostensibly played a key role as well. If Angel wields the kind of influence he boasts, he should have vetoed the fight as soon as Haymon proposed it.
The father-son bond is stronger in boxing than in any other sport, although many top fighters have had to loosen the tie as they matured. Floyd Mayweather Jr., Roy Jones Jr., Sugar Shane Mosely are just three fighters who famously fired their fathers as trainers. As for Danny Garcia, he already had a reputation of being one of the most protected fighters in the game, and simply by agreeing to this card he'd lost more than he could ever hope to win against Salka in the ring. Danny Garcia is lucky to be in one of the most interesting weight classes in all boxing. This isn't a case of an unbeaten hero unable to shine for lack of worthy opponents. But, Angel seems to have taken to heart the good doctor Sigmund Freud when he said, "I cannot think of any need in childhood as strong as the need for a father's protection."
Judging by the thin and cynical Barclays crowd and by the jeering comments which overwhelm any Danny Garcia internet thread, the story of Danny Garcia at present is not the kind of tale dad read to you in your childhood. It's not the story of a fearless hero who faced impossible challenges because he had the heart of a champion. No, it is the kind of story dad tells you now, as an adult: about a world that goes from bad to worse: Aetas parentum, pejor avis, tulit nos nequiores mox daturos progeniem visiosiorem (the generation of our parents, worse than that of our grandparents, has created us worse again and destined soon to bring forth yet more vicious progeny.) It's a story dads have been telling sons since the beginning of time. But in the case of Danny Garcia, it comes with a unique twist of tragedy. Because it's not his father reading the story, it's his father helping to write it.
Canelo-Charlo Gets All the Ink, but Don't Overlook the Compelling Match-up of Gassiev-Wallin in Turkey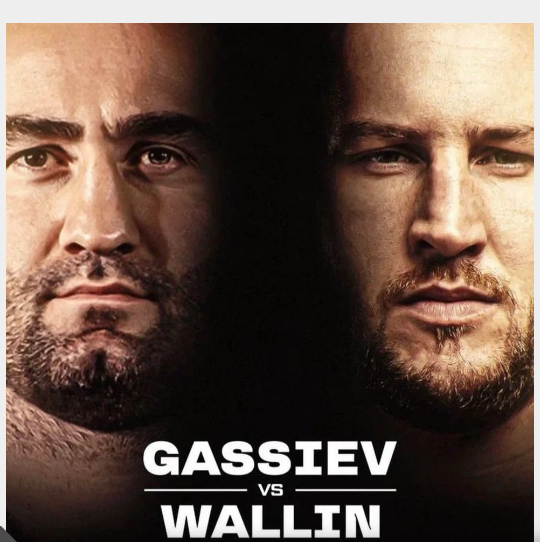 Canelo-Charlo Gets All the Ink, but Don't Overlook the Compelling Match-up of Gassiev-Wallin in Turkey
The eyes of the boxing world will be on Las Vegas this Saturday where Mexican superstar Saul "Canelo" Alvarez risks his four super middleweight title belts against unified 154-pound champion Jermell Charlo. Earlier that day at a luxury resort hotel in the city of Antalya on the Mediterranean coast of Turkey, there's a heavyweight match sitting under the radar that may prove to be the better fight. It's an intriguing match-up between former world cruiserweight title-holder Murat Gassiev and Swedish southpaw Otto Wallin, a bout with significant ramifications for boxing's glamour division.
Gassiev (30-1, 23 KOs) and Wallin (25-1, 14 KOs) have only one loss, but those setbacks came against the top dogs in the division. Gassiev was out-boxed by Oleksandr Usyk back in the days when both were cruiserweights. Wallin gave Tyson Fury a world of trouble before losing a unanimous decision.
Since those fights, both have been treading water.
Gassiev
Gassiev was inactive for 27 months after his match with Usyk while dealing with legal issues and an injury to his left shoulder. He is 4-0 (4 KOs) since returning to the ring while answering the bell for only eight rounds. The only recognizable name among those four victims is German gatekeeper Michael Wallisch. After stopping Wallisch, Gassiev was out of action for another 13 months while reportedly dealing with an arm injury.
A first-round knockout of Carlouse Welch, an obscure 40-something boxer from the U.S. state of Georgia on Aug. 26, 2022, in Belgrade, Serbia, was promoted as a title fight. The sanctioning body was the Eurasian Boxing Parliament (insert your own punchline here). Gassiev followed that up with a second-round knockout of former NFL linebacker Mike Balogun who came in undefeated and was seemingly a legitimate threat to him.
Although he has yet to fight a ranked opponent since leaving the cruiserweight division, Gassiev — a former stablemate of Gennady Golovkin who has been living in Big Bear, California, training under Abel Sanchez – is one of the most respected fighters in the division because he has one-punch knockout power as Balogun and others can well attest. The rub against the Russian-Armenian bruiser is that he is somewhat robotic.
Wallin
Otto Wallin, a 32-year-old southpaw from Sweden who trains in New York under former world lightweight champion Joey Gamache, fought Tyson Fury on Sept. 14, 2019 at the MGM Grand in Las Vegas. There was a general feeling that the Swede would be a stroll in the park for Fury, but to the contrary, he gave the Gypsy King a hard tussle while losing a unanimous decision.
Wallin is 5-0 since that night beginning with victories over Travis Kauffman (KO 5) and Dominic Breazeale (UD 12), but his last three opponents were softer than soft and all three lasted the distance. In order, Wallin won an 8-round decision over Kamil Sokolowski, who was 11-24-2 heading in, won a 10-round decision over ancient Rydell Booker, and won an 8-round decision over Helaman Olguin. His bout with Utah trial horse Olguin was at a banquet hall in Windham, New Hampshire.
It isn't that Wallin has been avoiding the top names in the division; it's the other way around. His promoter Dmitriy Salita reportedly came close to getting Wallin a match with Anthony Joshua whose team had second thoughts about sending Joshua in against another southpaw after back-to-back setbacks to Oleksandr Usyk.
Gassiev vs Wallin is a true crossroads fight. Both are in dire need of a win over a credible opponent. At last look, Gassiev, who figures to have the crowd in his corner, was a 3/1 favorite.
To comment on this story in the Fight Forum CLICK HERE
Skavynskyi and Bustillos Win on a MarvNation Card in Long Beach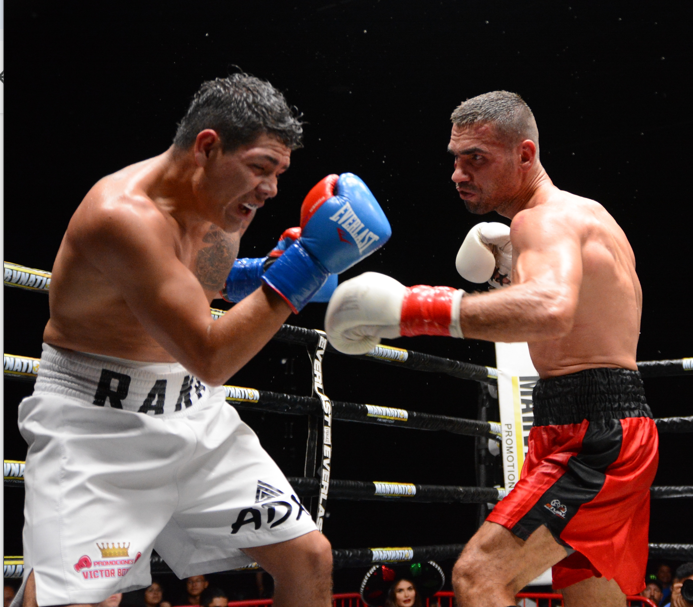 Skavynskyi and Bustillos Win on a MarvNation Card in Long Beach
LONG BEACH, Ca.-A cool autumn night saw welterweights and minimumweights share main events for a MarvNation fight card on Saturday.
Ukraine's Eduard Skavynskyi (15-0, 7 KOs) experienced a tangled mess against the awkward Alejandro Frias (14-10-2) but won by decision after eight rounds in a welterweight contest at the indoor furnace called the Thunder Studios.
It was hot in there for the more than 600 people inside.
Skavynskyi probably never fought someone like Mexico's Frias whose style was the opposite of the Ukrainian's fundamentally sound one-two style. But round after round the rough edges became more familiar.
Neither fighter was ever damaged but all three judges saw Skavynskyi the winner by unanimous decision 79-73 on all three cards. The Ukrainian fighter trains in Ventura.
Bustillo Wins Rematch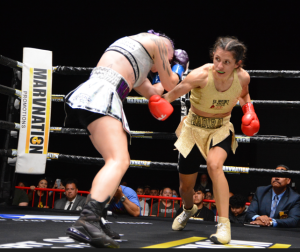 In the female main event Las Vegas' Yadira Bustillos (8-1) stepped into a rematch with Karen Lindenmuth (5-2) and immediately proved the lessons learned from their first encounter.
Bustillos connected solidly with an overhand right and staggered Lindenmuth but never came close to putting the pressure fighter down. Still, Bustillos kept turning the hard rushing Lindenmuth and snapping her head with overhand rights and check left hooks.
Lindenmuth usually overwhelms most opponents with a smothering attack that causes panic. But not against Bustillos who seemed quite comfortable all eight rounds in slipping blows and countering back.
After eight rounds all three judges scored the contest for Bustillos 78-74 and 80-72 twice. Body shots were especially effective for the Las Vegas fighter in the fifth round. Bustillos competes in the same division as IBF/WBO title-holder Yokasta Valle.
Other Bouts
In a middleweight clash, undefeated Victorville's Andrew Buchanan (3-0-1) used effective combination punching to defeat Mexico's Fredy Vargas (2-1-1) after six rounds. Two judges scored it 59-55 and a third 60-54 for Buchanan. No knockdowns were scored.
A super lightweight match saw Sergio Aldana win his pro debut by decision after four rounds versus Gerardo Fuentes (2-9-1).
Photos credit: Al Applerose
To comment on this story in the Fight Forum CLICK HERE
Tedious Fights and a Controversial Draw Smudge the Matchroom Boxing Card in Orlando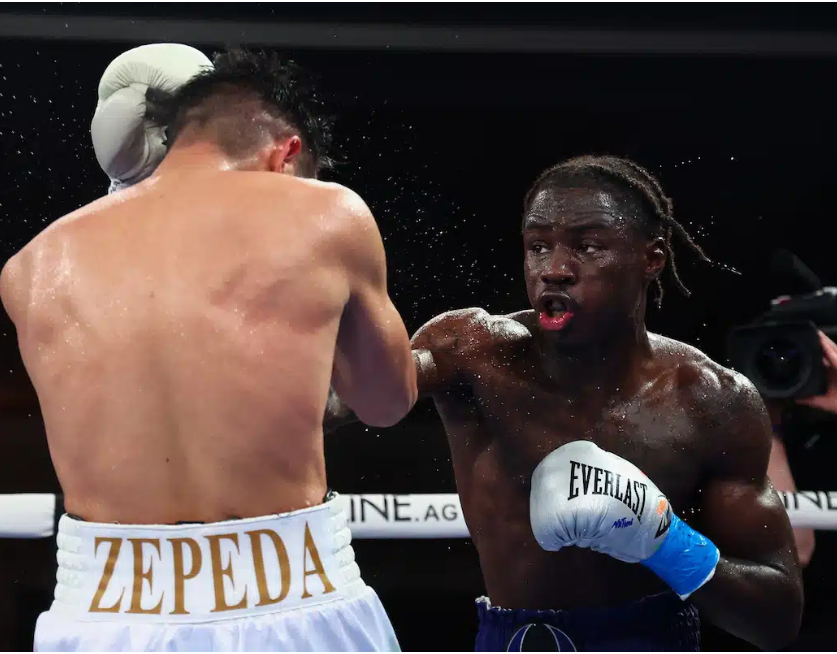 Matchroom Boxing was at the sprawling Royale Caribe Resort Hotel in Orlando, Florida tonight with a card that aired on DAZN. The main event was a ho-hum affair between super lightweights Richardson Hitchins and Jose Zepeda.
SoCal's Zepeda has been in some wars in the past, notably his savage tussle with Ivan Baranchyk, but tonight he brought little to the table and was outclassed by the lanky Hitchins who won all 12 rounds on two of the cards and 11 rounds on the other.  There were no knockdowns, but Zepeda suffered a cut on his forehead in round seven that was deemed to be the product of an accidental head butt and another clash in round ten forced a respite in the action although Hitchins suffered no apparent damage.
It was the sort of fight where each round was pretty much a carbon of the round preceding it. Brooklyn's Hitchins, who improved to 17-0 (7), was content to pepper Zepeda with his jab, and the 34-year-old SoCal southpaw, who brought a 37-3 record, was never able to penetrate his defense and land anything meaningful.
Hitchins signed with Floyd Mayweather Jr's promotional outfit coming out of the amateur ranks and his style is reminiscent in ways of his former mentor. Like Mayweather, he loses very few rounds. In his precious engagement, he pitched a shutout over previously undefeated John Bauza.
Co-Feature
In the co-feature, Conor Benn returned to the ring after an absence of 17 months and won a unanimous decision over Mexico's Rodolfo Orozco. It wasn't a bad showing by Benn who showed decent boxing skills, but more was expected of him after his name had been bandied about so often in the media. Two of the judges had it 99-91 and the other 96-94.
Benn (22-0, 14 KOs) was a late addition to the card although one suspects that promoter Eddie Hearn purposely kept him under wraps until the week of the fight so as not to deflect the spotlight from the other matches on his show. Benn lost a lucrative date with Chris Eubank Jr when he was suspended by the BBBofC when evidence of a banned substance was found in his system and it's understood that Hearn has designs on re-igniting the match-up with an eye on a date in December. For tonight's fight, Benn carried a career-high 153 ½ pounds. Mexico's Orozco, who was making his first appearance in a U.S. ring, declined to 32-4-3.
Other Bouts of Note
The welterweight title fight between WBA/WBC title-holder Jessica McCaskill (15-3-1) and WBO title-holder Sandy Ryan (6-1-1) ended in a draw and the ladies' retain their respective titles. Ryan worked the body effectively and the general feeling was that she got a raw deal, a sentiment shared by the crowd which booed the decision. There was a switch of favorites in the betting with the late money seemingly all on the Englishwoman who at age 30 was the younger boxer by nine years.
The judges had it 96-94 Ryan, 96-95, and a vilified 97-93 for Chicago's McCaskill.
In the opener of the main DAZN stream, Houston middleweight Austin "Ammo" Williams, 27, improved to 15-0 (10) with a 10-round unanimous decision over 39-year-old Toronto veteran Steve Rolls (22-3). All three judges had it 97-93. Rolls has been stopped only once, that by Gennady Golovkin.
Photo credit: Ed Mulholland / Matchroom Boxing
To comment on this story in the Fight Forum CLICK HERE