Floyd Mayweather, Showtime, and the Nevada State Athletic Commission
Les Moonves has a domestic violence problem. As president and CEO of CBS Corporation, he oversees a vast media empire that includes, among other properties, CBS and Showtime.
CBS is one of the networks that televises National Football League games. The burgeoning NFL domestic violence scandal isn't adversely affecting ratings right now. But there might come a time when corporate advertisers move away from the NFL. That would be bad for CBS.
Meanwhile, Showtime finds itself joined at the hip with Floyd Mayweather by virtue of a six-fight contract. Mayweather has been criminally convicted on three separate occasions for being physically abusive to women. In 2012, he served 63 days in jail for one of these offenses. The Nevada State Athletic Commission didn't suspend Mayweather's license to box after any of the convictions, and the sentencing judge delayed the start of Mayweather's jail term so he could fight Miguel Cotto in Las Vegas on May 5, 2012.
Let's put that in perspective. Suppose Seattle Seahawks quarterback Russell Wilson had been convicted of battery domestic violence and sentenced to prison last year. And suppose the sentencing judge had deferred the sentence so Wilson could play against the Denver Broncos in the Super Bowl before going to jail. And suppose NFL commissioner Roger Goodell had let Wilson play. That's the equivalent of what happened with Mayweather in Nevada.
This week, the Mayweather, Showtime, and Nevada State Athletic Commission pathologies collided.
Showtime prides itself on its All Access series that the Showtime website describes as follows: "This documentary series from Emmy-Award-winning Showtime Sports provides viewers with an intimate portrait of some of the most compelling personalities in sports. All Access will take you inside the personal lives of the fighters and behind the scenes of the provocative and often edgy world of boxing with unrestricted access, as only Showtime can."
As part of the pre-event promotion for the September 13, 2014, pay-per-view fight between Mayweather and Marcos Maidana, Showtime aired a three-part All Access documentary. During the second episode, Sharif Rahman (an amateur boxer and one of former heavyweight champion Hasim Rahman's sons) was shown taking a vicious beating at the hands of Donovan Cameron in a sparring session at the Mayweather Boxing Club. Sharif's older brother, Hasim Rahman Jr, then challenged Cameron to get into the ring with him. The All Access documentary showed members of the gym placing bets on the action, while the two men fought for 31 consecutive minutes until Cameron could no longer continue. Mayweather cheered enthusiastically during the battle and said on camera, "The dog house; the rules are you fight till whoever quits. Guys fight to the death. It's not right, but it's dog house rules."
In the same episode of All Access, Mayweather was shown at home, watching as several women rolled joints and smoked marijuana. At one point, he instructed a third party to go to the store and buy more rolling paper because they had run out of paper.
Thereafter, Nevada State Athletic Commission chairman Francisco Aguilar told ESPN.com, "I watched the episodes when they were sent to me by another commissioner. Our main concern is the health and safety of the fighters, and not just on fight night but also in sparring and in training. We want to get a clarification about what happened on All Access. There were situations in sparring sessions that we need to talk about. One thing is to talk about making sure you have two equally paired fighters and that you're not putting one fighter in danger. The other is the round that went 31 minutes. There is also the marijuana situation in there, and some commissioners are upset about it."
On September 18, the Nevada State Athletic Commission instructed Mayweather to appear at its September 23 meeting to answer questions regarding the content of the All Access episode. He was not required to take an oath before testifying. That created a loophole through which, were he so inclined, he could testify falsely without exposure to prosecution for perjury.
Mayweather told the commission on September 23 that, contrary to what was represented on All Access, there had been three or four breaks during the 31-minute round and that the marijuana shown in the documentary wasn't real marijuana but a prop used to engender interest in his lifestyle and help sell pay-per-view buys.
It's hard to believe that Showtime would stage events like that for inclusion in a documentary. The network is part of a media empire that includes CBS, perhaps the world's most respected name in news coverage.
Mayweather had an "executive producer" credit for All Access, but his reputation isn't on the line. The other three executive producers were Ross Greenburg, Jody Heaps, and Jason Bowers. Bowers was also credited as the series director. The prevailing view among industry insiders is that these men have too much integrity to stage scenes in the manner testified to by Mayweather.
Moreover, multiple sources at Showtime have told this writer that Mayweather's testimony before the Nevada State Athletic Commission was false.
"As you can imagine, it's a sensitive time right now," one of these sources said. "People here are angry. The marijuana was real. There was no break in the 31-minute fight. Floyd flat out lied to the commission."
To date, Showtime executives have declined to comment publicly on Mayweather's testimony. But this is an instance where "no comment" is an inadequate response. The network owes its subscribers and the viewing public a clarification. Either the All Access scenes were genuine or they were not. That means it's incumbent upon Showtime management to call in key production personnel, ask them precisely what happened, and review all relevant video evidence. Then Showtime should either (1) apologize publicly for deliberately misleading its subscribers and the general public or (2) state publicly that, upon review, it has confirmed that the All Access presentation of events was accurate.
Meanwhile, the Nevada State Athletic Commission should also follow up on the matter. At a minimum, this would involve (1) requiring Mayweather and the appropriate Showtime personnel to testify under oath, and (2) requesting that subpoenas be issued for all relevant video content.
NSAC executive director Bob Bennett is a former FBI agent. He knows how to investigate something of this nature. And because Bennett is a former FBI agent, the commission will look pretty silly if it comes to light later on that its members were lied to and did nothing about it.
It's one thing if the Nevada State Athletic Commission accommodates Mayweather by allowing him to fight Miguel Cotto after he has pled guilty to battery domestic violence but not yet served his sentence. That's a choice, however unfortunate, that the NSAC made freely and knowingly. It's a very different matter if Mayweather has disrespected the commission and made a mockery of its proceedings by lying to the commissioners.
The credibility of both the Nevada State Athletic Commission and Showtime is at stake. If Mayweather told the truth at the September 23 hearing, then heads should roll at Showtime. And if it was Mayweather who lied, it's time for the NSAC to say, "Enough is enough!" That would include re-examining Mayweather's license as a boxer and also the issue of whether Mayweather Promotions is fit to be licensed as a promoter in Nevada.
One assumes that Nevada governor Brian Sandoval (who bears ultimate responsibility for the commission and its actions) will be watching. So will Les Moonves. Either Showtime has deliberately deceived its subscribers and the general public or the five commissioners of the Nevada State Athletic Commission have been played for fools.
Thomas Hauser can be reached by email at thauser@rcn.com. His next book (Thomas Hauser on Boxing) will be published in October by the University of Arkansas Press.
Undercard Results from the Canelo-Charlo Card in Las Vegas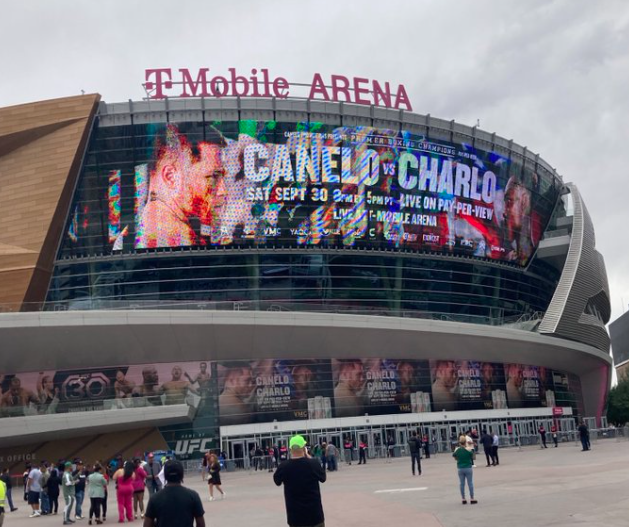 In a heavyweight battle slated for 10, Frank Sanchez (23-0, 16 KOs) stopped LA trial horse Scott Alexander (17-6-2) after four frames. Alexander's corner attempted to stop it in the waning seconds of the fourth, but the referee did not see it and the bell rang before the fight was waived off.
Alexander had one big moment. In the opening round, he rocked Sanchez with a short right hand. But from there, it was all Sanchez in a rather messy fight.
A Miami-based Cuban defector, Frank Sanchez came in ranked #3 by the WBO, #4 by the WBC, and #5 by the IBF. His best win came in this building, a comfortable decision over Efe Ajagba in October of 2021. Alexander also fought here. In his previous visit to the T-Mobile, he was knocked out in the opening round by Zhilei Zhang.
Former WBO light heavyweight champion Oleksandr Gvozdyk, in his third fight back since ending his retirement, improved to 20-0 (16) with a second-round stoppage of 38-year-old Brazilian Isaac Rodrigues (28-5). Gvozdyk, 36, left the sport after getting beat up by Artur Beterbiev, but got the itch and is pursuing a fight with Dmitry Bivol.
In an 8-round middleweight fight, 2012 U.S. Olympian Terrell Gausha (24-3-1) won a majority decision over Keandre Leatherwood (23-9-1). The judges had it 76-76 and 78-74 twice. Once a highly regarded prospect, Gausha is spinning his wheels. Leatherwood, from Tuscaloosa, Alabama, had been stopped four times.
Guadalajara super lightweight Gabriel Gollaz Valenzuela advanced to 28-3-1 (17 KOs) with a sixth-round stoppage of overmatched Colombia import Yves Gabriel Solano (15-3).  This was redemption of sorts for Valenzuela who lost an unpopular 12-round decision to Montana Love in his last outing inside these walls.
Kazakh super middleweight Bek Nuramaganbat (11-0) continued his fast ascent of the 168-pound ladder with a third-round stoppage of Bola Osundairo. A 30-year-old Chicago-based Nigerian, Osundairo was a 2021 USA National Champion at 178 pounds.
A four-round middleweight contest between Abilikhan Amankul (4-0-1, 4 KOs) and Joeshon James (7-0-2, 4 KOs) ended in a draw. Although he didn't win, Sacramento's James continued to exceed expectations. In previous contests he KOed previously undefeated Richard Brewart and fought to a draw with Top Rank signee Javier Martinez. Amankul, a 26-year-old Kazakh, lost a split decision to eventual gold medal winner Hebert Conceicao in the Tokyo Olympics.
To comment on this story in the Fight Forum CLICK HERE
—
David Avila is ringside. Check back later for his report of the Canelo-Charlo fight and the main supporting bouts.
Opetaia Demolishes Thompson in London; Wallin Upsets Gassiev in Turkey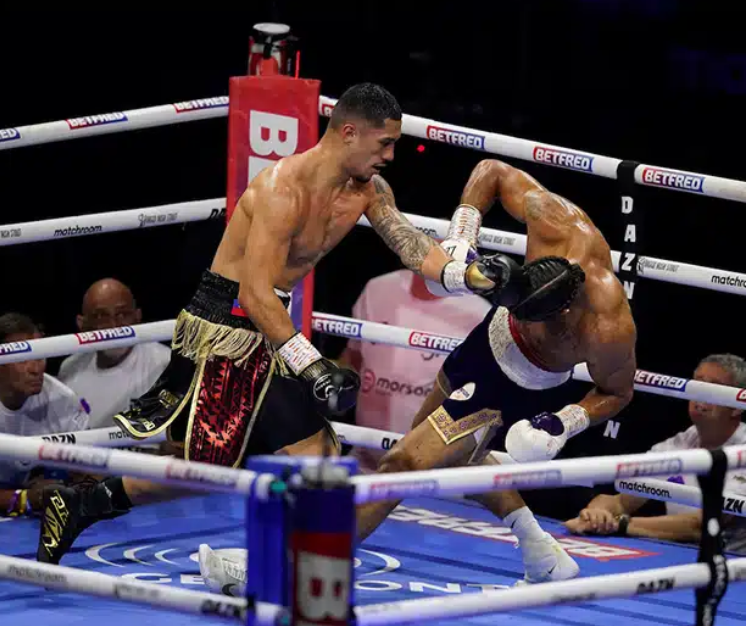 In his first defense of his IBF cruiserweight title, Australian southpaw Jai Opetaia demolished overmatched Jordan Thompson in the featured bout of a Matchroom card at London's Wembley Arena. Opetaia (23-0, 18 KOs) overwhelmed Thompson (15-1) from the opening gun and had the six-foot-six Mancunian on the canvas twice before the match was waived off at the 20-second mark of round four.
An Olympian at the age of 16, Opetaia won the title 15 months ago with a unanimous decision over longtime title-holder Mairis Briedis. Noting that Opetaia broke his jaw in two places early in that contest, prominent Australian sporting journalist Simon Smale called it "one of the bravest, gutsiest, victories in Australian boxing history."
Following that fight, Opetaia had to eat through a straw for several months. Hence, there were questions about whether his jaw would hold up and whether he would show ring rust in his first title defense. But the towering Thompson, whose nickname is Troublesome, although game, proved to be no trouble whatsoever for Opetaia who would be favored to beat any cruiserweight in the world, no matter the locale.
Opetaia may return to England for his next fight which would be a unification match with Bournemouth's 18-1 Chris Billam-Smith who captured the WBO version of the 200-pound title in May with a surprisingly one-sided decision over favored Lawrence Okolie. The other cruiserweight title-holders are the well-traveled Badou Jack (WBC) and the French-Armenian boxer Arsen Goulamirian (WBA).
Four female fights were on the undercard including two 10-rounders, both of which were won by the "A side" Englishwomen.
In her first title defense, Ellie Scotney, a 25-year-old Londoner, retained her IBF world super bantamweight title and improved to 8-0 at the expense of 37-year-old Argentine veteran Laura Soledad Griffa (20-9). In a rather monotonous fight, Scotney won every round on two of the scorecards and nine rounds on the other.
Rhiannon Dixon, a 29-year-old southpaw, had a surprisingly easy time with Norwegian veteran Katharina Thanderz, a former world title challenger. Dixon (9-0) won every round on all three cards. Thanderz, who trains in Spain, declined to 16-2.
Wallin-Gassiev
In a 12-round heavyweight fight in Antalya, Turkey, Swedish southpaw Otto Wallin (26-1, 14 KOs) won a split decision over Murat Gassiev (30-2). This was a dull fight. Owing to various issues, Gassiev had answered the bell for only eight rounds in the previous seven years and his vaunted power had deserted him. True, he landed the harder punches, but Wallin, who kept pecking away with his jab, was far busier and won the fight on volume alone. Two of the judges had it 115-113 for the Swede who is 6-0 since going 12 rounds with Tyson Fury. The other judge scored it for Gassiev by a bizarre 117-111.
Opetaia-Thompson photo credit: Mark Robinson / Matchroom
To comment on this story in the Fight Forum CLICK HERE
Avila Perspective, Chap. 254: Canelo vs Jermell Charlo in a Battle of Undisputed Champions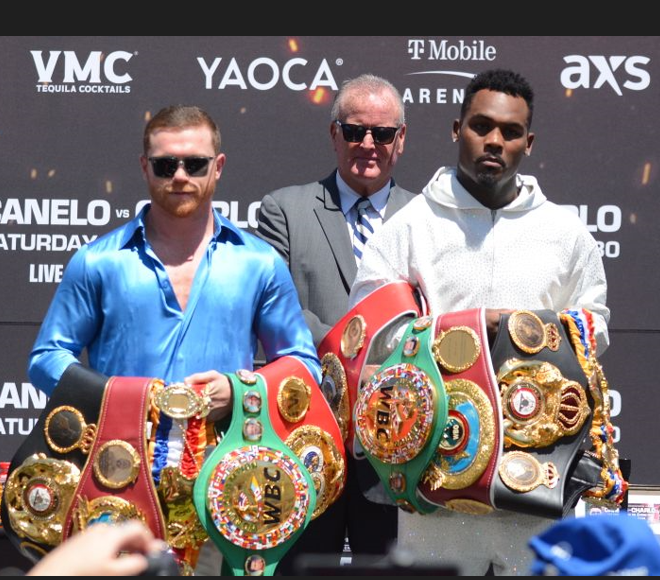 LAS VEGAS-Less than the usual massive crowd gathered for boxing kingpin Saul "Canelo" Alvarez and Jermell Charlo in the desert heat outside of the T-Mobile Arena on Friday afternoon. Usually the weigh-ins are slightly bigger for Mexico's idol.
Is the declining crowd an indicator of Alvarez fans ebbing belief in his abilities?
Still, on Saturday night, two undisputed world champions from differing divisions will collide as Guadalajara, Mexico's Alvarez (59-2-2, 39 KOs) meets Houston's Charlo (35-1-1, 19 KOs) at T-Mobile Arena for the super middleweight world championship. PPV.Com will stream the clash of champions.
This year has seen a hyper-speed uptick in champions fighting other champions, perhaps the result of watching their female counterparts Amanda Serrano and Katie Taylor produce the biggest fight of 2022. This year several marquee collisions were spawned from lightweights to heavyweights.
Or maybe the pandemic lull created a twitch panic among the elite.
Charlo was one of those who had been sidelined while others like Gervonta "Tank" Davis, Naoya "Monster" Inoue and Canelo Alvarez filled their pockets with cash. And others like Devin Haney and Teofimo Lopez gained undisputed glory.
Instead of watching on the sidelines, Charlo decided to make his move for greater glory by attempting to dethrone one of the top pound-for-pound fighters in the world, if not the kingpin of boxing when it comes to money.
"If I accomplish this massive goal, it will be hard to top," Charlo said a few weeks ago during his media workout. "I'll be in the record book with the greats of boxing for a long time."
Risks brings rewards.
Canelo, long a member of the boxing elite, has held his position as the box office king for many years now by taking the daunting risks throughout his boxing life.
"Jermell is right, I have nothing to prove. But this time I have something to prove to him," said Alvarez while in Las Vegas on Wednesday. "He never believed in my skills. He's been calling me out. Now I have an opportunity to show him my skills."
Undisputed super welterweight will challenge undisputed super middleweight in a two-division jump not often seen, except for Henry Armstrong, Roberto Duran and Sugar Shane Mosley. It's the road taken by those who seek to be great.
Both are 33 but the redhead Alvarez has been fighting professionally since he was 15. That's a lot of bullets in the chamber he has already used. Charlo has height, speed and the ability to adapt to different styles. Stylistically, it's a battle that makes even the skeptics take pause.
It all depends on Alvarez's resiliency. Charlo has ring rust, while Alvarez seemingly has lost the hunger. Whose weakness will prove the greater?
"Now is the time for this fight. We're in our primes and at our best," said Charlo. "I wanna shake the doubters off and prove to the world why I"m in this position. There's a reason I made it this far."
Alvarez remembers being as hungry as Charlo.
"I never overlook any fighter," Alvarez said. "I know what he's going to bring and I'm ready."
Undercard
Several other notable bouts are included on the pay-per-view card.
Former world titlists and current welterweight contenders Yordenis Ugas (27-5) and Mario Barrios (27-2) battle for an interim title set for 12 rounds.
Super welterweights Jesus Ramos (20-0, 16 KOs) and Erickson Lubin (25-2, 18 KOs) match skills  in a match that pits a southpaw veteran against an undefeated southpaw from Arizona. For the past three years Ramos has been moving up the ladder and was last seen pounding out highly-touted Joey Spencer. Can he survive Lubin who nearly toppled Sebastian Fundora?
Doors open at T-Mobile Arena at 2 p.m. Pacific Time.
Lampley is back
Legendary HBO announcer Jim Lampley was hired along with ace reporter Lance Pugmire who will co-host the Saul "Canelo" Alvarez versus Jermell Charlo showdown via viewer chat live on PPV.com.
It's the same concept used by Monday Night Football that features former quarterback greats Peyton Manning and Eli Manning in alternative programming.
Lampley returns to boxing after a five-year absence following HBO's yanking of the popular program that vaulted elite boxing to the top behind the likes of George Foreman, Oscar De La Hoya and Manny Pacquiao.
The veteran announcer will be live streaming all the action on media platforms before and during the fight action. He was sorely missed by all who follow the sweet science.
Photo credit: Al Applerose
To comment on this story in the Fight Forum CLICK HERE