The Boys of November: The Bowe-Holyfield Trilogy
When most people think of November, they think of Thanksgiving. During the 1990s, the next-to-last month of the calendar year came to mean something else to fight fans, a reason in triplicate to give thanks for a heavyweight trilogy that ranks just below the Holy Trinity that was Muhammad Ali-Joe Frazier.
Yes, Riddick Bowe vs. Evander Holyfield was that exhilarating, that special. Oh, there have been other notable ring trilogies since then – Arturo Gatti-Micky Ward comes to mind – but in terms of the elite quality of the participants, and the fierce, unrelenting competitiveness of all three bouts, Bowe-Holyfield was a smorgasbord of pugilistic delights that, as much as anything, is the cornerstone of each champion's professional legacy.
Remember, then, what was and hope that the heavyweight division someday soon can offer up more of the same superb stuff involving big men possessed of the same level of talent, heart and willingness to lay it all on the line.
*November 13, 1992, the Thomas & Mack Center, Las Vegas: In a spirited scrap that earned Fight of the Year recognition from The Ring magazine, despite the relatively wide scores (117-110 twice, 115-112 for the winner), Bowe came away with the unanimous decision and Holyfield's lineal, WBA, WBC and IBF titles.
*November 6, 1993, Caesars Palace, Las Vegas: Whether the unexpected, out-of-the-sky appearance of paraglider James Miller, who came to be known as "Fan Man," affected the outcome – there was a 20-minute delay in the seventh round to extract and remove Miller, who became ensnarled in the ring ropes – will forever be a matter of conjecture. When the bout resumed, Holyfield took charge down the stretch to eke out a 12-round majority decisions (115-113, 115-114, 114-114) and reclaim the WBA and IBF belts.
*November 4, 1995, Caesars Palace, Las Vegas: No widely recognized world title was on the line, and there was creeping suspicion that neither the 33-year-old Holyfield nor the 29-year-old Bowe was at their peak, but remember, the same was said of Ali and Frazier prior to the third act of their ongoing passion play, the "Thrilla in Manila." Squaring off for pride and the so-called "People's Championship" in their rubber match, Bowe – who went into the eighth round trailing, 66-65, on all three official cards – promptly floored Holyfield twice, prompting referee Joe Cortez to step in and award him the technical knockout victory.
It can be argued that Holyfield and Bowe weren't the two finest heavyweights of the division's most recent "golden era," sharing as they did top billing with Lennox Lewis and Mike Tyson, but it is beyond dispute that, together, they made magic on three occasions. And maybe that is enough to gain additional consideration when it is time to put together any kind of best-of-the-best pecking order.
"Bowe brings out the best in me, and I think I bring out the best in him," Holyfield said before their third fight. "We bring out the best in each other."
With Act III approaching, someone asked Bowe if, were the bout to end in a draw, a fourth matchup might be in the offing.
"Last year I felt a little out of place when November rolled around because I had gotten so accustomed to fighting Evander Holyfield at that time," Bowe said. "Me and Evander beating up on each other in November has become, you know, sort of habit-forming.
"And as far as a fourth fight between us … man, I don't even want to think about (what would happen if there were) a draw. As hard as Evander Holyfield fights, if this one is a draw, he can fight the next one by himself."
Although the more anxiously anticipated pairing no doubt involved Holyfield and Tyson, that megafight was delayed for five years, the result of, first, a thumb injury to Tyson that forced the cancellation of their scheduled bout in November 1991 and then Tyson's rape conviction that landed him in prison for three-plus years. The post-incarceration Tyson was a pale imitation of his ferocious youth, and in his two meetings with Holyfield, he was knocked out in 11 rounds on Nov. 9, 1996 – another historic date in November — and then was disqualified for chewing off a piece of Evander's right ear in the infamous "Bite Fight" of June 28, 1997.
With Tyson unavailable, it was almost inevitable that Holyfield and Bowe gravitate toward each other. Then again, a fight between them probably was bound to happen in any case. They had a shared history long before they squared off for anything of consequence, having been frequent sparring partners in the mid-1980s, when Evander was a young pro who hadn't yet won his first world title and Bowe was a teenage amateur phenomenon.
"I realized at the time that we might wind up fighting someday," Holyfield said in August 1992, after the contracts for their first bout were signed. "He wasn't that much younger than me, and he was very gifted. I knew he wasn't going to sit around and wait for me to get out of boxing before he made his move.
"I don't think our situation is that unusual. Ali and Larry Holmes sparred when Ali was on top and Larry was coming up. I think maybe they knew they were going to fight for real one day. The guy who's your sparring partner today might be your opponent tomorrow."
Truth be told, Holyfield might have made the mistake of still thinking of Bowe – who had something of a reputation, and deservedly so, of a talented slacker who ate too much and trained too little – as that sparring partner of a decade earlier. His failure to push himself to peak efficiency, as he so frequently had and would do so in the future, might have cost him his titles.
"You couldn't get him to do anything," Holyfield's trainer, George Benton, said of "The Real Deal's" uninspired preparation for the first Bowe bout. "Some days he refused to work at all. Every day he had a different ache or pain."
For his part, Bowe, who had a penchant for dramatic weight increases between fights, had given Team Holyfield at least a little reason to be confident. He had come in at a then-career-high 245 pounds for his most recent ring appearance, a seventh-round stoppage of Pierre Coetzer. Taking a poke at the soft midsection Bowe displayed that night, Lou Duva, Holyfield's co-manager, presented the challenger with a pair of fancy, size-42 trunks at an August media gathering in New York. Bowe's trunks had split down the back against Coetzer, revealing more of himself to an HBO audience then he would have preferred.
"Either your trunks are too small or you butt is too big," Duva chided Bowe. "With these on, at least you'll look good when they carry you out of the ring."
But Bowe came in fit and ready, and when it became apparent that he would be no soft touch for the favored champion, the toughest, most resilient part of Holyfield's inner self was activated. Bowe jolted Holyfield with a right uppercut early in the 10th round and seemingly was poised to score a knockout, but the exhausted Holyfield, after going down along the ropes, rose and fought back with a fury.
Color analyst Al Bernstein shouted to the pay-per-view audience, "That was one of the greatest rounds in heavyweight history! Ever! Period!" Boxing historian Bert Sugar later would compare that round to Round 15 of the Larry Holmes-Ken Norton war, Round 14 of Ali-Frazier III and Round 1 of Jack Dempsey-Luis Firpo, which featured seven knockdowns by Dempsey and two by Firpo.
Act II, of course, is especially notable not only for more of the kind of action that had marked Act I, but for Fan Man's drop-in from the night sky and the tumult that set off. There probably always will be debate as to what would have happened had there not been a delay, which some believe benefited Holyfield and others feel was of assistance to Bowe, had had gone into training at around 300 pounds before paring down to an weigh-in weight of 246.
"I felt at that particular point that I had Evander right where I wanted him," Bowe said. "I had the impression his back was giving him trouble. I felt that if the fight had continued, he would have quit.
"Then, when I saw what happened with my wife (Judy, who was pregnant, fainted and had to be carried out on a stretcher), I considered leaving the ring. I didn't know what was going on. I was bewildered. But I knew enough to understand that if I left, they would have said I was quitting. So I waited until the fight resumed and tried to pick up where I left off. But by then I had gotten cold. I never did get warm again, and that's what cost me my title. Holyfield didn't beat me; Fan Man did."
Holyfield, not unexpectedly, had a different take on what had transpired.
"Bowe and I fought two different six-round fights tonight," he said shortly after his majority decision victory was announced. "In the first one, I was just getting ready to go toe-to-toe with him when that guy dropped in. I was in a rhythm, and I felt like I could outgun him. I started to get upset (during the delay), but then I realized it was the same for both of us. With that cleared from my mind, I just went out and got my rhythm back."
The only certainty is that "Fan Man" – Miller, who would commit suicide, hanging himself from a tree in a remote part of Alaska in 2002 – is the one who came out the worst for wear. Intending to land in the middle of the ring, his chute became tangled in the overhead lights, causing him to land on the top strand of ropes, after which he tumbled awkwardly into a group of startled spectators. It spoke much as to the jinxed nature of Miller's life that the ringside seats he toppled into were filled by Minister Louis Farrakhan and his Nation of Islam security detail, who were none too pleased to have an unidentified white guy unexpectedly arrive in their midst. The intruder was beaten unconscious by big, burly dudes brandishing walkie-talkies as makeshift clubs.
"It was a heavyweight fight," a well-bruised Miller said afterward, "and I was the only guy who got knocked out."
Fast-forward to Act III, which was to have shared the TV and local Las Vegas audience with another high-profile boxing event, Mike Tyson's bout with Buster Mathis Jr., scheduled to take place on the same night just down the Strip at the MGM Grand. But that bout was postponed a few days earlier because of a fractured thumb on Tyson's right hand. It eventually took place the following month, on Dec. 16 in Philadelphia, with Tyson winning on a third-round knockout. Not that Holyfield was overly concerned about what a rusted Iron Mike, whose only fight after leaving prison was a first-round disqualification win over the oafish Peter McNeeley on Aug. 19, 1995, was up to.
"At my best, I am the best," Holyfield said. "Everybody in boxing is supposed to have that `champion' attitude, which means that you fight the best to prove you're the best. There was not one day when I was the champion of the world that I didn't want to prove I was the best. The way I look at it, Bowe and I are the best heavyweights out there.
"Who is Mike Tyson in this day and era? He's not the same champion he was when he was 20, 21 years old. That's in the past. If you talk about who the best fighters are today, that's Bowe and myself. We're going to get it on. If Tyson wants to fight one of us, fine. But I can't see why everyone puts so much (emphasis) on someone who has fought only once in four years."
Muhammad Ali's biographer, Thomas Hauser, once noted that Ali and Frazier "were fighting for something more important than the heavyweight championship of the world" in the Thrilla in Manila. "They were fighting for the championship of one another." And so, in a way, were Holyfield and Bowe in the final act of their remarkable rivalry.
Holyfield held the early edge in another humdinger of a battle, knocking Bowe down for the first time in the younger, larger man's career in the sixth round, and he seemed to be in control when momentum took a sudden turn only seconds into Round 8. An overhand right dropped Holyfield, hard, and he arose at the count of nine on unsteady legs. That drew a long look from referee Joe Cortez, who signaled the fighters to come forward and engage. Making the most of his opportunity to close the show, Bowe delivered a pair of rights to the head that sent Holyfield to his knees and obliged Cortez to wave a halt to the proceedings.
"When he stayed down for that long of a time (after the first knockdown), I knew I would get him," said Bowe, who went off as a 3-1 favorite. "I knew, if I maintained my composure, I would get him."
There would be more exclamation-point moments for Holyfield, who would go on to fight for nearly 16 more years and win a version of the heavyweight championship twice more, giving him a record four division titles, the most obvious successes being his pair of conquests of Tyson. Bowe, despite posting a final record of 43-1 with 33 KOs, would not fare as well in his professional dotage. He was badly beaten up in his two bouts with the "Foul Pole," Andrew Golota, who still found a way to screw things up en route to bookend DQ losses for repeated low blows. Eight years after the second "victory" over Golota, Bowe made a comeback in 2004, winning three bouts against third-tier opponents, the last of which, at 40, was an eight-round unanimous decision over someone named Gene Pukall on Dec. 13, 2008.
The lives of the Boys of November have been marked by disappointment and turmoil outside the ropes. Holyfield, for so long perceived as boxing's St. George equivalent, a knight in shining armor who dashed around the countryside slaying dragons and righting wrongs, endured three divorces and the embarrassment of foreclosure on his 109-room mansion in Fairburn, Ga. Bowe, a two-time champion, has had an even rockier time of it. He was served 30 days in prison after pleading guilty to a domestic violence charge, which was part of a plea bargain involving the kidnapping of his first wife, Judy (who later divorced him) and the couple's five children; arrested for assaulting his second wife, Terri, and he washed out of Marine Corps boot camp after only three days of actual training.
As Joe Louis and Mike Tyson demonstrated, as have so many other former champs, fame does not necessarily evaporate like morning dew, but wealth (Holyfield earned an estimated $250 million in purses) can and does. It's difficult to climb that figurative mountain, but even more difficult to remain at its summit.
No matter what, though, Holyfield and Bowe gave us three electrifying nights for the ages. For that, fight fans should forever be grateful.
 A Conversation With Acclaimed Journalist and Boxing Analyst Mark Kriegel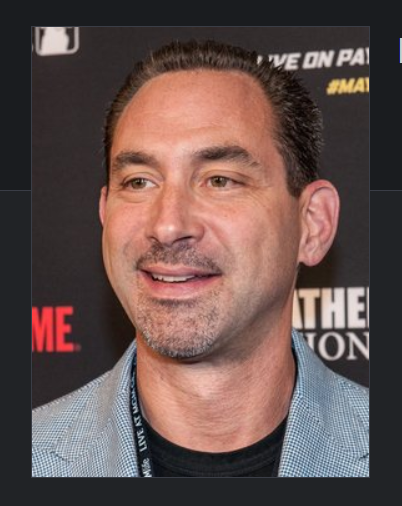 If you're a storyteller, and Mark Kriegel is certainly that, then boxing is the perfect passport.
A multi-skilled journalist who works for ESPN on several platforms, Kriegel's video essays for Top Rank promotions, which are fewer than 200 words, are popular, and sets the New York City native apart from the crowd.
"I do think when those essays work, I'm able to boil down the theme of the fight into something that's really small," he said. "I've learned more about writing in the last two years because of those essays than I had in the previous decade."
Kriegel added: "It's because of those essays and because they really force you to make choices and they force you to cut out whatever is extraneous," he said. "If it doesn't matter in the story line, it goes. I've never been able to be that ruthless with my own words until I started writing these essays. Learning how to write for television has given me more discipline than I've ever had before in terms of the word and selecting the right word."
Because boxers are willing to speak with the media, their stories are often worth telling.
"Boxing is the most organic form of storytelling, even more than the theater. Boxers are more honest than most other athletes, even when they're lying. Boxers generally remain accessible," said Kriegel, who earned a bachelor's degree from Swarthmore College and a master's degree from Columbia University. "Fighters need the storytellers because there is no league. The fighter's story is more important than his or her record or even his or her belts. The story is really what we're tuning in for."
The sweet science can be a sideshow, but it's still usually compelling.
"There's a lot not to like about boxing, but that's also why it makes for great storytelling," said Kriegel, a two-time New York Times bestselling author. "Some days I think it's a sport. Some days I'm convinced it's not a sport. Boxing is better for the storytellers than it is for the fighters. That's a guilty confession."
By the nature of boxing, there are two combatants in the ring and because of this, there is conflict.
While fans watch and journalists cover the sport, everyone wants to see who prevails, but it's often the back story that seems to bring out the fans' rapture.
Who doesn't want to see a young man or woman battle his or her way out of a hardscrabble life and reach heights reserved for a chosen few?
"What makes for a good story is conflict. Boxing is formalized, ritualized conflict. It's a staged, managed conflict. It's elemental. It's two guys basically naked in the ring going at each other," said Kriegel, who began his career as a general assignment reporter for the Miami Herald and the New York Daily News where he was a finalist for the Pulitzer Prize in the Feature Writing category. "Because of the way it's physically constructed, you're going to see the nature of each character exposed. If you're a storyteller, boxing does all the work for you."
There is something pure and fundamental about boxing. "The other sports are metaphors for what boxing actually is and that's combat. The difference between MMA and boxing, apart from the modes of combat, is that unlike MMA, boxing has a past," Kriegel said. "It has a history. It's a corrupt history, but it's a very romantic one."
It's likely Kriegel came to be a writer because of his father, Leonard Kriegel, who is 88 and still lives in the same apartment on Eighth Avenue, two blocks from Madison Square Garden.
The elder Kriegel's story is a remarkable one. Born in 1933, he was a polio victim at a young age, but this didn't stop him from becoming an accomplished writer and teacher.
"My father is from the Bronx. He lost the use of his legs when he was 11 because of polio," Kriegel said. "He's a professor at City College. Most of his work and his teaching is American Literature. Which meant American male Literature. He was a very charismatic, crippled man writing about the nature of masculinity and it informed almost everything I've ever written."
Kriegel is the author of four books including a novel, "Bless Me, Father," which was based on a front-page column he wrote for the New York Post.
Esteemed writer Nick Tosches, who penned numerous books, had a hand in Kriegel's development as an author.
"He wrote these fantastically stylized biographies," Kriegel said of Tosches, who wrote about Jerry Lee Lewis, Dean Martin and Sonny Liston, to name but a few of his subjects.
Kriegel's initial biography was published in 2004 and titled, "Namath: A Biography," followed three years later by "Pistol: The Life Of Pete Maravich," and five years later by "The Good Son: The Life Of Ray 'Boom Boom' Mancini."
"I'd done a newspaper piece on Mancini in the [New York] Daily News. I owed the publisher a book on Michael Jordan, which I wasn't too excited about doing, and this idea of Mancini kept coming back to me," Kriegel said. "It wouldn't leave me alone and I wouldn't leave Ray alone."
The book's genesis took shape at an Italian restaurant in Santa Monica, California, with Kriegel, Mancini and the actor Ed O'Neill, eating and drinking until the small hours.
"Ray's relationship with his father was more straightforward. He was out to redeem his father and that was beautiful," Kriegel said. "There aren't that many happy stories in boxing."
Mancini promised his father, Lenny, a lightweight contender who was injured in World War II that he would win the championship he never did.
After scooping up the World Boxing Association lightweight belt in May 1982 from Arturo Frias, Mancini gave the belt to his father.
In a nationally televised title fight six months later at the outdoor ring at Caesars Palace, Mancini stopped Duk Koo Kim in the 14th round. The 27-year-old South Korean suffered a severe head injury and died five days later.
There are ups and downs in every person's life, but it was extremely difficult for Mancini to accept what happened to Kim.
Though he retained his title and was pleased with that, Mancini said there was nothing good about that fight.
Three months after the November bout, Kim's mother committed suicide because of what happened to her son and because family members were bickering over the money he earned.
Since time heals all wounds, Kim's son, Kim Chi-Wan, eventually forgave Mancini, but it took nearly three decades.
It's been said the 1980s was a Golden Era for boxing, and it was, but where does the current crop stand for Kriegel?
"There aren't enough good fights. You can make an argument and it's perfectly reasonable that the 1980s was [the Golden Era] because you had the Four Kings [Ray Leonard, Thomas Hearns, Roberto Duran and Marvin Hagler] and they fought each other," he said. "[Muhammad] Ali and [Joe] Frazier fought their trilogy in far less time than it took [Manny] Pacquiao and [Floyd] Mayweather Jr. to get together for one. By the time they did, neither was in their prime."
While there are outstanding boxers plying their trade right now, there are also problems.
"I really admire Mayweather a lot. One of the unfortunate byproducts of his era is the emphasis on the perfect record," Kriegel noted. "To me a fighter's career doesn't become a truly dramatic proposition until he or she loses. The great plague on boxing right now is all these undefeated champions. I see a bunch of perfect records, but I don't see many perfect fighters. The loss is what makes it dramatic."
Kriegel said in an earlier time, Terence Crawford and Errol Spence Jr., both undefeated, would have fought each other multiple times and taken on all comers the way Oscar De La Hoya and the recently retired Shawn Porter did.
Pete Hamill, a national treasure, was Kriegel's dear friend and mentor.
What does Kriegel take away from his time with Hamill, who passed away in August 2020?
"He made the idea of New York so romantic," said Kriegel of Hamill, who was a journalist, writer, novelist and editor. "He made the idea of boxing romantic. He was a great and generous teacher. A really wonderful teacher. He was the kind of writer I wanted to become."
Kriegel became a sportswriter by circumstance. "The [New York] Post turned me into a sports columnist out of desperation," he said. "I never really took to becoming a sportswriter. I always felt ambivalent except when it was covering boxing. Boxing was the only sport I really loved covering and still do."
It's the elements in and around boxing that spark Kriegel's imagination.
"The same stuff I loved about covering cops and criminals and courts, I found in boxing," he pointed out. "I mean that you could actually find great moments of humanity. Boxing had all the stuff that I had been looking for. Thematically and in terms of content: fame and masculinity, good and evil. They're all great dramas."
Luckily, Kriegel found boxing and boxing found Kriegel. It's a perfect match.
Check out more boxing news on video at the Boxing Channel
To comment on this story in the Fight Forum CLICK HERE
Vonda Ward: Much More Than a Highlight Reel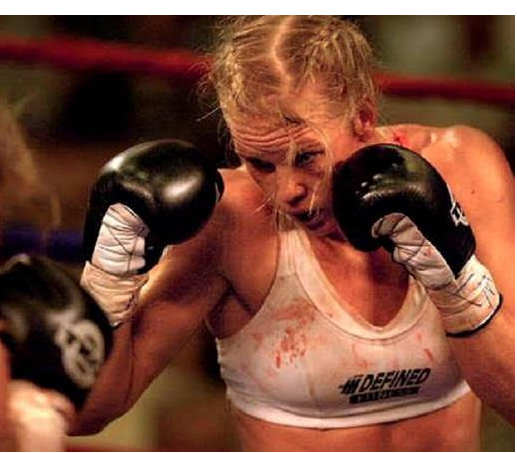 Anyone who can beat 235-pound Martha Salazar three times is someone who can flat out fight. An ex-basketball player named Vonda Ward defeated her three times (all by decision).
Salazar was an immensely popular and talented female fighter out of San Francisco, CA by way of Jalisco, Mexico. On November 8, 2014, she won the WBC world heavyweight title against Tanzee Daniel by unanimous decision. She lost the title in March 2016 to Alejandra Jimenez in Mexico and retired the following year.
Bottom line: Martha Salazar was a pioneer in legitimizing the heavyweight division in Female Boxing.
"Some girls like to play soccer. Some like to play tennis. Some play volleyball. But we don't play – we box. So, it's a very big difference between other sports knowing that someone else is going to hit you. So we want everybody to feel secure, safe, and know that this is what we do, this is what we are and no one can change us."  — Martha Salazar
Vonda Ward
The 6'6" Ward played basketball at Trinity HS in Garfield Heights, Ohio, and was twice named Ohio's "Ms. Basketball. She made the prestigious Parade All American team twice and was named an All American by USA Today. In 1991, she joined the University of Tennessee basketball team coached by the legendary Pat Summit.
During her four years at UT, Ward started 49 of 125 games, averaging 6.7 points and 5.6 rebounds while blocking 98 shots – still the 10th most by a Tennessee player. During her time there, the Lady Vols put together a 122-11 record and won three Southeastern Conference championships. Ward was a member of the 1995 squad that played in the NCAA championship game, losing to perennial powerhouse Connecticut. Ward then competed with USA Basketball as a member of the 1993 Jones Cup Team that won the Bronze in Taipei.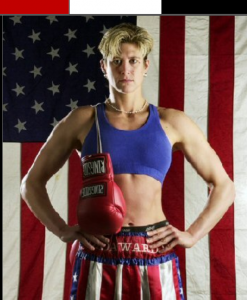 After college, Vonda played for a professional basketball club in Aschaffenburg, Germany and then the ABL's bootstrap Colorado Xplosion. Injuries cut short her pro basketball career, so given her muscularity, size and athleticism, she was attracted to boxing.
In 2000, her first year of competition, Ward, nicknamed the "All American Girl," was 10-0 including eight first-round knockouts. None of her opponents lasted beyond the second round. While her fluidity was not especially smooth, she compensated by leveraging her size and a deceptive mean streak (inside the ring) to beat down her opposition. She simply was physically superior to her competition. She was no female Ivan Drago but her defined-sculpted body made her very intimidating.
Ward was 18-0 when she fought the ever-dangerous 5'9" Ann Wolfe on May 8, 2004. In the opening round, Wolf scored the most astounding KO in female boxing history and one of the most spectacular of all time, male or female. Ward had jumped forward into the impact of Ann's overhand punch, and the result left her unresponsive for several minutes. She was then immobilized and stretchered out of the ring.
Most would have retired at this point, but Vonda wasn't "most." Seven months later, she returned to the ring and knocked out Marsha Valley in four rounds in Cleveland.
She went on to win four more bouts, finishing her career with a record of 23-1 with 17 KOs. In her next-to-last fight, in February of 2007, Ward won the inaugural WBC female heavyweight title, defeating Salazar for the third and final time by unanimous decision.
This is the part that is always overlooked. Unfortunately, Vonda's career continues to be defined by her spectacular and scary KO and not her 23-1 record with 17 KO's. It's always about the highlight reel.
Vonda Ward announced her retirement in 2010. She is now a personal trainer working out of King's Gym in Bedford Heights, Ohio. Known for giving back to her community, she often reminisces about the late Pat Summit and what could have been at Tennessee. She was inducted into the Ohio Basketball Hall of Fame in 2012.
For most, Vonda will be remembered for the Wolf knockout. For this writer, however, she will be noted as a rare female athlete who was able to compete at the top level of two different professional sports.
Ted Sares can be reached at tedsares@roadrunner.com and welcomes comments and posts.
Check out more boxing news on video at the Boxing Channel
To comment on this story in the Fight Forum CLICK HERE
Don King Keeps On Truckin' and That Portends More Junk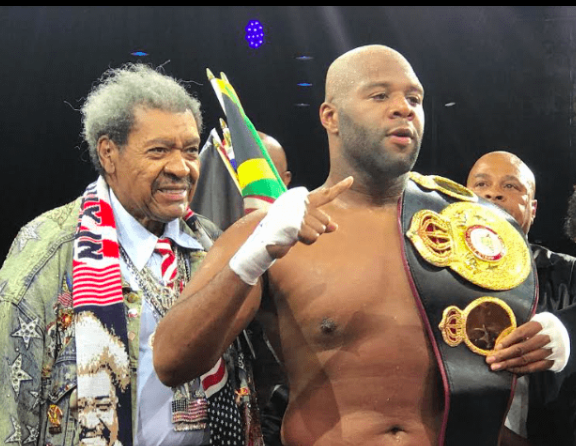 There are two ways of looking at Don King. There was a day when the former Cleveland street hustler was the pre-eminent boxing promoter in the world. That he is still swinging away at the age of 90 is a wonderful thing, a tribute to his perspicacity. But it's worth remembering that although King was the driving force behind some of the most storied fights in history, he also foisted a lot of junk on the boxing public. And nowadays, now that his bankroll has atrophied, pretty much all that's left is the junk.
As a purveyor of junk, King appears to have outdone himself with his forthcoming show in Warren, Ohio. Granted, the main event of the Jan. 29 card, a rematch between cruiserweight title-holder Ilunga Makabu and his South African countryman Thabiso Mchunu, is a good match between fighters with seemingly comparable skill sets. And the supporting bouts might well be entertaining. But that's entertaining in the way that a train wreck is entertaining.
The co-feature between Trevor Bryan (pictured) and Jonathan Guidry is a travesty, or at least a travesty from the standpoint of how it's being packaged.
Bryan, who hails from Schenectady, New York, is undefeated (21-0, 15 KOs) and owns a share of the WBA world heavyweight title (the other piece is owned by Oleksandr Usyk). However, he has yet to fight a top-10 opponent and no one really knows how good he is. What we do know is that he is prone to slothfulness. He carried 267 ½ pounds for his last bout against ancient Bermane Stiverne which was 31 pounds more than he had carried in his previous engagement.
In defense of Bryan, this was his first fight in 29 months and many gyms were closed during the pandemic. Moreover, the suet around his waist was entirely in character with King-controlled heavyweights of yesteryear. During the mid-1980s when there was a revolving door of heavyweight title-holders and the term "alphabet soup" was born, love handles were standard. Jack Newfield postulated that King's heavyweights became so demoralized by his chicanery that they lost all incentive to stay in shape.
That brings us to Jonathan Guidry whose 17-0-2 record was forged against opponents with a combined record of 108-118 at the time that he fought them. The 32-year-old Guidry, who has carried as much as 270 pounds on his 5'11" frame, hails from Dulac, Louisiana, deep in Cajun country, where his regular job is harvesting shellfish from the waterways of his parish.  He is trained by his 45-year-old brother, Martin Verdin, an active boxer with a 23-20-2 record, but for this fight he moved his tack to Houston to train under Bobby Benton who has also trained Regis Prograis.
Trevor Bryan's original opponent was Mahmoud Charr, the perpetual WBA "Champion in Recess" who purportedly could not get a visa to travel from Germany. Jonathan Guidry was already on the card, penciled in to fight beefy, 42-year-old Alonzo Butler.
The WBA has a rule that a boxer must be ranked in the top-15 to compete for a world title. When Charr, who last fought in November of 2017, was lopped off the bill of fare, the incorrigibly shameless Panama-based sanctioning body boosted Guidry to #13 in its ratings. The folks at boxrec, where King has no influence, are not as sanguine. At boxrec, Guidry clocks in at 256.
The undercard, we are informed, will feature "boxers knocking on the door of stardom." Presumably that includes the grizzled Butler whose new opponent is 13-1 Ahmed Hefny, an obscure 37-year-old fighter from Queens, New York, whose nickname is "Prince of Egypt." Butler vs. Hefny is one of four scheduled 10-round NABA title fights. As currently constituted (there will inevitably be last-minute changes), these match-ups include only one competitor under the age of 30, that being 27-year-old welterweight Cody Wilson, a product of the West Virginia Toughman circuit.
A press release concocted by Don King is always full of goo. "The world's greatest promoter, Don King, has come through with another spectacular championship night of boxing," says the release for the Jan. 29 card. The receipts, we are informed, will benefit "homeless, poor, and downtrodden people." Canelo Alvarez, it's said, will be there to scout Ilunga Makubu who is on his short list of future opponents. (If Canelo turns up in Warren, Ohio, I will eat my hat.)
There are times that I think that a Don King press release is calculated to create a backlash on the theory that all publicity is good publicity. A movie universally panned as among the worst ever is almost certain to develop a cult following.
If King's show is replete with memorable moments and you miss it, don't blame me; I said the show was potentially entertaining. But if you enjoy boxing because of the artistry displayed by the top performers, then you would be better served by averting your eyes.
Check out more boxing news on video at the Boxing Channel
To comment on this story in the Fight Forum CLICK HERE