Wilder Trainer Mark Breland Wants Bronze Bomber To "Stab" Stiverne
Man had a 110-1 record as an amateur.
Day-um. Let that sweep over you for a second, and please know he was doing it in an era which was not watered down. Yep, in the 70s and early 80s, Mark Breland had to fight toughies to scratch and climb his way up the ladder, which he darn well did, to the Olympics, getting gold in '84, and then to the pro ranks, where he captured welterweight crowns on two occasions.
Today, he's 51, and by the way, you won't find a softer spoken, kinder soul within our sphere than the Brooklyn native, out of Do or Die Bed-Stuy, who on Saturday night will be cornering power punching but only semi-tested Alabama slammer Deontay Wilder. The "Bronze Bomber" has talked mad s–t coming into the sternest test of his six plus year pro career, which sees him attempting to lift the WBC heavyweight title from the Haitian-born hitter Bermane Stiverne, the lone jewel left in the King's crown, and a not untalented specimen who's been somewhat under radar as King promotes only intermittently now.
I checked in with Breland to get his take on what his 29-year-old kid needs to do to win, and elevate the heavyweight ranks to a state of buzz which we haven't seen in many a moon.
First off, I was curious. That first loss an amateur; who was the sonofagun who did that to the Brooklyner? "Darryl Anthony," he told me. In St. Louis, they boxed, and the judges spoke, and deemed Darryl the victor. "I thought I won," Breland admitted. "He was a national champion the year before. It was 1981. I thought I outboxed him." They fought as pros and Breland got his revenge, via KO in 1984, in his 11th bout. He'd accumulated 80 something wins before the Anthony upset, for the record…
So…Putting you on the spot. Are you, Mark Breland, the best boxer to ever come out of Brooklyn?
He paused. And some more.
"I don't know," he said, with a soft chuckle. Tyson, Bowe…and what about, he offered, Leon Taylor.
Wait, who now?
"We used to spar and we didn't like it, because we couldn't show off on each other. He went to camp with Michael Spinks, and they sent him home." The streets beckoned their bony and sinister fingers at Taylor, Breland told me, and got him off path, but Taylor is doing well today, happily.
Which brings us to today…
Wilder has never been in with a better than B- grade boxer, and that is including Malik Scott, who is on his best day a solid B, but their scrap left more people scratching their head at the outcome than coming to the determination that Wilder is definitely more than hype and bluster.
"Our mood is great," Breland told me. "We are hyped up. I'm calm. Our plan is: hit Stiverne with the jab. That's the main thing, the jab. Stiverne gets hit with the jab easy. Ray Austin was doing well against him with the jab, then got caught. I've been telling Deontay in camp, "Stab him!"
I interjected, cracked up. Sounds like your Brooklyn streets back in the day, man….
He laughed.
"Yep. We gonna stab him, till he's swollen up. Deontay (32-0 with 32 Kos) is definitely in great shape, and I've been teaching him the stiff, stiff, stiff jab. It's like I did, jab, jab, jab, then see the right."
So wait, the plan isn't to come out guns a blazing, overwhelm the shorter man with an imposition of body and power? No, Breland said, he has prepared his kid to box the whole 12, set tone with the jab, use the height edge, and win a D.
"Stiverne gotta come forward, he can't fight going backwards. Stiverne has to jump to hit Deontay, he's going to jump with his left hook. He will miss with the left hook then bang, we hit him with the right hand."
Watch for it, friends, on Showtime on Saturday (Jan. 17) night…
I told Breland, straight up, I like the experience edge that Stiverne (age 36; 24-1-1 with 21 Kos) has. He's been in tougher, has had to deal with a more varied set of obstacles. He gets that take, Breland told me, fully understands me liking Stiverne to retain. But his kid, he said, while sometimes looking awkward, can use that to his advantage. "It looks easier to get in on Deontay than it is," he stressed. Stiverne will be looking to come to Wilder, and when he does, Wilder will seek to get his jab there first, and that will back up the Haitian champ, and then we might be seeing the rubberband-snap right hand land on the King boxer. Then, maybe we see a title transfer…
By the way, Wilder had a kid who beat Stiverne, back in 2007, Demetrice King, in to work at camp. He played Stiverne, looked to walk Wilder down. Wilder handled it well, the trainer said. Wilder worked on keeping the range and distance to his liking. Something else to look for on fight night, is Stiverne dropping his jab hand. Wilder will be looking to time that….
Be on the lookout for Breland harkening back to "The Warriors" era Brooklyn, and yelling, "Stab! Stab!" to perk up the jabbing from Wilder.
(By the way, I recently met the widow of the man who wrote the book "The Warriors," Saul Yurick, and Mrs. Yurick was a delight. We shot the stuff for about 25 minutes, and she didn't even tell me he wrote that, I only found that out when I Wiki'd him. She told me he was a committed artist and journo and novelist who was not in making-money mode, so he had to battle the IRS too much for their liking. I know this is a digression, Mark Taffet, and don't think I don't appreciate the platform afforded to me here which gives me the leeway to veer off. Now veering back on…)
Dominick Guinn was also in camp, because he had success with tall guys, and his feet, Breland said, are better than Stiverne's, so Wilder had to fend him off and that could prove harder than fending off Stiverne.
The champ might come out hard and fast, looking to test the greener basketballer sized hitter, and Breland has stressed that.
The immensity of the stage won't bother Wilder, Breland said, when I noted that we can't know how he'll react till the fight starts and plays out. All those interviews, all those eyes on you, it can sap the mental energy and some of the adrenaline of even a confident person…
If Wilder gets buzzed, he will know what to do, Breland said, and that means grab if need be. Macho goes out the window, he told me. "An ugly win is better than a loss," is Breland's thinking…
Yet more…Stiverne isn't as effective going to his right, so we might see Deontay trying to force him to his left, make him do what he's not so comfortable doing…Breland saw Chris Arreola catching Stiverne with a right hand as he moved right, so we could see that dynamic play out in Las Vegas.
Stiverne can be bothered if he gets jabbed, and can't set his feet, so be on the lookout for CompuBox numbers, and Wilder out-jabbing the WBC titlist.
Anyway, that's all theoretical; we shall see how all that Xs and Os stuff plays out tomorrow. Me, I like those definitive finishes, so…Mark, think we get a KO finish on Saturday night?
"I think so," Breland said.
And yes, he's thinking the BB is the one getting his hand raised….
Your thoughts, readers? How does Stiverne-Wilder play out?
FOLLOW WOODS ON DA TWITTER FOR MORE STREAM OF CONSCIOUSNESS https://twitter.com/Woodsy1069
Remembering Young Stribling on the Centennial of his First Pro Fight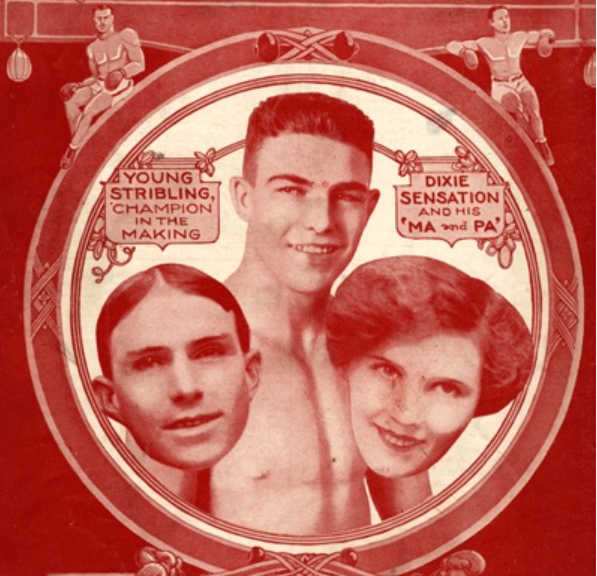 This coming Sunday, Jan. 17, marks the 100th anniversary of the pro debut of one of boxing's most interesting characters. On this date in 1921, Young Stribling, carrying 118 pounds, won a 4-round decision over Kid Dombe in the opening bout of a 4-bout card at the auditorium (it had no name) in Atlanta, Georgia. Stribling would go on to fight for the world heavyweight title and would leave the sport as boxing's all-time knockout king, a distinction that commands an asterisk.
Stribling's effort against Dombe, who was billed as Georgia's newsboy champion, made a strong impression on the ringside reporter for the Atlanta Constitution. "A young gentleman," he wrote, "is destined to become mighty popular in the squared circle. He is Young Stribling of Macon, and a classier bit of boxing machinery hasn't been uncovered in these parts in a good many years." Stribling failed to stop his opponent, but left him "badly mussed-up."
Young Stribling, born William Lawrence Stribling, bubbled into a great regional attraction. Name a place in Georgia – Albany, Americus, Augustus, Bainbridge, Rome, Savannah, Thomasville, etc. – and Stribling fought there. As the star forward on his high school basketball team, one of the best teams in the country, he never ventured far from home for a boxing match until he was deep into his career.
Many of Stribling's fights were held in conjunction with fairs and carnivals and some others were staged in vaudeville houses. Stribling was the son of professional acrobats. As a young boy, he and his younger brother Herbert performed alongside their parents in a novelty act, a mock prizefight done up in slapstick.
Stribling attracted national attention in 1923 when he opposed veteran Mike McTigue, the reigning light heavyweight champion. The bout was held in a 20,000-seat wooden arena in Columbus, Georgia.
A New Yorker, but an Irishman by birth, McTigue brought his own referee, which wasn't uncommon in those days. The arbiter was Harry Ertle, a City Marshal in Jersey City, famed as the third man in the ring for Jack Dempsey's fight with Georges Carpentier, the first fight with a million-dollar gate.
"The road is a treacherous place," a wizened old fight manager was overheard saying at New York's fabled Stillman Gym. And Columbus, Georgia, a town situated on the banks of the Chattahoochee River and purportedly a Ku Klux Klan stronghold, was certainly a treacherous place for Team McTigue on that balmy October afternoon.
After 10 rather pedestrian rounds, Ertle called the fight a draw. But he was in such a hurry to exit the ring that he did not make his verdict clear. Rather than call the combatants to the center of the ring and raise both their arms, he merely pointed at both corners, "spreading his hands as a baseball umpire calling a baserunner safe after a slide."
Ertle didn't get far. He was immediately accosted by the head of the local organizing committee who upon confirming that Ertle had scored the bout a draw, ordered the referee back into the ring. "You will never get out of here (if you don't give the fight to Stribling)," he said. "We have all the railroad stations covered."
Ertle went back into the ring, awarded the fight to Stribling, and then three hours later in the safety of a private residence, he signed a statement saying that his original decision should stand. The incident made all the papers and made Stribling a household name in houses where folks read the sports pages.
When Stribling fought McTigue, he was only 18 years old. And he was fast growing into his body, tipping the scales for the fight at 165 pounds.
Stribling and McTigue renewed acquaintances five months later in Newark, New Jersey. In a shocker, the "Georgia Schoolboy" dominated the Irishman. Stribling won all 12 rounds in the estimation of one ringside reporter. He had McTigue almost out in the 11th and again in the 12th but reverted to clowning and let him off the hook. "It was a bad habit," said a reporter, "that the kid picked up working the country fair circuit."
Because New Jersey was then a "no-decision" state, McTigue was allowed to keep his title. Stribling would get another chance at the belt in June of 1926 when he met McTigue's conqueror Paul Berlenbach at Yankee Stadium.
Boxing writers fawned over Young Stribling who seldom appeared in public without his parents; his father was his chief cornerman. His parents' names were "Ma" and "Pa," or that's what condescending East Coast writers always called them.
The Stribling-Berlenbach fight, wrote syndicated sportswriter Damon Runyon, "was the most widely advertised and most eagerly anticipated event of some years in New York." The crowd, reportedly 56,000, "attracted more political bigwigs and social and sporting dignitaries than you could shake a stick at." And the fight, marred by excessive clinching, was a dud. It went the full 15 rounds and Berlenbach, the Astoria Assassin, won decisively (the scores were not announced).
It was back to the drawing board for Young Stribling, which meant back to the life of a barnstormer. Over the next 33 months, he had 75 (!) documented fights and lost only once, that coming at the hands of clever Tommy Loughran in a 10-round bout at Ebbets Field in Brooklyn. That impressive run boosted him into a match with Jack Sharkey, an "eliminator" in which the winner would be one step removed from fighting for the world heavyweight title vacated by Gene Tunney.
Stribling vs. Sharkey was the last important bout arranged by Tex Rickard who died seven weeks before the bout materialized in an arena erected on a polo field in Miami Beach. It was North against South, and the crowd, nearly 35,000, was solidly against Sharkey, the Boston Gob. But Stribling came up short again in a rather disappointing, albeit closely contested 10-round affair. There was little dissension when the New York referee gave the fight to the Bostonian.
Later that year, Max Schmeling defeated Paulino Uzcudun at Yankee Stadium, setting the stage for a Sharkey-Schmeling fight for the vacant title. In the fourth round, Sharkey was disqualified after sending Schmeling to the canvas with a punch that was palpably low.
After his setback to Jack Sharkey, Young Stribling fought his way back into contention with wins over three ranked opponents after splitting a pair of suspicious fights with Primo Carnera in Europe. In fact, in a 1930 poll of 55 sportswriters by the New York Sun, Stribling was named the best heavyweight, out-polling both Sharkey and Schmeling. When the German picked Stribling for his first title defense, he was, in the eyes of many people, choosing his most worthy challenger.
Carnera vs. Stribling was the icebreaker event at Cleveland's Municipal Stadium, the new home of the city's baseball team, the Indians. The bout came to fruition on the eve of the Fourth of July in 1931, two days after the cavernous ballpark was formally dedicated in an elaborate ceremony.
Stribling started fast, but Schmeling ultimately proved too strong for him. In the 15th round, Schmeling knocked him to the canvas and then pummeled him into a helpless condition, forcing the referee to intervene and waive it off. This wasn't a great fight, but it was a quite a spectacle, notwithstanding the fact that there were a lot of empty seats. The Ring magazine named it the Fight of the Year.
This would be Young Stribling's last big-money fight. In his final ring appearance, he outpointed light heavyweight title-holder Maxie Rosenbloom in a 10-round non-title fight in Houston. According to BoxRec, he left the sport with a record of 224-13-14 with 129 knockouts, a record eventually broken by Archie Moore who would be credited with 131.
About those knockouts: It came to be understood that many were bogus, not fictional, but rather set-ups on the carnival circuit where he padded his record against someone with whom he was well-acquainted. But there are also some curious knockouts on Archie Moore's ledger. On Moore's list of KO victims one finds the names of Professor Roy Shire and Mike DiBiase, popular grunt-and-groan wrestlers.
As to Young Stribling's fistic legacy, historians are all over the map. The biography of Stribling by Jaclyn Weldon White (Mercer University Press, 2011) is titled "The Greatest Champion that Never Was." That's a bit over the top. The reality is that when Stribling was matched against his strongest opponents, his Sunday punch was missing in action.
You won't find Stribling's name on Matt McGrain's 2014 list of the 100 Greatest Heavyweights of All Time. Stribling checks in at #23 on McGrain's list of the all-time greatest light heavyweights and, with all due respect to McGrain, that also strikes us as a bit off-kilter, not giving Stribling enough credit. In more than 250 documented fights, he was stopped only once, that coming with 14 seconds remaining in the 15th and final round of his bout with Max Schmeling.
Regardless of where you choose to place him, Young Stribling was certainly colorful.
Young Stribling lived his life in the fast lane, and with him that isn't a cliché. He loved to fly, and when he headed off somewhere in his six-seater, said a reporter, "he would take the plane off the ground in a shivering climb so steep veteran flyers gasped." On the highways, his preferred mode of travel was a motorcycle.
Stribling married his high school sweetheart and they had three children. On Oct. 1, 1933, he left his home in Macon on his motorcycle and never returned. A head-on crash with an incoming car sent him to the hospital where he died the next day from internal injuries. Ma and Pa were there with him in his final hours, as was his wife who had given birth to a baby boy eight days earlier in this very same hospital.
William Lawrence "Young" Stribling was 28 years old when he drew his final breath. He packed a lot of living into those 28 years, including a whirlwind boxing career that took flight 100 years ago this coming Sunday.
Note: The photo is the cover photo from the October 1924 issue of The Ring magazine
Check out more boxing news on video at the Boxing Channel
To comment on this story in the Fight Forum CLICK HERE
R.I.P. Boxing Promoter Mike Acri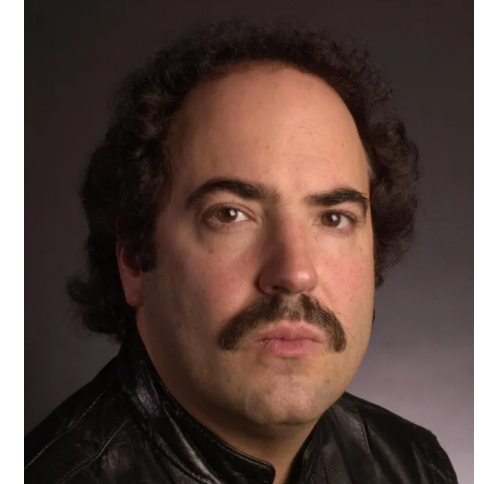 Word arrived yesterday, Jan. 12, that boxing promoter Mike Acri died this past Sunday at age 63. The cause of death was pancreatic cancer.
Acri was from Erie, Pennsylvania, which also happens to be the hometown of Hall of Fame promoter Don Elbaum. The two often worked in tandem, most notably when they promoted the fight between Laila Ali and Jacqui Frazier-Lyde.
Acri promoted Ali; Frazier-Lyde was under contract to the venerable Elbaum. The bout between the daughters of the legendary pugilists, billed as Ali-Frazier IV, took place on June 8, 2001 at the Turning Stone Resort in Verona, New York, kicking off Hall of Fame Weekend at the boxing shrine in nearby Canastota.
Mike Acri birthed the tradition of holding pro fights at Turning Stone on the Eve of the Hall of Fame festivities. The first of these shows, in 1998, pitted Hector Camacho against West Virginia journeyman Tommy Small. Camacho TKOed Small in the sixth, recapturing some of the prestige he had lost in his pussycat showing against Oscar De La Hoya.
Acri was especially proud of the Turning Stone series. "At these events, you have memorabilia people, you have past inductees, and most important, boxing fanatics from everywhere… it's the ultimate thrill to know that my fight cards are the center of attention for the biggest boxing weekend of the year," he told prominent boxing writer Jake Donovan for a 2005 story that ran on this site.
Acri had his best run with Paul Spadafora, the trouble-plagued "Pittsburgh Kid" who went on to win the IBF lightweight title and left the sport with a record of 49-1-1.
Spadafora fought frequently – 15 fights in all — at the Mountaineer racino in Chester, West Virginia, where Acri was the matchmaker. The little town of Chester sits roughly 40 miles northwest of Pittsburgh and 40 miles south of Youngstown, Ohio, cities with rich boxing traditions.
Although Acri was with Spadafora when the "Kid" was just getting started, he was best known as a rejuvenator who latched hold of fighters with name value who were cascading into irrelevancy and restored some of their lost luster while maneuvering them into a few good late-career paydays. Exhibit A was Roberto Duran.
Acri was one of the prime movers of the lucrative rubber match between Duran and Sugar Ray Leonard. In his next outing, Duran was shockingly defeated by Pat Lawlor, a third-rater, and was written off as finished, but Acri extracted more mileage from the Panamanian legend, guiding him into two good-money fights with Vinny Pazienza and two with the aforementioned Camacho, interspersed with stay-busy fights that served to keep his name in the news.
Mike Acri's last co-promotion, if that is the word, was the acclaimed Showtime documentary "Macho: The Hector Camacho Story," for which he received an Executive Producer credit. We here at The Sweet Science send our condolences to his family and loved ones.
Check out more boxing news on video at the Boxing Channel 
To comment on this story in the Fight Forum CLICK HERE
George Foreman vs. Ron Lyle: A Watershed Fight in the Annals of Modern Boxing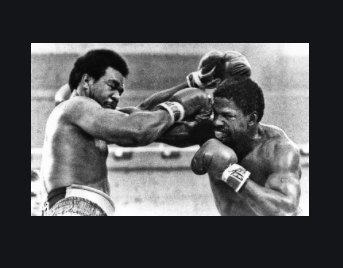 The Oct. 3 bout at the MGM Grand "Bubble" between Jose Zepeda and Ivan Baranchyk was a rip-snorter, a runaway choice for the 2020 Fight of The Year. Fights this jaw-dropping inspire a search for a clone, a fight from yesteryear that was something of a mirror image.
Promoter Bob Arum, who has a long memory, befitting a man of his vintage, was transported back to the 1976 fight between George Foreman and Ron Lyle, a match-up staged at Caesars Palace in Las Vegas. The 44th anniversary of that epic rumble comes later this month, on the 24th.
The particulars of that donnybrook — the wild momentum shifts – have been hashed-over at length. Less well-known is that the bout had historical importance beyond what transpired inside the ropes. First let's set the scene.
Caesars Palace opened in 1966 with 700 hotel rooms (a number that has swelled to 3,960). During the 1970s and 1980s, the property — which adopted the motto "Home of Champions" — came to be identified with boxing. But before there was boxing there was tennis.
One of the hotel's first amenities was a so-called tennis pavilion, the courts of which were outdoors. Pancho Gonzales, whose storied career was winding down, was hired as the head tennis instructor. His clients were mostly the wives (or paramours) of wealthy hotel guests.
The outdoor pavilion was the site of the first installments of the Alan King Tennis Classic, a major tournament that had a 13-year run at Caesars Palace beginning in 1972. King, who died in 2004, was an A-list nightclub comedian who often appeared in Caesars' main showroom.
As attendance at King's tournament grew, the honchos at Caesars Palace thought it wise to build an indoor facility to house it so that larger crowds could be accommodated. Because they chose to erect the facility at the very back of the property behind the outdoor courts, there was no felt need to make the building architecturally compatible with the rest of the property. The new pavilion, hidden from the street, was as plain as if it had been built by the military, inviting comparisons to a Quonset hut, but there wasn't a bad seat in the house.
The first event at the new pavilion was a Sunday afternoon tennis match between Jimmy Connors and Rod Laver. Billed as a $100,000 winner-take-all competition, the match was held on Feb. 2, 1975, and televised on CBS. (In case you're curious, Connors won in four sets. Laver reportedly received upwards of $50,000 as his consolation prize.)
Almost a full year would elapse before the tennis pavilion (which morphed organically into the sports pavilion) was deployed for a boxing match. The ice-breaker pitted George Foreman (40-1, 37 KOs) against Ron Lyle (31-3-1, 22 KOs). A 5/2 favorite, Foreman was returning to the ring after 15-month absence. This was his first fight since his cloak of invincibility was ripped away by Muhammad Ali in Zaire.
The penultimate round, the fourth round, was a round for the ages. Foreman was down twice and Lyle was down once. At one point, Howard Cosell, who handled the mic for the ABC broadcast, blurted "he's finished." Cosell was referencing Foreman.
But, of course, Foreman wasn't finished at all. He ended the fight in the next round, putting Lyle down for the count.
This was the first boxing match held on the property, but it was inevitable that Caesars Palace would embrace boxing when they had a suitable venue. By and large, the hotel's major investors (many of whom had shady backgrounds) were big boxing fans. Joe Louis was on the payroll here as a so-called greeter, a position that obligated him to hobnob with high rollers, the hobnobbing frequently taking place on a golf course. Top rated heavyweight contender Jerry Quarry held public workouts in a Caesars casino lounge for his 1968 bout in Oakland with Thad Spencer. Muhammad Ali and Joe Bugner held public workouts here for their bout at the Las Vegas Convention Center, a match that preceded Foreman-Lyle by only two weeks. Caesars Palace was the co-sponsor of that event and the preferred hotel for hordes of fun-loving fight fans who came from across the pond to root on the British-Hungarian Bugner.
Having said that, Foreman vs. Lyle was yet something of an experiment. The fight in the intimate arena attracted a sell-out crowd of 4,800 that included a number of celebrities, the list of which included Sammy Davis Jr, Bill Cosby, Redd Foxx, Richard Pryor, Gabriel Kaplan, and Tom Waits. But Caesars Palace didn't rate the value of a sporting event merely by gate receipts. Of greater importance was the spillover in the casino pit, measured by the "drop."
Figures are lacking (they are proprietary) but, by all accounts, the casino was jammed after the fight with the action exceeding the most optimistic expectations.
In previous writings, this reporter called the Foreman-Lyle fight the first big bang in the Casino Era of Boxing. In hindsight, that may be overstating it just a bit. There was a lull before the sports pavilion housed a steady diet of internationally important fights, the preludes to the outdoor extravaganzas, the most extravagant of which was Larry Holmes' June 11, 1982 heavyweight title defense against Gerry Cooney in a makeshift stadium erected on the asphalt of a Caesars Palace parking lot, an event that attracted 32,000 (29,214 paid) which still stands as the largest crowd to ever attend a boxing match in the Silver State. Moreover, an era assumes a beginning and an end and there's no end in sight to the casino "era" of boxing.
Foreman vs. Lyle, however, was the first internationally important boxing match on the actual grounds of a modern-day United States gambling resort. It was significant beyond what happened inside the ropes.
After the fight, the victorious Foreman said, "I know I'll get another title shot sooner or later." It would come later. Very later.
Check out more boxing news on video at the Boxing Channel 
To comment on this story in the Fight Forum CLICK HERE