FOREMAN-HOLMES WOULD HAVE BEEN `OLD FOLKS HOME AT THE DOME'
On Jan. 15, 1990, heavyweights George Foreman and Gerry Cooney squared off in Atlantic City's Boardwalk Hall. Some clever punster had dubbed it "the Geezers as Caesars," a backhanded swipe at an event which, to some people's way of thinking, paired a couple of over-the-hill, used-up fighters who should have been content to sit on their rocking chairs and sip their Geritol.
Cooney was 33 at the time and was fighting for just the third time in six years; Foreman, was 41, having celebrated his birthday just five days earlier.
Geezers? In retrospect, it now seems obvious that Cooney and that reasonably fresh version of Big George, who won on a second-round stoppage, were just a couple of kids going at it in the schoolyard.
Last week, the boxing world celebrated the 50th birthday of an actual geezer, Bernard Hopkins, who took the occasion to tell everyone he believed he had one more fight in him, and that it would come against a younger (of course), highly credible opponent. But even "The Alien" against anyone might not seem so age-defying when stacked against a matchup of Jurassic Park heavyweights that had been scheduled to take place on Jan. 23, 1999, in Houston's Astrodome.
Had that pay-per-view bout (suggested purchase price: $39.95) gone off as scheduled, the combatants would have been a 50-year-old Foreman (then 76-5, 58 KOs) and 49-year-old Larry Holmes (66-6, 42 KOs). Oh, sure, smarmy critics would have sneered at it and someone surely would have come up with a derogatory phrase, maybe "Old Folks Home at the Dome." But here's the truth: Hundreds of thousands of fight fans would have bought it, maybe because it would have finally pitted two of the better big men in boxing history, even if they were grandfathers, or maybe because it came with an element of morbid curiosity.
"There was interest, a whole lot of interest," Foreman said when I asked about his recollections of a bout that would have been a real-life enactment of "Grudge Match," a bad 2013 movie whose premise was a 30-years-in-the-making rematch between sixty-something antagonists played by Sylvester Stallone and Robert DeNiro. But the notion of a "Rocky Balboa" and "Raging Bull" somehow getting together to make box-office magic fizzled.
Might the same thing have happened with Foreman-Holmes?
"Larry and I were really in the mood to do it," Foreman recalled. "When we met at the press conference in New York, we started selling woof tickets, the whole deal. And it would have sold; I'm sure of that. There was so much name recognition there. That's what made it more important on the latter end.
"I left boxing in 1977 (the start of Foreman's 10-year retirement from the ring). At that time, it wouldn't have meant much for me to box Larry Holmes; he was just making a name for himself at that point. Then, by me going off the scene, Don King went all-in on promoting Larry. When I made my comeback, can you believe that Larry was retired then? So the timing never was quite right for us to fight, for one reason or another."
For his part, Holmes was just as anxious to throw down with Foreman, and not just because, had the bout come off, Big George would have been paid $10 million and Holmes $4 million.
"When it didn't happen, I was very disappointed," the "Easton Assassin" said. "That was my dream, man, to fight George Foreman. I got tired of people saying, `What about George Foreman? Why don't you fight George Foreman?' All I could say was, `It ain't me that won't fight George, it's George that won't fight me. I'm ready when he's ready.' But he was never ready.
"But you know what? Looking back at it now, I don't blame him. I wouldn't have fought me either. I could still fight then, man, and George did not want to lose. But winning or losing didn't matter as much to me. I wasn't fighting for a championship. I was fighting to pay the rent, and I would give my all to do that."
Debate if you must the possible outcome of the fight-that-never-was – and Teddy Atlas and esteemed journalist Jerry Izenberg will do just that, a little later in this piece – but know this: Foreman-Holmes wasn't just a fantasy. The legendary figures had collected a non-refundable 10 percent of their contracted purses ($1 million to George, $400,000 to Larry), the Astrodome was booked and a press conference held. All that remained was for the promoter, an Englishman named Roger Levitt, to produce letters of credit that would have ensured that the fighters receive their full purses.
"On the date that letters of credit were supposed to be posted, the guy missed it," Foreman, who pulled the plug on the fight, said in early January 1999. "My instincts were to say, `That's it.' My attorneys were a little lenient with him. They gave him a week's extension. He just couldn't come up with a letter of credit. A fight just couldn't be made without a letter of credit."
Sixteen years later, Foreman stands by that statement. He was a fighter, to be sure, and a proud one, but he also is a businessman and he wasn't about to give himself away at a discounted rate.
"I think (Levitt) thought that since he put that first million dollars up, I would blindly follow him along," Foreman said. "But I'd dealt with Don King and all those guys. I knew you must have the money in the bank to proceed. I wasn't going down that trail, not knowing where it would lead, as some guys have done.
"It probably was one of those situations that was just not mean to be. Larry and I kept missing each other."
At the time, Levitt insisted he had arranged for a $9 million insurance bond, which he said was "almost as good" as a letter of credit. But additional financing dried up when a younger heavyweight, and a superstar one at that, scheduled a pay-per-view fight just one week before Foreman-Holmes was to take place. If a financial knockout blow was dealt to George and Larry, it came in the form of the Jan. 16, 1999, PPV scrap between Mike Tyson and Frans Botha at the MGM Grand in Las Vegas. Tyson, as expected, battered Botha into submission in five rounds.
It was Levitt's contention that a key financial backer for Foreman-Holmes got cold feet in fear of going against Tyson for fans' PPV dollars.
"We had an Arab businessman who I've known for some time, who was putting up $12.6 million," Levitt said at the time of the cancellation. "He pulled out because of the timing of the Tyson fight. His advisers told him we were going to get killed on the pay-per-view." Tyson-Botha, by the way, came with a PPV tariff of $49.95.
Interestingly, it wasn't the first time that Tyson torpedoed a possible Foreman-Holmes scrap.
"When I fought Evander Holyfield in Atlantic City (Holyfield defended his WBC, WBA and IBF titles on a unanimous decision on April 19, 1991), we did real well," Foreman recalled. "Holmes had come back and (promoter Bob) Arum had a lot to do with Larry's fight with Holyfield (which Holyfield also won, on a unanimous decision, on June 19, 1992). Arum was thinking about doing something with Larry and me, and he even printed up a poster that had us fighting for the heavyweight championship. He wanted to promote that fight if Larry beat Holyfield. But Larry didn't win."
Perhaps Foreman is right. Can there really be something to astrology? Could it be that the stars never properly aligned themselves to make Foreman-Holmes doable?
Atlas and Izenberg each is of the opinion that had they fought in the late 1970s, boxing master Holmes, with that laser-accurate jab, ability to pace himself and superior boxing skills, might have been too savvy for the young George, whose stock in trade then was to throw as many loaded-up haymakers as he could, and as quickly as he could, until he flattened his opponent or ran out of gas.
But the 1999 version of George vs. the 1999 version of Larry? That likely would have been another matter. That George fought more under control and had – gasp! – learned some of the finer points of boxing. Atlas and Izenberg each see him as being too much for Holmes to have handled.
"The old George Foreman, the reincarnated George Foreman that came back after a 10-year hiatus, was tougher than the young George Foreman," Atlas offered. "He was smarter. In a lot of ways, he was just better. He wasn't better physically, having gotten older and fatter, but he was better in the most important areas. He understood the difference between truth and lies.
"He bought into a lie in Zaire (against Muhammad Ali). He was a bigger, stronger guy than Ali, but Ali made him feel that that didn't matter. George couldn't make the decisions he needed to make. He couldn't endure what he needed to endure. He wasn't tough enough to handle the things that Ali represented that night. But of course he could have; thinking he couldn't was the lie he bought into. He didn't have to cave in.
"George had to live with that for 10 years, and living with it was a helluva lot harder than the punches he would have had to take for a few more rounds. So when he came back, he came back tougher. I think the older George Foreman would have beat the crap out of the younger George Foreman, and I think the older George would have beat the older Larry. But I would have taken the young Larry over the young George. That George didn't have as many dimensions as Larry. When his power didn't work, like it didn't work in Zaire, he didn't have anything else to back it up with."
Izenberg pretty much sees it the same way as Atlas.
"The Foreman who fought Ali in Zaire would not have beaten Larry, I don't think," said Izenberg, the columnist emeritus for the Newark Star-Ledger. "George became a far, far better fighter, a far, far smarter fighter, in the second phase of his career.
"When Big George first came back, I laughed. We all did. But the more he fought, the more he got into a groove. I think he proved to everyone how much he had learned as a fighter when he was doing television (commentary)."
Which is not to say Izenberg is convinced Foreman-Holmes would have been PPV gold in 1999.
"Forget about Tyson (fighting Botha the week before)," he said. "Who would have put up 40 bucks to see those guys fight at that stage, 15 years past their prime? I personally believe that it should not have been allowed to take place."
Holmes, of course, sees himself as the winner over the young George and the old George.
"The way I would have fought George (in the late 1970s) is the way I would have fought him in 1999, or now," Holmes said. "I'd move side-to-side, use the jab, sneak in the right hand, put some combinations together, get in there a little bit and box him inside. Just tire him out. That's it.
"George was good for four or five rounds. If you hurt George, he'd fight you harder. But when he did that, he'd either take you out or empty his gas tank. He didn't have good stamina. Take him into the sixth and seventh rounds or later and he couldn't go."
You'd think Foreman would offer a stern rebuttal, but it isn't necessarily so. He thinks some of the points Holmes makes are valid.
"I was smarter the second time around," he agreed. "I learned how to pace myself. I'd wait around for a few rounds, then try for a seventh- or eighth-round knockout. I didn't want to burn myself out like I did in the early part of my career. But that would have played into Larry's box of tricks because he was a guy who always knew how to pace himself.
"If I was a betting man, I'd give the edge to Larry in a 12-round fight. I'm just being honest. Larry always made sure he had something left in the tank in the 10th, 11th and 12th rounds. But if a fight between me and him ended early, I'd have to go with myself."
Foreman said he understands why Holmes always seems to carry a chip on his shoulder, and why he wanted a fight with him so badly.
"Larry became heavyweight champion after Muhammad Ali, and he might have thought, `Now I'll be as big as Ali.' But what's that old saying? Beating The Man or succeeding The Man doesn't make you The Man. Nobody could supplant Ali in terms of recognition. Realizing that probably kept Larry angry for a while. A lot of us went through that, but I think Larry struggled with that more than anyone."
So what do you think TSS Nation? Who would you go with, young Larry vs. young George, and old Larry vs. Old George?
Erickson Lubin Wins, But Misplaced His Hammer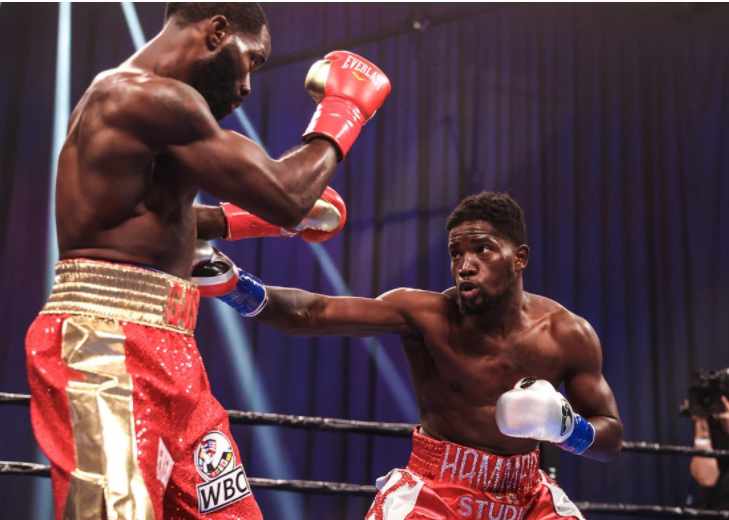 Erickson Lubin misplaced the hammer but found a way to victory over Terrell Gausha by unanimous decision in a slow-developing WBC super welterweight eliminator on Saturday.
Lubin (23-1, 16 KOs), a southpaw slugger, was unable to lower the boom on Gausha (21-2-1, 10 KOs) at the Mohegan Sun Casino in Uncasville, Conn. But he did enough in a tactical battle that only activated into a real fight in the later rounds.
Back and forth the two super welterweights mostly feinted and fired blows at each other's guard. Few managed to pierce for scoring blows and those that landed were mostly to the body.
"It was a chess match. I respected what he had, he was trying to counter what I had. My trainer was telling me to be cautious and not get hit with anything stupid," said Lubin, whose trainer is the respected Kevin Cunningham.
Gausha, 33, was the more accurate puncher but fired less than Lubin. Though he seemingly scored more often with counter rights, the scarcity of his blows allowed Lubin to control the pace of the fight.
It wasn't until the mid-rounds that Gausha stepped into a slightly quicker pace. In the 10th, a short right connected and wobbled Lubin who covered up.
"I knew I had hurt him, but he was able to recover," said Gausha, 24, who tried to finish off the hurt fighter but was unable to land another scoring blow.
"I'm in shape and I was able to recuperate," Lubin revealed.
It was still unclear who was winning the fight. In the 12th and final round Lubin stepped up the pace and connected with a crisp right hook that clearly snapped the head of Gausha. But he fought his way out of the dangerous corner.
After 12 rounds all three judges scored it for Lubin 115-113, 116-112, 118-110.
"Gausha is a tough competitor, he's at the top for a reason," said Lubin. "I feel I beat one of the top 154s and I'm going to keep doing that."
Gausha was classy in defeat.
"I take my hat off to Erickson Lubin. He was the better man tonight," said Gausha.
Lubin now awaits the winner between Jermell Charlo and Jeison Rosario who fight each other next week for the WBC, WBA and IBF super welterweight titles. Showtime will provide the title match on pay-per-view.
Featherweights
Former IBO featherweight titlist Tug Nyambayar (12-1, 9 KOs) floored Cobia Breedy (15-1) twice in the first two rounds but struggled the rest of the way to win by split decision. One judge scored it 115-113 for Breedy and two others for Mongolia's Nyambayar 114-112 and 114-113.
Nyambayar knocked down Breedy with a counter right cross in the first round and then floored him with four rights and a left hook in the second. After that, Breedy was the busier fighter and no one was able to take control.
"Boxing is boxing. It was a tough fight," said Nyambayar.
Welterweights
In a solid match Philadelphia's Jaron Ennis (26-0, 24 KOs) was able to find out exactly where he stands against real competition and stopped the unstoppable Juan Carlos Abreu (23-6-1, 21 KOs) in the sixth round by technical knockout in their welterweight showdown.
More than just a knockout win, Ennis discovered that he can indeed take a punch from an elite level puncher.
Nobody questioned whether Ennis had boxing skills or athleticism and power, but nobody knew if he could take a punch. They discovered it as Abreu was able to connect in the fourth and fifth rounds. The Dominican fighter pulled out his tricks and connected several times with sneaky rights and lefts. Ennis remained standing.
Abreu was looking to trade bombs with Ennis in the fifth and sixth round and paid the price in getting delivered to the canvas with a pretty right counter uppercut. He survived. But in the sixth a slew of punches along the ropes sent him down again. He beat the count again but during a fierce exchange he was floored a final time at 1:06 of the sixth round. It was the first time Abreu had ever been stopped.
"I feel I put on a wonderful show and got the knockout," said Ennis. "I feel I showed the division I am here."
Check out more boxing news on video at the Boxing Channel 
To comment on this story in the Fight Forum CLICK HERE
Fast Results from the MGM Bubble: Pedraza Outclasses Molina Plus Undercard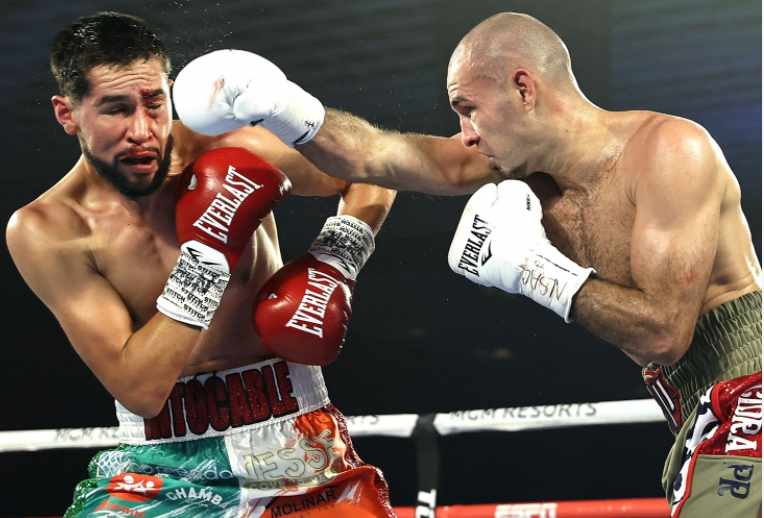 The featured bout on tonight's card at the MGM Bubble was a match between 2008 Olympians. It was a competitive match on paper, but Jose Pedraza turned in one of the better performances of his career while turning away Javier Molina who just wasn't in Pedraza's league tonight. The fight went the full 10 with the judges voting for the Boricua by scores of 99-91 and 98-92 twice. A former two-division belt-holder who looked very comfortable in his second start at 140, Pedraza boosted his record to 28-3. Molina, who had won five straight coming in, falls to 22-3.
Pedraza was manhandled by Gervonta Davis in 2017, outclassed by Vasyl Lomachenko in 2018, and upset by Jose Zepeda last year, but showed tonight that he still has plenty of mileage left on his odometer. Josh Taylor and Jose Carlos Ramirez each own two pieces of the 140-pound title, but Pedraza seems to have found a new gear at age 31 and is nipping at their heels. However, Pedraza also hankers to renew acquaintances with Zepeda and that will likely come first.
In the 10-round heavyweight co-feature, Efe Ajagba's higher workrate carried him to a 10-round unanimous decision over Jonathan Rice. The scores were 98-92 and 99-91 twice.
Ajagba, the Houston-based Nigerian making his first start under the Top Rank banner, advanced his record to 14-0 (11) but was underwhelming. Rice, the terror of Tijuana taxi drivers, fell to 13-6-1 and solidified his reputation as a useful gatekeeper.
Robeisy Ramirez, a two-time Olympic gold medalist for Cuba who now resides in the Miami area, improved to 5-1 with a unanimous 8-round decision over Puerto Rico's Felix Caraballo (13-3-2). Both appeared on the inaugural MGM Bubble card with Caraballo, fighting for the first time in the U.S., suffering a sixth-round stoppage at the hands of Shakur Stevenson. Tonight's uneventful fight saw Ramirez on cruise control as he won by scores of 79-73 and 80-72 twice.
San Bernardino junior middleweight Leo Ruiz improved to 8-0 with a 6-round unanimous decision over Cancun's Rodrigo Solis (4-5-1). Both fighters had a point deducted in round five; Ruiz, 21, for low blows and Solis for spitting out his mouthpiece. The scores were 58-54 and 59-53 twice.
In a fight that wasn't on the original schedule, Houston super middleweight Christian Montano improved to 10-0 (7) with a 6-round unanimous decision over St. Louis' Ryan Adams (7-4-1). A three-time national amateur champion, Montano, who is of Columbian descent, had knocked out seven of his previous opponents in the opening round. He looked poorly conditioned tonight but yet won every round on two of the scorecards.
Lightweight Bryan Lua, who hails from the town of Madera in central California's agricultural belt, returned to the ring after a 27-month absence and scored a one-punch knockout over Chile's Luis Norambuena. A left hook did the damage, bringing the bout to a sudden conclusion at the 2:27 mark of round two. Lua, (6-0, 3 KOs) won two of three over Ryan Garcia as an amateur. It was a quick turnaround for Norambuena (4-7-1) who lost a 4-round decision in this ring last week.
The first two bouts on the card showcased the newest members of Top Rank's "Kiddie Corps." Kasir Goldston and Jahi Tucker, 17-year-old welterweights, launched their pro careers on a winning note.
Goldston, a southpaw from Albany, NY, opened the show with a 4-round unanimous decision over Wisconsin's Isaiah Varnell (3-3). The scores were 40-36 and 39-37 twice.
Tucker, who trains in the same Long Island town that spawned Buddy McGirt, put away Alabama's Deandre Anderson (1-2) in the opening round. Anderson came out winging, but the precocious Tucker picked him apart. Referee Robert Hoyle stepped in and stopping the mismatch at the 2:56 mark. As an amateur, Tucker was ranked #1 at 138 pounds while still a sophomore in high school.
Photo credit: Mikey Williams for Top Rank
Check out more boxing news on video at the Boxing Channel 
To comment on this story in the Fight Forum CLICK HERE
Avila Perspective, Chap. 105: Angry Welterweights and More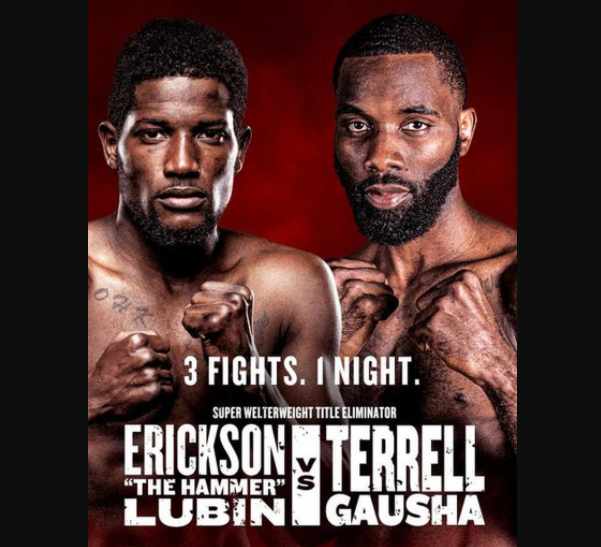 Those welterweights don't play.
One welterweight just got out of jail and wants to take out his angry frustrations in the boxing ring.
"One of us is getting knocked out. If it gets to where I'm behind on points, I'm just going to come forward and try to take him out, even if I end up getting knocked out," said Juan Carlos Abreu. ""If he stands and fights, it's better for me. That's what I want."
Standing in front of Abreu (23-5-1) will be one of the top welterweights in America, Philadelphia's Jaron Ennis (25-0, 23 KOs). This is could be Ennis' first true test against an experienced foe on Saturday Sept. 19, at Mohegan Sun Casino in Uncasville, Conn. Showtime will televise the Premier Boxing Champions card.
Ennis, 23, has been breezing easily since first jumping in the prize ring in April 2016. So far, the competition has been unable to cope with the athleticism he possesses. Will Abreu be the first to pose a problem?
"Whatever he brings, we are going to be ready. I'm going to go out there, do my thing, be smart, have my fun, and get that stoppage at the end of the night," said Ennis, whose last opponent Bakhtiyar Eyubov was eliminated in four rounds in January. "You can't just go in there and go for the knockout. That's how you get tired and lose your cool or even get hit with punches that you shouldn't be getting hit with."
Abreu hopes he loses his cool.
"If he stands and fights, it's better for me. That's what I want. I really want one of us to get knocked out," says Abreu of the Dominican Republic who was purportedly jailed for street fighting.
This welterweight matchup is the precursor to the WBC super welterweight eliminator between Terrell Gausha (21-1-1, 10 KOs) and Erickson Lubin (22-1, 16 KOs).
Gausha and Lubin both have lost once in their pro careers and need a win to get another crack at a world title.
Gausha lost a decision to Erislandy Lara three years ago. Lubin was stopped in one round by Jermell Charlo three years ago. Both realize the nature of the beast.
"I think Gausha has some problems with southpaws, but I'm not focused on that. I'm focused on my game plan and coming out victorious Saturday night," said Lubin, 24, a southpaw called "the Hammer" for a reason.
Gausha is originally from Cleveland, Ohio but trains in Southern California and has fought four elite southpaws in his career. He believes one more is not a problem.
"This will be my fourth southpaw in a row. So, I'm more comfortable and familiar this time around," said Gausha, 33, a former US Olympian who trains with Manny Robles Jr. "The guys before me, they all fought each other. Sugar Ray Leonard, Marvin Hagler, Roberto Duran. They all fought each other. To be the best, you have to beat the best. And you can see that the fights I take, even after a long layoff, they are tough fights."
Top Rank
Also, on Saturday Sept. 19, heavyweights and super lightweights lead a Top Rank card featuring some interesting bouts that will be shown on ESPN+.
Newly acquired Efe Ajagba (13-0,11 KOs) meets Jonnie Rice (13-5-1) in a 10-round heavyweight clash. It's Nigeria's Ajagba's second fight this year. Though still a little raw he shows immense potential and great natural strength.
Rice fights out of Bones Adams' Gym in Las Vegas and has some power. He built up his record on heavyweights in Tijuana boxing rings but has some pop. He's a sizeable heavyweight and good measuring stick for Ajagba.
The main event is a doozy.
Puerto Rico's Jose "The Sniper" Pedraza (27-3, 13 KOs) meets Southern California's Javier Molina (22-2, 9 KOs) in a 10-round super lightweight bout at the MGM Grand Bubble in Las Vegas.
This should be good.
Pedraza, 31, is a former WBO lightweight world titlist who lost in his first defense to Vasyl Lomachenko. Nothing bad about that. He defeated Mexico's Raymundo Beltran for the belt and has shown a penchant for showing up big when you least expect it.
Molina, 30, is a 2008 US Olympian and a member of the fighting Molina family. His brother Oscar was a member of Mexico's 2012 Olympic team. His other brother Carlos fought for the world title against Amir Khan. Though Javier Molina has never shown great power, he can truly fight.  His last win came against Amir Imam this past February.
Pending Lightweight Clash
Speaking of the lightweight division, is anyone else as excited as me about the looming showdown between the remarkable Vasyl Lomachenko and impressive Teofimo Lopez coming in less than a month?
Lomachenko, 32, the Ukrainian stylist known as "Hi Tech," has that incredible footwork and ability to control distance. He's a master of frustrating opponents and imposing his style of darting in and out of danger. But as good as he is, he can't sell tickets. Only hardcore fans appreciate his peerless boxing skills.
Lopez, 23, hails from Brooklyn and has that ex-factor you can't teach. He's pizzazz and panache with a punch. That combination of flair and power excites fans and seemingly makes him a natural gate attraction. But in spite of his electric abilities, he's facing a master boxer. Is he ready?
Top Rank is known for having a team of matchmakers headed by boxing wizard Bruce Trampler. It makes me wonder why they are pitting these two against each other?
The probable answer: neither sells out an arena alone. May the best man win.
A friend of mine from East L.A., who formerly boxed and comes from a boxing family, shared his knowledge and opinion on the matchup. He has an interesting take.
"His footwork is incredible," said George Rodriguez about Lomachenko. "Don't get me wrong, Teofimo is an incredible talent, but Lomachenko has that footwork."
Any way you look at it, the winner of this clash clearly bumps up his own image.
Lomachenko (14-1, 10 KOs) versus Lopez (15-0, 12 KOs) at the MGM Grand Bubble in Las Vegas on October 17. Mark down that date. It will be televised on ESPN.
Check out more boxing news on video at the Boxing Channel 
To comment on this story in the Fight Forum CLICK HERE