Almost always, the place to be for a big fight card is in the arena. On the night of Saturday, March 7, the place to be was at home, watching on television.
Keith Thurman vs. Robert Guerrero and Adrien Broner vs. John Molina were credible, not remarkable, match-ups. But they highlighted what, in some respects, was the most significant televised fight card in decades: the rollout of Al Haymon's plan to "take over" boxing.
Writing about Don King in the September 15, 1975, issue of Sports Illustrated, Mark Kram declared, "Don King is boxing, the man with the show, the man with the fistful of dollars and the imagination to match."
Haymon, like King, is from Cleveland. Unlike King (who graduated from the Marion Correctional Institute after serving four years in prison for manslaughter), Haymon graduated from Harvard Business School. Right now, Haymon is the man with the show, the man with the fistful of dollars and the imagination to match. If he has his way, he might soon be boxing.
HBO was Haymon's first bank. Then it was Showtime. Now he has venture capital support that's believed to exceed $100,000,000. He no longer has to cajole network television executives into giving him dates. He simply buys them.
During the past few months, Haymon has orchestrated a heavy schedule of time buys on NBC, NBC Sports Network, CBS, CBS Sports Network, Spike, Bounce TV, and Telemundo. A time buy on ESPN2 is expected to be announced shortly. Haymon Boxing will also have dates on Showtime on a more traditional license-fee basis.
The time buys allow Haymon to bypass normal media filters in delivering his boxing programming to the public. In a sense, they're similar to the paid infomercials that run on television at odd hours asking consumers to buy a five-CD set of "Golden Oldies." Only here, Haymon's investors hope to recoup their investment through the sale of advertising, pay-per-view fights, and (possibly) a subscription package and/or public stock offering.
March 7 marked the first fight card televised on NBC in prime-time since Larry Holmes defended his heavyweight championship with a 15-round decision over Carl Williams on May 20, 1985. The match-ups weren't great. But they were were as good as lot of what boxing fans have seen lately on premium cable and far superior to the standard "free" fare.
Broner (who weighed in one pound over the 140-pound contract weight) entered the fight with a 29-and-1 record and 1 no contest. There was a time when Adrien was considered a potential superstar. Now, after being beaten down by a one-dimensional Marcos Maidana and looking lethargic in two subsequent outings, he's known in some circles primarily for X-rated videos of himself that he posts on the Internet.
Molina, who'd lost four of his last seven outings, had been brought in to make Broner look good. John's last victory was in 2013 against Jorge Pimentel (who has been on the short end in seven of his last eight fights). Molina has trouble against speed and movement. That didn't augur well for his chances against Broner.
Broner-Molina was an inauspicious way for Haymon's Premier Boxing Champions on NBC to start. Broner is a safety-first fighter who doesn't take chances. He's good at blowing out overmatched little guys and dancing rings around plodding opponents. But the latter has limited entertainment value, as evidenced by the fact that the crowd booed for much of the fight and also during Adrien's post-fight interview.
Broner outlanded Molina 219 to 54 according to CompuBox and outpointed him on the judges' scorecards 120-108, 120-108, 118-110. At the end of the bout, Sugar Ray Leonard (who'd been kind to Adrien in his earlier commentary) noted disapprovingly, "You have to close the show." Broner didn't.
Keith Thurman is an entertaining fighter who came into his contest against Robert Guerrero with 24 wins and 21 knockouts in 24 fights. Thurman's power hasn't had the same effect against credible opponents that it had against the men he fought earlier in his career. But under the tutelage of trainer Dan Birmingham, his boxing skills have improved significantly.
Guerrero began his career as a featherweight and has worked his way up to 147 pounds. Both men can be hit. Thurman hits harder.
The most damaging blow landed by Guerrero during the fight was an accidental head butt in round three that raised an ugly bump on the left side of Thurman's forehead. Thurman avenged that affront in round nine with a right uppercut that put Guerrero on the canvas and opened an ugly cut over Robert's left eye.
Guerrero fought back with the heart of a champion. He survived and, needing a knockout to win in round twelve, he went for a knockout. But there were few moments during the course of twelve rounds when when the outcome of the bout was in doubt. Thurman outlanded Guerrero 211 to 104, and outscored him 120-107, 118-108, 118-109.
But the fights were only part of the show. Virtually every aspect of Premier Boxing Champions on NBC was publicized and subjected to scrutiny.
Three iconic sports personalities formed the core of the announcing team.
Al Michaels implanted himself in the consciousness of sports fans at the 1980 Winter Olympics with his call of the United States men's hockey team victory over the Soviet Union ("Do you believe in miracles!"). He's one of the best in the business at calling sports, most notably Major League Baseball and NFL football. But that wasn't his role here. Instead, he hosted the telecast from a glitzy in-arena set, following a script that didn't do justice to his considerable acumen and persona.
Marv Albert handled the blow-by-blow chores. Like Michaels, Albert is sportscasting royalty. His resume begins with the NBA and covers every major sport, including boxing. Marv seemed a bit rusty on Saturday night, not having fully updated his encyclopedic knowledge with regard to the minutiae of boxing.
Ray Leonard, in addition to being one of the greatest fighters ever, is articulate and smooth behind a microphone. He and Albert haven't fully jelled yet, but they will.
B.J. Flores is engaging but was one voice too many in the booth.
Kenny Rice tended to repeat official pre-scripted story lines. After his pre-fight interview with Broner, Rice informed viewers: "We're seeing a calmer Adrien Broner."
Laila Ali was there to provide a female presence and a bit of Ali magic. But for the most part, she did little more than state the obvious. After the first round of Broner-Molina (in which Molina landed one punch), Laila informed viewers that Molina's corner was "not happy with his connectivity in that round."
Referee Steve Smoger provided an occasional useful rules interpretation.
It would have been appropriate to have some editorial reference – perhaps by Al Michaels – regarding Al Haymon's master plan. That was an obvious and calculated omission.
Haymon Boxing poured an enormous amount of money into production of the telecast. There was a huge floor set augmented by giant video screens. Twenty-seven cameras caught the action from every possible angle under enhanced lighting.
The telecast tried for a UFC-WWE feel. Academy-Award winner Hans Zimmer wrote the signature music. The Lion King, Gladiator, and The Dark Night Trilogy are among Zimmer's screen-score credits. If the Premier Boxing Champions music sounded evocative of The Contender, it's because he also wrote that music.
One of the production innovations was not effective. NBC had trumpeted the use of a 360-degree over-the-ring video rig with 36 still cameras to offer a moving panoramic view of the action. But when pieced together, the photos had the feel of a not-very-good video game from the 1980s.
In a nod to The Contender, the fighters walked to the ring alone. That seemed unnecessarily contrived. A fighter's corner men should take that walk with him.
There were no round-card girls and no visible ring announcer. If Premier Boxing Champions is going to continue using a disembodied voice to impart information to fans, the voice should be more authoritative than the one heard on Saturday night.
I love the fact that Haymon Boxing eliminated the mob that pours into the ring before and after fights. There were no people in the ring shouting, "You da man." No sanctioning body officials shamelessly draping T-shirts and phony belts over the combatants. No promoters, managers, commissioners, or mistresses jockeying for position in front of the camera.
Thank you, Al Haymon. I hope every network that televises boxing follows your lead on that one.
Now let's return to numbers; only this time, the numbers revolve around dollars, not punches.
Haymon Boxing isn't doing business as usual, but it is a business. The idea is to make money.
It was expected that advertising sales would be weak for the first NBC fight card, and they were. The promotion had difficulty selling ad time.
There were a handful of commercials for Nissan, Mazda, Lincoln, McDonald's, and Verizon-Fios, as well as some Corona spots. But the Corona commercials were part of a broader sponsorship deal that included logo placement on the ring canvas. Many of the commercials that aired in New York (where this writer watched the telecast) were local rather than national and were for fringe enterprises. There was also the oddity of seeing two commercials hawking tickets for Wladimir Klitschko versus Bryant Jennings (which will be televised on HBO) and two more commercials offering Time Warner Cable customers the opportunity to subscribe to HBO at a special rate.
In other slots where ideally there would have been commercials, viewers saw dozens of promos for NBC programming, PCB fighters, and future PCB shows.
Ad sales are dictated in large measure by ratings. There were full-page ads for the March 7 telecast in the New York Times, Sports Illustrated, and other publications. NBC ran promotional spots in advance of the show.
Interim ratings released on Monday indicate that the NBC telecast averaged 3,400,000 viewers. That trailed two CSI reruns and an episode of 48 Hours on CBS as well as a rerun of 20/20 and In An Instant on ABC. For purposes of further comparison, NBC as a network averaged 4,800,000 viewers on Saturday nights in 2014.
Haymon Boxing expects to lose money on many of its early fight cards. March 7 was considered a loss leader, and it lost. Factoring in undercard costs, the fighters' purses totaled roughly $4,000,000. There were large production and promotional expenses.
Haymon is said to be looking at an initial term of three-to-four years before evaluating the overall success of his effort. He knows that hardcore boxing fans will watch Premier Boxing Champions in each of its incarnations. But his target audience isn't boxing junkies. It's the general sports fan that he needs and covets. That's why Al Michaels and Marv Albert are part of the NBC package.
There will be more bells and whistles as Premier Champions Boxing unfolds. Viewers have been told to expect that, in some jurisdictions, referees will wear a tiny camera mounted on a headband. There's also talk of a dubious technology that might accurately estimate the speed of punches but is less likely to accurately estimate their force.
All of that is window dressing. At the end of the day, it's about the fights. It would have been nice if the fights on March 7 had been more entertaining. Neither Thurman nor Broner did much to implant himself in the consciousness of the general sports public. Next time out, it would be great to see Thurman vs. Broner; not Thurman and Broner vs. two more "B-side" opponents. Not only would that be entertaining and attract viewers; it would add millions of dollars to the value of the winner as a future Floyd Mayweather pay-per-view opponent.
Boxing fans and Haymon's investors have different priorities. Haymon's investors want to make money. Boxing fans want to see good fights. These goals aren't necessarily irreconcilable. Ideally, they will coincide.
If Haymon succeeds in pushing boxing back into the consciousness of mainstream sports fans, it will be good for Haymon and good for boxing. Beyond that, one has to ask, will he use the power of his purse to honor the essence and best traditions of the sport? Will he make quality fights available to the public free of charge on a regular basis? Will he make a sincere effort to eliminate the use of illegal performance-enhancing drugs from boxing? Or will he promote mismatches, find creative new ways to separate fans from their dollars, corrupt the sport's already-inadequate drug-testing protocols, play an illegal shell game with dollars, and substitute one group of bogus beltholders for another?
Al Haymon interviews are scarcer than hen's teeth. But twenty years ago, he sat for a Q&A with Ebony Men (an offshoot of Ebony magazine).
In that interview, Haymon spoke of his role as a music promoter and declared, "Promoters are viewed as shady characters. I had the opportunity to represent something fresh and new to the artists. I don't imagine a lot of information is being provided about this industry because it's not a conventional industry for people of higher education to pursue. Black people – if they knew how much money was in it and how much opportunity there was and how fertile the ground was and how successful and influential one could become by being in it – then perhaps more would be in it. The entertainment industry, and professional sports particularly, represent an area where we are basically the natural resource. When you have an industry that offers high returns, you're going to have high risk. We have to be willing to take those risks because, believe me, the opportunities are there. I saw the potential. I saw, if done right, one could make a lot of money and control a good deal of commerce and have a business."
Sound familiar?
Thomas Hauser can be reached by email at thauser@rcn.com. His most recent book – Thomas Hauser on Boxing – was published by the University of Arkansas Press.
The Murder of Samuel Teah Calls to Mind Other Boxers Who Were Homicide Victims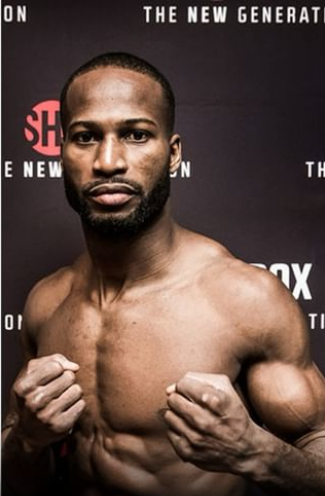 There will be a boxing show this Friday at Philadelphia's 2300 Arena, a low-budget card featuring the return of former IBF 130-pound world title-holder Tevin Farmer. During the event, there will assuredly be a somber moment when those in attendance stand and silently pay homage to Samuel Teah as the timekeeper tolls the traditional 10-bell farewell. Teah passed away last week on Black Friday, Nov. 24, another victim of America's epidemic of gun violence. He was 36 years old.
Teah was shot in the mid-afternoon during an altercation that spilled onto the sidewalk of a street in Wilmington, Delaware, and died at a Wilmington hospital. As of this writing, there's been no arrest, but the shooting was apparently not random. A bus driver for the Southeastern Pennsylvania Transit Authority, Teah was purportedly in Wilmington (roughly 35 miles from his home in Philadelphia) to visit the mother of his child.
Samuel Teah fought as recently as this past May when he suffered a shocking defeat at the hands of journeyman Andrew Rodgers at a show in Pennsylvania's Newton Township, reducing his record to 19-5-1. Two months earlier he had spoiled the undefeated record of Enriko Gogokhia, an Egis Klimas fighter (think Oleksandr Usyk and Vasily Lomachenko) on a card in Ontario, California. This embellished his reputation as a spoiler. Earlier in his career, he had spoiled the undefeated record of O'Shaquie Foster, winning an 8-round unanimous decision over the man that currently reigns as the WBC world super featherweight champion.
What made Teah's death more tragic, if that were possible, were all the tragedies that he had overcome. He was born in Liberia when that country was embroiled in a civil war. The family escaped to a refugee camp in Ghana and eventually reached the United States, settling first in New York and then Philadelphia. On the day after Christmas in 2008, when Teah was 21 and working at a Home Depot, he lost six members of his family in a fire that swept his mother's West Philadelphia duplex after a kerosene heater exploded.
For some, Teah's violent death may call to mind the murder of another Philadelphia boxer, Tyrone Everett.
That's an awkward comparison.
Tyrone Everett was a world-class fighter. Six months before he was shot dead by his girlfriend in May of 1977, Everett, then 34-0, lost a 15-round split decision to Puerto Rico's Alfredo Escalera in a failed bid to win Escalera's WBC junior lightweight title, a decision so rancid that it stands among the worst decisions of all time. Moreover, the circumstances of Everett's murder were sordid. His girlfriend, no stranger to the police, fatally shot him after finding him with a transvestite and there was heroin in the apartment they shared. (Editor's note: For more on this incident, check out the new book by TSS contributor Sean Nam: "Murder on Federal Street: Tyrone Everett, the Black Mafia, Fixed Fights, and the Last Golden Age of Philadelphia Boxing" available on Amazon).
Samuel Teah was no Tyrone Everett. A man of deep faith, Sam's positive attitude, despite all his tribulations, was infectious. "Everyone liked Teah," said prominent Philadelphia sports journalist Joe Santoliquito who, upon hearing of Teah's death, tweeted, "he will always have a special place in my heart."
While the circumstances are different in every case, Teah joins a long list of boxers who met a violent death. If we limit the list to fighters who were still active at the time of their passing, here are four that jump immediately to mind.
Stanley Ketchel
The fabled Michigan Assassin, Ketchel met his maker on Oct. 15, 1910, at a ranch in Conway, Missouri. In the immortal words of John Lardner, "Stanley Ketchel was twenty-four years old when he was fatally shot in the back by the common-law husband of the lady who was cooking his breakfast."
Battling Siki
Famed for knocking out Georges Carpentier when the "Orchid Man" held the world light heavyweight title, Siki was only 28 years old when he was gunned down in the Hell's Kitchen neighborhood of Manhattan on Dec. 15, 1925, but by then the Senegal-born Frenchman had already degenerated into a trial horse. Siki's body was found in the middle of the street with two bullets in his back fired at close range by an assailant, never identified, who was thought to be avenging a beating he suffered at one of the speakeasies that Siki was known to frequent.
Oscar Bonavena
At age 33, Oscar Bonavena was still an active boxer when he was gunned down on May 22, 1976, on the outskirts of Reno, Nevada, at the front gate of the infamous Mustang Ranch, a legal brothel. Bonavena had come up short in his biggest fights, losing a 15-round decision to Joe Frazier and losing by TKO in the 15th round to Muhammad Ali, but the rugged Argentine was still a major player in the heavyweight division.
The shooter was a bodyguard for the brothel's owner Joe Conforte, and rumor has that Conforte was the de facto triggerman, having Bonavena assassinated because the boxer was having an affair with Conforte's 59-year-old wife Sally who was also Bonavena's manager of record at this point in the boxer's career. The story about it spawned "Love Shack," a 2010 movie that despite a seemingly can't-miss storyline and a formidable cast (Joe Pesci played Joe and Helen Mirren played Sally) proved to be a box-office dud.
Vernon Forrest
While all homicides are tragic, some are more distressing than others and the death of Vernon Forrest on July 25, 2009, was particularly gut-wrenching. Forrest was shot twice in the back by would-be robbers with whom he exchanged gunfire on July 25, 2009 at a gas station in Atlanta.
Forget the fact that Forrest was a two-division title-holder who had regained the WBC world super welterweight title in his most recent fight with a lopsided decision over Sergio Mora. Few in the sport were as widely admired. His philanthropic work included establishing group homes in Atlanta for the mentally disabled. His death came just two weeks after the death of Arturo Gatti who left the sport following a loss by TKO to Alfonso Gomez in July of 2007 and died under suspicious circumstances at age 37 at a hotel in Brazil.
We here at The Sweet Science send our condolences to Samuel Teah's family and loved ones. May he rest in peace.
Benavidez Dismantles Andrade: Will Canelo Be Next?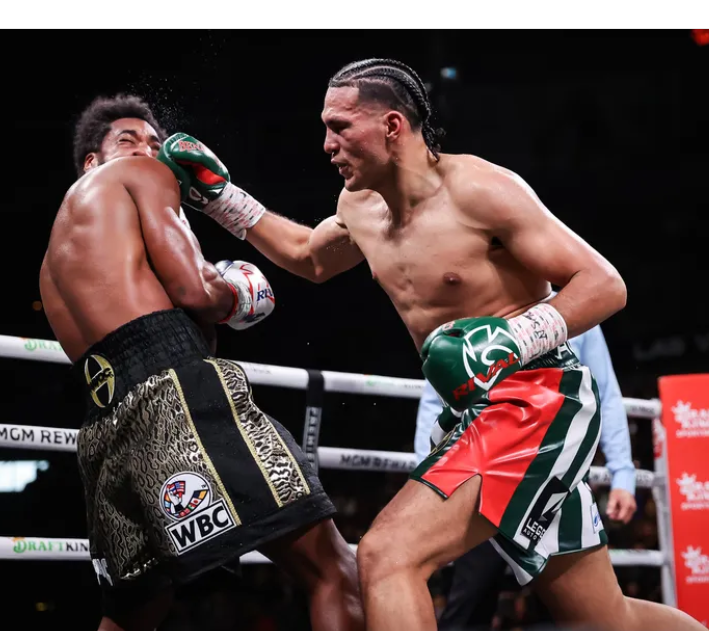 SHOWTIME aired its final pay-per-view event tonight with a show that aired from Mandalay Bay in Las Vegas. The four-fight PPV card included world title fights in the 140 and 130-pound divisions, plus an interim title fight at 168 and the return of former two-division title-holder Jarmall Charlo. The interim title fight was a battle of unbeatens between David Benavidez and Demetrius "Boo Boo" Andrade and that was the featured attraction.
Benavidez, 26, is big for the weight class and lived up to his new nickname, "El Monstro." He had too much firepower for the 35-year-old Andrade, a 2008 Beijing Olympian who began his pro career at 154 and had won world titles in two lower weight classes. His big moment came in the waning seconds of round four when he knocked Andrade to his knees with a sweeping right hand. The fight turned brutally one-sided at that point although one of the judges had Benavidez ahead by only one point when the sixth round ended. But there would be no seventh round. Andrade's corner wisely stopped the fight.
A consensus 7/2 favorite in man-to-man betting, Benavidez (28-0, 24 KOs) began his pro career in Mexico at age 16. In his post-fight interview, he called out Canelo Alvarez while brashly predicting that he would be a legend before he left the sport (and you'll get no argument from this corner). It was the first pro loss for Andrade (32-1).
Co-Feature
Jermall Charlo returned to the ring after a 29-month absence and scored a lopsided 10-round decision over Jose Benavidez Jr. The judges had it 100-90, 99-91, and 98-92.
This bout was slated for the catch-weight of 163 pounds. Charlo came in overweight (166.4) but the match went ahead. Benavides Jr, a world title challenger during his days as a welterweight, had his moments, but was outclassed by Charlo who advanced his record to 33-0 (22). Benavidez falls to 28-3-1.
Matias-Ergashev
In what shaped up as the most action-packed fight of the night, 31-year-old Puerto Rican Subriel Matias retained his IBF 140-pound title, battering Shohjahon Ergashev into submission in a match that was halted by Ergashev's corner two seconds into the sixth round. The heavy-handed Ergashev, who was undefeated heading in, dominated the first round-and-a-half, but Matias (20-1, 20 KOs) gradually wore him down.
Matias, who avenged his lone defeat to Petros Ananyan with a dominant showing in the rematch, had become something of a forgotten man in the talent-rich 140-pound weight class, but tonight he showed that he belongs among the elite in the division. It was the first pro loss for Egrashev (23-1, 20 KOs), a southpaw from Uzbekistan who fights out of Detroit and had SugarHill Steward (formally Javan "Sugar" Hill) in his corner.
Garcia-Roach
In the pay-per-view opener, Lamont Roach (24-1-1, 9 KOs) wrested the WBA 130-pound title from Hector Garcia (16-2) with a well-earned split decision. The judges had it 116-111 and 144-113 for Roach with the dissenter favoring Garcia 114-113.
A 32-year-old Dominican southpaw, Garcia was making the first defense of the title he won from Roger Gutierrez, a belt he was allowed to keep after moving up to lightweight to challenge Gervonta Davis, a bout he lost on a ninth-round stoppage. Roach, an underdog in the betting making his first start in 16 months, had come up short in a previous world title fight, losing a decision to Jamel Herring in 2019.
Roach was trailing on two of the scorecards through 10 rounds in what had been a ho-hum fight. But he cranked up the juice in the homestretch, rocking Garcia in the 11th and flooring him with a right hook in the final stanza. Take away that knockdown (an illegal punch as it landed behind Roach's head), and Garcia would have retained his belt with a draw.
Non-PPV
In his first start at 140 pounds, Puerto Rico's Michel Rivera rebounded from his first pro loss (a wide decision at the hands of Frank Martin) with a unanimous 10-round decision over Sergey Lipinets. The judges had it 96-94 and 97-93 twice. Rivera, who improved to 25-1 (14) patterns his style and his persona after Muhammad Ali with whom he bears a strong facial resemblance.
It was the first fight in 16 months for the 34-year-old Lipinets (17-3-1), from SoCal via Kazakhstan. He rarely took a backward step but it wasn't effective aggression.
In the opener on Showtime's YouTube channel. 21-year-old super welterweight Vito Mielnicki Jr, now trained by Ronnie Shields, scored the best win of his career, advancing to 16-1 (11 KOs). The pride of Vineland, NJ, Mielnicki had Alexis Salazar on the canvas three times before the match was halted at the 2:27 mark of the opening stanza. Guadalajara's Salazar (25-6) had been stopped only once previously.
Photo credit: Amanda Westcott / SHOWTIME
To comment on this story in the Fight Forum CLICK HERE
Katie Taylor Turns the Tables on Chantelle Cameron in a Dublin Blockbuster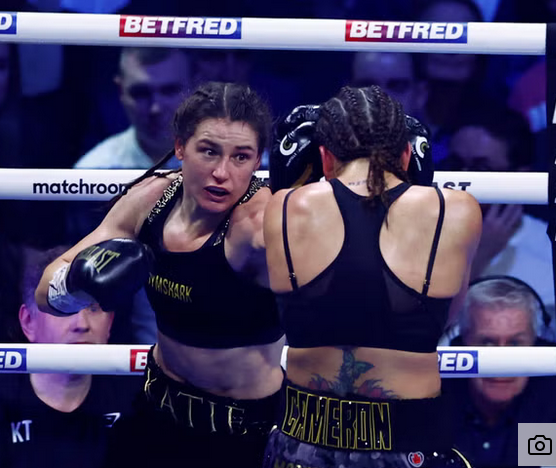 Katie Taylor Turns the Tables on Chantelle Cameron in a Dublin Blockbuster
Underdogs win too.
Katie Taylor changed tactics and changed the outcome to defeat her conqueror Chantelle Cameron by majority decision and become undisputed super lightweight champion on Saturday.
"Two weight undisputed champion, that sounds great," said Taylor.
It took six months but the sold-out crowd in Dublin, Ireland saw Taylor (23-1) avenge a loss to Cameron (18-1) and re-assume her position as one of the leaders of the female fight world.
It was a different Taylor who returned to Ireland and this time she brought changes against the younger, stronger Cameron that proved effective.
At first it looked grim for Taylor who resumed her style of speed combinations and was met with jolting left jabs from Cameron. One jab actually delivered Taylor to the canvas but a slip of the foot was caught by the referee.
In the second round Taylor showed her cards.
Using her speed and agility, Taylor used her own jabs and movement to score and then would suddenly clinch both arms. And in between clinches, quick uppercuts and rights scored.
It was the recipe used by the Irish fighter for the remainder of the fight.
The change in tactics by Taylor took away Cameron's most effective weapon, her strong left jab. Unable to use that weapon, she dove in looking to use her strength and was butted by Taylor in the third round. A deep bloody gash on the forehead of Cameron formed quickly.
Cameron never quit attacking and finally found success in the fourth and fifth rounds with pounding body shots. It seemed to slow her opponent down, who had been busier until the body attack slowed her volume.
Both tried their best to control the rounds. Taylor used her hit-and-clinch recipe while Cameron pounded the body and used her strength inside. The best round erupted in the seventh as both unleashed wicked combinations and uppercuts.
The crowd roared its approval.
All that furious action seemed to drain Taylor and allowed Cameron to overpower her with body shots in the eighth. It also forced Taylor to grab Cameron every time she got close. It became so obvious that the referee warned Taylor to stop holding.
A tired Taylor seemed ready to be taken over, but somehow she mustered enough energy to sling quick combos and clinch. Cameron tried avoiding the clinches but was not able to find a solution.
Taylor closed out the fight with speed combinations as Cameron looked to end the fight with one big blow that never arrived. A spent Taylor looked relieved at the final bell as Cameron could not land the big one.
After 10 rounds one judge scored it 95-95 while two others saw it 98-92 and 96-94 for Taylor who becomes undisputed super lightweight champion.
"Whoever wrote me off you don't know me very well," said Taylor. "Tonight, you saw the real me. When I'm boxing no one can beat me."
The win by Taylor sets up a trilogy with Cameron.
"I don't think there has ever been a trilogy in women's boxing. This would be the first," said Taylor.
2024 look out.
Nicolson Wins
Australia's Skye Nicolson (9-0) controlled every round over Sweden's Lucy Wildheart (10-3) by hitting and moving against the slow-moving fighter and eventually won by stoppage in the ninth round to retain an interim featherweight title.
Nicolson proved too fast and agile for Wildheart who seemed a second slower and was punished by counter shots. Eventually a bloody nose forced Wildheart's corner to stop the fight at 1:11 of the ninth round.
The speedy featherweight Nicolson is the number one contender for undisputed champion Amanda Serrano.
Other Bouts
Ireland's Gary Cully (17-1, 10 KOs) won by split decision over Reece Mould (18-2, 6 KOs) to return to the victory column after suffering a knockout loss six months ago in the same arena.
Cully, a tall lightweight, started slowly but soon found his rhythm and used uppercuts and movement to offset the hard-charging Mould. There were no knockdowns in the back-and-forth battle with two judges favoring Cully 97-93, 96-93 and one for Mould 97-93.
"I'm back baby and it feels good," said Cully who was stopped by Mexico's Jose Felix six months ago.
Speed southpaw Paddy Donovan (12-0, 9 KOs) knocked out Danny Ball (13-2-1) in their welterweight clash with a left to the body in the fourth round. He first dropped Ball with an overhand left during an exchange.
To comment on this story in the Fight Forum CLICK HERE