TWO SECONDS FROM GLORY, TWO SECONDS TO HEARTBREAK
Two seconds.
How long is that? Maybe long enough for 1½ beats of the average human being's heart, or for a long inbounds pass to Duke All-America Christian Laettner, who made one of the most memorable buzzer-beating shots in college basketball history.
It is but a tiny snippet of time, a few blinks of the eye, a sneeze, a hiccup. But a snippet is enough to make the difference between a gold medal and a silver in the Olympics, or between victory and defeat in one of the most controversial boxing matches ever.
The Ring magazine very well might have selected the epic first clash between undefeated super lightweight champions Julio Cesar Chavez and Meldrick Taylor its Fight of the Year for 1990 even had that bout ended two seconds sooner. But those two seconds had yet to tick off, and the nature of the bout's conclusion – with referee Richard Steele waving his arms and awarding Chavez, who was too far behind on the scorecards to win on points, even with the benefit of his 12th-round knockdown of Taylor – has stamped it as a matter of perennial debate. Should Steele, who had to be aware of the flashing red light in his field of vision as he administered a standing-eight count to a badly shaken Taylor, signifying that the fight was in its final few seconds, have allowed the Philadelphian the benefit of that sneeze or hiccup? Or did Steele, who was inducted into the International Boxing Hall of Fame in 2014, make the right call, one rendered on the side of caution?
So incredible was the unification fight of two 140-pound kings at the height of their powers – the 23-year-old Taylor, the IBF titlist, went in at 24-0-1, with 13 knockouts, to 67-0 with 49 wins inside the distance for Chavez, 27, the WBC ruler and Mexican national hero — that Chavez-Taylor got that Fight of the Year nod over a little scrap in Tokyo five weeks earlier, in which a 42-to-1 longshot named Buster Douglas knocked out heavyweight champion Mike Tyson, the most fearsome visitor to the Land of the Rising Sun since Godzilla.
I was at ringside for both fights, and although Tyson-Douglas was undoubtedly the bigger event from a historical perspective, given the aura of invincibility that clung to Tyson that afternoon (because of the 14-hour time difference between the East Coast and Japan, the bout began Sunday afternoon in Japan, Saturday night in the U.S.), but Chavez-Taylor, to me, was the more compelling scrap. It was, in every sense of the word, worthy of all the hype, which might or might not be the case when welterweight champs Floyd Mayweather Jr. and Manny Pacquiao swap punches in an even-more-anticipated unification pairing on May 2 at the MGM Grand in Las Vegas.
It was my opinion then, and now, that Taylor deserved the victory he had earned in the first 35 minutes, 58 seconds of a war for the ages. Chavez knew there were only a few seconds remaining until the final bell, and he was right behind Steele, poised to charge forward and get in one last, telling lick. Had Steele signaled Chavez to return to the farthest neutral corner, the fight almost certainly would have ended in a Taylor split-decision victory.
There were, however, other ingredients in the bubbling broth of woulda-coulda-shoulda. What if Taylor co-trainer Lou Duva, an excitable sort under the best of circumstances, not mounted the ring apron and distracted Taylor, who turned his head to look at Duva instead of Steele when the referee was asking him if he was OK? It can be argued that Duva's actions were tantamount to a towel toss, signifying surrender. But had Steele even noticed him?
What didn't wash, at least to me, was Steele – whose integrity I didn't question then, nor do now – saying that he treated all fighters the same, be they journeymen or celebrated world champions. It was Steele who, queried about his reluctance to call a halt in the third round of WBC middleweight champion Thomas Hearns' June 6, 1988, defense against Iran Barkley, with ample time left on the clock and Hearns badly hurt and sagging against the ropes, said that, "Thomas Hearns is a great champion, and great champions deserve the opportunity to fight their way out of trouble."
Make no mistake: What happened to Meldrick Taylor, whose downward spiral after the first Chavez fight (he was stopped in eight rounds in the rematch, on Sept 17, 1994), would have happened regardless of the outcome. The damage he absorbed from JCC's heavy blows that night at the Las Vegas Hilton, it became increasingly obvious, was irreversible. Although Taylor, a gold medalist at 17 at the 1984 Los Angeles Olympics, would go on to capture another world title, scoring a unanimous decision over WBA super lightweight champion Aaron Davis on Jan. 19, 1991, and successfully defending it twice, he was a ghost of his former brilliance in losing on a fourth-round TKO when he challenged WBC super welterweight king Terry Norris on May 9, 1992.
What Chavez started, Norris clearly finished, so much so that Taylor, who had retained his WBA welterweight championship, was never a factor in relinquishing the title a one-sided, eighth-round stoppage to Crisanto Espana on Oct. 31, 1992, in London, on the undercard of heavyweight Lennox Lewis' –round blowout of Razor Ruddock. So alarmed was Lou Duva by what he saw of Taylor, who at his finest could not possibly have been beaten by the likes of Espana, that he urged Taylor – then all of 26 — to immediately retire. Not surprisingly, Taylor refused. He would go 6-5 in his final 11 bouts, mostly against second- and third-tier opposition.
"I love the kid and I'm not going to let him get hurt," Duva said after Taylor's beatdown from Espana. "As far as I'm concerned, he shouldn't fight again. He's a great person and he's been a great champion. He's recovered from every disappointment he's had in this sport, and he'll recover from this.
"There's been some wise guys who'll try to convince him to keep on fighting, but it's pretty obvious he's through. I wouldn't even put him in there with a four-round preliminary guy. Why? Because it only would take one punch to do it (seriously hurt Taylor)."
Had Taylor survived Chavez's desperate 12th-round onslaught, would he have merited the win that seemingly had been within his grasp? That is a matter of judging preference; it was clear that Taylor, whose blurring hand speed was a marvel to behold, had the edge in quantity, landing punches in bunches. But Chavez packed more pop, so give him the upper hand for the impact of those shots that did connect. After the fight, Taylor spent the night at Valley View Hospital where he was treated for dehydration, a lacerated tongue and a small fracture in the bone behind his left eye. He also lost two pints of blood during the course of the bout.
"It was sad to see Meldrick last night," Taylor's twin brother, Eldrick, said of one of the more heartbreaking defeats ever suffered by any fighter. "`Two seconds,'" he kept repeating. "Two seconds."
Those two seconds, truth be told, have haunted Meldrick Taylor until this day. They no doubt will haunt him for the rest of a life shrouded in recriminations.
"I think I fought the best fight I could have fought," he said upon his release from the hospital. "I beat Chavez at his own game. A lot of people said he was going to wear me down with body shots, but I gave more than 100 percent. And then for the referee to stop it like that … it was traumatic for me."
Until Steele waved his arms, Taylor – who, perhaps unwisely, had been advised by Duva before the climactic 12th round to continue to take the fight to Chavez instead of sitting on his presumed lead – was too far ahead to be caught on points. His rapid-fire combinations had found favor with judges Jerry Roth and Dave Moretti, who had him ahead by respective margins of 108-101 and 107-102, with Chuck Giampa favoring Chavez by 105-104. And for those who would argue that Taylor was foolish in not getting on his bicycle, remember that Oscar De La Hoya thought he was too far ahead to lose a decision to Felix Trinidad. Chavez's status as a hugely popular Mexican icon might have had the Duva corner leery that the scorecards weren't as tilted in their man's favor as it turned out.
Lou Duva and his son, Dan, the Main Events president who served as Taylor's promoter, reacted to the sudden, shocking ending by seeking to have the result overturned, citing violations of IBF rule 14, WBC rule 12 and NSAC rule 467.740, all of which essentially are the same. It was their contention that Steele, by not directing Chavez to the farthest neutral corner, had made a mistake that in essence deprived Taylor of his greatest moment of professional glory. But those official protests were not upheld, and neither was their alternative demand that the fight be declared a no-contest, which would have allowed Taylor to retain his IBF belt.
HBO revisited that amazing fight, and its aftermath, in 2002 with the documentary "Legendary Nights: The Tale of Chavez-Taylor," with arguments made on both sides of the issue.
"I thought Richard Steele made a bad stoppage," offered Larry Merchant, HBO's longtime fight analyst. "Meldrick Taylor fought his heart out. He had earned the right of those extra two seconds."
Counterpoints were offered by Boston sports columnist Ron Borges, and, of course, Steele.
"It was hard initially to step back and reallylook at what had happened," Borges opined. "One guy (Taylor) got assaulted at the end, is what happened. Should they have stopped the fight? Yeah, they should have stopped the fight."
Added Steele: "I was really thrilled to be selected for this fight … Really, a great moment in my life. I never regretted what I did."
Again, the whirling dervish that had been Meldrick Taylor ceased to exist that March night a quarter-century ago. It was a fight that cost him a significant chunk of his prime, additional financial benefits (he had agreed to a six-bout, $10 million-to-$12 million contract extension with HBO, contingent on his winning) and, sadly, his health. His gift literally had been beaten out of him.
In the HBO documentary, Las Vegas ring physician Margaret Goodman said that Taylor, whose slurred speech just a few years after the Chavez fight was in marked contrast to the pre-Chavez model, "shows all evidence of chronic brain injury," and that his continued participation as an active boxer makes me embarrassed for the sport."
Some people – those who don't understand the thrall in which boxing holds its participants — have told me that Muhammad Ali stayed too long at the fair, that if they were in his place and knew what awaited him, they would never even have taken up such a dangerous occupation. But there are others who gladly would risk all to know, even for a day, what it must feel like to be one of the most charismatic and admired athletes ever to walk the face of the earth. There is a steep price that sometimes must be paid to achieve extraordinary things, and I have to believe a significant percentage of those who never come close to breaking free from the shackles of the mundane would accept future diminishment for true greatness in the full bloom of their youth.
Meldrick Taylor came so very close to having it all, and one can only wonder if he could more easily accept his sad present circumstances had he only had the benefit of two seconds that forever will be just beyond his grasp.
Avila Perspective, Chap. 230: Haney and Lomachenko Hit Hollywood and More Fight News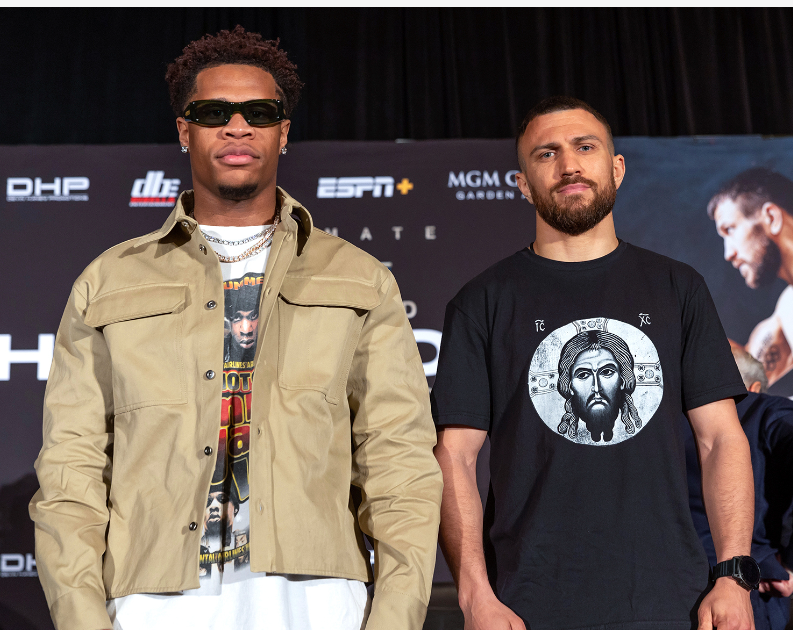 HOLLYWOOD, Ca.-Smack in the middle of glitzy Hollywood, two champions, Vasyl Lomachenko and Devin Haney, arrived to meet the press on Thursday despite another unusual California storm.
Also unusual was the low intensity press conference void of the now cliché verbal cursing and shoving performed to entice fans to buy tickets or pay-per-views.
This prizefight will be for the boxing scientists, the fans that appreciate the subtleties of the sweet science.
Undisputed lightweight world champion Haney (29-0, 15 KOs) will face challenger Lomachenko (17-2, 11 KOs) at the MGM Grand Arena in Las Vegas on May 20. ESPN pay-per-view will televise the Top Rank event.
At the Dolby Theater, the same location where Oscar winner Will Smith slapped comedian Chris Rock live in person without sanctioning, two actual prizefighters showed up to meet the media. Nobody slapped anyone.
There will be punches fired when they meet in two months.
Haney grabbed all the titles at once when he defeated Australia's George Kambosos twice in that fighter's home country. And Kambosos defeated Teofimo Lopez to win those same belts.
"This is a real fight. This is not an influencer fight. This is really for the belts. This is for the gold. This is possibly to determine the best in the world as well," said Haney.
Despite Haney holding all the belts some in the boxing world claim he does not deserve recognition.
Lomachenko, held three versions of the lightweight title after defeating Luke Campbell for the WBO, WBC and WBA lightweight titles, but lost to Teofimo Lopez who held the IBF version and became undisputed by beating Lomachenko. But Lopez lost to Kambosos and Haney beat the Aussie twice to show his superiority.
Both Haney and Lomachenko have elite fighting skills.
"We never know what will happen. We can prepare for one strategy, but in the ring it can all change. Right now, I don't know. I just train hard and prepare. I believe in God and in my team," Lomachenko said.
At age 24 Haney has demanded tough fights and took his team across the border for a couple of years to toughen up against Mexican sluggers who cared not about his impressive amateur career.
He excelled.
Lomachenko was an amateur boxing legend with countless fights and accolades including Olympic gold medals in the 2012 London Games and 2008 Beijing Games.
Lomachenko has always excelled.
Meeting face to face, the American Haney and Ukrainian Lomachenko realize they have no need to slap each other or unleash flammable comments at each other.
It's skill versus skill.
"I've seen hundreds of great matches over the years. But when I see a match like this, it stirs my blood because it is such an interesting fight to watch," said Top Rank's Bob Arum.
Absolutely.
London calling
Former heavyweight champion Anthony Joshua returns to the prize ring to re-establish his claims to the heavyweight title. Standing in the way is American Jermaine Franklin who predicts a knockout win over the British pugilist.
Joshua (24-3, 22 KOs) meets Michigan's Franklin (21-1, 11 KOs) at the O2 Arena in London on Saturday, April 1. DAZN will show the Matchroom Boxing card beginning at 11 a.m. Pacific Time.
Also on the card will be another American fighter, Ammo Williams (13-0, 9 KOs), who signed with Matchroom a few years ago and is ready to step up in class. He meets River Wilson-Bent (14-2-1, 6 KOs) in a middleweight bout.
Top Rank in Oklahoma
Former super bantamweight champion Isaac Dogboe (24-2, 15 KOs) opposes Robeisy Ramirez (11-1, 7 KOs) for the vacant WBO featherweight title on Saturday April 1, in Tulsa, Oklahoma. ESPN will televise the Top Rank card.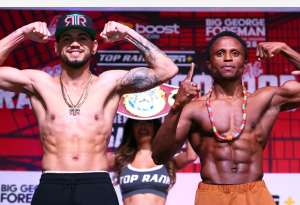 Also, Joet Gonzalez (25-3, 15 KOs) meets Enrique Vivas (22-2, 11 KOs) in a featherweight scrap. Both fighters are based in Southern California.
Tank vs Kingry All Access on Showtime
This Saturday night Showtime will be presenting the "All Access: Davis vs Garcia"   following the replay of last week's Las Vegas fight card that featured David Benavidez and Caleb Plant, plus three other fights. The programming begins at 10:35 p.m. PT.
Fights to Watch
Sat. DAZN 11 a.m. Anthony Joshua (24-3) vs Jermaine Franklin (21-1).
Sat. ESPN+ 4:05 p.m. Isaac Dogboe (24-2) vs Robeisy Ramirez (11-1).
Photo credit: Mikey Williams / Top Rank via Getty Images
To comment on this story in the Fight Forum CLICK HERE
The Latest Adventure of Glenn Azar: An Unconventional Boxing Story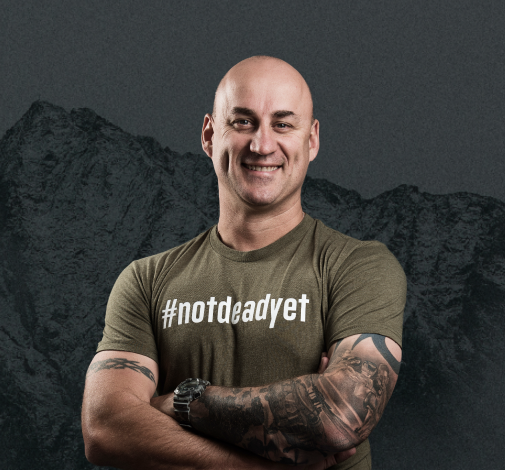 "I have never seen anything like it," said Glenn Azar, a world traveler who at age 51 was visiting Las Vegas for the first time. "There's great depth here and everyone has been so welcoming."
Azar wasn't a conventional tourist. He came here from Australia with a small stable of professional boxers. There's nothing unusual about that. Boxers come to Las Vegas to train from all corners of the world, just as artists that paint pictures once descended on Paris to hone their craft. The main lure for foreign boxers is the city's deep pool of useful sparring partners.
Where Azar deviates from the norm is that the fighters he mentors – Taylah Robertson, Cherneka Johnson, and Deanha "Dee Dee" Hobbs — are female. Brisbane's Robertson, a super flyweight, fights tonight (Thursday, March 30) on a Lee Baxter promotion in Toronto.
Azar spent 17 years in the Australian Army where he specialized in helicopter evacuations and advanced to the rank of lieutenant.
Before he got involved with the trio of boxers that he trains and manages, he turned his thirst for adventure into a successful business, leading intrepid adventure-seekers on long treks across daunting terrain such as New Guinea's Kokoda Track, a rugged 60-mile mountainous trail that can be traversed only on foot.
Azar's daughter Alyssa, now 26, inherited her father's thirst for adventure. At age 19 she became the youngest female to climb Mount Everest and has reached the summit from both the North and South sides.
Taylah Robertson was two fights into her pro career when she approached Azar about managing her. Thus began a new chapter in his life.
Before turning pro, Robertson was a two-time national amateur champion at 112 pounds and represented Australia in tournaments in Bulgaria, Poland, Russia, Turkey, Spain, and New Zealand. She brings a 7-1 record into tonight's assignment in Toronto with the setback coming in her fourth pro bout when she lost a split decision to 28-fight veteran Shannon O'Connell.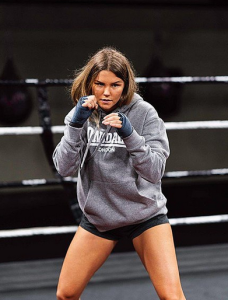 Unlike her coach, Robertson had been in Las Vegas before. Her prior visit was arranged by one of her biggest fans, Australian boxing legend Jeff Fenech, who arranged for her to train with Bones Adams at Adams' gym.
Bones' gym was on Glenn Azar's itinerary, but he and his little ensemble worked out at multiple boxing gyms during their three-week stay. Afternoons were often spent at the DLX gym where Azar arranged for one of boxing's hottest young trainers, Kay Koroma, to provide a helping hand. Koroma played an instrumental role in the amateur career of Claressa Shields and co-trains Mikaela Mayer alongside the venerable Al Mitchell. Taylah Robertson was familiar with Koroma from her amateur days.
Cherneka Johnson
Cherneka "Sugar Neekz" Johnson (15-1, 6 KOs) is the reigning IBF world super bantamweight champion. She makes the third defense of her title on May 20 in Dublin underneath Katie Taylor's homecoming fight with fellow unbeaten Chantelle Cameron. Johnson's opponent, Ellie Scotney, a 25-year-old Londoner, is 6-0 as a pro after a decorated amateur career. On paper it's a 50/50 fight.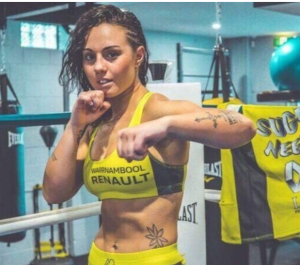 Cherneka spent the first 12 years of her life in her native New Zealand. She is a proud member of the Maori ethnic group and her tattoos pay homage to her culture. Last week, a robust sparring session with WBA world female bantamweight champion Jamie Mitchell attracted a crowd at the Mayweather Boxing Club.
Deanha Hobbs
At age 35, Hobbs is the senior member of Glenn Azar's team. She took up boxing, she says, to learn to defend herself against the schoolyard bullies that picked on her because of her tomboyishness. It's a fairly common thread in the life story of many female athletes in the combat sports communities.
Hobbs sports an 11-2 record and has knocked out six of her opponents. She has won three straight since suffering an eighth-round stoppage in a failed bid for Mary McGee's IBF 140-pound world title. To secure that assignment, which paid peanuts, Hobbs had to move up two weight classes and travel halfway around the world. She fought McGee, a Hoosier, in the Greater Chicago city of Hammond, Indiana.
—
When Taylah Robertson turned pro, one of her listed goals was to become the first female fighter to earn a million dollar purse. Katie Taylor and Amanda Serrano beat her to the punch, but she may yet reach that lofty sphere.
"Women train just as hard as men," says Azar, "and their fights can be just as exciting. I look forward to the day when there is purse parity. It will take time, but because she is only 24 years old, I can envision Taylah getting there before her career is finished."
And if that day should come, Glenn Azar can take a bow.
To comment on this story in the Fight Forum CLICK HERE
He Said, He Said: Who is at Fault for the Collapse of the Fury-Usyk Fight?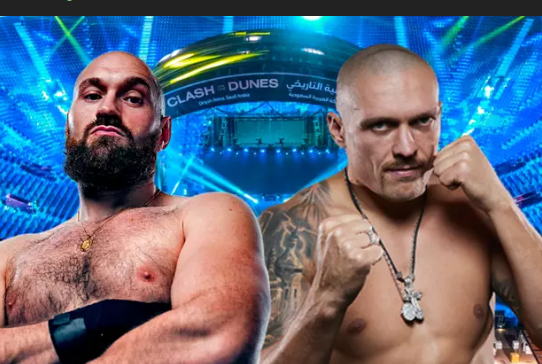 The last undisputed heavyweight champion was Lennox Lewis who held the WBA, WBC, and IBF belts after outpointing Evander Holyfield in their rematch at Las Vegas in November of 1999. (The WBO was around in those days, but didn't have their finger in the pot. The upstart organization, whose first "world heavyweight champion" was Francesco Damiani, had zero credibility among serious fight fans, many of whom still balked at ingesting the IBF.)
Lewis's reign as the undisputed champion lasted only five months. He was stripped of his WBA diadem after bypassing John Ruiz in favor of Michael Grant for his next fight. Ergo, twenty-three years have elapsed since boxing had an undisputed heavyweight champion and a Fury-Usyk fight would have produced the first fully unified heavyweight title-holder in the four-belt era.
There was talk that Tyson Fury and Oleksandr Usyk would meet on Dec. 17 of last year in Saudi Arabia on the day preceding the final game of the World Cup in neighboring Qatar. More recently, there was talk that they would meet at Wembley Stadium in London on April 29.
A week ago, representatives of Tyson Fury and Oleksandr Usyk appeared close to finalizing a deal, but negotiations hit a snag and, for the moment, the fight is dead.
Yesterday (March 27), Yahoo combat sports columnist Kevin Iole posted a story that was harshly critical of the Gypsy King. "The blame for this goes squarely on the broad shoulders of Fury," he wrote.
Iole noted that Team Usyk acquiesced to Fury's demand for 70 percent of the purse, notwithstanding the fact that the Ukrainian held three-fourths of the meaningful belts. Referencing Ali-Frazier I, the "Fight of the Century," Iole noted that this iconic event would have never happened if the larger-than-life Muhammad Ali had attempted to leverage his popularity with "grotesque financial demands." (The purse split was reportedly 50/50.)
Gareth Davies, the most well-known boxing scribe in the UK and something of a celebrity himself, had a somewhat different take. In a widely-circulated television interview, Davies noted that it was actually Team Usyk that pulled the plug. The sticking point, by all accounts, was the percentage splits to be built into a rematch clause.
Davies did not reproach Usyk for walking away from the negotiation table. His remarks were seemingly meant to shelter Fury, his British countryman, from the scathing rhetoric directed at him.
Assuming that the window for rekindling negotiations is shut tight, Oleksandr Usyk is expected to fight England's Daniel Dubois next. Dubois is first in line among Usyk's mandatory opponents. It has also been reported that deep-pocketed investors in the Middle East are interested in pitting Usyk against Deontay Wilder; a most delicious match-up indeed.
Former U.S. college cheerleader Joe Joyce is expected to be Tyson Fury's next opponent assuming that he gets by Zhilei Zhang on April 15. Joyce is a heavy favorite in the match at London's Copper Box arena. However, Matchroom promoter Eddie Hearn still holds out hope of luring Fury into a match with Anthony Joshua. By Hearn's reckoning, this is the biggest fight out there for the Gypsy King; bigger even than Fury-Usyk.
Anthony Joshua returns to the ring this Saturday at the O2 in London with U.S. import Jermaine Franklin in the opposite corner. It will be Joshua's first fight under the tutelage of new head trainer Derrick James.
In the meantime, boxing continues to shoot itself in the foot by failing to produce the fights that fans are most desirous of seeing.
To comment on this story in the Fight Forum CLICK HERE