It sounds dangerous and imposing when describing the BKB pit. It's a small circular area with no escape.
"Lock them in!" shouted referee Russell Mora.
The doors go up and there's no escape from the confines of the pit.
Two problems emerged. Other than Layla McCarter and Diana Prazak, many of the boxers that entered the pit did not seem intent on knocking out the other as the Big Knockout Boxing label would suggest.
Jonathan Chicas floored Javier "Pelos" Garcia three times total in their welterweight clash in the pit. Both came out looking for the homerun and it was Chicas who caught his pitch first and delivered the champion Garcia to the mat with a right hand.
In the opening bout that was not televised, Julian Pollard stopped Elijah McCall in the fourth round of a heavyweight match.
The best knockout was the skillful display between McCarter and Prazak that featured the boxer versus the puncher. On paper it looked like McCarter was not capable of winning via knockout. But if you've followed her career, especially recently, she's shown the ability for accuracy and pinpoint power.
Prazak entered with bone crunching power and when you add the small dimensions of the pit, it equates to a bigger chance of landing the knockout blow. It didn't happen on Saturday night but against any other fighter I'm sure Prazak will deliver.
Two-minute drill
The major problem with BKB is the major problem of women's boxing; few knockouts.
Both fight two-minute rounds and this leaves less time to set up an opponent for the knockout blow. Two minutes is not enough time to score knockouts. Women's boxing has suffered through this problem for decades. Female MMA participants fight five-minute rounds in UFC and they don't have too problems with annoying decisions.
Female boxing needs to change to three minutes or continue to suffer through a lack of entertainment value for fight fans. Everyone loves a knockout and it's the primary reason fans do not like female boxing. No knockouts. Instead, fans are left with unpopular decisions by judges.
BKB suffered through this for consecutive fight cards. Too many unpopular decisions caused by the short two-minute rounds. It's not enough time to trigger a knockout. Even though the pit is small and allows less running, it's not that small. Another minute of action should lead to more knockouts, not decisions.
That leads to another problem.
Judging pit fights
Most of the fights in the BKB pit ended in a decision. The main event resulted in the most unpopular decision of the night when the judges ruled the middleweight fight between Gabe Rosado and Curtis Stevens with a majority draw.
Should pit fights be judged like boxing?
That's the major question. If fights in the pit are not counted in a professional boxer's record, then why judge them in the same manner?
Shouldn't a pit fight be judged differently?
I would think judges for pit fights should rule more in favor of an aggressive performance rather than a defensive performance. It's not boxing, so why use boxing boundaries to judge a fight?
Rosado entered the pit under boxing methods of winning a fight and expected a victory using the jab and movement. He didn't win. But had he entered the pit realizing that aggressiveness leads to winning, it would have been a different fight. It would be a fight the BKB hoped to get when it devised the scheme.
Lock this up, fix it, and I think it can succeed.
Follow David A. Avila on Twitter:
Yes I Am, No I'm Not: Money May is at it Again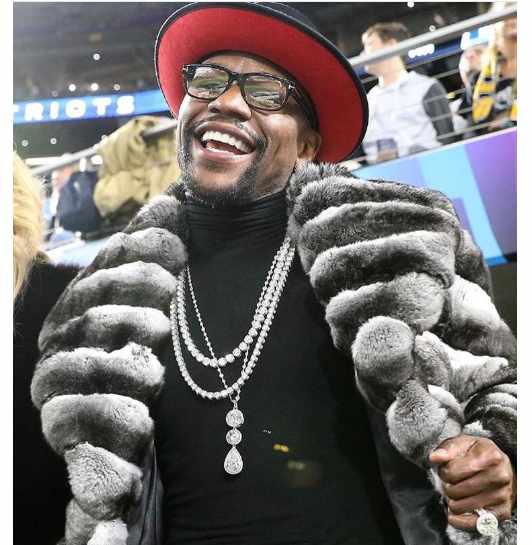 "Yesterday I was lying, today I'm telling the truth." So said Bob Arum while shooting the breeze with a gaggle of reporters in a Syracuse hotel room.
It's been 38 years since Arum uttered that phrase but it has stuck to him like a barnacle. To some, the first part of that line, the part about lying, is the perfect tagline for the Machiavellian sport of prizefighting.
Floyd "Money" Mayweather has taken this off-the-cuff remark to a new level. He's as mercurial as the weather on a tropical island.
Earlier this week, Mayweather told Reuters correspondent Rory Carroll that he was done with boxing: "I've got calls to get back into the ring, but my health is my wealth (and) boxing is a very, very brutal sport…You have got to know when to hang it up. I had a great career."
The story made the rounds. Other web sites pounced on it as if this were a major news story. A rival site, although it had no new information, told its readers that Mayweather's decision was firm.
It wasn't until yesterday (Thursday, Nov. 21) that the story bubbled up on the CBS Sports web page. "Floyd Mayweather says he is officially done with the 'brutal sport' of boxing" ran the headline above the regurgitation. Then, later that day, Floyd Mayweather took to his Instagram account to announce that he would be returning next year.
"Dana White and I working together again to bring the world another spectacular event in 2020," he wrote shortly after uploading a photo of himself and the UFC poobah seated side-by-side at an NBA game between the Celtics and Clippers in Los Angeles.
So, two Floyd Mayweather stories appeared on the same day, one contradicting the other. And of the two, the second story, Floyd's retraction, as it were, has the most credence.
Floyd, soon to be 43, has stayed in great shape, but beyond that it was almost certain that we hadn't seen the last of him. For one thing, he knows that, if he so chooses, he can rake in a big pile of dough without working very hard. The most grueling aspect of his encounter with Conor McGregor was the four-city pre-fight international tour. When the bell rang, it was a stroll in the park.
That sham of a fight — less a sporting event than a pop culture phenomenon — attracted the second-highest number of pay-per-view buys in the history of combat sports (trailing only Mayweather-Pacquiao). The live gate was more than the two Canelo-GGG fights combined.
Beyond that, whatever returns Floyd gets on his investments and whatever income accrues from his various businesses, it's unlikely to be enough to keep him from eventually running out of money unless he tones down his ostentatious lifestyle. The great baseball pitcher Sandy Koufax retired at the age of 30 and came to rue that decision. "When I left baseball," said Koufax, "I had enough money to last the rest of my life but I discovered that was only true if I stopped spending."
Floyd is reportedly one of only three athletes (Tiger Woods and Michael Jordan are the others) to have made over $1 billion in career earnings. But he spends money like there's no tomorrow, buying a lot of stuff such as gaudy jewelry that depreciates in value as soon as he walks out the door. No, it's not absurd to think that he could outlive his money. He has no bad habits that could shorten his life span so he figures to live to a ripe old age. Yes, the day of reckoning is a long way off, but it will eventually come unless Floyd reels in his appetite for expensive toys and makes a few more big scores and that means getting back in the ring.
Predictably, the idea of Mayweather coming back has fomented a backlash. Nate Scott, the managing editor of a site called "For The Win," a USA Today affiliate, says, "At a certain point, watching an aging man dodge punches isn't that thrilling anymore. It becomes rote. Not to mention he's a reprehensible person."
On social media, Scott's sentiment is widely shared.
But the reality is that whether one likes Floyd or not, he's newsworthy and the media won't tire of writing about him so long as his very name is clickbait. Yes, journalists want to write serious stories, but they are also under pressure to write stuff that attracts eyeballs. The eyeballs pay the bills.
And from Floyd's point of view, there's that old saw that says that all publicity is good publicity so long as one's name is spelled correctly. He revels in playing the role of the heel and every time someone bashes him it translates into a few more bucks when he turns up again with his gloves on.
Check out more boxing news on video at The Boxing Channel 
To comment on this story in The Fight Forum CLICK HERE
Teddy Atlas, Keeper of His Late Father's Flame, Called to a Higher Mission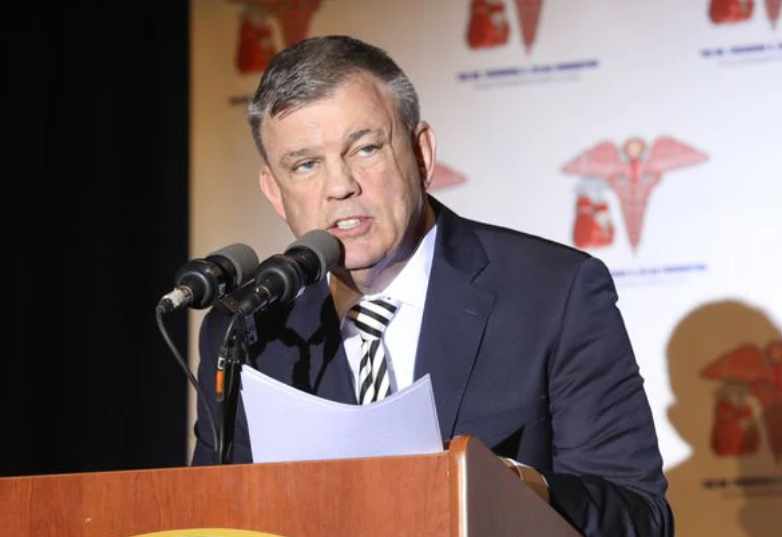 STATEN ISLAND, N.Y. – What people see, and hear, is not always what they get or expect. That is especially true of Theodore A. Atlas Jr., whom the world at large, and particularly the boxing world, knows as a first-rate trainer of fighters and an astute, opinionated longtime analyst of the sport for ESPN and for four Olympics televised by NBC.
For most individuals who have fully devoted themselves, or nearly so, to the sweet science, there can be no greater point of pride than to be inducted into the International Boxing Hall of Fame, which Teddy Atlas was on June 11 of this year in the Observer category. But for a very select few individuals even that signal achievement must yield precedence to a higher mission and purpose which more clearly defines who and what they are as human beings.
So, for those whose sensory perceptions of this special man are limited to his commendable corner work and heavy Staten Island accent, be advised that, as much as he loves boxing, the greater measure of who he is was on display here Thursday night at the Hilton Garden Inn. At the 23rd annual Teddy Dinner, the founder, chairman and driving force behind the Dr. Theodore A. Atlas Foundation was again at his persuasive best, urging diners to again open their hearts and minds to those less fortunate. The dais again was filled with like-minded celebrities who gladly lend their time and prestige to such a worthy ongoing project.
Recently retired ESPN broadcaster Bob Ley, who received an award named after the late journalist Jack Newfield, was making his first appearance at the event and he was visibly moved by tales of pain eased, wrongs righted and hope restored.
"I had heard this much about this dinner, and it was totally undersold to me," Ley said. "This is an experience. These incredible stories, anecdotes, human tales, (are about) making a difference. Teddy Atlas, the man, he makes a difference. Jack Newfield made a difference. He was driven by his principles. To be here tonight, in this company, and to accept an award in Jack Newfield's name, is to me a great honor."
To have a better understanding of the charitable principles which have arguably made Teddy Atlas Staten Island's most prominent citizen and resident angel of mercy, it is required to know the history of his late father, Dr. Theodore A. Atlas, a physician who over decades unselfishly became a local legend. Dr. Atlas dispensed his time, more than a little of his own money and especially his genuine concern for his patients, especially the poor, and even more especially the children of the poor. His level of compassion must have seemed bottomless to those residents of this comparatively unglamorous borough of New York City who seldom are served much when life's better things are handed out.
Dr. Atlas waded through snow drifts and climbed through windows to deliver babies during winter's worst storms; he went into the projects to provide needed medical services while other doctors refused to go there, and on Wednesdays he used blankets and pillows to make makeshift beds in his office and performed tonsillectomies on patients who could not afford to pay for surgery. He founded two hospitals whose first function was not to ascertain how much and how soon their patients will be able to pay for the services they received. He served his community for 55 years until his death, at 88, in 1994, leaving a void so wide it must have seemed impossible to even consider the possibility it could ever be bridged.
But Teddy Atlas, his father's son and namesake, was determined that the legacy of the dad he held in such towering esteem not fall into disrepair. He established the Dr. Atlas Foundation in 1997, whose modest early successes have, if anything, matched or even exceeded those of the original Theodore A. Atlas, in no small part because of the platform that boxing has afforded him.
Like his father, Teddy, well-known for his work in boxing, would prefer not to take credit for all the good deeds made possible by the Dr. Atlas Foundation. But that credit comes nonetheless from the recipients of those good deeds, who understand that Teddy, although assisted by so many devoted friends and supporters drawn to the cause, is no mere figurehead. As has been the case with the many accomplished fighters with whom he has worked, such champions as Michael Moorer (who was in attendance), Wilfred Benitez, Simon Brown, Joey Gamache, Donny Lalonde, Barry McGuigan, Tracy Harris Patterson, Timothy Bradley and recently dethroned WBC light heavyweight titlist Oleksandr Gvozdyk (also in attendance), Teddy is a hands-on, all-in, heart on his sleeve kind of guy when it comes to his interaction with those who come to the Foundation seeking assistance.
So diners learned of the two severely impaired children who found reasons to smile after they received motorized wheelchairs furnished by the Foundation; the single mother of four, one autistic, who feared she would be forced to live in a city shelter because she had fallen behind in her rent, until the Foundation stepped in; and another mom, with a son inflicted with muscular dystrophy, whom Teddy said was his "hero."
"Her husband, obviously not a hero, took off" after his son's disability was diagnosed," Teddy said. "She was no longer able to bathe him properly in her small apartment bathroom. She needed a handicap setup put in. She was also sick, and she was living on her Social Security disability check." Yep, the Foundation provided her with what she needed to get by.
You think there's pressure to win a fight which seems lost in the prize ring? To sink a couple of free throws when there's only a second or two on the clock and you're down a point? To make that 15-foot putt with the green jacket that goes to the Masters champion on the line, and a national TV audience watching? Well, yeah. But pressure comes in many forms for many people, and in many ways.
"We all feel it, and we all are impacted by it, and we all react differently to it," Teddy said. Of the aforementioned cases mentioned in this story, and others, the pressures can be enormous. But they can be alleviated by the people like Teddy Atlas, his cadre of Foundation workers and the hundreds of diners who attend his dinner not only for a good meal but for the opportunity to also do what they can to bring a little light into the darkness of despair.
"These pressures can also be a privilege, our privilege, our gift, that we are lucky enough and blessed enough to be able to make a difference in people's lives, to sometimes awaken them from their individual nightmares so they can have hope to feel loved and care off," he continued.
For all his excitability on-camera, Teddy's multifaceted nature includes the gentle soul of a poet. While he was in Philadelphia for two months, preparing Gvozdyk for a sure-to-be-difficult Oct. 18 unification showdown with IBF champ Artur Beterbiev, a bout won by Beterbiev on a 10th-round stoppage, Teddy wrote a quite literary message to his guy, which he intended to be relevant regardless of the outcome. But the message conveyed really applies to everyone, as he told his audience.
"There is a darkness that one works into, knowing there is risk and uncertainty waiting for them," it begins. "But there is also a certain light that can be found through the dark, an understanding that comes from having gone to the inner caves of one's self and discovering what is there. That journey can create a path, that can lead to new and greater places that would not have been possible before.
"The courage it took to walk into this place allows you to now leave with a lantern of knowledge and awareness that will forever provide a beacon of light, wherever you go. You will be a champion. Again."
For those interested in contributing to the Dr. Theodore A. Atlas Foundation, donations can be sent to 543 Cary Avenue, Staten Island, N.Y. 10310.
Photo credit: Jason Paderon
Check out more boxing news on video at The Boxing Channel 
To comment on this story in The Fight Forum CLICK HERE
Avila Perspective, Chap. 74: Cancio, Wilder, Santa Cruz and More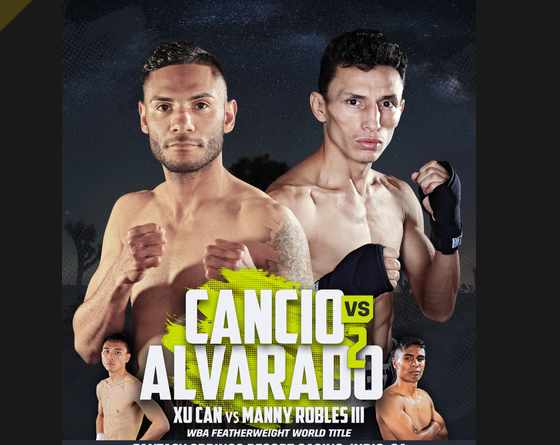 Cancio vs. Alvarado, Wilder vs. Ortiz, Santa Cruz vs. Flores and More
Casinos are getting rich and boxing fan grunts are getting slightly frustrated.
It's the big guys versus the little guys on Saturday with heavyweights in Las Vegas and featherweights in Indio, California going head to head in separate shows.
If only I could be in two places at once.
Let's start with the little guys as WBA super featherweight titlist Andrew Cancio (21-4-2, 16 KOs) and his jackhammer hands defends against former foe Rene Alvarado (31-8, 20 KOs) at the Fantasy Springs Casino in Indio. DAZN will stream the Golden Boy Promotions fight card.
They clashed once before in 2015 with the Cancio winning by technical knockout in the eighth round due to a cut from a punch suffered by Alvarado. Until the stoppage, it was fierceness at its best.
"I wanted to give him (Alvarado) another chance," said Cancio who still has his day job breaking cement with a jackhammer. "He deserves it. Who knows if I would have won if not for the cut?"
Cancio is a cool customer.
Also on the same card will be China's Can Xu (17-2, 3 KOs) defending the WBA featherweight title against Manny Robles III (18-0, 8 KOs), the son of trainer Manny Robles Jr. who works with IBF, WBA, WBO heavyweight champ Andy Ruiz.
Xu, who only has a couple of knockouts, can't help from being involved in wars. He endured hell and back against Puerto Rico's Jesus Rojas in his last U.S. appearance at the Toyota Center in Houston back in January. Now he gets Robles who has improved tremendously since his pro debut at the same venue back in 2012. It was not an impressive moment. But he's slowly and determinedly added more skills in the last seven years. Now he's 25 years old and has his man strength. It makes a major difference.
Another interesting return match features Rashidi Ellis (21-0, 14 KOs) against Eddie Gomez (23-3, 13 KOs) at the same venue as their first encounter. That first fight only lasted one brutal round. Can Ellis duplicate his first victory over the Bronx fighter?
Las Vegas
Speaking of rematches, WBC heavyweight titlist Deontay Wilder (41-0-1, 41 KOs) has to reload when he meets Cuban challenger Luis Ortiz (31-1, 26 KOs) at the MGM Grand in Las Vegas. FOX pay-per-view will televise the PBC fight card. It's been 20 months since their first clash ended in a knockout win for Wilder.
For those unaware, Wilder has held the WBC version of the title for almost four years and that includes nine title defenses. All but one has ended by knockout and the one that got away (Tyson Fury) will be his new date should he prevail against the southpaw Ortiz.
Wilder has pure athleticism and has added more technique each time he jumps in the boxing ring. The first time I witnessed Wilder in person was at the Tropicana Hotel in Las Vegas back in 2010. He's improved immensely since that time. I saw him later that year at Fantasy Springs. He traded knockdowns with Harold Sconiers and actually could have lost that fight, but the referee missed a crucial knockdown. Wilder could not get up and had there been a count, he would not have survived. But sometimes you get a break and Wilder has shown he knows how to cash in.
Ortiz has more skills than the champion but lacks the athleticism and is older. Some say he is much older than Wilder. He's made some astute changes for his career and now the Cuban heavyweight can cash out or cash in, depending on the outcome. Either way he's going to make some heavyweight money.
Heavyweights are a different ilk. They are large, carnivorous and pack immense power. Anything can happen at any time of the fight.
Need convincing?
Look at the Andy Ruiz fight against Anthony Joshua. The Mexican heavyweight was supposed to be an easy substitute opponent and despite getting knocked down, he got up and wiped the mat with Joshua.
In this Wilder-Ortiz rematch anyone can win. Ortiz had Wilder down in their first fight but could not finish the job. Wilder finished the job when he put Ortiz down. Will we see a repeat?
The MGM Grand should be packed with fans eager to see the result.
Santa Cruz
In another world title clash Leo Santa Cruz (36-1-1, 19 KOs) moves up a weight division and fights Miguel Flores (24-2, 12 KOs) at the MGM Grand on the pay-per-view portion on Saturday. It's for another version of the WBA super featherweight title that Cancio is defending on the same day in California.
Yes, it's confusing. You got a title and I got a title and everybody's got a title.
Still, Santa Cruz is hunting for his fourth division world title. I still remember watching him for the first time in November 2007 at Morongo Casino. Bobby Pacquiao was the main event, Carlos Baldomir was a semi-main eventer and Santa Cruz wore braces for his teeth into the fight if I'm not mistaken.
Back in those days no major promoter wanted to take a chance on Santa Cruz. Though his older brothers had fought and were successful, many matchmakers were not convinced on little Leo. But he could always fight up a storm. He had a life and death struggle at Pala Casino with Robert DaLuz in 2009. After that fight he seemed to find himself and got on a tear much like a Major League Baseball player finding his stroke.
Since 2012 he's won the bantamweight, super bantamweight, and featherweight world titles. He lost to Carl Frampton in 2016, then regained it in 2017 in the rematch. Now he fights Flores for the super featherweight title. They were supposed to fight back in February but Flores was forced to pull out with an ankle injury. Now they are finally meeting.
"I'm really glad I'm getting this second opportunity to fight Leo Santa Cruz," said Flores. "I thought I would never get a second chance, but here I am."
Santa Cruz has bigger plans than just securing a fourth division world title, he wants world domination at 130 pounds.
"I want to unify and fight everyone at 130," said Santa Cruz. "Whoever they throw in front of me."
First up is Flores. But 300 miles to the west, Cancio will be defending his version of the WBA super featherweight title too. And he's not too happy.
"I think it's a bunch of B.S. I got the short end of the stick once again. I'm not a big name to a lot of people like Leo Santa Cruz is. I feel like that's why they did it," said Cancio. "If I come out victorious Nov. 23 and if Leo comes out victorious Nov. 23, that's a fight I definitely want to make. I feel like I'm the bigger, stronger 130-pound guy."
That's a fight many people would like to see made.
Friday Fights
In the sleepy town of Ontario, California, another Thompson Boxing Promotions card takes place at the Doubletree Hotel on Friday, Nov. 22.
Three interesting eight-round fights highlight the card including the newest finds by the Orange County based company in a lightweight contest. They specialize in finding talent.
Ruben Villa (10-0, 8 KOs) seeks to extend his unbeaten streak against Eduardo Lionel Rodriguez (8-1-1). The lanky Santa Monica fighter Villa emerged on top with a win over another undefeated fighter George Acosta last May. He followed that up with a quick two-round destruction over veteran Ruben Tamayo last July. Now he faces another test with Rodriguez.
Also on the Thompson card, is the return of Giovani Santillan (24-0, 14 KOs) who meets Wilfrido Buelvas (20-12) in a welterweight match. It's been 19 months since Santillan was last in the ring and knocked out Alejandro Barboza on a televised match to retain the NABO title.
Santillan, 28, fights out of San Diego and his southpaw style allowed him to rise up the rankings in impressive fashion until his disappearance from the fight scene.
Does he still have it?
Doors open at 6:30 p.m. and the first bell starts around 8 p.m. For more information call (714) 935-0900.
Al Mitchell
Al Mitchell, the trainer for female super featherweight star Mikaela Mayer, will be inducted to the USA Boxing Alumni Association Hall of Fame on Friday Dec. 13, it was announced this week.
Mitchell, 76, has been an advisor for many top amateur boxers throughout the past 60 years and was the head coach for the 1996 US Olympic Team. He also advised on numerous Olympic teams that featured boxers such as Vernon Forrest and Floyd Mayweather.
"I want to thank all the coaches who worked under me and all the young fighters I've worked with," said Mitchell. "I'm thankful that USA Boxing believed in me, putting 13 to 15 boxers in my program, and cream does rise to the top."
Today, Mitchell has female fighter Mayer headed to a world title bid in 2020. The tall super featherweight will be accompanying Mitchell when he is inducted to the Hall of Fame at ceremonies held at the Golden Nugget Hotel and Casino in Lake Charles, Louisiana. Al Bernstein will host the proceedings.
Others being inducted are George Foreman, Joe Frazier, Mark Breland, Ray Rodgers and Sen. John McCain.
Fights to Watch
Fri. ESPN+ 7 a.m. Jack Caterall (24-0) vs Timo Schwarzkopf (20-3)
Fri. WWW.RingTV.com
Sat. DAZN 11 a.m. Callum Smith (26-0) vs John Ryder (28-4).
Sat. WWW.DBE1.com 4 p.m. Marie Eve Dicaire (16-0) vs Ogleidis Suarez (29-3-1); Raquel Miller (9-0) vs Alma Ibarra (7-0).
Sat. DAZN 4:30 p.m. Andrew Cancio (21-4-2) vs Rene Alvarado (31-8); Can XU (17-2) vs Manny Robles III (18-0)
Sat. FOX pay-per-view 6 p.m. Deontay Wilder (41-0-1) vs Luis Ortiz (31-1); Leo Santa Cruz (36-1-1) vs Miguel Flores (24-2); Luis Nery (30-0) vs Manny Rodriguez (19-1); Brandon Figueroa (20-0) vs Julio Ceja (32-4)
Check out more boxing news on video at The Boxing Channel 
To comment on this story in The Fight Forum CLICK HERE