When The Grandmothers Stopped Falling For Tyrone Brunson
Words can come back to haunt you, and seldom in the annals of boxing has that been more the case than in the lead-up to the Feb. 20, 1993, bout between WBC super lightweight champion Julio Cesar Chavez and challenger Greg Haugen, which drew a record on-site crowd of 132,247 to Azteca Stadium in Mexico City. Much to his later regret, Haugen had said that Chavez's 82-0 record had mostly been crafted "against Tijuana taxi drivers that my mom could whip."
The slur infuriated Chavez, who vowed to punish Haugen, and did, stopping him in five rounds. Bruised and chastened, Haugen was obliged to concede that "They must have been tough taxi drivers."
Decide for yourself how a boxing tournament pitting Tijuana taxi drivers against feisty grandmothers might turn out. And while it is possible than an occasional granny could hold her own against a south-of-the-border cabbie in the ring, this much is abundantly clear: Tyrone Brunson should never be confused with Julio Cesar Chavez.
On paper, at least, Friday night's 10-round main event on the CBS Sports Network appears to be somewhat interesting, with super welterweights Tyrone "Young Gun" Brunson (22-4-1, 21 KOs) squaring off against Australia's Dennis Hogan (20-0-1, 7 KOs) in Hinckley, Minn. Hogan's WBA Oceania title, whatever that is, will be on the line, as will the vacant WBA-NABA 154-pound belt.
But this debut event – the first in a multi-fight deal for Greg Cohen Promotions with CBS Sports Network – is curious, if only for the presence at the top of Brunson, 30, a Philadelphian who began his professional boxing career with a record 19 consecutive first-round knockouts. Since then, however, Brunson is 3-4-1, with six of those losses coming inside the distance.
There are those – principally Carlos Llinas, who promoted Brunson when he was putting away opponents faster than Kobayashi used to gulp down wieners at those 4th of July Nathan's Hot Dog Eating Contests on Coney Island – who insist that Brunson was, and maybe still can be, a legitimate factor in a harsh sport in which frauds are always eventually exposed. But in the quest for artificial notoriety, whatever chance Brunson had to hone and refine his skills in the traditional manner got lost in the mist.
After Brunson won his 19th straight quickie knockout, he moved up in class, if not drastically so, to take on Antonio Soriano on Aug. 15, 2008, in Edmonton, Alberta. Soriano came in with a so-so 12-9-1 mark that included wins by KO.
"Even if you fought 19 grandmothers in a row, it's still kind of notable to get all of them out of there in the first round," Llinas told me. "Look, I know Tyrone has been moved slow. There have been bumps along the way. But we're on the way now. I've seen him spar with guys like Kassim Ouma, Ronald Hearns, Kermit Cintron and Andy Lee, and more often than not he walks through them. I saw him flatten Hearns in the gym.
"I truly believe Tyrone has what it takes to be special. He's got everything. He's got the heart, he's got the chin and, obviously, he has the power."
In that first matchup with an opponent with a discernible pulse, Brunson was obliged to settle for a six-round majority draw. Since then, the road has been much more treacherous for the would-be knockout king, and it doesn't figure to get any easier against Hogan, who, as a member of Cohen's promotional stable, is the "house" fighter on Friday night.
I was unable to get in touch with Brunson, but I did speak to Llinas, who is not involved in this particular fight and now concedes that his plan, bought into by Brunson, to gain notoriety with the first-round KO streak probably was an unwise decision on their part.
"In retrospect, maybe it was a mistake to bring Tyrone along so slow," Llinas said. "I'd never done that before. "Sometimes it bothers me that I might not have done the right thing. Now that he's got these harder fights …
"I tried to do what's best. It (the first-round KO streak) was kind of an angle that we all came up with and tried to achieve. We believed in Tyrone's talent, and still do, but perhaps we should have groomed him better along the way. I guess we were trying to reinvent the wheel. It didn't work out. As he stepped up in competition, things got a little tough."
It would have been nearly impossible for Brunson not to have stepped up in competition, given the rock-bottom level of opposition he blitzed through en route to that 19-0 mark. At the time that they faced Brunson, his 19 victims were a cumulative 59-108-8 with 27 wins by KO and 71 KO defeats. Three bouts ended in no-contests. Four of his opponents were making their pro debuts and never fought again; three more never fought again after losing to him, and only one, James Morrow, had a winning record. He was 8-1-2 when he squared off against Brunson, but thereafter went 4-16-1 with 10 losses by KO or stoppage.
In that whole bunch, only one fighter could be described as having a recognizable "name." That would be Kirk Douglas, but not the actor who played Spartacus in 1961.
There are, of course, quite a few fighters who begin their pro careers with long knockout streaks. Thomas Hearns won his first 17 fights in such a manner, and Michael Moorer opened with 26 straight putaways. But while some of the guys they were starching early on were gimmes, Hearns and Moorer gradually faced opponents who helped them elevate their game and develop their skills until they became what they became. No one should expect the cleanup man on a beer-league, slo-pitch softball team to suddenly make the jump to the majors just because he's thumped a few homers on the local municipal field.
A closer parallel to the journey taken by Brunson might be journeyman heavyweight Faruq Saleem, whom Butch Lewis had dared to dream might become the second coming of his biggest star, Michael Spinks. Matched against fall-down guys comparable to those Brunson was mowing down, he won his first 38 fights, 32 inside the distance, which prompted Butch to declare he could see him possibly wangling a shot at the heavyweight championship, if only everything fell just right.
Saleem then was stopped in four rounds by Shawn McLean, who had come in with a 4-4 record, all four of his losses coming by knockout. Even he had to see the handwriting on the wall then, and he retired, never to fight again.
There is a part of me that wants to believe that Tyrone Brunson, who was so poorly served by imprudent matchmaking and false hope, still might find within himself some spark of whatever it was that once made him a distant outrider on the imagination of fight fans. But the lineup of grannies has been replaced by, if not top-tier opponents, at least tough taxi drivers who have demonstrated that they are more than capable of fighting back.
Bazinyan Overcomes Adversity; Skirts by Macias in Montreal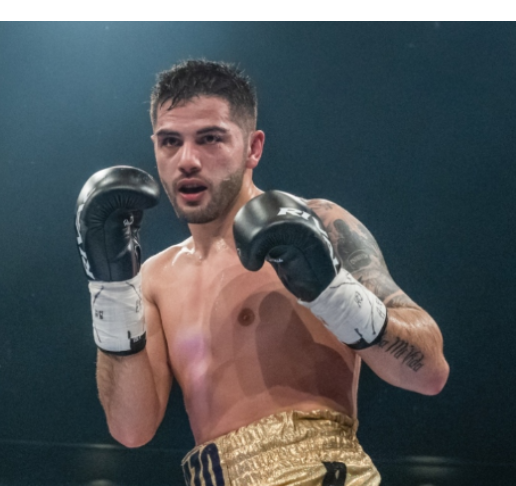 Camille Estephan, one of two prominent boxing promoters operating in Quebec, was back at his customary playpen tonight, The Montreal Casino, with an 8-bout card that aired in the U.S. on ESPN+. The featured bout pit Erik Bazinyan against Mexican globetrotter Jose de Jesus Macias in a super middleweight bout with two regional titles at stake. Bazinyan entered the contest undefeated (29-0, 21 KOs) and ranked #2 at 168 by the WBC, WBA, and WBO.
A member of the National Team of Armenia before moving with his parents to Quebec at age 16, Bazinyan figured to be too physical for Matias. He had launched his career as a light heavyweight whereas Matias had fought extensively as a welterweight. However, the battle-tested Macias (28-12-4) was no pushover. Indeed, he had the best round of the fight. It came in Round 7 when he hurt Bazinyan with a barrage of punches that left the Armenian on shaky legs. But Bazinyan weathered the storm and fought the spunky Macias on better-than-even terms in the homestretch to win a unanimous decision.
The judges were predisposed toward the "A side" and submitted cards of 98-92, 97-93, 97-93.
In his previous bout, Bazinyan was hard-pressed to turn away Alantez Fox. Tonight's performance confirmed the suspicion that he isn't as good as his record or his rating. He would be the underdog if matched against stablemate Christian Mbilli.
Co-Feature
In what stands as arguably the finest performance in his 14-year pro career, Calgary junior welterweight Steve Claggett dismantled Puerto Rico's Alberto Machado, a former world title-holder at 130 pounds. Claggett had Machado on the canvas twice before the referee waived the fight off at the 2:29 mark of round three, the stoppage coming moments after the white towel of surrender was tossed from Machado' corner. It was the sixth straight win inside the distance for the resurgent Claggett (35-7-2, 25 KOs) who was favored in the 3/1 range.
Claggett scored his first knockdown late in round two with a chopping left hook. The second knockdown came from a two-punch combo — a short right uppercut to the jaw that followed a hard left hook to the body. Machado, whose promoter of record is Miguel Cotto, falls to 23-4.
Claggett, who won an NABF belt, would welcome a fight with Rolly Romero. A more likely scenario finds him locking horns with undefeated Arnold Barboza, a Top Rank fighter.
Also…
Quebec southpaw Thomas Chabot remained undefeated with a harder-than expected and somewhat controversial 8-round split decision over 20-year-old Mexico City import Luis Bolanos. At the conclusion, Chabot, who improved to 9-0 (7), was more marked-up than his scrappy opponent who declined to 4-3-1. This was an entertaining fight between two high-volume punchers.
In a middleweight affair slated for six, Alexandre Gaumont improved to 8-0 (6 KOs) with a second round TKO over hapless Piotr Bis. The official time was 3:00.
A 37-year-old Pole making his North American debut, Bis (6-3-1) was on the canvas six times in all during the six minutes of action. There were two genuine knockdowns, the result of short uppercuts, two dubious knockdowns, a slip, and a push.
As an amateur, Gaumont reportedly knocked out half of his 24 opponents. This sloppy fight with Bis wasn't of the sort from which Gaumont can gain anything useful, but he is a bright prospect who bears watching.
To comment on this story in the Fight Forum CLICK HERE
Avila Perspective, Chap. 239: Fernando Vargas Jr. at the Pechanga Casino and More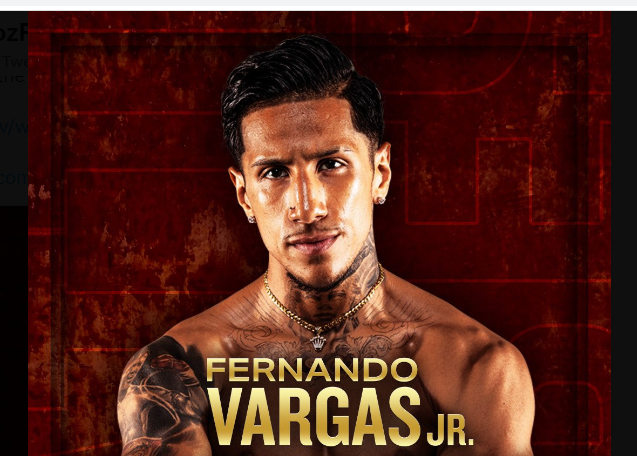 Once upon a time the name Ferocious Fernando Vargas stirred up the blood of many a Southern California boxing fan and others.
Based in Oxnard, California, the Ferocious One dared to be great and was fearless in charging forward like an Aztec warrior against all odds and opposition. Those who followed him expected it and though he only had 31 professional fights, each battle was dripping with drama.
Remember his battles with Ike Quartey, Winky Wright or Sugar Shane Mosley?
Even his losses were blazing unforgettable wars with Felix Trinidad, Oscar De La Hoya and Ricardo Mayorga.
Vargas no longer fights but he has three sons and they do the fighting for the Las Vegas-based family. It's Fernando Vargas 2.0.
The oldest son Fernando Vargas Jr. (8-0, 8 KOs) competes in a six-round super welterweight contest against Venezuela's Heber Rondon (20-4, 13 KOs) on Friday June 2, at Pechanga Resort and Casino in Temecula, Calif. The Marvnation Promotions card will also be shown on its YouTube.com site.
In the co-main event number one super flyweight contender Adelaida Ruiz fights Mexico's Maria Cecilia Roman in a 10-round affair. Ruiz is considered by many to be a guaranteed world champion by this year. Don't miss her.
A special presentation includes the appearance of two boxing greats Sugar Ray Leonard and Tommy "Hit Man" Hearns. During the 70s and 80s they both made history with incredible performances that made them both boxing immortals.
If you ever saw them during the 80s they were two of the primary fighters who raised the level of the sport with their willingness to fight each other. Leonard and Hearns fought each other twice. Leonard beat Roberto Duran two of three times. Marvin Hagler beat Hearns in what many consider one of the greatest three rounds of all time. Ironically, it was the first title fight I ever wrote about.
Doors open at 6 p.m. for tickets go to  www.pechenga.com or www.marvnation.com
Boxing Saturday in Detroit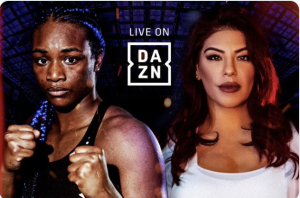 Female boxing's top pound-for-pound queen Claressa Shields (13-0, 2 KOs) faces Maricela Cornejo (16-5, 6 KOs) in defense of the middleweight world championship on Saturday, June 3, at Little Caesars Arena in Detroit, Michigan. DAZN will stream the Salita Promotions fight card beginning at 6 p.m. PST.
Until last week, Costa Rica's Hanna Gabriels was the scheduled foe, but VADA testing revealed illegal substances in her blood stream and she was forced out. After two days Cornejo was mutually agreed by both parties to be the replacement.
"I was getting ready for another fight on June 6. This wasn't a last-minute fight. I eat, drink, and love boxing. It's not a part-time job," said Cornejo about eagerly accepting the fight as a replacement for Gabriels.
The last time we saw Shields in the prize ring she was firing on all gears as she unleashed blazing-fast combinations on England's Savannah Marshall. Many had predicted Shields would be vanquished.
Many were wrong.
The two-time Olympic gold medalist and champion of three weight divisions has shown that size, power and will are not enough to dethrone her. Only a few made Shields blink and that came early on.
During the press conference, Mark Taffet, co-manager of Shields, hinted that she may be pursuing undisputed status in the super middleweight divisions and above. But first, her defense against Cornejo who did not hesitate in consenting to the challenge.
Only in the past four years has female boxing become a lucrative pro sport. Before fighters like Shields, Katie Taylor, and others, women were seldom paid more than $3,000 dollars for a world championship fight.
Shields helped spark the change and Cornejo will now finally meet her in the prize ring.
"Claressa has done so much for the sport of boxing. We're trying to do our part. She can't do it alone. We're all trying to make a difference," said Cornejo about accepting the fight on short notice. "She needs a dance partner and I'm ready to dance June 3."
Shields smiled, content that Cornejo helped salvage the fight card in Detroit, Michigan near her hometown of Flint. Shields personally bought 1,000 tickets for youngsters to attend the fight card on Saturday. Now it will be a true contender facing her.
"I want to say thank you for fighting me," said Shields to Cornejo. "I know you want to dance, but I came to fight."
To comment on this story in the Fight Forum CLICK HERE
The Sweet Science Rankings: Week of May 29th, 2023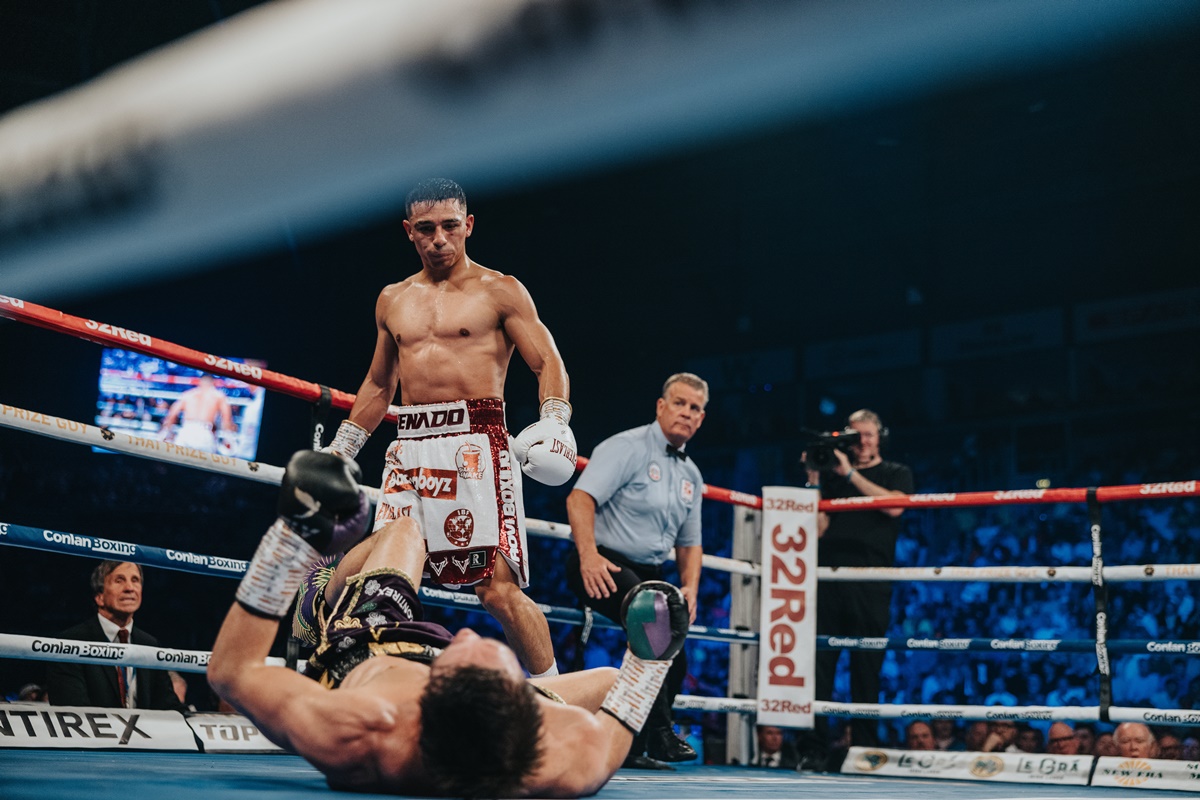 The Sweet Science Rankings: Week of May 29th, 2023
In this week's TSS Rankings, it's all change at the top of the 126lbs division with Luis Alberto Lopez rocketing to the #1 spot after a brutal dispatch of Michael Conlan; Leigh Wood is right behind him after making it 1-1 with a miserable Mauricio Lara (Mexico) who is likely about to depart for 130lbs after failing to make weight by 4lbs.  For the moment he languishes at #5.  Chris Billam-Smith makes #3 at 200lbs after ripping victory from fellow Englishman Lawrence Okolie.  The hapless Okolie drops to #8.  The best performance this weekend though was turned in by New Yorker Oscar Collazo who brutalised the favoured Melvin Jerusalem (Philippines).  Collazo rises to three, Jerusalem drops to #8.
Pound-for-Pound
01 – Naoya Inoue
02 – Oleksandr Usyk
03 – Juan Francisco Estrada
04 – Dmitry Bivol
05 – Terence Crawford
06 – Errol Spence Jnr.
07 – Tyson Fury
08 – Saul Alvarez
09 – Artur Beterbiev
10 – Shakur Stevenson
105lbs
1            Knockout CP Freshmart (Thailand)
2            Petchmanee CP Freshmart (Thailand)
3            Oscar Collazo (USA)*
4            Ginjiro Shigeoka (Japan)
5            Wanheng Menayothin (Thailand)
6            Daniel Valladares (Mexico)
7            Yudai Shigeoka (Japan)
8            Melvin Jerusalem (Philippines)
9            Masataka Taniguchi (Japan)
10          Rene Mark Cuarto (Philippines)
108lbs
1            Kenshiro Teraji (Japan)
2            Jonathan Gonzalez (Puerto Rico)
3            Masamichi Yabuki (Japan)
4            Hekkie Budler (South Africa)
5            Sivenathi Nontshinga (South Africa)
6            Elwin Soto (Mexico)
7            Daniel Matellon (Cuba)
8            Reggie Suganob (Philippines)
9            Shokichi Iwata (Japan)
10          Esteban Bermudez (Mexico)
112lbs
1            Sunny Edwards (England)
2            Artem Dalakian (Ukraine)
3            Julio Cesar Martinez (Mexico)
4            Angel Ayala Lardizabal (Mexico)
5            David Jimenez (Costa Rica)
6            Jesse Rodriguez (USA)
7            Ricardo Sandoval (USA)
8            Felix Alvarado (Nicaragua)
9            Seigo Yuri Akui (Japan)
10          Cristofer Rosales (Nicaragua)
115lbs
1            Juan Francisco Estrada (Mexico)
2            Roman Gonzalez (Nicaragua)
3            Jesse Rodriguez (USA)
4            Kazuto Ioka (Japan)
5            Joshua Franco (USA)
6            Junto Nakatani (Japan)
7            Fernando Martinez (Argentina)
8            Srisaket Sor Rungvisai (Thailand)
9            Kosei Tanaka (Japan)
10          Andrew Moloney (Australia)
118lbs
1            Emmanuel Rodriguez (Puerto Rico)
2            Jason Moloney (Australia)
3            Nonito Donaire (Philippines)
4            Vincent Astrolabio (Philippines)
5            Gary Antonio Russell (USA)
6            Takuma Inoue (Japan)
7            Alexandro Santiago (Mexico)
8           Ryosuke Nishida (Japan)
9            Keita Kurihara (Japan)
10          Paul Butler (England)
122lbs
1            Stephen Fulton (USA)
2            Marlo Tapales (Philippines)
3            Luis Nery (Mexico)
4            Murodjon Akhmadaliev (Uzbekistan)
5            Ra'eese Aleem (USA)
6            Azat Hovhannisyan (Armenia)
7            Kevin Gonzalez (Mexico)
8            Takuma Inoue (Japan)
9            John Riel Casimero (Philippines)
10          Fillipus Nghitumbwa (Namibia)
126lbs
1            Luis Alberto Lopez (Mexico)*
2           Leigh Wood (England)*
3            Brandon Figueroa (USA)
4            Rey Vargas (Mexico)
5            Mauricio Lara (Mexico)
6            Mark Magsayo (Philippines)
7            Josh Warrington (England)
8            Robeisy Ramirez (Cuba)
9            Reiya Abe (Japan)
10          Otabek Kholmatov (Uzbekistan)
130lbs
1            Joe Cordina (Wales)
2            Oscar Valdez (Mexico)
3            Hector Garcia (Dominican Republic)
4            O'Shaquie Foster (USA)
5            Shavkatdzhon Rakhimov (Tajikistan)
6            Roger Gutierrez (Venezuela)
7            Lamont Roach (USA)
8            Eduardo Ramirez (Mexico)
9            Kenichi Ogawa (Japan)
10          Robson Conceicao (Brazil)
135lbs
1            Devin Haney (USA)
2            Gervonta Davis (USA)
3            Vasily Lomachenko (Ukraine)
4            Isaac Cruz (Mexico)
5            William Zepeda Segura (Mexico)
6            Frank Martin (USA)
7            George Kambosos Jnr (Australia)
8            Shakur Stevenson (USA)
9            Raymond Muratalla (USA)
10          Keyshawn Davis (USA)
140lbs
1            Josh Taylor (Scotland)
2            Regis Prograis (USA)
3            Jose Ramirez (USA)
4            Jose Zepeda (USA)
5            Jack Catterall (England)
6            Subriel Matias (Puerto Rico)
7            Arnold Barboza Jr. (USA)
8            Gary Antuanne Russell (USA)
9            Zhankosh Turarov (Kazakhstan)
10          Shohjahon Ergashev (Uzbekistan)
147lbs
1            Errol Spence (USA)
2            Terence Crawford (USA)
3            Yordenis Ugas (Cuba)
4            Vergil Ortiz Jr. (USA)
5            Jaron Ennis (USA)
6            Eimantas Stanionis (Lithuania)
7            David Avanesyan (Russia)
8            Cody Crowley (Canada)
9            Roiman Villa (Columbia)
10          Alexis Rocha (USA)
154lbs
1            Jermell Charlo (USA)
2           Tim Tszyu (Australia)
3            Brian Castano (Argentina)
4            Brian Mendoza (USA)
5            Liam Smith (England)
6            Jesus Alejandro Ramos (USA)
7            Sebastian Fundora (USA)
8            Michel Soro (Ivory Coast)
9            Erickson Lubin (USA)
10          Magomed Kurbanov (Russia)
160lbs
1            Gennady Golovkin (Kazakhstan)
2            Jaime Munguia (Mexico)
3            Carlos Adames (Dominican Republic)
4            Janibek Alimkhanuly (Kazakhstan)
5            Liam Smith (England)
6            Erislandy Lara (USA)
7            Sergiy Derevyanchenko (Ukraine)
8            Felix Cash (England)
9            Esquiva Falcao (Brazil)
10          Chris Eubank Jnr. (Poland)
168lbs
1            Canelo Alvarez (Mexico)
2            David Benavidez (USA)
3            Caleb Plant (USA)
4            Christian Mbilli (France)
5            David Morrell (Cuba)
6            John Ryder (England)
7            Pavel Silyagin (Russia)
8            Vladimir Shishkin (Russia)
9            Carlos Gongora (Ecuador)
10          Demetrius Andrade (USA)
175lbs
1            Dmitry Bivol (Russia)
2            Artur Beterbiev (Canada)
3            Joshua Buatsi (England)
4            Callum Smith (England)
5            Joe Smith Jr. (USA)
6            Gilberto Ramirez (Mexico)
7            Anthony Yarde (England)
8           Dan Azeez (England)
9            Craig Richards (England)
10          Michael Eifert (Germany)
200lbs
1            Jai Opetaia (Australia)
2            Mairis Breidis (Latvia)
3            Chris Billam-Smith (England)*
4            Richard Riakporhe (England)
5            Aleksei Papin (Russia)
6            Badou Jack (Sweden)
7            Arsen Goulamirian (France)
8            Lawrence Okolie (England)
9            Yuniel Dorticos (Cuba)
10          Mateusz Masternak (Poland)
Unlimited
1            Tyson Fury (England)
2            Oleksandr Usyk (Ukraine)
3            Zhilei Zhang (China)
4            Deontay Wilder (USA)
5            Anthony Joshua (England)
6            Andy Ruiz (USA)
7            Filip Hrgovic (Croatia)
8            Joe Joyce (England)
9            Dillian Whyte (England)
10          Frank Sanchez (Cuba)
To comment on this story in the Fight Forum CLICK HERE