The Greatness of Floyd Mayweather
"Floyd Mayweather's Ridiculous T-Shirt"; "Could Manny Pacquiao's Lawsuit Affect MMA?"; "What's the Point In Being the Greatest Fighter in the World if Everyone Think He's D—–d?"
The above are all real headlines generating a starling-thick flurry of hits on the internet this morning in the wake of the most media-friendly fight in the history of the sport. No stone left unturned, no inanity unexplored. Just as the information age has made available to us, the boxing fan, thousands of hours of footage of fighters we may not otherwise have heard of and virtual stacks of newspaper reports guiding us through the narrow maze of boxing's infancy, so we have to suffer with the rest of the world concerning the grimmest platitudes that can be generated in the English language. For me, it was time, at last, to turn my face from the latest news on Pacquiao's shoulder or Mayweather's gambling and look, instead, to history.
You can't beat the here and now of a fight night, but when it is not only the case that the falcon cannot hear the falconer but that the circus elephants have escaped from the circus and trampled the falconer and his entire menagerie to death, history is always waiting for you, arms open, offering a bloody embrace. When I'm considering his place in history my discomfort concerning Mayweather's repeated arrests for domestic violence matter not; they are banished, just as they are the moment his right foot alights upon the canvas. Here, the disaster that is his public persona is vanished and his genius comes to the fore.
And he is a genius.
In the early part of 2013 I attempted, for another website, to construct a pound-for-pound list that examined, in order of greatness, the 100 most pre-eminent pugilists in history. It was a difficult, even an absurd task, calling for a comparative analysis of everyone from the legendary figures of the 1880s to the vivid superstars of the modern era, but it ended a moderate success that met with an overwhelmingly positive reaction from the biggest readership that website had gathered. I was pleased with the result for all that I acknowledge that the list wasn't perfect.
Although we were at that time published at rival websites, The Sweet Science's Springs Toledo was kind enough to lend me his eye, and chief among his concerns was my insistence that I rank active fighters alongside those who had retired. I still believe I made the right choice but his concerns were well founded. The Fight of the Century between Manny Pacquiao and Floyd Mayweather was contested not just between the two best pound-for-pound fighters in the world – something so rare that the meeting between Roy Jones and James Toney from 1994 may be the only example of such a clash since Joe Louis blasted out Billy Conn in 1941 – but a meeting between the two highest ranking active fighters (barring the by now ramshackle Roy Jones) that appeared on my Top 100 Pound for Pound list. What is more, the meeting had a special significance for each man's legacy. As I wrote at the time:
"Fans whinge endlessly about Floyd Mayweather "cherry picking" his opponents whilst the other camp gnashes their teeth about Manny Pacquiao "weight-draining" his opponents in a series of catchweight bouts, but these men have both fought some of the best fighters of their era. But they haven't fought each other…[a]s it stands, they are ranked almost together, just as they were through much of the past decade, with Mayweather slightly higher, just as he was for much of that time. Both were ranked on Ring Magazine's pound-for-pound list between 2003 and 2013, with Mayweather ranked higher for most of six years and Pacquiao ranking higher for most of four."
The failure of boxing to deliver Mayweather-Pacquiao remained the single greatest failure in the history of fights. They were the two best fighters in the world, they shared a division and yet the fight wasn't made until not one but both were past their best and the fight's meaning was lost to the bandwidth of a hundred angst-filled forums.
From an historical perspective, however, the fight did have meaning. It provided a method for separating the twin heads of the pound-for-pound monster which has dominated this era. Mayweather and Pacquiao ranked in the low forties on my original list, at #47 and #48 respectively. This sounds low and at the time it felt low, but a quick look at the men in the surrounding spots should quell any doubts:
45 – Jimmy Bivins
46 – Ike Williams
47 – FLOYD MAYWEATHER
48 – Manny Pacquiao
49 – Tommy Ryan
50 – Jack Dillon
Directly behind Pacquiao is Tommy Ryan, one of the most dominant champions of the 1800s, a fighter who exhibited dominance at both welterweight and middleweight in a time long before either junior divisions or a sense of humanity had crept into the sport. Like Mayweather and Pacquiao, he was hamstrung in his ranking by his failure to meet the other colossus of his era, Barbados Joe Walcott, and like Mayweather, he was considered the absolute master of the science of his era. Below Ryan, Dillon, the original Giantkiller, a man feared from welterweight to heavyweight by some of the best pugilists of the early 1900s. Mayweather and Pacquiao perched, pre-retirement, above some truly great fighters.
Directly above them: Ike Williams and Jimmy Bivins. Williams and Bivins illustrate the problems in ranking Mayweather among the true Dons of the sport beautifully. Viewing my 100 in isolation, Mayweather's only wins against fellow centurions came against Oscar De La Hoya and Juan Manuel Marquez. Mayweather's impressive problem-solving performance against Oscar enhanced his standing by my eye, as did his total domination of Marquez in what may have been a literal punch-perfect performance. It must be noted, however that neither man was at his respective best for his contest with Mayweather, and more than that, that although each makes the 100, they are firmly ensconced in the bottom-half. Meanwhile Ike Williams holds a victory over a top 50 lock in Kid Gavilan, Jimmy Bivins holds victories over top 30 monster Charley Burley, the celestial Archie Moore, the Godlike Ezzard Charles. While these men had the appearance of being more inconsistent, their losses were more indicative of the trials associated with fighting eight times a year against high quality opposition than they were of any lack in quality.
Nevertheless, how to balance the losses of fighters with deluxe resumes against Mayweather's unbeaten status gained versus inferior opposition becomes the trick.
Mayweather fans will bristle at that terminology, "inferior opposition", but that is no reason to shy from the facts. Direct comparisons between the best work done by someone like Bivins will always leave Mayweather languishing just as any comparison of losses makes Mayweather seem untouchable. Neither comparison unlocks the truth about either man, but quality of opposition vanquished is the single most important aspect when it comes to my criteria. But just as the list creates its own gravity – how to rank Mayweather ahead of Thomas Hearns, when Hearns has defeated the #10, Roberto Duran? – so it is littered with special cases that escape that gravity, big bright shining stars that slingshot their way around the contorting black hole of the upper reaches and burst free. Mayweather became such an exception when he vanquished Pacquiao.
Of course, a win can only catapult a fighter so far. My list was valid as of March 1, 2013 and between that date and his match with Pacquiao, Mayweather went 4-0, defeating Roberto Guerrero, Saul Alvarez and Marcos Maidana. This haul saw him creep past Ike Williams and probably even Bivins as his longevity began to elongate and the wins over ranked foes racked up.
When the fight with Pacquiao was made, I thought it prudent to identify the absolute limitation for a ranking achievable by each man in the case that they won; for Mayweather I found that ranking him any higher than 19 would be impossible:
15 – Archie Moore
16 – Ray Leonard
17 – George Dixon
18 – Terry McGovern
19 – Packey McFarland
20 – Pernell Whitaker
21 – Tony Canzoneri
22 – Jimmy McLarnin
23 – Sandy Saddler
24 – Stanley Ketchel
25 – Charley Burley
The barrier to his scaling any higher was, to my eye, Terry McGovern. McGovern defeated, within the space of just a year, the bantam, feather and lightweight champion of the world, all by knockout, and each and every one of them was a world-class fighter. The bantamweight champion was an old-town tough Englishman named Pedlar Palmer, unbeaten; McGovern smashed him to pieces in just a round. The featherweight champion was the immortal George Dixon, ranked here at #17. He was slipping, yes, but he had never been stopped – McGovern laid him low in eight. Frank Erne was the much bigger lightweight champion and perhaps the best lightweight to have boxed before the heyday of Joe Gans, a fighter he had defeated in twelve rounds just weeks before his contest with McGovern: McGovern battered him as though he were a rank amateur. Even if he had knocked out Pacquiao in one, I could see no way past McGovern for Mayweather.
But wait – a moment ago we were talking about Mayweather creeping past some of the wonderful boxers ensconced in the forties, now, somehow, he is enmeshed with the low twenties, all because he bested a past-prime former-flyweight with a bad shoulder who had already be knocked out by his closest rival, Juan Manuel Marquez. How is this justified?
It is justified by Mayweather's resolution of question that would dog him always without his having some sort of showdown with Pacquiao. Yes, the great Filipino was past prime, but having defeated his generational rival, however unsatisfactorily, Mayweather forever separated himself from that rival, something remaining undefeated without having taken this ultimate risk – again, from the generational perspective, which does not interest itself in the relative status of each man – would never have done. Mayweather is now, beyond all hope of contradiction, the greatest fighter of his generation in addition to his being a fighter that has never been beaten. Men who can legitimately lay an unfettered claim to be the best pound-for-pound of their time are extremely rare. Of the men who can legitimately make such a claim, there is only one of them who can also lay claim to having remained undefeated and that man is Floyd Mayweather Jnr.
Of course, arguments abound that Mayweather is the pound-for-pound king of one of the weakest eras in boxing. I dispute this, but must concede that the current pound-for-pound list isn't enormously impressive. But it is also true that Mayweather has sat astride it for years and the list of names that has peered across the vast chasm that separates him from the mortals at work in the gym is enormously impressive. Aside from the great Pacquiao himself, Mayweather has ranked clearly above the great Bernard Hopkins, Marco Antonio Barrera, Andre Ward, three-weight world champion and heir apparent Roman Gonzalez and the undefeated Joe Calzaghe. Pacquiao aside, who wrestled the pound-for pound crown from his rival upon and immediately after his 2008 "retirement", Mayweather has stood a distance removed from them all.
As a counterbalance, it should be stated that his competition although excellent is not as dizzying as that of previous pound-for-pound kings and that his weight-jumping exploits, although impressive, haven't seen him at a serious size disadvantage since his 2007 decision over Oscar De La Hoya. It is true that Canelo Alvarez looked the bigger man at light-middle, but it is also true that since his confrontation with Oscar De La Hoya and subsequent retirement, Mayweather has filled out to a legitimate welterweight and was never going to be truly out-monstered just 7lbs north of that weight division, even against the roomy Mexican.
So talk of the teens is premature. Total domination of a healthy, deadly Pacquiao might have bought him a birth in or around those slots, but I have not seen enough to rank him above the twin sons of Tony Canzoneri and Jimmy McLarnin. McLarnin arguably has the deepest resume in the sport between the death of Harry Greb and retirement of Ezzard Charles and Canzoneri was the smaller man who almost equalled that resume and went an astounding 1-1 with the larger McLarnin. Behind these two monsters, at #23, is Sandy Saddler. Saddler is an extremely difficult comparison. On the one hand he dominated a series with Willie Pep – to be clear, I consider this even more impressive than dominating a series with Floyd Mayweather – but on the other he was out-pointed by inferior pugilists. The difficult in the comparison tells me we are approaching the neighbourhood in which Mayweather will reside, but I can't quite see him ahead of a looming nemesis to so great a fighter as Pep.
Can he be ranked ahead of #24, Stanley Ketchel?
Ketchel's case is difficult. He was a force-of-nature, a furnace-bound warrior whose absurd brutality echoes down the century. He was a middleweight so terrible that he was at one time expected to rule as the heavyweight champion of the world, until a combination of the equally lunatic Billy Papke and the defeat of heavyweight king Tommy Burns by the invincible Jack Johnson combined to make that impossible. Ketchel's loss to Papke is troubling. A borderline great as a middleweight, Papke beat Ketchel despite his having a similar style, something that surprises. Although Ketchel triumphed in their series and built himself an excellent and underrated middleweight resume before that gutsy, doomed tilt at Jack Johnson, he feels like a near miss who should have been wrestling with doppelganger Terry McGovern for a spot in the teens but who was prevented from doing so by a bullet in the back and an enthusiasm for opium. I can see an argument for Mayweather being ranked above Ketchel.
And it is my argument. Barely, barely, I think that Mayweather's slick dance up the divisions, pound-for-pound certitude and undefeated status trumps Ketchel's aborted whirlwind assault upon the middleweight, light-heavyweight and heavyweight divisions. Had he bested Sam Langford, avoided defeat against Billy Papke or lived to come again, it would be Ketchel, but none of those things happened, and so it's Mayweather:
19 – Packey McFarland
20 – Pernell Whitaker
21 – Tony Canzoneri
22 – Jimmy McLarnin
23 – Sandy Saddler
24 – FLOYD MAYWEATHER
25 – Stanley Ketchel
26 – Charley Burley
27 – Holman Williams
28 – Billy Conn
29 – Gene Tunney
Below him now: Gene Tunney, a lock for the top five at light-heavyweight, former heavyweight champion of the world; Billy Conn, as brilliant an operator to ever have straddled the middleweight and light-heavyweight divisions; and the twin-towers of Charley Burley and Holman Wiliams, the true giants of the black murderer's row of the 1940s, fighters so good that they terrified the management of fighters better than any that Mayweather has ever beaten.
Mayweather is ranked now in company that makes it reasonable to label his resume limited – it is less good than anyone who resides in his range, and even with the addition of the shopworn Pacquiao, probably compares unfavourably to some fighters ranked in the thirties. It is the wave of Mayweather's status that carries him so far as the shore of the top twenty, a barrier he is unlikely to traverse without the great risk of pronounced longevity or some final and absurd assault on the middleweight division. This latter option is the preferred, I suspect, specifically because of the problematic presence of Miguel Cotto upon the middleweight throne. Of course, we all know that Golovkin is the best middleweight in the world but it is a fact that by defeating Cotto Mayweather could scoop the lineal middleweight crown to go with his light-middleweight and welterweight honours becoming a triple-crown lineal king in three weights despite the fact that none of them represent his best poundage. This would make him an Emperor of ring history, almost regardless of the circumstances.
Looking at things the other way, should Mayweather suffer the loss of his treasured 0, a tumble seems likely. My guess is that he is unlikely to risk his most treasured bauble at such a late stage in his career and the fulfilment of his Showtime contract and a prompt retirement will follow – although the absurd phantom of money troubles sometime in Mayweather's future may make a comeback necessary.
Should the fiscal future remain rosy and the middleweight division remain untroubled, #24 is where I suspect Mayweather may remain – at least for me. And as a final point, that's an important one. I feel satisfied at the spots these men inhabit, but you, of course, may feel differently and for many placements there are likely very strong counter-arguments in your support. Those wishing to investigate further for specifics to disagree on may do so by clicking here.
Arguments concerning the final placing of Manny Pacquiao await the great man's retirement.
Pico Rivera Summer Fights See Cruz, Vega and Flores Win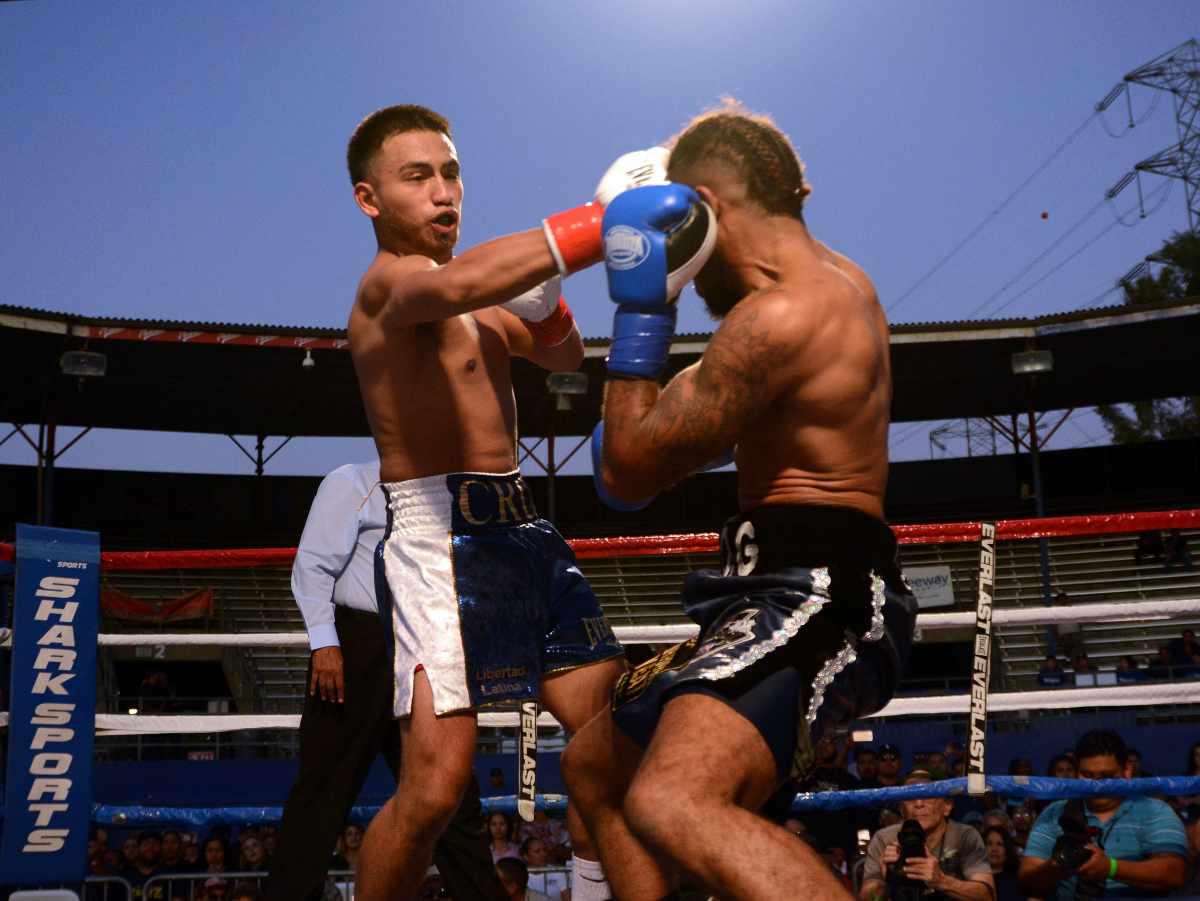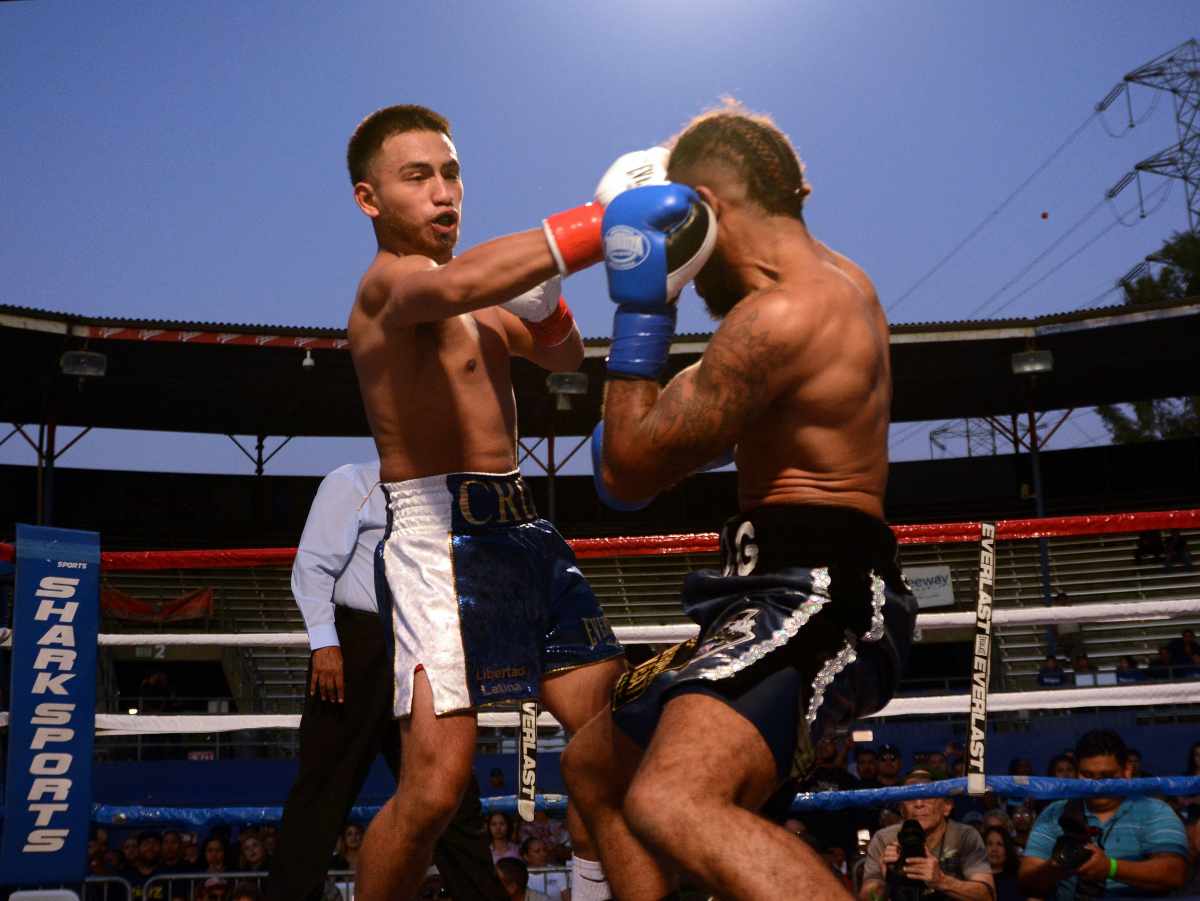 PICO RIVERA, Ca.-Along the San Gabriel River on a soft summer evening, Red Boxing Promotions brought another slew of hot local prospects to the forefront on Saturday.
Chino's Daniel "Cuetito" Cruz (3-0) burst into the fight like an energy bomb and simply overwhelmed southpaw Phillip Bounds (0-4) with lightning combinations to win by unanimous decision. More than 700 fans saw the Red Boxing fight card.
Though it was only his third pro fight, the high intensity prizefighter Cruz (pictured on the left) exhibited a level of confidence that allowed him to attack with impunity for the first two rounds.
Cruz switched to southpaw and had even more success against the lefty Bounds. The speed of Cruz proved too much to overcome for Bounds who tried different approaches but couldn't find an antidote for Cruz who won by unanimous decision 40-36 on all three cards in the super lightweight match.
"I'm excited, I wanted to put on a good show," said Cruz, 20. "I'm coming for all of the big names. Cuetito is here."
Andre Marquez (2-1) overwhelmed the much taller Alvin Brown (0-8) from Louisiana with a whirlwind style that ended in a knockout in the fourth and final round of their super featherweight match. A left hook caught Brown flush and Marquez followed up with four more blows, forcing Brown to take a knee at 1:41 of the fourth round. Marquez was ruled the winner by knockout by referee Sharon Sands.
"My plan was to work his body," said Marquez. "It worked out perfectly."
Welterweights Bradley Pena (0-0-1) and Ed Nunez (0-0-1) blasted each other for four rounds, with Pena starting fast and Nunez ending strong. No knockdowns were scored in the fight that started the night and ended in a draw.
Main Bouts
A light flyweight clash saw Axel Vega (13-2-1, 8 KOs) of Ensenada, Mexico knock out Tijuana's Giovanni Noriega (2-5-2) with a triple left hook in the second round. Vega, 19, trained out of Compton for this fight.
Welterweight prospect Steven Rodriguez (8-0) suffered a cut on his forehead due to a clash of heads but still managed to out-perform Las Vegas fighter Ryan Picou (3-12-1) after four rounds. All three judges scored the fight 40-36 in favor of Rodriguez. But Picou gave a stubborn defense against the constant rushes of Rodriguez and was able to score on occasion.
Santa Barbara's Angel Flores (6-0, 4 KOs) defeated Mexico's Roberto Almazan (9-12) by unanimous decision after six rounds in a super lightweight contest. Flores knocked down Almazan twice in the last round to clinch the win and get the victory by a landslide.
In the audience was former world champion Arturo Frias of East Los Angeles who won the WBA world lightweight title in 1982 and fought numerous times at LA's  fabled Olympic Auditorium. Also in attendance was current super flyweight contender Adelaida "La Cobra" Ruiz of Los Angeles who is scheduled to fight on October 12 at the same Pico Rivera Sports Arena. Red Boxing Promotions will be staging the event.
Photo credit: Al Applerose
Check out more boxing news on video at The Boxing Channel  
To comment on this story in The Fight Forum CLICK HERE
Fast Results from Russia: Kovalev KOs Yarde in the 11th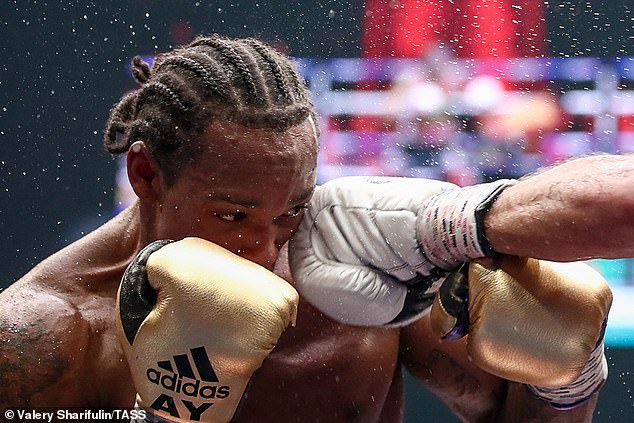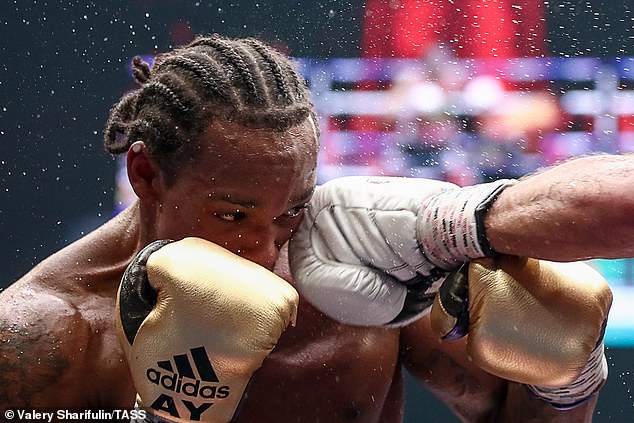 The consensus of opinion regarding tonight's fight at Chelyabinsk between Sergey Kovalev and Anthony Yarde was that….well, there was no consensus, save that it would not bode well for Yarde if both fighters were still standing at the final bell. Fighting in his hometown, and with a monster payday reportedly looming against Canelo Alvarez should he win, "Krusher" was unlikely to get the worst of it if the fight went to the scorecards. But there would be no controversial decision. In a fight that started slowly and then shifted Yarde's way, Kovalev stemmed the momentum, took charge in the 10th, and then closed the show in the next round with a scorching left hand that left Yarde flat on his back, gasping for air.
In handicapping the fight, Kovalev certainly had more check marks in the plus column. A former three belt champion and the reigning WBO 175-pound title-holder, Kovalev would be appearing in his 16th world title fight, his second with Hall of Fame trainer Buddy McGirt, with whom he had great rapport. By contrast, Yarde, although undefeated (18-0), had answered the bell for only 51 rounds and had defeated only nine fighters with winning records. Moreover, the Englishman had fought only 12 amateur fights before turning pro.
However, at age 36, Kovalev was getting long in the tooth and in some of his more recent fights he had stamina issues. Moreover, there was a school of thought that Yarde was a beast. In his 30 fights, amateur and pro, he had scored 28 knockouts.
Yarde's first good round was the seventh and he followed that up with a very strong eighth in which he hurt Kovalev and had the Krusher looking tired. But the assumption that he had paced himself brilliantly proved to be a mirage. As the bout moved into the home stretch, it was the younger man that was more fatigued.
Kovalev backed Yarde against the ropes and hurt him in the 10th. The Russian repeatedly had success with his hard left jab (shades of Larry Holmes) and it was a jab that ended it. Yarde was too exhausted to make it to his feet and was counted out.
Kovalev reportedly has already agreed to meet Canelo in November or December. Tonight he may have added an extra zero to his purse.
Kovalev vs. Canelo, likely at the T-Mobile Arena in Las Vegas, will be a blockbuster. Let the hype begin.
Co-Feature
The co-feature between knockout artists Aleksei Papin and Ilunga Makabu wasn't expected to last the distance, but it went the full 12 and was a highly entertaining affair climaxed by a great 12th round. When the smoke cleared, Ilunga, who went to post a slight favorite, improved to 26-2 (24) by dint of winning a majority decision. It was the second straight win on Russian soil for the Congolese southpaw who fights out of Johannesburg. In his previous go, he stopped Dmitry Kudryashov in the fifth round at Ekaterinburg.
Papin was 11-0 going in with 10 knockouts but the 31-year-old Russian, a former kickboxing champion, was moving up in class against Makabu, a former world title challenger. In the 12th, Makabu scored a knockdown with a straight left after buzzing Papin with a left-right combination, but Papin wasn't badly hurt and came back to rock him in the final seconds. The knockdown seemingly spelled the difference as two judges had it 115-113 with the third scoring it even (113-113).
Check out more boxing news on video at The Boxing Channel  
To comment on this story in The Fight Forum CLICK HERE
Tanaka and Hatanaka Stay Undefeated in Nagoya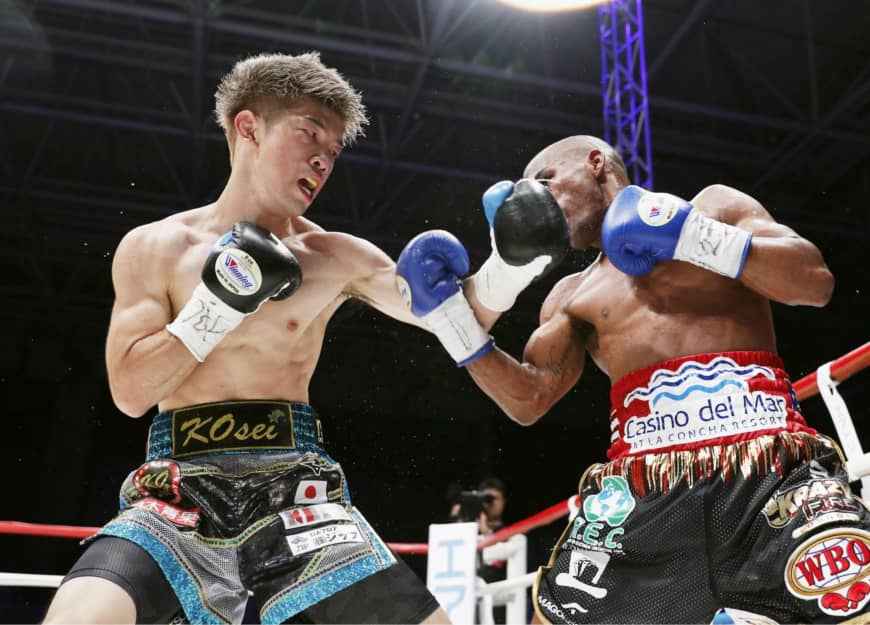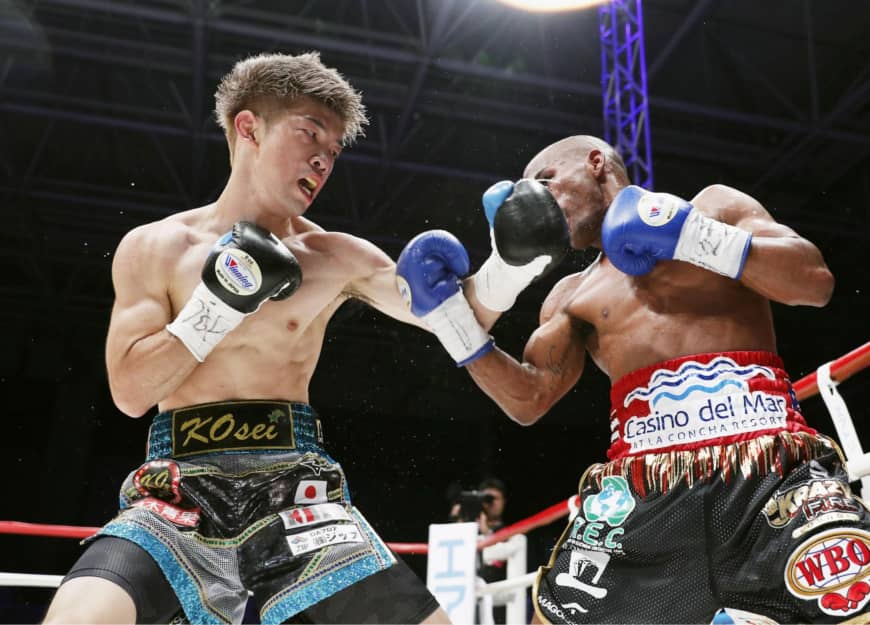 Kiyoshi Hatanaka, the former world super bantamweight champion, now runs a boxing gym and promotes fights in his hometown of Nagoya. The top fighters in his gym are 24-year-old Kosei Tanaka, who has already won world titles in three weight classes, and Kento Hatanaka, Kyoshi's 21-year-old son. Both were in action today and both were victorious, but not without anxious moments.
Tanaka, the reigning WBO 112-pound champion, improved to 14-0 (8 KOs) with a seventh-round TKO of Jonathan Gonzalez (22-3-1) in an action-packed bout. There were five knockdowns in all, four by Tanaka, before the referee waved it off with merely a second remaining in the seventh stanza.
Gonzalez took a knee after being hurt by a body punch in round three. But he returned the favor, knocking Tanaka down with a counterpunch in the next stanza, and seemingly had the fight in hand when he dominated the fifth. But Tanaka regained the momentum and scored three knockdowns in Round 7 to close the show.
Kosei Tanaka is overshadowed as a sports personality by countryman Naoya "Monster" Inoue, but is carving out quite a legacy. At age 19, in only his fifth pro fight, he defeated WBO minimumweight (105 pound) champion Julian Yadras of Mexico. He then gathered in titles at 108 and 112, accomplishing the hat trick in only his 12th pro fight, tying Vasiliy Lomachenko's record.
With only a few pounds separating each of the lowest weight classes, Tanaka likely isn't done jumping up in weight. There's already talk of a showdown with 115-pound title-holder Kazuto Ioka. But Tanaka has indicated that he wants to expand his opportunities overseas, following the example of Inoue. There are still holes in his defense, but that makes for exciting fights and a match between him and someone like "Chocolatito" Gonzalez would be worth the price of admission.
Jonathan Gonzalez, a southpaw with a good amateur pedigree, had fought his previous three fights in Kissimmee, Florida. When in his native Puerto Rico, he trains in the same gym as former super bantamweight and featherweight champion Juan Manuel Lopez. We certainly haven't seen the last of him.
The 10-round co-feature between super flyweights Kento Hatanaka and Jaysever Abcede was also a crowd pleaser that saw both combatants score knockdowns. Hatanaka improved to 10-0 but was extended the distance for the first time in his pro career. Abcede, a noted spoiler from the Philippines, saw his winning streak end at four and fell to 19-9. The scores were 95-93, 96-93, and 96-92.
Check out more boxing news on video at The Boxing Channel  
To comment on this story in The Fight Forum CLICK HERE