The Hauser Report: Felix Verdejo Shines and Other Fights
The recent deluge of fights on television has taken on the feel of an all-you-can-eat buffet. That means boxing fans are going to start making choices and become more selective in their viewing.
June 12 and 13 saw three telecasts of note. One on HBO, one on Showtime, and one on Spike. Let's take a look at what viewers saw.
HBO featured four undefeated fighters in two match-ups from The Theater at Madison Square Garden: Felix Verdejo (17-0, 13 KOs) vs Ivan Najera (16-0, 8 KOs) and Nicholas Walters (25-0, 21 KOs) vs. Miguel Marriaga (20-0, 18 KOs).
Hall of Fame matchmaker Bruce Trampler once noted, "There's a difference between a learning-curve record and a padded record."
Verdejo has the former. He's a 22-year-old lightweight from San Juan, who Top Rank hopes will be its next Puerto Rican ring icon.
Felix has a sparkling personality, a flashy fighting style, and he's good. He's also f-a-s-t.
Najera was tough and game. He tried to turn the fight into a brawl. But Verdejo's punches were too sharp and his defense too good.
Ivan got dropped by a left uppercut in round five and a left hook in round seven (lightning strikes that seemed to come out of nowhere). Each time, he got up fighting but his cause was hopeless.
Verdejo took the tenth round off and still won it on two of the judges' scorecards en route to a 100-88, 100-88, 99-89 triumph. After the fight, he told his fans, "Continue to support me, and you will have Felix for a long time."
That sounds like a good deal. Let's see if his promise is fulfilled.
Nicholas Walters turned heads last October with a sixth-round knockout of Nonito Donaire, and was considered by some to be the best featherweight in the world. Miguel Marriaga was a largely unknown opponent from Colombia.
Walters-Marriaga disappointed.
For starters, Walters weighed in initially at 127.4 pounds, couldn't get lower than 127, and was forced to vacate his 126-pound title.
Add to that the fact that a lot of the energy in the arena dissipated after Verdejo-Najera, giving Walters-Marriaga the feel of a walk-out bout.
Worse, Walters-Marriaga was a boring fight. Miguel fought cautiously, and Nicholas was content to outbox him. There were moments of heated engagement but certainly not enough. When it was done, Walters had outlanded Marriaga by a 279-to-165 margin and bested him 119-108, 118-109, 117-110 on the judges' scorecards.
In the course of an hour, Walters went from must-see viewing to it all depends on what else is on TV tonight.
*     *     *
WBC heavyweight beltholder Deontay Wilder (now 34-0, with 33 KOs) stepped up in his last fight and answered some questions about his ring skills with a unanimous-decision triumph over Bermane Stiverne. But Wilder's performance against Eric Molina in Showtime's main event on Saturday night left a lot to be desired.
Soft touches aren't unheard of in heavyweight title matches. But few fighters less qualified than Molina have fought for a heavyweight belt. Team Wilder hyped the fact that it was bringing a "championship" fight to Deontay's home state of Alabama. But Molina had as much chance of winning as Charleston Southern does when it journeys to Tuscaloosa to face the Crimson Tide on the gridiron. Yes, Eric had a 23-2 record. But he'd never beaten a quality opponent and had been knocked out twice in the first round.
Wilder was an 35-to-1 favorite. The conventional wisdom was that Molina (who weighed in at a blubbery 239 pounds) wouldn't make it past the first round. Wilder knocked him down once in round four, twice in round five, and delivered a finishing right hand in round nine. But he looked sloppy and failed to impress.
In the opening bout, Jose Pedraza (now 20-0, 12 KOs) outclassed Andrey Klimov (19-12, 9 KOs) in a super-featherweight match-up by scores of 120-108, 120-108, 119-109.
*     *     *
Spike's June 12 telecast offered viewers one interesting fight and one awful one. Let's start on the plus side.
Artur Beterbiev is a 30-year-old Russian now living in Canada, who's making waves at 175 pounds. After a 300-fight amateur career, he turned pro in 2013 and scored eight knockouts in eight fights before facing Alexander Johnson on Friday night.
Johnson was a 50-to-1 underdog. Nothing on his record suggested that he would be competitive with Beterbiev, and he wasn't. Artur put him on the canvas twice in round five; the first time with a short stiff jab that came from an awkward angle, and the second with a right uppercut. He also turned southpaw from time to time, which added to Alexander's troubles.
Johnson fought largely to survive, which he did until round seven when a straight right to the temple ended matters.
Beterbiev is entertaining to watch and very good.
Beterbiev-Johnson was followed by Erislandy Lara (20-2-2, 12 KOs) vs Delvin Rodriguez (28-7-4, 16 KOs), which was a dreadful match-up.
Lara is a quality junior-middleweight. Rodriguez had won four of his last eleven fights dating back to 2008, which explained why Erislandy was a 40-to-1 favorite.
Lara-Rodriguez was a drab one-sided beating with no entertainment value. Lara had a 233-to-63 edge in punches landed and won 120-107 times 3 on the judges' scorecards.
*     *     *
While other fighters were in the spotlight this past weekend, local fan favorite Seanie Monaghan scored his twenty-fifth victory in twenty-five fights with a ninth-round stoppage of Fulgencio Zuniga in an undercard bout at Madison Square Garden.
Monaghan didn't turn pro until age twenty-eight. Five years later, he's ranked in the top-ten at 175 pounds by each of the four major sanctioning bodies. His best assets are a Spartan work ethic, iron resolve, and a good chin. His most significant liability is that he's slow for a boxer. Speed and quickness can't be taught.
Zuniga, age 37, turned pro in 2001 and now has a 27-11 (24 KOs) record. In recent years, he has become an opponent, losing to Gilberto Ramirez, Hassan N'Dam, James DeGale, Tavoris Cloud, Lucian Bute, Kelly Pavlik, and others.
Monaghan got hit more than he should have against Zuniga, particularly with left hooks up top. But he scored well to the body, moved inexorably forward, and willingly engaged in trench warfare. The end came at 2:10 of round nine, when Zuniga took a knee after one final body shot, signaling to referee Danny Schiavone that he'd had enough.
"I'm not the most polished boxer in the world," Monaghan acknowledged afterward. "But I come to fight, I fight hard, I win my fights, and the fans have a good time."
"Right now, we're waiting for a title shot," trainer Joe Higgins added. "The guy we have our eye on is [WBA beltholder] Juergen Braehmer [of Germany]. Sooner or later, Seanie will get his chance. When it comes, he'll be as ready as he can be."
*     *     *
There's a common-sense solution to the middleweight championship belt tangle that the WBC has created with its lust for sanctioning fees and multiple champions.
Miguel Cotto is the current WBC world middleweight champion by virtue of his having defeated Sergio Martinez last year. Gennady Golovkin is the organization's "interim" world champion, taking that title from Marco Antonio Rubio on October 18, 2014.
The WBC keeps assuring Golovkin that, at some point, he'll become Cotto's mandatory challenger. The problem is that Miguel has no intention of fighting him. First, Cotto defended his title against Daniel Geale. Now a mega-fight against Canelo Alvarez is in the making.
Meanwhile, all sorts of nonsense is being bandied about. Golovkin, will (or will not) receive a step-aside payment to allow Cotto-Alvarez to proceed. The winner of that fight would agree to fight Gennady (or be stripped of his title).
Let's get real. Alvarez is a junior-middleweight. So is Cotto. Miguel said as much the night he beat Geale, when he told a national television audience, "My weight yesterday was 153.6 pounds. I am not a middleweight."
The solution is simple. Floyd Mayweather is the current WBC 154-pound champion. But Floyd and his opponent have both weighed under 147 pounds in his last three fights.
The WBC should relieve Mayweather of its 154-pound title. That would free up the bauble for Cotto and Alvarez, and make it palatable for Miguel to relinquish his 160-pound belt. That, in turn, would negate the need for any kind of step-aside payment to Golovkin and generate a large sanctioning fee for the WBC at 154-pounds.
The WBC might even make Mayweather some kind of special 154-pound champion, thus holding out the hope for an additional sanctioning fee the next time Floyd fights.
Thomas Hauser can be reached by email at thauser@rcn.com. His most recent book – Thomas Hauser on Boxing – was published by the University of Arkansas Press.
It's Been a Topsy-Turvy Week for Claressa Shields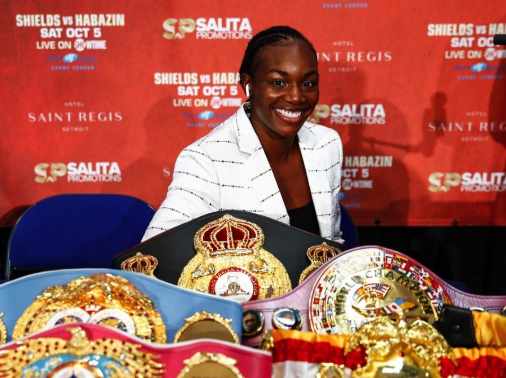 When signing an autograph for a fan, Claressa Shields appends her signature with the initials GWOAT (Greatest Woman of All Time). Last night (Wednesday, Oct. 16), she acquired another trophy for her mantle when she was named Sportswoman of the Year for Individual Sports by the Women's Sports Foundation at the organization's annual banquet at the Cipriani-Wall Street Restaurant in New York. The foundation was founded in 1974 by tennis legend Billie Jean King "to advance the lives of women and girls through sports and physical activity."
Shields, a two-time Olympic gold medalist, currently 9-0 as a pro, finished first in a field of 10 finalists. She previously won this award in 2016. Since the award was bifurcated with individual sports separated from team sports, only Shields and speed skater Bonnie Blair have won this award twice. Blair took down the honors in 1994 and 1995.
The news came one day after law enforcement authorities in Shields' hometown of Flint, Michigan, confirmed that Shields brother Artis Mack was in custody for the assault of James Ali Bashir (aka Bashir Ali).
Seven days ago, things were going swimmingly for Claressa Shields. At the press conference in Flint for her forthcoming bout with Croatia's Ivana Habazin, SHOWTIME executive Gordon Hall presented Shields with a $10,000 check for her charity which benefits underprivileged youth in the Flint area. Mark Taffet, Shields' manager, announced that 300 Flint-area youth representing such organizations as the Boys and Girls Club would be Claressa's guests at the fight. Dr. Karen Weaver, the mayor of Flint, thanked the fighter for "the love and support that she has shown for her hometown." (Earlier this year, Mayor Weaver, a clinical psychologist, declared April 27 to be Claressa Shields Day in Flint and presented the boxer with the symbolic key to the city.)
What a wonderful preamble to what was packaged as a landmark night in the city of Flint. Shields would be making her first appearance as a pro in the city where she was born and raised. The fight would air as the main event on SHOWTIME which had pumped up interest in the fight at no small expense by showcasing Shields in a three-part digital series called "The Rise." With a win over Habazin, who held the WBO 154-pound belt, Shields would become the fastest fighter in history – male or female – to win world titles in three weight divisions.
Then the stuff hit the fan.
At the weigh-in the day following the press conference, Ivana Habazin's trainer, the aforementioned James Ali Bashir, got into a tense verbal confrontation with Shields' sister during which he punctuated his back talk with incendiary words related to her mannish appearance. (Claressa's sister is a member of the LBGTQ community.)
Somewhat later but before the scales were readied, Bashir was punched in the back of the head. The punch landed with such force that Bashir, whose age is variously listed as 68 and 71, fell face first to the concrete floor where he lay unconscious, bleeding from the mouth. Habazin rushed to him sobbing and stayed with him as he was transported to the hospital.
Bashir underwent some sort of facial reconstructive surgery, was released from the hospital, and then had to return to the hospital when he was diagnosed with a brain bleed. He is out of the hospital now and believed to be back in his native New Jersey.
As we know, the Shields-Habazin fight was cancelled although the show went on as scheduled with the co-feature bumped up into the main event.
Shields was devastated. The show, which was intended to uplift her beleaguered community, had the opposite effect, heaping more sludge on a city with an image problem. "Claressa and her team are classless," Habazin wrote on her social media page. "We don't feel safe here (in Flint)."
In an interview shortly after the incident with a local TV station, Shields said that the assailant, to her knowledge, was not a member of her camp. That depends, one might say, on how one defines "camp."
The identity of the miscreant was first revealed by Ryan O'Hara, a young boxing writer from Arizona. In a story that appeared on Oct. 9, O'Hara, who did his homework, told his readers that Artis Mack, Claressa's 28-year-old brother, had been in and out of prison since 2009 and was on parole for assault and felony weapons violations.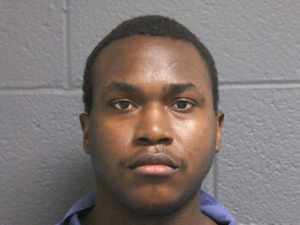 Claressa referenced her brother back in August when she said that one of the reasons she was happy about having her next fight in Flint was because it meant that Artis (pictured) would finally get to see her in the ring. As a parolee, he wasn't allowed to leave the state.
News about Artis Mack's arrest included the information that he was apprehended on the day of the weigh-in. As he ran from the building, he was followed by an off-duty officer who caught up with him in a nearby neighborhood and arrested him. Why the authorities waited 12 days to name the culprit remains a mystery.
The charge against Mack is "assault with intent to do great bodily harm less than murder." If found guilty, he faces up to 10 years in prison.
As for Claressa Shields, she purportedly lost a $350,000 payday when the fight was cancelled. Her newest award from the Women's Sports Foundation will presumably assuage a bit of the hurt.
Check out more boxing news on video at The Boxing Channel 
To comment on this story in The Fight Forum CLICK HERE
Avila Perspective, Chap 69: – Boxing Loses 3; Thompson Boxing and More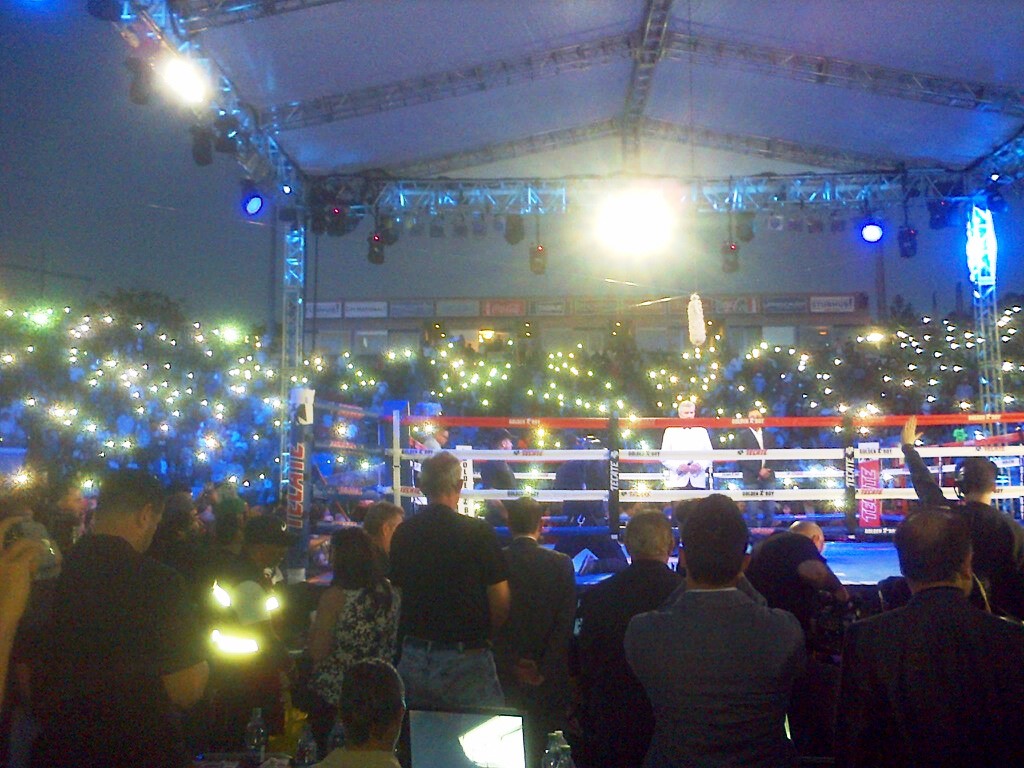 The month of October has not been kind to the boxing world. Three prizefighters including Patrick Day died from various reasons in the span of two weeks.
Day, 27, passed away four days after injuries sustained from a prize fight on Oct. 12, against Charles Conwell in Chicago. He was in a coma when he was ambulanced to a nearby hospital. The super welterweight fighter was born and raised in Freeport, New York.
Eloy Perez, 32, a former contender from Salinas, California, passed away on Oct. 11 from undisclosed reasons allegedly in Tijuana, Mexico. He was a super featherweight whose last battle was against Adrien Broner for the WBO world title back in 2012.
Javier "Pelos" Garcia, 30, a former BKB champion, expired on Oct. 1, at age 30 in Oxnard, California also from undisclosed reasons. The cousin of Robert and Mikey Garcia last fought in 2013 against DeMarcus Corley.
All three boxers fought in Southern California.
Last June, the super welterweight Day fought at Pechanga Resort and Casino where he battled against Carlos Adames in a fierce 10 round war and lost by decision. After the fight he could be seen taking photos with fans and other fighters at the casino in Temecula, California.
Perez lost only one fight and after that never fought again. As a youngster he was involved in football and was a quarterback despite his lack of height. Boxing became his next venture and he excelled. Some of his best wins were over Dominic Salcido and David Rodela.
Garcia fought in the BKB, an organization that lasted only a few years and whose fights were held in a pit in Las Vegas. He won the BKB welterweight championship with a fifth round knockout over Darnell Jiles at Mandalay Bay Resort and Casino in 2014.
It's been a very sad month for the boxing world.
Thompson Boxing
Trick or treat begins early for Thompson Boxing Promotions.
Instead of sugar-coated candy the hunt for the next world champion continues Friday, Oct. 18, with welterweight prospect Angel Ruiz (16-0, 12 KOs) meeting Puerto Rican southpaw Javier Flores (14-2, 12 KOs) at the Doubletree Hotel in Ontario. It will be streamed on Thompson Boxing's page on Facebook.com.
Tijuana's Ruiz was scheduled to meet Flores several months ago but a hand injury scrapped the meeting. Now the Mexican fighter has recovered and finally meets the Boricua in the boxing ring.
"Ruiz has had plenty of time to prepare for this fight," said Alex Camponovo the matchmaker for Thompson Boxing. "It should be an excellent fight."
Also on the card, Golden Garcia (11-0-1), comes by way of Canada and was recommended by Banner Promotions. The lightweight from Montreal will be making his first appearance on U.S. soil. He faces Tijuana's Hector Garcia, a scrappy fighter who took Devin Haney, Juan Carlos Burgos and Daniel Franco the distance when they met.
"We have a longstanding relationship with Banner and we're going to take a good look at him," said Camponovo of the Canadian lightweight.
Another prospect worth watching will be George Acosta (7-1) fighting Mexican veteran Roberto Almazan (9-12) in a lightweight clash set for six rounds. Acosta lost his last fight in a battle with another talented prospect Ruben Torres.
"He's a good fighter and when he lost to Ruben Torres both fighters were undefeated," said Camponovo. "It was a very close fight and could have gone either way. We like his talent."
Doors open at 6:30 and the fights begin at 8 p.m. For more information call (714) 935-0900.
Artis J. Mack brother of Claressa Shields Charged
A prosecutor has filed an assault charge against the brother of boxer Claressa Shields in connection with an attack on the trainer of Ivana Habazin before the weigh-in for their fight, according to a story by the Associated Press.
Genesee County prosecutor David Leyton issued a statement Wednesday saying 28-year-old Artis J. Mack of Flint has been charged with one count of assault with intent to do great bodily harm less than murder in the Oct. 4 attack on 68-year-old James Ali Bashir.
Bashir was hospitalized after getting punched, falling and striking his head on the floor before the weigh-in. The Oct. 5 fight was cancelled.
Fights to Watch
Fri. 7 p.m. ESPN – Oleksandr Gvozdyk (17-0) vs Artur Beterbiev (14-0)
Fri. 8 p.m. Facebook Watch – Angel Ruiz (16-0) vs Javier Flores (14-2, 12 KOs)
Fri. 11:30 p.m. Telemundo – Emanuel Colon (16-1-1) vs Richard Zamora (19-3)
Sat. 11 a.m. DAZN – Lewis Ritson (19-1) vs Robbie Davies Jr. (19-1)
Sat. 6 p.m. UFC Fight Pass – Cody Crowley (17-0) vs Mian Hussain (16-1)
Sat. 7 p.m. Facebook Watch – Oscar Duarte (17-1-1) vs Richard Solano (21-2-2)
Check out more boxing news on video at The Boxing Channel 
To comment on this story in The Fight Forum CLICK HERE
Beterbiev vs. Gvozdyk a Matchup of Shark vs. Piranha?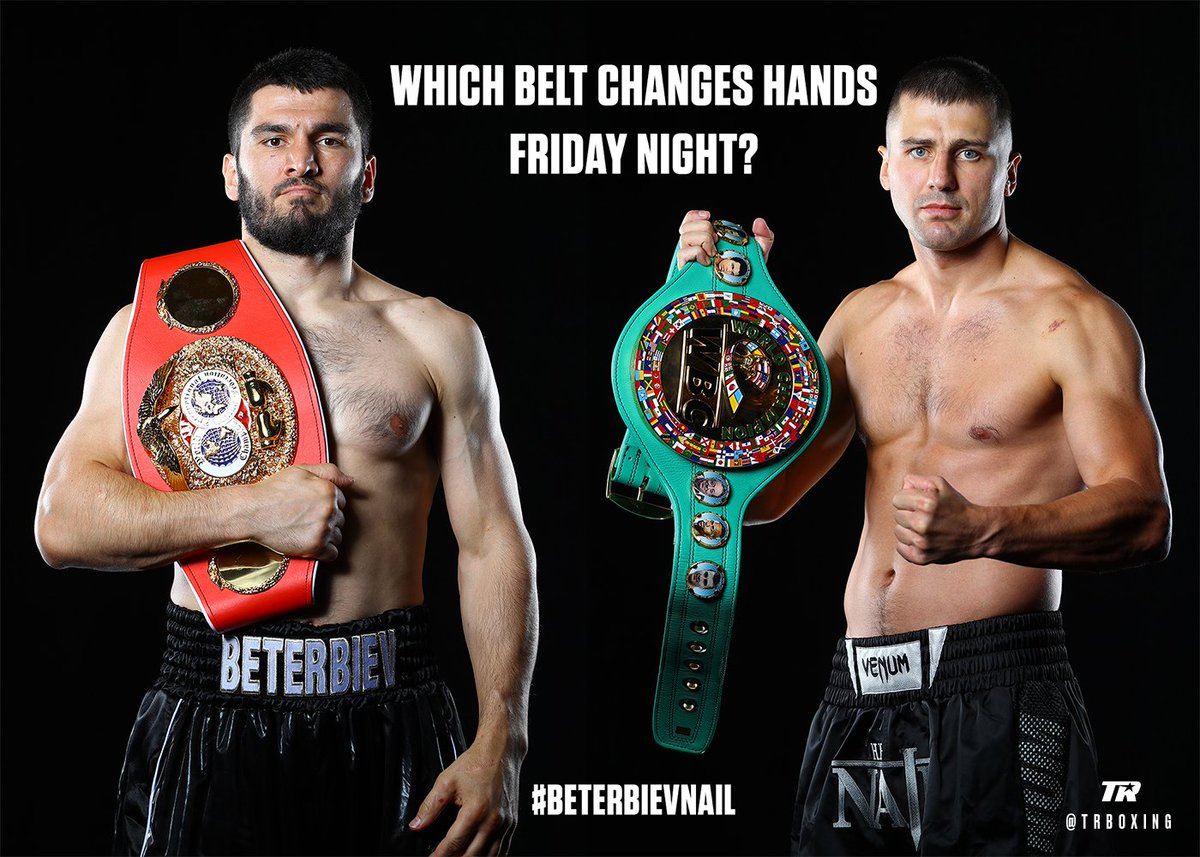 To hear trainer Teddy Atlas describe it, Friday night's light heavyweight unification matchup of IBF champion Artur Beterbiev (14-0, 14 KOs) and WBC titlist Oleksandr "The Nail" Gvozdyk (17-0, 14 KOs) is like a shark taking on a piranha, and Teddy's guy, Gvozdyk, is the piranha.
But boxing isn't always about the predator that has the biggest, sharpest teeth, or the hardest punch. Victory in the ring can be the result of various means, one being the way a large enough shark can swallow its prey almost whole.  Another is for the piranha to take a bite here and a bite there until the same objective is achieved.
Which approach is the more effective on fight night should be determined in what the oddsmakers have made a virtual 50/50 tossup. ESPN and ESPN Deportes will televise from the Liacouras Center on the Temple University campus in North Philadelphia.
Atlas and Beterbiev's trainer, Marc Ramsay, appear to be in agreement that Beterbiev, 34, a Russian based in Montreal for the last several years, has the kind of paralyzing power capable of taking out many opponents with a single shot. But the Big Bite strategy can be neutralized and overcome by patient nibblers who recognize that there are times when it's better to hang back and other times when it's preferable to dart in and quickly snack on whatever is being offered. Not so very long ago Gvozdyk, a bronze medalist for Ukraine at the 2012 London Olympics, was hesitant to exhibit the selective restraint as preached by Atlas. Now, as they approach their third bout together, Gvozdyk – hardly a pittypat puncher, if not quite on Beterbiev's level — has made himself over into the prototypical Atlas fighter. Ramsay, however, isn't convinced that any trainer, together with a fighter for less than a year, can orchestrate such a swift and comprehensive stylistic overhaul. What Ramsay does know is that his man is the real deal when it comes to bringing the pain.
"He's the best that I ever saw," Ramsay, who also has worked with former light heavyweight champions Jean Pascal and Eleider Alvarez, said when asked about Beterbiev's penchant for exclamation-point finishes. "And the thing is that it's not only one shot. It's all the shots. He can hurt you from distance or in close. He has that kind of explosiveness. But he has a lot more than power to offer."
Ramsay is less inclined to accept the notion that Gvozdyk, who is no newcomer to boxing at 32, can make anything more than cosmetic changes to an aggressive, come-forward style that has served him so well for so long. He said old, ingrained habits are not so easy to break.
"Real change – technical things, philosophical things – is a long process," Ramsay opined. "It's a lot of repetition in the gym. A lot of repetition."
Atlas is a highly accomplished trainer who has worked at various times with such outstanding fighters as a young Mike Tyson, Michael Moorer, Donny Lalonde, Alexander Povetkin and Timothy Bradley Jr., was inducted into the International Boxing Hall of Fame as a broadcaster last June. He is my-way-or-the-highway Type A personality who demands absolute adherence to his dictums from his fighters, which is one reason why he was hesitant to take on another after Bradley retired. Gvozdyk is his only fighter at this time, maybe the last he'll ever work with, and the relationship seems solid.
"We know the basics. Everybody knows the basics," Gvozdyk said of the way he looked at the way he prepared himself for bouts before he hooked up with Atlas. "But the small details … sometimes you think I'm too good, somebody can forgive me some mistakes. Teddy is always on top of it. He never lets you drift. He's kind of like a dictator. A smart dictator. That is what I need at this stage of my career. I feel like I'm special right now for Teddy. Teddy is not some average trainer. He's a legend."
Atlas' first fight as Gvozdyk's chief second was no shakedown cruise through smooth waters. When "The Nail" – his last name literally translates to that in Russian – challenged then-WBC titlist Adonis "Superman" Stevenson on Dec. 1, 2018, on Stevenson's home turf in Quebec City, he was facing another devastating puncher, maybe one with even more pop than Betierbiev, and a long-reigning champ who was making his 10th defense over  5½ years. But while Gvozdyk ended Stevenson's career with an 11th-round knockout, he did have a couple of shaky moments. The first came when he was hammered with a flush shot in the second round and another, one he didn't see, in the 10th. He might not be readying to face Beterbiev now if he had been caught with a follow-up shot while hurt, but he found a way to make it to the end of the round.
Asked if he "felt good" about Gvozdyk's chances against Beterbiev, given his previous brush with disaster with Stevenson, Atlas said there's always some anxiety when the guy in the other corner hits as hard as a mule kicks.
"It's never a good experience facing a puncher," Atlas noted. "It's a reminder that there's no room for mistakes. There has to be full concentration for 36 minutes. You have to fight one three-minute round at a time, not two minutes and 59 seconds, not when you're in there with a puncher that can change everything in a moment, as Stevenson almost did in the 10th round.
"But the reason why (Gvozdyk) is a champion is that he was able to survive that. When the moment came, he behaved like a champion. I've no doubt that whenever that moment comes Friday night, he'll do the same thing. It's never comfortable to be facing a puncher, but at least we know we've done it and we know what it takes to get by."
Atlas banned media members from attending any of Gvozdyk's private training sessions in Philadelphia, the better to ensure that whatever wrinkles he was adding to a fighter that still might be considered a work in progress were not made public before fight night. But Atlas did say that there are times when a clever piranha can indeed defeat a shark. Little bites add up, until the time is right to open those smaller jaws wide and gouge out a larger chunk.
"If there's moments to take bigger bites in this fight, we're going to take them, at whatever time that is," Atlas said. "If it's early, it's early. If it's late, it's late. There's going to be moments to take bigger bites with this guy. That doesn't mean getting sloppy or careless or greedy.
"Alex has great judgment and instincts. I know we can depend on that judgment and those instincts."
Go, Eagles! Uh, make that Rock …
Arch-rivalries are the lifeblood of any sport. How much less interesting would baseball be without Yankees-Red Sox, Cardinals-Cubs and Dodgers-Giants to stir fans' passions? The NBA was so much more compelling when the Lakers and Magic could go for it all, and frequently did, against the Celtics and Bird. Tennis used to be defined by Borg vs. Connors, Sampras vs. Agassi and, even now in their athletic dotage, Federer vs. Nadal.
In Philadelphia, the most despised opponent is always the Dallas Cowboys. The City of Brotherly Love is anything but when the Eagles and 'Boys hook up, as will be the case Sunday night when the Eagles and Cowboys, both 3-3 and tied for first place in the lackluster NFC East, square off in AT&T Stadium in Arlington, Texas. Each team's season might be disappointing to this point, but that hardly matters when emotions run high and civic pride is on the line. In Philly, at least, the quarterback duel of Carson Wentz vs. Dak Prescott will still be viewed as something akin to Frazier vs. Ali in helmets and shoulder pads. Eagles coach Doug Pederson fanned the standard flames higher and hotter by publicly predicting his team was "going to win that football game."
In addition to Eagles-Cowboys, there will be another Philly vs. Dallas matchup on ice, albeit at a somewhat less acrimonious level, Saturday night when the NHL's Flyers host the Dallas Stars at the Wells Fargo Center. Meanwhile, in a different part of town the same evening, Hard Hitting Promotions gets in on the act by staging a 10-bout card at The Met Philadelphia as part of what is being described by HHP head Manny Rivera as "Philly vs. Dallas Week."
The eight-round main event pairs North Philly heavyweight Darmani Rock (16-0, 11 KOs) against 41-year-old Maurenzo Smith (21-11-4, 14 KOs), who actually was born and raised in Houston but is said to now fight out of Dallas. The undercard is topped by the six-round light heavyweight matchup of Glassboro, N.J.'s (hey, it's reasonably close to Philly) Derrick Webster (28-2, 14 KOs) and Israel Duffus (19-6, 16 KOs), of Los Angeles by way of his native Panama. Duffus is a late fill-in for Francisco Castro (28-11, 23 KOs) of El Paso, Texas, which, like LA, is really nowhere near Dallas. five other Philadelphia fighters, or those in the general vicinity, are slated to appear, but none against opponents with even the thinnest ties to Dallas.
Word has it that Rock and maybe Webster will enter the ring garbed in some sort of midnight green, the better to stoke the Eagles-adoring crowd. Prudent matchmaking suggests that both local fighters (if you give Webster benefit of the doubt) will be victorious, although Rock's weight is frequently an area of concern. The 6-foot-5, 23-year-old prospect came in at a career-high 289 pounds for his most recent bout, a second-round knockout of Raymond Ochieng on June 14, 48 pounds more than he did for his sixth pro outing three years earlier. Rock will probably be looking to quickly put away Smith, who has been stopped seven times and, at 278 pounds for his most recent ring appearance, also packs the heft of an NFL defensive lineman.
For Philadelphia fight fans hankering for a much more consequential Philly vs. Dallas showdown, it will happen sometime in 2020 if (a)  IBF/WBC welterweight champion Errol Spence Jr. (26-1, 21 KOs), who lives in the Dallas suburb of DeSoto, Texas, fully recovers from injuries suffered in his recent auto accident and (b) he actually does take on two-division former titlist Danny Garcia (35-2, 21 KOs), of the Juniata Park section of Philly, as was announced after Spence's Sept. 28 split-decision unification victory over Shawn Porter.
Check out more boxing news on video at The Boxing Channel 
To comment on this story in The Fight Forum CLICK HERE