The Hauser Report: Adrien Broner Punks Out
Three competing fight cards of note were televised simultaneously on June 20. The most intriguing match-up of the night was on NBC and showcased Adrien Broner vs. Shawn Porter.
There was a time when Broner (30-1, 22 KOs) sought to position himself as the successor to Floyd Mayweather. No undersized punching bag was safe when Adrien was on the loose. His formula was to potshot opponents until he knew they were safe and then go after them. He had (and still has) prodigious physical gifts.
"At lightweight, where he was able to exploit his size," Jimmy Tobin writes, "Broner walked opponents down and banged them out. His mediocre defense was masked by his ability to handle a lightweight punch. His struggles to transition between offense and defense were hidden by the fact that Broner never needed to take a backward step."
But as Broner moved up in weight and the caliber of opponent improved, his limitations as fighter became evident. He won a narrow split-decision victory over Paulie Malignaggi at 147 pounds in 2013 and, later that year, was exposed in a unanimous-decision loss at the hands of Marcos Maidana.
Broner claimed that he wanted a rematch against Maidana. But as Carlos Acevedo observed, "Not only was Broner thrashed by Maidana, he was humiliated. He rose like a man suffering from Jake Leg after being knocked down in the second round, tried to buy a disqualification by writhing on the canvas like a two-year old in a Wal-Mart after Maidana butted him, hit the deck again in the eighth, was the victim of a revenge humping, and then fled the ring under a gauntlet of beer cups. Another loss to Maidana might have put an end to the Broner hype once and for all."
So instead of fighting a rematch against Maidana, Broner went down in weight to 140 and fought three overmatched opponents. Then, on Saturday night, he squared off against Shawn Porter (25-1, 16 KOs) at the MGM Grand in Las Vegas at a catchweight of 144 pounds.
Porter's resume had a unanimous-decision victory over Devon Alexander on it and also a majority-decision loss to Kell Brook. As a point of further comparison with Broner, Shawn wiped out Paulie Malignaggi in four rounds last year.
Porter was a 6-to-5 betting favorite. Broner has better natural gifts, but the feeling among those in the know was that Adrien is soft. Broner can trash-talk with the best. But it has become increasingly clear that he can't back it up. Against Porter, he didn't even try to.
Boxing maven Charles Jay has opined, "I hate it when a guy talks like a monster before the fight and then comes out and fights like a little lamb. I've seen it too many times, and it shows disrespect for the sport itself."
That was Broner on Saturday night.
"Hit and don't get hit" doesn't mean "run, hold, and be boring." There's a difference between fighting cautiously and stinking out the joint.
Against Porter, Broner ran all night. Whenever Shawn got inside, Adrien tied him up. As the fight progressed, hugging and holding evolved into forearms to the throat. Then Adrien added headlocks to his repertoire. By round four, Steve Smoger (who was commentating for NBC) noted, "All we've seen so far is four rounds of fouls and forearms."
Porter tried to make it more of a battle. But he couldn't figure out how to do damage while coming in. And whenever he got inside, Broner tied him up. Adrien simply didn't want to fight. And Shawn didn't know how to fight a guy who didn't want to fight.
Referee Tony Weeks let Broner continue to hold and foul until round eleven, when he belatedly deducted a point. It was one of the few times in memory that the crowd has roared its approval when the referee took a point away from a fighter.
Early in round twelve, Porter got sloppy and Broner landed a hook up top that put Shawn on the canvas. But when Porter rose, Adrien went back to holding and hugging rather than going for a knockout (which he obviously needed to win).
Porter prevailed by a 118-108, 115-111, 114-112 margin on the judges' scorecards and had a 149-to-88 advantage in punches landed.
Thereafter, Broner nonsensically proclaimed, "I'm okay. It's okay. It don't matter. I'm a real animal. I came to fight today and I didn't get the decision. But at the end of the day, everyone here will take my autograph and my picture."
Broner isn't as good as he says he is. Boxing fans figured that out a while ago.
*     *     *
David Lemieux (33-2, 31 KOs) vs. Hassan N'Dam (31-1, 18 KOs) on FoxSports2 was a even-money fight in Lemieux's hometown of Montreal for the vacant (and phony) IBF 160-pound world championship belt.
Lemieux is an entertaining fighter, who couldn't get over the hump in back-to-back losses against Marco Antonio Rubio and Joachim Alcine in 2011. N'Dam who was knocked down six times in a 2012 loss to Peter Quillin, scored his biggest win last year, a unanimous 12-round decision over Curtis Stevens.
Lemieux wanted a slugfest. And because he was in the ring with a fighter who has limited defensive skills, he got one. That led to N'Dam being knocked down once in round two, twice in round five, and again in round seven; each time by a left hook up top.
They weren't flash knockdowns. They were punishing damaging blows. And when Lemieux wasn't knocking N'Dam down, he was loading up with both hands and pummeling him around the ring for long stretches of time.
One couldn't help but compare N'Dam's fortitude to that of Daniel Geale, who quit on his feet two weeks ago against Miguel Cotto. Unlike Geale, N'Dam took an incredible amount of punishment. And not only did he keep fighting; he kept trying to win.
In the end, the judges favored Lemieux by a 115-109, 115-109, 114-110 margin.
Lemieux vs. Gennady Golovkin will be fun while it lasts if it happens.
*     *     *
Andre Ward (now 28-0, 15 KOs) hasn't joined the federal witness protection program. But he's no longer in the thick of things either.
Ward rose to prominence with victories over Mikkel Kessler, Arthur Abraham, and Carl Froch in Showtime's "Super Six" 168-pound tournament. But contractual problems, injuries, and a general disinclination to fight credible opponents limited him to two ring appearances in the forty-two months that followed.
Then Ward signed a promotional contract with Roc Nation at the start of 2015, demanded a tune-up fight, and was relegated to BET, where he fought England's Paul Smith (35-5, 20 KOs) on Saturday night.
Smith, a likable man who has never beaten a world-class fighter, was a 30-to-1 underdog. He simply didn't have the tools to challenge Ward on any level.
Ward fought a safety-first fight. After three dreary rounds, he had a 72-to-10 edge in punches landed. The rest of the fight was no different. During the seventh stanza, blow-by-blow commentator Barry Tompkins observed, "It's been the same dance since the opening round." The seventh round also saw Smith cut above the left eye (which has been a problem for him in recent fights). In round nine, Ward broke Smith's nose; blood began to pour; and Paul's corner stopped the fight. Andre won every minute of what looked like a one-sided sparring session.
Fights like this might help Ward's bank account. There are reports that his purse for the fight was $2,000,000. But they don't help the Roc Nation brand.
Meanwhile, Ward's status in boxing is best understood when one compares him to Miguel Cotto.
Ward is undefeated. When last in action, he was rated #2 on most pound-for-pound lists. Both Ward and Cotto are signed to Roc Nation. Each man fought a B-level opponent this month.  But Cotto fought on HBO and Ward needed a time buy on BET to get his comeback fight on television.
There are two opponents of note outside of the Al Haymon universe that Ward could fight next: Gennady Golovkin at 168 pounds and Sergey Kovalev at 175. No other foreseeable Andre Ward fight matters.
*     *     *
A word on Sergio Martinez, who announced his retirement from boxing on June 13 at age forty.
Martinez walked into a boxing gym for the first time at age twenty. He turned pro three years later and compiled a ring record of 51 wins, 3 losses, and 2 draws. On April 17, 2010, he decisioned Kelly Pavlik to claim the world middleweight crown. Six successful championship defenses followed. But as Sergio grew older, his body betrayed him. Plagued by a bad knee that limited his training and ring movement, he was dethroned last year by Miguel Cotto.
I was priviliged to spend the hours before and after a fight in Martinez's dressing room on six occasions. The first of these came on November 20, 2010, when Sergio rendered Paul Williams unconscious with a crushing overhand left in the second round.
Williams and his trainer, George Peterson, later spoke of a "lucky punch."
"It definitely wasn't a lucky punch," Sergio countered. "Anybody who has seen the tape – it's not too long – sees me throwing the same punch six times and landing five, and then I knock him out. It was a premeditated punch, not lucky."
David Greisman's analysis supported Sergio's view.
"Can we please put this to rest, already," Greisman wrote. "Martinez landed the same timed overhand left as the knockout punch numerous times in both his first fight with Williams and in their rematch. By my tally, Martinez landed it fifteen times in their first bout, including nine times in the final three rounds of the bout, as he realized it was another weapon that would work on Williams. And in the rematch, Martinez landed it half a dozen times in four minutes. Seven times, if you count the final blow."
Outside the ring, Martinez has been an advocate for women who have been subjected to domestic violence and for children who've been the target of bullying in school.
"A world-class fighter doesn't have to act like a thug," he says. "As a professional athlete who is in the public eye, I have a duty to speak out on behalf of people who need help and are not heard."
Sergio Martinez has always conducted himself with dignity and grace. Boxing will miss him.
Thomas Hauser can be reached by email at thauser@rcn.com. His most recent book – Thomas Hauser on Boxing – was published by the University of Arkansas Press.
Skavynskyi and Bustillos Win on a MarvNation Card in Long Beach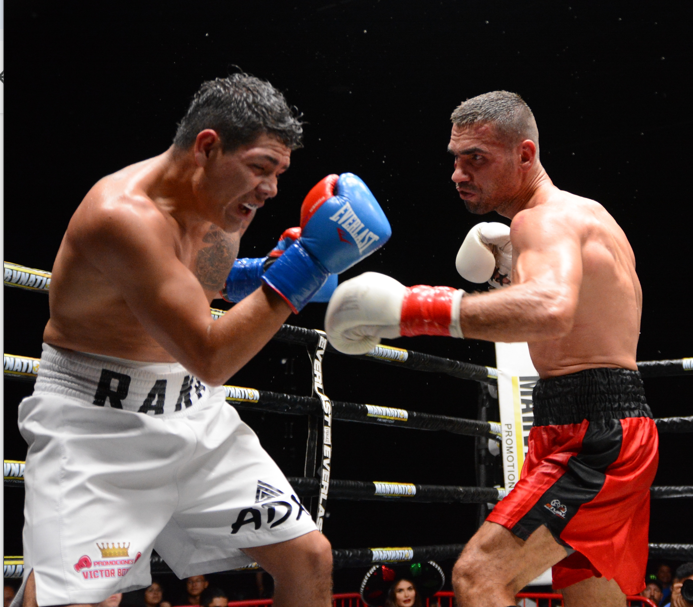 Skavynskyi and Bustillos Win on a MarvNation Card in Long Beach
LONG BEACH, Ca.-A cool autumn night saw welterweights and minimumweights share main events for a MarvNation fight card on Saturday.
Ukraine's Eduard Skavynskyi (15-0, 7 KOs) experienced a tangled mess against the awkward Alejandro Frias (14-10-2) but won by decision after eight rounds in a welterweight contest at the indoor furnace called the Thunder Studios.
It was hot in there for the more than 600 people inside.
Skavynskyi probably never fought someone like Mexico's Frias whose style was the opposite of the Ukrainian's fundamentally sound one-two style. But round after round the rough edges became more familiar.
Neither fighter was ever damaged but all three judges saw Skavynskyi the winner by unanimous decision 79-73 on all three cards. The Ukrainian fighter trains in Ventura.
Bustillo Wins Rematch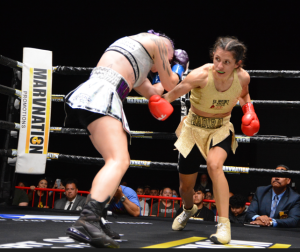 In the female main event Las Vegas' Yadira Bustillos (8-1) stepped into a rematch with Karen Lindenmuth (5-2) and immediately proved the lessons learned from their first encounter.
Bustillos connected solidly with an overhand right and staggered Lindenmuth but never came close to putting the pressure fighter down. Still, Bustillos kept turning the hard rushing Lindenmuth and snapping her head with overhand rights and check left hooks.
Lindenmuth usually overwhelms most opponents with a smothering attack that causes panic. But not against Bustillos who seemed quite comfortable all eight rounds in slipping blows and countering back.
After eight rounds all three judges scored the contest for Bustillos 78-74 and 80-72 twice. Body shots were especially effective for the Las Vegas fighter in the fifth round. Bustillos competes in the same division as IBF/WBO title-holder Yokasta Valle.
Other Bouts
In a middleweight clash, undefeated Victorville's Andrew Buchanan (3-0-1) used effective combination punching to defeat Mexico's Fredy Vargas (2-1-1) after six rounds. Two judges scored it 59-55 and a third 60-54 for Buchanan. No knockdowns were scored.
A super lightweight match saw Sergio Aldana win his pro debut by decision after four rounds versus Gerardo Fuentes (2-9-1).
Photos credit: Al Applerose
To comment on this story in the Fight Forum CLICK HERE
Tedious Fights and a Controversial Draw Smudge the Matchroom Boxing Card in Orlando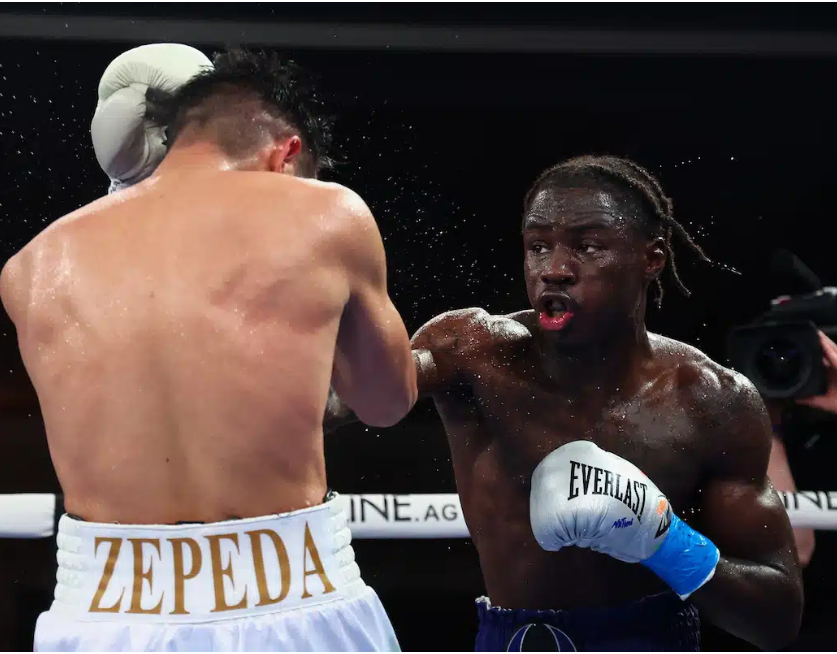 Matchroom Boxing was at the sprawling Royale Caribe Resort Hotel in Orlando, Florida tonight with a card that aired on DAZN. The main event was a ho-hum affair between super lightweights Richardson Hitchins and Jose Zepeda.
SoCal's Zepeda has been in some wars in the past, notably his savage tussle with Ivan Baranchyk, but tonight he brought little to the table and was outclassed by the lanky Hitchins who won all 12 rounds on two of the cards and 11 rounds on the other.  There were no knockdowns, but Zepeda suffered a cut on his forehead in round seven that was deemed to be the product of an accidental head butt and another clash in round ten forced a respite in the action although Hitchins suffered no apparent damage.
It was the sort of fight where each round was pretty much a carbon of the round preceding it. Brooklyn's Hitchins, who improved to 17-0 (7), was content to pepper Zepeda with his jab, and the 34-year-old SoCal southpaw, who brought a 37-3 record, was never able to penetrate his defense and land anything meaningful.
Hitchins signed with Floyd Mayweather Jr's promotional outfit coming out of the amateur ranks and his style is reminiscent in ways of his former mentor. Like Mayweather, he loses very few rounds. In his precious engagement, he pitched a shutout over previously undefeated John Bauza.
Co-Feature
In the co-feature, Conor Benn returned to the ring after an absence of 17 months and won a unanimous decision over Mexico's Rodolfo Orozco. It wasn't a bad showing by Benn who showed decent boxing skills, but more was expected of him after his name had been bandied about so often in the media. Two of the judges had it 99-91 and the other 96-94.
Benn (22-0, 14 KOs) was a late addition to the card although one suspects that promoter Eddie Hearn purposely kept him under wraps until the week of the fight so as not to deflect the spotlight from the other matches on his show. Benn lost a lucrative date with Chris Eubank Jr when he was suspended by the BBBofC when evidence of a banned substance was found in his system and it's understood that Hearn has designs on re-igniting the match-up with an eye on a date in December. For tonight's fight, Benn carried a career-high 153 ½ pounds. Mexico's Orozco, who was making his first appearance in a U.S. ring, declined to 32-4-3.
Other Bouts of Note
The welterweight title fight between WBA/WBC title-holder Jessica McCaskill (15-3-1) and WBO title-holder Sandy Ryan (6-1-1) ended in a draw and the ladies' retain their respective titles. Ryan worked the body effectively and the general feeling was that she got a raw deal, a sentiment shared by the crowd which booed the decision. There was a switch of favorites in the betting with the late money seemingly all on the Englishwoman who at age 30 was the younger boxer by nine years.
The judges had it 96-94 Ryan, 96-95, and a vilified 97-93 for Chicago's McCaskill.
In the opener of the main DAZN stream, Houston middleweight Austin "Ammo" Williams, 27, improved to 15-0 (10) with a 10-round unanimous decision over 39-year-old Toronto veteran Steve Rolls (22-3). All three judges had it 97-93. Rolls has been stopped only once, that by Gennady Golovkin.
Photo credit: Ed Mulholland / Matchroom Boxing
To comment on this story in the Fight Forum CLICK HERE
Zhilei Zhang KOs Joe Joyce; Calls Out Tyson Fury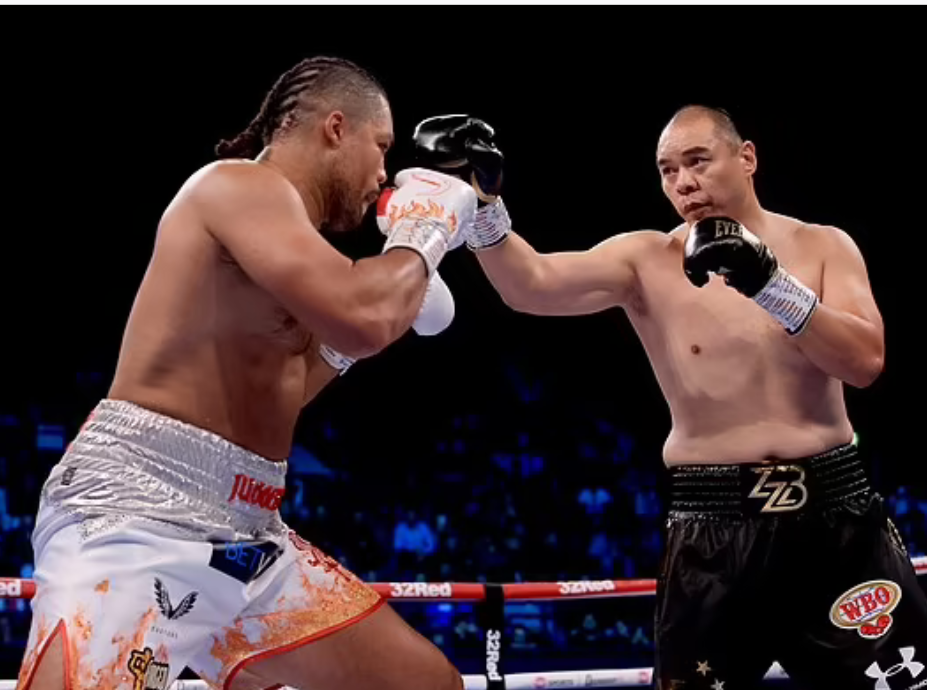 Joe Joyce activated his rematch clause after being stopped in the sixth frame by Zhilei Zhang in their first meeting. In hindsight, he may wish that he hadn't. Tonight at London's Wembley Stadium, Zhang stopped him again and far more conclusively than in their first encounter.
In the first meeting, Zhang, a southpaw, found a steady home for his stiff left jab. Targeting Joyce's right eye, he eventually damaged the optic to where the ring doctor wouldn't let Joyce continue. At the end, the fight was close on the cards and Joyce was confident that he would have pulled away if not for the issue with his eye.
In the rematch tonight, Zhang (26-1-1, 21 KOs) closed the curtain with his right hand. A thunderous right hook on the heels of a straight left pitched Joyce to the canvas where he landed face first. He appeared to beat the count by a whisker, but was seriously dazed and referee Steve Gray properly waived it off. The official time was 3:07 of round three.
Zhang, who lived up to his nickname, "Big Bang," was credited with landing 29 power punches compared with only six for Joyce (15-2) who came in 25 pounds heavier than in their first meeting while still looking properly conditioned. One would be inclined to say that age finally caught with the "Juggernaut" who turned 38 since their last encounter, but Zhang, 40, is actually the older man. In his post-fight interview in the ring, the New Jersey resident, a two-time Olympian for China, when asked who he wanted to fight next, turned to the audience and said, "Do you want to see me shut Tyson Fury up?"
He meant it as a rhetorical question.
Semi-Windup
Light heavyweight Anthony Yarde was matched soft against late sub Jorge Silva, a 40-year-old Portuguese journeyman, and barely broke a sweat while scoring a second-round stoppage. Yarde backed Silva against a corner post and put him on the deck with a short right hand. Silva's body language indicated that he had no interest in continuing and the referee accommodated him. The official time was 2:07 of round two.
A 30-year-old Londoner, Yarde (24-3, 23 KOs) was making his first start since being stopped in eight rounds by Artur Beterbiev in a bout that Yarde was winning on two of the scorecards. Silva, a late replacement for 19-3-1 Ricky Summers, falls to 22-9.
Also
Former leading super middleweight contender Zach Parker (23-1, 17 KOs) returned to the ring in a "shake-off-the-rust" fight against 40-year-old Frenchman Khalid Graidia and performed as expected. Graidia's corner pulled him out after seven one-sided rounds.
In his previous fight, Parker was matched against John Ryder who he was favored to beat. The carrot for the winner was a lucrative date with Canelo Alvarez. Unfortunately for Parker, he suffered a broken hand and was unable to continue after four frames. Tonight, he carried 174 pounds, a hint that he plans to compete as a light heavyweight going forward. Indeed, he has expressed an interest in fighting Anthony Yarde. Graidia declined to 10-13-4.
The Zhang-Joyce and Yarde-Silva fights were live-streamed in the U.S. on ESPN+.
To comment on this story in the Fight Forum CLICK HERE