Kovalev Must Be Pretty Good Because I'm Not Sure Ward Beats Him
This past June super-middleweight champ Andre Ward 28-0 (15) fought for the first time in 19 months. Ward looked sensational stopping Paul Smith 35-6 (20) in the ninth round of a 12-round 172 pound catch-weight bout televised on BET. Before his 19 month hiatus Ward thoroughly cleaned out the super-middleweight division. Some of the names on Ward's impressive resume that he compiled in the midst of cleaning out the division read Chad Dawson, Carl Froch, Arthur Abraham, Sakio Bika, Mikkel Kessler and Edison Miranda. And to those with a sophisticated eye, they fully grasp none of the bouts were close nor were they ever in question as to who won.
There was a time when Andre Ward, before his year and a half absence from the ring, was considered no lower than the second or third best pound-for-pound fighter in boxing. Only Floyd Mayweather, who turned pro eight years before Ward, routinely out-polled him in the pound-for-pound debate. And the reason for Ward's high ranking was, he is really that special and can do everything as a fighter in the ring. Andre is a master boxer and technician, and like Mayweather, he doesn't need much time to figure out what his opponent doesn't like and what their weaknesses are – and then feeds them a steady diet of it and forces them to do what they don't want to do.
Ward has a terrific jab to the head and body, and he is tremendously effective using it offensively and defensively. He can step back and counter while allowing his opponent to lead, or at least making them think they are. He knows how to go after runners and movers, and he can fight on the inside and neutralize his opponents while doing so. He's very strong physically, and his punch resistance and stamina have never been a remote issue for him.
The only "but" when it comes to assessing Andre Ward that you hear is,  he's not a life-taker when it comes to punching power. However, most writers and fans don't understand that punching power is overrated. Sure, it's a great equalizer, but it's only as good as the delivery system in place to get it to the intended target. Ward, like Mayweather today, Bernard Hopkins, Muhammad Ali and Larry Holmes from yesteryear, punch/ed plenty hard enough to win. As we saw in many of their high profile bouts, punching power was never much of a factor in determining their signature bouts during their careers.
That said, as great as Ward looked in his last bout, Paul Smith isn't an elite fighter, not even close. Ward did exactly what he should've and dominated every facet of the fight. In short, he looked terrific. But the cold-water on that is, because Smith was so far out of his league, it's hard to gauge Andre's showing and asses exactly where he's at. Add to that, a new monster has emerged since Ward's exile, and he's only a couple pounds bigger than Andre.
His name is Sergey Kovalev 27-0-1 (24) and he's clearly the most formidable and feared fighter in the light heavyweight division. Amazingly, Kovalev's ascendance has been a little overshadowed by middleweight Gennady Golovkin's emergence over the same time period. This in all honesty has befuddled me for two reasons. For starters, Kovalev is a more versatile fighter than Golovkin. I know some try and paint Gennady as an unbeatable wrecking machine, but in truth, he's basically an attacker. Yes, I know he can box, but back him up and he, like most attackers, aren't nearly as effective. Secondly, Kovalev has clearly beat better fighters and has compiled a more impressive resume than Golovkin.
In his last two bouts, Kovalev stopped the hard punching and former title holder Jean Pascal. Pascal fought Bernard Hopkins to a draw and had him down twice in a title bout. It's a short list of fighters who can make that claim. Before fighting Pascal, Kovalev won no less than 11 of 12 rounds against Hopkins and managed to put Bernard down. Kovalev adjusted to the rough and shrewd Hopkins at every turn of the fight and bettered him. It didn't matter what Hopkins tried, Sergey usually got the better of it and he was quite effective with his long game. This had Bernard searching for answers in trying to come up with something he could do so he could gain the upper hand against Sergey. Unfortunately for Hopkins, he never found a single answer and Kovalev basically ran away with the fight. At the post fight press conference, Hopkins told the assembled media not to discount Kovale'v's showing because of Bernard's advanced age. In other words, Hopkins showered Kovalev with high praise, something that is not a typical occurrence when Bernard comes out on the losing end of a decision.
Kovalev is scheduled to fight Nadjib Mohammedi on July 25th in Las Vegas. If Sergey wins as he is favored to do, the talk of him fighting Andre Ward early next year will gain traction and escalate. And what an intriguing fight that is to ponder. Neither Kovalev nor Ward has ever faced a fighter like the other. It's a real tough fight to handicap and pick the winner. And the proof of that is, yes, it's Andre Ward, and yet I can't tell you that I would pick him to win. Kovalev's long game and power will give Ward much to address. Will he, can he? That's what makes the matchup so compelling and anticipated.
The fact that I can't say for sure that I would pick Andre Ward to beat Sergey Kovalev tells me one thing for certain….I must think an awful lot of Kovalev.
Frank Lotierzo can be contacted at GlovedFist@Gmail.com
George Kimball Remembers Budd Schulberg: A TSS Classic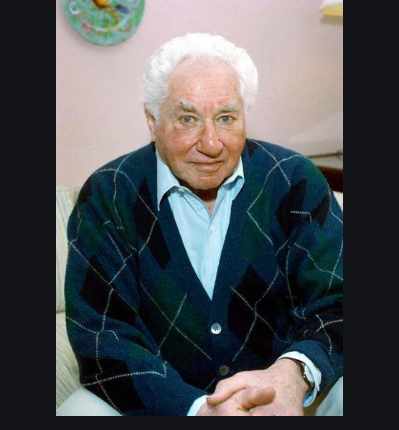 On this day in boxing history, Aug. 5, 2009, the great screenwriter, novelist, and essayist Budd Schulberg passed away at age 95. His passing inspired this tribute from his friend George Kimball, the longtime boxing writer for the Boston Herald who was then retired as a full-time newspaperman and writing extensively for this web site.
—
NEW YORK — I could tell from the choking sound on the other end of the line that the news wasn't going to be good.  It took him awhile, and when he finally got it out, the best his son could manage was "He's gone…"
Budd Schulberg was 95 years old and had been in ill health for several months, so it was hardly unexpected, but the unsettling moment arrived late Wednesday afternoon when Benn phoned to tell me his father had passed away an hour earlier. Budd was a giant in our field, and a giant in many others as well. He was the only man ever to have both won an Oscar and been inducted into the International Boxing Hall of Fame, but he was also my dear friend of many years, and I miss him already.
*  *  *
Budd Schulberg was 15 years old in 1929 when he sailed to England with his father, the Hollywood mogul B.P. Schulberg.  On that crossing the Schulbergs made the acquaintance of a fellow passenger on the Ile de France, a Georgia boxer named William Lawrence Stribling, who boxed under the nomme de guerre Young Stribling.
Upon learning that both Schulbergs were enthusiastic boxing fans, Stribling promised them a pair of ringside tickets for his upcoming bout at the Royal Albert Hall, where he was to fight an ungainly Italian giant named Primo Carnera.
If watching his father drop what he described as "a casually reckless wager" of 1,000 pounds when Carnera won by disqualification wasn't enough to inspire a healthy skepticism in the younger Schulberg, the result of the return match certainly did. In what appeared to have been a pre-arranged scenario, Carnera and Stribling  met again in Paris three weeks later, and this time Carnera returned the favor by getting himself disqualified in the seventh round.  The episode made an indelible impression on Schulberg, who years later would base his cautionary boxing novel "The Harder They Fall" on the illusory rise and inglorious fall of Carnera, the heavyweight champion known as "The Ambling Alp."
Now, think about this.
Eighty years later, this time by more modern contrivance, Budd returned to London again. This past February he flew over for the premier of "On the Waterfront," a stage adaptation of his Academy Award-winning 1954 screenplay, at the Theatre Royal in Haymarket. Perhaps determined to reprise all facets of that 1929 rite of passage, he and his wife Betsy went from London to Paris, where they spent a week in the city that had hosted Stribling-Carnera II. They returned to London, where they attended yet another performance of On the Waterfront.
Afterward Budd repaired to a nearby pub with the cast of the London production, and spent the night celebrating with the cast. When he became ill on the flight back to New York the next day the initial assumption was that the partying was to blame, but what it really was was the onset of old age. This was particularly unsettling for Budd, because he was a month shy of his 95th birthday, and he had never before felt — or seemed — particularly old. Not to himself, not to any of us.
Benn Schulberg and I were at Madison Square Garden that night, at the Cotto-Jennings fight, when he got the phone call telling him that his dad had been taken off the plane at Kennedy Airport in a stretcher and rushed to the emergency room at Jamaica Hospital. Somewhere over the Atlantic his blood pressure had dropped alarmingly, and he barely had a pulse.
Budd improved enough over the next few days to be moved to Mt. Sinai in New York, where he could be under the care of his cardiologist, and eventually he was allowed to be home, but he remained in a weakened state. He had been in congestive heart failure for some time, and he had a chronic lung condition, the result of having sucked down some toxic fumes in a home kitchen fire several decades earlier, and then a couple of months ago he was well enough to undergo what was supposed to be routine surgery to repair a hernia. That's when they found the cancer in his belly
There were several phone calls over the next few weeks while Budd and Betsy deliberated the various options, and since I'd had to make similar choices in the past, they consulted me on the matter. I'm not sure how helpful I was, other than to recommend an insistence on getting a full recitation of the potential benefits and consequences from whichever specialist had their ear at the moment, but in the end Budd opted for treatment. In June he came straight from a chemo appointment to attend the Boxing Writers dinner (where he received a standing ovation), and then just a few weeks ago he attended a staged reading of On the Waterfront in Hoboken. The event, by the New Artists Theatre, featured some cast members of "The Sopranos," on the turf Schulberg's play had immortalized, and the aura of corruption of the 50's era had just been revived when the FBI took town a bunch of New Jersey mayors (and rabbis) a few days earlier.
"He probably shouldn't have, but at the last minute he told me he wanted to go," reported Benn. "He was in pretty bad shape, and I think everyone could tell that."
"I certainly could," said Lou di Bella, who was also in attendance that night. "I knew then that it was probably the last time I'd see him."
*   *   *
I find myself thinking about the better times, and they weren't so very long ago at that.  Budd and Betsy had dinner with us at our place here in New York several times over the past few years, and when it finally became apparent that climbing the stairs of an old brownstone built before the age of elevators was a burden, we met for dinner in more nonogenarian-friendly locales. A year ago March we'd attended his 94th birthday party at an Upper West Side restaurant, along with his family and a few friends, including the artist LeRoy Neiman and the actress Patricia Neal, who'd starred in the film of Budd's "A Face in the Crowd" half a century earlier.
Even though he could doubtless feel it closing in on him over those last few years he refused to make the normal concessions to age. A couple of years ago when we were in Vegas for the Mayweather-De La Hoya fight there was a late lunch with myself, Budd and Benn, and Michael Katz. We had to find a place with a television set so we could monitor the progress of the Kentucky Derby bets we'd placed at the sports book earlier in the day. During football season, especially come playoff time, and for a big fight we'd decided not to attend in person, we'd often gather at Benn's apartment, order up obscene quantities of food and beer, and then try to stick one another with the tab through an intricate series of wagers, usually devised by Budd.
I'm 65, and at these gatherings I was often the second-youngest person in attendance. Budd didn't hang out with many people his own age, mainly because people his own age were mostly dead. But any father will tell you he'd rather have no better friend than his own son, and Benn, who didn't even come along until Budd was 67, was unquestionably Budd's best friend, his constant companion at ringside.
* *  *
I'd read Budd in my youth, long before I met him, beginning, as most do, with "What Makes Sammy Run," without even understanding at the time the bedrock of personal experience underlying that book, or that its publication would, as his father had warned him it might, severely retard what had been a promising Hollywood career. It didn't kill it altogether, of course. Budd was assigned to co-write a script with another member of the newly-fallen, F. Scott Fitzgerald, and while that project turned into a disaster, it did provide the basis for another splendid book based on the experience, "The Disenchanted."
He straddled the worlds of literature and pugilism throughout his life, but unlike some of his more boastful contemporaries he was not a dilettante when it came to either. He sparred regularly with Mushy Callahan well beyond middle age. The night of the Frazier-Ali fight of the century Budd started to the arena in Muhammad Ali's limousine, and then when the traffic got heavy, got out and walked to Madison Square Garden with Ali. A year before Jose Torres died, Budd and Betsy flew to Puerto Rico and spent several days with Jose and Ramona at their home in Ponce. Art Aragon was the best man at his wedding. And when push came to shove, he put on the gloves with both Ernest Hemingway and Norman Mailer and kicked both of their asses, though not, as some would now claim, on the same night.
*   *    *
Budd and I had sat together at another Boxing Writers Dinner at least a quarter century earlier. I remember being pretty full of myself, because I'd just come back from a fight in Vegas where I'd had a pretty good week at the tables as well. I'd not only won what seemed to me a ton of money but had spent enough time at the tables that Gene Kilroy had gotten the casino to comp my room — after they'd already issued me a receipt that would satisfy the bean counters at the newspaper.
As I was remarking on the delicious irony of it all, Budd punctured my reverie long enough to ask "Let me ask you this, George. Could you have afforded to lose $5,000?"
He knew I had two small children, and that of course I couldn't. He then proceeded to tell me the cautionary tale of his own father, whose gambling Jones put his family at the brink of bankruptcy a couple of times. That night told me the story that would later appear in Moving Pictures, the biography of his early days in Hollywood, of the floating poker game that convened at the Schulberg manse just before young Budd was sent to his room to do his homework. When he came downstairs for breakfast eight hours later, his father was still at the table, where he was writing out a check for $20,000 to Chico Marx.
He was afflicted with a lifelong stammer that seemed to grow worse when he became excited or impatient, which wasn't often. It has occurred to me more than once over the years that this probably evolved into an asset to his writing and his unerring ear for dialogue, because most conversations were so essentially one-sided that he became a very good listener.
*   *   *
In World War II he served in the OSS, and in the war's aftermath was part of the prosecution team at the Nuremburg Trials, where his job was assembling photographic and film evidence for use against the Nazis on trial for war crimes.
He had been a Communist Party member in the late1930s, but had long since repudiated his ties after he had seen firsthand the evils of Stalinism. Although unlike many former CP members he retained a leftist stance on social and political issues throughout his life, he was tarred by his agreement to testify before the House Un-American Activities Committee in 1947. Many of his colleagues who refused were blacklisted, and lives were ruined. Budd was branded a pariah in some circles, but in his own mind his politics hadn't wavered.
The episode did make him fair game on another front, particularly when On The Waterfront, directed by another former party member-turned-friendly witness, Elia Kazan, emerged in 1954. Kazan had earlier worked on another waterfront-themed project called "The Hook" with the playwright Arthur Miller. The biographer Jeffrey Meyers would later claim that "Miller had refused to turn the gangsters into communists, as the Columbia Pictures mogul Harry Cohn and the Hollywood union bosses wanted him to. The film was later written that way by Budd Schulberg (another self-serving friendly witness') as On The Waterfront."
As preposterous as the allegation seems — there are no more any bad-guy communists in On the Waterfront than there were in "A View from the Bridge," the play Miller eventually wrote from "The Hook." Moreover, Budd had purchased the rights to a New York Sun series about the Jersey docks as early as 1947, years before Miller's brief flirtation with Kazan.
"When I was working on 'On the Waterfront,' I didn't know about Arthur Miller," Budd told an English newspaper in London back in February. "They were absolutely two separate, if overlapping, projects."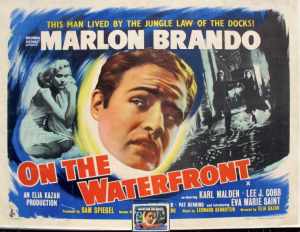 Budd said at the time he resented the accusation "because it made me seem like I was trying to imitate Arthur Miller and walk in his footsteps. I didn't like it."
Miller died without the two men ever discussing the subject. This summer I was invited to read at a literary festival, the Listowel Writers Week in Ireland. Another of the invitees was the novelist and director Rebecca Miller, who in addition to being Daniel Day-Lewis' wife is also Arthur Miller's daughter. One morning at our hotel there I read her the offending passage from Meyers' book.
"That's absurd," she said. "I'm sure my father never believed that. A View from the Bridge and On the Waterfont were always going to be two separate plays. One had nothing to do with the other."
I know I told Benn about that conversation when I returned from Europe. But now it occurs to me that I never got a chance to tell Budd, who would have, I suspect, found it comforting.
*  *  *
Over the past few weeks Pete Hamill and I had spoken often of going out to Westhampton to visit Budd, but between our travel schedules and his medical issues the timing never seemed right. Benn was with him last weekend and reported that even then he was plainly struggling to breathe, in considerable discomfort. He seemed to sense that it was time to go, and as it turned out it was their final goodbye. When Benn got the news that his father had been taken to the hospital in Riverhead Wednesday afternoon he jumped straight into his car. By the time he got there Budd was already dead.
"But," said his son as he choked back the tears, "he had a pretty good run, didn't he?"
Yes, he did.
EDITOR'S NOTE: George Kimball died on July 6, 2011, after a six-year battle with esophageal cancer. In the last years of his life he was highly productive, authoring the widely acclaimed "Four Kings: Leonard, Hagler, Hearns, Duran, and the Last Great Era of Boxing," and two boxing anthologies in collaboration with John Schulian.
Check out more boxing news on video at The Boxing Channel 
To comment on this story in the Fight Forum CLICK HERE
The Top Ten Super Bantamweights of the Decade: 2010-2019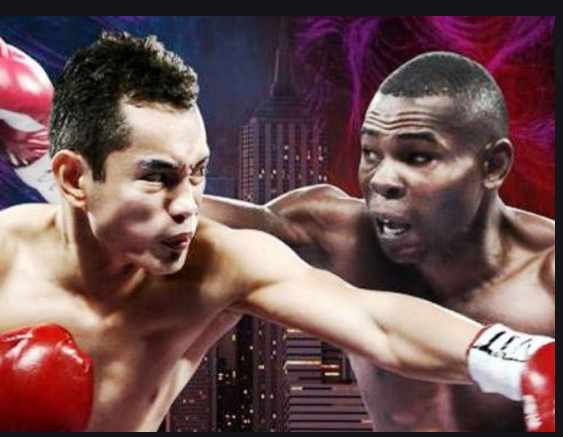 It has been interesting to see how transient fighters are when they inhabit the smaller divisions. Up at cruiserweight, fighters spent on average 50% of the decade in their division to earn their spot among the top ten; here at 122lbs it is nearer 30%.
This results in a list of fighters with less purchase on the list, generally. Occasionally though, even at the smaller weights, a fighter will rack up a list of serious victories in a short space of time and hit the heights – and the divisional stalwart is also not unheard of. Here, one of each of these type towers over the rest of the decadal division but the numbers ten through three kick up a lot of interesting fights, and some very interesting fighters.
In accounting for these fighters, the term "one hit wonder" is used liberally. Here I am not seeking to denigrate either the fighter or his wider opposition; it merely denotes a fighter who has one win of real significance which is often accounted for in some detail.
This is another symptom of a generation of fighters happy to put on a mere four pounds to visit the next division up for their next big test.
10 – Rico Ramos
Peak Ranking: 2 Record for the Decade: 16-6 Ranked For: 18% of the decade
The tenth slot was a shootout between Kiko Martinez, who did a little more at the weight, and Rico Ramos, who did a little less, but who was defeated at the poundage only by Guillermo Rigondeaux; Martinez, meanwhile, was thrashed twice by Carl Frampton and once by Scott Quigg. The Scott Quigg tilts me towards Ramos, whose purple patch of 7-1 gets him over the line.
The jewel in his super-bantamweight crown for the period January 2010 until December 2019 was his come-from-behind knockout victory over Akifumi Shimoda, one of the top contenders of 2010 and 2011. Shimoda himself has a claim to the number ten spot based primarily upon his superb victory over Ryol Li Lee, but Ramos eliminated him when they clashed in Atlantic City in July of 2011.
Ramos, an American of Puerto Rican descent, had been boxing since he was eight years old but seemingly had no answer to the Shimoda jab which was opening up other opportunities for the Japanese; Ramos, circling to his right at the beginning of the seventh, brought Shimoda onto a left hand, but it was unheeded and Shimoda continued to boss the real-estate and find a home for his bodypunches. A right hand from Rico seemed to gather his attention though and having landed yet another left Rico finally had his man rooted to the spot, and circling, he landed a left hand as beautiful as any thrown in the 122lb decade. Shimoda was up at nine but immediately took a second header to the canvas.
Ramos was chased from the division by Rigondeaux, as noted, but certainly there is no shame there.
09 – Rey Vargas
Peak Ranking: 1 Record for the Decade: 34-0 Ranked For: 42% of the decade
Rey Vargas has traced an old-fashioned career arc, occupying a spot at super-bantamweight since 2015 and slowly creeping his way up the ranks to inhabit the number one spot, without, really, meeting anyone to justify that ranking. Sometimes longevity is its own reward.
His highest-ranking victim was Tomoki Kameda, and it showed when they met in July of last year; Tomoki had real success early and took a handy lead out of the first third of the fight. Vargas though is a freakishly tall superbantam at near 5'11 and he has the reach to match. From the fifth on, he deployed a controlling jab birthed by a pedigree amateur career that has been augmented by some serious professional experience. The double-uppercut right hand he landed in that round set him apart; the cards may have been a little wide but clearly Vargas was the right man.
He was the right man too five months previously when he was faced with another tough assignment in Franklin Manzanilla. Manzanilla, out of Venezuela, had scored an impressive victory over Julio Ceja in just four rounds in his previous fight and set some problems for Vargas with his rushes and fouling. Vargas found himself with cuts over both brows from "accidental" head-clashes as early as the eighth and Manzanilla had two points docked for hitting on the break and pushing. But Vargas showed some of his best boxing, dominating at distance with the jab and outlanding Manzanilla with fluid combination punching when they met at mid-range.
Vargas has a little more depth than these two fights – Azat Hovhannisyan and Ronny Rios have both made waves since he beat them – but they remain his fistic cornerstones, and despite some impressive boxing this makes him borderline for inclusion. His paper record and longevity in the ratings at 122lbs has seen me favour him over one-hit wonders like Jeffrey Mathebula and Akifumi Shimoda.
08 – Isaac Dogboe
Peak Ranking: 1 Record for the Decade: 21-2 Ranked For: 18% of the decade
Isaac Dogboe's pressure appeared functional rather than thrilling before his big step up against Jessie Magdaleno in 2018. Magdaleno had been inactive but had also defeated no less a figure than Nonito Donaire in 2016 and was heavily favoured.
In the first round Dogboe was dropped while pressing Magdaleno too hard and he lost the third too, to a gorgeous Magdaleno counter left. But all the while his pressure was beginning to look a little more than workmanlike. He was adept at keeping Magdaleno moving and again and again Dogboe, out of London via Ghana, would fetch his man up against the ropes and let go. Still very much in touch on the scorecards after four, Magdaleno was being aggressively outgeneralled and was steadily losing touch with the fight. His solution was to come out at the opening of the fifth and attack; Dogboe promptly dropped him with a single left hook.
Dogboe so dominated Magdelano that night that the favourite found himself in need of a knockout by the ninth. The then world's number one super-bantamweight showed no sign he might achieve it and in fact slipped further and further from his technical best, eventually reduced to sagging on the ropes and beckoning Dogboe in. It was a sorry sight and one the referee interrupted in the eleventh after Dogboe perpetrated the second knockdown of the round over his withering opponent.
It was an impressive and rather unexpected performance, albeit against an opponent who seemed to struggle a little with rust after a year out of the sport and it set Dogboe up as the world's number one super-bantamweight.
Dogboe never added to his 122lb legacy though; his own nemesis was lurking in the wings.
07 – Emanuel Navarrete
Peak Ranking: 2 Record for the Decade: 31-1 Ranked For: 26% of the decade
Like Dogboe, Emanuel Navarrete fought the usual learning fights, stepped up to take on some journeymen and was then launched right into the deep end to face off with the world's number one super-bantam. Dogboe-Navarrete was a fascinating contest in that it pitted a Johnny-come-lately against an even more recently arrived contender. Dogboe, as the man with the pedigree opponent on his ledger, was favoured.
Navarrete, who is tall with a reach that seems planetary, allowed Dogboe inside to do his work. It felt wrong and even dangerous until Navarrete landed a triple left hook, up and down, on the inside, to win the second round. From here he controlled the fight, impressive and dominant in out-fighting the smaller pressure fighter whose nightmare had come to visit him in the ring: a fighter he could not push back but rather who was pushing him back. The ninth through twelfth were a parade, the bigger man marching down the smaller pressure fighter in what amounts to the most disheartening position a pugilist of any kind can find himself.
Unfortunately for Dogboe he had a rematch clause. Navarrete, who now knew how Dogboe moved, thought and fought, beat him mercilessly in that rematch. The fight becomes difficult to watch around the eighth; Dogboe's corner, brave to the near last, finally pulled him as he was blasted to the canvas in the twelfth and final round.
It seemed to me that something special had emerged in that fight, but the truth is we don't yet know. Navarrete has fallen afoul of the ABC strap he wears in defending against underqualified challengers whose selection for their "title shot" is based upon matters other than fistic. So, the jury remains out on Navarrete, who nevertheless was impressive enough in his twin maulings of Dogboe to comfortably make the list.
06 – Jessie Magdaleno
Peak Ranking: 1 Record for the Decade: 27-1 Ranked For: 22% of the decade
Here, we meet the last of the one-hit-wonders on the list but Magdaleno possesses the finest of all of them: Nonito Donaire. Donaire, it is true, had had some of the glitter removed by Guillermo Rigondeaux, but in November of 2016 he remained the top contender to the legitimate title he had once held. Then Magdaleno came calling.
What most impressed me was Donaire's near abandonment of his left hook. It was oft repeated that he had one of the "best left hooks in the sport" and if Bernard Hopkins had established the removal of such a potent weapon much ink would have been spent on his exaltation. Magdaleno was less fashionable and has remained so, but it was a wonderful technical achievement. Moving unhurriedly, seeking for single shots, he countered beautifully throughout with the right jab and right hook of his own, taking every opportunity to strike without – shades of Hopkins again – ever over-extending himself. The result was Donaire sheathing his own hook in obedience of the rule that you don't hook with a hooker, while Magdaleno freely threw his own; to the body, especially, he was prestigious.
Donaire went to the straight right and a fascinating tussle ensued, summed up perfectly in the ninth where Donaire hurt Magdaleno on the ropes, only for Magdaleno to charge him and dominate the remainder of the round, putting him out of sight on the cards; Donaire closed with real strength as Magdaleno's energy waned.
But the decision clearly belonged to Magdaleno.
It was not too long after this that Magdaleno ran into Dogboe. The reasonable question would be, if Dogboe beat Magdaleno how does Magdaleno come to be ranked above him here? It's a fair question. The mathematics, for me, says that Magdelano's defeat of Donaire is more impressive than Dogboe's defeat of a rusty Magdaleno; I accept that this is arguable but balk at Magdaleno as low as eight given his wonderful performance against Donaire.
05 – Toshiaki Nishioka
Peak Ranking: 1 Record for the Decade: 4-1 Ranked For: 19% of the decade
Toshiaki Nishioka was the number one super-bantamweight coming into the decade and remained so until he was removed by the sumptuous power-punching of Nonito Donaire (and an over-excited referee).
How you feel about his overall standing here will depend upon how you feel about Rafael Marquez and his standing in October of 2011. Having lost three of his last six, including two of those wars with Israel Vazquez, Rafael was ostensibly on the slide, but the fight itself shows a fighter that, while no longer at his withering best, remained stoic and technically brilliant, very much a fighter that had to be mastered.
This, Nishioka did. To this day he maintains that Rafael is his most skilled opponent and he boxed with great care to control him, refusing to contest the inside and avoiding any over-commitment with the jab. Meanwhile he drilled Marquez with his trailing left, a wonderful punch that he throws with as much variety as anyone this century. Flying it quickly to the body was his stock in trade in the early going but he began to risk a wilder, wider, harder punch when he realised how wary Rafael had become. Rafael had success, not least in the second half of the eighth round where it seemed he might actually assume control of the fight, but Nishioka out-fought and out-worked the former lineal champion in the tenth and eleventh to put the decision to bed. It was a deeply impressive performance that cemented his status as the first number one super-bantam of the decade.
Nishioka's other wins do little other than demonstrate his superiority over the field, especially his October 2010 contest with Rendall Munroe. Munroe brought guts but little else as the fight turned into something of a parade down the stretch; still, re-watching it was worth it for the feinted straight and uppercut through the middle that Nishioka used to tilt Munroe's head back in the third.
Placing him at number five is a borderline call, but Nishioka was a clearer number one than anyone running eight through six. I am happy that should see him placed above, rather than below, the one-hit wonders.
04 – Leo Santa Cruz
Peak Ranking: 2 Record for the Decade: 24-1-1 Ranked For: 27% of the decade
Leo Santa Cruz departed 122lbs in 2015 with his undefeated record intact having made his impact on the first half of the super-bantamweight decade. His meaningful arrival at the poundage, the equivalent of a Mack truck pulling up inside a jewellery store, came in August of 2013 against Victor Terrazas. Terrazas, a tough, dangerous fighter was unsupported by the type of chin that would have made him genuinely world class. Nevertheless, the world's number two contender was a serious proposition for Santa Cruz, and was coming off a nerveless, brutal battle with Cristian Mijares which he won by the narrowest of margins.
Terrazas started aggressively as Santa Cruz brought pressure, all high guard and work-rate. But, as we saw while looking at featherweight, Santa Cruz is much more than that. His punch selection is excellent, his sense for the backfoot superb for a front-foot fighter, his jab is thudding and accurate but he can box squarely enough – weight generally over his back leg, when he does so – to lead with the right without courting disaster. Terrazas was complimented during fight commentary for "making this an inside fight" – but an inside fight suits Santa Cruz just fine. He has reach and the technique to use it but is comfortable trying to land punches behind the elbows.
The two fought on even terms until they didn't, when towards the end of the second Santa Cruz, tougher and better, opened up while the two stood head to head at the ropes. Terrazas emerged wounded and in the third, emerged giving ground. Dropped twice, he seemed broken in part by the psychological pressure, although it was the consistent, severe punching that did the damage.
Santa Cruz's number two win was over Mijares, undoubtedly damaged goods, but still ranked. Santa Cruz couldn't stop him, but what he did was in many ways worse: in a fight as different as that with Terrazas as could be imagined, he thrashed Mijares and rendered him a fistic irrelevance.
Santa Cruz was a very dangerous super-bantamweight.
03 – Carl Frampton
Peak Ranking: 1 Record for the Decade: 24-2 Ranked For: 35% of the decade
Carl Frampton slotted in right behind Santa Cruz at featherweight, but here he nips in just ahead of his great rival. A clash at 122lbs would have been helpful though – there is very little to separate them.
What does separate them is the additional work Frampton did at the very top of the division. He met no fewer than three top five contenders during his time fighting as Guillermo Rigondeaux's understudy – the Cuban was champion throughout Frampton's stay at the poundage – and soundly defeated all of them.
First up was Kiko Martinez, who Frampton had already defeated in a European title tussle but met again in 2014. Frampton, who probably entered his peak that night, couldn't put the more experienced Martinez away as he had in their first fight but he did dominate almost completely with a healthy mix of jabs and bodyshots. Chris Avalos, who failed miserably when he moved up to featherweight but was a serious super-bantamweight, visited Frampton's Belfast stronghold in 2015.  This was Frampton's finest performance at the weight, his right hand excellent, despite the scruffy squabbling in the second his dominance near-complete.
Frampton's final fight at 122lbs showed the toll weight-making was taking upon him. He was dominant over the first six against a reticent Scott Quigg, even breaking his jaw in the fourth, but the Englishman came on in the second half of the fight which was, in the end, very close.
Santa Cruz was more impressive in the victories he did have at 122lbs but it was Frampton, in the end, who scored the more numerous and more impressive victories.
02 – Nonito Donaire
Peak Ranking: Ch. Record for the Decade: 18-5 Ranked For: 25% of the decade
The decade 2010-2019 produced two legitimate super-bantamweight champions and it is fitting that these two lead the pack. Nor is it close – there is so much clear blue water between Nonito Donaire at #2 and Carl Frampton at #3 that they may as well be on different lists.
Donaire stepped up to 122lbs in 2012 and immediately tackled a divisional strapholder, the number eight contender, Wilfredo Vazquez; after taking a decision form him over the twelve, it was Jeffrey Mathebula, the number six contender who towered over Donaire but nevertheless gave up a similar decision. This second fight is crucial because against both he and Vazquez it is possible to see Donaire over-reaching, under-boxing, pushing far too hard for the knockout which he openly demanded of himself in the press. In the tenth round of his fight with Mathebula, Donaire was so completely out-boxed that in the eleventh and twelfth he limited himself to his more direct sphere of influence and in doing so dominated Mathebula completely, cracking one of his teeth in the process. You could almost hear the penny drop.
I consider that Donaire found himself at 122lbs that night and the result was Donaire's 118lb form suddenly materialising in the super-bantamweight division. His next fight was against no less a figure than Toshiaki Nishioka, the most accomplished fighter in the division, a meeting between the two best super-bantams in the world and so the beginning of a new lineage at the weight. Donaire was the absolute pinnacle of cool as far as his inherent aggression would allow; he won every round and devastated Nishioka in the ninth round of a non-competitive rout propelled by his right hand rather than left hook. When he butchered Jorge Arce two months later, in December of 2012, he had completed the single best unbroken run of the decade at 122lbs and one of the better runs at any weight.
This being boxing, the end of that run was just around the corner.
01 – Guillermo Rigondeaux
Peak Ranking: Ch. Record for the Decade: 15-1 Ranked For: 92% of the decade
Donaire met with Cuban amateur legend Guillermo Rigondeaux in April of 2013 in a huge fight between the two best super-bantamweights in the world. It was also as one-sided as any top tier match of the decade as Rigondeaux, in absolute control for ten of the twelve rounds, picked Donaire's wings off in a study of lethal economy.
Rigondeaux breaks rhythm. A combination of feints, very astute defensive dips and slips and single power-punches make establishment of offense against him agonising. Donaire, a fluid fighter who counter-pressures his opponents to the canvas, was particularly afflicted by the Rigondeaux malaise.  Rigondeaux threw infrequently; still he out-landed Donaire in every round but one.
The Cuban spent the years in which Donaire was tying together his superb 122lb run emerging from the pack and was just 6-0 when he tangled with number five contender Ricardo Cordoba. Rigondeaux dominated with ease until Cordoba snapped his head back with a jab, flashing him.  Rigondeaux responded in away entirely unacceptable to the American fight fraternity: he ran away.
Rigondeaux took a split decision and learned his final lesson: professional fighting in America calls for more fighting than amateur boxing does anywhere. Rico Ramos, then still unbeaten at 20-0, was the man to bear the brunt of this newly learned lesson as he was blasted to the canvas in the first round and tormented through the sixth when a body punch – and the better part of valour – kept him on the canvas.
So Rigondeaux was primed when he stepped into the ring with Donaire, for all that he was professionally inexperienced. Donaire was made to understand it and the litany of excuses he laid out after the fight – his shoulder was bad, he didn't study his opponent, his was distracted by his wife's pregnancy – could not disguise his out-and-out inferiority to Rigondeaux.
The argument as to who would be the decadal number one at 122lbs ended there, but there is more to recommend Rigondeaux as one of the longest serving lineal champions in boxing. In a division that sees fleeting commitment, even by its most prominent fighters, Rigondeaux's devotion to super-bantamweight has been unusual.
He never became the superstar his management wanted to make him – too technical, too careful, too defensive – but there is no questioning his status as the best of the decade.
Check out more boxing news on video at The Boxing Channel 
To comment on this story in the Fight Forum CLICK HERE
Remembering "Doin' Damage"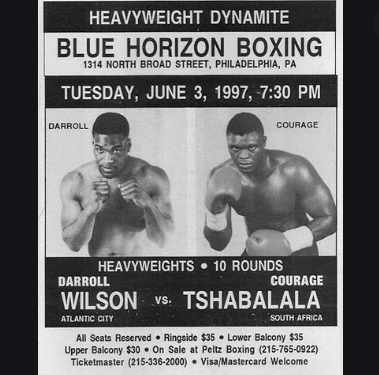 On June 3, 1997, Darroll "Doin' Damage" Wilson met Courage "No Limit" Tshabalala at Philadelphia's legendary Blue Horizon where no seat was a bad seat. The fight was a true Philly Classic, one of the most exciting fights of the year. The result was a surprise, but not as surprising as the upset that Darroll Wilson pulled off in March of the previous year when he fought the much bigger Shannon Briggs at the Convention Center in Atlantic City, New Jersey.
Wilson vs. Briggs
Brooklynite Shannon Briggs (25-0) had achieved a reputation for being a guy who ended his fights early, as in first-round KO's, but on this occasion, things kind of reversed themselves, as the gutsy Wilson (15-0-2 going in) survived a furious first round and then used his superior skills to shockingly take out "The Cannon" with a sharp left hook two rounds later.
Wilson, who lived close to Atlantic City in Mays Landing, N.J., had done considerable damage to his opponents until he met David Tua (24-0) in Miami and was KOd in the last second of an otherwise even first round by the streaking "Tuaman." But losing to the short but super-powerful Tua was no disgrace. In fact, for Darroll, the best was yet to come.
 After beating limited Ron McCarthy, Darroll met the highly-touted Tshabalala (20-1). "Courage" had previously been shocked by Brian "Bam Bam" Scott (21-3) in the late Scott's career definer in 1996, shattering the myth of the South African's extraordinary power and alleged 72-1 amateur record (with 71 knockouts). Scott won using a fast and sharp combo, stopping him in the second round. Most of the 270-pound native of Kansas's opponents had losing records which further amplified the shock factor– though Courage's level of opposition was equally suspect.
Wilson vs Tshabalala (June 1997)
After Ed Darian Derian announced the fighters, the bell rang and Courage quickly decked Wilson with a power jab and then dictated matters for the rest of the round as he went on the stalk. The second round was uneventful until the last 15 seconds when Tshabalala opened up with a number of power shots. Wilson answered, but his answer came after the bell for which he received a firm warning.
Late in the third round, Wilson was hit clean by a perfect Courage right cross. He went down hard, got up, and then fell back down on Queer Street. Just as Referee Rudy Battle was about to signal the end of the fight, the round ended and Wilson was allowed to continue. Lou Duva, Courage's manager, protested the call in his usual hyper/hysterical fashion but to no avail. Lou's signature protests had acquired the feel of the little boy who cried wolf too often and this one was no exception.
Tshabalala came out fast in the next round trying to put away a still stunned Wilson, but the muscular Darroll did what he did against Briggs and, weathering the fierce storm, began to connect with his own shots. Both men went at it full-tilt boogie until the South African, exposing a stamina issue, finally went down, spit out his mouthpiece, and was counted out. He had nothing left. The Blue Horizon went bonkers.
Tshabalala had now participated in one of the upsets of the year and one of the most exciting fights of the year. Though a loser in both, he was nevertheless on everybody's radar.
Bert Cooper (September 2002)
Darroll would go on to win some and lose some but against the very best opposition including David Izon, Frankie Swindell, Mike Rouse, Tim Witherspoon, Ray Mercer, and Oliver McCall. He ended his career in 2006 with a 27-10-2 slate and– before he took three years off–he scored another big win by stopping Bert Cooper (36-21) at the Blue Horizon in 2002. After this loss, Bert himself would take an eight-year hiatus from boxing, but for all practical purposes, he was done. (Cooper was a tragic figure with a deceptive record—a quintessentially sad boxing story– and the ups and downs of his life beg for a telling.)
As for Darroll Wilson, he always gave his best and on at least three occasions, he did some remarkable damage.
Ted Sares can be reached at tedsares@roadrunner.com or on Facebook.
Check out more boxing news on video at The Boxing Channel 
To comment on this story in the Fight Forum CLICK HERE