Roman Gonzalez: The New Pound-for-Pound King
Back when Roman Gonzalez was a twenty-two year old minimumweight with a slate of 25-0 rather than a twenty-eight year old flyweight with a slate of 43-0, I wrote an article speculating as to whether or not Roman Gonzalez would ever assume the dizzy heights of the pound-for-pound #1 slot.
"I think he can," I wrote in conclusion, "time and talent are on his side."
Upon the retirement of Floyd Mayweather in the wake of his anaemic victory over the under-qualified Andre Berto, Ring Magazine elevated Gonzalez to the #1 spot; after taking a single week to see if Floyd Mayweather would reverse his decision, TBRB (of which I am a member) followed suit. Mayweather was such a dominant and long-lived #1 that his withdrawal from the p4p list was always going to cause a shuffling of the pound-for-pound pack and the subjective nature of such an exercise means that no new ascendant to the throne was going to be universally agreed upon overnight, but the early votes, certainly, are in: Gonzalez is the best in the world.
The first time I ran the rule over Gonzalez he was a known quantity for all that he was one that flew beneath the radar but he was also a work in progress. In breaking down Gonzalez by category I was handicapped by Roman's own lack of experience and in many areas I had to pose questions rather than give answers. Today, we know almost all we will know about the Nicaraguan who is at the absolute peak of his powers, has most of his major formative experiences behind him and who has several years in which to express his destructive powers to the fullest of his ability. It's good to be Roman Gonzalez.
I'm going to revisit the categories I ran him through all those years ago. There will be very different results. Gonzalez is a monster. A machine. A killer. Any and every cliché you feel you would like to apply is valid. He is the antithesis of Floyd Mayweather; a destroyer who does not seek to hit and not be hit, but rather to hit, hit, hit.
He breaks people.
THE EARLY DAYS
"The step up in class went totally unnoticed by Roman Gonzalez."
What most impressed me about Gonzalez in the first five year instalment of his career between 2005 and 2010 was that he deployed himself independent of the level of his opposition. Against early opponents he was as careful as he would be against world-class opposition; against world-class opposition he was as dominant and confident physically as he was against early opposition. What this meant in practical terms was that a strapholder like Yutaka Niida was dispatched with the same unruffled calm (TKO 4 2008) as a professional loser like Francisco Mezza (RTD 6, KO2, 2006). This was something of an absurdity and for all that it was artificially enhanced by the discipline he showed against the soft opposition he cut his teeth on, it still framed the pertinent question perfectly: how far can he take this?
We know the answer now: all the way to the top. His air of utter dominance may have evaporated in the face of the very best opposition but he is yet to be stretched to the extent of his ability by my eye. An often heard criticism of Floyd Mayweather was that his style and careful selection of opponents meant we never saw him reach his full potential. Gonzalez, too, may not have reached his absolute apex but it is assuredly not a matter of style. Gonzalez is there, right there with his adversary and now he has moved through 105lbs and 108lbs to 112lbs, he enjoys no meaningful advantages in height or reach. As for his selection of opponents, a harsher criticism, perhaps, of Mayweather was that the opposition he bested did not go on to achieve after his having beaten them. If this was true of Mayweather, and I do not say that it is, it is absolutely untrue of Gonzalez.
In 2009, having barely emerged into the world class, he posted his ugliest win over the much fleeter Katsunari Takayama, using aggression and pressure to out-point his much quicker opponent. When Gonzalez exited the division Takayama came again and briefly summited as the world's best minimumweight before losing out to Francisco Rodriguez Jnr. in the fight of 2014. Rodriguez, too, was a former Gonzalez victim, stopped in seven in a rugged, one-sided encounter from 2013. Gonzalez left in his ruinous wake the men who would fight for the scraps he left behind, primed boxers capable of boxing for titles even after he battered them. His eventual legacy has been enhanced by the opposition he met in his formative years.
STYLE
"If Gonzalez is one day to reach the heights of pound-for-pound #1, he will likely need to hold multiple titles at a higher weight class, so these more careful boxing skills will be crucial."
Gonzalez is a pressure-boxer with a serious punch (37 stoppages in 43 fights) but that is a little like saying a Beethoven's Sixth is a piece of classical music. There are shades and variety in his destructive stylings borne, in the main, upon outstanding footwork and balance.
On paper, Gonzalez was run close by the savage Francisco Rosas in October of 2010 although in reality, Gonzalez was a clear winner. Nevertheless, Rosas did become the first man to really ruffle Roman physically, employing rabbit-punches and aggression to force Gonzalez to focus on defence rather than offence for short stretches. Rosas perhaps earned the rematch the two fought around eighteen months later for one of the many straps issued by the perennially confused WBA at 108lbs. This is the fight that best illustrates the Gonzalez default style. He begins slowly behind a high guard, but that guard is not an invitation for the opponent to lead so much as a launching pad for his own punches. He remains loose, edging forwards and laterally with tight, small moves. All is economy; if he moves it is in order that he might bring himself into range where he is at his most destructive or to give the opponent a little too much space for his own punches whereupon he can land his own counters. Half way through the first he slips to the ground and when action resumes Rosas tries to bull into him whereupon Gonzalez eases into a new gear. Not quite planted, his stance primarily supports punches now, and he finds a blistering lead right and a three-punch combination that leads seamlessly into a two-piece.
He broke Rosas around a minute into the second; the combination which dropped him for the first knockdown was eight punches long. The combination for the second knockdown was eleven punches long. Rosas had never been stopped before, and has not been knocked out since.
The pressure is relentless, specialised, but there is little about it that is flashy, he doesn't storm the barricades like Mike Tyson or invoke perpetual motion like Joe Frazier, nor, even, does he seek to decimate flesh like Marciano. His pressure is of an even more deadly kind because it is not an ending in and of itself. Tyson, Frazier and Marciano were more terrifying than Gonzalez in their pressure but that of Gonzalez is far more precise; it is distilled to the point where it functions purely to bring him into range for unerringly accurate punches. Marciano and Frazier lacked his precision and Tyson lacked his economy. In terms of types of pressure, denoted here by the great heavies, Gonzalez is most like Joe Louis but Louis is often criticised for his footwork. Gonzalez does not have that problem.
TEMPERAMENT AND MENTAL STRENGTH
"Such maturity in such a young fighter is rare."
It is now mostly forgotten that Juan Francisco Estrada came from almost nowhere to give Gonzalez the sternest test of his career late in 2012. It was barely more than a year since he had dropped a decision to titlist Juan Carlos Sanchez and it had taken him nine rounds to dispatch German Meraz in his previous fight despite the fact that Meraz had twice been stopped in four rounds the year before. Since, Estrada has embraced the traditional path for the best Gonzalez victims, dominating a wide variety of world-class flyweights and even enshrining himself upon the TBRB pound-for-pound list. But, to say the least, on the night Estrada ran Gonzalez so close, it was something of a surprise.
This is important to note because it must have come as something of a surprise to Gonzalez himself. With a KO% of 86, it must come as something of a surprise every time an opponent goes the distance, but the taller, rangier Estrada didn't just survive, he troubled Gonzalez, winning the first two rounds and showing a brilliance in moving just as Gonzalez begins to motor. Kept from his fluid best early, Gonzalez doesn't freeze and nor, crucially, does he go looking for that single punch to change the fight but rather he accepts that he is going to have to take punishment and he adapts. In the second he throws a straight right lead to the body and as Estrada starts to move off he comes square and rockets in a southpaw jab up top. He finds new planes of attack to replace those Estrada is taking away with his mobility. Estrada finishes the third with swelling around the left eye and blood trickling from his nose.
Buying his way in with suffering and surges the antithesis of his normal balanced approach, by the fifth Gonzalez had happened upon the strategy that would win him the fight. He solved the bigger, faster, world class Estrada in the ring and he did it without even a single loss of control, without the merest hint of uncertainty. It is the only time in his career that there has been tension when the fight went to the scorecards but the officials uncovered the right winner; I suspect the world-class Estrada will get another shot at Gonzalez at some point in the future.
Early in his career, Gonzalez gave an indication that it might be the case but I think now it is fair to say that strategically, he is as adaptable as a fighter can be. Mentally, he seems something close to unbreakable.
FOOTWORK AND BALANCE
"Gonzalez excels at cutting off the ring and looks every inch the mobile destroyer."
In essence, there is little to say about Gonzalez's balance in 2015 that I didn't say in 2010. He does indeed look every inch the "mobile destroyer" and as I also said at that time "[t]his is the area where Gonzalez has shown the most dramatic improvement." He has continued to shorten his stance until he looks more like a standard-issue box-puncher and he has learned lessons about occasionally sacrificing his exquisite balance in favour of a sudden charge but this facet of his game was all but perfected by the time of his move in earnest up to 108lbs.
As to his footwork, the ultimate testimony to any fighter's mobility is his excelling against opponents that move away from him. Traditionally, movers present the biggest difficulty for pressure-fighters – returning to our heavyweight analogy, think of the struggles inflicted upon Marciano and Louis by Jersey Joe Walcott. The exception is when a swarmer has the footwork to catch the runner. Think of Joe Frazier chasing down Muhammad Ali, or Tyson's early-round attacks. Gonzalez has such speed of pressure. He struggled in 2009, as noted, against the world-class mover Takayama, or at least he struggled to pin him down for a serious lashing while winning a wide decision, but since then he has definitely improved, both in terms of knowing when to take a risk and push and in terms of technical execution. Gonzalez is one step ahead of his man, most of the time, and as a pressure-fighter with world-class mobility, he does his best boxing when an opponent gives ground voluntarily or when he is forced to do so by Gonzalez on the warpath.
This may be the key ingredient in Gonzalez's success.
TECHNIQUE ON OFFENCE
"Just as Gonzalez shows great variety in terms of style, so he shows great variety in his offence."
In September of last year, Roman Gonzalez became the lineal world champion at flyweight. He had already established himself as the best fighter in the world at 105lbs and done some damage at 108lbs, but 112lbs was to be the first division where his dominance would translate into history. His opponent was the Japanese Akira Yaegashi. Yaegashi was himself a monster of a flyweight who was on a tear up through the hottest division in the sport but has failed miserably to put his career back together behind the brutal beating that Gonzalez laid upon him. It was probably the pinnacle of Roman's career so far as offence is concerned and that makes it one of the most brilliant displays of box-punching seen since the heyday of Manny Pacquiao.
The number of leads of which Gonzalez is capable is almost as long as the list of punches that exist in boxing. This tortures opponents who move because they expect to be placed under control by the left jab. Gonzalez has one, a good one, but he sees and knows openings for all the other punches too. Yaegashi, who has fast feet, spent the first forty seconds of their fight alive to the left, only to be drilled with a short right hand to the chest. At the fifty seconds elapsed Gonzalez lands with a jab to the body; after eighty seconds it's the lead right again; at ninety seconds he leads with a left hook. After one-hundred seconds elapsed he leads with the right uppercut and then tries to stitch a one-two on behind it. With just less than two-minutes elapsed he leads with the left-uppercut and has deployed the set.
For Yaegashi, this is a nightmare. He now has to deal with virtual threats across his entire defensive front. This is the very definition of offence working as defence because there is no quarter from which Yaegashi can assume a lesser threat. Yaegashi is world class, but Gonzalez out-and-out favours the lead right hand against him. This is arguably his most exquisite punch, one that he throws in all forms, as a snipe, as a torque-fuelled knock-out blow, as a range-finder, and he throws it to body, head, chest. Worse, it is a punch without a sell and furthermore it is a punch that he can throw behind a left-handed feint; he can dip his left shoulder as though about to hook and then drive home the right. Still, others would disagree. The Gonzalez left-hook is as short a punch as exists in boxing today, a stack of hurt compacted into a blow that is driven through the knee and the hip. It's superb technique that has left a dozen opponents and more broken on the canvas.
Gonzalez speaks of landing seven and eight punches in quick succession and he can be seen doing so on film, but his bread and butter are the two-piece combinations that act as the spear of the offence of most great fighters. But his one-twos are about more than the jab-right hand. Against Yaegashi, he graduated quickly to bunches, having successfully feinted him out of position and onto the ropes he throws a straight-right, a left hook, steps inside for a left uppercut, back out, jab, right-hand to the body which brings him inside for the wide left hook. Of these, he missed only the left uppercut and it is only the third round.
This type of fluidity on offence is rare. I'll go a little further: it's non-existent. Golovkin may be as dangerous, but he is also less elastic for all that he is more destructive. Kovalev, too, is comparable on offence, but he is more a traditional technician and has not yet proven a gift for adaptation or improvisation. Manny Pacquiao is, I think, now passed this level of brilliance and while Naoya Inoue may catch Roman, he's not there yet.
There is a reason Roman Gonzalez is the pound-for-pound number one and this is it: he is the best in the world at hitting people.
TECHNIQUE ON DEFENCE
"Gonzalez can take it when he has to."
Roman's engine and chin were proven beyond all hope of contradiction against Estrada. He was forced to adopt a risky strategy to get the win which meant he had to take hard punches throughout, but come bell he was still throwing and still marching grimly forwards. It was the last piece of the jigsaw in terms of his raw ability and he is now confirmed.
Technically, Gonzalez still abandons his guard occasionally when he throws right handed, his left hand given to wandering. This makes me wonder if he might not prove especially vulnerable to a southpaw with fast hands and why he is proven vulnerable to anyone brave enough to lead with a right hand to the body (stand up Rocky Fuentes). He also abandons the shifty defensive movement he employs at the beginning of the fight when he goes late, another reason a concrete chin is such a boon.
On the plus side, he shows good head movement early, is generally disciplined where his defensive guard is concerned and has some parrying skills. Just as he is a factor of ten ahead of Floyd Mayweather on offence, he is a factor of ten behind him on defence, but he is only Rocky Marciano when he chooses to be, when it is necessary, and for most of the rest of the time he is reasonably difficult to hit clean.
RING GENERALSHIP
"In essence, Gonzalez's style solves a lot of generalship problems almost by default."
What I meant by the above remark is that Gonzalez's dual ability to box his way in or storm his way in provides him with two distinct opportunities at solving any given opponent. When the first fails, as was the case versus Takayama, the second present a default alternative. Now, he has proven the existence of a Defcom Three against Estrada. More than this, the enormous value of his intrinsic abilities means he rarely finds himself in a fight he actually needs to change – whether he is boxing inside, outside, against a fleeing opponent or one who wants to match him, he always comes out on top of the majority of battles and without exception, of the war.
That being said, he has demonstrated a superb ability to force his opponent into the fight he himself wants to be in. Whether he is drawing the fleet-footed Juan Purisima inside or forcing the savage Francisco Rodriguez to give ground, Gonzalez is, at 43-0, a past-master in what Sam Langford surmised as stopping the other man from doing what he wants to do.
SPEED AND POWER
"He may find himself out-sped in fights, but this is unlikely to be the cause of his downfall."
Re-reading the above line, I'm struck by its brashness. Being out-sped is as likely to lead to a fighter's downfall as any other single differential. Gonzalez rewarded my confidence however, proving that he can overcome a speed differential.
Gonzalez has come from 105lbs; he's fast, and although there are faster fighters at 112lbs and below I think he has closed that gap slightly between this and the last time I wrote about him. Thomas Hauser wrote recently in an article about drug use in professional sport that fighters don't get older, faster and bigger all at the same time but there is a caveat here. It's true that a fighter's handspeed shouldn't increase but a fighter can absolutely get better at landing the second punch in a combination and if he has the type of coordination Gonzalez does, he can get better at landing the third. As his grasp of his own body-mechanics improves a fighter can indeed give the impression of punching more quickly. I think this is the case with Gonzalez and I think this is why faster fighters cannot overcome him.
His feet, too, are quick rather than lightning fast, but he doesn't waste a single step. This makes cornering quicker fighters simply a matter of persistence; the flyweights are the fastest and there is no flyweight, light-flyweight or minimumweight who has shared the ring with Gonzalez who hasn't felt the panic at his back hitting the ring-post.
In terms of power, Gonzalez is not among the very elite but he is on the cusp. He has stopped numerous fighters at 112lbs and above and this is his third weight division. Yes, many of these stoppages are a matter of accumulation but one has only to look at the reaction of the veteran Edgar Sosa to the punches thrown at him by Roman Gonzalez during his two-round debut on HBO this year to understand that Gonzalez, if not quite uncovering dynamite, comes to the ring heavily armed.
THE FUTURE
While Mayweather was anointed pound-for-pound extremely early in his career and broke into the Ring list in just his third year as a professional, the same year he won his first strap, Gonzalez was ranked a lowly #9 by Ring as late as November last year by which time he had held straps in three weight divisions – a rather hasty re-appraisal has been ordered in the light of both his HBO debut and the high regard Gonzalez is held in by the wider boxing world. Whatever the detail, both TBRB and Ring have him at number one now, and number one is assuredly where he belongs.
But what's next?
In his immediate future is a fighter who has himself flirted with a p4p ranking before the wheels were dramatically stricken off by the aforementioned Juan Francisco Estrada, Brian Viloria, "The Hawaiian Punch". Assuming Gonzalez is victorious here, he has two basic choices. Firstly, he could step up to super-flyweight for a meeting with Naoya Inoue, tackling the man they fittingly call "The Monster" before he has a chance to season. The second is to remain at flyweight, which still has the bones of one of the best divisions in the sport, and clear it out. This, I believe is within his capabilities and is the path he should chose. The temptation of what would be a legitimate superfight with Inoue – these two men are stars in Japan for all that they are little known in the west – may be too much to resist. Win or lose, such a move would have consequences. I felt in 2005 that super-fly may be a bridge too far for Gonzalez and I stand by that.
Either way, boxing has a new pound-for-pound king and surely one it can be proud of. Gonzalez is not just the antithesis of Floyd Mayweather in terms of style but in terms of personality, also. He is humble, gracious and bereft of the more unfortunate appetites that beset Mayweather – a fighter I admired enormously but a man with considerable shortcomings in his life away from the ring.
Gonzalez is not like that. Obviously, sadly, cross-over appeal is limited for a flyweight but those that know fights and fighters have been consistent in embracing him. Long may it continue.
Adrien Broner Returns to the Ring with an Attorney in the Opposite Corner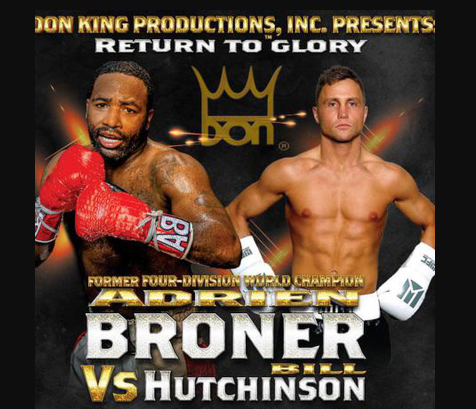 Adrien Broner returns to the ring tomorrow (Friday, June 9) after a 27-month absence. He meets Bill Hutchinson at Casino Miami Jai Alai in Miami, Florida, in a fight slated for "10." It's a Don King promotion for sale at $24.99 on FITE TV and several other pay-per-view platforms.
Hutchinson – his friends call him Hutch — is a practicing attorney with offices in his native Pittsburgh and in Naples, Florida. Reading about him reminded me of Leach Cross. A very good lightweight during the early years of the twentieth-century, Cross was a dentist. His disparate occupations, as one would imagine, gave rise to many jokes. It was said of Leach that he drummed up business for his dental practice by rearranging the bridgework of his opponents. He could knock out a man's tooth and replace it with a facsimile the next morning.
Adrien Broner, aptly nicknamed "The Problem," is frequently in need of a good attorney. The same goes for Don King, a litigious sort who has sued and been sued many times. Even if Hutchinson never fights again, it wouldn't be surprising if he crosses paths with Broner and/or King at some point again down the road. The principals made light of this in Tuesday's press conference. "Dealing with lawyers is Broner's forte," wisecracked Don King. "After I mess you up, I'm going to hire you," said Broner, looking sternly at Hutchinson.
On his web site, Hutchinson comes across as less of an attorney than a man who makes his living as a motivational speaker. "Currently," it reads, "Hutch is a partner and leader in multiple businesses across divergent market categories. These businesses range from the automobile industry to event promotions, high end construction to hospitality, real estate to medical marijuana, and biologics/pharmaceuticals…Hutch has earned a reputation in each industry as an innovative problem solver who discovers new opportunities for growth."
Okay, but can he fight?
Hutchinson's current record (20-2-4, 9 KOs) is decent, but only nine of his 20 wins have come against opponents with winning records. None of his previous fights were slated for more than eight rounds.
There are levels to this sport as Mike Lee can ruefully attest. A finance major at Notre Dame, Lee was a successful businessman with a 21-0 record (against limited opposition) when he wangled a match with IBF super-middleweight title-holder Caleb Plant. That bout turned ugly in a hurry. Plant put him on the deck in the opening round and scored three more knockdowns before the butchery was halted at the midway point of the third round.
The guess is that Broner-Hutchinson won't be quite as lopsided. Owing to legal problems, management issues, personal problems, and training injuries incurred by would-be opponents, Adrien Broner has been relatively inactive, missing all of 2020 and 2022. He's 1-2-1 in his last four fights going back to July of 2017 with the lone triumph coming against unheralded Jovanie Santiago who took the fight on short notice. Broner won a 12-round unanimous decision, but was actually out-landed. His post-fight interview was more exciting than the fight, said CBS reporter Brian Campbell.
In truth, Broner (34-4-1, 24 KOs) hasn't been the same fighter since his bout with Marcos Maidana in December of 2013. Broner was still standing at the final bell, but Maidana roughed him up en route to winning a lopsided decision. Entering that contest, Broner was 27-0 and had never been knocked down. After that bout, he became far less willing to initiate contact, relying more on his sublime defensive skills.
Broner vs. Maidana drew a reported 1.3 million pay-per-view buys, an impressive figure. Broner vs. Hutchinson won't come anywhere close to matching those numbers (75,000 may be a stretch) and no matter his showing, Broner won't repair his tattered image. A prizefighter cannot regain what he has lost against the Bill Hutchinson's of the world.
To comment on this story in the Fight Forum CLICK HERE
Light Heavyweights on Display as 'Sho Box' Returns to Turning Stone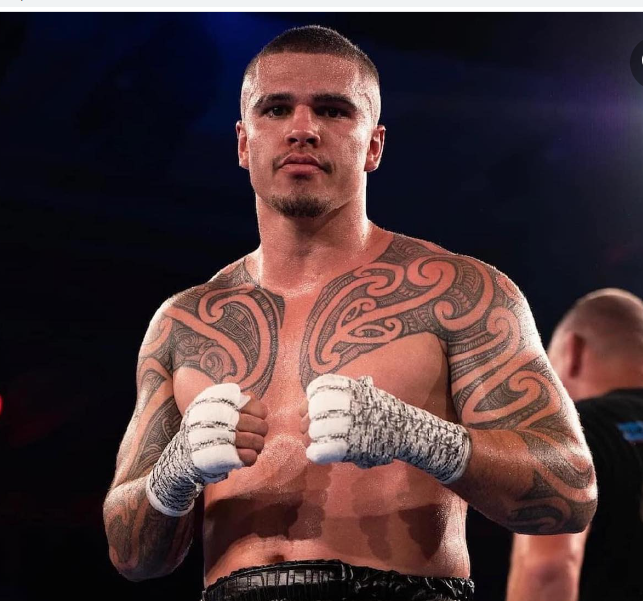 SHOWTIME's 'Sho Box; The New Generation' series, now in its twenty-first season, returns to Central New York on Friday, June 9. The venue is the Turning Stone Casino and Resort in the town of Verona, one freeway exit removed from Canastota, home to the International Boxing Hall of Fame and Museum which is holding its annual shebang this weekend, a four-day jamboree culminating in Sunday's Canastota parade and IBHOF Induction Ceremony.
The TV portion of Friday's card kicks off with an 8-rounder between Clay Waterman (pictured) and Kenmon Evans. It's the U.S. debut for Waterman (10-0, 8 KOs), a Queenslander from Down Under with a strong amateur background and an interesting ethnic pedigree: Maori, indigenous Australian, and European. (He is one of two fighters of Maori descent in action this weekend; Cherneka Johnson defends her IBF super bantamweight title against Ellie Scotney in London on Saturday.)
Waterman's opponent Kenmon Evans (10-0-1, 3 KOs), is seeking his eighth straight victory. A 31-year-old Floridian, Evans is promoted by 2020 IBHOF inductee Christy Martin.
Main Event
The featured bout is an intriguing 10-round contest between Ali Izmailov (10-0, 7 KOs) and Charles Foster (22-0, 12 KOs).
A 30-year-old Russian, Izmailov, ranked #11 by the WBO, is part of promoter Dmitry Salita's Motor City contingent, but has been training for this fight in Florida under the tutelage of John David Jackson. Foster, a 33-year-old southpaw from New Haven, Connecticut, appeared at Turning Stone last year, scoring a third-round stoppage of Bo Gibbs.
Co-Feature
This looks like another well-matched affair. And once again, as Michael Buffer would have said, someone's "0" has got to go.
Richard Vansiclen (13-0-1, 6 KOs) was held to a draw in his last fight with Mexico's Manuel Gallegos. It was a fan-friendly affair and those that saw the fight on FITE TV will likely tune in for this one.
A 29-year-old Seattle-based southpaw, Vansiclen did not have a conventional amateur background. A good all-around athlete in high school, he took up boxing after joining the club team at the University of Washington where he earned a degree in communications. Vansiclen's opponent, Juan Carrillo (10-0, 8 KOs), represented Colombia in the 2016 Rio Olympics. It's slated for "10."
To comment on this story in the Fight Forum CLICK HERE
The Sweet Science Rankings: Week of June 5th, 2023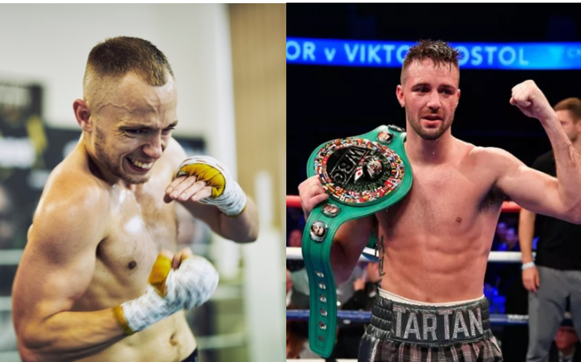 The Sweet Science Rankings: Week of June 5th, 2023
For the first time there are no changes in this week's TSS Rankings. Two fighters ranked #1 in their weight class are in action this Saturday. Sunny Edwards, the top dog at 112 pounds, defends his belt against Chile's Andres Campos at Wembley Arena in London. In a match with far more intrigue, Josh Taylor, the topmost fighter at 140, meets Teofimo Lopez at Madison Square Garden.
Pound-for-Pound
01 – Naoya Inoue
02 – Oleksandr Usyk
03 – Juan Francisco Estrada
04 – Dmitry Bivol
05 – Terence Crawford
06 – Errol Spence Jnr.
07 – Tyson Fury
08 – Saul Alvarez
09 – Artur Beterbiev
10 – Shakur Stevenson
105lbs
1            Knockout CP Freshmart (Thailand)
2            Petchmanee CP Freshmart (Thailand)
3            Oscar Collazo (USA)*
4            Ginjiro Shigeoka (Japan)
5            Wanheng Menayothin (Thailand)
6            Daniel Valladares (Mexico)
7            Yudai Shigeoka (Japan)
8            Melvin Jerusalem (Philippines)
9            Masataka Taniguchi (Japan)
10          Rene Mark Cuarto (Philippines)
108lbs
1            Kenshiro Teraji (Japan)
2            Jonathan Gonzalez (Puerto Rico)
3            Masamichi Yabuki (Japan)
4            Hekkie Budler (South Africa)
5            Sivenathi Nontshinga (South Africa)
6            Elwin Soto (Mexico)
7            Daniel Matellon (Cuba)
8            Reggie Suganob (Philippines)
9            Shokichi Iwata (Japan)
10          Esteban Bermudez (Mexico)
112lbs
1            Sunny Edwards (England)
2            Artem Dalakian (Ukraine)
3            Julio Cesar Martinez (Mexico)
4            Angel Ayala Lardizabal (Mexico)
5            David Jimenez (Costa Rica)
6            Jesse Rodriguez (USA)
7            Ricardo Sandoval (USA)
8            Felix Alvarado (Nicaragua)
9            Seigo Yuri Akui (Japan)
10          Cristofer Rosales (Nicaragua)
115lbs
1            Juan Francisco Estrada (Mexico)
2            Roman Gonzalez (Nicaragua)
3            Jesse Rodriguez (USA)
4            Kazuto Ioka (Japan)
5            Joshua Franco (USA)
6            Junto Nakatani (Japan)
7            Fernando Martinez (Argentina)
8            Srisaket Sor Rungvisai (Thailand)
9            Kosei Tanaka (Japan)
10          Andrew Moloney (Australia)
118lbs
1            Emmanuel Rodriguez (Puerto Rico)
2            Jason Moloney (Australia)
3            Nonito Donaire (Philippines)
4            Vincent Astrolabio (Philippines)
5            Gary Antonio Russell (USA)
6            Takuma Inoue (Japan)
7            Alexandro Santiago (Mexico)
8           Ryosuke Nishida (Japan)
9            Keita Kurihara (Japan)
10          Paul Butler (England)
122lbs
1            Stephen Fulton (USA)
2            Marlon Tapales (Philippines)
3            Luis Nery (Mexico)
4            Murodjon Akhmadaliev (Uzbekistan)
5            Ra'eese Aleem (USA)
6            Azat Hovhannisyan (Armenia)
7            Kevin Gonzalez (Mexico)
8            Takuma Inoue (Japan)
9            John Riel Casimero (Philippines)
10          Fillipus Nghitumbwa (Namibia)
 126lbs
1            Luis Alberto Lopez (Mexico)
2           Leigh Wood (England)
3            Brandon Figueroa (USA)
4            Rey Vargas (Mexico)
5            Mauricio Lara (Mexico)
6            Mark Magsayo (Philippines)
7            Josh Warrington (England)
8            Robeisy Ramirez (Cuba)
9            Reiya Abe (Japan)
10          Otabek Kholmatov (Uzbekistan)
 130lbs
1            Joe Cordina (Wales)
2            Oscar Valdez (Mexico)
3            Hector Garcia (Dominican Republic)
4            O'Shaquie Foster (USA)
5            Shavkatdzhon Rakhimov (Tajikistan)
6            Roger Gutierrez (Venezuela)
7            Lamont Roach (USA)
8            Eduardo Ramirez (Mexico)
9            Kenichi Ogawa (Japan)
10          Robson Conceicao (Brazil)
135lbs
1            Devin Haney (USA)
2            Gervonta Davis (USA)
3            Vasily Lomachenko (Ukraine)
4            Isaac Cruz (Mexico)
5            William Zepeda Segura (Mexico)
6            Frank Martin (USA)
7            George Kambosos Jnr (Australia)
8            Shakur Stevenson (USA)
9            Raymond Muratalla (USA)
10          Keyshawn Davis (USA)
140lbs
1            Josh Taylor (Scotland)
2            Regis Prograis (USA)
3            Jose Ramirez (USA)
4            Jose Zepeda (USA)
5            Jack Catterall (England)
6            Subriel Matias (Puerto Rico)
7            Arnold Barboza Jr. (USA)
8            Gary Antuanne Russell (USA)
9            Zhankosh Turarov (Kazakhstan)
10          Shohjahon Ergashev (Uzbekistan)
 147lbs
1            Errol Spence (USA)
2            Terence Crawford (USA)
3            Yordenis Ugas (Cuba)
4            Vergil Ortiz Jr. (USA)
5            Jaron Ennis (USA)
6            Eimantas Stanionis (Lithuania)
7            David Avanesyan (Russia)
8            Cody Crowley (Canada)
9            Roiman Villa (Columbia)
10          Alexis Rocha (USA)
 154lbs
1            Jermell Charlo (USA)
2           Tim Tszyu (Australia)
3            Brian Castano (Argentina)
4            Brian Mendoza (USA)
5            Liam Smith (England)
6            Jesus Alejandro Ramos (USA)
7            Sebastian Fundora (USA)
8            Michel Soro (Ivory Coast)
9            Erickson Lubin (USA)
10          Magomed Kurbanov (Russia)
 160lbs
1            Gennady Golovkin (Kazakhstan)
2            Jaime Munguia (Mexico)
3            Carlos Adames (Dominican Republic)
4            Janibek Alimkhanuly (Kazakhstan)
5            Liam Smith (England)
6            Erislandy Lara (USA)
7            Sergiy Derevyanchenko (Ukraine)
8            Felix Cash (England)
9            Esquiva Falcao (Brazil)
10          Chris Eubank Jnr. (Poland)
168lbs
1            Canelo Alvarez (Mexico)
2            David Benavidez (USA)
3            Caleb Plant (USA)
4            Christian Mbilli (France)
5            David Morrell (Cuba)
6            John Ryder (England)
7            Pavel Silyagin (Russia)
8            Vladimir Shishkin (Russia)
9            Carlos Gongora (Ecuador)
10          Demetrius Andrade (USA)
175lbs
1            Dmitry Bivol (Russia)
2            Artur Beterbiev (Canada)
3            Joshua Buatsi (England)
4            Callum Smith (England)
5            Joe Smith Jr. (USA)
6            Gilberto Ramirez (Mexico)
7            Anthony Yarde (England)
8           Dan Azeez (England)
9            Craig Richards (England)
10          Michael Eifert (Germany)
200lbs
1            Jai Opetaia (Australia)
2            Mairis Breidis (Latvia)
3            Chris Billam-Smith (England)
4            Richard Riakporhe (England)
5            Aleksei Papin (Russia)
6            Badou Jack (Sweden)
7            Arsen Goulamirian (France)
8            Lawrence Okolie (England)
9            Yuniel Dorticos (Cuba)
10          Mateusz Masternak (Poland)
Unlimited
1            Tyson Fury (England)
2            Oleksandr Usyk (Ukraine)
3            Zhilei Zhang (China)
4            Deontay Wilder (USA)
5            Anthony Joshua (England)
6            Andy Ruiz (USA)
7            Filip Hrgovic (Croatia)
8            Joe Joyce (England)
9            Dillian Whyte (England)
10          Frank Sanchez (Cuba)
To comment on this story in the Fight Forum CLICK HERE