The Fifty Greatest Middleweights of All Time Part Two: 40-31
In the introduction to Part One I alluded to the astonishing depth of the middleweight division; that depth is illustrated by the array of talent in Part Two. It is not unusual to stumble across a fighter ranked in the thirties on a list like this that can meet with the very best that lie above on their own terms, but we meet now a swathe of them – head-to-head monsters that were swallowed up by the leviathan of modern weight categorisation abound, but are not alone. Sacred cows, too, are slaughtered on the rocks of superior resume – at least three of the men ranked herein can be seen in top tens elsewhere.
And the frightening thing is that the middleweights are only going to get greater.
#40 MIKE MCCALLUM (49-5-1)
Among the greatest light-middleweights of all time, Mike McCallum's career up at middleweight remains a nearly – nearly lineal middleweight champion of the world, nearly the conqueror of James Toney. In the end, a draw and a majority loss in two fights that could have been scored any one of three ways was the final result of his pair with Toney at 160lbs and it dooms McCallum to the #40 spot where a single point on a single card of the drawn first fight between the two would have propelled him up the list; such are the tiny screws upon which boxing greatness are turned.
Still, McCallum probably overachieved given the limited amount of time he spent in the division. He boxed as few as seven times at 160lbs and won just four of those contests. Outside of those two razor thin failures against Toney, McCallum also went 1-1 with Sumbu Kalambay, making him 1-2-1 with men on this list, but what men. James Toney, a simmering poisonous stew of hostility and near-genius can be read about later in this installment; for details concerning his disastrous loss to Kalambay in their first fight see Part One – as to his vengeance, earned in a split decision three years later, it was a desperately close fight that illustrated McCallum's exquisite ability for identifying and boxing to an opponent's killzone while underlining his limitations at the weight. He just didn't have the physicality to bully Kalambay out of there in the first half of the fight and Kalambay insidiously boxed his way back in and the contest became another desperately close one that could have gone either way.
Still, when allowed to dominate as he was against another superb technician, Michael Watson, he was lethal, remorseless in his heavy-bagging of the world-class Watson who McCallum broke in eleven. He couldn't break a spirited and green Steve Collins though and he was run extremely close by a riffing, winging Herol Graham – and that, really, is the story of McCallum at middleweight. It is not enough to see him given a higher slot but the teak-tough, keen-eyed Bodysnatcher belongs.
#39 – GEORGIE ABRAMS (48-10-3)
Compact and aggressive, Georgie Abrams was credited by Sugar Ray Robinson of giving him one of the hardest fights of his career. "He knows how to make you throw a punch and miss it" Sugar complained as though he hadn't met some of the most astonishing talent ever to take to a boxing ring. Never a champion, he clashed with an incredible line-up of former and future champions belonging to the 1930s and 1940s all while wearing the demeanour and physicality of a failed ice-cream vendor.
First up was a creaking Teddy Yarosz, who a relatively green Abrams out punched over ten rounds to a split decision while neutralising Teddy's lethal left. Next was strap holder Lou Brouillard, followed quickly by future belt-holder Billy Soose, who went for a second time in 1940 after being dropped in the first by a sizzling right-hand. The conciseness of his work always surprises, perhaps due to the absurd raggedness of his personal appearance.
After the second Soose triumph, Abrams took a break from championship opposition but continued to take on royalty, matching the peerless Charley Burley – and holding him to a draw, a rally in the ninth and tenth rescuing him from a defeat that at one point seemed sure. Another desperately close fight followed against another uncrowned champion in Cocoa Kid, the difference between the two narrow enough to serve as a draw but Abrams took the split of the decision. He then defeated Soose once more in a one-sided contest that surely entitled him to a shot at Soose's belt; in a story as old as boxing, Soose declined.
Abrams tended to lose to the best he faced – Marcel Cerdan, Ray Robinson and Tony Zale all got over on him in important fights – but he did enough damage against enough outstanding fighters that a spot in the top forty is justified.
#38 – MARCEL CERDAN (111-4)
It is impossible to persistently undermine popular thinking in writing without exercising critical thinking, but equally it is hard to persistently undermine accepted thinking without overworking in defence of the new idea. The new idea here is that Marcel Cerdan, while superb and to be ranked among the greatest middleweights in history, is not among the very greatest as is held by Boxing Scene (12), the IBRO (7) and Herb Goldman (5) among many others. I have him dragging his heels here in the thirties. Why?
First of all, Cerdan's extraordinary paper record is a little deceptive when it comes to ranking him as a middleweight; when he first fought in a meaningful middleweight contest, he was already 88-2, having established himself in the war years first and foremost as a welterweight. The end of the war was a signal for the 5'8 Cerdan to step up to the 160lb division where he was indeed dominant over European competition in his native France before boarding a steamship to the United States. The competition that Cerdan bested in this time was not bad, but nor did any of the middleweights he bested emerge as top contenders or champions or make any mark upon middleweight history in their own right. It was not until he made it to America that Cerdan marked himself truly special – allowing that he had already established his excellence, professionalism and consistency – with a victory over the wonderful Holman Williams. Williams, a veteran of one-hundred and seventy contests, was clearly beginning to slip and had recently been beaten by Bert Lytell; of the sixteen fights that remained Williams, he would win just five.
Nevertheless, he was a significant scalp for a visiting fighter, as was that of Georgie Abrams.
Abrams was also past his prime and had only one more career win ahead of him but was still dangerous and Cerdan hit the trenches in order that he might best him. Both fighters emerged cut from a bruising encounter that seems to narrowly but clearly belonged to Cerdan; after which he set sail for Europe to pick up the European title from a fighter called Leon Fouquet, who is listed by Boxrec as 2-4-1 going in. After returning to America and hammering the solid Jean Walzack and then going back to Europe to go 1-1 with Cyrille Delannoit, Cerdan got his title shot at Tony Zale.
It would be Zale's last ever fight and Cerdan was extraordinary in taking the title, his left hook in particular, a thing of beauty and a punch he would use to force "The Man of Steel" to the canvas win the eleventh round. Zale did not emerge from the twelfth.
Cerdan was the lineal middleweight champion but he completed no successful defences, injuring his shoulder swinging for Jake LaMotta in their celebrated contest and then killed in a plane crash before their re-match. This is tragic but it restricted the number of years Cerdan fought in the division to five; this is the same as the number of ranked opponents he defeated. Two losses in that time is a fantastic return but ranked just above Cerdan is Randy Turpin. Turpin, like Cerdan, staged but a single defence of the title but whereas Cerdan beat a faded Zale, Turpin beat one Sugar Ray Robinson; their relative placement is arguable, yes, but that is because it is close. Above him is Michael Nunn. Nunn staged four defences of the lineal title to Cerdan's one (plus additional defences of his strap) and defeated just as many ranked fighters; I also think he looks better than Cerdan on film at his best, and should be favoured could the two ever meet. The latter is debatable; the former is not. Why then, would Cerdan be ranked above Nunn? What reason exists? Because he built a better paper record at welterweight? I submit that Cerdan, though special, did nothing to distinguish himself from Nunn and nothing to distinguish himself from the fighters ranked above Nunn. Clearly excellent, he no more belongs in the top twenty at the weight than any of these men and any argument to include him there is by definition unsubstantiated.
#37 – RANDY TURPIN (66-8-1)
There is a statue of Randy Turpin in his hometown. They love him there. That he died the darkest of deaths does not matter to the population of Warwick, England. He rose to do the impossible. He rose to defeat the great Sugar Ray Robinson.
Robinson took to the road after his defeat of Jake LaMotta for the world's middleweight champion in early 1951 and defeated European contenders in Italy, Germany, Belgium, Switzerland and France accruing cash and glory as he travelled. In London, Turpin lay wait, and plotted.
He was an old-fashioned fighter. He stabbed with his jab, the old fencing jab that birthed the punch, springing in with his arm held stiff like a foil, but he was fast and accurate. On defence, he leaned back, even reared up in the face of assault, trying to ride punches while defending with his shoulders, his hands low, turning and turning with whatever fuselage came his way. But he embraced, also, modern tools in his mission to overcome the invincible Robinson, whose record stood at 128-1-2. Already an obsessional trainer who had worked on his physical strength both in the gym and in a job obtained specifically to strengthen him further as a builder's labourer, Turpin now sat patiently as films of Robinson boxing were run for him over and over again in order that he might first absorb the man he had sworn to defeat. It worked. Robinson's two-fisted attack to the body, deployed against stronger opponents while going away from them in clinches was euthanized simply by drawing Robinson close and cracking him to the back and side of the head with whipped in punches bereft of arrowhead but loaded with scree. Robinson's sneak right hand to the body around the corner just before or just after clinches were smothered by his bobbing out of a squat and into straight-backed conformity just before or just after a clinch was made. To dominate at range, he employed a technique as old to him as combat itself.
"He didn't need a lot of teaching," said Ron Stefani, his first fistic trainer some years after Turpin's death. "It just seemed to come naturally to him…he didn't have to manoeuvre round for openings, and as soon as they were there, bang!"
Turpin banged Robinson repeatedly, and it was not long before one of the greatest fighters of them all looked nothing short of lost in the ring. It was not a close fight; Turpin dominated him inside and out.
Famously, he held the title for just sixty-four days before Robinson ripped it from him once more by explosive stoppage; Turpin never again approached the astonishing peak he reached that night in London against Robinson. Indeed, his wider resume is only respectable – ranked contenders like George Angelo and Charles Humez brutalised like Robinson was brutalised if not quite so spectacularly – but the other top men he met like Bobo Olson and Tiberio Mitri brushed him aside.
But what price a domination of Sugar Ray Robinson in 1951? High enough that he is guaranteed a spot on this list.
#36 – MICHAEL NUNN (58-4)
Michael Nunn was huge, fast, powerful and a southpaw, an absolutely terrifying mix of attributes that made him one of the most feared fighters on the planet in the late 1980s.
Nursed a little through his early years as a professional, decent wins over unranked fighters like Darnell Knox and Willie Harris seemed perhaps to have left him unprepared for his first ranked opponent, strap holder Frank Tate, a fighter who held two victories over Nunn in the amateurs and who was 23-0 as a professional. Watching the fight now, one can see what it was that Tate set out to do, namely nail down a flashy, elusive opponent with textbook boxing and patient pressure, but he was completely outclassed. Nunn had such speed and accuracy that he could find punches that Tate was not equipped to deal with, reaching all the way across himself with a trailing left to land a power-punch below Tate's right elbow after blasting him with a more traditional southpaw jab. Meanwhile Tate's own punches, for the most part, were lost to the wind as Nunn ditched them with a reaction's based defence that left Tate clawing at the air. The left-hand Nunn used to fold Tate to the canvas at the end of the eighth looked almost incidental to the general sea of leather Nunn crashed down on Tate's shore but it heralded the end in round nine among a tsunami of hooks that forced referee Mills Lane to intervene.
Nunn had taken his amateur style and fused it to the cornerstones of a professional fighter, throwing with bad intentions and boxing with a heart-fuelled determination to dominate his opponent. It was a heady combination and his victory over Tate heralded four years of fearsome middleweight tyranny that included a three year reign as the lineal middleweight champion. This most important of titles was sealed after his brutal retirement of the old warhorse Juan Domingo Roldan with the most astonishing knockout of 1989, his first round dispatch of Sumbu Kalambay.
Kalambay was supposed to be a step up for Nunn, a class apart from what had gone before. Nunn destroyed him with a single punch, and more impressive, a single punch of exactly the type that Kalambay excelled in throwing, a straight thrown against an opponent who had been manoeuvred directly across him. Kalambay victim Iran Barkley was up next, and he provided his usual level of stubborn resistance, even taking a draw on one of the official scorecards (and mine), Nunn winning by a narrow margin from an aggressive opponent. Uncertainty regarding Nunn's fighting qualities, rampant before his destruction of Kalambay, re-emerged. These were deepened still further by a desperately close majority decision win over Marlon Starling, the wonderful welterweight champion. Nunn, bigger than most of his middleweight opposition, held an almost comical size advantage over Starling but the welterweight king repeatedly found his larger opponent with lead right-hands. Nunn reclaimed some ground overwhelming another former welterweight champion, Don Curry, in ten, but then a menacing and full-sized middleweight stepped out of the shadow and knocked him catastrophically out; with that the reign of James Toney began.
The end of Nunn's reign signalled eternal speculation as to his great potential and why he didn't fulfil it. The reason he didn't fulfil it is simple: it wasn't there. Nunn was no better and no worse than his record indicates. Just as the harsh realities of boxing dictate that it is Nunn who holds Sumbu Kalambay's reigns in terms of his historical standing, so it is that Toney holds Nunn's.
#35 ROY JONES JNR. (61-8)
I can only imagine the horror with which acolytes of Roy Jones greet his "lowly" position upon the list, and below so many men who never boxed in colour. For the sake of the Jonesites of this world (assuming any are still reading), a quick reminder of the criteria, described with more completeness in Part One.
Firstly, nothing that Jones accomplished outside the confines of middleweight plus a few pounds is considered here; his inherent superiority over James Toney was proven, yes, but that was in a fight that occurred in a different weight division, and in the meantime it must be considered that Toney achieved more at middleweight, as shall be seen. Achievements, who a fighter beat, how long he held the title should he have come to it, and how dominant he was over his era stand in excess of how good a fighter looks on film.
That said, prowess in the ring cannot be ignored, nor can skillsets, athletic excellence or the probable outcome of imagined meetings with the rest of the field. This is just as well for Roy and his many fans because, to be absolutely frank, Roy doesn't belong on this list based upon what he did at middleweight. The reason he's ranked here is specifically because he was so special.
Jones turned professional in 1989 at 160lbs and did not part with the division until 1994, by which time he had amassed a record of 25-0. Included in that record were three fights fought at super-middleweight leaving us twenty-three middleweight contests. Roy's fifteenth fight was fought against a boxer named Lester Yardbrough, who carried with him to the ring a record of 12-16-1. It is fair to say that Jones was very heavily protected in the early part of his career – there was even speculation that his father and manager, who ruled Roy with an iron fist at that time, refused to extend his fighter and son the challenges he so clearly required.
In his sixteenth fight though, Roy met with the washed up, undersized Jorge Vaca, hardly world-beating opposition but a valid opponent for a young fighter. Jones disposed of him in a round. A few months later he met the hugely experienced Jorge Fernando Castro, unranked at middleweight but previously ranked at light-middle, and for the first time was extended the distance. Showing either good judgement or a surprising level of paranoia depending upon your point of view, his sense that Castro was trying to "lure him in" probably cost him the stoppage. He did stop his next three opponents in a total of thirteen rounds but still, none of them were ranked. His second to last opponent at the weight though, was ranked: one Bernard Hopkins.
But he was ranked in the bottom half of the middleweight top ten. Hopkins was a long way from prime, his style's perfection reliant upon pacing, strategy, distance and angles, all learned attributes that Hopkins, who had never defeated a ranked contender and was still a year from being dropped twice on his way to a draw with Segundo Mercado, had yet to master. If Roy's impressive, one-sided domination of Hopkins is the hook his legacy hangs on, he is grossly overrated at #35, not underrated.
Thankfully, it does not. There is room here for good legacy, which Jones has, married to exceptional talent. A justifiable argument could be made for ranking Michael Nunn ahead of him, but what of the feeling that he would probably bamboozle Nunn while playing him delightedly at his own game? Roy moved up to super-middleweight after Hopkins, but he came back down for a single defence of the strap he picked up against the man who would become The Executioner, and took out the ranked Thomas Tate in short order. Jones looked, in that fight, like he came from another planet. If he has a "middleweight prime" it lasted those two rounds Tate spent with him 1994. It's special enough to see him ranked alongside fighters who defeated legitimate all-time great fighters in or around their primes. Those who consider him underrated would do well to remember this.
#34 – BILLY CONN (64-11-1)
History's eye alights only momentarily upon fighters like Georgie Abrams but Billy Conn is among the most recognised fighters in boxing, a smiling Irishman who reigned as the world's light-heavyweight champion and who came within minutes of taking the world's heavyweight title from Joe Louis before instead suffering the most glorious defeat in the history of the sport. Still, I suspect that while Abram's placement in the top forty at middleweight will breeze by unnoticed, Conn's will raise a few eyebrows; it should not. Conn achieved great things long before he set foot in the light-heavyweight division.
He turned professional as a scrawny teenage lightweight but soon filled out into the middleweight division where he served a demanding apprenticeship across five fights with the absurdly tough Honey Boy Jones before dominating a creaking Ralph Chong and squeaking by the legendary, but physically overmatched, Fritzie Zivic. Zivic represented something of a graduation night for Conn and it is no coincidence that in the wake of that points victory he began his run against champions and greats of the middleweight division. Babe Risko, a strap holder just one year before, went first, but was outclassed by the young Conn over ten. Centurion Vince Dundee went next. On the comeback trail it was some three years since Dundee had held a belt, but Conn named this his hardest fight to that date. Nevertheless, he won it with points to spare and drew the admiration of both Dundee and the Pennsylvania crowd.
Things got harder for Conn in his very next fight as he met with ranked tough Oscar Rankins, who was coming off a win over the excellent Solly Krieger. He came very close to adding Billy to the resume when in the second round he caught him with a steaming right hand high on the jaw. Conn delivered himself to the canvas face-first and looked to all intents and purposes beaten. Up at nine, he was driven around the ring by a merciless Rankins body-attack; but he did not succumb. Depending upon which press reports you prefer, Conn came driving back with a matchless gameness to smuggle out a deserved split decision, or Rankins was jobbed after winning the necessary six out of ten rounds. My own guess is that this was a desperately close fight that could have gone either way but unsurprisingly went to the teenage Irish prospect over the solid African-American contender.
Conn forged ahead fighting two pairs with the much more experienced Teddy Yarosz and, as detailed elsewhere in this series, Young Corbett. Yarosz dominated Conn early in their first fight, but Conn, exalting audibly in his own conditioning between rounds, forced his way back into the contest with a left-hook in the fourth and a right-hand in the fifth, both of which troubled Yarosz; after six, the fight seemed even and as to what occurred next, each judge, newspaperman and fan present seemed to tell a different story. The outcome was once again a desperately narrow split in Conn's favour. A rematch was a necessity but solved nothing; sportswriter Regis Welsh under the headline "It's An Argument: Second Conn-Yarosz Just As Debatable As The First" suggested that Yarosz needed to gather more stamina in support of his style to prevent the disastrous fade he suffered in the second fight and that Conn, breaks or not, was forcing upon him, but also hinted that the decision was "off-colour". Without the mitigation of film, it is not for me to overturn an official decision, but it can be said perhaps that Conn did not prove his definitive superiority to Yarosz – while accepting that Yarosz certainly did not prove his superiority to Conn.
Yarosz, the reader can rest assured, features nearer the summit than Conn. This is due simply to the fact that he spent many more years boxing in the weight-class while Conn, after a loss to Solly Krieger in his very next contest, departed for light-heavyweight.
Conn spread himself too thinly to make either the top thirty at middleweight or the top fifteen at light-heavyweight but rather straddles both division's – and even heavyweight – making an indelible pound-for-pound mark upon history.
#33 – TONY ZALE (67-18-2)
Tony Zale was the man who wound the rope that unravelled when the great Micky Walker vacated the middleweight title. He held the lineal championship in an astounding seven calendar years, a feat worthy of inclusion inside the top ten at the weight, were it not for the fact that the war interrupted Zale's prime. He did not defend his title in 1942, 1943, 1944 or 1945, preferring to take a crack at the wonderful Billy Conn up at light-heavyweight before turning his attention to the Japanese in the wake of Pearl Harbour. He served in the navy.
Before the war, Zale was a force to be reckoned with, losing just one fight at middleweight between May of 1939 and enlisting, against an inspired Billy Soose. Among his victims was strap holder Al Hostak, who dropped Zale in the first round but also went to drop all five of the closing rounds in a non-title fight. This made a title-fight inevitable, and when it came, Zale didn't miss his chance, breaking a supposedly below-par Hostak down gradually, forcing the referee's intervention in the thirteenth.
With typical dramatic flair Zale, a private and by all accounts understated man outside of the ring, may have rescued himself from a draw in the tenth and final round by dropping the superb Fred Apostoli to win their non-title meeting, his finest win. After quickly dispatching a now broken Hostak in another fight and meeting some unranked competition, Zale legitimised his reign and unified a middleweight title that had been fractured since the retirement of Micky Walker, against Georgie Abrams. Abrams dropped Zale early but was a decisive loser as Zale met him with a savage body-attack for which he remains famous; this may have been his single best performance.
It was post-war that he achieved immortality, boxing in a famous trilogy with Rocky Graziano. I suspect that if Zale were in his pre-war prime there would have been no trilogy and that perhaps even one fight would have been enough; that aside, he lost the middle of three, reclaiming his middleweight championship before having his title blasted from him by Marcel Cerdan.
Generally held in higher regard than his placement here, it should be noted that I've recounted Zale's wins against ranked contenders in this short appraisal in its entirety. He was a special middleweight but one who in no way earned the occasional top ten slot awarded him by historians and fans based upon what he actually did in the ring.
#32 – JAMES TONEY (76-9-3)
I googled James Toney's name tonight with a view to a final review of some details to appear for his entry and found, to my surprise – to my distress – that he had a fight scheduled for that very night. A long time ago Toney's menace dropped away from him and he became nothing more than a parody of himself; a pretender to his own throne where he had once sat as the most intimidating force in a very good middleweight division and, when Tyson was incarcerated for rape, in all of boxing.
"I fight with anger," he once told a reporter. "I look at my opponent, I see my dad, so I have to take him out of there. I have to kill him."
Toney badmouthed Michael Nunn all the way through the build up to their 1991 title fight, putting his hands on Nunn at the weigh in and threatening to "kill his bones". Nunn, for his part, vowed to "punish" Toney in the ring for his many transgressions. Toney scowled his way to the ring and Nunn did indeed set out to punish him, but here my version of events and those of the judges part slightly. For the judges, Nunn dominated the next ten rounds of action whereas the way I see it, Nunn dominated early and Toney closed the gap late. None of this matters though, because after assuring his corner after the tenth that "I got him", Toney dropped Nunn with a savage, winging hook and followed up with a hoodlum barrage of punches that left Nunn stricken. The lineal reign of Michael Nunn was over and the lineal reign of James Toney had begun.
He managed six successful defences which is deeply impressive…but – Toney was lucky.
He twice met with the wonderful Mike McCallum in protection of his title and each time the fights, the first ruled a draw, the second a majority decision for Toney, were so desperately close that any one of three decisions could reasonably have been rendered. Against top contender Reggie Johnson, his first defence, Toney ran out a legitimate winner but he needed to win the twelfth to take the decision. He was an uninspiring champion.
An uninspiring champion who was the beneficiary of a gift against David Tiberi, who dominated him in his fourth defence, Toney could have relinquished his title on any one of four occasions but should have done so against Tiberi, who was such a huge outsider going in that it was impossible to get odds on their fight.
Slick, fearless, interesting in his style and consistently in extremely close rounds with good fighters, Toney's career is a contradiction; he is a fighter who both under-achieved and over-achieved and a champion who both proved his greatness and underwhelmed.
#31 – LLOYD MARSHALL (70-25-4)
Whether appraising Lloyd Marshall pound-for-pound (where I ranked him #83 all-time) or light-heavyweight (where I ranked him at #17) or here, at middleweight, it is a challenging task. Emerging footage of Marshall has illustrated a true gunslinger, a riffmaster general of whatever division he was gracing, a fighter as exciting and excellent and as flat-out different as anything else that has been seen.
He was also superb, serpentine, lethal, sudden and deadly. Big at the weight, he struggled to make the 160lb limit and was inarguably among the best super-middleweights in history many years before the division was conceived; he defeated Ezzard Charles while weighing 165lbs, Holman Williams at the same weight, Anton Chistoforidis at 168lbs – it is a prestigious list and one too lengthy to enter into here.
Adhering strictly to our criteria, which limits middleweight contests to 164lbs and below, Marshall is more limited by his size – but he did more than enough to be included here in the top forty.
Take Jake LaMotta, the Bronx Bull; a great middleweight by anyone's standards – Marshall crushed him, outclassed him, cut his cheek, his nose and even rocked the man with perhaps the greatest chin in boxing history in the fifth round. Along with fellow greats Fritzie Zivic and Sugar Ray Robinson he would be the only man to beat the bull in the five year period that arguably constituted his savage prime.
Charley Burley, the Don of the Murderer's Row that terrorised the welterweight and middleweight division in the 1940s, too, couldn't quite fathom Marshall's astonishing style, although a hairline fracture to the hand probably didn't help the Pittsburgher. Marshall emerged with the hairline decision.
Surging aggression, as well as unpredictability, was his friend, as when he met Billy Soose, a fighter with huge experience who still had his best years in front of him in 1938. Despite a damaged eye, Marshall boiled into the breach left by Overlin's apparent fatigue to take a narrow decision.
Other ranked men he bamboozled included Joe Carter and Jack Chase, both of whom fell to this jazz-man slaughterer of champions, but in truth he probably did not belong at middleweight and this, in combination with numerous losses, often coming against key opponents, limits his ranking here, despite genuine domination of some truly great middles.
Jermell Charlo Unifies Super Welterweights Via Solar Plexus Punch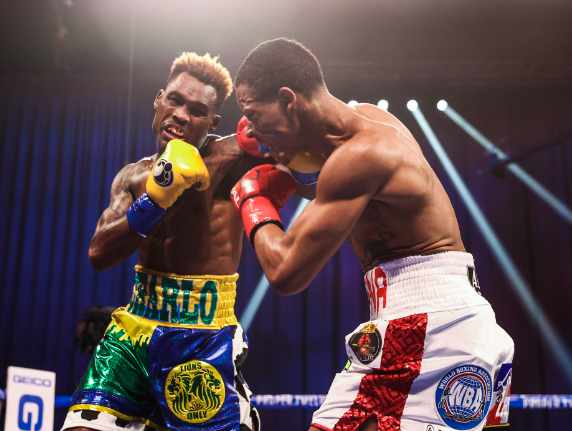 WBC super welterweight titlist Jermell Charlo knocked out IBF and WBA titlist Jeison Rosario with a knockout punch delivered to the solar plexus on Saturday to add two more belts to his collection.
"I'm definitely bringing home the straps," said Charlo.
Shades of Bob Fitzsimmons.
Back in 1897, Fitzsimmons used the same solar plexus punch to dethrone Gentleman James Corbett for the heavyweight title in Carson City, Nevada.
In another casino city Charlo (34-1, 18 KOs) floored Dominican Republic's Rosario (20-2-1, 14 KOs) three times at the Mohegan Sun Casino in Uncasville, Conn. He and his brother co-headlined a heavy duty pay-per-view card with no fans in attendance on the Premier Boxing Champions card.
Charlo jumped on Rosario quickly in the first round when he charged and clipped him with a left hook to the temple. Down went the two-belt champion for the count. But he got up seemingly unfazed.
For the next several rounds Rosario was the aggressor and put the pressure on Charlo who was content to allow the Dominican to fire away. Occasionally the Houston fighter jabbed but allowed Rosario to pound up and down with both fists.
After allowing Rosario to get comfortable with his attack, suddenly Charlo stopped moving and connected with a short crisp counter left hook and right cross in the sixth round. Down went Rosario again and he got up before the count of 10.
Charlo said it was part of the game plan.
"I'm growing and I realize that the knockout will just come," he said.
Charlo was in control with a patient style and allowed Rosario to come forward. But the Dominican was more cautious in the seventh.
In the eighth round Charlo jabbed to the head and then jabbed hard to Rosario's stomach. The Dominican fighter dropped down on his seat as if felled by a gun shot. He could not get up and convulsed while on the floor. The referee Harvey Dock counted him out at 21 seconds of round eight.
"That jab that got to him must have landed in a vital point," said Charlo after the fight. "I hope he recovers and bounces back."
Charlo now has three of the four major super welterweight world titles.
WBC Super Bantamweight Title
Luis Nery (31-0, 24 KOs) captured the WBC super bantamweight title by unanimous decision over fellow Mexican Aaron Alameda (25-1, 13 KOs) in a battle between southpaws. The war between border town fighters was intense.
Nery, a former bantamweight world titlist, moved up a weight division and found Alameda to be a slick southpaw with an outstanding jab. At first the Tijuana fighter was a little puzzled how to attack but found his groove in the fourth round.
But Alameda, who fights out of Nogales, Mexico, began using combinations and finding success.  A crafty counter left uppercut caught Nery charging in a few times, but he managed to walk through them.
In the final two rounds Nery picked up the action and increased the pressure against the slick fighting Alameda, He forced the Nogales fighter to fight defensively and that proved enough to give the last two rounds for Nery and the victory by unanimous decision. The scores were 115-113, 116-112 and 118-110 for Nery who now holds the WBC super bantamweight world title. He formerly held the WBC bantamweight title.
Roman Wins
Danny "Baby-Faced Assassin" Roman (28-3-1, 10 KOs) managed to rally from behind and defeat Juan Carlos Payano (21-4, 9 KOs) in a battle between former world champions in a nontitle super bantamweight clash. It wasn't easy.
Once again Roman fought a talented southpaw and in this fight Payano, a former bantamweight titlist, moved up in weight and kept Roman off balance for the first half of the fight. The jab and movement by the Dominican fighter seemed to keep Roman out of sync.
Roman, who fights out of Los Angeles, used a constant body attack to wear down the 35-year-old Payano and it paid off in the second half. Then the former unified world champion Roman began to pinpoint more blows to the body and head. With seconds left in the 12th and final round, a left hook delivered Payano down and through the ropes. Sadly, the referee missed the knockdown. It didn't matter as all three judges scored it identical at 116-112 for Roman after 12 rounds.
"I made some adjustments and picked up the pace and got the win," said Roman who formerly held the WBA and IBF super bantamweight world titles.
Photo credit: Amanda Westcott / SHOWTIME
Check out more boxing news on video at the Boxing Channel 
To comment on this story in the Fight Forum CLICK HERE
Jermall Charlo UD 12 Derevyanchenko; Figueroa and Casimero Also Triumphant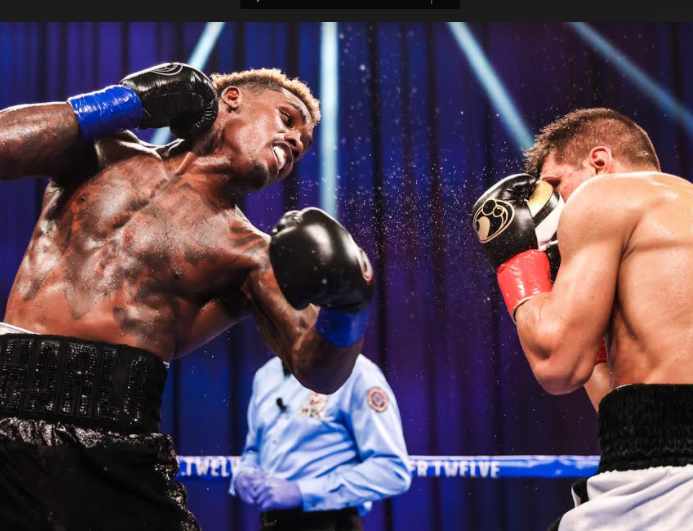 Jermall Charlo UD 12 Derevyanchenko; Figueroa and Casimero Also Triumphant
The Mohegan Sun Casino in Uncasville, Connecticut, was the site of the first pay-per-view boxing event in the United States since the Fury-Wilder rematch on Feb. 22. There were six fights in all, five of which were title fights and the other a title-eliminator. They were divided into two tiers but bundled into a package that cost approximately a dollar a round with a facile intermission tossed in at no extra charge.
The headline attraction of the first "three-pack" – and the most anticipated fight of the evening – found WBC world middleweight champion Jermall Charlo defending his title against Sergiy Derevyanchenko. The Ukrainian gave Gennady Golovkin a hard tussle when they fought in November of last year at Madison Square Garden – GGG won a unanimous decision but the scores were tight and many thought Derevyanchenko deserved the decision – and the expectation was that tonight's match would also be very competitive.  But it really wasn't although the rugged Derevyanchenko rarely took a backward step.
The fight went the distance and there were no knockdowns, but Charlo buckled his knees at the end of round three and Derevyanchenko ended the fight with cuts above both eyes. The judges had it 118-110, 117-111, and 116-112.
With Canelo Alvarez apparently headed to 168 and GGG showing his age at 38, one can make a strong case that the undefeated 30-year-old Jermall Charlo (31-0, 22 KOs) is now the top middleweight in the world. Derevyanchenko, who was 23-1 in the semi-pro World Series of Boxing before turning pro, saw his pro record decline to 13-3 with all three losses in middleweight title fights.
—
The middle fight of the first tier was a lusty encounter between Mexican-American super bantamweights Brandon Figueroa and Damien Vazquez. Figueroa, one of two fighting brothers from the Mexican border town of Weslaco, Texas, was a huge favorite over Vazquez, a Colorado native who moved to Las Vegas as a freshman in high school and had fought extensively in Mexico where he made his pro debut at age 16. But Vazquez, the nephew of former three-time world super bantamweight title-holder Israel Vazquez, came to fight and gave a good effort until the fight turned lopsidedly against him.
In the middle rounds, Figueroa's high-pressure attack began to wear Vazquez down. Vazquez had a few good moments in rounds six and eight, but when his right eye began swelling from the cut above it, he was fighting an uphill battle. He took a lot of punishment before referee Gary Rosato halted it at the 1:18 mark of round 10.
Figueroa, 23, successfully defended his WBA 122-pound title while improving his record to 21-0-1 with his 16th KO. Vazquez declined to 15-2-1.
—
The lid-lifter was a WBO bantamweight title defense by John Riel Casimero with Duke Micah in the opposite corner. Micah, from Accra, Ghana, came in undefeated at 24-0, but Casimero had faced a far stronger schedule and was a substantial favorite.
A Filipino who was been training in Las Vegas under Bones Adams, Casimero took Micah out in the third round. The Brooklyn-based Micah was somewhat busier in the opening frame, but the tide turned quickly in favor of the Filipino. Casimero hurt Micah with a left hook in round two and went for the kill. He wasn't able to finish him, but Micah was on a short leash and referee Steve Willis was quick to step in when Casimero resumed his attack after the break. The official time was 0:54.
Casimero (30-4, 21 KOs) was defending the title he won last November with a third-round knockout of favored Zolani Tete in Birmingham, England. He was slated to fight this past April in Las Vegas against Naoya Inoue, but that fight evaporated as a result of the coronavirus. After the bout, Casimero called out Inoue (and others): "I'm the real monster," he said. "Naoya Inoue is scared of me. You're next. I would have knocked out anyone today. If Inoue doesn't fight me, then I'll fight Guillermo Rigondeaux, Luis Nery, or any of the top fighters."
Check back shortly for David Avila's summaries of the remaining fights.
Photo credit: Amanda Westcott / SHOWTIME
Check out more boxing news on video at the Boxing Channel 
To comment on this story in the Fight Forum CLICK HERE
Mairis Briedis and Josh Taylor Impress on a Busy Fight Day in Europe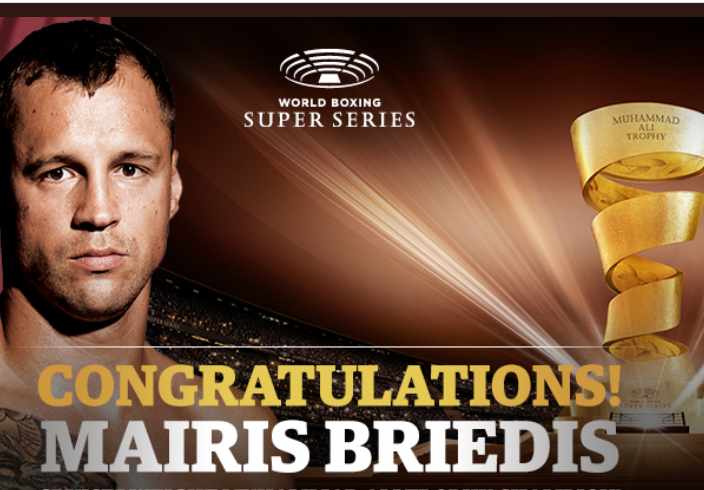 In the busiest weekend of boxing thus far in 2020, there were fights of note all over the map in Europe. The most compelling was held at the Plazamedia Broadcasting Center in Munich where the long-delayed WBSS cruiserweight final pit IBF world cruiserweight title-holder Yuniel Dorticos against Mairis Briedis. Both had only one loss on their ledger, that coming in a semifinal of Season One of the WBSS tourney.
Heading in, Briedis was recognized as the more well-rounder boxer. Dorticos had a style somewhat similar to Deontay Wilder, meaning that he was over-dependent on his big right hand. It figured that Briedis would fight with extreme caution, using his faster hands and superior footwork to keep out of harm's way, but to the contrary he wasn't afraid to trade with Dorticos and actually landed the harder punches. At the end, he captured the IBF belt and the more coveted Muhammad Ali Trophy with a majority decision. The judges had it 117-111, 117-111, and a confounding 114-114.
The first fighter from Latvia to win a world title, Briedis (27-1, 19 KOs) is now a two-time world cruiserweight champion. He previously held the WBO cruiserweight belt, but vacated it rather than adhere to the organization's mandate that he give Krzysztof Glowacki a rematch. (Their first fight, a TKO 3 for Briedis, was very messy and he was fortunate that he wasn't disqualified.) Dorticos, the Cuban defector, returns to his adopted home in Miami with a 24-2 record.
Briedis, 35, may own only one piece of the world cruiserweight title, but at the moment he is clearly the topmost fighter in the division.
York Hall, London
Apinun Khongsong's first engagement outside the Orient didn't go well for him. The 24-year-old Thai boxer with an Muay Thai background was out of his element against WBA/IBF champion Josh Taylor who dismissed him in a hurry with a "solar plexus punch" that would have made Bob Fitzsimmons proud. The punch from the left-handed Scotsman sent Khongsong to the canvas writhing in pain and he was down for several minutes before he was able to stand upright. The official time was 2:41 of the opening round.
Taylor, the Tartan Tornado, was making his first start since October of last year when he won a 12-round majority decision over Regis Prograis in a Fight of the Year candidate. His next fight may be a full unification of the 140-pound belt with Jose Carlos Ramirez in the opposite corner. Both he and Khangsong entered today's fight with 16-0 records, but Taylor, who scored his 13th knockout, was in a different league.
Undercard Bouts of Note
In a 10-round bantamweight contest, Charlie Edwards (16-1, 1 NC, 6 KOs) out-classed British countryman Kyle Williams (11-3). The referee awarded Edwards nine of the 10 rounds. Edwards, 27, previously held the WBC 112-pound title but was forced to relinquish it because he had trouble making the weight.
York Hall has been a jinx for David Oliver Joyce, the 33-year-old super bantamweight from Mullinger, Ireland, who is 0-2 in this building and 12-0 elsewhere. Joyce failed to last three rounds today in his match with Ionut Baluta. A Romanian who fights out of Bilbao, Spain, Baluta knocked Joyce down with a big left hook and then swarmed all over him when he arose, forcing the referee to intervene. The official time was 1:49 of round three.
It was the sixth straight win for Baluta (14-2, 3 KOs) and his third straight over a once-beaten opponent.
Riga, Latvia
Riga native Richard Bilotniks successfully defended his version of the European 175-pound title and advanced to the finals of the Golden Contract Light Heavyweight Tournament with a one-sided 10-round decision over Hosea Burton. A late bloomer who won only four of his first eight pro fights, Bilotnicks 30, won every round on one of the scorecards and eight rounds on the others to advance record to 17-5-1. Burton, who lost for the second time in 27 starts, let down his cousin Tyson Fury who flew to Latvia to cheer him on.
Struer, Denmark
At an arena in the city of Struer, hometown lass Dina Thorslund had a harder time than expected with Nina Radovanovic, but the Serb got no respect from the judges who didn't see fit to award her a single round. Thorslund (15-0, 6 KOs) successfully defended her WBO world 122-pound title.
In the chief undercard bout, heavyweight Filip Hrgovic (11-0, 9 KOs) moved a step closer to a world title opportunity with a second-round blast-out of late sub Alexandre Kartozia. There was no need to count when Hrgovic leveled Kartozia with a big right hand.
Check out more boxing news on video at the Boxing Channel 
To comment on this story in the Fight Forum CLICK HERE