Pacquiao On Tape Saying He's Negotiating Mayweather Rematch
Two days ago, Congressman Manny Pacquiao did a Q n A for his Facebook fans, and he fielded a query which asked him what his next fight would be.
The 37-on-December 17th boxer last gloved up in the so-called Fight of the Century, against Floyd Mayweather, on Sept. 12 in Las Vegas at the MGM, and lost a unanimous decision.
The inner circle of folks involved made off with piles of loot, but fight fans were left enthralled, being that Mayweather was his usual masterful self, a defensive wizard who epitomizes the art of "not being hit and hitting enough to win."
Post-fight, we heard that Manny's right shoulder was torn up, and he needed surgery and rehab. Floyd, meanwhile, moved on to his next bout, a going away special against over-matched Andre Berto.
With Mayweather retired, imagine our surprise when Pacman, in that Q n A, stated he wants his next fight to be with Mayweather.
"I don't know yet my opponent next, but we're still negotiating right now about the rematch with Floyd Mayweather, so hoping for that," said Manny.
Wait, what? Isn't "Money" over this?
Hasn't he hung up the mitts, transitioned to the next phase of his life?
Nobody and their brother thought he won't fight again, despite his May fight against Berto being sold as his adios bout. But just five months later, do we get confirmation that it looks very much like the "retirement" angle was just that, a packaged and cynical marketing ploy? Say it ain't so, Joe!
I reached out to Michael Koncz, Pacman's advisor, and asked about this video, about there being negotiations for a rematch. "No comment," he responded.
I also requested comment from Pacman promoter Bob Arum. He checked in, and told me he knew nothing about what Manny was speaking. "None of us know anything about it,  Michael Koncz or myself, nobody." He said maybe this was a case of there being a language gap, that maybe Manny was talking about negotiating with different guys but really wanting that Floyd sequel. "That's what I think, otherwise it makes no sense."
I emailed Mayweather publicist Kelly Swanson for comment, as well, but didn't hear back.
Me, I kinda figured that Mayweather step away for at least a year…maybe more. He was after all out of action for almost two full years, between 2007 and 2007, when he fought Ricky Hatton and then Juan Manuel Marquez. I figured the traveling to exotic locations and car collecting would get old. Also, idle time is the devil's playground..with so much free time, a guy with a previous propensity for missteps can see too many opportunities to choose the easy wrong over the hard right.
But we're hearing, from multiple people, that a comeback might very well occur in May. You might know that the MGM, Floyd's preferred platform, is building a new arena which should be complete for May 2016. The Arena, a co-construction projection between AEG and MGM, will seat 20,000 folks. Here is how it is described on their website:
A new beacon is set to shine in the desert that promises to guide the future of entertainment directly to Las Vegas. The Arena—a state-of-the-art, 20,000-seat multipurpose event center from AEG and MGM Resorts International—opens in Spring of 2016 to bring the city, and the world, a whole new place to play. Topping out the reimagined outdoor promenade linking New York-New York and Monte Carlo, The Arena is what the Coliseum was to Rome. It's the centerpiece of the city, built for everyone to enjoy. It's a venue that merges beauty with technology. And it will redefine and reshape how the monolithic events of our time are experienced and remembered.
The arena will have exciting events that will appeal to everyone – from boxing and UFC to top-name concerts and events…
Expectations are being set high. The breathy-y copy on the website says, ELVIS, FRANK SINATRA, TONY BENNETT, CELINE DION… HISTORY HAPPENS HERE, AND NO ENTERTAINER CAN CALL A CAREER COMPLETE WITHOUT STEPPING ON A STAGE IN VEGAS! The Arena will be the most sought-after venue to hold events. From red-carpet events to concerts, Awards shows to boxing events and UFC-Las Vegas Arena will set a new bar for what entertainment means in the city that knows it best.
So…are rumors true? Is this building in progress going to open with a flourish, with Floyd's comeback fight, in May 2016? MGM's Scott Ghertner responded to a query:  "The Las Vegas Arena is moving along nicely and on schedule to open in April 2016…As far as Floyd goes, is he coming out of retirement?" Point taken…
We also hear things like: Danny Garcia is being set aside as his comeback foe. So, really, lot of chatter, not much clarity.
Lips are sealed on the matter with Team Mayweather thus far; understandable, since there would be a fiercer blowback from the public if comeback talk started five months after he left.
I did also reach out to an MGM person, to get a confirm or deny on the building being reserved for Mayweather, and will share a response with you if one comes.
Readers, feel free to offer your crystal ball take; you think Floyd will be back in May, opening that new joint?
How would a rematch play out, you think? Talk to me.
Conor McGregor vs. Pac-Man: The Circus is Back in Town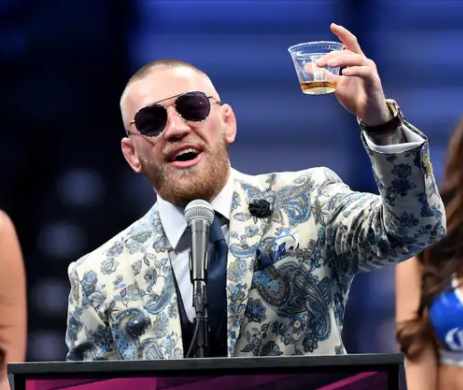 MMA superstar Conor McGregor stole some of the thunder from a busy Saturday in boxing with his announcement that his next fight would come against Manny Pacquaio. "boxing Manny Pacquiao next in the Middle East," McGregor tweeted on Friday, Sept. 25.
Jayke Johnson, a representative of Pacquiao, confirmed that there have been preliminary talks. Johnson hinted that this would be Pacquiao's final fight and said that Senator Manny would be donating a large chunk of his purse to COVID-19 relief in the Philippines. The situation is bad there. As of Sept. 22, there were 291,789 confirmed infections in a population of approximately 109 million. The United States Centers for Disease Control (CDC) recommends that travelers postpone all travel to the Philippines, including essential travel.
The best guess is that the fight will take place early next year. Pacquiao is unlikely to leave his homeland until the pandemic has abated there.
Pac-Man, who turns 42 in December, last fought in July of 2019 when he further cemented his great legacy with a 12-round decision over previously undefeated Keith Thurman. McGregor, 32, last fought in January of this year. His fight with Donald "Cowboy" Cerrone was over in 40 seconds. Cerrone left the ring with a fractured nose and orbital bone.
In June, McGregor announced his retirement, but few people gave it any credibility. McGregor was just making noise which he is very good at. But like him or loathe him, the fellow is certainly adept at selling his brand. In the world of combat sports, the Dubliner is Mr. Charisma.
In 2019, McGregor was reportedly the 4th wealthiest sports personality in the world, trailing only Mayweather, Lionel Messi, and Cristiano Ronaldo. And his bank balance was growing in leaps and bounds because the whiskey he was promoting was flying off the shelf. Proper No. 12, a three-year-old blended Irish whiskey bottled at Ireland's oldest distillery, was launched in September of 2018 and reportedly attracted $1 billion in sales in its very first year. (The "12" refers to the postal code of the neighborhood where McGregor grew up.)
McGregor started the company; he wasn't merely the spokesperson. The parent company of Tequila maker Cuervo recently upped their stake in Proper No. 12 to 49 percent. Without a punch or a kick, McGregor made a big score.
(By the way, the popularity of Conor McGregor's libation isn't matched by the reviews. A bottle was sent complimentary to a business magazine in London with instructions to pass it around the office. No one liked it. "It smelled like ethanol and tasted only marginally better," said one imbiber.)
McGregor's fight with Floyd Mayweather Jr. in June of 2017 attracted a whopping 4.3 million pay-per-view buys. The match at the T-Mobile Arena in Las Vegas drew 13,094 paid and a live gate of $55.4 million, the second highest in Nevada history (albeit well short of the $72 million gate generated by Mayweather vs Pacquiao in 2015).
McGregor plainly won the first round in that fight and won the first three rounds in the eyes of many observers. But by the ninth round the Irishman was clearly fatigued and Mayweather stopped him in the 10th.
Many people, including this reporter, believe that there was a gentleman's agreement in place whereby Mayweather agreed to fight the first few rounds under wraps to give the paying fans more bang for their buck. In a recent tweet, McGregor said that he was disgusted with himself for not following up his early advantage and that, if he could go back and do it over, he would give Floyd a good kick in the neck because getting disqualified wouldn't have stung as bad as getting TKOed.
The preamble to the McGregor-Mayweather fandango was a four-city promotional tour that began in Los Angeles and coursed through Toronto and New York before concluding in London. At each stop, the public was invited to come and witness the fighters' vent their mutual enmity and the circus was live-streamed on several social media platforms.
Each session was marked by an orgy of F-bombs. Veteran boxing writer Bernard Fernandez, after tuning-in to the Toronto segment, articulated the feelings of many as he voiced his disgust: "(The show) defiled whatever remained of the nobility of combat sports, and in a broader sense the fabric of civilized society."
If there is a promotional tour for McGregor-Pacquiao, it will take a different tack. Manny is deeply religious; he won't play that game.
Historically, some fights for charity have been little more than exhibitions. A writer for an MMA site speculates that McGregor-Pacquiao may be contested under a modified rule set, whatever that means. Regardless, if this event comes off, it wouldn't command my patronage if I were anything other than a boxing writer obliged to give it a look-see.
Check out more boxing news on video at the Boxing Channel 
To comment on this story in the Fight Forum CLICK HERE
Emerging Heavyweights: Three to Watch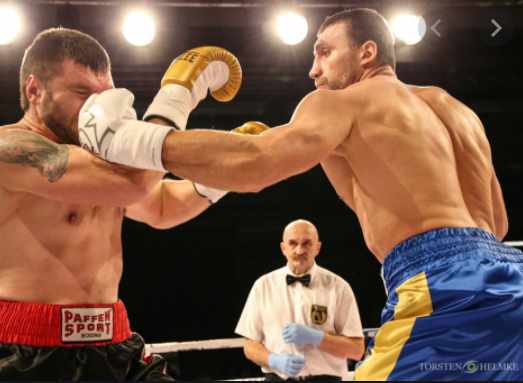 Victor Faust (Viktor Vykhryst), a 6'6" 232-pound Ukrainian heavyweight (and long-time amateur) is a product of the great amateur program in the Ukraine–one that has produced the likes of the Klitschko brothers, Oleksandr Usyk, Vasily Lomachenko, and more recently Sergiy Derevyanchenko.
At first glance, his amateur record does not appear stellar, but a closer review indicates several SD's or MD's.
Earlier this month, on Sept. 20, he scored a frightening one punch KO when he fought the more experienced Gabriel Enguema (10-9) in the Ukrainian city of Dnipro. It was his third KO victory in three professional fights—all in 2020. The end came as a result of a Doctor Steelhammer-like perfect straight right to knock the Spaniard out cold. It brought back memories of Wladimir's KO of Calvin Brock in 2006. Faust displayed skills, size, a solid chin, and power in dispatching his opponent.
"…Soon everyone will …see how skillful he is. He's the complete package and will compete in massive fights sooner rather than later." Erol Ceylan (Faust's German promoter)
Oh yes, Faust beat Romanian Mihai Nistor in the amateurs and the talented Nistor in turn halted Anthony Joshua in the amateurs back in 2011. (Nistor also went 1-2 with Filip Hrgovic and lost to Tony Yoka in 2012.) Of course, one must be circumspect when using logic in boxing. Now that Nistor has turned pro, he will be worth following as his style is very much Tysonesque.
There are others who have—at a minimum– the same potential as Faust.
Tony Yoka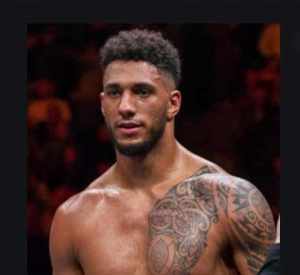 Hard-hitting Frenchman 6'7" Tony Yoka (8-0) has beaten far better opposition than Faust and has a far better amateur record. In fact, he beat Filip Hrgovic and Joe Joyce in the 2016 Rio Games on the way to a Gold Medal. Recently, he dismantled veteran and fellow Frenchman Johan Duhaupas, a fringe contender with some notable notches on his belt. The end came in the first round by virtue of a crunching right uppercut.
Yoka perhaps could be slotted above Faust at this point.; he just might be the best of the new guys on the block. However, there are some dicey anti-doping issues that have tainted his reputation, though they do seem to be mostly resolved at this point.
Arslanbek Makhmudov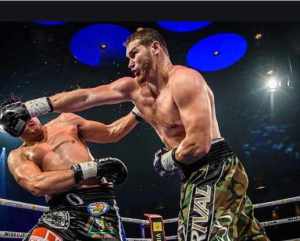 This Russian "Lion," 6'5 ½", 260 pounds with an imposing muscular frame, is still another hungry prospect ready to break into the next tier. Nicknamed the "Lion," — he also has been called "Predator" and "Beast — he is 10-0 (10 KOs).
He now lives and fights out of Montreal. The holder of two regional titles, he stopped a shot Samuel Peter in one round this past December.
"I'm confident that with my team, Eye of the Tiger Promotions and Golden Boy Promotions, I will reach my goal of becoming heavyweight champion of the world," —Makhmudov.
This all said, The Lion needs some work on his technical skills as size can only go so far.
Makhmudov's next opponent is Canadian heavyweight Dillon "Big Country" Carman (14-5) whose claim to fame is that he KOd comebacking Donovan Ruddock in 2015 in Toronto. This one will end differently for "Big Country."
Others
Arguably, classy Americans Stephan Shaw (13-0), and Jared Anderson (6-0 with four KOs in the first round) could be added to the above. Filip Hrgovic and Efe Ajagba, both 6'6", have already moved up.
A good yardstick is 6'5" American Jonathan Rice who lost a 10-round bout to Ajagba, was TKO'd in the seventh round Makhmudov, lost a 6-round decision to Tony Yoka, and a lost 6-round decision to Shaw.
Have I missed any?
Ted Sares can be reached at tedsares@roadrunner.com of on Facebook.
Check out more boxing news on video at the Boxing Channel 
To comment on this story in the Fight Forum CLICK HERE
Jermell Charlo Unifies Super Welterweights Via Solar Plexus Punch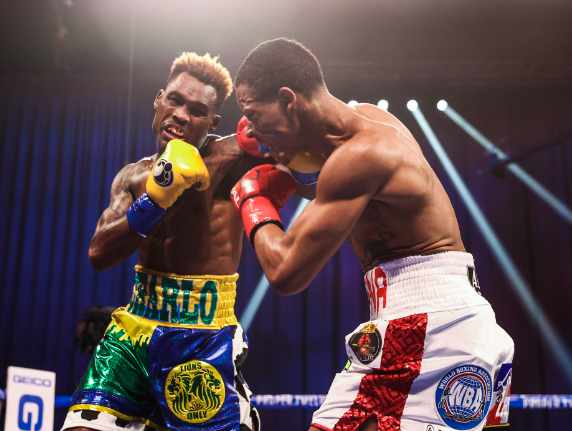 WBC super welterweight titlist Jermell Charlo knocked out IBF and WBA titlist Jeison Rosario with a knockout punch delivered to the solar plexus on Saturday to add two more belts to his collection.
"I'm definitely bringing home the straps," said Charlo.
Shades of Bob Fitzsimmons.
Back in 1897, Fitzsimmons used the same solar plexus punch to dethrone Gentleman James Corbett for the heavyweight title in Carson City, Nevada.
In another casino city Charlo (34-1, 18 KOs) floored Dominican Republic's Rosario (20-2-1, 14 KOs) three times at the Mohegan Sun Casino in Uncasville, Conn. He and his brother co-headlined a heavy duty pay-per-view card with no fans in attendance on the Premier Boxing Champions card.
Charlo jumped on Rosario quickly in the first round when he charged and clipped him with a left hook to the temple. Down went the two-belt champion for the count. But he got up seemingly unfazed.
For the next several rounds Rosario was the aggressor and put the pressure on Charlo who was content to allow the Dominican to fire away. Occasionally the Houston fighter jabbed but allowed Rosario to pound up and down with both fists.
After allowing Rosario to get comfortable with his attack, suddenly Charlo stopped moving and connected with a short crisp counter left hook and right cross in the sixth round. Down went Rosario again and he got up before the count of 10.
Charlo said it was part of the game plan.
"I'm growing and I realize that the knockout will just come," he said.
Charlo was in control with a patient style and allowed Rosario to come forward. But the Dominican was more cautious in the seventh.
In the eighth round Charlo jabbed to the head and then jabbed hard to Rosario's stomach. The Dominican fighter dropped down on his seat as if felled by a gun shot. He could not get up and convulsed while on the floor. The referee Harvey Dock counted him out at 21 seconds of round eight.
"That jab that got to him must have landed in a vital point," said Charlo after the fight. "I hope he recovers and bounces back."
Charlo now has three of the four major super welterweight world titles.
WBC Super Bantamweight Title
Luis Nery (31-0, 24 KOs) captured the WBC super bantamweight title by unanimous decision over fellow Mexican Aaron Alameda (25-1, 13 KOs) in a battle between southpaws. The war between border town fighters was intense.
Nery, a former bantamweight world titlist, moved up a weight division and found Alameda to be a slick southpaw with an outstanding jab. At first the Tijuana fighter was a little puzzled how to attack but found his groove in the fourth round.
But Alameda, who fights out of Nogales, Mexico, began using combinations and finding success.  A crafty counter left uppercut caught Nery charging in a few times, but he managed to walk through them.
In the final two rounds Nery picked up the action and increased the pressure against the slick fighting Alameda, He forced the Nogales fighter to fight defensively and that proved enough to give the last two rounds for Nery and the victory by unanimous decision. The scores were 115-113, 116-112 and 118-110 for Nery who now holds the WBC super bantamweight world title. He formerly held the WBC bantamweight title.
Roman Wins
Danny "Baby-Faced Assassin" Roman (28-3-1, 10 KOs) managed to rally from behind and defeat Juan Carlos Payano (21-4, 9 KOs) in a battle between former world champions in a nontitle super bantamweight clash. It wasn't easy.
Once again Roman fought a talented southpaw and in this fight Payano, a former bantamweight titlist, moved up in weight and kept Roman off balance for the first half of the fight. The jab and movement by the Dominican fighter seemed to keep Roman out of sync.
Roman, who fights out of Los Angeles, used a constant body attack to wear down the 35-year-old Payano and it paid off in the second half. Then the former unified world champion Roman began to pinpoint more blows to the body and head. With seconds left in the 12th and final round, a left hook delivered Payano down and through the ropes. Sadly, the referee missed the knockdown. It didn't matter as all three judges scored it identical at 116-112 for Roman after 12 rounds.
"I made some adjustments and picked up the pace and got the win," said Roman who formerly held the WBA and IBF super bantamweight world titles.
Photo credit: Amanda Westcott / SHOWTIME
Check out more boxing news on video at the Boxing Channel 
To comment on this story in the Fight Forum CLICK HERE