`NO MAS' FIGHT SHOWED EVERY FIGHTER HARBORS A FEAR OF SOMETHING
So many fighters say the same thing. "I'm ready to die if necessary," they publicly pronounce, and some might even believe it. But while bravery is as much of a staple of winning boxing as talent, answering the bell against even the most fearsome puncher is not the same as a soldier charging a machine-gun nest or engaging in hand-to-hand combat with an enemy who is actually trying to end his life, not just knock him out. A fighter's fortitude and strength of character certainly are tested in the ring, but all the convenient comparisons to war go way too far. Boxing is a sport, and not one for the faint of heart, but it is never a matter of kill-or-be-killed. At least it shouldn't be.
The truth is every fighter – probably every human being, for that matter – is afraid of something. The seemingly meekest individual is capable of extraordinary heroism, given the proper circumstances, and the most blustery bully can be exposed as a paper tiger if confronted by someone made of sterner stuff. The only thing that holds true in either case is the observers who stand off to the side critiquing the actions of the actually involved as being courageous or cowardly. And once the more odious label is applied, it can be extremely difficult to scrape off.
There might never have been a boxing match to fuel as much armchair psychoanalysis as the second of the three bouts that pitted Panamanian tough guy Roberto Duran against flashy American Sugar Ray Leonard. Nov. 25 marks the 35th anniversary of that curious bout in the Louisiana Superdome, in which Duran, who had been widely perceived as the fight game's most implacable and relentless destroyer, abruptly threw up his hands late in the eighth round, muttered something to Mexican referee Octavio Meyran and began to walk away. It was a blatant act of surrender by the one man from whom no one would ever have expected it.
The bout soon came to be known, rather notoriously, as the "No Mas Fight," a reference to the words in Spanish Duran supposedly had said to Meyran, which meant "No more," although Duran to this day steadfastly insists he never said any such thing.
A disgraced Duran went home to find his palatial home vandalized, his most ardent fans holding him in contempt and the Panamanian government, which had assured him he would get to keep all $8 million of his purse because of his status as a "national hero," now disposed to nullify that exemption and take $2 million off the top in taxes.
Fortunately, for the "Hands of Stone," his legacy has been largely restored. He went on to fight 21 more years after "No Mas," winning another two world championships along the way, and, who knows, he might still be fighting today, at 64, had he not been forced to retire after being in a bad car accident in October 2001, when he was 50. Several historians today rate him higher on various all-time pound-for-pound lists than Leonard, who lost their first fight (which was terrific) on a close but unanimous decision before Sugar Ray won parts two and three of the trilogy.
"In New Orleans, Duran became the story," Leonard said of the "No Mas" fight that, even in victory, didn't turn out the way he had anticipated. "All everyone talked about was him quitting. He got more attention for quitting than I did for winning the fight."
There have been, of course, other fights – major ones, too – in which one of the principals quit, if only in a manner of speaking, rather than allowing himself to be knocked out or his humiliation to be extended to the final bell. But it is "No Mas" that has become a case study of the swirling emotions that can engulf even a great fighter when he finds himself in a place where bravado cannot rescue him from a dark place he never expected to be thrust into.
At the press conference to officially announce Duran-Leonard II, Duran dismissed Leonard and brashly predicted he would beat him much worse than he had in their first bout, which took place in Montreal five months earlier.
"I don't like to see clowns in the ring," he sneered with undisguised contempt. "I like to see boxers. To fight and beat me, you have to come into the ring and fight me, hard. (Leonard) goes into the ring and tries to imitate (Muhammad) Ali, but an imitator is a loser."
Leonard imitated Ali all right, and pretty damn effectively, the most obvious example coming in the seventh round, when Sugar Ray wound up his right hand in windmill fashion, as if he was going to throw a bolo punch, before delivering a stinging left jab to Duran's nose, causing the WBC welterweight champion's eyes to water.
William Nack, writing in Sports Illustrated, described that moment as "the most painful blow of Duran's life. It drew hooting laughter from the crowd and made Duran a public spectacle – a laughingstock."
Perhaps ironically, Duran – who was not in the same tip-top shape he had been for the first fight with Leonard, having had to take off anywhere from 40 to 70 pounds in a relatively short time, depending on which version of the tale you choose to believe – believed that by simply walking away he was putting himself in a better light than if he had continued to be the target of Sugar Ray's largely successful attempts to embarrass him.
"In Duran's mind I think he expected that the crowd would condemn Leonard for having made a mockery of the fight, rather than him for quitting," said veteran trainer Emanuel Steward, who was in the Superdome with his fighter, WBA welterweight titlist Thomas Hearns, to agitate for a unification showdown with the winner.
It was an egregious miscalculation.
"He quit out of humiliation and frustration," Leonard told the late George Kimball, author of "Four Kings: Leonard, Hagler, Hearns, Duran and the Last Great Era of Boxing." "It's one of those things that happens to bullies. Duran threw his hands up without realizing the repercussions it would have on his legacy."
Not surprisingly, Duran's people quickly put up a smokescreen in which they blamed their guy's disappointing performance, and eventual surrender, on stomach cramps and an injured right shoulder more than on Leonard's superior foot and hand speed.
"If Duran had stomach cramps," wrote Al Goldstein, the boxing writer for the Baltimore Sun, "it must have been his guts shrinking."
Ed Schuyler Jr. of The Associated Press, cracking wise to his colleagues in the press room, said, "They're checking Duran's birth certificate back in Panama. They think now he may be a Guatemalan."
To appreciate and understand the furor attendant to "No Mas," it is necessary to go back to their first encounter, on June 20, 1980, at Montreal's Stade Olympique, in the same city in which Leonard was the breakout, gold-medal-winning star of the Olympic boxing competition.
Perhaps Duran's resentment of Leonard went from slow boil to volcanic eruption when it became apparent that he and his team had been snookered at the negotiating table by the Sugar man and his savvy attorney/adviser, Mike Trainer. Trainer had arranged for Leonard to receive the entire site fee and 80 percent of the closed-circuit and foreign TV sales, which wound up being nearly $10 million, by far eclipsing the previous high payday for a fighter, which was the $6.5 million Ali got for his third bout with Ken Norton. Duran, meanwhile, had signed quickly for $1.65 million, which was his biggest purse to that point but so much less than he might have received had he sought a more equitable division of the financial pie.
In any case, this was a fight in which it was virtually impossible to sit on the fence.
"The casting is perfect," said Angelo Dundee, Leonard's chief second. "You have Sugar Ray, the kid next door, the guy in the white hat, against Duran, the killer, the guy with the gunfighter's eyes. It's the kind of fight where you can't be neutral."
Duran played his part to the hilt, except that he wasn't playing. He insulted Leonard from the get-go, and his constant disparagement of the Olympic poster boy had Leonard convinced that his best course of action would be to beat the mouthy Panamanian at his own game.
"He had that bully's mentality," Leonard said after he was handed his first loss as a pro. "He always tries to intimidate opponents. He challenged my manhood, and I wasn't mature enough to know how to respond. All I could think about was retaliating."
Despite facing Duran on the Panamanian's terms, Leonard met fire with fire. He barely lost on points, coming up short by margins of 146-144, 148-147 and 145-144 on the judges' scorecards. And it wasn't long before he concluded that he would fare much better with a revised fight plan, particularly in light of the nonstop celebrating engaged in by Duran, who now saw himself as invincible, or at least something close to it. So Leonard and Trainer pressed for a quick rematch, offering Duran that $8 million, but only if he agreed to the November date.
"I knew Duran was overweight and partying big time," Leonard said. "I've done some partying myself, but I knew when to cut it out. I said to Mike, `Let's do it now, as soon as possible.' In retrospect, it was pretty clever of me.'"
So, how does "No Mas" look now, 35 years down the road? Should Duran have insisted on more time to get his body back in peak condition, and if so, would the outcome have been different? Might it have been preferable to chase after Leonard, slowly being beaten down and then stopped?
Duran, in an interview with Nack three years after "No Mas," continued to give Leonard something less than full credit for winning while absolving himself of at least some of the blame.
"Leonard knew I had nothing," Duran said. "He was running and clowning because he knew I couldn't do anything. I wasn't going to let myself get knocked out and look ridiculous in the ring."
It is a mindset that is hardly unique to Duran. A two-time former heavyweight champion who had won a silver medal at the 1992 Barcelona Olympics as a 165-pounder, Chris Byrd made a career of flummoxing larger heavyweights who would have preferred being pounded into submission by someone more like them than to be shown up by the flitting Byrd.
"It's called `getting clowned,'" Byrd said before his Dec. 14, 2002, bout with Evander Holyfield for the vacant IBF heavyweight title, which Byrd won by unanimous decision. "Nobody wants to get clowned. They'd rather get knocked out than to get frustrated and embarrassed at the same time. But I've been doing that to people for a long time … since I was a kid. I pride myself on that. I kind of make guys look foolish, particularly heavyweights since they're a lot slower."
Which brings us back to the subject of fear in the ring, in all its various forms. There is the most obvious application, which is the fear of being beaten bloody, the kind that virtually paralyzed some of the opponents faced by such devastating punchers as Sonny Liston, George Foreman and Mike Tyson. And there is the more subtle form of apprehension and dismay, the kind perhaps displayed by Tyson – a fighter who, by the way, has always looked upon Duran as a role model – when he got himself disqualified in his rematch with Holyfield, by twice chomping on Evander's ears, a form of submission as much as Duran turning his back on Leonard, at least in the opinion of noted boxing commentator and former Tyson trainer Teddy Atlas.
One of the more gentlemanly fighters ever to have achieved significant success, the late two-time former heavyweight champion Floyd Patterson, was as far removed from Duran, both stylistically and personally, as anyone could be. But Patterson gave one of the most honest and insightful interviews ever to author Gay Talese in the March 1964 edition of Esquire magazine, in which Patterson spoke of the near-terror that gripped him before both of his clashes with Liston, who won each by first-round knockout.
"Oh, I would give up anything to just be able to work with Liston, to box with him somewhere where nobody would see us, and to see if I could get past three minutes with him," Patterson told Talese. "I know I can do better. I'm not talking about a rematch. Who would pay a nickel for another Patterson-Liston fight? I know I wouldn't. But all I want to do is get past the first round.
"It's not a bad feeling when you're knocked out," Patterson said a bit further down in the article. "It's a good feeling, actually. It's not painful, just a sharp grogginess; you're on a pleasant cloud. But then this good feeling leaves you. And what follows is a hurt, a confused hurt – not a physical hurt. It's a hurt combined with anger; it's a what-will-people-think hurt. All you want then is a hatch door in the middle of the ring, a hatch door that will open and let you fall through and land in your dressing room."
For his first fight with Liston, Patterson – who had a sinking sensation he would lose in pretty much the manner that he did – brought a false beard, false mustache, hat and glasses to his dressing room so that he could slip away as quietly and anonymously as possible.
"You must wonder what makes a man do things like this," Patterson told Talese. "Well, I wonder, too. And the answer is, I don't know. But I think within me, within every human being, there is a certain weakness. It is a weakness that expresses itself more when you're alone. And I have figured out that part of the reason I do the things I do is because … I am a coward. You see it when a fighter loses."
So, Patterson was asked, could the menacing Liston be a coward as well?
"That remains to be seen," he replied. "We'll find out what he's like after somebody beats him, how he takes it. It's easy to do anything in victory. It's in defeat that a man reveals himself."
On Feb. 25, 1964, the big, ugly bear, Liston, got clowned big-time in his first meeting with Cassius Clay and quit on his stool after the sixth round, citing an injured shoulder which in retrospect appears as dubious an excuse as was to Roberto Duran's stomach cramps.
The fights go on, and sometimes the hardest struggle is the one that a fighter wages within himself to tame the beast that gnaws at his insides when things aren't going his way and the prospect for a turnaround are dimming fast. It calls to mind something written by Ernest Hemingway, not necessarily about boxing, although it very well might have been.
"The world breaks everyone, and afterward, some are strong at the broken places," surmised Hemingway, who also noted that, "Man is not made for defeat. A man can be destroyed but not defeated." It is a point of view that would seem to be the basis of extensive debate.
"Papa" did not weigh in on the conundrum of a fighter being clowned. You'd have to think it would have been the basis for a terrific novel, though.
The Return of Wednesday Boxing Evokes Memories of a Golden Era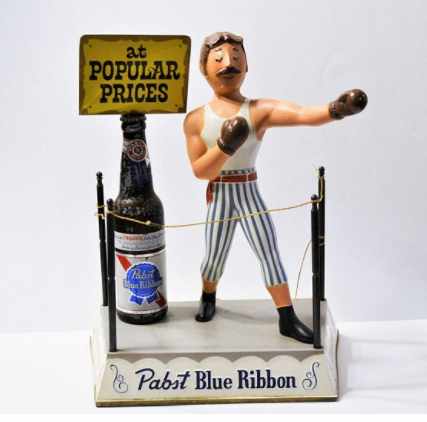 There's a Wednesday card on the boxing docket this week. The card, which features several undefeated up-and-comers of the sort usually found on Showtime's developmental series, "ShoBox: The New Generation," will play out at the Nokia Theater in Los Angeles and air on Fox Sports 1.
Not to be out-done, "ShoBox" is returning. The long-running series, which suspended operations in March in obeisance to COVID-19 restrictions, returns on Oct. 7 with a show emanating from Connecticut's Mohegan Sun Casino. The contestants in the main go of the four-fight card, Charles Conwell and Wendy Toussaint, have identical 12-0 records.
It just so happens that Oct. 7 is also a Wednesday. And these upcoming Wednesday shows transported this reporter back to his boyhood when boxing was a fixture on radio and television on Wednesday nights. The Wednesday series sponsored by Pabst Blue Ribbon beer ran from 1950 to 1960, airing the first five years on CBS and then on ABC.
Fights were all over the TV dial during the 1950s, not that there was much competition. The Big Three — NBC, CBS, and ABC — ruled the airwaves with DuMont a very distant fourth and cable television well off into the future. (For a time, the short-lived DuMont network aired boxing shows on Mondays.)
When televisions first came out, they were a big-ticket item. In 1948, RCA's cheapest model sold for $395. That's the equivalent of $10,400 today. By 1954, the cost of the least expensive model had declined to $189 and it came in a bigger box, with a 17-inch screen compared with the 13-inch screen that was standard six years earlier.
With the cost of the coveted contraption beyond the means of many wage earners, saloonkeepers cashed in. Boxing fans flocked to the neighborhood tavern to get their boxing fix. The saloonkeeper could write off his television sets on his taxes as a business expense.
Those were the days, and I date myself, when every town had a TV repair shop and the repairman, like the family doctor, made house calls.
The Wednesday Night Fights were a spin-off of the Friday Night Fights on NBC. The matchmaker for both series (through 1958) was the International Boxing Club which was headquartered at Madison Square Garden. The president of the IBC was James D. Norris (who would come to be seen as a puppet for mobster Frankie Carbo, but that's a story for another day).
James D. Norris inherited a vast fortune from his father, Canadian businessman James E. Norris. The elder Norris was a big wheel in the sport of hockey and had a financial interest in the arenas that housed NHL teams in Chicago, Detroit, and St. Louis. He made these arenas available to his son and the Wednesday fight cards moved around, unlike the Friday fights which were pinned to Madison Square Garden.
Both series would eventually venture out at times into virgin territory, but the Wednesday series was the trailblazer. The first nationally televised boxing show from the West Coast was a Wednesday affair. Jimmy Carter defended his world lightweight title against LA fan favorite Art Aragon, the original Golden Boy, at the Olympic Auditorium on Nov. 14, 1951. Aragon had upset Carter in a non-title fight 11 weeks earlier, but Carter took him to school in the rematch, winning a lopsided decision.
The Friday boxing series, which took the name "Gillette Cavalcade of Sports," would come to be more fondly remembered, but once the TV became a living room staple, which happened fast, the Wednesday series drew higher ratings. This was predictable as more folks stayed home on Wednesday nights than on Friday nights. And although the Friday series had a larger budget, some of the most important fights of the era were staged on Wednesdays.
One of the highlights of the 1951 season was Ezzard Charles' world heavyweight title defense against Jersey Joe Walcott at Pittsburgh's Forbes Field. It was Walcott's fifth crack at the title and he was considered ancient at age 37, but he avenged his two previous losses to Charles with a thunderous one-punch knockout.
Carmen Basilio appeared in The Ring magazine Fight of the Year in five consecutive years (1955-1959). The first two — his second meeting with Tony DeMarco and his second meeting with Johnny Saxton – were televised on a Wednesday.
Although he would be quickly forgotten, the Wednesday series brought Bob Satterfield a cult following because of his unpredictability. He certainly left an impression on octogenarian boxing writer Ted Sares who recently named Satterfield his all-time favorite fighter.
To conjure up a portrait of Satterfield, think Deontay Wilder and then fix Wilder with a glass jaw. Satterfield, whose best weight was about 182 pounds, was a murderous puncher, but during his career he was stopped 13 times.
LA's Clarence Henry and Pittsburgh's Bob Baker were ranked #3 in the heavyweight division when they ventured to Chicago to tangle with Satterfield, Henry in 1952 and Baker the following year. Henry knocked out Satterfield in the opening round. Satterfield hit the canvas so hard, said a ringside reporter, the resin dust flew up.
The Satterfield-Baker fight would also end in the opening round. Baker out-weighed Satterfield by 34 pounds, but Satterfield flattened him. Later on, in a non-Wednesday fight, Satterfield knocked out Cleveland "Big Cat" Williams in the third round. Williams, 33-1 heading in, was the larger man by 25 pounds.
One bet on or against Bob Satterfield at one's own peril.
The Wednesday Night Fights had a nice run before the series was cancelled and supplanted in its time slot by "The Naked City," a critically acclaimed police drama series. Perhaps the return of boxing on Wednesdays augurs well for another mid-week boxing series, but we won't hold our breath.
Check out more boxing news on video at the Boxing Channel 
To comment on this story in the Fight Forum CLICK HERE
Erickson Lubin Wins, But Misplaced His Hammer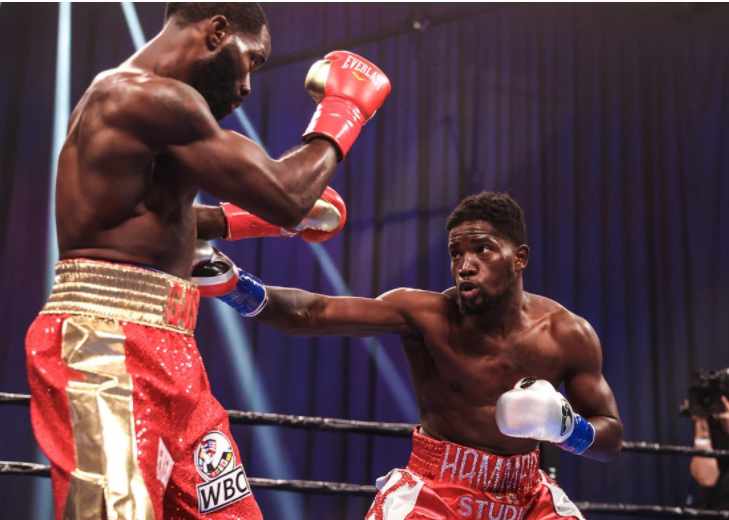 Erickson Lubin misplaced the hammer but found a way to victory over Terrell Gausha by unanimous decision in a slow-developing WBC super welterweight eliminator on Saturday.
Lubin (23-1, 16 KOs), a southpaw slugger, was unable to lower the boom on Gausha (21-2-1, 10 KOs) at the Mohegan Sun Casino in Uncasville, Conn. But he did enough in a tactical battle that only activated into a real fight in the later rounds.
Back and forth the two super welterweights mostly feinted and fired blows at each other's guard. Few managed to pierce for scoring blows and those that landed were mostly to the body.
"It was a chess match. I respected what he had, he was trying to counter what I had. My trainer was telling me to be cautious and not get hit with anything stupid," said Lubin, whose trainer is the respected Kevin Cunningham.
Gausha, 33, was the more accurate puncher but fired less than Lubin. Though he seemingly scored more often with counter rights, the scarcity of his blows allowed Lubin to control the pace of the fight.
It wasn't until the mid-rounds that Gausha stepped into a slightly quicker pace. In the 10th, a short right connected and wobbled Lubin who covered up.
"I knew I had hurt him, but he was able to recover," said Gausha, 24, who tried to finish off the hurt fighter but was unable to land another scoring blow.
"I'm in shape and I was able to recuperate," Lubin revealed.
It was still unclear who was winning the fight. In the 12th and final round Lubin stepped up the pace and connected with a crisp right hook that clearly snapped the head of Gausha. But he fought his way out of the dangerous corner.
After 12 rounds all three judges scored it for Lubin 115-113, 116-112, 118-110.
"Gausha is a tough competitor, he's at the top for a reason," said Lubin. "I feel I beat one of the top 154s and I'm going to keep doing that."
Gausha was classy in defeat.
"I take my hat off to Erickson Lubin. He was the better man tonight," said Gausha.
Lubin now awaits the winner between Jermell Charlo and Jeison Rosario who fight each other next week for the WBC, WBA and IBF super welterweight titles. Showtime will provide the title match on pay-per-view.
Featherweights
Former IBO featherweight titlist Tug Nyambayar (12-1, 9 KOs) floored Cobia Breedy (15-1) twice in the first two rounds but struggled the rest of the way to win by split decision. One judge scored it 115-113 for Breedy and two others for Mongolia's Nyambayar 114-112 and 114-113.
Nyambayar knocked down Breedy with a counter right cross in the first round and then floored him with four rights and a left hook in the second. After that, Breedy was the busier fighter and no one was able to take control.
"Boxing is boxing. It was a tough fight," said Nyambayar.
Welterweights
In a solid match Philadelphia's Jaron Ennis (26-0, 24 KOs) was able to find out exactly where he stands against real competition and stopped the unstoppable Juan Carlos Abreu (23-6-1, 21 KOs) in the sixth round by technical knockout in their welterweight showdown.
More than just a knockout win, Ennis discovered that he can indeed take a punch from an elite level puncher.
Nobody questioned whether Ennis had boxing skills or athleticism and power, but nobody knew if he could take a punch. They discovered it as Abreu was able to connect in the fourth and fifth rounds. The Dominican fighter pulled out his tricks and connected several times with sneaky rights and lefts. Ennis remained standing.
Abreu was looking to trade bombs with Ennis in the fifth and sixth round and paid the price in getting delivered to the canvas with a pretty right counter uppercut. He survived. But in the sixth a slew of punches along the ropes sent him down again. He beat the count again but during a fierce exchange he was floored a final time at 1:06 of the sixth round. It was the first time Abreu had ever been stopped.
"I feel I put on a wonderful show and got the knockout," said Ennis. "I feel I showed the division I am here."
Check out more boxing news on video at the Boxing Channel 
To comment on this story in the Fight Forum CLICK HERE
Fast Results from the MGM Bubble: Pedraza Outclasses Molina Plus Undercard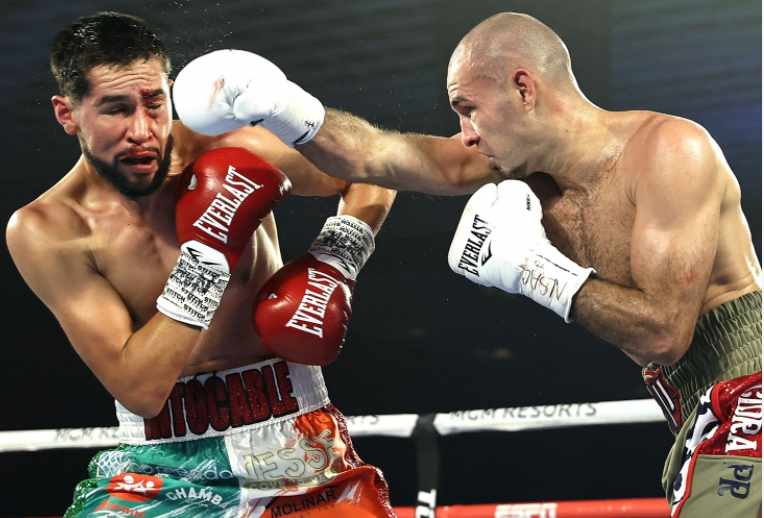 The featured bout on tonight's card at the MGM Bubble was a match between 2008 Olympians. It was a competitive match on paper, but Jose Pedraza turned in one of the better performances of his career while turning away Javier Molina who just wasn't in Pedraza's league tonight. The fight went the full 10 with the judges voting for the Boricua by scores of 99-91 and 98-92 twice. A former two-division belt-holder who looked very comfortable in his second start at 140, Pedraza boosted his record to 28-3. Molina, who had won five straight coming in, falls to 22-3.
Pedraza was manhandled by Gervonta Davis in 2017, outclassed by Vasyl Lomachenko in 2018, and upset by Jose Zepeda last year, but showed tonight that he still has plenty of mileage left on his odometer. Josh Taylor and Jose Carlos Ramirez each own two pieces of the 140-pound title, but Pedraza seems to have found a new gear at age 31 and is nipping at their heels. However, Pedraza also hankers to renew acquaintances with Zepeda and that will likely come first.
In the 10-round heavyweight co-feature, Efe Ajagba's higher workrate carried him to a 10-round unanimous decision over Jonathan Rice. The scores were 98-92 and 99-91 twice.
Ajagba, the Houston-based Nigerian making his first start under the Top Rank banner, advanced his record to 14-0 (11) but was underwhelming. Rice, the terror of Tijuana taxi drivers, fell to 13-6-1 and solidified his reputation as a useful gatekeeper.
Robeisy Ramirez, a two-time Olympic gold medalist for Cuba who now resides in the Miami area, improved to 5-1 with a unanimous 8-round decision over Puerto Rico's Felix Caraballo (13-3-2). Both appeared on the inaugural MGM Bubble card with Caraballo, fighting for the first time in the U.S., suffering a sixth-round stoppage at the hands of Shakur Stevenson. Tonight's uneventful fight saw Ramirez on cruise control as he won by scores of 79-73 and 80-72 twice.
San Bernardino junior middleweight Leo Ruiz improved to 8-0 with a 6-round unanimous decision over Cancun's Rodrigo Solis (4-5-1). Both fighters had a point deducted in round five; Ruiz, 21, for low blows and Solis for spitting out his mouthpiece. The scores were 58-54 and 59-53 twice.
In a fight that wasn't on the original schedule, Houston super middleweight Christian Montano improved to 10-0 (7) with a 6-round unanimous decision over St. Louis' Ryan Adams (7-4-1). A three-time national amateur champion, Montano, who is of Columbian descent, had knocked out seven of his previous opponents in the opening round. He looked poorly conditioned tonight but yet won every round on two of the scorecards.
Lightweight Bryan Lua, who hails from the town of Madera in central California's agricultural belt, returned to the ring after a 27-month absence and scored a one-punch knockout over Chile's Luis Norambuena. A left hook did the damage, bringing the bout to a sudden conclusion at the 2:27 mark of round two. Lua, (6-0, 3 KOs) won two of three over Ryan Garcia as an amateur. It was a quick turnaround for Norambuena (4-7-1) who lost a 4-round decision in this ring last week.
The first two bouts on the card showcased the newest members of Top Rank's "Kiddie Corps." Kasir Goldston and Jahi Tucker, 17-year-old welterweights, launched their pro careers on a winning note.
Goldston, a southpaw from Albany, NY, opened the show with a 4-round unanimous decision over Wisconsin's Isaiah Varnell (3-3). The scores were 40-36 and 39-37 twice.
Tucker, who trains in the same Long Island town that spawned Buddy McGirt, put away Alabama's Deandre Anderson (1-2) in the opening round. Anderson came out winging, but the precocious Tucker picked him apart. Referee Robert Hoyle stepped in and stopping the mismatch at the 2:56 mark. As an amateur, Tucker was ranked #1 at 138 pounds while still a sophomore in high school.
Photo credit: Mikey Williams for Top Rank
Check out more boxing news on video at the Boxing Channel 
To comment on this story in the Fight Forum CLICK HERE