I Am Leaving, I Am Leaving…
As far as editors go, I have been as hands off as they come.
That comes from being a writer, first and foremost, and therefore understanding that it's only right to let the author retain a voice.
That, and…what?…
You think I was going to make something written by Ron Borges…or Bernard Fernandez…or George Kimball better?
I first sat in this editor chair in the first quarter of 2007.
Little was I to know how long I'd sit here…and what inventions would blow into our lives in that tenure–hello, Twitter, 140 character heroin, a junkie's heaven for someone seeking news, and to communicate, all the time…….
…and who would be departing–thinking of you, Kimball, and how you emailed me right before you died, and told me to be ready for that next story you were going to be firing my way.
How could I know what people I'd cross paths, and swords, with…and what strange, and wonderful, and sad stories I'd cover, in this, the realm of the savage science, the theater of the unexpected, and the expected, because you can always count on boxing to keep you on your toes..and sometimes sneak in a hook that drops you.
Kids arrived while I (pictured above, photo courtesy Vladimir Lik, in Gleason's Gym) sat in this chair, and I give thanks that the position afforded me some leeway in setting my schedule. Just about every single day since I took the chair, I'd start my day with coffee, and then post something to TSS.
And I'd end my night, most of 'em, with one last post, before I'd brush my teeth and lay head to pillow.
The kids graduated, from diapers, to iPads, and saw dad, tap, tap, tapping away. The routine of feeding the beast, keeping you all updated on the goings-on in the sport, was a constant as fate handed me gift baskets and the occasional kick to the groin. There was a comforting continuity, as folks buckled up right next to me for this ride, the bumpy parts and the smooth portions. People like David Avila…ever so classy, so reliable…a role model, for how he took himself into the gyms, and shut his trap, and watched, and listened, and respected the craft and the artisans who plied this dark trade.
Frankie Lotierzo, maybe my favorite Republican, he's been with me the whole time. Me being a hands-off editor, I let Frank be Frank. I let his writing, in that voice, the voice of a sagacious fan, but one who'd been in that ring, felt that sting, the burning lungs, felt the bruises barking at him days after taking the hits, be. And he re-paid me by sharing his most incisive analysis, invariably spot-on, year after year. Every year, I'd email him, tell him he won an award in my book.
And please don't think I didn't pinch myself, in this seat, when I'd received a Thomas Hauser column. "Editing" Hauser meant looking to catch a rare misspelling. I'd read the copy, learn from it, enjoy the self-same way you all do: as a fan.
Welcoming relative newbies into the fold, the Lee Wylies—I saw this British factory workers' Tweets and knew this guy needed a larger stage– and Kelsey McCarsons, that gave me great pleasure. To give a talented person a little larger of a platform was and is the least I could do, as I, as the years pass, become more of that veteran guy who only I hope very rarely annoy the younger bucks with stories of "how it used to be."
To discover and help a bit in spreading the word about the talents of a superior wordsmith, like a Springs Toledo, that feeling would serve as a form of currency which offered a potent payoff. No, I wouldn't get rich doing this. The nurturing of my soul, in a place I could share my musings on the human character, through the fight-game filter, that enriched me immensely.
I'm heading to round twelve of this column, my last for TSS, and I am going to finish the flurry with the most logical of emotions on this day, and on this occasion: gratitude.
I thank the powers that be for giving me this opportunity, where they let me be me, gave me a majestic autonomy, asking not much beyond not indulging in salty language. That gift, that trust,  was worth more than money…
Thanks to the readers, for clicking on the stories, for sending those heartfelt notes of appreciation now and again, which would sometimes make my morning, noon and night.
This day and time of year, a period to get into proper perspective mode, try to remodulate yourself, if only for a brief spell, pivot away from the focus and fixation on material objects and self enrichment, it's a great time to offer my thanks. For reading my columns. For allowing me the honor and pleasure of sharing my words and thoughts with you.. and thanks for allowing the incursions of politics and philosophy into the pugilistic mix, and indulging my addiction to ellipses…
Time now to move on from this platform, to others.
Digital.
Maybe some satellite, perhaps a podcast, more time on camera, communicate with my voice more than by tapping the keyboard.
It's time to hit the re-set a little bit. Eight years..it's time.
Time to say a final "thank you for reading," and to wave goodbye.
I am leaving this space, and I want my final words here to properly render this rewarding experience:
PEOPLE, THANK YOU FOR READING.
What Path will Yokasta Valle Choose Next?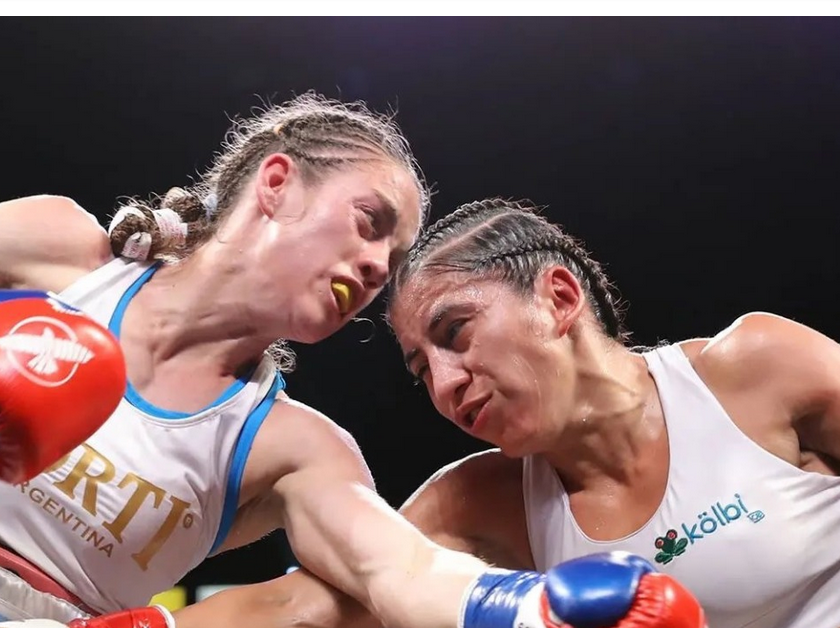 After the recent controversial ruling that made her a world champion in three different divisions, the fans of the Costa Rican Yokasta Valle are wondering: What path will the successful boxer choose next?
On Saturday, November 26th, in a fight of continuous exchanges with the then undefeated Argentine Evelyn Bermúdez (17-1-1, 6 KOs), "Yoka" Valle (27-2, 9 KOs) came out with her arm raised at the Dignity Health Sports Park in Carson, California, where she won the IBF and WBO belts, which Bermúdez was defending for the seventh and second time, respectively.
Although the Costa Rican fighter (pictured on the right) went on the attack for practically the entire 10 rounds, the exchanges were even, give and take, with good moments for both fighters, which made it difficult to evaluate each round. Hence the discomfort of many fans, especially in the Bermúdez camp, with the card of judge Adalaide Byrd (99-91), which apparently had Bermúdez prevailing in only one round. Neither did Judge Daniel Sandoval's card (97-93) represent what transpired in the ring, while Zachary Young's score of 95-95 was more accurate, distributing five rounds for each combatant.
In the case of Byrd, she also received innumerable criticism in the first fight between Saúl "Canelo" Álvarez and Gennady "GGG" Golovkin, which was held in September 2017 at the T-Mobile Arena in Las Vegas and which ended with a favorable scorecard for each boxer and another of 114-114.
At that time, Byrd had judged more than 400 fights over a 20-year span, and her discordant scorecard of 118-110 reflected Canelo winning 10 rounds and GGG only two (the fourth and the seventh). Dave Moretti leaned towards Golovkin (115-113), while Don Trella (114-114) saw it even.
CHAMPION IN THREE CATEGORIES
Born in Matagalpa, Nicaragua on August 28, 1992 and living in Costa Rica since her childhood, Valle made her boxing debut at the age of 22 in the light flyweight category. In that first experience at the pro level, she defeated Mexican María Guadalupe Gómez by unanimous decision in four rounds, on July 26, 2014, in Alajuela, Costa Rica.
Two years later, in her twelfth fight, she conquered the IBF title at 102 pounds by split decision against Ana Victoria Polo in San José, Costa Rica. In December 2017, Valle suffered her first professional failure against the local Naoko Fujioka, who won by unanimous decision at Korakuén Hall in Tokyo where they fought for the vacant WBO light flyweight belt.
Six months later, on June 16, 2018, Valle lost again by unanimous decision against German Christina Rupprecht (11-0-1, 3 KOs) in Munich, a duel that was for the WBO strawweight interim belt. Rupprecht maintains that belt and is again in Valle's sights.
Following those two setbacks, "Yoka" Valle compiled 14 victories, including the one she obtained in Marbella against Spaniard Joana Pastrana in August 2019, which she won by split decision securing the IBF 105-pound belt.
More recently, on September 8th in Costa Rica, Valle became a two-division champion at 105 pounds, by unanimously prevailing (the three judges scored the fight 100-90) over Vietnamese Thi Thu Nhi Nguyen, who ceded the WBO title. And then with her success against Bermúdez last weekend, Valle made history in Costa Rican boxing by adding her third crown in three different divisions (102, 105 and 108 pounds).
WHERE WILL YOKASTA VALLE GO NEXT?
Valle, who now owns two light flyweight titles (IBF and WBO) could next go in search of unification with Mexican Jéssica Nery (WBA super champion) or with Canadian Kim Clavel, who holds the WBC title. (Clavel and Nery collide on Thursday in Laval, Quebec.)
However, a more viable option would be to return to 105 pounds and seek a fight with American Seniesa Estrada (23-0, 9 KOs), who maintains the WBA belt, or with Rupprecht, who remains unbeaten. That seemed to be Valle's immediate objective, as she affirmed it in the ring after defeating Nguyen. In an indirect reference to Seniesa Estrada and Tina Rupprecht, Valle said "I want the belts. I've been saying it from the beginning, I want the WBC and WBA next, whoever has 'em."
At Friday's weigh-in for her fight with Bermúdez, Valle stated "I want to fight the best. I want to be undisputed. When Tina (Rupprecht) and Seniesa (Estrada) were not available, my team and I made the decision to move up in weight and challenge Evelyn for her world title belts. I have to fight. [MarvNation CEO] Marvin Rodriguez presented this fight to me. This is the type of fight I want. It is champion versus champion. I want to give the fans these types of fights."
Photo credit: Tom Hogan / Hogan Photos
Article submitted by Jorge Juan Alvarez in Spanish
Please note any adjustments made for clarification purposes and any errors in translation were unintentional.
To comment on this story in the Fight Forum CLICK HERE
Regis Prograis Knocks Out José Zepeda and Clears the Way for José Ramírez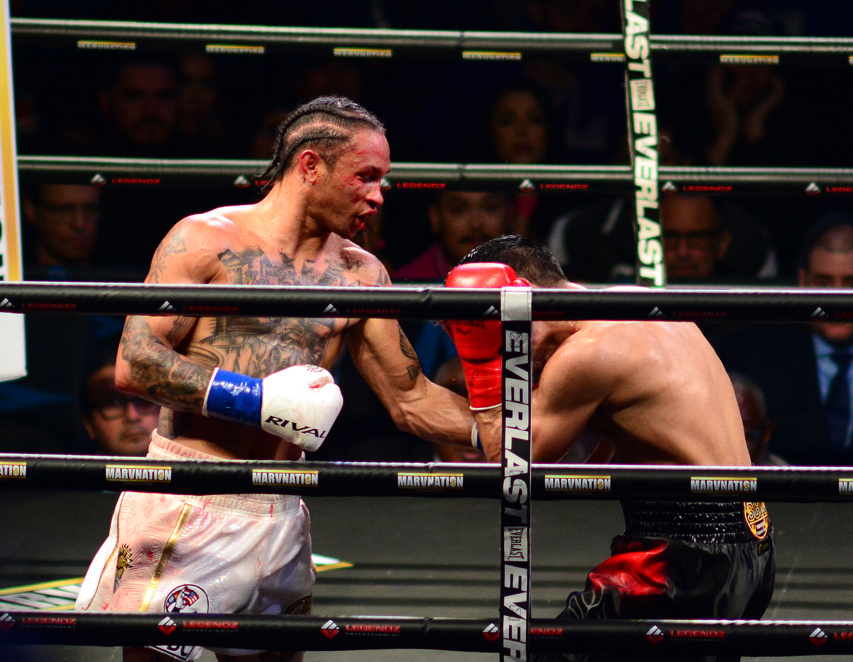 American Regis Prograis had to wait three years and a month for the opportunity to hold a world crown once again. On Saturday, November 26, at the Dignity Health Sports Park, in Carson, California, Prograis faced José Zepeda for the vacant WBC junior welterweight belt. Prograis was victorious by applying chloroform to Zepeda in the eleventh round.
Previously, on October 26, 2019, Prograis (28-1, 24 KOs) had lost the WBA junior welterweight belt by majority decision to Scotsman Josh Taylor at the 02 Arena in England.
Since then, the thirty-three-year-old Prograis who is based in Houston, Texas has obtained four wins (including vs Zepeda), all before the limit, as proof of the devilish power of his powerful fists, especially the left one.
Prior to the duel with Zepeda (35-2, 27 KOs), most experts favored Prograis, who after winning the intense battle, recognized that it was the most demanding fight of his career. "That dude is tough, tough, tough. He came to fight, he probably gave me one of my hardest fights, I'm not even gonna lie," said Prograis. "This dude is tough, bro. I've got so much respect for you. You prepared me to get this belt and hold this belt. I congratulate you. All the best to you, bro. Don't stop, I feel like you can still be a world champion."
Almost from the very beginning of the fight, Prograis showed greater speed with his hands and legs, and a general sense of technical superiority over Zepeda, who in the second round opened up a wound above his left eye with a legal blow.
From then on, Prograis's strong impacts gradually undermined Zepeda's resistance. Zepeda arrived totally exhausted in the eleventh round, where he received a straight left to the face, putting him in poor condition. A run with both fists from Prograis knocked him down and referee Ray Corona called the match with 59 seconds remaining in the round. This is the first setback that Zepeda has suffered by knockout in professional boxing.
On several occasions, Prograis has stated that he wants revenge against the undefeated Taylor (19-0, 13 KOs), but now, by order of the WBC, he must face American José Carlos Ramírez (27-1, 17 KOs).
Ramírez, 30 years old, is currently ranked second by the WBC. In February of 2019, in his second defense of his 140-pound belt, he defeated Zepeda by majority decision.
Twenty-five months later, Ramírez succumbed by unanimous decision to Taylor at the Virgin Hotels in Las Vegas, enabling the Scotsman to become the undisputed king of the category by winning the four most prestigious belts (WBA, WBC, WBO, IBF).
Recently, Ramírez expressed an interest in dueling with the main 140-pound contenders, including a second fight with Zepeda; although he did not rule out clashing with Prograis or Taylor. "Every fighter has the same amount of risk," said Ramirez. "We're a little under-promoted compared to other weight classes but I think that the best fights are at 140. You see guys fighting twice or three times, doing a trilogy. Honestly, I would love to face Regis, because I've never faced him. I would love to make the rematch with Zepeda, because he's such a good fighter. Obviously I want Josh Taylor, man. I want Josh Taylor bad."
Photo credit: Al Applerose
Article submitted by Jorge Juan Alvarez in Spanish.
Please note any adjustments made were for clarification purposes and any errors in translation were unintentional.
To comment on this story in the Fight Forum CLICK HERE
Regis Prograis and Fabio Wardley Excelled on the last Saturday of November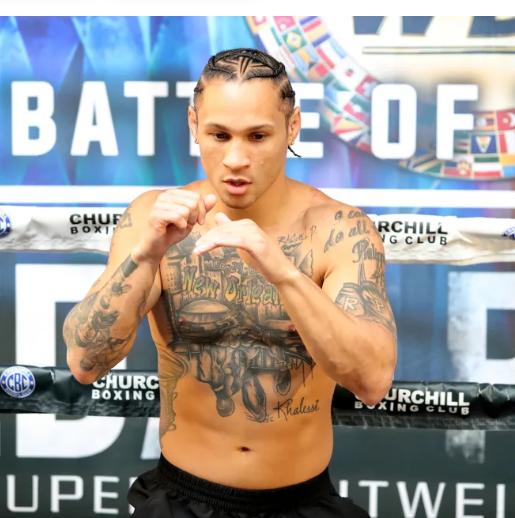 Two fighters at different stages of development – Regis Prograis and Fabio Wardley – made great gains this past weekend. Prograis, a junior welterweight, was already recognized as one of the top fighters in his weight class, but had become something of a forgotten man. Wardley stepped up in class and collapsed Nathan Gorman in the third round, registering his fourteenth straight knockout.
Prograis got a lot of ink as he was climbing the ladder, partly because of his back story. Uprooted from New Orleans by Hurricane Katrina — the awful storm demolished his family's home — Prograis found refuge in Houston but his tie to the city of his birth remained strong. The tattoos that cover his chest pay homage to NOLA, the city where he spent the first sixteen years of his life.
Then there was that colorful nickname, Rougarou, a mythical creature in Cajun folklore, similar to a werewolf. In a sport littered with hackneyed nicknames, Prograis had one that stood out from the pack.
Of course, boxing writers would not have become enamored of him if he wasn't also charismatic inside the ropes. "Prograis is a true rarity in boxing, a pressure fighting southpaw who slips and parries punches while moving forward in a patiently destructive way that might even make the great Roberto Duran feel proud," wrote Kelsey McCarson in an article that appeared on these pages.
This story ran as Prograis was preparing for his first world title fight, a match with Kiryl Relikh for the WBA 140-pound belt. Prograis won every round before stopping Relikh in the sixth. In the process, Rougarou became the first New Orleans fighter to win a major world title since Willie Pastrano controversially out-pointed Harold Johnson in 1963.
Prograis vs. Relikh was also a semifinal contest in the 140-pound division of the World Boxing Super Series, an 8-man invitational tournament. It boosted Prograis into a match with IBF belt-holder Josh Taylor, an undefeated Scotsman. They met in London on Oct. 20, 2019.
Heading into this match, there was a raging debate about whether Prograis belonged on the pound-for-pound list. That talk quieted after Taylor won a majority decision in a bruising skirmish so spirited it was named the TSS Fight of the Year.
After this tiff, Prograis receded into the shadows. His last three fights preceding his match this past Saturday with Jose Zepeda were against Juan Heraldez, Ivan Redkach, and Tyrone McKenna, none of whom offered much in the way of name recognition.
The fight with Heraldez was buried on a show anchored by a match between Gervonta "Tank" Davis and Leo Santa Cruz. His match with the uninspired Redkach played second fiddle to a fight between youtuber Jake Paul and Ben Askren. He fought Northern Ireland's McKenna on a card in Dubai that got very little attention in the United States.
Prograis was favored to defeat Jose Zepeda when they met this past Saturday at a sports park in the Los Angeles County city of Carson, but Zepeda, an LA-area native, represented his strongest test since he went overseas to fight Josh Taylor. Zepeda's only losses had come on the road in title fights with Terry Flanagan and Jose Carlos Ramirez. He dislocated his shoulder against Flanagan, forcing him to retire after two frames, and lost a majority decision to Ramirez in Fresno where Ramirez had a big following. His 35-2 (27) record included a stoppage of Ivan Baranchyk in a wild slugfest at the MGM Bubble in Las Vegas, a runaway pick for the 2020 Fight of the Year.
Zepeda edged the first round, a feeling-out round for Prograis, and held his own in round two, but from that point on until the fight was stopped in the 11th round, it was all Prograis. Indeed, his performance called to mind Vasiliy Lomachenko on one of Lomachenko's best nights.
The 140-pound weight class is top-heavy with talent. In addition to Prograis, Taylor, and Ramirez, there's Teofino Lopez plus Gervonta Davis and Devin Haney, both of whom appear poised to move up in weight. Prograis wants a rematch with Taylor, but the best guess is that he will fight Ramirez next. Regardless, he has emerged from the shadows at age 33 and figures to finally cash in on his immense talent.
Wardley
Fabio Wardley's bout this past Saturday in London with Nathan Gorman attracted more buzz than the main event (Dillian Whyte vs Jermaine Franklin) and delivered more entertainment, notwithstanding the fact that it lasted less than three full rounds.
Wardley, who turns 28 next month, hails from the historic English port city of Ipswich, near the North Sea. He was 14-0 heading in and had stopped his last 13 opponents, but there were a lot of doubts about him. His amateur experience, as it were, consisted of only four white-collar bouts and as a pro he had answered the bell for only 35 rounds. Gorman, Tyson Fury's cousin, had come up short in his first crossroads fight, getting blitzed by former amateur rival Daniel Dubois, but that was his only setback in 20 pro fights.
Gorman had all the best of it in the opening round, repeatedly finding a home for his right uppercut, and in the second frame he busted Wardley's nose wide open. But the site of his own blood emboldened the Ipswich man who decked Gorman twice before the round was over and then, in the next frame, decked Gorman again, bringing forth the white towel from Gorman's corner.
Fabio Wardley, who carried 240 pounds on his six-foot-five frame, remains very much a work in progress – foremost, he needs to tighten up his defense – but with the victory he claimed the British heavyweight title vacated by Joe Joyce and stamped himself as arguably the best of the next generation of British heavyweights.
To that list one can add the name of Johnny Fisher, the Rumford Bull, who is built along the same lines as Wardley. A hot ticket-seller with a rugby background, Fisher, 7-0 (6 KOs) is also very much a work in progress, but a fight between him and Wardley, even at this juncture of their young careers, would be a box-office bonanza.
Regis Prograis photo credit: Tom Hogan / Hogan photos
Arne K. Lang's latest book, titled "George Dixon, Terry McGovern and the Culture of Boxing in America, 1890-1910," has rolled off the press. Published by McFarland, the book can be ordered directly from the publisher (https://mcfarlandbooks.com/product/clash-of-the-little-giants) or via Amazon.
To comment on this story in the Fight Forum CLICK HERE