Marc Ratner: From The Theater Of The Unexpected To The Boxing Hall of Fame
By ARNE K. LANG
In 1992, Marc Ratner succeeded his close friend, the late Chuck Minker, as the Executive Director of the Nevada State Athletic Commission. During his tenure, the regulatory body that he superintended came to be recognized as the paragon of state boxing commissions. This past December, Ratner learned that he had been selected to the International Boxing Hall of Fame in the non-participant category. He and his fellow inductees in the Class of 2016 will be formally enshrined on June 12.
Ratner will forever be associated with blood sports — boxing and now MMA – but as a sports official he has worn many hats. He has refereed football and basketball games at the high school and college levels, has operated the shot clock at UNLV basketball games for almost 35 years, and still finds time to moonlight as the commissioner of the Southern Nevada (High School) Officials Association, a post he has held since 1991.
Ratner wasn't born in Las Vegas, but has lived here since the mid-1950s which almost qualifies him as a pioneer. To say that the city has changed during his lifetime would be a great understatement. There were four high schools in the entire county when Ratner's parents settled here to establish their beauty and barber supply business. Today there are 32, and that doesn't include the magnet schools without sports programs.
Ratner spent his first year of college at nascent UNLV, then known as Nevada Southern University, a place that many of the locals disparaged as Tumbleweed Tech. He played on the baseball team, batting. 400 ("two-for-five," he elaborates, grinning sheepishly). He then transferred to the University of Nevada in Reno, a school with actual dormitories, where he majored in business administration.
Back in Las Vegas, Ratner was a player-coach on the town's best slow-pitch softball team and took up officiating, starting with Pop Warner and high school JV games. He would eventually work three bowl games, the last of which was the Jan. 2, 2006 Cotton Bowl pitting Alabama against Texas Tech. Earlier that season, Ratner was assigned to work a Notre Dame home game (the Fighting Irish hosted BYU), his most treasured assignment as a football official. He was thrilled to be on the same field where so much history was made.
During the game, which Notre Dame won handily, the Notre Dame coach, Charlie Weis, saw fit to appraise the officiating crew. "You guys are horse****," Weis barked at Ratner. Such is the life of a sports official for whom a thick skin is mandatory.
Ratner climbed the ladder in boxing too, starting as an inspector and then taking on the role of chief inspector. In his most memorable assignment, he was hitched to Sugar Ray Leonard and Angelo Dundee when Leonard met Marvin Hagler in their 1986 mega-fight.
That match was one of many big fights held outdoors at Caesars Palace and Ratner, in common with many others who were on the scene in those days, believes that there was a special aura to those big outdoor fights that was lost when the sport moved indoors.
Ratner never envisioned becoming the face of the boxing commission – he was quite content working as an inspector for Chuck Minker – but all that changed when Minker was diagnosed with a rare form of lung cancer, a disease that took his life at the age of 42. Several people applied for Minker's post, but Ratner, who was in many ways an extension of his good friend Minker, was the logical successor.
In the memorable words of Larry Merchant, boxing is the theater of the unexpected. Ratner was in his customary seat, smack against the ring apron, when "Fan Man" intruded upon the middle fight of the Bowe-Holyfield trilogy and again at the infamous "bite fight," another bout in which Evander Holyfield was a principal.
Barely a minute was gone in the seventh round of Bowe-Holyfield II when paraglider James Miller, forever immortalized as "Fan Man," swooped down from the sky. He and the motorized gizmo to which he was harnessed landed on the ropes in Riddick Bowe's corner, only to disappear into the crowd, submerged beneath a swarm of angry ringsiders beating him to a pulp. There never was a moment more surreal at a sporting event.
"My training as a sports official," says Ratner, "taught me that whenever there is a sudden interruption, as sometimes happens when there is a disturbance in the crowd, the first order of business is to check with the timekeeper. I informed each of the judges how much time had elapsed and told them to hang tight as they may have to score the round." (The most bizarre round in boxing history, lasting almost 24 minutes from start to finish, wasn't easy to score. One judge gave it to Bowe, the other to Holyfield, and the third scored it a draw.)
Ratner recalls that the incident could have easily bubbled into a full-scale riot. "The unsung hero that night was Michael Buffer," he says, recalling that Buffer had the presence of mind to take the microphone and say the right things to keep the audience calm.
The "bite fight" was actually the "bites fight" (plural). When Mike Tyson bit Evander Holyfield's ear the first time, it wasn't obvious to anyone other than referee Mills Lane who called "time out" and informed Ratner what had just transpired. "He bit him. I'm going to disqualify him," said Lane.
Recalling the incident in a discussion with Los Angeles Times sportswriter Bill Dwyre, Ratner alluded to his background as a football official. "I know how serious it is to toss somebody," he said. "When one of my crew comes to me and says a player should be thrown out, I slow it down, ask some more questions."
"Are you sure (you want to disqualify him)," he asked Lane. When informed by ring physician Edwin Homansky that Holyfield was fit to continue and that his corner wanted the fight continue, they allowed the bout to resume. But Mills Lane wasn't going to tolerate any more bites and Tyson wasn't done chomping.
Imagine the brouhaha that would have ensued if Tyson had gone on to win the fight. Ratner would have been raked over the coals for second-guessing the referee.
In hindsight, the situation was handled smartly and, typical of Ratner, he gives all the credit to Mills Lane. Marc isn't the sort to pat himself on the back. Indeed, he concedes that he may have erred when he didn't send the combatants back to their dressing rooms when Fan Man crashed the Bowe-Holyfield fight. It was the first Saturday of November and there was a chill in the air.
Ratner's 14-year run as the head of the boxing commission ended in May of 2006 when he left to join Ultimate Fighting Championship, the company founded by the Fertitta brothers, Lorenzo and Frank, second-generation Las Vegas casino moguls, and their longtime friend Dana White. Ratner's hiring, wrote Kevin Iole, "is a sign to the establishment that the company is for real and that mixed martial arts is about to enter the mainstream."
In his post as Vice President of Government and Regulatory Affairs, Ratner was charged with breaking down the legal barriers that made MMA verboten in many jurisdictions. Today the sport is legal everywhere in North America with the exception of New York where an MMA bill has passed the Senate seven consecutive years only to die before reaching the floor of the Assembly. (There's little doubt that the politicians that sabotaged the bills were beholden to union leaders. The Nevada Culinary Union, which is under the umbrella of the Hotel Employees and Restaurant Employees Union, a national organization, has been at loggerheads with the Fertitta brothers for more than a decade.)
The UFC has staged events in places where there was no regulatory body. It was left to Ratner to supervise the weigh-in, hire all the officials, make certain that an ambulance was at the ready, and so forth. Basically he reprised the role that he had with the boxing commission. As MMA has become a global phenomenon, finding local officials to work the UFC cards has become less problematic.
In the last 12 months alone, the UFC has staged shows in Mexico, Brazil, the Philippines, Poland, Germany, South Korea, Japan, Ireland, Scotland, England, and Australia. In a world geography trivia test, Marc Ratner would knock the socks off anyone from his old neighborhood.
The Las Vegas headquarters of the UFC will soon have a new address. The massive complex, which will consolidate all of their facilities in one location, will include a training center staffed by specialists in various branches of physical therapy and sports medicine. No boxing promotion company ever operated on the scale of the UFC whose operation resembles that of a National Football League team.
When Ratner learned that he had been selected to the International Boxing Hall of Fame, he was overwhelmed with emotion. Gerry Cooney, among many others, reached out to congratulate him, as did retired NBA referee Joey Crawford and retired NFL official Jerry Markbreit, Marc's favorite football "zebra." There is a camaraderie among sports officials that transcends the sport with which they are identified.
When Ratner served on the boxing commission, he was obligated to sit on the dais at press conferences and say a few words into the microphone. He never said more than a few words, deflecting the spotlight to the boxers. IBHOF inductees are encouraged to keep their acceptance speeches short, ideally no more than eight minutes. There is scant chance that Marc will run over and whatever he says will be heartfelt.
The Hauser Report: Garcia-Redkach and More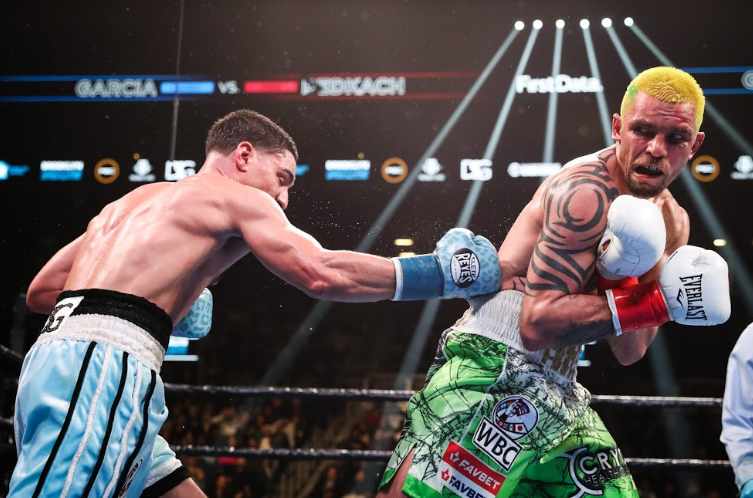 Boxing made its debut at Barclays Center on October 20, 2012, with a fight card headlined by four world title bouts. Danny Garcia, Erik Morales, Paulie Malignaggi, Peter Quillin, Devon Alexander, Danny Jacobs, and Luis Collazo were in the ring that night. The franchise grew nicely. Fans who went to Barclays saw good featured fights with solid undercard bouts. But as of late, the arena's fistic offerings have faded.
Barclays cast its lot with Premier Boxing Champions. And PBC has moved its prime content to greener pastures (green being the color of money). There were five fight cards at Barclays Center in 2019. Each one struggled to sell tickets.
January 25 marked the thirty-ninth fight card at Barclays. The arena was half empty. The announced attendance was 8,217 but that included a lot of freebies. There were six fights on the card. As expected, fighters coming out of the blue corner won all of them. That's what happens when 6-0 squares off against 2-10-1.
Three of the fights were televised by Showtime Championship Boxing, which has also been diminished as a consequence of a multi-year output deal with PBC.
In the first of these bouts, Stephen Fulton (17-0, 8 KOs) and Ukrainian-born Arnold Khegai (16-0, 10 KOs) met in a junior-featherweight bout. Each had fought the usual suspects en route to their confrontation. There was a lot of holding and rabbit-punching which referee Steve Willis ignored. Eventually, Fulton pulled away for a unanimous-decision triumph.
Next up, Jarrett Hurd (23-1, 16 KOs) took on Francisco Santana (25-7, 12 KOs).
Hurd is a big junior-middleweight who held the WBA and IBF 154-pound titles until losing to Julian Williams last year. Santana is a career welterweight who had lost three of his most recent four fights and had won only three times in the last five years.
Hurd was expected to walk through Santana. But he was strangely passive for much of the fight, which led to the strange spectacle of Santana (the noticeably smaller, lighter-punching man) walking Jarrett down for long stretches of time. Francisco is a one-dimensional fighter and was there to be hit. When Jarrett let his hands go, he hit him. But he fought like a man who didn't want to fight and didn't let his hands go often enough.
By round seven, the boos and jeers were raining down. Hurd won a unanimous decision but looked mediocre. That's the most honest way to put it. One wonder what tricks losing to Julian Williams last year played with his mind.
Also, it should be noted that, when the winning fighter thanks God in a post-fight interview and the crowd (which supported Jarrett at the start of the bout) boos at the mention of The Almighty, there's a problem.
"The crowd didn't love it," Hurd acknowledged afterward. "But you gotta understand; I got the unanimous decision and I did what I wanted to do."
The main event matched Danny Garcia (35-2, 21 KOs) against Ivan Redkach (23-4-1, 18 KOs).
Garcia had a nice run early in his career, winning belts at 140 and 147 pounds. But later, he came out on the losing end of decisions against Keith Thurman and Shawn Porter. Other than that, he has gone in soft for the past five years.
Redkach is a junior-welterweight who had won 5 of 10 fights during the same five-year time frame.
There was the usual pre-fight nonsense with Garcia telling reporters, "We picked Redkach because he's dangerous and we knew he'd be tough." But in truth, Redkach had been whitewashed by Tevin Farmer at 135 pounds and was knocked out at the same weight by John Molina Jr (who never won again).
Garcia, like Hurd, was a 30-to-1 betting favorite.
Redkach fought a safety-first fight. Also, safety second and third. There wasn't one second when it looked as though he had a realistic chance of winning the fight or fought like he did.
One of the few proactive things that Ivan did do was stick out his tongue from time to time when Garcia hit him. Then, at the end of round eight, he bit Danny on the shoulder while they were in a clinch. At that point, one might have expected referee Benjy Esteves to disqualify Redkach. But Esteves seemed to not notice.
Rather than go for the kill after the bite, Garcia eased up and cruised to a unanimous decision. Meanwhile, by round eleven, the crowd was streaming for the exits. Most of the fans were gone by the time the decision was announced.
Garcia and Hurd had set-up showcase fights scheduled for them. And neither man delivered the way he should have.
Meanwhile, a final thought . . . Sunday, January 26, would have been Harold Lederman's eightieth birthday.
Harold was the quintessential boxing fan and loved the sport more than anyone I've known. He never missed a fight at Barclays Center unless his health prevented him from coming or he was on the road for HBO. He died eight months ago.
As Saturday night's fight card unfolded, I imagined Harold sitting beside me. He would have had a kind word for everyone who came over to say hello and loved every minute of it. Harold Lederman at the fights was a happy man.
Photo credit: Amanda Westcott
Thomas Hauser's email address is thomashauserwriter@gmail.com. His most recent book — A Dangerous Journey: Another Year Inside Boxing — was published by the University of Arkansas Press. In 2004, the Boxing Writers Association of America honored Hauser with the Nat Fleischer Award for career excellence in boxing journalism. On June 14, 2020, he will be inducted into the International Boxing Hall of Fame.
Check out more boxing news on video at The Boxing Channel 
To comment on this article in The Fight Forum CLICK HERE
Fast Results from Brooklyn: No Surprises as Garcia and Hurd Win Lopsidedly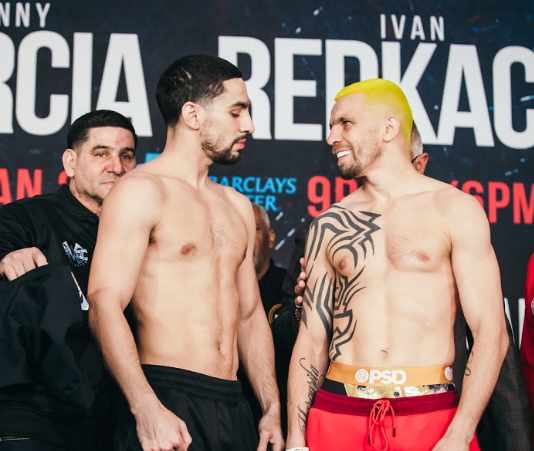 Tonight, Philadelphia's Danny Garcia made his eighth appearance at Barclays Center. Garcia's 2017 fight with Keith Thurman drew 16,533, the attendance high for a boxing show at the arena. A far smaller crowd was in attendance tonight to see Garcia take on Ivan Redkach in a non-title fight slated for 12 rounds.
Redkach, a 33-year-old LA-based Ukrainian, is a southpaw. That's no coincidence. Garcia hopes to land big-money fights with Errol Spence and/or Manny Pacquiao, both southpaws.
Redkach (23-4-1 coming in) turned his career around in his last fight with a career-best performance, a sixth-round stoppage of former two-division title-holder Devon Alexander, a 15-year pro who hadn't previously been stopped. But there was a class difference between he and Danny Garcia, a former WBA and WBC 140-pound world title-holder and former WBC 147-pound champion.
Garcia (35-2, 21 KOs) was simply sharper. His workrate slowed late in the fight, allowing the game Redkach to steal a few rounds, but at the final gun he was relatively unmarked whereas Redkach was conspicuously bruised. The scores were 118-110 and 117-111 twice. The crowd booed at intervals, understandable as they were subject to a drab 6-fight card that was even less interesting than it was on paper.
Co-Feature
In the 10-round co-feature, Jarrett Hurd, making his first start since losing his WBA/IBF super welterweight title to Julian Williams last May, went on cruise control from the opening bell and jabbed his way to a lopsided 10-round decision over Francisco Santana. Hurd, who improved to 24-1, finally let loose late in the 10th frame, putting Santana (25-8-1) on the canvas with a succession of left hooks, but by then many in the crowd had probably nodded off.
This was Hurd's first fight with new trainer Kay Koroma who has drawn raves for his work with America's elite amateurs. The scores were 97-92 and 99-90 twice. SoCal's Santana has now lost five of his last eight.
The opening bout on the main TV portion of the card was a 12-round super bantamweight contest between Philadelphia's Stephen Fulton and fellow unbeaten Arnold Khegai who currently trains in Philadelphia.
Fulton (18-0, 8 KOs) simply had too much class for Khegai (16-1-1), a Ukrainian of Korean heritage. Although Khegai frequently backed Fulton into the ropes, the Philadelphian had an air-tight defense and connected with many more punches. The fight went the full 12 with Fulton prevailing by scores of 116-112 and 117-111 twice.
If the WBO has its way, Fulton will proceed to a fight with Emanuel Navarrete, but don't hold your breath as Navarrete is promoted by Bob Arum who undoubtedly wants to extract more mileage from him before letting him risk his belt against a crafty fighter like Stephen Fulton.
Photo credit: Amanda Westcott / SHOWTIME
Check out more boxing news on video at The Boxing Channel 
To comment on this story in The Fight Forum CLICK HERE
Sacramento Honors Diego 'Chico' Corrales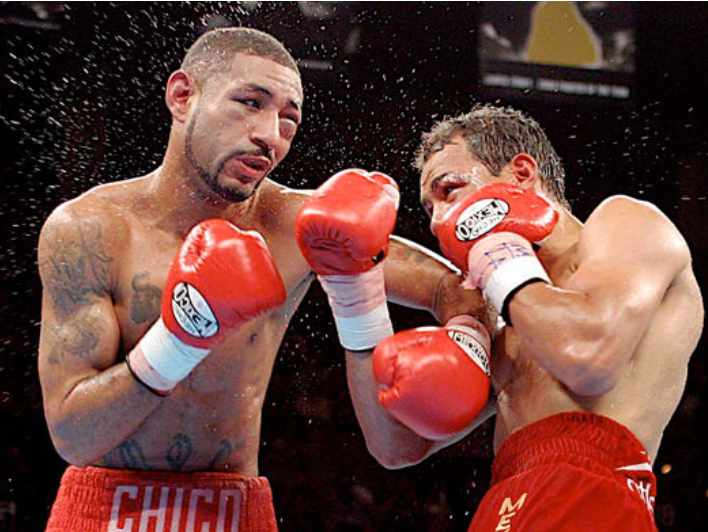 Tonight (Saturday, Jan. 25) former two-division world boxing champion Diego "Chico" Corrales will be posthumously inducted into the Sacramento Sports Hall of Fame at the organization's eighth annual induction ceremony at the Thunder Valley Casino Resort.
Corrales, who grew up in Sacramento, the son of a Columbian father and a Mexican mother, turned pro at age 18 and went on to compile a record of 40-5 (33 KOs). He won his first title in 1999 with a seventh-round stoppage of previously undefeated Robert Garcia. Now recognized as one of boxing's top trainers, Garcia was making the fourth defense of his IBF 130-pound title.
Five years later, Corrales won the WBO world lightweight title with a 10th-round stoppage of Brazil's previously undefeated Acelino Freitas. That set up a unification fight with the WBC belt-holder Jose Luis Castillo.
Corrales and Castillo met on May 7, 2005, at Mandalay Bay in Las Vegas. To say they put on a great fight would be an understatement. The boxing writers in attendance will tell you that this was the greatest fight of all time. It was named Fight of the Decade by The Ring magazine.
The final round, the 10th, was unbelievable. Heading into the round, Corrales was ahead on two of the three scorecards, but his left eye was swollen nearly shut and during the round he was knocked down twice. No one would have faulted referee Tony Weeks for stopping the fight after the second knockdown. But, somehow, Corrales was able to rally, pulling the fight out of the fire with a barrage of punches that had Castillo out on his feet when Weeks waived it off.
Two years to the very day of this iconic fight, Diego "Chico" Corrales died in a motorcycle accident in his adopted hometown of Las Vegas when he rear-ended a car while traveling at a high rate of speed. He was 29 years old.
Corrales was a thrill-seeker. In a 2006 profile, Las Vegas Review-Journal boxing writer Kevin Iole enumerated these among Castillo's hobbies: jumping out of planes from 14,000 feet, bungee jumping from 400 feet, snowboarding in treacherous terrain and scuba diving amid a school of sharks. "He lived his life the same way he fought," said his promoter Gary Shaw, "with reckless abandon."
It might seem odd that it took so long for Corrales to be recognized by the Sacramento Sports Hall of Fame, but there was a period when Corrales's name was mud in his hometown and perhaps the organization's founder, Las Vegas sports radio personality T.C. Martin, a Sacramento native, thought it appropriate to let old wounds heal.
In 2001, shortly after suffering his first pro loss at the hands of Floyd Mayweather, Corrales pled guilty to felony domestic violence in the beating of his first wife and would serve 14 months in prison. "The whole family has worn a black eye for it," Diego's brother Esteban Corrales told Sacramento Bee reporter Marcos Bretan.
For all his recklessness, the incident didn't jibe with his persona. In the company of Las Vegas sportswriters, the soft-spoken and well-spoken Corrales came across as polite and humble.
Corrales, one of five inductees in the 2020 class, joins three other boxers already installed in the Sacramento Hall: Pete Ranzany, Loreto Garza, and Tony "Tiger" Lopez.
Ranzany, a welterweight, fought four former or future world champions and was a fixture in Sacramento rings in the late 1970's. Garza wrested the WBA super lightweight title from Argentina's Juan Martin Coggi in France and successfully defended the belt here in Sacramento with a one-sided conquest of Vinny Pazienza. Lopez, Sacramento's most popular fighter ever, made the turnstiles hum at the city's largest arena where he fought eight of his 14 world title fights beginning with his 1988 humdinger with defending IBF 130-pound champion Rocky Lockridge.
Among the speakers at tonight's confab will be Kenny Adams. Perhaps best known as the head trainer for the 1988 U.S. Olympic team that won eight medals in Seoul, Adams currently trains Nonito Donaire. He was with Diego Corrales for 24 fights, during which Corrales was 23-1, avenging the lone defeat by Joel Casamayor. Festivities start at 7 pm.
Check out more boxing news on video at The Boxing Channel 
To comment on this story in The Fight Forum CLICK HERE