Female Boxing Thrives in Latin America, Not in the U.S.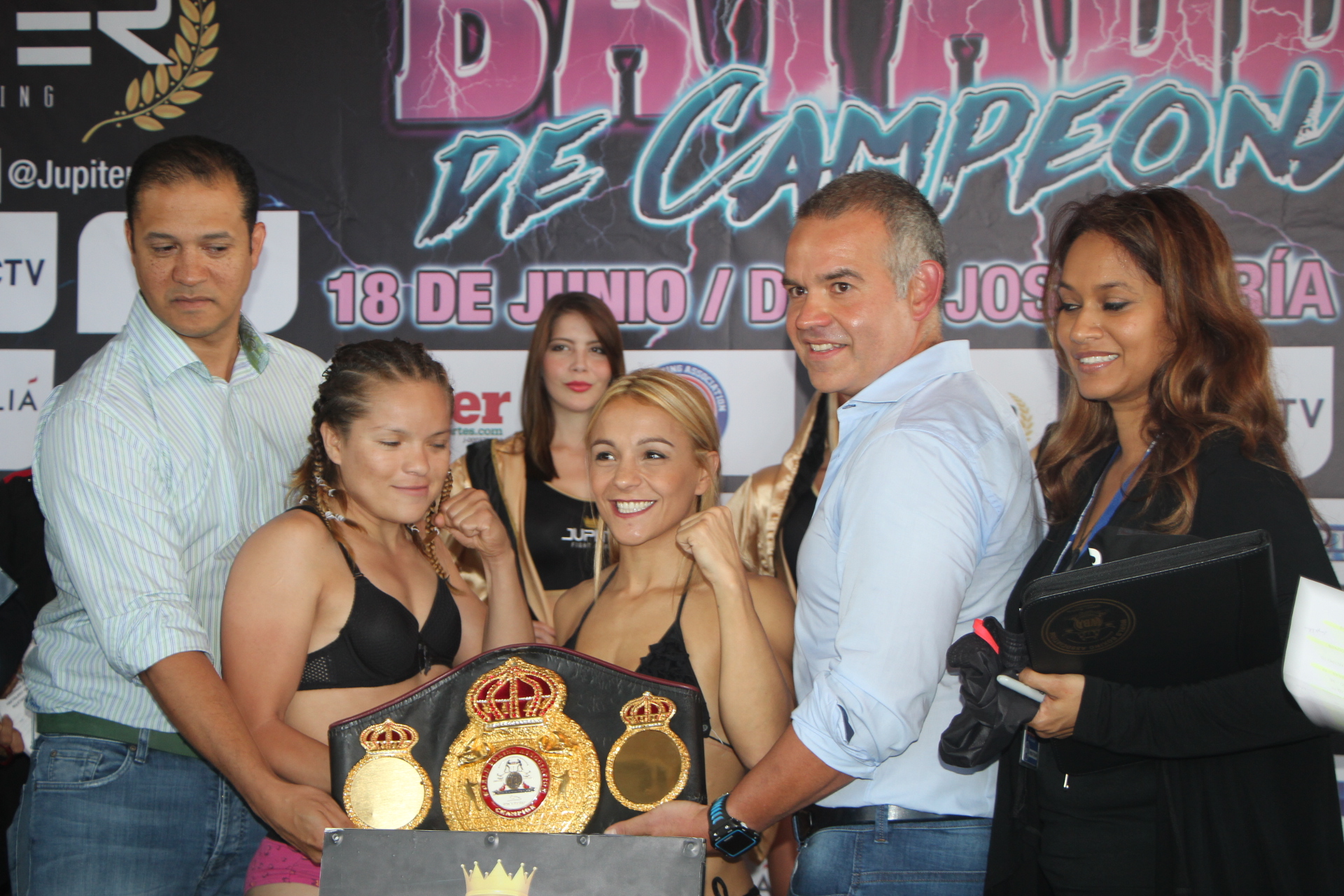 Female Boxing Thrives – Latin America thrives when it comes to female prizefighting.
Costa Rica's Hanna Gabriel (15-1-1) defends her WBO super welterweight world title against Uruguay's Katia Alvarino (8-2-1) on Saturday June 18, at Polideportivo Jose Maria Vargas in La Guaira, Venezuela. It's not the only female world title fight. Two others are included.
Gabriel is her country's greatest female athlete and perhaps its best known. She once headlined a fight card in the capital of San Jose, Costa Rica at a soccer stadium in front of nearly 20,000 rabid fans.
No North American female prizefighter can make that claim or even come close.
Gabriel's country has long backed her and she has become the role model for millions of young females in not just Costa Rica, but throughout Latin America.
In North America, very few major fight cards are hosting female world title fights, especially in the western region of the U.S. where pro boxing thrives.
One of the very few boxing promoters staging major female bouts has been K-2 Promotions.
Two female bouts were included when Gennady "Triple G" Golovkin defended his multiple middleweight titles last April at the Inglewood Forum. K-2 also tagged a female bout to Golovkin's previous defense in Los Angeles a year earlier.
But other than K-2 Promotions, Shane Mosley's GoBox Promotions and Bobby D Presents, the large boxing promotion companies have excluded women.
Drought is broken
After exclusion of female bouts for almost four years, Golden Boy Promotions finally staged a female boxing match in downtown Los Angeles when Seniesa "Super Bad" Estrada defeated Christina Fuentes on June 3.
The last time Golden Boy Promotions featured women was a bout in September 2012 between Melinda Cooper and Celina Salazar in Las Vegas. So when Estrada met Fuentes at Belasco Theater in downtown L.A., it made people notice.
Could this signal the re-emergence of female fights on major cards?
American female prizefighters are feared and respected worldwide for their skill and talent. But many American women are forced to fight overseas or in other countries. The U.S. has the talent.
Mighty McMorrow
Melissa McMorrow recently won the WBO flyweight title a second time. She has never been defeated while holding the WBO belt but twice was stripped for inactivity.
It's a shame.
"They sent me an email to tell me," said McMorrow of the WBO organization informing her that her title hold was no longer because she could not find a promoter willing to stage her world title fight. Time had elapsed.
McMorrow and most American female prizefighters have long suffered lack of support in their own country. It's a sad statement but perhaps Golden Boy's recent inclusion of a female bout marks a change in things.
"I am so thankful to Golden Boy for recognizing the value in us female fighters, and look forward to more fights like these," said Seniesa Estrada after her fight on June 3.
This Saturday another American will be fighting for a world title in another country. San Diego's Jolene Blackshear (9-7) challenges WBA minimum weight titlist Anabel Ortiz (20-3) of Tepic, Mexico for the title in Tijuana, Mexico at Auditorio Municipal. Blackshear, 46, is a former light flyweight world champion. Ortiz, 29, is making the seventh defense of the title she first won in July 2013.
But like McMorrow, the San Diego prizefighter is forced to fight on foreign territory.
Ignoring female fighters seems to be a west coast thing. In the east, Heather Hardy and Amanda Serrano both signed with DiBella Entertainment and have participated on major cards in New York.
McMorrow, who lives in the San Francisco Bay area, has fought numerous times overseas and in Mexico, yet has not fought on American shores in four years and not even close to her hometown in seven years.
"I would love to fight in my hometown," said McMorrow, 34, whose last fight took place 16 months ago when she defeated Kenia Enriquez by split decision for the WBO flyweight title. "It's difficult to get a fight."
If Golden Boy Promotions jumps into the female fight game others could follow.
Female Boxing Thrives
Frank Erne Enters the Boxing Hall of Fame, a Well-Deserved Honor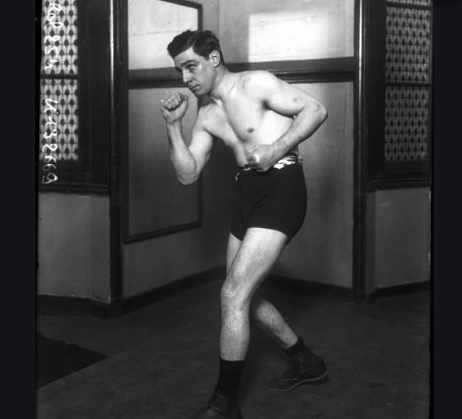 Former featherweight and lightweight champion Frank Erne was back in the news last week with the announcement that he is entering the International Boxing Hall of Fame. Erne and the other members of the newest class will be formally enshrined on Sunday, June 14, 2020.
Mr. Erne won't be able to attend the induction ceremony. He's been dead since 1954. However, were he alive, he would have the satisfaction of knowing that this honor is well-deserved.
Frank Erne competed from 1892 to 1908. Of his 53 documented fights, 21 were slated for 20 rounds or more. His opponents included George Dixon, Terry McGovern, and Joe Gans, all of whom went into the Hall of Fame with the inaugural class of 1990. Dixon, a bantamweight, McGovern, a featherweight, and Gans, a lightweight, are widely considered the best of all time in their respective weight classes. Erne defeated Dixon and Gans although both turned the table in rematches.
Frank Erne becomes the first fighter born in Switzerland to enter the IBHOF. When he was six or seven years old (reports vary) his parents moved to Buffalo, New York. In his early teens, he found work as a pinsetter in a bowling alley that was part of a larger complex that included a boxing gym. An instructor there, a boxing professor as they were called back then, took Erne under his wing.
Erne had his early fights in Buffalo. In 1895, he went to New York and attracted national notice with back-to-back knockouts of Jack Skelly. A Brooklyn man, Skelly was such an outstanding amateur that there was little backlash when he was sent in against featherweight champion George Dixon in his very first pro fight (the opening match in the Carnival of Champions at New Orleans, an event climaxed by the historic fight between John L. Sullivan and James J. Corbett).
Skelly was no match for Dixon and ultimately no match for Frank Erne. Two months after their second meeting, Erne had his first of three encounters with Dixon. Their initial go was a 10-rounder that was fairly ruled a draw. The rematch was set for 20 rounds with Dixon's title on the line.
Here's Nat Fleischer's post factum: "Erne proved to be in every respect a superior boxer on this occasion for he outpointed Dixon at long range, beat him decisively at in-fighting, had it all over Dixon in ring generalship, besides possessing courage and fearlessness." The ringside correspondent for the Brooklyn Daily Eagle, more measured in his assessment, called it "one of the fiercest and cleanest fights, as well as one of the most scientific, that has ever been seen."
Dixon had lost only twice previously, the first by disqualification and the other in a 4-round contest, and would win back his title in the rubber match, clearly out-pointing Erne in a match that went 25 rounds.
Making weight was always a problem for Frank Erne. After surrendering his title to Dixon, he moved up to lightweight and challenged George "Kid" Lavigne. They fought twice.
In their first meeting, Lavigne, the fabled "Saginaw Kid," retained his title thanks to a generous referee who scored the fight a draw, but justice was served in the rematch which was staged at an outdoor arena on the outskirts of Buffalo on the day preceding the Fourth of July,1899. Despite injuring his hand in the seventh frame, Erne gave Lavigne a good drubbing and had his hand raised at the conclusion of the 20-round match. He now had the distinction of winning world titles in two separate weight classes.
Erne first met Joe Gans in March of 1900 when Gans was still in his prime. The match, slated for 25 rounds, ended in the 12th when Gans suffered a terrible injury to his left eye – some reports say the eye was knocked out of its socket – from an accidental clash of heads. The referee ruled that Gans was at fault and awarded the contest to Erne. Based on newspaper reports, that was a fair adjudication as Erne, the defending champion, had all the best of it, leaving Gans in great distress at the end of the previous round.
Gans avenged the defeat 26 months later, knocking out Erne in the opening round at Fort Erie, Ontario, Canada, across the Niagara River from Buffalo. Erne's unrelenting battle with the scales had finally caught up with him.
Erne retired the following year, but returned five years later and had one more fight, winning a 10-round decision in Paris over British veteran Curly Watson in a fight billed for the welterweight championship of France. He remained in the French capitol for some time thereafter, working as a boxing instructor and promoting a few fights before returning to the United States and taking up residence in New York City.
Unlike most of his contemporaries, Frank Erne was no fool with his money, but the stock market crash of 1929 dealt him a severe blow and he was forced to seek regular employment. He became a salesman for a fuel company.
Erne won't be around for his formal IBHOF induction, but he wasn't completely forgotten in his dotage. On Jan. 9, 1951, the day after his 76th birthday, he received a special award at the silver anniversary dinner of the Boxing Writers Association, a gala affair held in the posh Starlight Room of the Waldorf-Astoria with entertainment provided by Jimmy Durante and other nightclub headliners.
Erne wasn't honored only for his in-ring exploits, but for his good character. During World War II and again during the Korean War, it was common for famous boxers of yesteryear to visit wounded soldiers in VA hospitals and regale them with stories from their fighting days to boost their spirits. Frank Erne, although he had some infirmities, was especially active in this regard, "indefatigable" said New York Times sports editor Arthur Daley.
Frank Erne, it says here, is a worthy addition to the International Boxing Hall of Fame. Kudos to the electors who placed him on their ballot.
Check out more boxing news on video at The Boxing Channel 
To comment on this story in The Fight Forum CLICK HERE
Avila Perspective, Chap. 76: Welterweights Vergil, Terence and More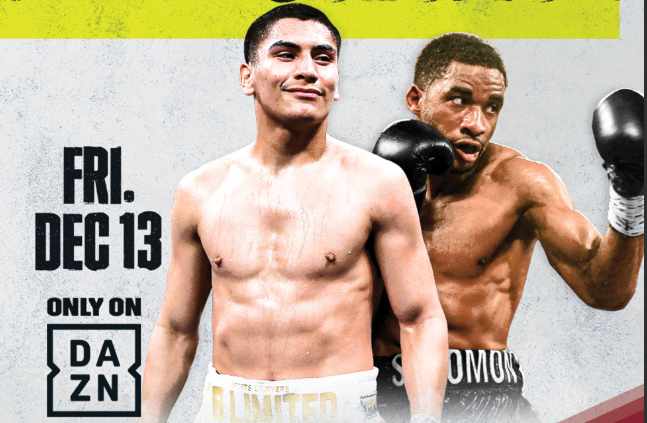 In the words of many boxing journalists, fighters, trainers and promoters "styles make fights," and those differences can lead to unpredictable outcomes. The weekend brings a few stylish welterweights on display from California to New York.
Welterweight ingénue Vergil Ortiz Jr. (14-0, 14 KOs) enters the world of unpredictability when he meets Brad Solomon (28-1, 9 KOs) a swift-moving veteran on Friday, Dec. 13, at Fantasy Springs Casino in Indio, Calif. DAZN will show the loaded Golden Boy Promotions fight card.
It's Ortiz's third year as a professional and fifth time performing at the Indio casino. It's also where he made his pro debut back in July 2016 when he began his remarkable string of 14 consecutive knockout wins.
Solomon, 36, has made a career of fighting pressure fighters and making them miss or defusing their power. Only Russia's Konstantin Ponomarev, who was trained at the time by Abel Sanchez, was able to hang a loss on the Georgia fighter's ledger.
Can Ortiz handle the style difference?
"Vergil can do more than people think," said Vergil Ortiz Sr., father of the lanky welterweight slugger. "He can box any style."
As a professional, Ortiz has yet to fight someone like Solomon with his juke and move style of fighting. As an amateur he did face speedsters like Ryan Garcia. As a pro, this will mark his first in the prize ring. It should be interesting.
Power Packed Support
Knockout artist Ortiz leads a power packed-boxing card that includes a number of Golden Boy's best knockout punchers like Bektemir Melikuziev, Alberto Machado and Luis Feliciano. All of these guys can punch and are looking to put the cap on 2019.
That's a lot of firepower.
But also on the card is someone fighting for 360 Promotions named Serhii Bohachuk, otherwise known as "El Flaco." Just like Ortiz, Bohachuk has never allowed the final bell to be rung against 16 foes so far. He is going for 17 when he fights Carlos Galvan (17-9-1) in a super welterweight fight set for eight rounds. Don't expect to hear the final bell whenever the Ukrainian trained by Mexican style coach Abel Sanchez gets in the ring.
Bohachuk could be following in the footsteps of another guy formerly trained by Abel Sanchez named Gennady Golovkin. It's still too early, but he looks pretty good so far.
New York City
Top welterweight Terence Crawford (35-0, 26 KOs) defends the WBO welterweight title against Lithuania's Egidijus "Mean Machine" Kavaliauskas (21-0-1, 17 KOs) on Saturday, Dec. 14, at Madison Square Garden in Manhattan. ESPN will televise the Top Rank card.
In the crowded and talented world of the welterweights, Crawford could very well be the best of them all. If only he could prove it. The Omaha-Nebraska prizefighter has tried every enticement possible to lure Errol Spence Jr., Danny "Swift" Garcia, Shawn Porter and Manny Pacquiao. Nothing works.
What does work for Crawford has been a reputation as one of the best prizefighters in the world pound for pound. Some tab him as the very best especially when it comes to speed, agility and the ability to innovate on the spot. He has few peers.
Facing Crawford will be Kavaliauskas who trains in Oxnard with a number of Eastern Europeans including Vasyl Lomachenko. They share the same management. He's never faced anyone close in talent to Crawford. Except, maybe inside of his own gym.
"I'm not focused on no other opponent besides the opponent that's in front of me. My goal is to make sure I get the victory come this weekend, and that's the only person I'm focused on now," said Crawford. "Anyone else is talk. It goes in one ear and out the other. He's young, hungry and I'm not taking him lightly."
Crawford has been chasing stardom for a number of years. What better place than New York City's Madison Square Garden to showcase his skills to the public. At age 32, Crawford is running out of sand.
Lightweight Title Fight
The co-main event on Saturday at Madison Square Garden features IBF lightweight titlist Richard Commey (29-2, 26 KOs) defending against wunderkind Teofimo Lopez (14-0, 11 KOs).
But this weekend truly belongs to the welterweights.
Next Week
Southern California will be packed with boxing. It's a last gasp before the end of 2019.
Ontario, California will be hosting a very large Premier Boxing Champions fight card at the Toyota Center on Saturday Dec. 21.
WBC super welterweight titlist Tony Harrison finally defends against Jermall Charlo in a rematch and it won't be friendly. These guys hate each other.
"He's fake," said Harrison when they last met in Los Angeles for a press conference.
It won't be pretty when they meet next week.
Tickets are on sale. Go to this link for more information: https://www.toyota-arena.com/events/detail/premier-boxing-champions
Fights to Watch
Fri. DAZN 4:30 p.m. Vergil Ortiz (14-0) vs Brad Solomon (28-1); Serhii Bohachuk (16-0) vs Carlos Galvan (17-9-1).
Sat. Facebook 5 p.m. Diego De La Hoya (21-1) vs Renson Robles (16-6).
Sat. ESPN 6 p.m. Terence Crawford (35-0) vs Egidijus Kaviliauskas (21-0-1); Teofimo Lopez (14-0) vs Richard Commey (29-2).
Check out more boxing news on video at The Boxing Channel 
To comment on this story in The Fight Forum CLICK HERE
A Toast to Busy Bee Emanuel Navarrete, a Fighter from the Old School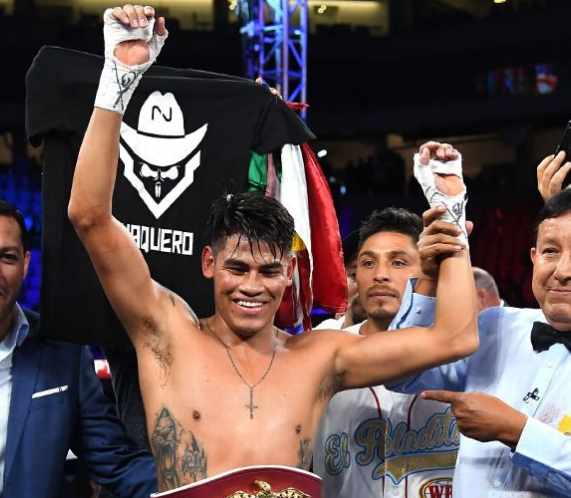 In the last 12 months, super bantamweight Emanuel "Vaquero" Navarrete has fought five times. That's close to Old School-type activity.
No one in Mexico gave Navarette much notice until he stopped Luis Bedolla Orozco (18-2) in Guadalajara in 2017. He turned more heads when he KO'd Filipino veteran Glenn Porras in January 2018 and fans outside Mexico began to take serious note of this no-nonsense youngster (now just 24) when he stopped Columbia's "El General" Jose Sanmartin (26-4-1) five months later.
That win, his eighth straight by stoppage, earned him an interim belt and opened the door to a world title shot. It came on Dec. 8, 2018 at Madison Square Garden against undefeated (20-0) WBO world super bantamweight champion Isaac "Royal Storm" Dogboe.
Navarrete, five inches taller at 5'7", shocked the hard-punching Brit (by way of Ghana) to win a decision and become the new champion. The scores were 115-113, 116-112, and 116-112, but more to the point, Dogboe's post-fight face looked like it had gone through the proverbial meat grinder. The tall Mexican had fought tall and picked the much smaller Dogboe apart with precise and pinpoint punching.
The rematch proved that Emanuel's first win was no fluke as he showed late round power in stopping Dogboe in the 12th. He again used his height advantage, showed great stamina and strength, was accurate with his punches, and once again the too-short Dogboe's face looked like he was on the wrong end of a big city mugging.
His first title defense came against Francisco De Vaca (20-0) who is a fixture at the Celebrity Theater in Phoenix, Arizona. This one lasted three rounds as Vaquero ("cowboy" in English) used a neat uppercut to stun De Vaca in the second and then rendered a terrible beating in the third to end the fight—one that should have been halted earlier by referee Raul Caiz Sr. who seemed far more "brave" than the fighters.
On September 14, 2019, Navarrete used his signature wide left hooks and uppercuts to end matters in the middle of the third round against Juan Miguel Elorde (28-1). Juan Miguel, the grandson of Filipino boxing legend Gabriel "Flash" Elorde, made the mistake of engaging Navarrete in a firefight and lost. This one took place at the T Mobile Arena in Las Vegas and boxing fans now knew who this tall super bantamweight was.
In his most recent fight — this one in Mexico — Navarrete put on another display of accurate power punching to stop Francisco Horta (20-3-1) at 2.09 of round 4. After a somewhat typical slow start, Navarrete found his groove and began serious stalking, using looping combinations at strange angles inside and outside, finally catching Horta on the ropes in the fourth, ending matters with stunning closure. It was his 25th straight win dating back to 2012 when he was defeated by one Daniel Argueta by a 4-round decision.
Navarrete, one of seven current Mexican world title-holders, is now looking to unify at 122. He also might be interested in fighting Naoya Inoue if "Monster" moves up in weight, and given Inoue's recent fight with Nonito Donaire in which he showed that he is human after all, this one could be a sizzler.
As to his chances for "Fighter of the Year," they are probably slim, but that has nothing to do with whether he deserves it and everything to do with poor public relations. Yes, a solid case can be made for Josh Warrington, but enough with the Canelo, Loma, Usyk types who fight twice a year.
Emanuel Navarrete is more active than any other title-holder or top contender and has a KO percentage of 84% despite the fact that his last five opponents had a combined record of 108-5-1 coming in. And he has a fan-friendly style, stalking, stunning, and closing his opponents with controlled violence. In many respects, he fights like a pre-scandal and prime Antonio Margarito, except he is more technically sound. The fact is, Vaquero, the pride of San Juan Zitlaltepec, is super exciting and doesn't seem to have any noticeable weaknesses.
Ted Sares can be reached at tedsares@roadrunner.com
Check out more boxing news on video at The Boxing Channel 
To comment on this story in The Fight Forum CLICK HERE