Ten Notable Boxers From Nebraska Not Named Terence Crawford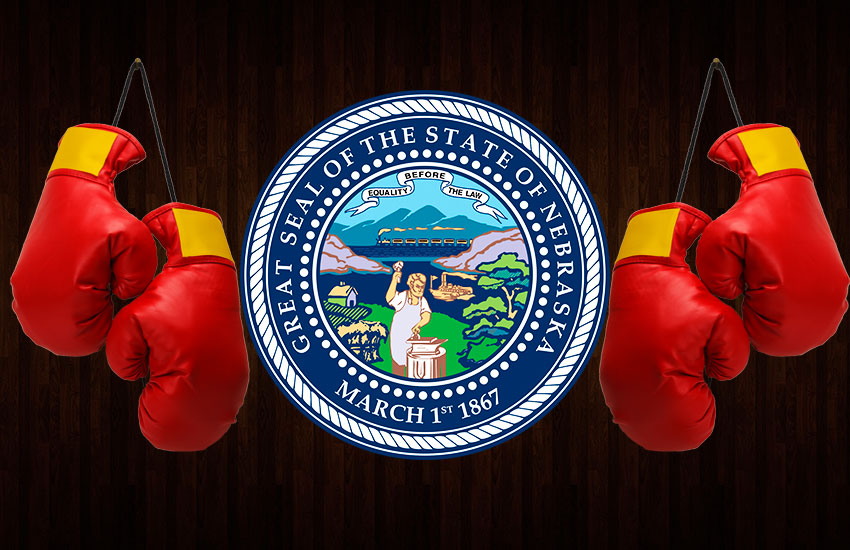 Terence Crawford meets Namibia's Julius Indongo at the Pinnacle Bank Arena in Lincoln, Nebraska on July 19th on ESPN. At stake are all the meaningful belts in the 140-pound division and for Crawford something more – a chance to cement his status as one of the top pound-for-pound fighters on the planet.
Regardless of whether he wins or loses or what he accomplishes in the next few years, Omaha's Crawford will reign supreme as the best boxer to emerge from the state of Nebraska. Granted, there isn't a whole lot of competition. The Cornhusker State, historically rural, lacks the demographic components one associates with a high incidence of prizefighters. However, there have been some very solid practitioners of the manly art with Nebraska ties and with Crawford riding so high, now would seem to be a good time to excavate them from the dustbin of history and acknowledge them.
Here are ten notable boxers who sprung from the soil of Nebraska. They are listed in order of notability, needless to say a subjective exercise.
Ace Hudkins, Valparaiso (68-20-13, 25 KOs)
Before Terence Crawford arrived on the scene, Ace Hudkins was unimpeachably the best boxer spawned in the Cornhusker State.
Born in Valparaiso, Hudkins made his pro debut in Lincoln in 1922 at age 16 and fought all over Nebraska during his tenderfoot days, appearing in such burgs as Alliance, Bridgeport, Central City, McCook, Tecumseh, and Wahoo. Twelve bouts into his pro career his record stood at 3-3-6, hardly the template of a man who would go on to become one of the most celebrated boxers of his era. But Hudkins got better as the competition got stiffer and became a big box office attraction in New York and Los Angeles.
Paul Gallico, one of America's most well-known sportswriters, about used up all the adjectives in his knapsack when he wrote that Hudkins was "tough, hard, mean, cantankerous, combative, fast, courageous and filled at all times with bitter and flaming lust for battle." He might have added that the Nebraska Wildcat, as he was dubbed, wasn't averse to bending the Queensberry rules.
In 1928, Hudkins challenged middleweight champion Mickey Walker at Comiskey Park, the home of the Chicago White Sox. Walker, who would be inducted into the International Boxing Hall of Fame with the inaugural class of 1990, won a split decision, but the consensus was that Hudkins was robbed. The multitude, which watched the fight in a driving rain, booed loudly when the verdict was announced. The rematch the next year in Los Angeles, which Walker won fairly, set a California record for gate receipts that stood for eighteen years.
Hudkins, who reportedly retired a millionaire, invested his ring earnings wisely. With several of his brothers he ran a thriving California company that leased horses and buckboards and such to producers of movie and TV westerns. He died in 1973 in Hollywood at age sixty-seven after a long battle with Parkinson's disease.
Ed "Bearcat" Wright (70-24-19, 42 KOs)
Born in 1897 in Brazoria, Texas, Wright represented Omaha throughout a career that lasted from 1919 to 1936. While still a raw novice he had four fights with venerable Sam Langford, the legendary Boston Tar Baby. There was an extenuating circumstance. Nebraska's ban on interracial matches wasn't repealed until 1923.
Wright likely had many more fights than those which have been documented. And don't be fooled by his record. In his day, men of his hue had to "do business" to put food on the table. He was stopped in four rounds by future heavyweight champion Primo Carnera at Omaha's minor league baseball park in 1932, but the outcome was almost certainly prearranged.
Wright had 30 fights in Nebraska rings and fought three other former or future world champions (Jack Johnson, Mickey Walker, and Max Baer). His son, also known as Bearcat Wright, was 8-0 as a pro boxer and had numerous regional and tag team titles bestowed upon him as a professional wrestler.
Luther McCarty (19-4-2, 15 KOs)
The White Hope Era paralleled the heavyweight title reign of Jack Johnson which lasted from Dec. 26, 1908 to July 4, 1915. The Caucasian hopefuls that tumbled out of the chute were a motley lot, but McCarty was legit.
Depending on the source, McCarty was born on a farm 30 miles southwest of Lincoln, on a ranch near McCook, or in a hollow somewhere in Hitchcock County. We'll take it on faith that he was actually born in Nebraska and had an emotional tie to the state.
It appears that McCarty was left to his own whiles at a very young age, whereupon he bummed around the country taking odd jobs while sating his wanderlust. He was in his late teens when he came to the fore in Los Angeles. De Witt Van Court, one of America's foremost boxing authorities, asserted that he showed considerably more promise than former champions Jim Corbett and Jim Jeffries at the same age.
McCarty died in the ring in 1913 at age twenty-one in Calgary, Alberta, in the first defense of his White Heavyweight Title. The punch that felled him didn't appear to pack much force, but it fractured his neck. He never fought in Nebraska but engaged in 4-round exhibitions with his traveling foil in opera houses in Lincoln and Omaha.
Ron Stander (38-21-3, 29 KOs)
During his fighting days, Stander hung his hat across the river from Omaha in Council Bluffs, Iowa; hence his nickname, the Bluffs Butcher. But Stander trained in Omaha, had twenty-six fights in Omaha, and settled in Omaha after leaving the sport.
In his 10th pro fight Stander knocked out Earnie Shavers, in hindsight a monster upset as Shavers came to be recognized as one of the hardest punchers in the history of the heavyweight division.
Stander's record stood at 23-1-1 when he challenged Smokin' Joe Frazier for the world heavyweight title at the Omaha Civic Auditorium in 1972 in what arguably ranks as the biggest single day non-football sporting event in the history of the Cornhusker State. He lasted only four rounds, but went out on his shield.
Art Hernandez, Sidney (46-20-2, 13 KOs)
The second oldest of the four fighting Hernandez brothers, the late Art Hernandez won five Nebraska Golden Gloves titles before turning pro in 1961. The former Sidney, Nebraska schoolboy had twenty fights in Omaha rings and fought extensively overseas, including five trips to France.
In 1964, Art Hernandez boxed legendary (albeit long-in-the-tooth) Sugar Ray Robinson to a draw at the Omaha Civic Auditorium. In 1969, he came out on the short end of a fight with former five-time world champion Emile Griffith, losing a split decision.
In retirement, Art Hernandez was the chief of security at Omaha's Douglas County Hospital.
Ferd Hernandez, Sidney (35-10-4, 7 KOs)
The oldest of the brothers, Ferdinand "Ferd" Hernandez won the National Golden Gloves welterweight title in 1960 as a member of the Omaha team that won the team title over the favored Chicago contingent.
Ferd had three of his first five pro fights in Omaha before being lured away by the siren song of Las Vegas. In 1965 he won a 10-round decision over Sugar Ray Robinson. Late in his career he went the distance with future Hall of Famers Nino Benvenuti and Luis Rodriguez.
In retirement, Hernandez became a world-class referee. He refereed four world title fights including the 1975 bout between Muhammad Ali and Ron Lyle. He died in 1996 at his brother Art's home in Omaha at age fifty-five.
(Note: Dale Hernandez, the youngest of the fighting Hernandez brothers, had the most natural talent. Unlike his brothers, he could knock a man out with one punch. He isn't included here because he was born and raised in Pierre, South Dakota.)
Carl Vinciquerra, Omaha (45-5-5, 25 KOs)
Vinciquerra took a leave from Creighton University where he was the starting fullback on the varsity football team to pursue his dream of Olympic glory. He represented the U.S. in the light heavyweight division at the 1936 Berlin games after winning a National Golden Gloves title.
Vinciquerra had most of his early fights in Chicago but had 16 fights in Omaha rings where he scored three wins over his former Creighton teammate and amateur rival Paul Hartnek.
Vince Foster, Omaha (30-4-1, 19 KOs)
A 1946 Midwest Golden Gloves champion, Foster, a welterweight, made a big splash in his debut as a Madison Square Garden headliner, overwhelming rugged 54-fight veteran Tony Pellone en route to a seventh round stoppage. "It was the most exciting victory scored in the Garden since Sandy Saddler's knockout of Willie Pep in October (of the previous year)," said the ringside correspondent for the Associated Press.
Half Irish and half Native American, Foster was here and gone in a flash. In his next outing at New York City's temple of fistiana, he was knocked out in the opening round by future world title challenger Charley Fusari. Two months later, he died when his car plowed into the back of a cattle truck in Pipestone, South Dakota, where he was visiting his two half-siblings who were enrolled in the Santee Sioux Indian boarding school. Akin to the ill-fated Luther McCarty, he was only 21 years of age.
Glen Lee, Edison (56-20-5, 22 KOs)
Born in the flyspeck village of Edison, not far from Grand Island which he eventually called home, Lee, a welterweight, made his pro debut in Omaha in 1933 and had thirteen of his first twenty-one fights in Nebraska rings before heading west where he became a popular attraction at LA's Olympic Auditorium.
His career was winding down when he fought a rubber match with the ultra-talented Ceferino Garcia on Garcia's home turf in Manila. Lee was TKOed in the 13th frame in what is recognized as the first world title fight ever held in the Philippines.
Lee's younger brother Don Lee was a welterweight contender during the 1940s.
Morrie Schlaifer, Omaha, (49-40-6, 25 KOs)
Before he regressed into a trial horse, Schlaifer was one rough customer. Active from 1920 through 1927, he fought all the top welterweights of his day. His best win came in 1925 when he stopped future welterweight champion Pete Latzo in the third round on Latzo's turf in Wilkes-Barre, Pennsylvania. (In a pro career that numbered 147 fights, Latzo was stopped only twice.)
Schlaifer holds the record for most fights in Nebraska (42). Thirty-nine of those fights were in Omaha.
NOTE: Records include newspaper decisions.
Honorable Mention: JOHNNY SUDENBERG – He lost his last 13 documented fights, plunging his ledger into the red, but the great Jack Dempsey, on his way up the ladder, found the Omaha Swede a tough nut to crack. They fought three times in bouts staged in Nevada mining camps. Dempsey won the last but the first two, both vicious encounters, were recorded as draws.
Honorable Mention: PERRY "KID" GRAVES – Hailing from Red Bluff in Cass County, near Plattsmouth, Graves laid claim to the world welterweight title in 1914 with a second round stoppage of five-time rival Johnny "Kid" Alberts (aka Albert Miskowitz) in Brooklyn. He continued fighting for 11 more years but never had another bout packaged as a title fight – such were the vagaries of his times.
Disqualified: MAX BAER — A murderous puncher and briefly the world heavyweight champion, the "Livermore Larruper" was born in Omaha but grew up on a ranch in Livermore, California, near Stockton, where he made his pro debut. He never fought in Nebraska.
Special Citation: BRUCE "THE MOUSE" STRAUSS — If Strauss had a business card, it likely read "have gloves, will travel." During his 14-year career (1976-1989) the affable leather-pusher, born and bred in Omaha, fought in twenty-three states, five Canadian provinces, and eight foreign countries. Dubbed the Prince of Palookas by the celebrated sportswriter Rick Reilly, Strauss appeared on the David Letterman Show where he recounted the time that he was knocked out twice in one night, the second under the pretense of being his twin brother.
Check out more boxing news on video at The Boxing Channel.
Daniel Jacobs Edges Past Gabe Rosado on a Matchroom card in Florida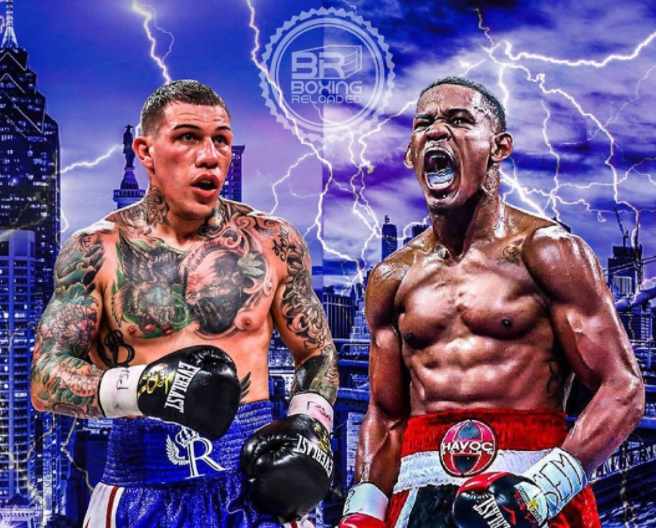 Former world champion Daniel Jacobs needed the last round to win by split decision against upset-minded Gabe Rosado and keep his place in line on Friday for lucrative super middleweight matchups.
But when the ring announcer erroneously announced the winner was from Philadelphia, confusion reigned for a moment until Jacobs was correctly called the winner.
Brooklyn's Jacobs (37-3, 30 KOs) jumped out ahead against Philly fighter Rosado (25-13-1, 14 KOs) and held on for the win in front of no fans at the Seminole Hard Rock Hotel and Casino in Hollywood, Florida. For a second, many thought Rosado had won.
Both were careful during the first three rounds measuring each other's distance and looking for openings to counter. There were very few.
It was the kind of fight expected by those who know boxing: two veterans with immense experience against top-flight world champions. Mistakes were few.
Jacobs, a former middleweight world champion, had fought Saul "Canelo" Alvarez and Gennady "GGG" Golovkin in close but losing efforts.
Rosado had battled Golovkin too, six years ago in a bloody affair that ended in a loss. He had also lost to other champions like Peter Quillin and Jermell Charlo. But none were able to knock him out.
Both were aware of each other's reputation. Bitter words had been exchanged for years and now they finally got their chance to prove their mettle and they did.
Though Jacobs was recognized as a knockout puncher, Rosado's resilience was just as well known. Both neutralized each other for most of the fight with their feints and jabs to the body. Neither was willing to leave openings for each other.
Jacobs scored big with a left uppercut at the end of the seventh round. While Rosado wowed viewers with a sizzling right cross in the 11th round.
It was 1950s style, boxing with intelligence. Each found it difficult to land combinations, let alone find openings to score knockout blows. Instead, they had to be satisfied with scoring enough to convince three judges the actual winner.
Neither was able to pull out ahead with any conviction.
After 12 rounds one judge saw Rosado the winner 115-113 while two others saw Jacobs the winner 115-113 to give him the win by split decision.
"It felt just a little weird. It felt like a sparring match," said Jacobs about fighting without fans in the audience. "This wasn't a valiant effort."
Rosado was certain he was the true winner.
"I thought I won the fight. I surprised him," said Rosado who trained with Freddie Roach for this fight. "I'm a veteran, I know how to fight."
Indeed, he does.
Jacobs now stands poised to fight one of many super middleweight champions in need of a marquee name.
"I live to see another day," he said honestly.
Other Bouts
Kazakhstan's Daniyar Yeleussinov (10-0, 6 KOs) proved he was not an easy touch and knocked out former world champion Julius Indongo (23-3, 12 KOs) to march forward in the welterweight division while grabbing the vacant IBF Inter-Continental title.
In a fight featuring southpaw versus southpaw Yeleussinov caught Indongo with a roundhouse left the first time they exchanged and down went the former super lightweight world champion. Indongo beat the count and survived the round.
Indongo wasn't as lucky in the second round as Yeleussinov again connected with a left and down went the fighter from Namibia again. He would not get up at 1:24 of round two giving the knockout win for Yeleussinov.
A battle between undefeated heavyweights saw Azerbaijan's Mahammadrasul Majidov (3-0, 3 KOs) use roundhouse rights to stagger the heavier Sahret Delgado (8-1) to win by knockout in the third round. Majidov actually helped Delgado get to his stool after knocking him out on his feet at 47 seconds of the third round.
Emmanuel Tagoe (32-1) defeated Mason Menard (36-5) by majority decision after a 10- round lightweight fight that saw a lot of clinching and leaning.
Nikita "White Chocolate" Ababiy (10-0) out-fought Detroit's Brandon Maddox (7-4-1) to win by unanimous decision after six rounds in a middleweight clash. Ababiy hurt Maddox with body shots but found Maddox more resilient than expected.
Check out more boxing news on video at the Boxing Channel 
To comment on this story in the Fight Forum CLICK HERE.
Pradabsri Upsets Menayothin, Ends the Longest Unbeaten Streak of Modern Times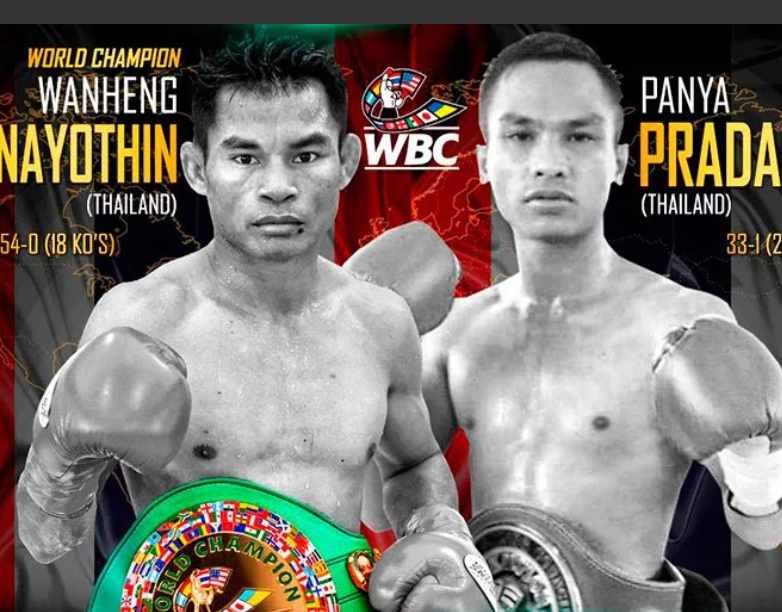 During the wee hours in the Americas, a big upset was brewing in Thailand. In Nakhon Sawan, a city roughly 150 miles north of Bangkok, Panya Pradabsri (aka Petchmanee CP Freshmart) out-pointed Wanheng Menayothin (aka Chayaphon Moonsri) in a domestic clash with international significance. Manayothin entered the bout with a 54-0 (18) record and was making the 13th defense of his WBC world minimumweight title.
Pradabsri had been defeated only once in 35 previous starts, but only 11 of his 34 victories had come against fighters with winning records. According to ringside reports, he kept Menayothin at bay with good fundamentals, a stiff jab, and good lateral movement. All three judges had it 115-113. The fight wasn't without controversy as Menayothin finished stronger and many folks scoring off the live video thought that he had done just enough to retain his title.
How good was/is Menayothin? That's a question that serious boxing fans will likely debate for decades.
In the summer of 2019, Menayothin signed a co-promotional deal with Oscar De La Hoya's Golden Boy Promotions. At time, GBP president Eric Gomez described him as one of the best fighters in the world. "We really want to bring him to the U.S. so people can see how talented he really is," Gomez told England's Sky Sports.
Menayothin was expected to make his U.S. debut in April of this year, but the pandemic ruined that plan. Earlier this year, he announced his retirement, but rescinded it after only two days.
Scottish boxing historian Matt McGrain, who has an exclusive arrangement with this web site, had lukewarm opinion of the Thai mighty-mite although he rated him the second-best 105-pound boxer of the decade, trailing only his countryman Thammanoon Niyomtrong (aka Knockout CP Freshmart).
"He is disciplined, strong, brings good pressure and is armed with a very decent range of punches," said McGrain, "(but his record) is comprised mostly of men any competent fighter would be expected to beat."
Although only one boxer from Thailand has been inducted into the International Boxing Hall of Fame (Khaosai Galaxy, class of 1999), the Southeast Asia nation has produced some outstanding boxers over the years – Chartchoi Chionoi, Sot Chitalada, Pongsaklek Wonjongkam, and Srisaket Sor Rungvisai to name just a few. The difference between these fighters and Wanheng Menayothin is that they all left the comfort zone of their homeland to score one or more important wins on foreign soil.
Menayothin may yet display his wares in a U.S. ring. But at age 35, an advanced age for small fighters in particular, we won't get to see him at his best and now that his bubble has been burst, disinviting further comparisons to Mayweather and Marciano, the curiosity factor has been tempered.
To comment on this story in the Fight Forum CLICK HERE
Yoka vs. Hammer Kicks Off the Thanksgiving Weekend Slate on ESPN+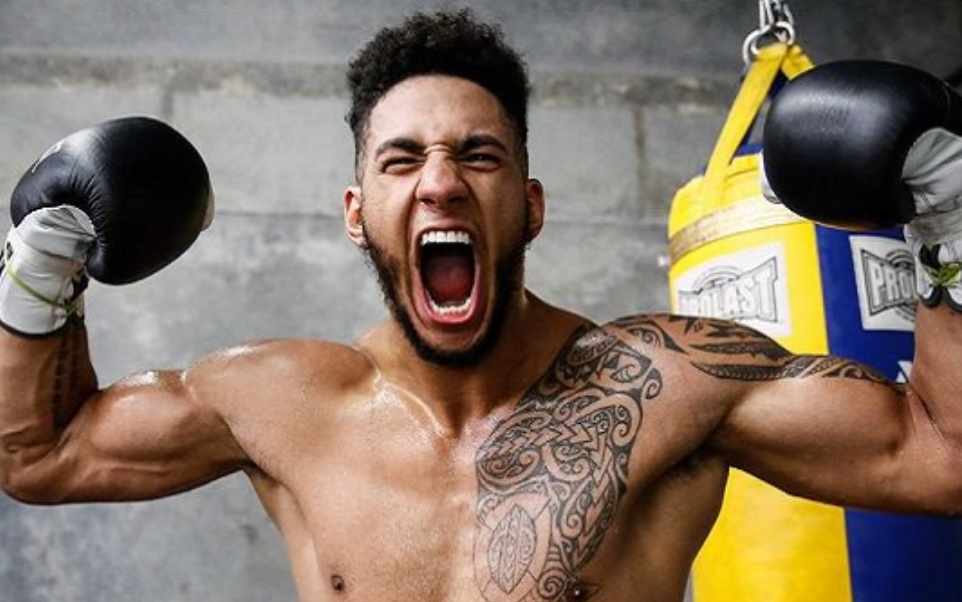 PRESS RELEASE— Tony Yoka, the dynamic heavyweight punching Parisian, aims to impress in his ESPN platform debut. Yoka, who won a super heavyweight gold medal for France at the 2016 Rio Olympics, will fight veteran Christian Hammer in a 10-rounder Friday at H Arena in Nantes, France.
Yoka-Hammer will stream live and exclusively this Friday, Nov. 27 in the United States on ESPN+ beginning at 2:55 p.m. ET/11:55 a.m. PT.
The ESPN+ stream will also include the return of unbeaten 2016 French Olympic gold medalist Estelle Yoka-Mossely against Pasa Malagic in an eight-round lightweight bout. Yoka and Yoka-Mossely, who have been married since 2018, welcomed their second child in May.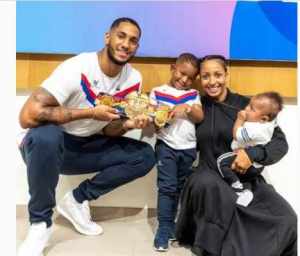 Earlier this year, Yoka inked a promotional agreement with Top Rank, which will co-promote him with Ringstar France.
"Tony Yoka's potential is limitless, and he is a grounded young man who is motivated to be a great professional fighter," said Top Rank chairman Bob Arum. "France has never had a world heavyweight champion, and I believe Tony is the one to bring the sport's biggest honor home."
The 28-year-old Yoka's stellar amateur run included a berth at the 2012 London Olympics and gold medals at the 2015 World Championships and 2010 Youth Olympic Games. Before his triumph in Rio, he'd already defeated the likes of former heavyweight world champion Joseph Parker and current undefeated prospects Joe Joyce and Ivan Dychko. At the Rio Olympics, he defeated Croatian standout Filip Hrgović in the semifinals and edged Joyce in the gold medal match.
As a professional, Yoka (8-0, 7 KOs) made his debut in June 2017 with a second-round stoppage over the previously undefeated Travis Clark. Apart from a decision win over Jonathan Rice in his second outing, Yoka has stopped every foe, including durable Englishman David "White Rhino" Allen and former European champion Alexander Dimitrenko. He made his 2020 debut Sept. 25 and stopped former world title challenger Johann Duhaupas in one round.
Hammer (25-6, 15 KOs) has fought many of the leading heavyweight names during his 12-year career, falling short against Tyson Fury, Luis Ortiz and Alexander Povetkin. He's notched myriad upset victories, including a highlight-reel knockout over David Price and a 2016 split decision over Erkan Teper for the WBO European belt. In March 2019, he went the 10-round distance against Ortiz and has not been stopped since Fury forced him to retire on his stool after eight rounds in their February 2015 clash.
Check out more boxing news on video at the Boxing Channel 
To comment on this story in the Fight Forum CLICK HERE