Gary Shaw's Version of Conor McGregor Was Kimbo Slice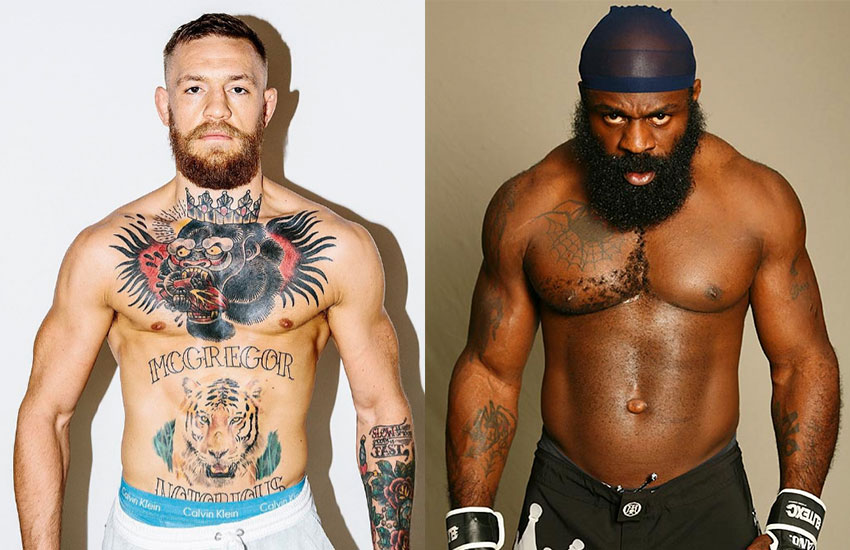 It has been suggested that, at this 21st century stage of human development, there is no such thing as a truly original idea, only gussied-up versions of previous attempts at creating something unique. Perhaps more so than anyone else, Gary Shaw understands the rationale for pairing boxing great Floyd Mayweather Jr. and mixed martial arts sensation Conor McGregor. It's basically the same notion that Roman emperors and their minions had when they would pit captured beasts from faraway lands, say a lion and a tiger, in the Colosseum.  The Roman satirical poet Juvenal (circa 100 A.D.) coined the phrase "bread and circuses" to describe the practice of staging elaborate and costly games – chariot races, anyone? — in order for those in power to maintain control by periodically distracting their increasingly bored and restless subjects.
Boxing has not been around forever, although it sometimes seems like it, so Mayweather vs. McGregor, to be contested under boxing rules, has been relentlessly hyped as a fresh twist on a familiar format. Can the preening Mayweather, staunch upholder of his sport's status quo, preserve order by putting away McGregor, a crass party-crasher from another combat-sport discipline? The lion again is doing battle with the tiger for entertainment purposes, and all indications are that pay-per-view and gross-revenue records will fall like tall wheat before the scythe.
But there is nothing really new or innovative about Mayweather vs. McGregor, except for the fact that each man's reputation in his own realm is such that they come into Saturday night's megafight at Las Vegas' T-Mobile Arena (to be televised via Showtime Pay Per View) with large, established fan bases that will be augmented by untold millions of the curious lured by what they've been promised is an event unlike anything they've ever witnessed. And maybe what will be delivered will prove at least somewhat worthy of the stiff tariff ponied up by on-site attendees and PPV subscribers, although Shaw has grave reservations.
"I don't see any MMA fighter beating a boxer under boxing rules, especially one of Floyd's class," said Shaw, who has been on both sides of the philosophical chasm as president of his own boxing promotional company, Gary Shaw Productions and president of now-defunct EliteXC Live Events, a failed MMA challenger to the supremacy of UFC. "The footwork is different.  Going from four-ounce gloves to eight-ounce gloves is an immense difference. Plus, a boxer is used to seeing where his opponent is, in terms of technique and distance. It's not the same in MMA, where there's standup but also kicking and ground-and-pound.
"Unless I'm very wrong, this is a fight that isn't a real fight at all. I can't imagine there's any way that Mayweather can possibly lose. Now, if the fight was under MMA rules, McGregor would be just as much of a sure thing. He'd take Mayweather down quickly because Floyd doesn't have those skills, and you can't pick them up in an eight-week training camp. You just can't."
Now that he's sold his boxing promotional company to Roc Nation Sports, with which he briefly was affiliated ("I lasted there about three weeks," he said of an operation that appears to still be seeking its footing) and EliteXC has long since gone belly-up, Shaw, now 72, doesn't have a reason to root for either of the expletive-spewing principals or their sport of origin. But that doesn't mean he doesn't have an interest as to what happens as, a decade or so ago, he had his own dream of creating a crossover superstar who could straddle the worlds of boxing and MMA like the Colossus of Rhodes. The vehicle through which Shaw would achieve such sweeping success was, much like McGregor, bearded, lefthanded, possessed of crushing punching power and a menacing scowl that could melt lead.
Shaw's candidate for the kind of superstardom that many seek but few attain came into this world on Feb. 8, 1974, in Nassau, the Bahamas, as Kevin Ferguson. Most came to know him by his nom de guerre, Kimbo Slice. His legend withered before it had much chance to take root, but there can be no denying that Kimbo, who was just 42 when he died on June 6, 2016, was for a time considered to be larger than life, a comet streaking across the sky. Just as McGregor arrives at this juncture with liberal splashes of charisma and a compelling back story (see Wright Thompson's enthralling profile in the Aug. 21 issue of ESPN the Magazine), Kimbo had an undefinable something that drew people to him like moths to an open flame. Shaw's ambitious plan was to take Kimbo, who came to widespread attention through YouTube videos of unsanctioned, bare-knuckle brawls that saw him destroy opponents with Tysonesque brutality, and make him into the heavyweight champion of the world.
"Kimbo is one of those people that comes along every once in ages who has what I call the it factor," Shaw said in the late spring of 2009. "I have a lot of fighters who come to me and are great talents but don't have the it factor. Manny Pacquiao has the it factor. He's a star. He reeks of stardom. People gravitate toward him.
"Kimbo is that way. When he walks into a room, he lights up that room. People yell `Kimbo! Kimbo!' It doesn't have anything to do with how he did in his last fight. It has to do with the it factor. When Tyson walks into an arena, everyone stands up. He's Mike Tyson, of course, but he's got that it factor."
The phenom known as Kimbo Slice was first brought to my attention by my son Randy, who asked me to check out a YouTube video of the thickly muscled former linebacker's backyard demolition of some large, hairy guy whose name now escapes me. It was a cruder, more violent and much-abbreviated version of Sonny Liston disassembling Floyd Patterson. But being unofficial ruler of Miami's street-fighting scene to king of the ring is a quantum leap, so I paid no heed to rumors that already were circulating that this baddest of badass dudes might soon be trying his hand at, you know, actual boxing.
Depending upon which version of the story one chooses to believe, the 6-foot-1, 240-pound Kimbo Slice was either 0-0 in sanctioned boxing matches (according to BoxRec.com) or 7-0, with six knockouts (Wikipedia). Shaw said  those seven bouts were indeed legit, and who cares if the list of Kimbo's victims – James Wade, Tay Bledsoe, Charles Hackmann, Brian Green, Jesse Porter, Howard Jones and Shane Tilyard – is hardly a who's who of professional pugilism. Pulverizing power might be the rawest and most primal of a fighter's resources, but it can camouflage a lot of technical shortcomings. But before he could put himself into a position (if ever that was a possibility) to challenge either or both of the Klitschko brothers, Kimbo gave up his boxing dream to sign with UFC, whose president, Dana White, no doubt had taken note of the high ratings Kimbo's MMA appearances on CBS had garnered for EliteXC.
Could Kimbo ever have approached anything even remotely close to the boxing potential as envisioned for him by Shaw?
"He wasn't really young enough (37 when he ostensibly made his pro debut with first-round, 17-second knockout of Wade on Aug. 13, 2011) to be trying to make the transition, but he might have done well had he stuck with it," Shaw said. "He was just so immensely strong that if he caught anybody on the chin, the fight was over. But he didn't really train to put it all together in the boxing ring."
Nor did Kimbo justify his initial burst of popularity in MMA (a 5-2 record with three knockouts in sanctioned matches, 1-1 in exhibitions). It factor or not, the onetime University of Miami football player and father of six with the made-for-Hollywood past (he had worked as a bouncer in a Miami strip club and later as a limousine driver and bodyguard for a pornography production company) had exploitable weaknesses both inside the ring and the octagon. He had dubious stamina, which virtually obliged him to end matters within mere minutes of a fight's beginning, and, at best, negligible skills in MMA other than a big punch. What's worse, his reputation was sullied when Sam Petruzelli, a last-minute fill-in for the injured Ken Shamrock in the main event of a CBS-televised card on Oct. 4, 2008, claimed he was pressured to stand up and trade shots with Kimbo, instead of taking the fight to the ground where his ju-jitsu skills might give him an edge. Whether the accusation was true or not, it spawned enough of a scandal that CBS pulled out of its deal with EliteXC and the organization eventually folded.
It is Kimbo's brief encounter with "Merciless" Ray Mercer, an Olympic heavyweight gold medalist and former WBO heavyweight champion, however, that adds an element of intrigue to Mayweather-McGregor. An accomplished boxer, even if he was then 46, Mercer lasted only 72 seconds against Kimbo in their June 23, 2007, exhibition match in Atlantic City, tapping out after Kimbo got him in a guillotine choke hold. But in an actual sanctioned MMA bout, Mercer knocked out a highly decorated MMA veteran, Tim Sylvia, in nine seconds on June 13, 2009, putting him down and out with the first punch he threw.
If there is anything that can be taken from the strange journey of Kimbo Slice, who died of heart failure shortly after a mass on his liver was diagnosed, it is this: lions should remain lions and tigers should remain tigers. Without question Conor McGregor is a better mixed martial artist, and probably boxer, than Kimbo ever was, but then Floyd McGregor Jr. is no James Wade. You can, ahem, slice it any way you want and it still projects to be a mismatch.
"Mayweather is the dean of spatial relationships," Shaw said. "He knows how close he can go to another fighter without that fighter connecting on Floyd's chin. He is an absolute master of spacing, which is the key to hitting and not getting hit back. He's been doing this for many, many years. He's become, like, a professor of boxing."
And what of Mayweather dropping hints that he will go for the gusto and take the kind of risks he has rarely taken in the past against a boxing neophyte like McGregor?
"He's not going to change his style against McGregor," Shaw predicted. "Why should he? What he's been doing has worked for him all this time. He's a highly skilled fighter, maybe one of the all-time greats in any era. I know some of the stuff he does outside the ring turns people off so they just don't like him, but a lot of those people are going to pay to see him in the hope of seeing him get a come-uppance.
"It was the same thing with Mayweather-Pacquiao. I didn't believe that would be a real fight, a competitive fight, and I don't believe this one will be, either. The only bad thing is if it's a repeat of Mayweather-Pacquiao, with Floyd so dominant that it's seen as boring, it'll have a negative effect on all the pay-per-views to follow. It'll leave a sour taste."
Check out more boxing news on video at The Boxing Channel.
Daniel Jacobs Edges Past Gabe Rosado on a Matchroom card in Florida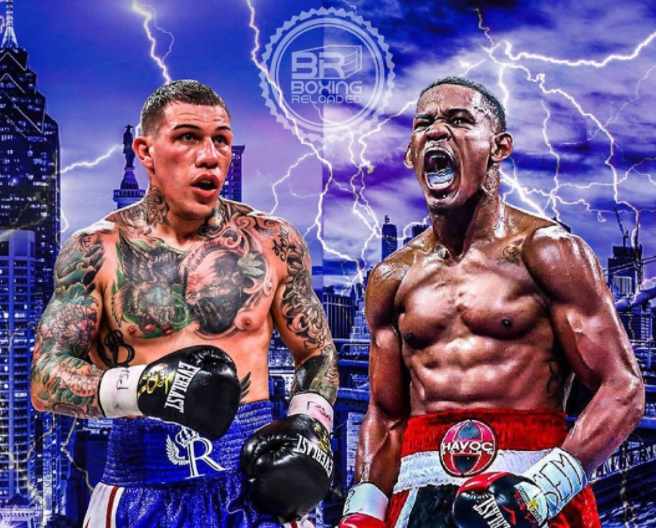 Former world champion Daniel Jacobs needed the last round to win by split decision against upset-minded Gabe Rosado and keep his place in line on Friday for lucrative super middleweight matchups.
But when the ring announcer erroneously announced the winner was from Philadelphia, confusion reigned for a moment until Jacobs was correctly called the winner.
Brooklyn's Jacobs (37-3, 30 KOs) jumped out ahead against Philly fighter Rosado (25-13-1, 14 KOs) and held on for the win in front of no fans at the Seminole Hard Rock Hotel and Casino in Hollywood, Florida. For a second, many thought Rosado had won.
Both were careful during the first three rounds measuring each other's distance and looking for openings to counter. There were very few.
It was the kind of fight expected by those who know boxing: two veterans with immense experience against top-flight world champions. Mistakes were few.
Jacobs, a former middleweight world champion, had fought Saul "Canelo" Alvarez and Gennady "GGG" Golovkin in close but losing efforts.
Rosado had battled Golovkin too, six years ago in a bloody affair that ended in a loss. He had also lost to other champions like Peter Quillin and Jermell Charlo. But none were able to knock him out.
Both were aware of each other's reputation. Bitter words had been exchanged for years and now they finally got their chance to prove their mettle and they did.
Though Jacobs was recognized as a knockout puncher, Rosado's resilience was just as well known. Both neutralized each other for most of the fight with their feints and jabs to the body. Neither was willing to leave openings for each other.
Jacobs scored big with a left uppercut at the end of the seventh round. While Rosado wowed viewers with a sizzling right cross in the 11th round.
It was 1950s style, boxing with intelligence. Each found it difficult to land combinations, let alone find openings to score knockout blows. Instead, they had to be satisfied with scoring enough to convince three judges the actual winner.
Neither was able to pull out ahead with any conviction.
After 12 rounds one judge saw Rosado the winner 115-113 while two others saw Jacobs the winner 115-113 to give him the win by split decision.
"It felt just a little weird. It felt like a sparring match," said Jacobs about fighting without fans in the audience. "This wasn't a valiant effort."
Rosado was certain he was the true winner.
"I thought I won the fight. I surprised him," said Rosado who trained with Freddie Roach for this fight. "I'm a veteran, I know how to fight."
Indeed, he does.
Jacobs now stands poised to fight one of many super middleweight champions in need of a marquee name.
"I live to see another day," he said honestly.
Other Bouts
Kazakhstan's Daniyar Yeleussinov (10-0, 6 KOs) proved he was not an easy touch and knocked out former world champion Julius Indongo (23-3, 12 KOs) to march forward in the welterweight division while grabbing the vacant IBF Inter-Continental title.
In a fight featuring southpaw versus southpaw Yeleussinov caught Indongo with a roundhouse left the first time they exchanged and down went the former super lightweight world champion. Indongo beat the count and survived the round.
Indongo wasn't as lucky in the second round as Yeleussinov again connected with a left and down went the fighter from Namibia again. He would not get up at 1:24 of round two giving the knockout win for Yeleussinov.
A battle between undefeated heavyweights saw Azerbaijan's Mahammadrasul Majidov (3-0, 3 KOs) use roundhouse rights to stagger the heavier Sahret Delgado (8-1) to win by knockout in the third round. Majidov actually helped Delgado get to his stool after knocking him out on his feet at 47 seconds of the third round.
Emmanuel Tagoe (32-1) defeated Mason Menard (36-5) by majority decision after a 10- round lightweight fight that saw a lot of clinching and leaning.
Nikita "White Chocolate" Ababiy (10-0) out-fought Detroit's Brandon Maddox (7-4-1) to win by unanimous decision after six rounds in a middleweight clash. Ababiy hurt Maddox with body shots but found Maddox more resilient than expected.
Check out more boxing news on video at the Boxing Channel 
To comment on this story in the Fight Forum CLICK HERE.
Pradabsri Upsets Menayothin, Ends the Longest Unbeaten Streak of Modern Times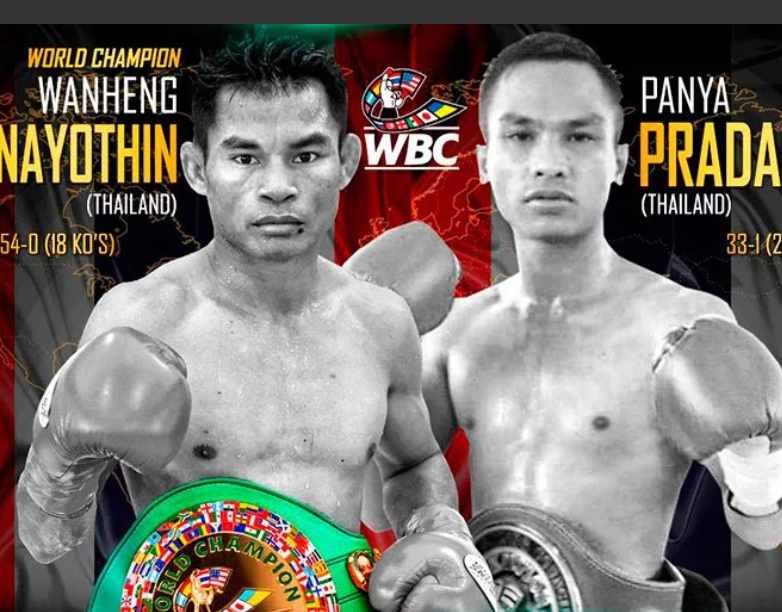 During the wee hours in the Americas, a big upset was brewing in Thailand. In Nakhon Sawan, a city roughly 150 miles north of Bangkok, Panya Pradabsri (aka Petchmanee CP Freshmart) out-pointed Wanheng Menayothin (aka Chayaphon Moonsri) in a domestic clash with international significance. Manayothin entered the bout with a 54-0 (18) record and was making the 13th defense of his WBC world minimumweight title.
Pradabsri had been defeated only once in 35 previous starts, but only 11 of his 34 victories had come against fighters with winning records. According to ringside reports, he kept Menayothin at bay with good fundamentals, a stiff jab, and good lateral movement. All three judges had it 115-113. The fight wasn't without controversy as Menayothin finished stronger and many folks scoring off the live video thought that he had done just enough to retain his title.
How good was/is Menayothin? That's a question that serious boxing fans will likely debate for decades.
In the summer of 2019, Menayothin signed a co-promotional deal with Oscar De La Hoya's Golden Boy Promotions. At time, GBP president Eric Gomez described him as one of the best fighters in the world. "We really want to bring him to the U.S. so people can see how talented he really is," Gomez told England's Sky Sports.
Menayothin was expected to make his U.S. debut in April of this year, but the pandemic ruined that plan. Earlier this year, he announced his retirement, but rescinded it after only two days.
Scottish boxing historian Matt McGrain, who has an exclusive arrangement with this web site, had lukewarm opinion of the Thai mighty-mite although he rated him the second-best 105-pound boxer of the decade, trailing only his countryman Thammanoon Niyomtrong (aka Knockout CP Freshmart).
"He is disciplined, strong, brings good pressure and is armed with a very decent range of punches," said McGrain, "(but his record) is comprised mostly of men any competent fighter would be expected to beat."
Although only one boxer from Thailand has been inducted into the International Boxing Hall of Fame (Khaosai Galaxy, class of 1999), the Southeast Asia nation has produced some outstanding boxers over the years – Chartchoi Chionoi, Sot Chitalada, Pongsaklek Wonjongkam, and Srisaket Sor Rungvisai to name just a few. The difference between these fighters and Wanheng Menayothin is that they all left the comfort zone of their homeland to score one or more important wins on foreign soil.
Menayothin may yet display his wares in a U.S. ring. But at age 35, an advanced age for small fighters in particular, we won't get to see him at his best and now that his bubble has been burst, disinviting further comparisons to Mayweather and Marciano, the curiosity factor has been tempered.
To comment on this story in the Fight Forum CLICK HERE
Yoka vs. Hammer Kicks Off the Thanksgiving Weekend Slate on ESPN+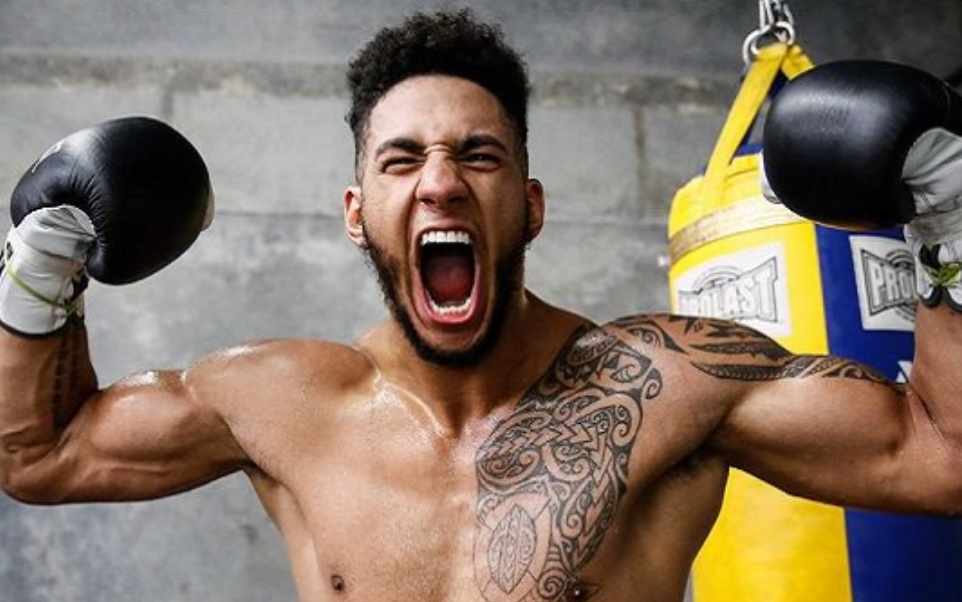 PRESS RELEASE— Tony Yoka, the dynamic heavyweight punching Parisian, aims to impress in his ESPN platform debut. Yoka, who won a super heavyweight gold medal for France at the 2016 Rio Olympics, will fight veteran Christian Hammer in a 10-rounder Friday at H Arena in Nantes, France.
Yoka-Hammer will stream live and exclusively this Friday, Nov. 27 in the United States on ESPN+ beginning at 2:55 p.m. ET/11:55 a.m. PT.
The ESPN+ stream will also include the return of unbeaten 2016 French Olympic gold medalist Estelle Yoka-Mossely against Pasa Malagic in an eight-round lightweight bout. Yoka and Yoka-Mossely, who have been married since 2018, welcomed their second child in May.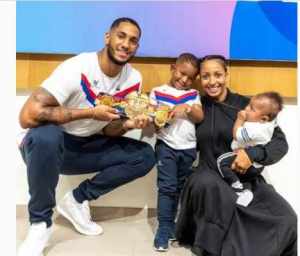 Earlier this year, Yoka inked a promotional agreement with Top Rank, which will co-promote him with Ringstar France.
"Tony Yoka's potential is limitless, and he is a grounded young man who is motivated to be a great professional fighter," said Top Rank chairman Bob Arum. "France has never had a world heavyweight champion, and I believe Tony is the one to bring the sport's biggest honor home."
The 28-year-old Yoka's stellar amateur run included a berth at the 2012 London Olympics and gold medals at the 2015 World Championships and 2010 Youth Olympic Games. Before his triumph in Rio, he'd already defeated the likes of former heavyweight world champion Joseph Parker and current undefeated prospects Joe Joyce and Ivan Dychko. At the Rio Olympics, he defeated Croatian standout Filip Hrgović in the semifinals and edged Joyce in the gold medal match.
As a professional, Yoka (8-0, 7 KOs) made his debut in June 2017 with a second-round stoppage over the previously undefeated Travis Clark. Apart from a decision win over Jonathan Rice in his second outing, Yoka has stopped every foe, including durable Englishman David "White Rhino" Allen and former European champion Alexander Dimitrenko. He made his 2020 debut Sept. 25 and stopped former world title challenger Johann Duhaupas in one round.
Hammer (25-6, 15 KOs) has fought many of the leading heavyweight names during his 12-year career, falling short against Tyson Fury, Luis Ortiz and Alexander Povetkin. He's notched myriad upset victories, including a highlight-reel knockout over David Price and a 2016 split decision over Erkan Teper for the WBO European belt. In March 2019, he went the 10-round distance against Ortiz and has not been stopped since Fury forced him to retire on his stool after eight rounds in their February 2015 clash.
Check out more boxing news on video at the Boxing Channel 
To comment on this story in the Fight Forum CLICK HERE