With Big Wins, Hurd and Charlo Convey That Blonds Really Do Have More Fun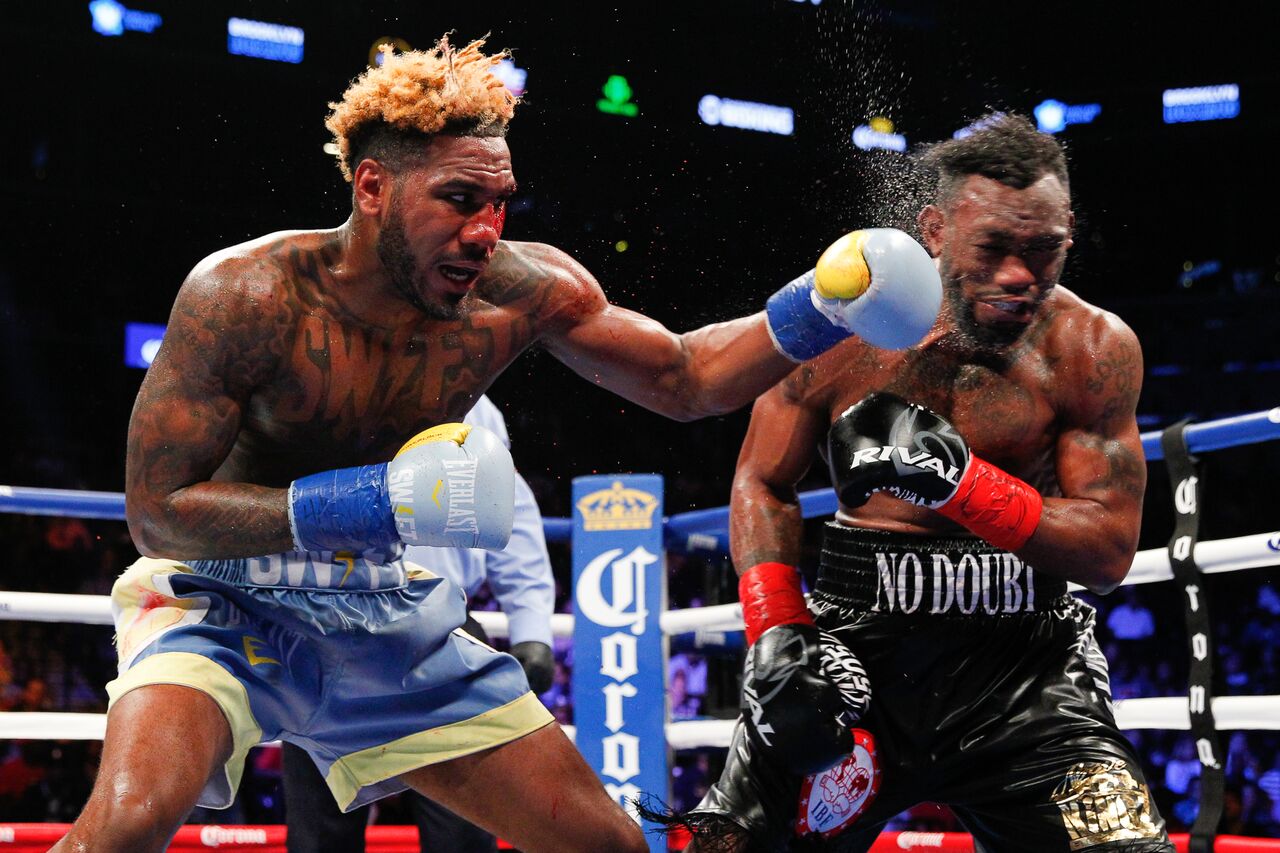 BROOKLYN, N.Y. – It has been a tough season for Odell Beckham Jr., the New York Giants' superstar wide receiver who has popularized both the seemingly impossible one-handed catch and a hairstyle, bleached-blond on top of the wearer's naturally dark roots, that more and more African-American athletes have adopted as a mark of distinction and possibly as a tribute to its originator. But while Beckham is now out for the season with a fractured ankle, and his struggling team was 0-5 after a 27-22 loss to the visiting Los Angeles Chargers on Oct. 8 in which a grimacing Beckham had to be carted off the field, two of the victorious boxers in Saturday night's Showtime-televised tripleheader here at the Barclays Center proved that OBJ's 'do' is not through being a thing worthy of imitation.
While most of the public and media attention had been concentrated on the middle act of the three TV fights, which pitted WBC super welterweight champion Jermell Charlo against the much-hyped Erickson Lubin, and the finale and ostensible main event, in which WBA/IBO super welterweight titlist Erislandy Lara took on 2012 U.S. Olympian Terrell Gausha, the opening segment, in which IBF junior middleweight ruler Jarrett Hurd would defend his belt against former WBA 154-pound champ Austin Trout, drew comparatively scant attention.
That proved to be a major error in judgment, as the 7,643 in-house spectators and the Showtime viewing audience would happily discover. Where Beckham, when healthy, is adept at catching bombs, his barbershop lookalike, Hurd (pictured in the blue trunks), is more likely to deliver them. After a slow start in which Trout, the clever, 32-year-old southpaw from Las Cruses, N.M., held the upper hand in the first three rounds despite coming off a 17-month layoff that did not noticeably coat him in a layer of ring rust, one thing was becoming evident: the challenger lacked the firepower to continue to stave off the stalking Hurd's relentless pursuit and intent to deliver far more damaging punches.
Hurd's power eventually began to turn the tide, and the big bopper from Accokeek, Md., which is considered to be a part of the Washington, D.C., metropolitan area, foreshadowed the eventual ending by connecting with jolting right hands in the fifth round, twice causing Trout to take little bunny hops. Another big right in the sixth again almost caused Trout to go down, at which point the outcome became less a matter of "if" but "when."
A small window opportunity opened for the game but increasingly desperate Trout in the seventh when he opened a cut above Hurd's left eye, which Hurd claimed was the result of a head butt. But the taste of his own blood might have done more to ramp up Hurd's pressure than to tamp it down, and he rocked Trout, who was never floored, with more ripping rights in the eighth and ninth rounds, which had the effect of swelling Trout's right eye nearly shut.
In a possible nod to diversification, Hurd, 27, momentarily went southpaw in Round 10 and landed an overhand left that had once more turned Trout's legs to jelly, but he managed to make it to the bell. The reprieve was only momentary; referee Eddie Claudio called the ring doctor over to examine Trout's worsening eye and the determination was that it was best that the challenger, who several rounds earlier had decided that he would be better served by trying to build on his early momentum by knocking Hurd out, thus taking the judges out of the equation, not be allowed to come out for the 11th round.
It's hard to find fault with Trout's rationale for throwing caution to the wind. After 10 completed rounds, he trailed on all three scorecards, by 96-94 (twice) and 97-93, and the shift in momentum toward Hurd showed him landing 265 of 753 total punches (35 percent), according to CompuBox, compared to 208 of 673 (31 percent) for Trout. The disparity seems even more telling in light of Hurd's superior strength.
"I'm always the one that comes on stronger at the end of the fight," said Hurd (21-0, 15 KOs), who was making the first defense his title. "We knew we were going to wear Austin Trout down in the later rounds and eventually stop him."
Trout (30-4, 17 KOs), who was taken to a nearby hospital for observation, was not available for comment, but in losing inside the distance for the first time he had enough valorous moments against an equally determined champion to stamp their fight as an instant classic, and Fight of the Year candidate.
"Wow," said promoter Lou DiBella. "That was sensational."
Hurd-Trout would have been a tough act to follow under most circumstances, but Charlo-Erickson, the presumed "fight fans fight," was a jolt to most observers' sensibilities, despite its brevity. Much of the attention beforehand had been focused on Lubin, who had just turned 22 on Oct. 1 and, in Charlo's estimation, hadn't established enough bona fides to even be granted a shot at the title, despite being the WBC's mandatory contender.
"I'm fighting a prospect," the blond-tressed Charlo had said, almost contemptuously, in the lead-up to the fight. "He's not even a contender. Like I said, I don't know how he even got this fight. But I have to (fight him) so I can fight the No. 1 guys. That's what mandatories are all about."
Lubin presumably had further irritated Charlo by musing about all the good things that would come his way after he wrested the title from the 27-year-old champion. He spoke about "changing the lives" of his parents, Erick and Marjorie, and especially that of his three-month-old son with the sort of financial benefits attendant to reigning champions with burgeoning fan bases.
As if all that weren't enough, perhaps the 27-year-old Jermell still harbors a grudge toward all the skeptics who have depicted him a lesser talent than his identical twin, Jermall (26-0, 20 KOs), a former IBF junior middleweight champion who vacated that title to move up to middleweight. Perhaps because Jermall was regularly depicted as the harder puncher and thus more entertaining of the twins, Jermell switched trainers, from Ronnie Shields to Derrick James, who was tasked with the responsibility of converting his new pupil to someone as capable of whacking out opponents as Jermall, who continues to be trained by Shields.
The proof is in the pudding, as they say, and the new-look Jermell has significantly raised his profile as a dangerous dude.  He came into the bout having won his three most recent bouts inside the distance, including an eighth-round knockout of John Jackson for the vacant WBC title and a sixth-round kayo of Charles Hatley in his first defense. But Lubin supposedly posed a much sterner test, even if there were some reservations that he was stepping too far up in class and too soon.
Make it four straight now as he delivered a ripping right hand to Lubin's jaw in the very first round that sent the Orlando, Fla., southpaw crashing to the canvas, where he rolled over onto his side and flopped around like a caught fish. Referee Harvey Dock did the right thing and waved things off after an elapsed time of just 2 minutes, 41 seconds.
"They were giving (Lubin) a lot of attention," Charlo said of Lubin's now-diminished status as one of boxing's flavors of the month. "I was quiet the whole time. They said he was going to take my title. I had to defend it. They (Lubin and his support crew) didn't know what I was bringing into this and I think he was worried about the wrong things."
Just as Hurd-Trout will get consideration for Fight of the Year, Charlo's quickie demolition of a hot property like Lubin now enters the discussion for Knockout of the Year.
Popularity in boxing being tied as it is to a fighter's action quotient, it was almost a given that Houston-based Cuban defector Erislandy Lara, who closed the night by making his sixth title defense against unheralded 2012 U.S. Olympian Terrell Gausha, would provide the fewest thrills and chills. But then, technical proficiency is and always has been the Lara's stock in trade. He wins not so much by looking good himself, but by making opponents look bad, and he wasn't about to deviate from his tried-and-true fight plan against Gausha, even though the 34-year-old southpaw dropped the would-be usurper from Cleveland, Ohio, with a straight left for a flash knockdown in the fourth round. Gausha, 29, survived the mini-scare, but he proceeded to be outboxed the rest of the way in a snoozer that seemed even less appealing in light of the fact the two preceding 154-pound championship fights had produced spectacular moments of high drama.
"He came to fight," Lara (25-2-2, 14 KOs) said of Gausha (20-1, 9 KOs), who never registered double-digit scoring punches in any of the 12 rounds. "I take the rhythm of the boxing match and that's when I take over. (Gausha was) fighting the best in the division … he knew who he was fighting today."
All that remains now is how the future plays out for the winners, all of whom professed an interest in unification matchups.
"I'm ready to unify – 2018 is the year for unifications. It don't matter who it is. I'm ready to take on anyone," said Hurd. "Team Swift ("Swift" is Hurd's nickname, although mobility does not appear to be his foremost asset) don't run from anyone."
It was yada, yada, yada with both Charlo and Lara, the former an emerging quick-strike artist and the latter and unhurried tactician.
"We're going to unify," Charlo said. "The other champions want to fight me and I'll take any of them. Give me another title. I want Hurd. Hurd just won. Give me Hurd."
Lara, on the other hand, has visions of mixing it up with former stablemate Charlo, saying, "I don't shy away from anyone that wants to fight me. I'll box whoever. Just line them up. I'm not afraid. I have proven that I'm a true champion. I'll fight Charlo if I have to. We are friends, but business is business."
Based on Saturday night's (and into early Sunday morning in the Eastern Time Zone) results, perhaps the most appealing of the possible pairings would be Hurd vs. Charlo. For one thing, they have the more fan-friendly styles. For another, somebody needs to claim the mythical but seemingly coveted crown as king of the OBJ hairstyles. Even in boxing, it matters to care about the hair.
Photo credit: Ed Diller / DiBella Entertainment
Check out more boxing news on video at The Boxing Channel
Art of Boxing Series: Tim "Desert Storm" Bradley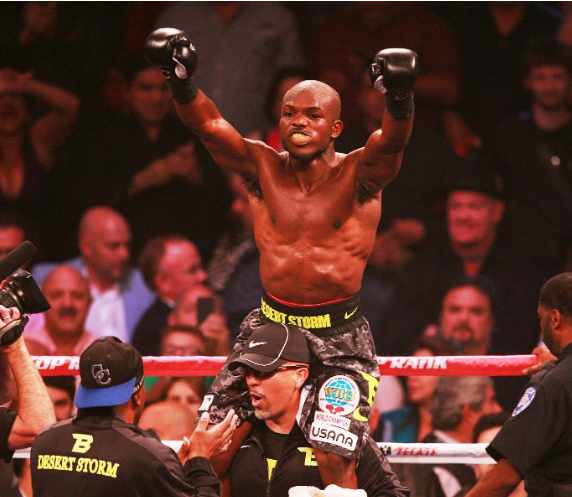 Few things compare to watching the rise of a virtual unknown boxer to world champion status and that's what transpired in the amazing career of Tim "Desert Storm" Bradley Jr.
From the first day Bradley stepped into the outdoor prize ring in Corona until his final clash against a super star almost exactly four years ago in Las Vegas, it was like watching a classic painting in the works, a Rembrandt, a Picasso, a Renoir – layer by layer of clashing colors and resistance to opposing forces.
Not all prizefighters are the same.
Bradley, though tough as they come and as fast as a zephyr, was forced to rely on limited physical tools and a mental aptitude for studying the opposition the way a Nobel prize winning physicist might study molecules.
He was a member of a limited few who mastered the art of boxing.
It all began in the starched and heated area of Palm Springs where temperatures soar above 115 degrees on a regular basis in the summer. It can also dip below 30 on a winter night. It was around 1994 that Bradley found boxing.
Always short for his age, others picked on Bradley and he quickly retaliated with flashing fists. He was expelled twice and nearly booted from an entire school district. But he found a loophole when a friend told him about a boxing gym.
"A friend of mine was doing it. His name was Julio and we was always slap boxing around in school, just kidding around trying to hit each other in the face," said Bradley recounting his elementary school days. "I was quick and very athletic and was always able to get to him before he was able to get to me. And he was boxing. So I begged my dad for almost two months to take me to the boxing gym."
Bradley's father worked across the street from a Palm Springs boxing gym and it coincidentally was the same gym his friend Julio attended. Father and son visited the gym one day. Bradley was 10 years old.
"I felt like I was walking into my heaven. I remember it was a blue heavy bag when we walked in the door to my right. I saw the ring it was off to the right in the corner. And the speed bags were directly in front of me and they had these platforms if you were short so you could reach the speed bags. And I remember seeing all these different pictures on the wall of fighters and trainers and champions," Bradley recalls.
After signing waivers and getting weighed, the older gentleman, a husky caretaker named OJ Kutcher from Boston, took a good look at young Bradley and tapped him lightly on the chest.
"He looked at me and said 'oh, you're different. There is something about you kid. You are going to be a champion' and my dad started laughing," said Bradley about what the old trainer said in his Bostonian accent.  "My father said we just want to box. Don't fill my son's head up. You don't got to sell us on this man. We just started laughing."
It wasn't a laughing matter once actual training commenced. Immediately Bradley excelled and surpassed the others in his ability to do more push-ups, run faster and train harder. In two weeks he got his first fight. Shortly after, he was pit against a youngster who would be a future amateur legend.
"I remember fighting Panchito Bojado in my second fight. He beat me. I fought hard as I can but I didn't really know a lot. Then I met him again in my fourth fight in the tournament," said Bradley chuckling at the memory. "So then I went to the junior golden gloves and he beat me again. He started boxing early, early. I fought hard but he had some experience on me. I never fought him again."
Bradley quickly became the best fighter in the desert region. Now he set his goals on bigger game.
National Recognition
Though small in stature Bradley was making a big impact on the amateur boxing world. Stars like Andre Ward, Andre Berto, Andre Dirrell were all future foes and obstacles for Bradley who fought at 147 and 152 pounds as he got older.
His favorite amateur fight took place in the early 2000s.
"My favorite fight was against Edgar Sanchez. He was from Arizona. He's a lefty. He had just beaten Andre Ward in the Blue and Gold Tournament. I remember watching that fight. I fought Andre Ward in the same tournament. Andre ward beat me 2 to 1, and then Edgar Sanchez beat Andre next day. And that was the last time I saw Andre Ward lose actually," said Bradley about his favorite amateur win. "That guy I fought him in the Silver Gloves regionals in the finals and I remember him beating Andre Ward and he beat a couple of other guys that were top-notch from California. I remember getting in the ring with him and I ended up beating him."
Bradley said he carefully watched Sanchez defeat Ward with an intense pressure style. He devised his own plan to defuse the aggressive boxer and when they met, he emerged the winner.
"I was able to out-box him. Set traps and just let him run into punches. I ended up beating him," said Bradley remembering the victory. "That was probably my favorite amateur fight."
Around this same period Bradley was trying to make his long-sought dream of making the US Olympic boxing team. He had two more opportunities when he fought in the Police Athletic League Nationals.
"I fought in the PAL Nationals semi-finals and I fought someone from the Army team. It was tied up 10-10 I think. Then, in the last round, I went straight at him pinned him on the ropes, drilled him and no doubt in my mind I won the fight. After the fight I put my hands up because I had no doubt in my mind I won," Bradley said of the fight held at 152 pounds. "But they raised his hand instead. That's just crushed me when I lost. My dream was to go to the Olympics at 152."
Despite severe height disadvantages at the 152-pound weight class Bradley felt he was capable of still making the Olympic team.
"I had one more chance and lost the challenge to Vanes (Martirosyan). I had never seen him before. He was tall and long and had good power and skill, he surprised me. He shook me. I was like wow, who is this kid," said Bradley at the memory. "I fought against the Dirrell brothers, Andre Berto, Andre Ward, I fought all of them. But yeah, I ended up losing and that crushed me. I thought about quitting boxing."
Enter Thompson Boxing
Months passed by and Bradley decided to partake in teen activities like partying and partying.
"I was finally doing things a teen-ager does," said Bradley. "I had always been so disciplined and did nothing but train. But with no boxing I started partying."
Then one day, at a Palms Spring golf course, Bradley was attending a party when he saw a group of people with shirts that had Thompson Boxing emblems. He asked a man wearing a Thompson Boxing shirt about the company and also informed him that he was a boxer.
"This guy said put your hands up and then he slapped me on the face. Then he slapped me in the face again and we got into a little tussle. I started coming after him. I was furious. Then Ken Thompson's son Steve ran over to help. I was trying to kill that dude. Steve (Thompson) said I like your spirit."
Thompson Boxing agreed to give Bradley an audition fight. But first, Bradley sought out a trainer to make the transition from amateur to professional boxing.
He found Joel Diaz and his brother Antonio Diaz in Indio.
"The Diaz brothers had a big reputation in the Valley. Julio won two world titles, Antonio fought Shane Mosley and Joel fought as well. I just trusted those guys. I knew I had to learn how to really step into the jab. Growing up in boxing you know the lingo," said Bradley about making the transition in six months. "It was mentally draining, I had to learn distance."
Finally, on August 20, 2004, Bradley made his pro debut at Omega Products International at Corona, California. It was an outdoor event and facing him was a guy named Francisco Martinez who was also making a pro debut.
"I fought a kid who had just turned pro too and the first jab he hit me with was like getting hit in the face with a brick. Oh my goodness. He's not hitting me no more," said Bradley about his first prize fight. "I knew I had more skill than he had. Joel taught me how to break down guys to the body. You got to take something out of them by beating them to the body."
Bradley won by second round technical knockout.
To be continued…….
Photo credit: Al Applerose
Check out more boxing news on video at The Boxing Channel 
To comment on this story in The Fight Forum CLICK HERE
Stonewalled by the Coronavirus: Dee-Jay Kriel's Unhappy Story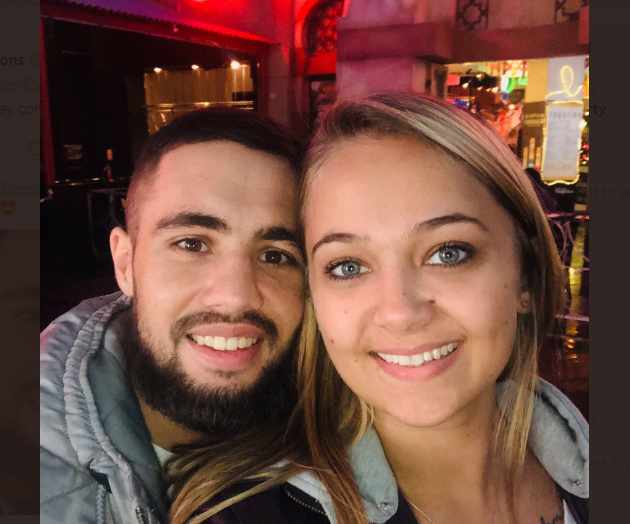 They say that good things come to those who wait, but that old bromide gives little solace to a boxer whose career has been frozen by the great pandemic. Some cases evoke more sympathy than others and the case of Dee-Jay Kriel in particular strikes a sympathetic chord.
It's been 13 months since Kriel last had a fight of any consequence. Opportunities arose but then for one reason or another were pulled off the table. And then finally the logjam was broken, a match with IBF title-holder Felix Alvarado on a big Golden Boy Promotions card later this month on April 25.
The pandemic torpedoed that show and ultimately every other boxing show slated for the month of April and who knows how far beyond? And once again, Dee-Jay Kriel was left in limbo, not knowing when he would fight again.
Chances are you are not familiar with the name Dee-Jay Kriel. Boxers in his weight class, with very few exceptions, toil in anonymity outside the Orient. But Dee-Jay is no club fighter; he actually won a world title, achieving that distinction on Feb. 16, 2019 in Los Angeles when he upset previously undefeated Carlos Licona.
If you missed it, you weren't alone. The match was left off the televised portion of the show which aired on FOX. In fact, some ringside reporters missed the fight, or at least left it off their post-fight story. It was the walkout fight and they were likely busy interviewing the victorious headliner Leo Santa Cruz  back in his dressing room.
That's what happens – indifference or downright disdainfulness — when you compete in the smallest weight class. Licona vs. Kriel was contested for the IBF minimum-weight title. And, so it is that when Dee-Jay Kriel looks back at the proudest moment of his pro career, his self-satisfaction is tempered by the realization that few people got to share the moment with him.
"That's too bad," he says, "because it was a very exciting fight."
Indeed it was. Heading into the 12th round, Dee-Jay was ahead by one point on one of the cards but trailed by seven points on the others. It wasn't sufficient that he go out and hammer Licona from pillar to post in the final stanza; he needed a knockout to win. And he rose to the occasion, scoring three knockdowns before the referee waived it off with less than a minute remaining on the clock.
"It was like a Rocky movie," says Kriel.
Kriel is from Boxburg, South Africa, a community on the outskirts of Johannesburg. The Licona fight, which he took on short notice, was his U.S. debut. He had come to Las Vegas six months earlier to hone his game under the tutelage of veteran trainer Kenny Adams.
"There just wasn't enough opportunity in South Africa," he said. Like many other boxers around the world looking for that one big break, Las Vegas was seen as the promised land.
In Las Vegas, things have not proceeded as quickly as he had hoped, but frequent sparring sessions with Nonito Donaire sharpened his tools and increased his confidence. "I learned a lot from Nonito," says Dee-Jay.
It's a long way from Johannesburg to Las Vegas, more than 10,000 miles. You can't fly there non-stop and you can't get there in one day. And for a young boxer leaving home for the first time, heading off to a strange land, the trip must seem even longer. Kriel is very close to his extended family and came here without his wife Denica (pictured) who wasn't able to join him until October of last year.
When he was just starting out, Kriel seemed like the longest of long shots to win a world title. He was 0-3 as an amateur and lost his pro debut. But he stayed the course and would not lose again. He currently sports a 16-1-1 (8 KOs) record, the most recent "W" coming in an un-taxing, stay-busy fight in Tijuana.
Kenny Adams, who turns 80 this year, has had health problems that have forced him to cut down on his workload. Brandon Woods has assumed the role of chief trainer. Woods is a fixture at Bones Adams gym in Las Vegas, or was until the coronavirus turned the world upside down. Now, instead of working with boxers in a communal setting, Woods trains fighters one-on-one in his home.
"I still work out every day," Kriel told this reporter by phone. "I run and jump rope and work the mitts with Brandon."
It can't be very much fun. Woods is a no-nonsense trainer. In the gym, he runs the show like a drill sergeant. It is the camaraderie that makes it easy to digest; there's a sense of community there, a family-like atmosphere that can't be replicated in a one-on-one setting.
Winning a title wasn't life-changing. The IBF ordered Kriel to defend the belt against Pedro Taduran, but Taduran's management offered less money than Kriel had made fighting Carlos Licona and they insisted that the fight had to take place in the Philippines. Ergo, Kriel relinquished his belt without defending it, moving up to a higher weight class.
Kriel's dream fight was a unification bout with long-reigning WBC title-holder Wanheng Menayothin, aka Chayaphon Moonsri, whose record, currently 54-0, gives him a Mayweather-like aura, if only in his native Thailand. (Ironically, Menayothin was also slated to appear on Golden Boy's April 25 show, but against an opponent who would not have posed as big a threat to him as Dee-Jay Kriel; such are the politics of boxing.)
Dee-Jay could be forgiven for walking away from the sport in frustration, but returning home right now isn't an option. South Africa's COVID-19 lockdown is among the world's most stringent. Jogging and dog-walking are prohibited. In Johannesburg, the militia are patrolling the streets.
The Republic of South Africa has produced a few good heavyweights and one great junior lightweight in Brian Mitchell, but for whatever reason an inordinate number of South Africa's best fighters have toiled in the smallest weight classes. Baby Jake Matlala, who had to stand on his tiptoes to be five feet tall, became a national hero after upsetting Michael Carbajal at Las Vegas in 1997. Zolani Tete, a former two-division champion, began his career at 111 pounds. Moruti Mthalene is the reigning IBF world flyweight champion and former world minimum-weight title-holder Hekkie Budler is currently ranked #1 by the WBC at light flyweight.
As shown by Matlala, and many years earlier by mighty-mite Vic Toweel, South Africans revere their world boxing champions, no matter how big or how small. When Dee-Jay's sponsors Ryan Erasmus and Kagiso Mokoduo chose to back him, the potential return on investment was obviously a lesser motivation than the chance to be involved in a project that would hopefully uplift the spirits of their countrymen. Erasmus and Mokoduo are the co-founders of a prominent South Africa law firm.
"They are good guys," says Kriel. "They look after me."
Does he worry that in these troubled economic times his sponsors may be compelled to pull the plug? "It preys on my mind," he says, "but so far there has been no indication of that." Should that transpire, Dee-Jay couldn't count on financial help from his wife. Denica was a bookkeeper for a financial services firm in South Africa but is in the U.S. on a student visa that prohibits her from entering the work force.
Dee-Jay knows that he has it a lot better than other fighters who can no longer afford to keep their nose to the grindstone. He's also lucky to live in the Internet age where keeping up with the home folks doesn't involve the post office. He communicates with his family in South Africa by video every day. His father has a small towing business. "We were never poor," he says, "but my parents never had a lot of money. I want to help them out. That's my first goal and then I would like to leave a legacy."
—
Dee-Jay bucked big odds when he snatched away Carlos Licona's title. Licona had 75 amateur fights, was schooled by the renowned trainer Robert Garcia, and was fighting in his backyard. And he will be a substantial underdog again when and if his bout with Nicaragua's Felix Alvarado comes to fruition. Alvarado is 35-2 with 30 knockouts, has won 17 in a row, and has been in with stiffer competition. His twin brother Rene Alvarado recently won the WBA 130-pound title.
Alvarado seemingly has another factor in his favor. As I write this on April 3, Nicaraguan strongman Daniel Ortega has yet to impose social distancing. One presumes that Alvarado's regular routine hasn't been disturbed.
"I believe a fighter needs to fight," says Kriel, "just as a footballer (i.e, a soccer player) needs to keep playing football." Expressed more tersely by an old-time fight handicapper of this writer's acquaintance: rest makes rust.
The Dee-Jay Kriel story isn't a great tragedy like so many COVID-19 stories, but it's hard not to feel for him and for all the other boxers who have been marooned, in a manner of speaking, by this surreal situation.
Hang in there, guys.
Check out more boxing news on video at The Boxing Channel 
To comment on this story in The Fight Forum CLICK HERE
Avila Perspective, Chap. 91: Los Angeles Boxing Nights 1960s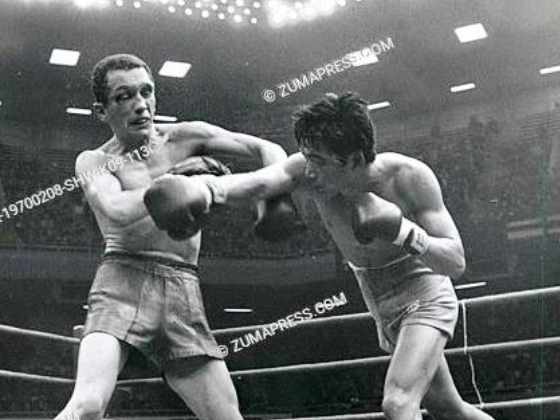 A name popped up recently that shot memories of 1960s boxing nights at the Olympic Auditorium in Los Angeles.
That name was Sho Saijo, a Japanese featherweight prizefighter.
The night Saijo fought Jose Pimentel for the first time at the Olympic Auditorium on February 15, 1967 was my first time watching a prize fight live. All my previous experience was amateur boxing or watching pros fight on television.
Just walking down the slanted aisles toward our seats at the Olympic Auditorium was an experience. The gray smoke drifted around the boxing ring and the smell of cigars and popcorn permeated the air. Vendors were hawking beer and other stuff and people seemed generally excited to be there.
My father was a former prizefighter and we had strong ties to Pimentel, who was a close friend of my cousin. Also, the trainer and manager of Pimentel was Harry Kabakoff, my dad's former trainer and manager when he began fighting as a pro in the early 1950s.
We arrived a little late from our home in East L.A., so the only fight we saw that night was the main event that featured Japan's Saijo against Mexico's Pimentel. It was special.
Both fighters showed tremendous technique and surprising durability. They whacked each other with shocking impact with concussive sounds that left an impression on me. It was an exhibition of power that made me understand the difference between professional and amateur boxing.
It seemed every time one guy connected solidly with a booming shot the other guy returned fire with an equally impressive blow. This went on for 10 rounds and the crowd shouted each and every frame.
The Japanese fighter had four losses when he walked in against the undefeated Pimentel, but that night in Los Angeles, he convinced fans that he was equal or better than Pimentel who was the younger brother of contender Jesus Pimentel.
Finally, the featherweight clash ended and fans cheered both fighters for their electrifying performance. Two judges favored Pimentel but one judge saw Saijo as the victor. It was a split decision win for the hometown fighter, but Saijo's performance endeared him to the knowledgeable L.A. boxing crowd. Aileen Eaton, the promoter, would bring them back again to the same venue in a month. In the rematch, Saijo was determined the victor by decision.
A year and a half later Pimentel would travel to Japan to face Saijo a third time but for the WBA featherweight world title. It ended in a knockout win for the Japanese fighter who defeated a slew of Los Angeles-based fighters along the way. Among those he defeated were Tony Alvarado, Pedro Rodriguez, Marcello Cid, Felipe Torres, Frankie Crawford, and Raul Rojas, who he defeated to win the WBA featherweight title in September 1968 at the L.A. Memorial Coliseum in Los Angeles.
But the night Pimentel defeated Saijo, we met the boxer after the fights at a local late night spot on Figueroa Avenue. It was across the street from the Pantry at some place named the Limelight or Candlelighter or something. The actual name is a foggy memory.
We waited along with my cousin for Pimentel at the downstairs restaurant and he arrived with his trainer and manager Kabakoff.  When the husky manager saw my father they hugged and chatted a bit. The trainer had talked with my father about training me and asked me my weight. At the time I was about 135 pounds at six feet. But I declined. I had stopped boxing regularly and was concentrating on baseball fulltime. He said my size would give me a big advantage. But after watching pros like Saijo and Pimentel whack each other for 10 rounds, I was certain I made the correct decision.
Later, a few fighters like Ruben Navarro and Mando Ramos stopped by to say hello. It was a pretty exciting moment for me to meet all these boxing stars face to face. Watching them perform on television was one thing, but watching them actually trade blows and hear the impact was extremely impressive. It also made me have the utmost respect for all prizefighters, not just the winners and champions.
Those were different times.
Boxing Life
When I first met the late Bennie Georgino, famed manager and trainer, he would invite me to breakfast to talk boxing. He loved to talk about prizefighting in the 1950s and 1960s. He called that era a very exciting time, but claimed it was even better in the 1930s when boxing was really the king of sports in Los Angeles.
He had a point.
During the 1960s he ran a sandwich spot that he strategically located across the street from the long defunct Herald-Examiner newspaper and also walking distance to the Olympic Auditorium.
"Lots of the reporters like Bud Furillo and Mel Durslag would stop by for a sandwich," said Georgino to me in an interview in 2000. "It was a heck of a time for boxing. We'll never see that again."
Georgino grew up in Lincoln Heights, a section of East Los Angeles that was primarily an Italian neighborhood back in the 1930s. He and his brother were boxers and, according to Georgino, there were boxing shows every day of the week if you include amateurs. He also claimed that amateurs got paid a small sum.
As a youth he boxed amateurs and as an adult he became involved as a trainer and manager of prizefighters. He was a close friend of Art "The Golden Boy" Aragon who was a massive gate attraction during the 1950s. Both would later own bail bonds businesses located next to each other in Los Angeles.
"Art was quite a character," said Georgino. "You never knew if he was kidding or serious."
Georgino later moved to Riverside, California. He was still promoting boxing shows in the state of Washington into his 90s.
Boxing in 1960s Los Angeles was a much different era.
Check out more boxing news on video at The Boxing Channel 
To comment on this story in The Fight Forum CLICK HERE