Jim Lampley Wistfully Recalls The Roy Jones That Was
Kryptonite could bring the Man of Steel to his knees. Greek mythology's Achilles was unconquerable in battle, but he could be brought down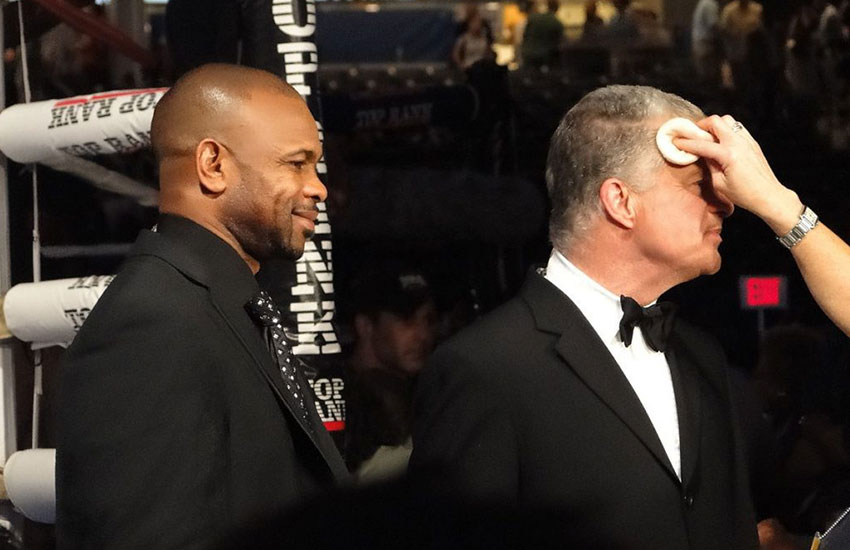 Even Superman was not wholly impervious to danger and the specter of defeat. Kryptonite could bring the Man of Steel to his knees. Greek mythology's Achilles was unconquerable in battle, but he could be brought down if struck with a strategically placed blow to an unprotected heel.
The only two boxers that longtime HBO blow-by-blow announcer Jim Lampley has observed who were so preternaturally gifted that they superseded the normal bounds of human excellence were the younger, nearly-perfect versions of Muhammad Ali and Lampley's current HBO broadcast partner, Roy Jones Jr. But each of those superheroes of the ring eventually encountered a relentless opponent that incrementally stripped away the insulating layers that had made them such very special fighters. It was not so much another living, breathing human being who served as the kryptonite that revealed their fallibility as the unseen thief that comes silently in the night, stealing tiny bits and pieces of their exquisite talent until only a shell of what had been remained.
On Feb. 8, in his hometown of Pensacola, Fla., the 49-year-old Jones (65-9, 49 KOs) presumably brings down the curtain on his 29-year professional boxing career when he takes on a carefully selected designated victim, Scott Sigmon (30-11-1, 16 KOs), in a scheduled 10-round cruiserweight bout. The plan is for Jones, a world champion in four weight classes and a surefire first-ballot International Boxing Hall of Fame inductee whenever he becomes eligible, to go out in a blaze of out-of-the-spotlight glory. But if boxing history tells us anything, it is that not everything goes according to plan even for those who have enjoyed the panoramic view from the summit of Mount Pugilism. Mike Tyson, 19 days from his 39th birthday, never fought again after he was stopped in six rounds by plodding Irishman Kevin McBride on June 11, 2005, and Bernard Hopkins, 29 days from his 52nd birthday, was finally obliged to acknowledge the natural laws of diminishing returns when he was knocked out in eight rounds by Joe Smith Jr. on Dec. 17, 2016.
"I have read reports that he is saying this will be his last fight and that's very encouraging and gratifying to me," Lampley said of his friend's farewell appearance, which by any reasonable criteria is coming a good dozen years after what should have been his career's optimal expiration date. "I don't know of a single soul in our little universe of boxing who wants him to keep doing this. We all know realistically that it's certainly of no value to his legacy as a fighter.
"I'd be lying if I said that I never once made a comment to him or tried to engage him in a conversation as to why he was still doing this. The last time I did so he made clear to me that, in his view, it wasn't something he had to defend to me. He was going to do what he was going to do and that within our friendship it was important for me to accept that. I accepted it. Probably five or six years have gone by since the last time I had a discussion with him about it."
The most revered gods of war are held to a higher standard than fighters of a lesser pedigree. It thus should come as no surprise that those members of boxing's most exclusive club are sometimes resistant to step away from something that always has defined them more than anything they could ever do outside of a roped-off swatch of canvas.
"You always think of yourself as the best you ever were," Sugar Ray Leonard, he of the four announced retirements that didn't stick, once said. "Even if money is not an issue, and you have other options, you never lose that belief in yourself as a fighter, particularly if you've been to the very top of the mountain. (Being retired) eats at you. It's hard to finds anything else that gives you that high."
Ali lost three years of his prime to his banishment for refusing to be inducted into the Army during the Vietnam War, but, unlike the stop-and-start Leonard, Jones' response to every warning sign that he was on the downward slope of that figurative mountain was to keep fighting on, all the while holding fast to the distinctive style he shared with Ali. It was those non-traditional mannerisms, which worked so spectacularly well when Ali and Jones were at their best, that sometimes produced disastrous results when their fundamental deficiencies were exposed.
"The direct comparison is Ali," Lampley said of the closest thing to Jones he has known, both in good times and not so good. "I've said a thousand times that there were only two fighters in the history of the sport, certainly since I've been watching boxing, whose physical talents were so overwhelming that they could take apart the tool kit and put it back together in any way they wanted – lead with a hook, lead with a straight right hand, dispense with the jab, back away from punches rather than duck and slip. Ali could do that for a while. Roy could do that for a while. But nobody can do that forever.
"That is why the tool kit is what it is, for normally talented human beings. It's your protection in the ring. For a long time Ali and Roy didn't need that protection. Then, when their bodies lost something and they weren't so overwhelmingly physically superior anymore, they didn't have that tool kit to protect them.
"The perfect and most graphic example is if you watch the first Roy Jones-Bernard Hopkins fight (on May 22, 1993). It's all Roy Jones. If you watch the second Jones-Hopkins fight (on April 3, 2010), that's all Bernard Hopkins. The difference is that, during the passage of time, Roy felt he never needed to employ the tool kit. Bernard, of course, was passionate about learning and amplifying and exercising everything in the tool kit. The amazing thing to me is that Roy knows the tool kit. He knows it as well as anybody. He demonstrates that as an expert commentator. He sits there and talks about what normal fighters should do, using the normal craft of boxing. But he never felt compelled to use any of that throughout his own career."
For some, the best of Roy Jones Jr. was on display the night he picked apart fellow future Hall of Famer James Toney to win a wide unanimous decision on Nov. 18, 1994. For others, it was his utter domination of Vinny Pazienza en route to scoring a sixth-round stoppage on June 24, 1995. The highlight of Jones' deconstruction of Paz was a sequence in which, holding onto the top ring rope with his right glove, he fired eight consecutive left hooks in a machine-gun burst, all eight connecting with the target's increasingly busted-up face. It was an expression of creativity akin to a musical genius who spontaneously reproduces the rhythm in his head only he can hear. Think Miles Davis at the Newport Jazz Festival, Ray Charles at the Apollo, Count Basie at Carnegie Hall.
Said Seth Abraham, then-president of HBO Sports: "George Foreman (who did color commentary for Jones-Pazienza) told me after that fight only Roy fights like a great jazzman plays. He improvises. He does riffs. I thought that was such an insightful way to describe Roy Jones."
For a majority of fight fans, however, the most lasting memory of Roy Jones Jr. came on March 1, 2003, when the man who began his pro career as a middleweight and won a world championship in that division, later adding super middleweight and light heavyweight titles, boldly moved up to heavyweight to challenge the much-larger but less-skilled WBA champion, John Ruiz. There was a school of thought that Ruiz was too big and strong for Jones and another that Jones' speed and mobility would surely carry the day because talent is usually a more precious commodity than size.
It was, of course, no contest as Jones – who went off as a 2-1 favorite — darted in and out, pounding on the bewildered Ruiz as if he were just another heavy bag in the challenger's Pensacola gym. The margins of victory on the official scorecards – eight, six and four points – scarcely reflected the level of Jones' dominance.
But, as is sometimes the case, the showcase conquest of Ruiz actually marked the beginning of the end of Jones as a larger-than-life source of wonderment. Curiously, at age 34 he elected to return to light heavyweight instead of a more sensible reduction to cruiserweight. While it had been a bit of a chore to bulk up the right way to 193 pounds for the weigh-in for Ruiz (he was 199 the morning of the fight), paring 20-plus pounds of muscle was infinitely more taxing. In retrospect, it now seems apparent that Jones was never the same after the happy glow of his rout of Ruiz had subsided.
"He took 31 pounds of muscle off (that figure might be a tad excessive) and that can't be done without a residue of damage," Lampley said. "It just can't be done, and he suffered from that, maybe permanently. I don't know what his thought process was, why he thought it was important to come all the way back down to light heavyweight. I certainly get it that he was never a natural heavyweight. For him to remain in the heavyweight division would have been an aberration. I guess he figured that, as a big-name fighter, for him to fight as a cruiserweight, which was not a prestigious weight class at the time, would be like saying, `I'm going to go over here in the back closet and fight where you won't see me.' Maybe that was an option that was not acceptable to him."
In his first post-Ruiz bout, Jones retained his light heavyweight titles on a disputed majority decision over Antonio Tarver. He followed that with a two-round TKO loss to Tarver in the second of their three fights, but that could be dismissed as a bolt of lightning that occasionally can fell even elite fighters. But it was in his next outing, on Sept. 25, 2004, against Glen Johnson, that it became apparent to all that Roy Jones Jr. had descended from on high into the ranks of the merely mortal. Johnson, a fringe contender whose willingness to mix it up superseded his good but hardly remarkable talent, gave Jones a taste of his own butt-kicking medicine until he literally knocked him cold to win on a ninth-round knockout.
For Lampley, it was like a repeat of another fight from another time, when Jones' magnificent stylistic predecessor suffered a similar head-on crash with boxing's crueler realities.
"The night that Ali fought Larry Holmes (Oct. 2, 1980, at Caesars Palace in Las Vegas) I heard – and I'll never forget it – the greatest single line of boxing commentary ever, and it came from someone who wasn't involved in boxing," Lampley recalled. "I was in the executive suite at ABC in New York, watching the fight, which was one of the sport's rites of passage. We all know the culture of boxing, the old giving way to the new. Ali vs. Holmes was just such a rite of passage. It had to happen the way it happened.
"In the late rounds, when Holmes was beating Ali to a pulp, I got a little jab to my rib cage. I looked to my right and it was Mick Jagger. Mick said to me, `Lamps, you know what we're watching?' And I said, `No, Mick, what are we watching?' He said, `It's the end of our youth.' And it wasn't just that for us, but for the whole audience."
The night that Jones, who once had towered over boxing as if he were the Colossus of Rhodes, was pummeled by Johnson, reminded Lampley as no fight ever had of Ali-Holmes. Nothing would ever be quite the same again.
"How else could a relatively ordinary fighter, albeit one with a big heart and a big motor like Glen Johnson, knock the great Roy Jones into next week the way he did? That was not the Roy Jones we had seen before. It was a different person."
But, as Sugar Ray Leonard noted, it is human nature to think of ourselves as the best we ever were. The Roy Jones Jr. who will answer the opening bell against Sigmon will have his hands low, leaning back from punches instead of stepping to the side, because that is who he was at his best. To do otherwise would be a concession to mortality, an acknowledgment that all glory is fleeting, and perhaps his last waltz around the ring will turn out better than it did for Tyson and for Hopkins. But whether it does or doesn't, his enshrinement into the IBHOF in Canastota, N.Y., is assured.
"What I don't understand is why, once the handwriting was on the wall – Glen Johnson, Danny Green, Denis Lebedev – why keep going after that?" Lampley said of Jones' refusal to leave the arena when so many were urging him to do so. "That's what I don't understand, and never will. He's never tried to explain it to me and I'm too respectful of him to have pressed the issue. I did at one point say to him, `I think you're hurting your legacy and you're not accomplishing anything here.' He basically said to me, `That's my business, not yours.' So I said, `OK.'
"When it comes right down to it, I think there's a part of Roy Jones who still thinks, and always will, that he's still that Roy Jones, despite all evidence to the contrary. And he's earned the right to think that way."
Check out more boxing news on video at The Boxing Channel.
Fulton Wins Inside War to Win WBO Title and Other Results from Connecticut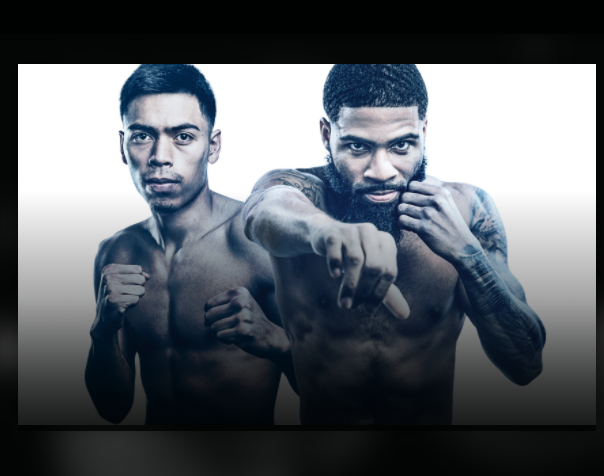 This time Stephen Fulton passed the Covid-19 test and then out-worked Angelo Leo in a brutal inside war to take the WBO super bantamweight world title by unanimous decision on Saturday.
Philadelphia's Fulton (19-0, 8 KOs) was supposed to box and move against the body puncher Leo (20-1, 9 KOs) of Las Vegas but instead banged his way to victory with an artful display of inside fighting at the Mohegan Sun Casino in Uncasville, Conn.
When Leo won the world title during this past summer, he was supposed to fight Fulton, but Fulton showed positive on a Covid-19 test and was forced out of the fight. Not this time. Instead, the Philly fighter would not be denied.
Fulton planted his feet and banged to the body against body shot artist Leo and kept it going toe-to-toe for most of the 12 rounds.
Leo had his moments and was able to start slightly quicker, but by the sixth round it seemed Fulton was the stronger fighter down the stretch.
"He started breathing a little harder," said Fulton. "I pushed myself to the limit in training."
It showed.
Fulton took control for the last four rounds and just seemed fresher and more active to win by unanimous decision. Despite fighting primarily inside, the Philly fighter seemed comfortable.
"The game plan was to box at first. But I had to get a little dirty," Fulton said. "I made it a dog fight."
All three judges scored it for Fulton: 118-110 and 119-109 twice. TheSweetscience.com scored it 115-113 for Fulton who now holds the WBO super bantamweight world title.
"I'm the only champion Philadelphia has," said Fulton.
Aleem KOs Pasillas
A battle between undefeated power-hitting super bantamweights saw Ra'eese Aleem (18-0, 12 KOs) knock down East L.A.'s Vic Pasillas (16-1, 9 KOs) multiple times before ending the fight in the 11th round.
"I believe I put an exclamation point in my victory," said Aleem who trains in Las Vegas but is a native of Michigan.
Aleem showed off his quickness and power in both hands that resulted in knock downs of Pasillas in the second, sixth, ninth and 11th rounds. It seemed that Pasillas never could figure out how to combat the awkward looping blows and quickness of Aleem.
Pasillas had a few moments with his ability to score with counter lefts and right hooks from his southpaw stance. But every time he scored big Aleem would rally back with even more explosive blows.
As Aleem mounted a large lead, Pasillas looked to set up a needed knockout blow but was instead caught with an overhand right to the chin and a finishing left that forced the referee to stop the fight at 1:00 of the 11th round.
Aleem picks up the interim WBA super bantamweight title. It's basically a title that signifies he is the number one contender.
Lightweights
Rolando Romero (13-0, 11 KOs) floored Avery Sparrow (10-3, 3 KOs) in the first round and then exhibited his boxing skills to win by technical knockout.
It looked like the fight was going to end early when Romero caught Sparrow with a left hook. But Philadelphia's Sparrow survived the first round and the next few rounds to slow down the attacking Romero. Things settled down but Romero kept winning the rounds.
Sparrow dropped to the floor during an exchange of blows in the sixth round which the referee quickly ruled "no knockdown." Noticeably in pain Sparrow was under full assault from Romero and resorted to firing low blows. The referee deducted two points from Sparrow for the infraction.
The Philadelphia fighter limped out with a still gimpy knee to compete in the seventh round but within a minute Sparrow's corner signaled to the referee to stop the fight. The stoppage gave Romero the win by technical knockout at 43 seconds into the round.
Check out more boxing news on video at the Boxing Channel 
To comment on this story in the Fight Forum CLICK HERE
Boxers Fighting the Best and Doing It Again for the First Time: Part Two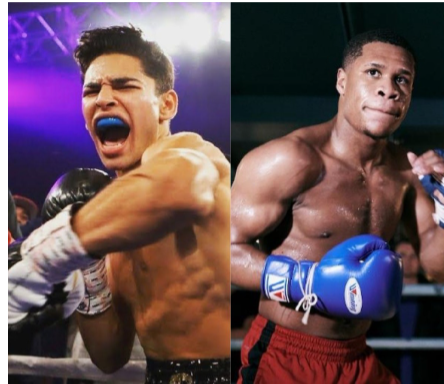 Boxers Fighting the Best and Doing It Again for the First Time: Part Two
As mentioned in Part One, the phrase "cherry picking" gained meaningful traction during the time "Money" Mayweather was making his run. A new and very simple business model seemed to fuel it; namely, make the most money the quickest way with the least amount of risk and that translated into fewer fights. The change was almost imperceptible.
WBC featherweight champion Gary Russell Jr. (31-1) has fought once a year sine 2014. WBO middleweight king Demetrius Andrade (39-0) started out fast but then fell into a less active mode. Wlad Klitschko began to pick his spots with more caution as he met the likes of Francesco Pianeta and Alex Leapai. Shane Mosley slowed down towards the end and even Guillermo Rigondeaux (20-1) has faded from the headlines after being stopped by Vasyl Lomachenko.
Back to the Future
Suddenly, however, a twist has emerged that suggests a new model may well be in the offing; to wit: make the most money the quickest way but with lesser regard to risk. Perhaps Daniel Dubois fighting Joe Joyce last November was an example. Translated, it could mean that the best will fight the best as they did in days of yore. If so, Mega- possibilities await.
"I Want All The Belts, No Easy Fights, I Want To Face The Best." –Virgil Ortiz
Ryan "King Ry" Garcia (21-0) has called out everyone and anybody and it appears he might get his wish in Devin "The Dream" Haney (25-0) or maybe the exciting Gervonta "Tank" Davis (24-0).
The new breed of Davis, Garcia, Haney and Teofimo "The Takeover" Lopez is being is being compared to the "Four Kings" (Leonard, Hearns, Hagler, Duran) but a flattered Devin Haney wisely notes "those guys fought each other."
In this connection, writer James Slater nails it as follows: "Right now, in today's boxing world, Haney, Lopez, Davis and Garcia could all do well, they could win a title or two and they could pick up some huge paydays, without fighting each other. This is the state the sport is in these days. It's up to the fighters to really WANT to take take the risks, to take on their most dangerous rivals. The 'Four Kings' did it, time and again, and this is what added enormously to their greatness."
Teofimo Lopez did it. After shocking Richard Commey, he beat Vasyl Lomachenko in an even more shocking outcome and now wants George Kambosos, Jr. to step aside for a Devin Haney fight.
It doesn't get any better than the specter of Errol Spence Jr. (27-0) fighting "Bud" Crawford (37-0) unless it's Tyson Fury (30-0-1) meeting Anthony Joshua (24-1.) If Covid 19 is under control, they could do this one in front of 100,000 fans.
Josh Taylor has talked about challenging Lopez even if it means dropping down to lightweight, and then moving up to 147 to challenge Crawford or Spence.
Dillian Whyte rematching with Alexander Povetkin is another highly anticipated fray and has the added dimension of being a crossroads affair. Oleksandr Usyk will likely face off with Joe Joyce in Usyk's first real test as a heavyweight.
In late February there's a big domestic showdown in New Zealand between heavyweights Joseph Parker and Junior Fa. On that same date In London, Carl Frampton squares off with slick WBO 130-pound champion Jamel Herring.
And Juan Francisco Estrada rematching with a rejuvenated Roman "Chocolatito" Gonzalez has everyone's attention.
Super exciting Joe Smith Jr. meets Russia's Maxim Vlasov for the vacant WBA light heavyweight belt. What's not to like?
The showdown between Miguel Berchelt (38-1) and Oscar Valdez (28-0) is the best on the February docket and could end up being a FOTY.
Speaking of FOTY's, the prospect of Naoya "Monster" Inoue vs. Kazuto Ioka is as mouthwatering as it can get and has global appeal.
Meanwhile, Artur Beterbiev looms and it's not a question of opponents as much as it's a question of who wants to contend with his bludgeoning style of destruction.
Claressa Shields, Marie Eve Dicaire, Katie Taylor, Amanda Serrano, Delfine Persoon, Jessica McCaskill, and Layla McCarter are prepared to make female boxing sizzle. In the final analysis,  when Vasyl Lomachenko becomes an opponent, you know something is very different.
You can read Part One HERE
Ted Sares can be reached at tedsares@roadrunner.com
Check out more boxing news on video at the Boxing Channel 
To comment on this story in the Fight Forum CLICK HERE
Vic Pasillas: An East L.A. Fighter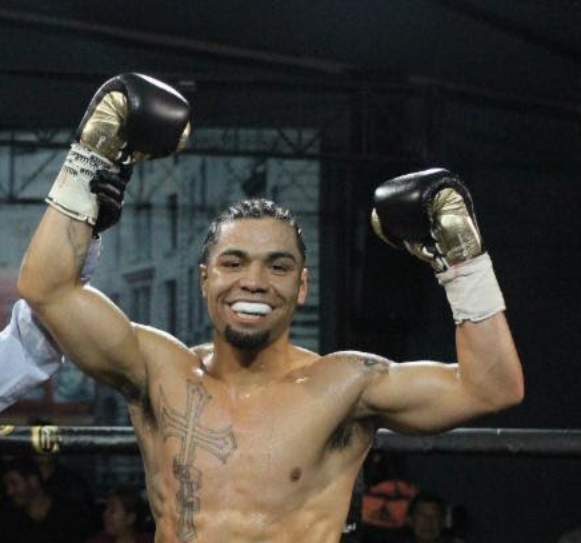 When East L.A.'s Vic Pasillas enters the prize ring this weekend he follows a path that many from his area have trod before. Not all were successful, but those that succeed become near legendary.
But it's definitely not easy being from East L.A.
Pasillas (16-0, 9 KOs) meets Michigan's Raeese Aleem (17-0, 11 KOs) for the vacant interim WBA featherweight title on Saturday Jan. 23, at Mohegan Sun Casino in Uncasville, Conn. Showtime will televise live.
Once again, a fighter from East L.A. stands pivoted for greatness. Can Pasillas go all the way?
For the past 130 years, prizefighters from East Los Angeles have developed into some of the best in the world if you can get them into the prize ring. Oscar De La Hoya and Leo Santa Cruz are two who were able to duck drugs, crime, street gangs and longtime allegiances that can often mislead aspiring boxers toward deadly endings.
One of the first featherweight champions in history lived in East L.A. Solly Garcia Smith won the world championship in 1893. He was the first Latino to ever win a world title.
There are many others from "East Los" who were talented prizefighters that were sidetracked into oblivion. Talented pugilists like brothers Panchito Bojado and Angel Bojado were derailed by mysterious obstacles that East Los Angeles presents. Others like Frankie Gomez and Julian Rodriguez showed dazzling promise but disappeared.
It's almost as if a curse hangs over East L.A. area like a blanket of smog.
Many were surefire champions. But for some reason East L.A. or East Los as it's called by those living in the 20 square mile radius, seems to have a dark lingering spell that makes it extra difficult for prizefighters to succeed.
Back in the 1950s a supremely talented fighter named Keeny Teran was skyrocketing to fame when heroin dropped him like an invisible left hook. Celebrities like Frank Sinatra and Danny Kaye were his biggest backers. Yet, not even they could help Teran.
Drugs almost took Pasillas too.
The fighter known as "Vicious" Vic Pasillas could have tripped into one of those sad stories from East L.A. you often hear about from your abuelitas. The streets can easily claim you if you let your guard down. Who is a friend and who is a foe are not often clear as the colors brown or white. It's a potholed journey to navigate the barrio streets that look tame during the day, but ominous when the darkness arrives.
Barrio Life
Growing up with parents who were incarcerated led Pasillas to find loyalty from the vatos on the street. They treated him well and gave him protection and a sense of family, but often led to being involved in petty and major crimes.
"I moved out of the neighborhood. I had to get away from my friends. No disrespect to them but I knew that I would end up in jail," said Pasillas who moved to Riverside, Calif. which is 60 miles east of East L.A. "Nobody knew where I was."
One thing certain: prizefighting was his gift. All that he encountered recognized his boxing ability.
"He was always a gifted fighter," said Joe Estrada, who would often take him to tournaments around California or in other states. "Every tournament he entered he won. He has always had speed, power, and defense. He's always been a great boxer, but trouble was always around him."
Gangs had always been a part of Pasillas life. He was born into gangs in South El Monte and even after moving to East L.A. it was not an escape. It was vatos locos that took him under their wing and showed him love and respect. They took care of him; some were also boxers.
East L.A. is an area much like a spider web. You can travel a quarter mile in one direction and suddenly you are in enemy turf. Gangs are everywhere. If you are an adult male you can't simply walk outside a door without looking in all directions. It makes you razor sharp in recognizing danger. You always look out for danger.
Pasillas loved boxing and loved his friends, the big homies, but cutting off one for the other was the most difficult decision. He would train, fight, and win but then hang with the homies and end up being arrested with the rest of them.
"The cops would come and everybody would run so I would run," said Pasillas. "I didn't do anything, but I would get busted with everybody else for trying to evade the police."
Things remained the same until he met his wife. The streets never had a chance. Once married he moved to the Riverside area. It was 2011 and newly married he needed to make a decision on whether to try and make the Olympic team or turn professional.
"I was ready to go to the Olympics. First, I was going to smash everybody but my wife got pregnant at 2011. It forced me to get a job at a warehouse. I was making 50 dollars a week. Pennies," said Pasillas. "I got a call from Cameron Dunkin and Top Rank. They offered me a fight on the third Manny Pacquiao and Juan Manuel Marquez fight. That was my pro debut."
Sadly, the streets reclaimed him again.
Reckoning
A move to northern California seemed to change things but the struggle to stay outside the grasp of the streets remained real even hundreds of miles away. Despite the dark times Pasillas still had friends and admirers.
Seniesa Estrada, who holds the interim WBA flyweight title and is poised to fight for a world title in March, remembers sparring with Pasillas when she could not find girls to spar.
"Vic was always very good. He would take it easy on me, of course, but I would learn so much from sparring with guys like him and Jojo Diaz and Frankie Gomez," said Estrada, who grew up and still lives in East L.A.
Pasillas, 28, had more than 300 amateur fights. He lost only eight times. Anyone who ever saw him fight immediately recognized his immense talent.
"Vic is one of the best fighters I ever saw," said Joe Estrada. "Everyone knew that when he's in shape he can't be beat. Just so much talent."
That talent will be tested on Saturday when he meets Michigan's undefeated Aleem. Whoever wins their battle will meet the winner between Angelo Leo and Stephen Fulton who fight for the WBO super bantamweight title.
"I want to fight the best now, and Pasillas is one of the best fighters in the division. I'm not ducking or dodging anyone. I'm going to be a world champion by all means necessary," said Aleem who now fights out of Las Vegas.
Pasillas doesn't doubt that Aleem has talent.
"I don't want to give up my game plan but best believe I'm going to do whatever it takes to win this fight. If he wants to bang, then we'll bang, if he wants to box, we'll box. I've seen so many different styles in the amateurs, there is nothing that he brings that I haven't seen. My power is what he's going to have to deal with," Pasillas said.
It's been an incredible up and down journey so far for Pasillas; a lifetime of dealing with hidden traps on East L.A. streets that have toppled many previous fighters now long forgotten.
Or will those same streets show the way to glittering success as former champions De La Hoya, Santa Cruz, Joey Olivo, Richie Lemos, Newsboy Brown and Solly Garcia Smith discovered.
One thing Pasillas already discovered was his own family.
"People invite me all the time to events and parties but I tell them I already have plans with my family," said Pasillas who has a wife and two elementary age children. "I never really had a family like other people."
Now he has his own family. Something he didn't have during his youth due to drugs and the streets.
"It's just a domino effect. I'm making sure I'm going to stop that s—t," says Pasillas. "It's going to be good for East Los. I'm a born and bred fighter from East Los."
Sometimes the streets can break you or make you.
Check out more boxing news on video at the Boxing Channel 
To comment on this story in the Fight Forum CLICK HERE