Kovalev Wins in Familiar Fashion But His Future Plans Are Uncertain
Was it only a year and a half or two ago that the fight many fans most wanted to see was a light heavyweight unification matchup of 175-pound knockout artists Sergey Kovalev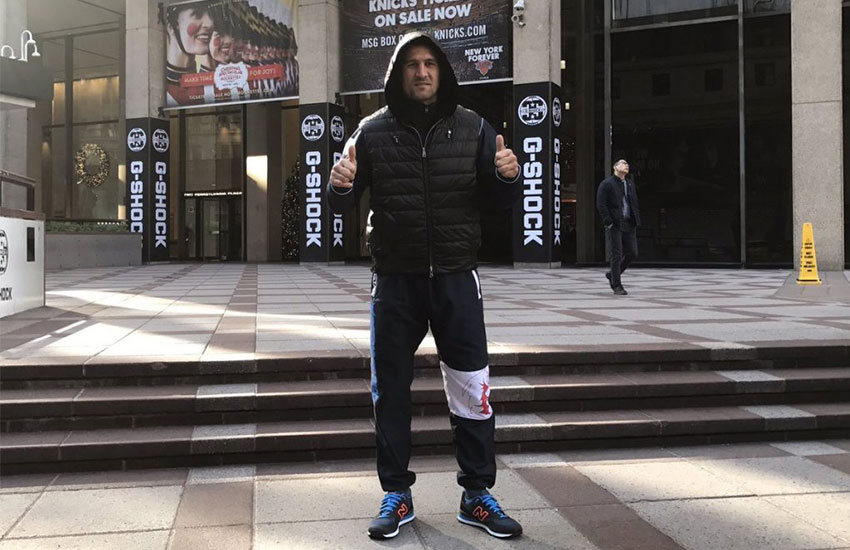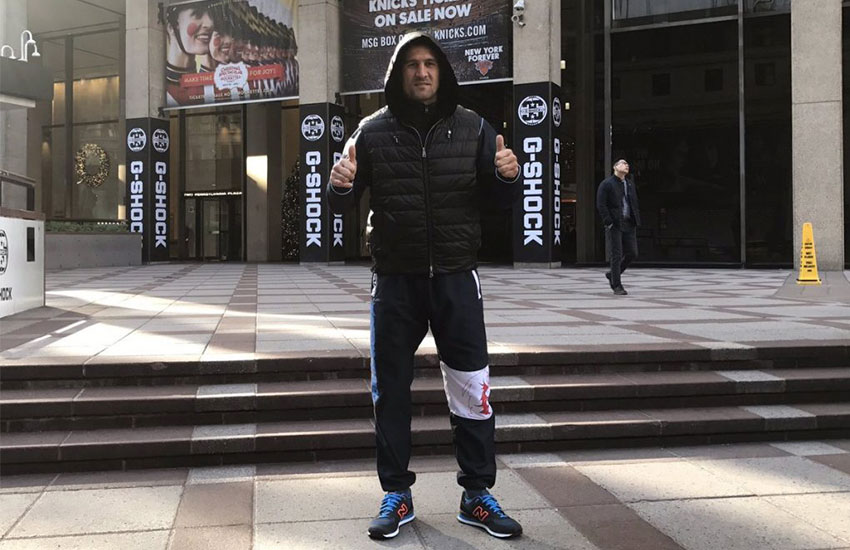 Was it only a year and a half or two ago that the fight many fans most wanted to see was a light heavyweight unification matchup of 175-pound knockout artists Sergey Kovalev and Adonis Stevenson?
Kovalev and Stevenson presumably are still available to swap shots for pride and profit, but circumstances have rendered the once-hot pairing to something more akin to lukewarm, and that's even if the two would-be combatants can bring themselves to do something more than make snide remarks about one another. For one thing, the 40-year-old Stevenson (29-1, 24 KOs), who defends his WBC title against Badou Jack (22-1-2, 13 KOs) on May 18 in Montreal, has always seemed about as anxious to test himself against Kovalev as he might be to contract the Ebola virus. For another, Kovalev, the "Krusher" from Russia, also seems to have lost some of the shine from his once-shiny reputation. Oh, Kovalev still might belong on a lot of knowledgeable observers' top 10 pound-for-pound lists, but he's 34, has those two losses to Andre Ward on his resume and was targeted for some scathing comments from his former trainer, John David Jackson. Even his latest victory, in which he defended his WBO championship on a seventh-round stoppage of fellow Russian Igor Mikhalkin Saturday night at The Theater at Madison Square Garden, seemed almost drab in comparison to the heavyweight barnburner held just 5.4 miles away in Brooklyn's Barclays Center, where WBC champion Deontay Wilder survived some scary moments before putting away his most formidable opponent to date, Luis "King Kong" Ortiz, in the 10th round.
"She (Main Events matchmaker Jolene Mizzone) had been telling everybody all along that Mikhalkin was going to present a real test," said Main Events CEO Kathy Duva, whose company promotes Kovalev. "He's got that southpaw style, he's relentless, he's Russian. She knew that this was not going to be a walk in the park (for Kovalev). The guy did belong in there. He earned his shot."
Maybe so, but the test presented by Mikhalkin (21-2, 9 KOs) for the most part seemed less final exam than pop quiz with an open book. Although the challenger's southpaw stance might have given Kovalev (32-2-1, 28 KOs) momentary pause, for the most part the clearly superior titlist demonstrated why he went off as a 19-to-1 favorite, which is pretty much of a sure thing.
Kovalev opened a cut to Mikhalkin's right eye with a left hook in the sixth round, and the wound worsened until referee Steve Willis felt obligated to step in 2 minutes and 25 seconds into round seven and wave off the rest of a bout whose outcome had always seemed preordained.
But while Kovalev is accustomed to ending things with spectacular flourishes, this TKO seemed almost routine. In fact, Kovalev's postfight comments bordered on apologetic.
"Little bit disappointed," Kovalev said of his performance as he held his giggling, attention-seeking and impossibly cute toddler of a son, Aleksandr. "I did not show everything that I wanted because Igor is southpaw. It is not a comfortable style (for me)."
"He is not easy opponent, believe me. He looks like maybe a no one guy, you know, but he is good. And I was, like, a little lazy. Sluggish. I don't know, something was wrong."
Despite Kovalev's professed inertia and obligatory kudos tossed the outclassed Mikhalkin's way (Kovalev won 17 of the 18 completed rounds on the three judges' official scorecards and would have made it 20 of 21 were it not for Willis' intercession), he and his support crew – Duva, manager Egis Klimas and trainer Abror Tursunpulatov – no doubt realize that there is lost ground that needs to be made up, and quickly, if some of the big bopper's luster is to be restored to its former level.
"There's a lot of light heavyweight fights happening in the next few weeks," said Duva, who hopes to get Kovalev back in the ring in June, preferably at the Garden, which he now calls his favorite venue. "I really think those fights have to happen. Once we figure out who wins, we'll make some decisions."
Kovalev said he'd prefer not to fight another southpaw next, which would appear to rule out Stevenson, not that that evaporating dream fight is apt to ever advance beyond the theoretical. There's the standard HBO/Showtime snag that somehow would have to be resolved, with Kovalev contractually bound to the  former and Stevenson to the latter, as well as the likelihood that the Haitian-born, Quebec-based WBC ruler would decline to exit his Canadian comfort zone, where he has staged his last 14 fights and is determined to remain unless extradited. But Kovalav expressed interest in a possible rumble with Jack (22-1-2, 13 KOs), should he get past Stevenson, an iffy proposition.
"I've read on the internet that Badou Jack would be a big-money fight," Kovalev said. He also opined that a unification bout with WBA champ Dmitry Bivol (13-0, 11 KOs), who almost toyed with Cuban expatriate Sullivan Barrera (21-2, 14 KOs) before stopping him in the 12th round in Saturday night's co-featured bout on HBO, is on the table and deserving of consideration.
By any measure, including earning potential, Kovalev is not where he was heading into his first showdown with Ward on Nov. 19, 2016, in Las Vegas' T-Mobile Arena. There are more than a few people who believe that Kovalev had done enough to get the nod in that one, although Ward, by consensus one of the two or three best fighters in the world, came away a 114-113 winner on all three official scorecards. With a chance to settle the score in the rematch on June 17, 2017, at the Mandalay Bay in Vegas, Kovalev was stopped in eight rounds in another tight scrap, leading 68-65 on one card and down by just 67-66 on the other two. Kovalev claimed the stoppage was the result of illegal, below-the-belt punches that drew no warnings or penalties from referee Tony Weeks, an argument that was not without some merit.
The Ward setbacks seemed to send Kovalev into a funk, and when he decided to jettison Jackson, the sacked trainer claimed he was being unfairly portrayed as a scapegoat by a selfish fighter who took too many shortcuts in the gym.
"Sergey likes to talk trash," a bitter Jackson said after the Ward rematch. "He's blaming me for the loss but let me tell you this, you can't blame me for the loss when he quit. He quit! Once Andre started hitting him to the body he was done.
"He makes Russian people look bad. All the Russians that I've trained, they are wonderful people, man. This guy (Kovalev) is a complete (expletive), just a really selfish person."
Although Klimas floated the names of better-known replacement trainers, most notably Freddie Roach, the gig went to Tursunpulatov, who came to Kovalev's attention because he trained Russian middleweight Bakhram Murtazalien. They now have been together for two fights, Kovalev's two-round blowout of Ukraine's Vyacheslav Shabranskyy on Nov. 25 of last year for the vacant WBO title and now Mikhalkin.
"He reminds Sergey of his old trainer from the beginning in Russia, especially because Sergey wants to hear the Russian language in his corner," Klimas said when Tursunpulatov came aboard. "That is important to him."
The restoration of Sergey Kovalev remains a work in progress. Jackson's depiction of him as a quitter is about the worst thing that can be said of a fighter, and his sacking of a well-thought-of black trainer and some insensitive comments have raised, perhaps unfairly, the ugly specter of racism. Those are labels that aren't always easy to scrape off, and Kovalev must try to do so to mollify the doubters while at the same time demonstrating that he is still the potentially great fighter he appeared on the verge of becoming not so very long ago.
The fastest and most obvious way to reestablish himself as a card-carrying member of the boxing elite would be to get a third shot at the now-retired Ward and to win. Ward recently mused that a third clash with Kovalev has crossed his mind, so there is that to consider. Certainly, all evidence suggests that such a fight would come with shorter odds than Kovalev getting a first go at Stevenson.
If not Bivol or Jack, the grab bag of possible Kovalev foes include Joe Smith Jr. (23-2, 19 KOs), Marcus Browne (21-0, 16 KOs), Artur Beterbiev (12-0, 12 KOs), Okeksandr Gvozdyk (14-0, 12 KOs), Eleider Alvarez (23-0, 11 KOs) and Anthony Yarde (15-0, 14 KOs). Even Mike Lee (20-0, 11 KOs), the Notre Dame grad better known for his role as a pitchman for Subway sandwiches, would appear to be in play; he is, after all, ranked No. 3 by the WBO.
But whomever Klimas and Duva select as the next partner on their guy's dance card, you have to wonder how big a splash that bout can make in a landscape where a preponderance of fight fans are fantasizing about the May 5 rematch of middleweight superstars Gennady Golovkin (37-0-1, 33 KOs) and Canelo Alvarez (49-1-2, 34 KOs), or the prospect of similar superfights pitting heavyweight champions Anthony Joshua (20-0, 20 KOs) and Deontay Wilder (40-0, 39 KOs) and welterweights Errol Spence Jr. (23-0, 20 KOs) and Terence Crawford (32-0, 23 KOs).
To comment on this article at The Fight Forum, CLICK HERE.
Check out more boxing news on video at The Boxing Channel
Pico Rivera Summer Fights See Cruz, Vega and Flores Win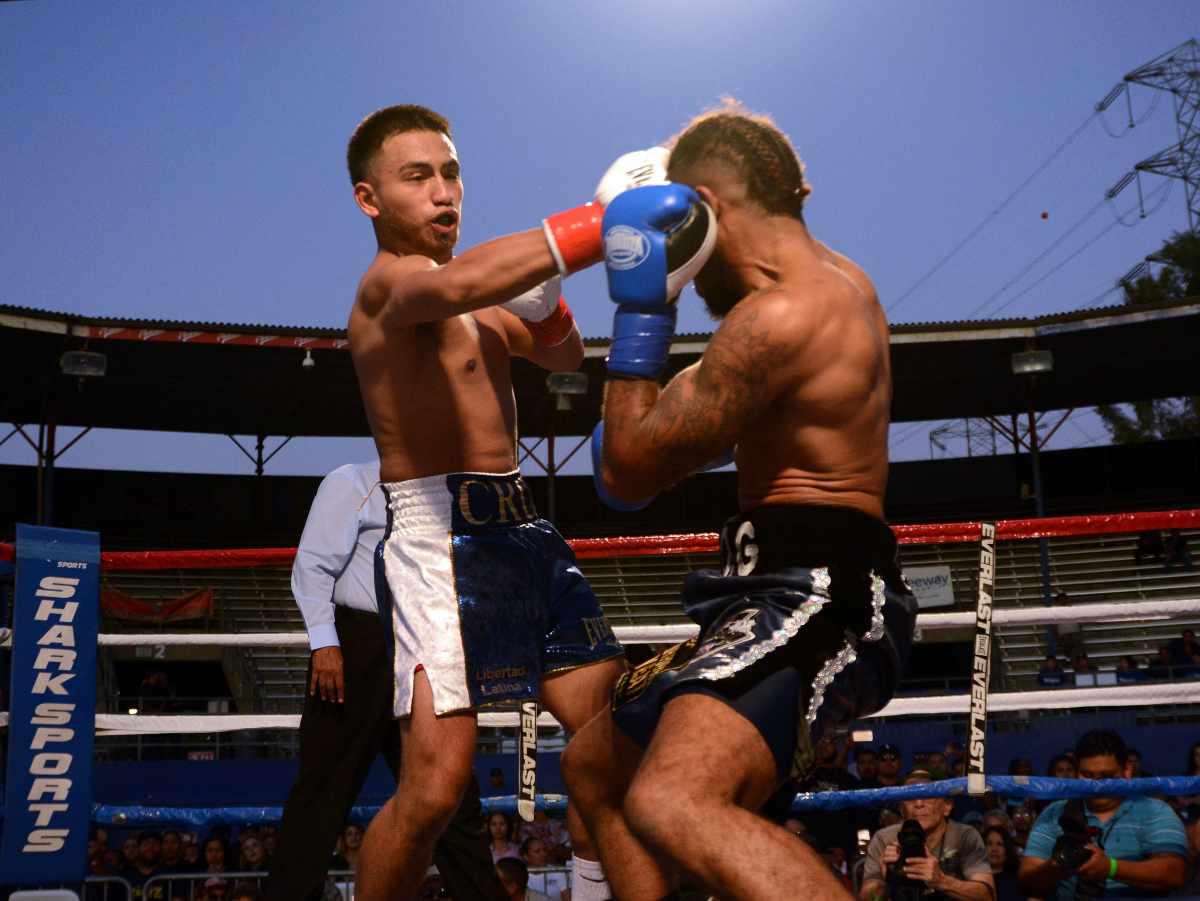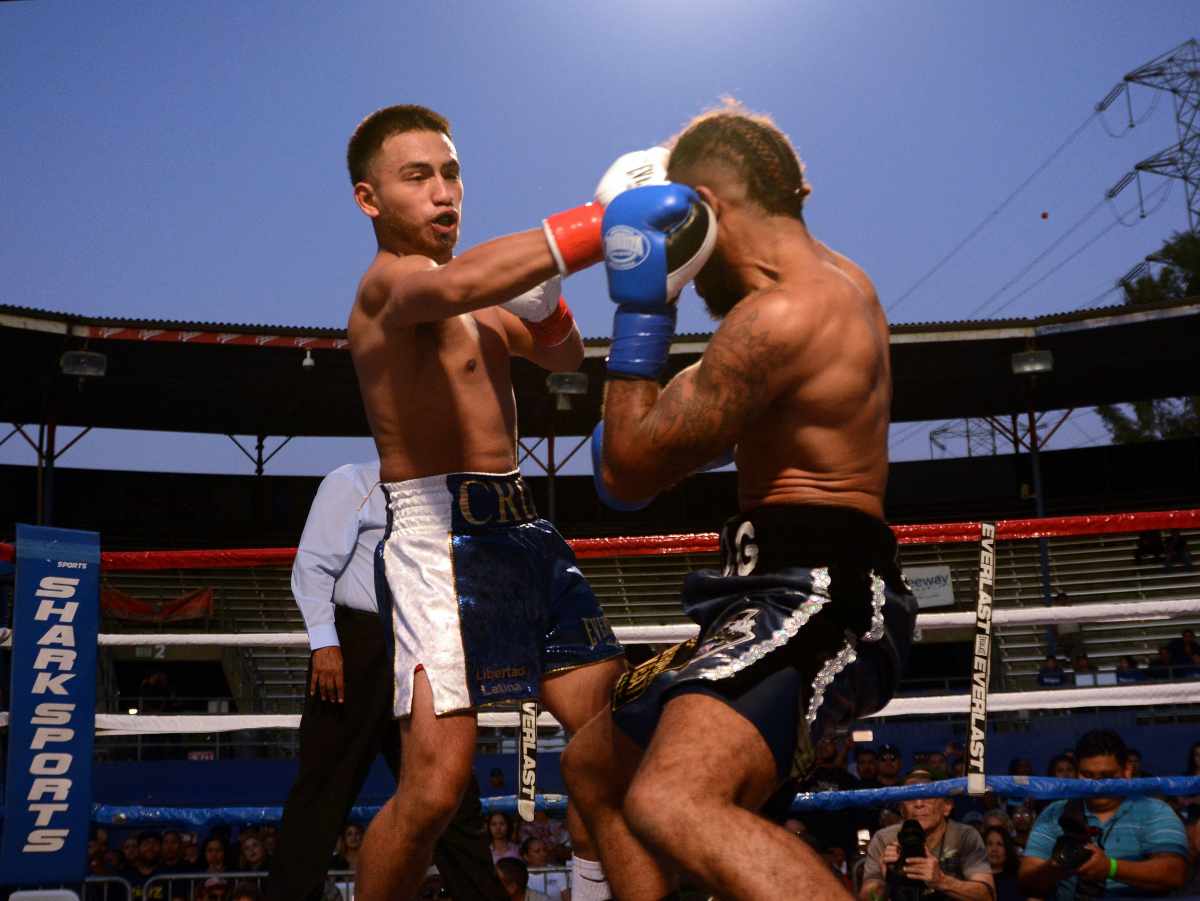 PICO RIVERA, Ca.-Along the San Gabriel River on a soft summer evening, Red Boxing Promotions brought another slew of hot local prospects to the forefront on Saturday.
Chino's Daniel "Cuetito" Cruz (3-0) burst into the fight like an energy bomb and simply overwhelmed southpaw Phillip Bounds (0-4) with lightning combinations to win by unanimous decision. More than 700 fans saw the Red Boxing fight card.
Though it was only his third pro fight, the high intensity prizefighter Cruz (pictured on the left) exhibited a level of confidence that allowed him to attack with impunity for the first two rounds.
Cruz switched to southpaw and had even more success against the lefty Bounds. The speed of Cruz proved too much to overcome for Bounds who tried different approaches but couldn't find an antidote for Cruz who won by unanimous decision 40-36 on all three cards in the super lightweight match.
"I'm excited, I wanted to put on a good show," said Cruz, 20. "I'm coming for all of the big names. Cuetito is here."
Andre Marquez (2-1) overwhelmed the much taller Alvin Brown (0-8) from Louisiana with a whirlwind style that ended in a knockout in the fourth and final round of their super featherweight match. A left hook caught Brown flush and Marquez followed up with four more blows, forcing Brown to take a knee at 1:41 of the fourth round. Marquez was ruled the winner by knockout by referee Sharon Sands.
"My plan was to work his body," said Marquez. "It worked out perfectly."
Welterweights Bradley Pena (0-0-1) and Ed Nunez (0-0-1) blasted each other for four rounds, with Pena starting fast and Nunez ending strong. No knockdowns were scored in the fight that started the night and ended in a draw.
Main Bouts
A light flyweight clash saw Axel Vega (13-2-1, 8 KOs) of Ensenada, Mexico knock out Tijuana's Giovanni Noriega (2-5-2) with a triple left hook in the second round. Vega, 19, trained out of Compton for this fight.
Welterweight prospect Steven Rodriguez (8-0) suffered a cut on his forehead due to a clash of heads but still managed to out-perform Las Vegas fighter Ryan Picou (3-12-1) after four rounds. All three judges scored the fight 40-36 in favor of Rodriguez. But Picou gave a stubborn defense against the constant rushes of Rodriguez and was able to score on occasion.
Santa Barbara's Angel Flores (6-0, 4 KOs) defeated Mexico's Roberto Almazan (9-12) by unanimous decision after six rounds in a super lightweight contest. Flores knocked down Almazan twice in the last round to clinch the win and get the victory by a landslide.
In the audience was former world champion Arturo Frias of East Los Angeles who won the WBA world lightweight title in 1982 and fought numerous times at LA's  fabled Olympic Auditorium. Also in attendance was current super flyweight contender Adelaida "La Cobra" Ruiz of Los Angeles who is scheduled to fight on October 12 at the same Pico Rivera Sports Arena. Red Boxing Promotions will be staging the event.
Photo credit: Al Applerose
Check out more boxing news on video at The Boxing Channel  
To comment on this story in The Fight Forum CLICK HERE
Fast Results from Russia: Kovalev KOs Yarde in the 11th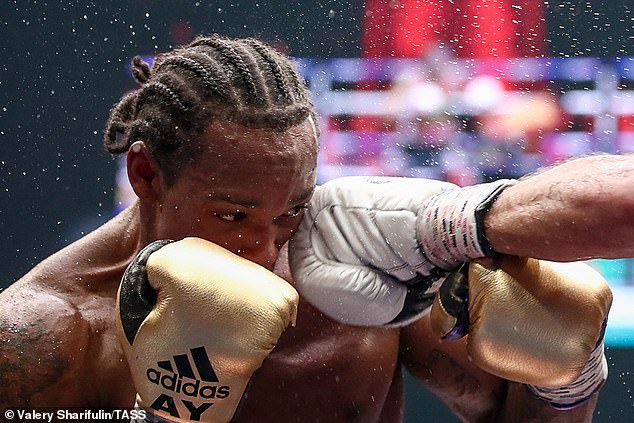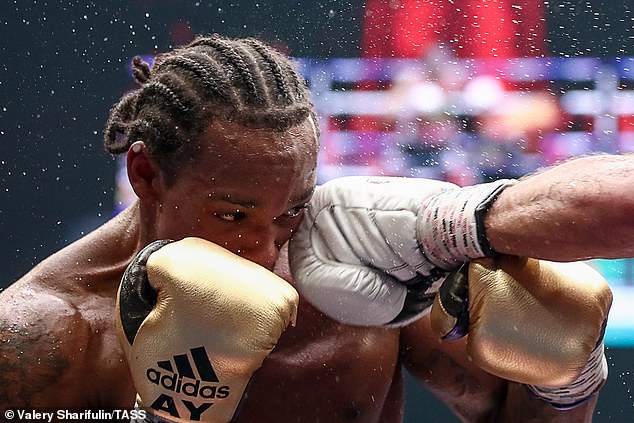 The consensus of opinion regarding tonight's fight at Chelyabinsk between Sergey Kovalev and Anthony Yarde was that….well, there was no consensus, save that it would not bode well for Yarde if both fighters were still standing at the final bell. Fighting in his hometown, and with a monster payday reportedly looming against Canelo Alvarez should he win, "Krusher" was unlikely to get the worst of it if the fight went to the scorecards. But there would be no controversial decision. In a fight that started slowly and then shifted Yarde's way, Kovalev stemmed the momentum, took charge in the 10th, and then closed the show in the next round with a scorching left hand that left Yarde flat on his back, gasping for air.
In handicapping the fight, Kovalev certainly had more check marks in the plus column. A former three belt champion and the reigning WBO 175-pound title-holder, Kovalev would be appearing in his 16th world title fight, his second with Hall of Fame trainer Buddy McGirt, with whom he had great rapport. By contrast, Yarde, although undefeated (18-0), had answered the bell for only 51 rounds and had defeated only nine fighters with winning records. Moreover, the Englishman had fought only 12 amateur fights before turning pro.
However, at age 36, Kovalev was getting long in the tooth and in some of his more recent fights he had stamina issues. Moreover, there was a school of thought that Yarde was a beast. In his 30 fights, amateur and pro, he had scored 28 knockouts.
Yarde's first good round was the seventh and he followed that up with a very strong eighth in which he hurt Kovalev and had the Krusher looking tired. But the assumption that he had paced himself brilliantly proved to be a mirage. As the bout moved into the home stretch, it was the younger man that was more fatigued.
Kovalev backed Yarde against the ropes and hurt him in the 10th. The Russian repeatedly had success with his hard left jab (shades of Larry Holmes) and it was a jab that ended it. Yarde was too exhausted to make it to his feet and was counted out.
Kovalev reportedly has already agreed to meet Canelo in November or December. Tonight he may have added an extra zero to his purse.
Kovalev vs. Canelo, likely at the T-Mobile Arena in Las Vegas, will be a blockbuster. Let the hype begin.
Co-Feature
The co-feature between knockout artists Aleksei Papin and Ilunga Makabu wasn't expected to last the distance, but it went the full 12 and was a highly entertaining affair climaxed by a great 12th round. When the smoke cleared, Ilunga, who went to post a slight favorite, improved to 26-2 (24) by dint of winning a majority decision. It was the second straight win on Russian soil for the Congolese southpaw who fights out of Johannesburg. In his previous go, he stopped Dmitry Kudryashov in the fifth round at Ekaterinburg.
Papin was 11-0 going in with 10 knockouts but the 31-year-old Russian, a former kickboxing champion, was moving up in class against Makabu, a former world title challenger. In the 12th, Makabu scored a knockdown with a straight left after buzzing Papin with a left-right combination, but Papin wasn't badly hurt and came back to rock him in the final seconds. The knockdown seemingly spelled the difference as two judges had it 115-113 with the third scoring it even (113-113).
Check out more boxing news on video at The Boxing Channel  
To comment on this story in The Fight Forum CLICK HERE
Tanaka and Hatanaka Stay Undefeated in Nagoya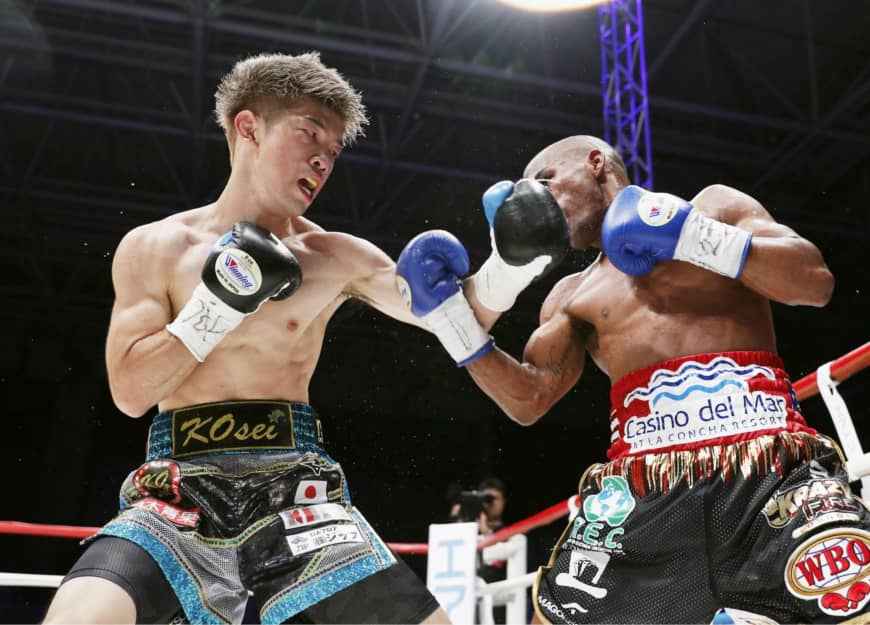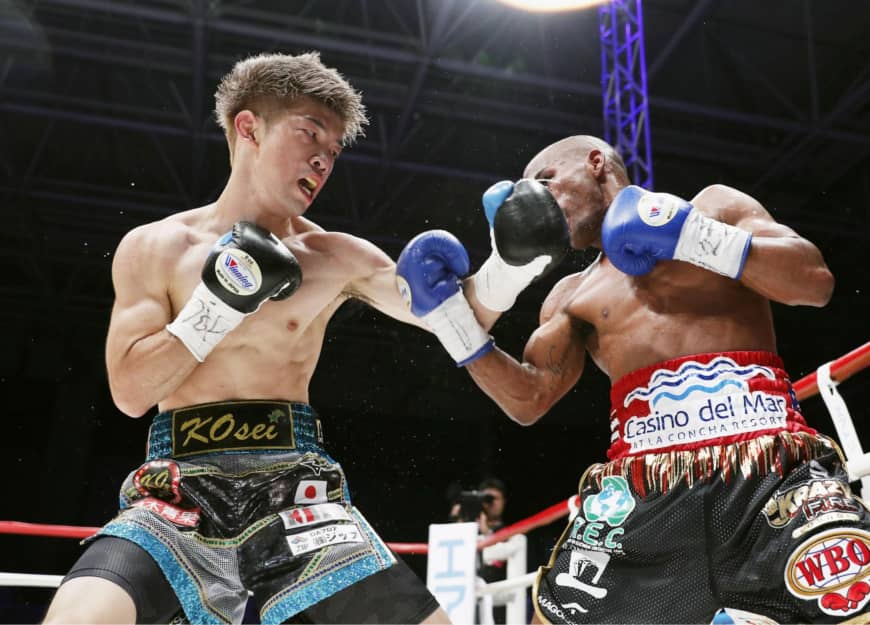 Kiyoshi Hatanaka, the former world super bantamweight champion, now runs a boxing gym and promotes fights in his hometown of Nagoya. The top fighters in his gym are 24-year-old Kosei Tanaka, who has already won world titles in three weight classes, and Kento Hatanaka, Kyoshi's 21-year-old son. Both were in action today and both were victorious, but not without anxious moments.
Tanaka, the reigning WBO 112-pound champion, improved to 14-0 (8 KOs) with a seventh-round TKO of Jonathan Gonzalez (22-3-1) in an action-packed bout. There were five knockdowns in all, four by Tanaka, before the referee waved it off with merely a second remaining in the seventh stanza.
Gonzalez took a knee after being hurt by a body punch in round three. But he returned the favor, knocking Tanaka down with a counterpunch in the next stanza, and seemingly had the fight in hand when he dominated the fifth. But Tanaka regained the momentum and scored three knockdowns in Round 7 to close the show.
Kosei Tanaka is overshadowed as a sports personality by countryman Naoya "Monster" Inoue, but is carving out quite a legacy. At age 19, in only his fifth pro fight, he defeated WBO minimumweight (105 pound) champion Julian Yadras of Mexico. He then gathered in titles at 108 and 112, accomplishing the hat trick in only his 12th pro fight, tying Vasiliy Lomachenko's record.
With only a few pounds separating each of the lowest weight classes, Tanaka likely isn't done jumping up in weight. There's already talk of a showdown with 115-pound title-holder Kazuto Ioka. But Tanaka has indicated that he wants to expand his opportunities overseas, following the example of Inoue. There are still holes in his defense, but that makes for exciting fights and a match between him and someone like "Chocolatito" Gonzalez would be worth the price of admission.
Jonathan Gonzalez, a southpaw with a good amateur pedigree, had fought his previous three fights in Kissimmee, Florida. When in his native Puerto Rico, he trains in the same gym as former super bantamweight and featherweight champion Juan Manuel Lopez. We certainly haven't seen the last of him.
The 10-round co-feature between super flyweights Kento Hatanaka and Jaysever Abcede was also a crowd pleaser that saw both combatants score knockdowns. Hatanaka improved to 10-0 but was extended the distance for the first time in his pro career. Abcede, a noted spoiler from the Philippines, saw his winning streak end at four and fell to 19-9. The scores were 95-93, 96-93, and 96-92.
Check out more boxing news on video at The Boxing Channel  
To comment on this story in The Fight Forum CLICK HERE