Katie Taylor Can Fight!
boxing ring is repulsive and will receive no support from real lovers of the art. Girl boxers will ruin their matrimonial chances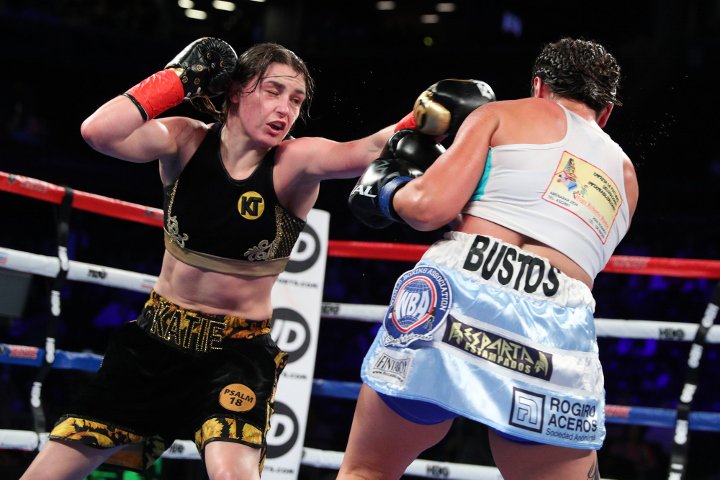 Katie Taylor Can Fight!
Jimmy Wilde reigned as the world's first flyweight champion and is regarded by some as the greatest British fighter of all time. Wilde once declared, "The idea of women in the boxing ring is repulsive and will receive no support from real lovers of the art. Girl boxers will ruin their matrimonial chances. No man could fancy a professional bruiser for a bride."
That was a long time ago. But women's boxing has yet to enter the consciousness of mainstream sports fans. Christy Martin was a blip on the radar screen by virtue of her appearance on Mike Tyson undercards. Laila Ali garnered attention because she was Muhammad's daughter. Lucia Rijker, the best female boxer of her era, was largely unknown. The talent pool is thin. Many women boxers don't know how to slip a punch or where to hold their hands.
Katie Taylor, who fought Victoria Noella Bustos in a 135-pound title unification bout at Barclays Center on April 28, is changing the perception of women's boxing.
Both of Taylor's parents were involved with the sweet science. Her father was an Englishman who married an Irish woman and moved to Bray, County Wicklow, where Katie was born on July 2, 1986. He boxed as an amateur and was Katie's first boxing coach when she took up the sport at age ten. Her mother was one of Ireland's first female boxing judges. Katie has three older siblings, one of whom is a professor of mathematics at Trinity College.
Katie grew up physically gifted, competitive, and loving sports. She was an elite athlete at a young age in both boxing and soccer. The downside to being a fighter is that fighters get hit. But in the end, she gravitated to boxing.
Later, she would explain, "There comes a point in the life of all junior boxers, when you hit fourteen or fifteen years old, when the punches start to hurt and you have to decide whether you're going to take it seriously or not at all. There is no middle ground."
At age 15, boxing as an amateur, Taylor participated in the first officially sanctioned woman's match in the history of Ireland. Thereafter, she won six gold medals at the European Championships and five at the Women's World championships. She was the flag bearer for Ireland at the 2012 London Olympics and became a national hero after winning a gold-medal at the 2012 Olympic games.
"Listening to the anthem [at the awards ceremony]," Katie later reminisced, "was the proudest moment of my life."
Then came what Taylor calls "the lowest moment of my career." At the 2016 Rio de Janeiro Olympics, she lost in the first round to Mira Potkonen of Finland.
"I just didn't perform well," Katie says of the outing. "It's a simple as that."
Taylor turned pro in late 2016 and fashioned an 8-and-0 record en route to winning the WBA woman's lightweight title last year. Her trainer, Ross Enamait, describes his charge as being totally dedicated to her craft.
Katie is confident but not arrogant with regard to her ring skills. She has a well-muscled frame with shoulders that are broader and thighs that are more powerful than might appear at first glance. She's poised, gracious, articulate, laughs easily, and is unfailingly polite.
She's also a study in contradictions. She likes attention but is wary of it. There's a private, somewhat shy, person behind the public facade.
"I lead a simply life," Katie says. "It's built around my family and my faith."
The faith is reflected in her strong Christian convictions and commitment to the Church of the Nazarene. Her family life is a bit more complicated.
For the past year, Taylor has lived in Vernon, Connecticut, an ocean away from many of her loved ones.
"I love the fact that I'm anonymous in America," Katie explained recently. "I can go for walks and be left alone when I want to be alone. I can just be myself over here."
All fighters have demons and dreams that drive them. Fame means exposure. And exposure means leaving oneself exposed.
"When you reached an age when the punches hurt and boxing became serious for you," Katie is asked, "was the motivation you were most aware of when you got in the ring to defend yourself or attack?"
"That's an interesting question," she counters.
*
Taylor-Bustos was on the undercard of an HBO doubleheader featuring Danny Jacobs vs. Maciej Sulecki and Jarrell Miller vs. Johann Duhaupas.
Bustos had 18 victories and 4 losses on her ring ledger but had never fought outside of Argentina. More significantly, in 22 professional fights, she had never scored a knockout. The odds favoring Taylor ran as high as 20-to-1 despite the fact that Bustos had been the IBF lightweight champion for over a year.
There was a blip during the medical examinations at the weigh-in on Friday when a New York State Athletic Commission doctor noticed a cold sore on Bustos's lip. One doesn't normally think of a cold sore as preventing a fight. But Victoria was told that she needed a clearance letter from a dermatologist. The dermatologist then sent a letter to the commission saying that the sore was "likely" to be contained. That wasn't good enough for the NYSAC, which consulted next with an infectious disease specialist. It wasn't until 1:15 PM on fight day that Team Taylor was advised the fight was on.
Taylor's status as a star and also her gender dictated that she not share a dressing room with other fighters on Saturday night.
Carrying her own gym bag, Katie arrived at room 1B11.09 (the Canarsie Room) in Barclays Center at 6:45 PM. Her long dark hair was pulled back in a single braid. She was wearing black pants, a black T-shirt, gray sneakers, and a black jacket with "Katie Taylor" emblazoned in gold on the back.
Ross Enamait and manager Brian Peters were with her.
The dressing room was fifteen feet long and ten feet wide with black industrial carpet, walls painted pale yellow, and recessed lighting above. A gray table built into one of the walls ran the length of the room with a wall-to-wall mirror above it. Seven black cushioned folding metal chairs were set against the table. A black leather sofa stood against the opposite wall.
Tomas Rohan (who works with Peters) and filmmaker Ross Whitaker joined the trio. It was a small group. No expanding circle of family, friends, and hangers-on.
Enamait unpacked his bag and put the tools of his trade on the table.
Veteran cutman Danny Milano (who would be working Katie's corner for the first time) brought in a half-dozen white terrycloth towels.
"I've been following the women for a while now," Milano had said earlier in the day. "They tend to lose their composure more quickly than the men when things aren't going their way. But not this one."
Katie sat on the sofa, propped her feet up on a chair, and sipped from a bottle of water.
At 7:10, Enamait asked a New York State Athletic Commission deputy commissioner if Bustos had arrived at the arena.
She hadn't.
"I'll feel better when I know she's here," the trainer said.
At 7:20, Brian Peters left the room to see if Bustos was on site yet. Five minutes later, he returned.
"She's here."
It was a quiet dressing room. For much of the time that Katie was there, she sat alone on the sofa, watching undercard fights on a TV monitor. Other times, Enamait or Peters sat beside her, engaging in quiet conversation.
Male or female, the rituals for battle are the same. A pre-fight physical examination and the taking of a urine sample were followed by the referee's dressing room instructions.
Occasionally, Katie stood and stretched.
At 7:40, she put on a pair of black-and-gold boxing trunks, a matching top, and a fuchsia T-shirt with words from Psalm 18 in white letters on the front ("It is God who arms me with strength") and back ("He trains my hands for battle").
Enamait began taping Katie's hands, right hand first. At 8:15, the job was done.
Katie stretched on her own and shadow-boxed briefly.
Enamait greased her hair with petroleum jelly to hold it in place.
The assumption was that Katie would win. But boxing is boxing. She was about to venture into the unknown. In less than an hour, a woman trained in the art of hurting would try to hurt her.
"I get nervous before every fight," Taylor has said. "I'd be worried if I wasn't nervous. But I feel like I'm most alive when I'm in the ring. You don't know what will happen. That's what makes it so exciting."
There was more shadow-boxing. Katie's face looked harder now. She was transforming into a warrior.
Enamait gloved her up.
Trainer and fighter worked the pads together.
"Don't give her any free shots," Enamait cautioned.
Brian Peters helped Katie into a black robe with gold trim.
At nine o'clock, a voice instructed, "It's time to walk."
The fight went largely as expected.
Taylor has good footwork and good hand-speed coupled with a nasty jab, a sharp straight right, an effective left hook, and a serviceable uppercut. She's not a big puncher but mixes her punches well.
Fighting at a distance in the first half of the bout, Katie was totally dominant. In rounds eight and ten, she chose to trade on the inside (which was the only place Bustos could reach her), stayed in the pocket too long, and took some unnecessary punches. The judges were on the mark with their 99-91, 99-91, 98-92 verdict.
After the fight, Katie returned to her dressing room and sat on the sofa. There were ugly welts on her back and shoulders, a bruise on the left side of her forehead, and a smaller bruise beneath her right eye.
"I'm tired," she said.
Pressed for more, she elaborated on her performance.
"I can always do better, but I did okay tonight. She [Bustos] was durable, and it was a different style from what I'm used to fighting. I'm still learning my trade. There's a big difference between the amateurs and the pros. The pros are more physical. But I'm happy with the win, and I'm happy to be a unified champion."
In recent years, championships have been sadly devalued in boxing. That's particularly true on the women's side of the ledger.
John Sheppard, who oversees BoxRec.com, recently reported that boxing's world sanctioning bodies have created 110 different women's titles. This means that, assuming each title is available in 17 weight divisions, the sanctioning bodies have belts for 1,870 women's champions. Meanwhile, according to Boxrec.com, there are only 1,430 active women boxers in the world today. "Thus," Sheppard notes, "there are approximately 1.3 titles available for each female boxer."
How can that be?
The answer is that the sanctioning bodies have an insatiable lust for sanctioning fees. For example, the World Boxing Council has thirteen different denominations for women "champions": World Female, Diamond Female, International Female, Youth Female, Silver Female, Latino Female, FECARBOX Female, FECOMBOX Female, CIS and Slovac Boxing Bureau Female, Asian Boxing Council Female, Asian Boxing Council Silver Female, Asian Boxing Council Continental Female, and Baltic Female.
In this nonsensical world, Katie Taylor stands out as a "real" champion. She now has two world championship belts and, given her druthers, will be in the ring soon competing for the other two quasi-credible titles. By the time women's boxing advances to the point where there's a serious pound-for-pound conversation, she hopes to be at the top of the list.
"Everyone has different skills and talents," Katie says. "This is mine. When people watch me box, I hope they see a boxer, not a female boxer. I would love to bring the sport to another level and take women's boxing to a place where people really respect it."
Men's boxing has a storied tradition. Today's male fighters can look back in time and say, "I would have loved to have fought Sugar Ray Robinson. Or Muhammad Ali. Or Joe Louis." Maybe someday, young women fighters will look back on this era and say, "I would have loved to a have fought Katie Taylor."
Thomas Hauser can be reached by email at thauser@rcn.com. His most recent book – There Will Always Be Boxing – was published by the University of Arkansas Press. In 2004, the Boxing Writers Association of America honored Hauser with the Nat Fleischer Award for career excellence in boxing journalism.
For more on female boxing, visit our sister site THE PRIZEFIGHTERS
Check out more boxing news on video at The Boxing Channel
Introducing Top Prospect Raeese Aleem, the Pride of Muskegon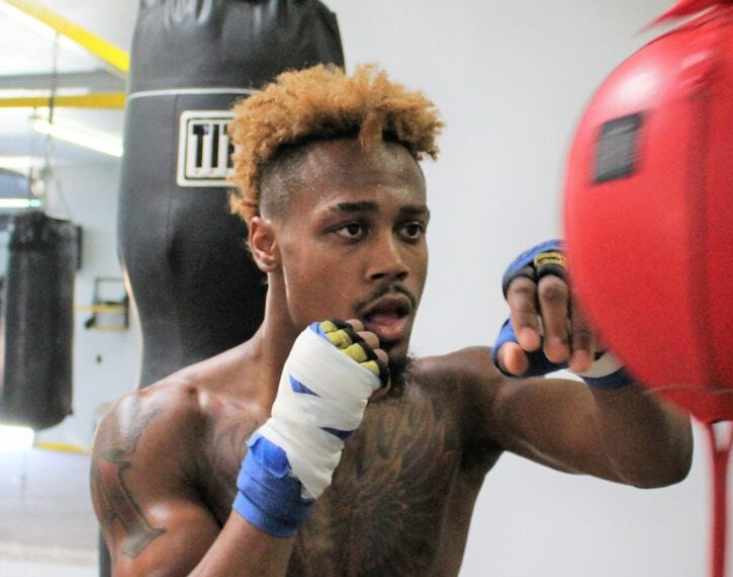 At age 29, Raeese Aleem has yet to appear in a 10-round fight, but that will almost assuredly happen this year. The undefeated (15-0, 9 KOs) super bantamweight from Muskegon, Michigan, takes another step in that direction on Friday, Feb. 14, when he opposes San Antonio's Adam Lopez (16-3-2) at Philadelphia in a bout that will air on "ShoBox," the long-running SHOWTIME series that's been a springboard for 81 fighters who went on to win world titles.
Aleem earned a black belt in karate before taking up boxing and becoming a four-time Michigan Golden Gloves champion. As an amateur, he and his coach Terry Markowski did a considerable amount of traveling between meets to find good sparring. Grand Rapids, an amateur boxing hotbed, was just down the road, but Detroit and Chicago were a good three hours away and on occasion they went on an even longer excursion into Ohio.
Aleem turned pro in 2011 and had his first 10 fights on the Midwest circuit, venturing as far north as Green Bay and as far south as Cincinnati. At the time, he worked in the produce department of Meijer's, a regional rival of Walmart. His bosses, he notes, were generous in letting him juggle his work schedule around his boxing assignments.
For a boxer with designs on winning a world title, the Midwest circuit is like a bicycle with training wheels. Aleem had to shake free of it to see how far he could go. Besides, getting fights was getting tougher and tougher. There's a 28-month gap in his pro timeline that includes all of 2013. He had several fights fall out during this frustrating quiescence.
If you're an aspiring film actor, you go to Hollywood. If you're an aspiring boxing champion, you go to Las Vegas. Not a week goes by without a young fellow turning up here to test his mettle in one of the many local gyms with the hope of attracting the eye of one of the major promotional firms.
"When I came to Las Vegas," says Aleem who has a daughter back in Michigan, "I had no family here, no friends." He was directed to Barry's boxing gym, run by ex-boxer Pat Barry and his wife Dawn, retired Las Vegas police officers, and started training under their son-in-law Augie Sanchez. But Sanchez, the last man to defeat Floyd Mayweather Jr (accomplished when they were amateurs), had other priorities. He is an assistant coach with Team USA which obligates him to spend a good deal of his time at the U.S. Olympic Training Center in Colorado Springs.
Things started looking up for Aleem when he joined the Prince Ranch stable under the management of Greg Hannley. At the Prince Ranch Gym, where the head trainer is Bones Adams, he has sparred with such notables as Nonito Donaire and former WBO 122-pound champion Jessie Magdaleno.
Aleem doesn't miss the weather in Muskegon, a lakefront city where sub-freezing temperatures are the norm in the dead of winter and snow is forecast for all of next week. But he still has one foot in his hometown, as evident by his unbroken bond with Terry Markowski. In an era when some boxers appear to change trainers as often as they change their underwear, Aleem has remained loyal to Markowski who has been in his corner for all of his pro fights and will be there again on Feb. 14.
Markowski, who teaches boxing at the Muskegon Rec Center, is a protégé of Muskegon's most esteemed boxer, the late Kenny Lane. The epitome of a crafty southpaw, Lane, a lightweight and junior welterweight, was a three-time world title challenger during a 100-fight career that began in 1953.
The relationship between Raeese Aleem and Terry Markowski dates back to 2003 when Aleem resided in the nearby village of Ravenna, where Aleem's father, the patriarch of a large blended family, planted Raeese and his siblings to get them away from the temptations of Muskegon which has several blighted areas. "It was a culture shock for me when I started going to school in Ravenna," says Aleem, looking back, as none of his schoolmates looked like him.
This will be Aleem's fifth fight in Pennsylvania where he has made four of his last five starts. The connecting thread is Reading, Pennsylvania gym operator-turned-promoter Marshall Kauffman who has been credited with keeping boxing vibrant in the Keystone State.
This being Aleem's national television debut, it's important that he make a good showing. His Las Vegas trainer Bones Adams, a former world champion in Aleem's weight division, expects nothing less. "I'm confident he will be a world champion someday," says Adams.
Photo credit: Mario Serrano / Prince Ranch Boxing
Check out more boxing news on video at The Boxing Channel 
To comment on this story in The Fight Forum CLICK HERE
A Bouquet for Danny Garcia in This Week's Edition of HITS and MISSES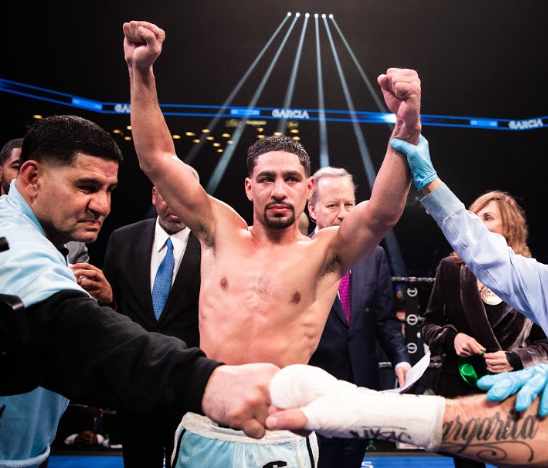 Two-division champion Danny Garcia had the spotlight all to himself over the weekend in a stay-busy fight against Ivan Redkach on Saturday night at Barclays Center in Brooklyn. It was the main event of a Showtime Championship Boxing tripleheader that had the odd privilege these days of not being counterprogrammed by a Top Rank show on ESPN or any other kind of boxing card on DAZN.
So Garcia, 31, from Philadelphia, had the chance to remind people how excellent a fighter he is in full force, which would help him greatly in his effort to secure an unlikely bout against WBA champ Manny Pacquiao or remain first in line to face WBC and IBF champ Errol Spence whenever the Texan recovers from the injuries he sustained in a car accident in October.
But did Garcia pull it off? Here's the latest edition of HITS and MISSES.
HIT – Danny Garcia's Pristine and Precise Technique 
The best parts about Garcia were on full display against Redkach. That was made easier by Redkach's lack of anything that might have given Garcia any real problems, but nonetheless Garcia was able to show the lovely footwork and balanced countering ability that made him so formidable at junior welterweight. There's just something special about seeing Garcia fight. The economy of his movement inside a boxing ring is something that is just plain different than just about any other world-class fighter in the world today. In a fight that most people probably would have preferred he just skipped, and one that didn't turn out to be any different than everyone expected, at least Garcia's beautiful boxing was on display.
MISS – Showtime Sparring Sessions
In addition to Garcia-Redkach, Showtime rounded out its tripleheader with undefeated junior featherweight Stephen Fulton taking on former Muay Thai fighter Arnold Khegai and former unified junior middleweight champion Jarrett Hurd taking on career welterweight Francisco Santana. While Fulton's fight against Khegai seemed like a legitimate prizefight, there was something about the other two bouts that screamed sparring sessions. That was especially the case for Hurd's bout. Not only was Hurd in there with a middling welterweight, but he also used the rounds of the fight to work on vastly different boxing techniques than what made him so popular in the first place. Showtime might not have the pull they once had with the people over at the PBC offices, but they for sure need to get more involved in vetting matchups if they hope to remain afloat within the competitive boxing landscape of today.
HIT – Stephon Fulton's Title Chances at 122 Pounds
Fulton is a very solid boxer who digs to the body and has a fast, clean jab. Khegai was the perfect kind of opponent for the 25-year-old. He was very game and never stopped trying to win. Additionally, his background in Muay Thai offered some different looks to Fulton that should help him on his way toward world title contention. In the end, Fulton outworked Khegai to hand the tough 27-year-old the first loss of his career. Now let's hope Fulton is off to bigger and better things such as challenging for a world title. He's ready right now.
MISS – Andy Ruiz's Continued Soap Opera
The best thing former unified champion Andy Ruiz could have done after blowing the rematch against Anthony Joshua in December is getting right back to work in the gym. What better way to show trainer Manny Robles that he was taking responsibility for his actions than to get right back to work with the same team he had just let down so badly? Instead, Ruiz fired Robles and is considering other trainers. That would make more sense if there had been some sort of tactical error in the fight. But Ruiz already admitted he simply didn't train for arguably the biggest fight of his life, and that's not anyone's fault but his own.
HIT – Former Middleweight Titleholder Andy Lee's Second Act
It appears former WBO middleweight champion Andy Lee found his second act in life as a trainer, which makes a ton of sense if you followed Lee's career under the tutelage of the late Emanuel Steward. Lee, 39, left Ireland after his amateur days to live with Steward in Detroit and train at Kronk. The two had a very close personal relationship and that experience ultimately helped Lee win the world title in 2014 two years after Steward's passing. Now, Lee is passing on what he knows in the same way Steward did with him to other fighters. He trains and manages Irish upstart Paddy Donovan, is guiding Jason Quigley back to contention and even helped orchestrate distant cousin Tyson Fury bringing on Javan "SugarHill" Steward for the heavyweight's upcoming rematch against Deontay Wilder.
Photo credit: Amanda Westcott
Check out more boxing news on video at The Boxing Channel 
To comment on this story in The Fight Forum CLICK HERE
The Hauser Report: Garcia-Redkach and More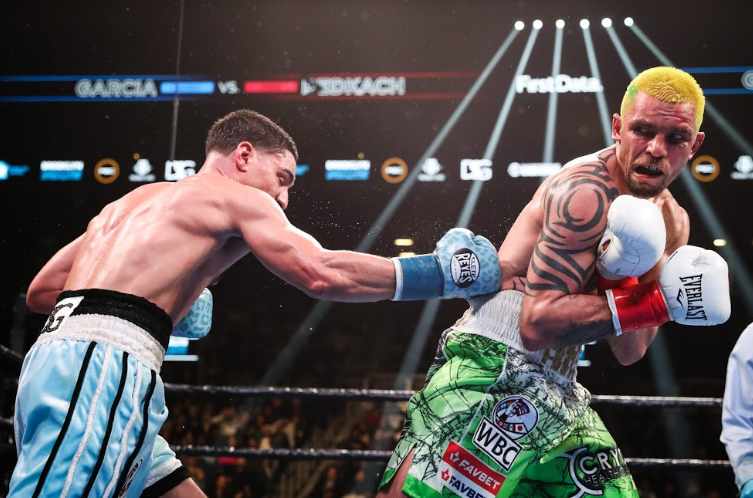 Boxing made its debut at Barclays Center on October 20, 2012, with a fight card headlined by four world title bouts. Danny Garcia, Erik Morales, Paulie Malignaggi, Peter Quillin, Devon Alexander, Danny Jacobs, and Luis Collazo were in the ring that night. The franchise grew nicely. Fans who went to Barclays saw good featured fights with solid undercard bouts. But as of late, the arena's fistic offerings have faded.
Barclays cast its lot with Premier Boxing Champions. And PBC has moved its prime content to greener pastures (green being the color of money). There were five fight cards at Barclays Center in 2019. Each one struggled to sell tickets.
January 25 marked the thirty-ninth fight card at Barclays. The arena was half empty. The announced attendance was 8,217 but that included a lot of freebies. There were six fights on the card. As expected, fighters coming out of the blue corner won all of them. That's what happens when 6-0 squares off against 2-10-1.
Three of the fights were televised by Showtime Championship Boxing, which has also been diminished as a consequence of a multi-year output deal with PBC.
In the first of these bouts, Stephen Fulton (17-0, 8 KOs) and Ukrainian-born Arnold Khegai (16-0, 10 KOs) met in a junior-featherweight bout. Each had fought the usual suspects en route to their confrontation. There was a lot of holding and rabbit-punching which referee Steve Willis ignored. Eventually, Fulton pulled away for a unanimous-decision triumph.
Next up, Jarrett Hurd (23-1, 16 KOs) took on Francisco Santana (25-7, 12 KOs).
Hurd is a big junior-middleweight who held the WBA and IBF 154-pound titles until losing to Julian Williams last year. Santana is a career welterweight who had lost three of his most recent four fights and had won only three times in the last five years.
Hurd was expected to walk through Santana. But he was strangely passive for much of the fight, which led to the strange spectacle of Santana (the noticeably smaller, lighter-punching man) walking Jarrett down for long stretches of time. Francisco is a one-dimensional fighter and was there to be hit. When Jarrett let his hands go, he hit him. But he fought like a man who didn't want to fight and didn't let his hands go often enough.
By round seven, the boos and jeers were raining down. Hurd won a unanimous decision but looked mediocre. That's the most honest way to put it. One wonders what tricks losing to Julian Williams last year played with his mind.
Also, it should be noted that, when the winning fighter thanks God in a post-fight interview and the crowd (which supported Jarrett at the start of the bout) boos at the mention of The Almighty, there's a problem.
"The crowd didn't love it," Hurd acknowledged afterward. "But you gotta understand; I got the unanimous decision and I did what I wanted to do."
The main event matched Danny Garcia (35-2, 21 KOs) against Ivan Redkach (23-4-1, 18 KOs).
Garcia had a nice run early in his career, winning belts at 140 and 147 pounds. But later, he came out on the losing end of decisions against Keith Thurman and Shawn Porter. Other than that, he has gone in soft for the past five years.
Redkach is a junior-welterweight who had won 5 of 10 fights during the same five-year time frame.
There was the usual pre-fight nonsense with Garcia telling reporters, "We picked Redkach because he's dangerous and we knew he'd be tough." But in truth, Redkach had been whitewashed by Tevin Farmer at 135 pounds and was knocked out at the same weight by John Molina Jr (who never won again).
Garcia, like Hurd, was a 30-to-1 betting favorite.
Redkach fought a safety-first fight. Also, safety second and third. There wasn't one second when it looked as though he had a realistic chance of winning the fight or fought like he did.
One of the few proactive things that Ivan did do was stick out his tongue from time to time when Garcia hit him. Then, at the end of round eight, he bit Danny on the shoulder while they were in a clinch. At that point, one might have expected referee Benjy Esteves to disqualify Redkach. But Esteves seemed to not notice.
Rather than go for the kill after the bite, Garcia eased up and cruised to a unanimous decision. Meanwhile, by round eleven, the crowd was streaming for the exits. Most of the fans were gone by the time the decision was announced.
Garcia and Hurd had set-up showcase fights scheduled for them. And neither man delivered the way he should have.
Meanwhile, a final thought . . . Sunday, January 26, would have been Harold Lederman's eightieth birthday.
Harold was the quintessential boxing fan and loved the sport more than anyone I've known. He never missed a fight at Barclays Center unless his health prevented him from coming or he was on the road for HBO. He died eight months ago.
As Saturday night's fight card unfolded, I imagined Harold sitting beside me. He would have had a kind word for everyone who came over to say hello and loved every minute of it. Harold Lederman at the fights was a happy man.
Photo credit: Amanda Westcott
Thomas Hauser's email address is thomashauserwriter@gmail.com. His most recent book — A Dangerous Journey: Another Year Inside Boxing — was published by the University of Arkansas Press. In 2004, the Boxing Writers Association of America honored Hauser with the Nat Fleischer Award for career excellence in boxing journalism. On June 14, 2020, he will be inducted into the International Boxing Hall of Fame.
Check out more boxing news on video at The Boxing Channel 
To comment on this article in The Fight Forum CLICK HERE